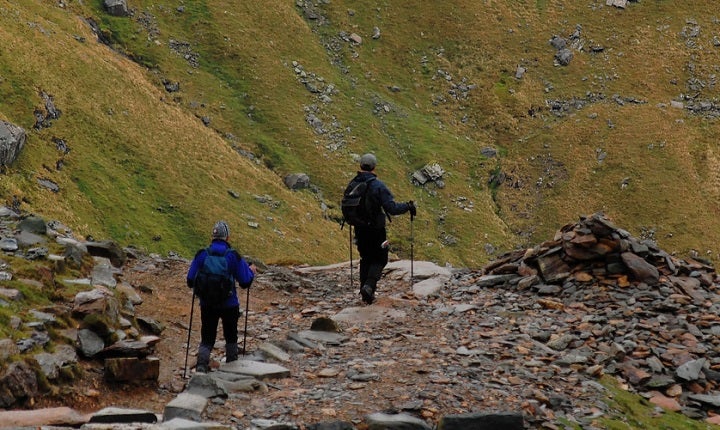 Our Editors independently research, test, and rate what we feel are the best products. We use affiliate links and may receive a small commission on purchases.
Hiking or trekking poles are something beginning backpackers and hikers usually do not think too much about. People generally just stay away from them until someone with more experience tells them or even shows them how a trekking pole can improve the hiking experience.
First-time backpackers also tend to shy away from using trekking poles because of their minimalist approach.
We have decided to create this beginners guide to using hiking poles to help you as a newbie, learn exactly how you should go about using them and a few benefits that you can get when you do make the investment in a set of trekking poles.
In this guide, you will learn about the differences between trekking poles and why you should consider having a set on every hiking or backpacking expedition.
Benefits of Trekking Poles
Hiking poles are designed to make climbing and descending hills easier and if you are a beginner, you might not know exactly how you should go about climbing over those tough hills. As you get more experience with hiking and trekking, you will learn a few subtle tricks to help you make faster progression on your trip. Here are a few benefits that you will have when using hiking poles:
Faster progression up hills and down slopes: Going up and down slopes can definitely be a tedious process and you will need to ensure that you can do this with the least amount of wasted time and effort. With a hiking pole, you will be able to get up and down these slopes with more speed and you will also have extra support to help you make the progress when your legs are tiring out.
Less strain on the joints: One thing we seldom think about when we plan our hiking trips is how easy it is to get injured or to strain a muscle. Since the hiking pole will allow you to have less pressure on those specific body parts, you will be less inclined to suffer from injuries like spraining your ankle. The hiking poles will give you that extra support to rely on when you are going up and down those hills.
Will give you additional depth judgment when crossing rivers and streams: The hiking pole will ensure that you are able to cross rivers and streams without having to fear any steep drop-offs or slopes. The hiking stick is also solid and this will keep you upright when you are crossing those rivers, especially when there are strong currents.
Improves all general aspects of walking: The hiking pole will give you a few additional health benefits as well. When you have that additional support that you can rely on, you will be much more inclined to focus on your breathing and this will allow more oxygen into your lungs. The additional oxygen will to help reduce fatigue and make the hiking experience that much better.
While there can be additional benefits, these are the main advantages that you should get when you are using hiking sticks/trekking poles. If you are a beginner and you have no experience hiking longer distances, you might not know how important these benefits can be, but almost any experienced hiker will tell you how effective using hiking poles can be.
How To Effectively Use Trekking Poles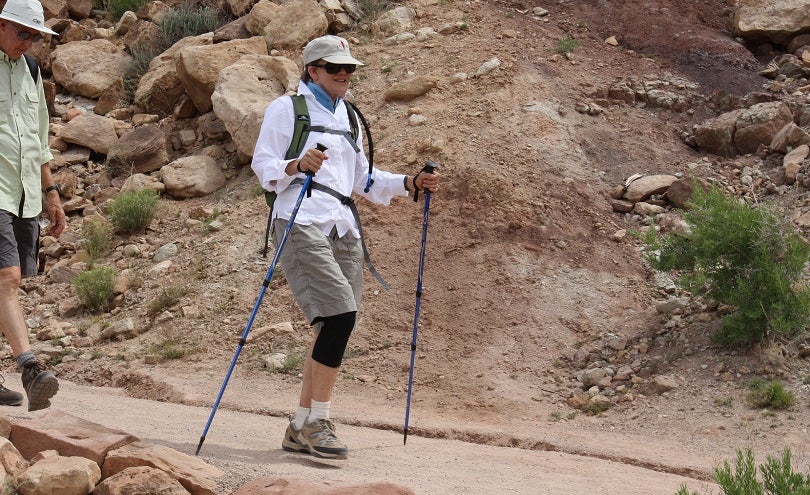 Studies have proven that using trekking poles are effective, but you also need to know how to effectively use them in order for you to get the best possible results when you do make the investment. After multiple hiking and backpacking trips, we have found our own way on how to effectively use trekking poles.
Here are our tips on how to use a trekking pole correctly and effectively:
The set up
Trekking poles might seem very basic and simple, but they are actually quite intricate and will take some setting up to do. Most trekking poles also come with a variety of tips, baskets and grips. To ensure that you do get the best possible results when using a trekking pole, you will need to ensure that you use the correct tip for the right environment.
The broader rubber tips will be perfect for hiking in muddy and snowy conditions. These foot pieces have no sharpened edges and this will keep them from sinking in. The sharper, carbide tips will work best when they are used in tougher ground and they will give you a better grip and more solid platform to propel yourself up a hill.
Use your shoulders to move forward
One thing many beginners do wrong is the way they propel themselves up a hill. The elbows are the easiest way to do this, but this will put some additional strain on your shoulders and might not be comfortable after a while and after a while strain your elbows. To protect the elbows, you should focus on using your shoulders to propel you forward and push yourself past the hiking poles. This will also teach you to not place the hiking poles too far in front of you.
Utilize the straps to keep your hiking poles attached to you
Gripping too tightly on the poles will be tiring on your hands and strain them after a period of time. The straps are there for a reason and they will not only stop you from dropping the trekking poles, but they will also allow you to keep a lighter grip on the trekking poles.
Use your poles in pairs to improve the stability

Hiking and trekking poles will come in pairs and they are extremely effective when they are used as such. You can decide to use one of them as a walking stick, or a cane, but this is not what they were designed for. By using them in pairs, you will have double the support to ensure that you can get up those hills and also down those slopes without putting too much strain on any of your joints.
Trekking poles also offer much more stability when they are used in pairs and you will not be inclined to simply keep leaning one way or support the one side of your body. We highly recommend that you use them in pairs to get the best possible benefits.
Video: How to use trekking poles.
How to Use Trekking Poles (Like a Boss)
Are Trekking Poles Worth The Cost?
Trekking poles vary greatly in price and one of the main reasons for this, is the type of material they are constructed from. Aluminum is the cheaper option and is a fine choice for beginners. If you are serious about backpacking, you should consider going with the more lightweight carbon fiber trekking poles.
Since carbon fiber trekking poles will be lighter, they will be less tiring. Even though the difference is only a matter of ounces, it adds up over the course of a day.
We highly recommend the use of trekking poles for everyone and you will definitely notice the difference and feel the added support when walking up and down those steep hills.
---
I hope this guide was helpful for deciding if using hiking poles are right for you. If you want to comment or recommend a pair of hiking poles, please use my contact form to get in touch.
Have fun and be safe out there!
I'm Luna and I'm truly in love with the outdoors. I like to give useful tips and advice about hiking and outdoor activities. Visit my blog HikerTrack to get the best preparation for any of you outdoor adventures.
Notice:
OutsidePursuits.com is a participant in the Amazon Services LLC Associates Program, an affiliate advertising program. OutsidePursuits.com earns fees from products sold through qualifying purchases by linking to Amazon.com. Amazon offers a commission on products sold through their affiliate links.