To figure out what were the best hiking shoes we took 10 pairs of top rated hiking shoes then hiked on some pretty rugged trails in New Hampshire.
We took them through mud, rocks and water while evaluating them on traction, comfort, water resistance and durability.
First lets take a look at the hiking shoes, then we'll talk about how to choose a pair for you.

Here is a feature overview of the hiking shoes with full reviews and our buying guide below.
Ladies: we created a separate list of hiking shoes specifically for women.
The 3 Best Men's Hiking Shoes
| | Merrell Men's Moab Ventilator Hiking Shoe | Columbia Men's North Plains Waterproof Trail Shoe | Adidas Men's Outdoor AX 2 Hiking Shoe |
| --- | --- | --- | --- |
| | | | |
| | | | |
| Upper: | Combination of Leather and Synthetic materials. | Combination of suede leather and textile construction. | Synthetic upper with air mesh construction for superior wicking. |
| Sole: | Vibram sole with aggressive tread pattern for grip. | Extra Grip rubber sole | Super-high-traction rubber. |
| Features: | Water resistant leather and mesh upper with full bumper protection around the toe and the heel. | Columbia omni-heat insulation with advanced reflective lining to keep warm in winter and cool in summer. | Molded sockliner for enhanced comfort and fit, socks not necessary. |
| View on Amazon: | | | |
Hiking Shoe Reviews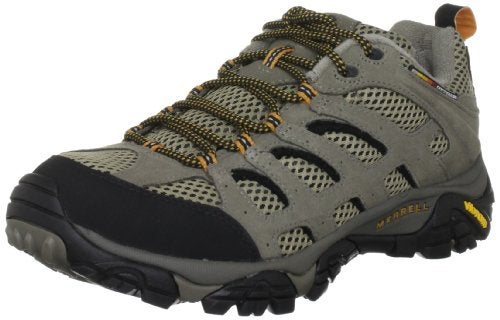 The Merrel Hiking Shoe has a lot of great features going for it. One of the most important is that it offers moisture-wicking mesh lining. Ultimately, this means that even if you're stomping around in damp and wet areas, your shoes are going to dry quickly.
There's odor prevention as well, so when you have been in the shoes for hours and sweating, it's not going to have a lingering smell to them.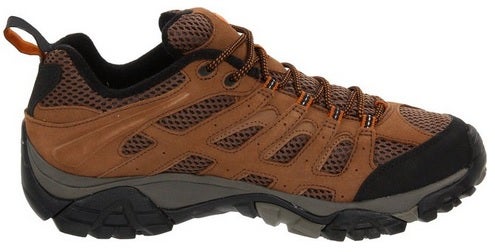 The vibram sole has a very grippy tread so you won't slip even in the wettest of conditions or steep inclines plus there is a cushioned heel that is shock absorbing. Even if you're on rough terrain, it's not going to take a toll on your feet. You can hike in any condition and the shoes are going to hold up to it all. These are the best hiking shoes for the money.
The Merrill Moab is our top pick for a Men's hiking shoe.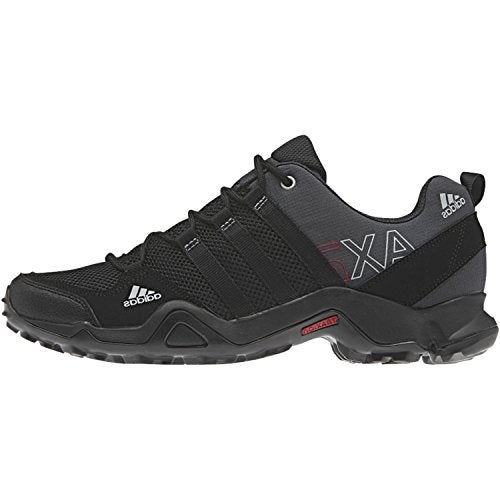 The Adidas Outdoor hiking shoe is a very economical option when you want a quality hiking shoe. The shoe is very light weight at less than 10 ounces per shoe, so you're not weighed down by them.
With the integrated molded sockliner, I found these to be one of best mens hiking shoes that I evaluated. In fact you can get away with not having to wear socks if your so inclined.
The comfortable textile lining is designed to fit a man's foot and you have the air mesh, which cools your foot down and makes it easy for the shoes to dry out if they are exposed to any moisture.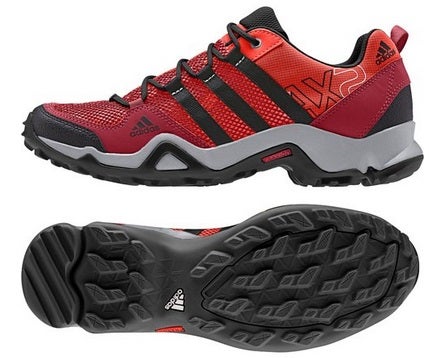 Maybe the best feature of the AdidasAX2 hiking shoes is the aggressive tread pattern, I really don't remember slipping at all with these hiking shoes. They will give you confidence to hike in slippery and muddy conditions. Multiple colors are available and the synthetic blend of material makes them extremely durability so they will last you a long time.
The Adidas AX2 hiking shoe is a solid mid-range option hiking shoe.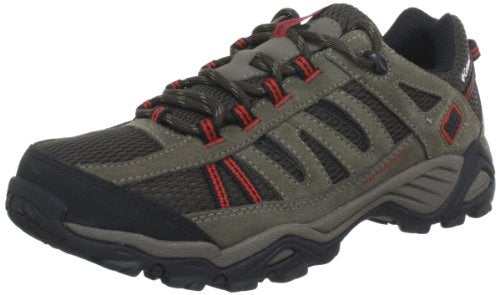 The North Plains Waterproof Trail Shoe by Columbia are a little higher priced, but they are definitely designed for hiking.
The combination of suede leather and textile construction gives them unmatched durability and water resistance plus they are easy to clean no matter how muddy you get them. And trust me, where I took them got REALLY muddy.
I personally have pretty wide feet, and and have trouble getting hiking shoes to fit comfortably. I found the Columbia's the best hiking shoes for wide feet.
The rubber sole has an aggressive tread to be able to handle hills, mountains, rocks, and other elements. Also, the Omni-heat insulation is designed for comfort as well as to avoid too much heat building up inside the shoe. This allows you to hike for hours on end without your feet getting too hot.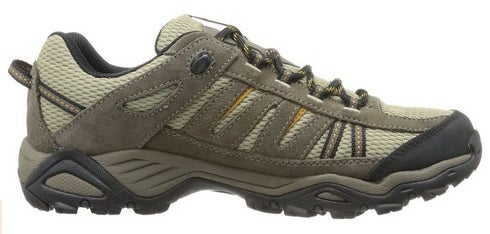 Your feet are going to stay dry and comfortable within the shoes because they can breathe. The innovative design of the North Plains shoe will keep you feet comfortable for all day hiking. If style is at all important to you, they also come in wide variety of colors.
Columbia is well known for making quality hiking shoes and the North Plains does not disappoint.
What To Look For In A Hiking Shoe
Comfort
Comfort is a very obvious and important factor when it comes to footwear for hiking because being uncomfortable while going through the trails will ruin anybody's experience and make it something you won't want to try again. Plus, sometimes hiking can get difficult, and when it comes to steep inclines and rocky paths, being uncomfortable can end up being dangerous.
Hiking is one of the easiest ways to relieve stress and get some good exercise in while you're looking at the beautiful views of nature, but if you're not in a comfortable hiking shoe you won't feel motivated to push yourself to continue or to go back out and do it again.
Weight
The weight of the shoe is another important aspect that goes hand in hand with comfort. When hiking trails or going up a hill with a steep incline, it gets increasingly difficult to continue when the shoe you are wearing weighs you down. This is because sometimes shoes are made of materials that weigh more than you would like and results in a heavy product on your foot, which will weigh you down and make it harder to continue through the trails.
Support
Support is a factor that plays in after you finish the hike just as much as when you're on the trails. The support of the shoe is how well the padding allows a person to go through rocks, plants, etc., without feeling the ground underneath them. It can also impact the support around the ankle. The true test of support is when you finish the hike. Those with shoes that don't give enough support typically have sore feet and legs for a while after the hikes, even if they consider themselves physical people.
Traction
Traction is the way the shoe grips the ground. When it comes to climbing hills and walking down inclines, the traction your shoe has can make you safer in multiple ways. The hiking shoe grabs the ground in order to connect your foot with the ground, which allows you to stay upright and prevents injuries from occurring.
Otherwise known as grip or the friction the shoe creates, it's an important aspect to consider in any hiking shoe as it aids performance and makes training safer and easier. Take a good look at the tread on the bottom to see if it is strong enough.
Versatility
The definition of versatility is basically being able to go with the flow, which is surprisingly very important when it comes to hiking because you don't typically know what to expect. Different trails are going to produce different hikes, so having a shoe that can walk through anything is important for those hikers that like to try everything and always want to be safe and ready for what comes at them.
Water Resistance
This is most important for hikers that find themselves crossing through creeks or visiting rivers or lakes because the shoe that stands up to water is going to be the best to wear.
A lot of the time when a shoe gets wet, it becomes heavy due to the weight of the water mixing with the fabric, which makes it nearly impossible to continue the hike. For those hikers that live in an area with a lot of water that they might have to cross, finding a shoe that can deal with some wetness is a good idea.
Durability
It's no secret that hiking can be unpredictable. There are rocks, plants, creeks, cactuses, and many other types of nature that can become dangerous and harm you if it wasn't for the durability of your shoe.
You don't want to deal with shoes that are starting to fall apart because of aesthetics and performance. On top of that, if you had to purchase a new shoe every month because of what your shoes go through, it would be really cost ineffective, so a shoe that can last is going to be the best option.
In addition to a good pair of hiking shoes, a quality back is a necessity. Here is a guide to the best backpacks.
Notice: Outside Pursuits is a participant in the Amazon Services LLC Associates Program, an affiliate advertising program to provide a means for sites to earn advertising fees sold through by advertising and linking to Amazon.com. Amazon offers a small commission on products sold through their affiliate links. Each of your purchases via our Amazon affiliate links supports our efforts to bring you the best possible product reviews at no additional cost to you. We appreciate your support here at OutsidePursuits.com
Review Overview
Summary : The Merrell Men's Moab Ventilator Hiking Shoe is our top pick. It offers an unbeatable combination of comfort, quality, features and value.