Your hiking shoe is the most important part of your hiking gear but a quality backpack is a close second. Whether your only going a on day hike or for several weeks your choice of backpack is important.
To help you make a good decision for what backpack to buy, we took 15 of the most popular and highest rated backpacks and put them through our tests.
First lets take a look at the hiking backpacks, then well talk about how to choose the best one for you.
Here is an overview of the best hiking backpacks with full reviews and our buying guide below.
The Best Hiking Backpacks
Mobile Users Scroll Over =>
Osprey Farpoint 40 Travel Backpack
TETON Sports Oasis 1100 With Hydration Backpack
OutdoorMaster 50L Outdoor Backpack
Pack Weight:
3 lbs.
2 lbs
2.6 lbs
Adjustability and Fit:
Internal frame that provides support and stability.

Integrated breathable mesh pad in the back that is breathable to keep your back cool.
High density EVA foam with ventilation holes.

Mesh covering, and chest shock absorber add comfort and breath-ability to shoulder straps.
S-Curved Shoulder Straps and foam padded hip belt.
Other Features:
Compartments for tablets and MP3 players. Waist straps to distribute the weight for all day hiking comfort.
70 ounce (2-Liter) hydration bladder.

Front zip pocket with organizer and key clip, side mesh pouches for energy bars, water and sunscreen.
Mesh water bottle pockets on the sides.

Breathable back fabric to keep you cool and a waterproof cover.
Size and Capacity:
14 x 21 x 15 inches/40 Liters
8.5 " x 10" x 7" inches 1100 Cubic Inches/18 Liters
22.8" x 14" x 8.6" inches
Best Used For:
Suitable for a day hike up to several weeks.
Suitable for a day hike up to a week.
Suitable for a day hike up to a week.
Link to Purchase:
Hiking Backpack Reviews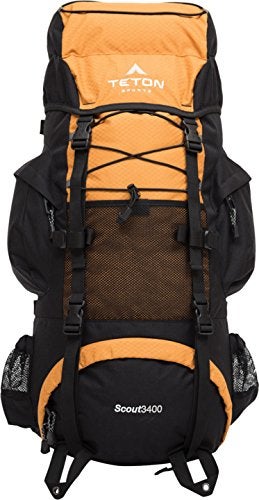 The TETON Sports Scout 3400 is designed for serious backpackers who are going to be carrying a lot of gear with them, especially for staying overnight in the woods. There is an internal frame that helps to provide support and stability, which is particularly important on the longer hikes.
There are both side and front compression straps, which can be used to secure tents, sleeping bags, and other gear. Front and top bungee stash storage is ideal for the things that don't fit nice and easily into the backpack itself. This can be great for the quick to reach items such as a jacket or rope.
Inside the padded pocket, it's possible to hold a water bladder, and tube clips can make it easy to access the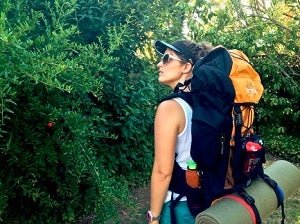 water from the right or the left.
The straps are all adjustable and is ideal for people with a torso size that ranges from 15 to 19.5 inches.
Best of all, the entire backpack only weighs in at just around 4.5 pounds and in our opinion one of the best backpacking backpacks for the money.
It is an affordable model that can be used for camping and hiking and has plenty of mesh pockets to hold snacks, flashlights, and anything else that may need to be quickly accessible without having to stop and unpack the entire bag.
This is great all around backpack, highly recommended.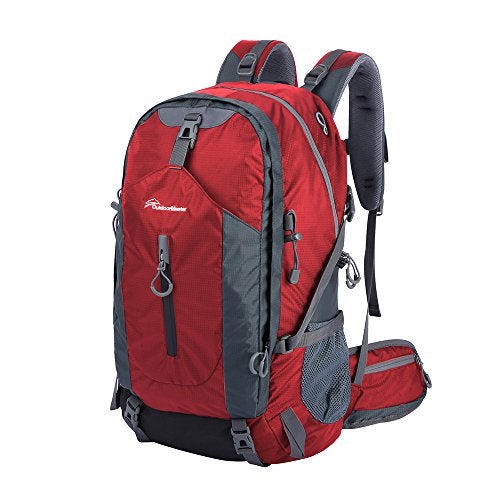 The 50L Outdoor Backpack by Outdoor Master is an economical option for the weekend backpacker. There are a lot of great features within this backpack, and perhaps the most notable are the S-curved shoulder straps, which can provide a significant amount of comfort, regardless of how much weight is in the backpack itself.
There are several compartments that are foam padded, and this can help to disperse both heat and sweat to make it easier to hike for long periods of time without having to stop and cool off (or dry off).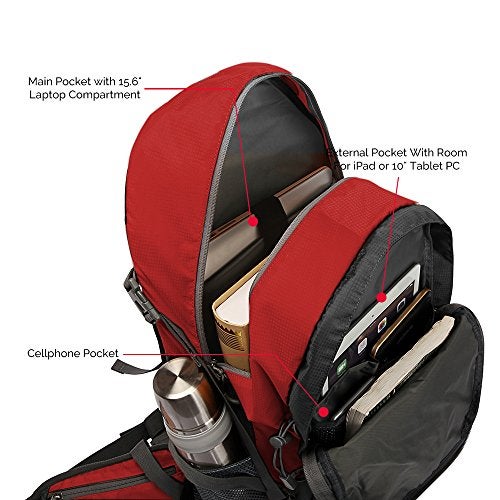 You may want to bring all sorts of things with you on a hike and this 50L Outdoor Backpack contains room for a laptop, complete with padding to provide plenty of protection. The Outdoor Master is one of the best backpacking backpacks for travel.
If you get caught in the rain, there's a waterproof cover that's included. This allows you to take the backpack and prepare for any kind of weather.
The 3D fabric allows for plenty of comfort and the mesh pockets along the side are great to be able to take a water bottle, snacks, flashlight, and anything else that is handy.
It's a lightweight backpack that is made of durable nylon, which ensures you can pack up and hit the trails without feeling weighed down. The OutdoorMaster is a great inexpensive backpack, you wont go wrong with this one.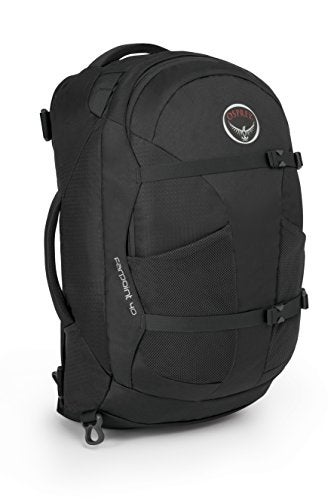 Osprey is known worldwide for their quality backpacks. So good they offer a LIFETIME warranty on them. The Osprey 40 is the perfect size backpack that can be used a day trip or a 3 week backpacking trip across Europe.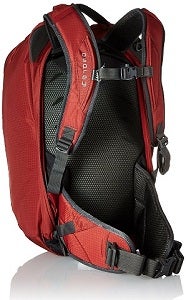 The Osprey 40 has a sturdy, lightweight aluminum frame that makes this a stable backpack that holds its shape.
What I really like about the backpack is the design of the backpack to sift weight from the shoulder straps to the waist straps to distribute the weight making it very comfortable for long hikes.
Even in warm weather the Osprey is not to uncomfortable with its mesh backing to allow airflow for breathability and keeping you dry by allowing your perspiration to evaporate.
The shoulder straps have a mesh construction for breathability and comfort as well.
Even better is the design that allows the backpack to turn into a duffel bag for airline or bus transport. The shoulder and waist straps can be stored in a zippered compartment make it a duffel bag in seconds.
Taking some electronics? It Osprey 40 has you covered with a laptop compartment that stores an iPad or Android tablet plus a mesh pocket to store an ipod or other MP3 type player. The backpack has several compartments for staying organized and the zippers can be locked for security.
Taking a trip on a plane with your backpack? The Osprey will fit under the seat or overhead compartment in most planes. This an excellent choice backpack for almost all of your traveling needs, highly recommended!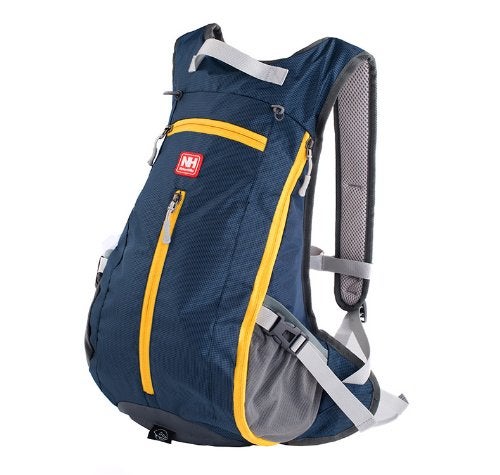 The Naturehike Outdoor Backpack Climbing Backpack is designed to offer a lot of comfort for hikers as well as outdoor cyclists. It is lightweight and economical, a perfect combination for people who aren't going to be spending days on end in the trails. The nylon and mesh ensure you're not going to get too hot when wearing the backpack for extended periods of time. There's also a helmet net which can be ideal if you're on the trails on a bicycle.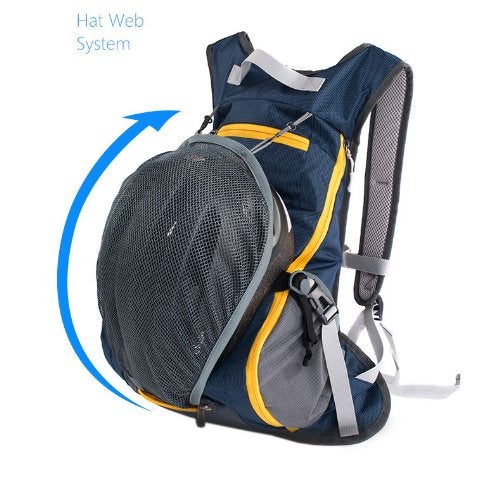 There's a small front pocket, allowing you to store small items, such as a keychain, pocketknife, or mobile phone.
The main storage space allows you to bring along clothes, sporting items, as well as some of the most important items with you. The nylon fabric is also waterproof, so you don't have to worry about any of the contents getting wet if it starts to rain.
Empty, the backpack weighs less than a pound. This allows you to load it with all of your gear and wear it comfortably on your shoulders for hours on end.
It's going to be a great way to bring the basics with you and not feel weighed down. The Naturehike backpack is out top pick as the best day hiking backpack.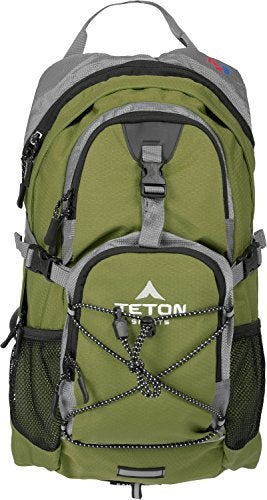 The Oasis 1100 Hydration Backpack by Teton Sports is ideal for the active hiker and camper. There's a significant amount of space built into the backpack, which includes a 2-liter BPA free water bladder so that you can stay hydrated for the duration of your hike.
The full pocket has weather guard and is capable of holding quite a few things. Butterfly storage is also present so you can have some of your more important items within easy reach.
This includes anything from energy bars to sunscreen. The EVA foam with the ventilation holes allows for a lot of comfort and breathability, so you don't have to stop too often to re-adjust and get comfortable.
This is the kind of backpack you want when you're hitting the trails, rain or shine. It's going to keep everything dry and at only 2 pounds, it's not going to weigh you down.
The shoulder straps are padded and highly adjustable, so you can get the right fit, no matter who you are. The large storage capacity makes it our top pick as the best camping backpack.
Storage is not going to be a problem with this backpack because of the side mesh pouches, a front zip pocket, and even a key clip.
Teton Sports has thought of everything, and there's a limited lifetime warranty, so you know you're going to get your money's worth out of the pack.
Teton Sports knows how to make a quality backpack and the Oasis 1100 is as good as it gets.
How To Choose A Hiking Backpack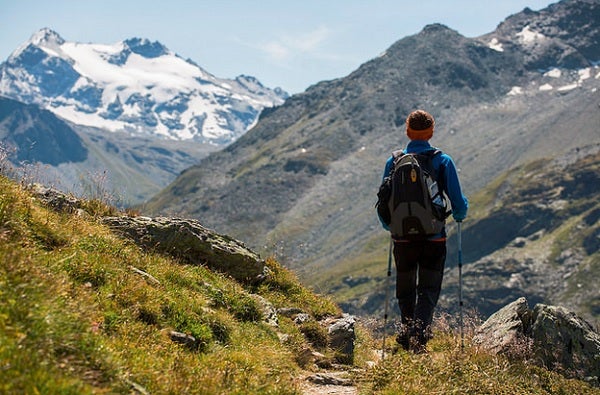 Comfort
Comfort is a very obvious necessity for the backpack you choose to take on your hike for a couple of reasons, some more serious than others. If you're on a hike that is particularly difficult or long, making sure you are wearing proper clothing and wearing a backpack that rests on your back comfortably will aid in the process as you won't be slowed down by any kind of back pain.
In the same way, the longer your hike is, the longer you're going to have to keep the backpack on your back, which means if it isn't something comfortable you might end up being sore later on. This can also hurt you in the long run, ranging from injuries all the way to making your hikes less safe by taking away your motivation to carry a backpack in the first place.
First aid kits, water bottles and other products are necessary to aid in your hike, and ensuring that you are as comfortable as can be will allow you to carry them along just fine.
Suspension
The secret to finding a backpack that is comfortable is making sure it is the right size, which is where the suspension of the backpack comes into play. Suspension, for those that are beginners in the backpacking world, is defined as the adjustable nature the backpack holds in order to make it perfectly fit your back and torso.
Suspension is important in the same way that comfort is, as it will allow your hike to be the best it can be because you feel your best. If a backpack doesn't form to your back, you're going to spend the majority of your hike wishing you didn't have it.
Ease of Use
How easy the backpack is to use is important, especially for beginner hikers that aren't interested in complicated suspension or pockets they can't seem to work. Some backpacks are too simple, while others are too complex. You want to find the perfect backpack that will work for you, your body, and the belongings you want with you on the hike.
This may include some side pockets, the ability to house a hydration bladder, and much more. Think about what you want on the trails and then look for features that are going to accommodate those items.
Pack Weight
The weight of your backpack is very important as well, as it can result in injury, pain and the chance that you won't enjoy your hike as much as you should. If your backpack is too heavy, there is a good chance you will feel inclined to not bring all the products you want to in order to lessen the weight, which is exactly what you want to avoid as a backpacker.
On top of that, if you aren't one to put yourself at risk and bring all the products along anyway, you will end up sore, both during and after your hike, resulting in a hike you don't enjoy and the likelihood that you won't want to do it again. Be sure your pack weight is just right so that you can bring what you need and be comfortable.
Adjustability and Fit
Adjustability and fit has to do with the same concept as suspension, which is why it's important to think of these things as a hiker. Making sure your backpack fits you the best way it can is critical to being comfortable on your hike, safe on the trails, and not too sore after you finish the at the end of the day.
Some backpacks have the ability to adjust the way it rests on your back while others don't, so understanding the difference between the two and taking that into consideration when backpack shopping is important. Look for shoulder padding and adjustable straps for the best fit so you don't have to fuss with the backpack when you're on the trails.
Rain Covers
While some hikers love it and some hikers hate it, rain will probably happen on one of your hikes depending on where you live. For those hikers that have never seen rain on one of their hikes, this might not be as important, but for people residing in places that see high levels of precipitation, rain covers on their backpacks might be important to make sure their belongings are safe against the rain.
If the rain destroys the backpack and your belongings, the whole purpose of the backpack becomes pointless. This means you may want to look for a simple rain cover that can be employed across your pack if it starts to rain.
Notice: Outside Pursuits is a participant in the Amazon Services LLC Associates Program, an affiliate advertising program to provide a means for sites to earn advertising fees sold through by advertising and linking to Amazon.com. Amazon offers a small commission on products sold through their affiliate links. Each of your purchases via our Amazon affiliate links supports our efforts to bring you the best possible product reviews at no additional cost to you. We appreciate your support here at OutsidePursuits.com
Review Overview
Summary : The TETON Sports Oasis 1100 With Hydration Backpack is our top pick for a backpack. It offers and unbeatable combination of adjust-ability, capacity, weight and value.