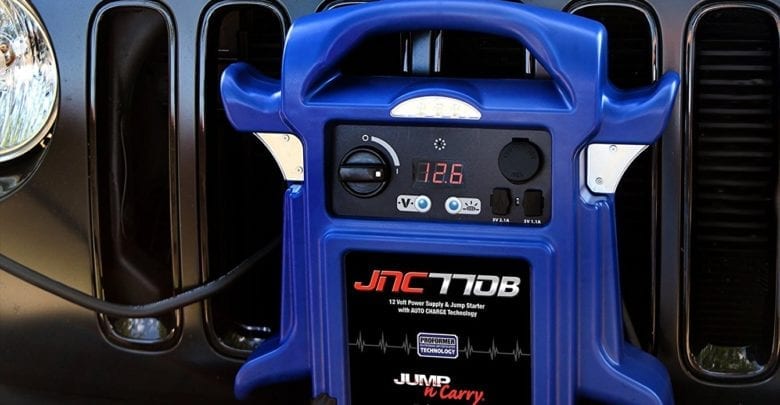 Our Editors independently research, test, and rate what we feel are the best products. We use affiliate links and may receive a small commission on purchases.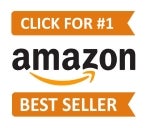 In this side-by-side product review we show you everything you need to know in order to choose the best portable jump starter for your specific needs and vehicle's requirements.
We'll look at the top-rated best portable jump starters for the money. Also see: How To Choose The Best Portable Jump Starter For You. 
Best Portable Jump Starters
Jump-N-Carry JNC770B 1700
Booster PAC ES5000 1500
Jump-N-Carry JNC318
Price
[amazon fields="B01JRDV81K" value="price" format="linked"/]
[amazon fields="B000JFHNQA" value="price" format="linked"/]
[amazon fields="B07212VPNG" value="price" format="linked"/]
Cranking Capacity
425 amps
400 amps
330 amps
Peak Capacity
1700 amps
1500 amps
700 amps
Cable Length / Gauge
68 inches
#2 AWG
43 inches
#4 AWG
18 inches
#10 AWG
Weight (pounds)
23 lbs.
18 lbs.
3.0 lbs.
Special Features
(2) USB and (1) 12V accessory outlet
12V power outlet and automatic recharging
(2) USB and (1) 12V accessory outlet, lightweight lithium ion, LED flashlight
Customer Rating
4.5 / 5.0 Stars
4.5 / 5.0 Stars
4.5 / 5.0 Stars
Also see: Portable Jump Starters – Price Comparison Table and YouTube Video Review
---
 Quick Answer: The 5 Best-Rated Portable Jump Starters
---
Portable Jump Starter Reviews
This full size battery pack is ready to toss out a hearty 1700 peak amps but sustains only 425 cranking amps under load. It has several of the helpful features I love and is put together in an overall attractive package.
Features of the Jump-N-Carry JNC770B 1700

1700 peak amps & 425 cranking amps
USB & cigarette lighter outlets
Built in recharger
While we didn't talk about it earlier, I do love the thick 2 AWG wires for the jumper leads. Essentially the thicker the wire cables, the more efficient they will work. This is great when you want to get every ounce of juice out of your jumper battery.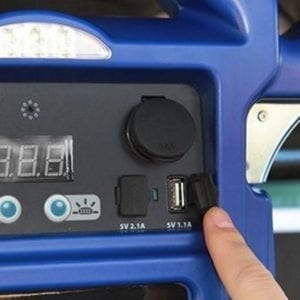 There's a built-in voltage tester which shows you on a digital scale the voltage of the battery. For those who understand car batteries, having an inside look at the voltage can actually help you understand what's going on. So I appreciate that from a DIY perspective.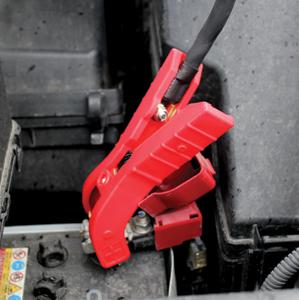 There is an optional LED light that's included, but again I don't see it as particularly useful. It's not adjustable and it's hard to point a huge battery pack at whatever you want to light up.
Best for a well-rated, full featured battery pack with moderate cranking amps.
---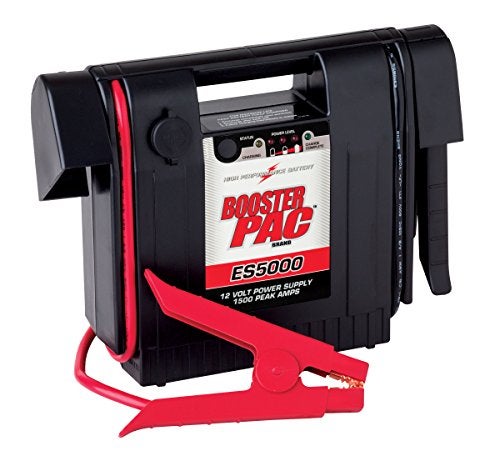 I can attest to some first hand experiences with this portable battery jump starter. I own this one – thanks to a gift at one point in my life. Personally, I like that it has few extra features and gets the job done at a reasonable price.
Features of the Booster PAC ES5000 1500

1500 peak amps & 400 cranking amps
#4 AWG cables
Automatic charging with indicator
I will say that while the 4 AWG cables are big enough to get the job done, I would have liked to see them go up a size or two. Remember, too small of cables can make the battery less efficient. However in my experience it's worked just fine.
There is one cigarette lighter output and that's it. Good for the occasional use, but you'll need a USB adapter to make it work on most devices. That's not a problem for most of us though because many cars have a glove box full of orphaned phone adapters.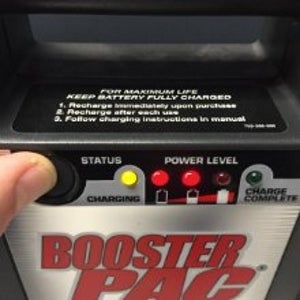 While it's a small complaint, it does get annoying to have the wall charger separate from the battery pack. I keep them in the same compartment in my trunk and take them out to charge inside every couple of months. I'm always worried I'll lose the charger though!
Best for an affordable, low-feature jumper starter power bank with battery pack for 4-6 cylinder gas cars.
---
Looking for a compact, lithium based battery that can give your car that extra boots to get going? This is the one for you. The JNC318 is in the category of mini jump starters and is smaller than full size jump packs, but it will have a few limitations.
Features of the Jump-N-Carry JNC318

700 peak amps & 330 cranking amps
10 AWG cables
Small form factor
8 pound weight
This battery jump pack has its strengths in its tiny size and lightweight. It's small enough to fit in the corner of the car unnoticed until its needs. It's also lightweight enough that those without arm strength for larger jump packs (which can weigh 20+ pounds) will have an easy time.
It is important to note that the jump pack has only 700 peak amps and 330 cranking amps. On top of that, the 10 AWG wires are not going to be able to handle heavy sustained cranking. That doesn't mean the end of the world though.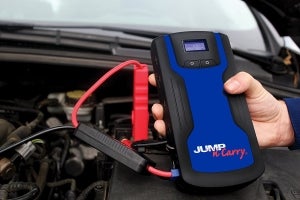 To use this battery jumper effectively, you'll want to clip it to the battery and let it slowly charge the main battery before cranking over the car.
There are two USB chargers, a digital display, and included flashlight. Luckily this battery pack is actually lightweight enough to use as a flashlight if needed!
Best for a lightweight, compact jump starter power bank for small cars.
---
By far the battery pack with the most options, the GB30 comes in 300,400,1000,2000 and 4000 amp models. No matter what you're trying to jump start, there's going to be an option here for you.
Features of the NOCO Genius Boost Plus GB30

300 – 4,000 amp models
Compact form factor
Simple, intuitive design
I do have to admit, I like the overall build and utility of this jumper pack. Like many lithium jumper packs it's actually small and lightweight enough to use the LED flashlight effectively. Plus, there are 7 helpful light modes included on the flashlight for emergency use.
All Girls Garage: Jump Starting - NOCO Genius® Boost GB40 UltraSafe® Lithium Jump Starter
The battery pack features a simple charge indicator, a single power button, a flashlight button, and a charge button. Super simple and straightforward – exactly how a battery jump pack should be.
Because of its small size it makes a good choice for a device charging and battery jumping.
Just remember that like most lithium batteries you'll be further ahead to let it charge your main battery for a while before cranking over the engine and demanding it to keep up with power consumption.

Best for small, compact jumper batteries with tons of sizing options to start nearly any engine.
---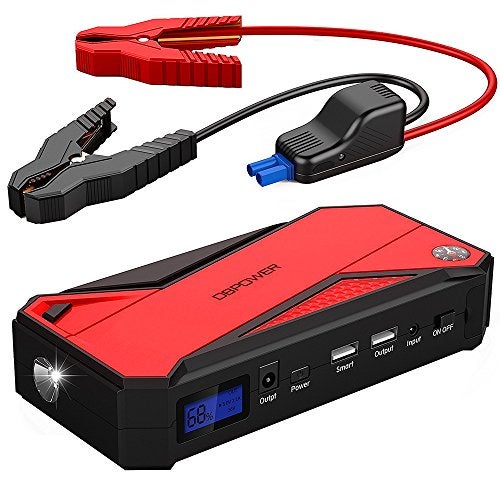 There's something satisfying about the compact effectiveness of today's lithium jump starters. In fact, they make good options for device charging as well as emergency vehicle jumps.
On top of all that, they can be impressively affordable – like this one!
Features of the DBPOWER 600A Peak 18000mAh

600 amp peak output
Two USB charging ports
Digital battery life display
I do have to admit that I love the lack of guessing involved in having a digital battery % display. With today's technology I really don't know why this feature isn't more common. But thanks to DBPOWER for making it happen.

Like most of the lithium battery packs we've reviewed, this little guy is going to need a minute to revive your battery before you crank that engine over. They're just not made to handle sustained cranking unless you can get the main battery charged up a bit first.
At only 1.3 pounds this 18000mAh battery doesn't have much juice for large batteries. In fact, you can find smartphone charging packs with more total capacity. But it will give you an extra boost for those emergencies and it won't take up space or weigh you down doing so.

Best for an ultralight emergency battery jumping solution that can stay out of sight and out of mind.
---
Portable Jump Starters – Price Comparison Table

Best Portable Jump Starters
Price
Cranking Capacity
Peak Capacity
Cable Length / Gauge
Weight (pounds)
Special Features
Customer Rating
Jump-N-Carry JNC770B 1700
[amazon fields="B01JRDV81K" value="price" format="linked"/]
425 amps
1700 amps
68 inches
#2 AWG
23 lbs.
(2) USB and (1) 12V accessory outlet
4.5 / 5.0 Stars
Booster PAC ES5000 1500
[amazon fields="B000JFHNQA" value="price" format="linked"/]
400 amps
1500 amps
43 inches
#4 AWG
18 lbs.
12V power outlet and automatic recharging
4.5 / 5.0 Stars
Jump-N-Carry JNC318
[amazon fields="B07212VPNG" value="price" format="linked"/]
330 amps
700 amps
18 inches
#10 AWG
3.0 lbs.
(2) USB and (1) 12V accessory outlet, lightweight lithium ion, LED flashlight
4.5 / 5.0 Stars
NOCO Genius Boost Plus GB30
[amazon fields="B00M1OUBES" value="price" format="linked"/]
300-400 amps
400 amps
12 inches
#10 AWG
2.4 lbs.
(1) USB IN and (1) USB OUT, LED flashlight and emergency strobe
3.7 / 5.0 Stars
DBPOWER 600A Peak 18000mAh
[amazon fields="B077HY7SFJ" value="price" format="linked"/]
200-400 amps

600 amps

12 inches
#10 AWG
3.25 lbs.
(1) Smart USB and (1) USB OUT, LED flashlight, red strobe, compass
4.9 / 5.0 Stars

---
How to Choose the Best Portable Jump Starter For You
If you're like me you've been stranded in your car in some unfortunate locations. While I didn't have the foresight to own a portable jump starter before I needed it, I did go get one after. Hopefully you'll make the decision to buy one a little sooner than I did. In the long run a little preventative medicine goes a long way.

So either you have good foresight, or you've already encountered a problem and need a heavy duty jump starter. Either way, it's important to understand the components of a car jumper that make it worth buying. After all, we can't just start the car with a AA battery. We need something a little more powerful and reliable.
Cranking Amps vs Peak Amps
When you sit down and start looking through portable jump starters or go to the store you're going to find these designations. Let me briefly define them for you so you can understand what to look for.
Peak Amps
Refers to the spike in energy output that happens right after you initially begin to draw power from your portable jump starter. These peak amps fade off quickly to a more sustainable output that lasts longer. Powerful battery jumpers are able to jump start vehicles requiring over 400 cold cranking amps.
In this way, peak amps can be a bit misleading. Peak amps aren't a measure of long term battery output but rather the burst of peak energy when you first activate a jump start battery pack. Peak amps are important from second 0-1 of turning over the engine.
Cranking Amps
Refers to the longer sustained output that happens after the initial burst of power tapers off. When you turn the key and begin cranking the engine over, cranking amps is important from seconds 2-5. It's this cranking amps measure that will provide the power for longer starting bursts.
Essentially peak amps provides the burst of power to get things started. This often is enough to get the engine running. But for those more stubborn engines that need to be turned over a bit longer, cranking amps will rapidly become important.
Pro Tip: Never crank your engine over for more than 5 seconds at a time. This can damage the battery and starting motor.

How Big of a Portable Battery Jumper Do I Need?
Let's be clear – there's no single answer to this question. The size of your car jumper depends on what vehicle you're driving and what type of engine is in it. The bigger and beefier the engine, the more juice you'll need to jump it.
The following factors make big impacts on the size of jumper you'll need:
Diesel engines need more power than gas
The more cylinders you have the more power you'll need
Older engines will need more power than equivalent newer ones
There's no solid answer but in general the more power the better. You can really never have too much battery power available for a jump.
Gas Cars
Since they require less power than diesel, can generally be jumped with a car jumper of 150 – 300 amps.
Diesel Vehicles
Will need more juice and should be jumped with 300 – 700 amp booster packs. Of course a 4 cylinder Mercedes diesel car will need a lot less amperage from a car battery starter to get started than a 16 cylinder CAT diesel bulldozer. It's all relative.

Environmental Impacts
Believe it or not, outside temperatures can dramatically and substantially impact the performance of battery jump packs for vehicles. Even the battery in your car will be impacted by cold.
Whenever the mercury drops expect your battery performance to drop with it. That means you'll be more likely to need that car battery jumper – but that jumper pack will also be more likely to not work.
So, what's to be done? If you live in climates where temps normally drop well below freezing, you can anticipate a drop in battery performance. The only real way to deal with that is to get a battery jumper with quite a bit more power than you expect you need.
To be safe, it's not unreasonable to double or more the cranking amps of your vehicle. If you think you need a 400 amp battery jumper, go with an 800 amp if you live in cold climates. During those cold months that 800 amp pack will act like a 400 amp pack.
Pro Tip: Keep your car battery and your jumper pack battery charged once a month during the cold months and every 3 months during warm months to be sure they'll work when you need them. This will also extend their life.

Extra Features
For some odd reason battery jump starters seem to come with "add ons" these days. Some of them are handy, while others are a gimmick. Personally, I try to avoid the odd additional features that are on many battery jumpers. But, some of them can be handy so let's review a few.
Air Compressors
Are often added to battery jump packs. These can be handy for emergency situations but they often don't even have enough power to fully inflate a tire. They might save you in a pinch though. Manufacturers make standalone portable air compressors that can fit in a car emergency bag and usually work better – I use one of these.
Flashlights
Have become a common feature on battery jump starters. These might be handy if you don't mind lugging around a 25 pound battery pack and pointing it at whatever you want to illuminate. A decent LED flashlight weighs a couple of ounces and works a whole lot better.

USB & Cigarette Lighters
These are actually handy additions to a battery pack charger. I've used these several times for emergency device charging because a car battery jump pack has more than enough power to charge most electronics and still have power to start the car when needed.
Circuit Protection
Circuit protection comes in all forms where portable car battery jump starters are involved. Short circuit protection saves your battery pack from bursting into flames if the leads are connected and left together on accident. Overcharge protection saves your battery pack from bursting into flames if you leave it charging on the wall too long.
Frankly, every battery pack jump starter I've ever seen has these bare minimum charging and voltage protection features. If the battery pack you're looking at doesn't have these circuit protection features, ditch it. It doesn't even do its job so it doesn't count as a battery jumper.

Lead Acid vs Lithium
When it comes to battery jump starters you'll usually find one of two options. Lead acid is a more traditional style battery that's more affordable but generally has a lower performance compared to the alternative.
Lithium batteries today feature a much higher raw performance than lead acid. They can often be smaller and lighter than the equivalent lead acid battery.
When it comes to portable car jump starters having a smaller or lighter battery generally isn't an issue. Your car has no problem lugging around an extra 5 pounds in the trunk. For that reason lithium jumper batteries are usually ideal for situations where small and light is important.
Power sports applications such as ATVs, boats, or compact cars without large trunks make good candidates for using a portable car battery jumper with lithium batteries.
Lithium and lead acid both suffer comparable power loss in cold temperatures. This is the second reason that I don't usually recommend the extra expense of lithium batteries in a jump start box. There are few tangible gains that really matter to most drivers when it comes to car jumper batteries.
If you are in a situation where lighter, smaller batteries are important and you don't mind an increase in budget for comparable peak amps and cranking amps, there's nothing wrong with going to lithium.

Conclusion
No matter your budget or your needs there's something on our list. Remember that the size and type of your vehicle makes a lot of difference when you choose a jump box for cars and its installed battery pack.
For some, lightweight small lithium battery packs are ideal for staying small and out of the way. Others want a biggest, beefiest, best reliable battery that can sport nearly the entire capacity of a full size engine battery. We have made sure to include a full range of these on our list.
When choosing a jump start battery pack make sure you purchase the absolute largest and most powerful pack your budget can afford. There's no harm in having too much battery power. But if you don't have enough you'll be just as stuck as if you had never tried using the jumper pack to begin with.
---
Thanks for reading The 5 Best Portable Jump Starters. We hope our review article will help you pick the right product for your needs from among our top picks for best portable car jump starter. Wherever you're headed stay safe out on the road and enjoy your travels.
And if you're shopping for other gear take a look at these related review articles from Outside Pursuits:
HOME & AUTO  SHOP VACS | PORTABLE JUMP STARTERS | BATTERY CHARGERS | JUMPER CABLES | LED SHOP LIGHTS | INFRARED HEATERS | GARAGE HEATERS | JUMP STARTERS | LED LANDSCAPE LIGHTS | LED SOLAR LIGHTS | LITHIUM-ION JUMP STARTERS | COOLER ICE PACKS | BUG ZAPPERS | PORTABLE AIR COMPRESSORS | CORDLESS IMPACT WRENCHES | PORTABLE TIRE INFLATORS | PORTABLE GARAGES | CAR DIAGNOSTIC CODE READERS

YouTube Video Review
Best Portable Jump Starters
Notice:
OutsidePursuits.com is a participant in the Amazon Services LLC Associates Program, an affiliate advertising program. OutsidePursuits.com earns fees from products sold through qualifying purchases by linking to Amazon.com. Amazon offers a commission on products sold through their affiliate links.