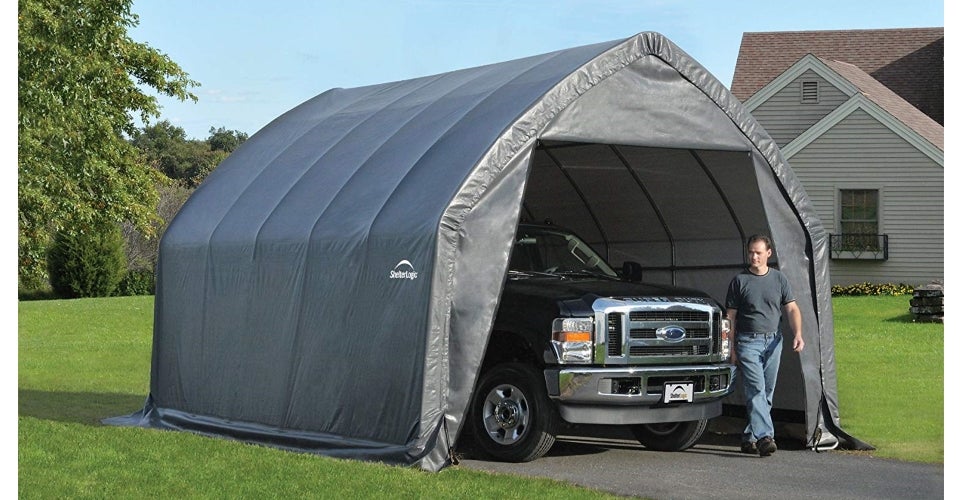 Our Editors independently research, test, and rate what we feel are the best products. We use affiliate links and may receive a small commission on purchases.
Take a look at our list of the top-rated portable car shelters and car garages for your money. Also see our guide on How To Choose The Best Portable Garage later in this article.
Best Portable Garages & Car Shelters
---
Quick Answer: The Best Portable Garages & Car Shelters
---
Portable Garages & Car Shelters Reviews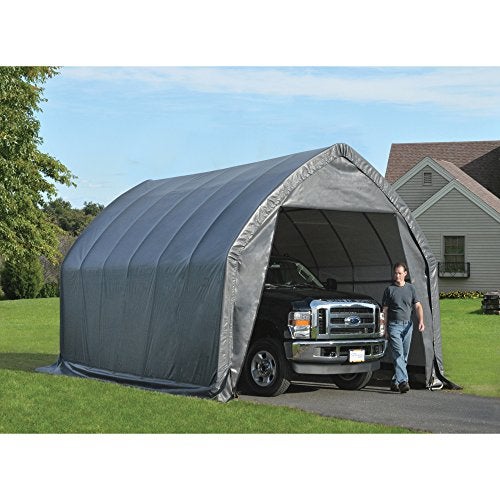 ShelterLogic Garage-in-a-Box SUV/Truck Shelter Quick Look:
---
13'W x 20'L x 12'H (at peak)
Bonded steel frame
Triple layer UV-treated fabric
Alpine design frame
Patented stabilizers
This garage-in-a-box comes in at the top of our list for several reasons. With the dimensions listed above, this shelter is truly big enough for an SUV or full-sized truck to fit comfortably, with space to spare. The door clearance is 8'4", so there should be no issues with larger vehicles. In fact, the manufacturer claims that this particular shelter can also fit larger boats or multiple motorcycles. This would be an ideal size if you're planning to use it for other purposes (like over a deck, for example). The all-steel frame is bonded with a powder-coated finish that will prevent the steel from rust, corrosion, or even simple chipping and peeling. The door rafter design has bolt-together hardware at every connection, providing extra stability and sturdiness.
This would be an especially good choice for someone who lives in snowy areas, because the alpine frame (named because of its high peak and steep roof sides) provides a steep enough slope to prevent large amounts of snow piling up. The waterproof, polyethylene cover is UV-treated on both the inside and the outside, providing maximum protection for you and your vehicle. The cover is also treated with anti-aging, antifungal fade-blocking agents to prolong its lifespan. The cover is easy to put on the frame with a sliding cross rail that squares up the frame, while locking down the cover at the same time.
This package is truly an all-in-one, as it comes with the frame and cover, solid rear door panel, double zippered front door panel, a roll-up door kit, auger anchors and steel foot plates. The only thing you may need to purchase separately is extra anchors if you feel that you need them. This product also comes with a 1 year limited warranty for Fabric and Framework.

---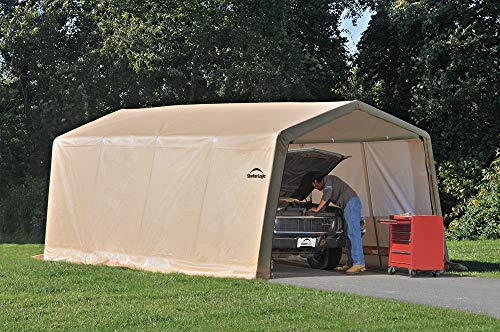 ShelterLogic Peak Style AutoShelter Quick Look:
---
10'W x 20'L x 8'H
Bonded steel frame
Triple layer UV-treated fabric
Ratchet Tite cover tension system
Patented stabilizers
This 10 x 20 portable garage shares many of the same features as our number one choice, being from the same manufacturer. Because it's more compact, this shelter is better suited for smaller cars rather than bigger trucks or SUVs, though you may be able to fit a smaller pick-up truck. It is, however, perfect for motorcycles, tractors, ATVs or seasonal vehicles like snow mobiles or jet skis. The frame and cover are the same quality and material as our first recommendation above. Even the doors are the same, with one solid rear end panel and one double zippered door to provide maximum coverage for your vehicles or storage items.
Aside from general size, the major difference is the slope of the cover. This model has a much flatter slope, with nowhere near the peak of our first product. On the one hand, this could be good thing as it might better adhere to any municipal height restrictions. However, it might not hold up as well under a heavy snow load. According to the manufacturer, two people should be able to complete the assembly, and approximately 6 hours should be enough time to set aside. The compact size also makes the frame easy to maneuver. Combined with the benefits of the frame and cover materials, as well as a 1 year warranty for Fabric and Framework, this was an easy choice for our number two pick.

---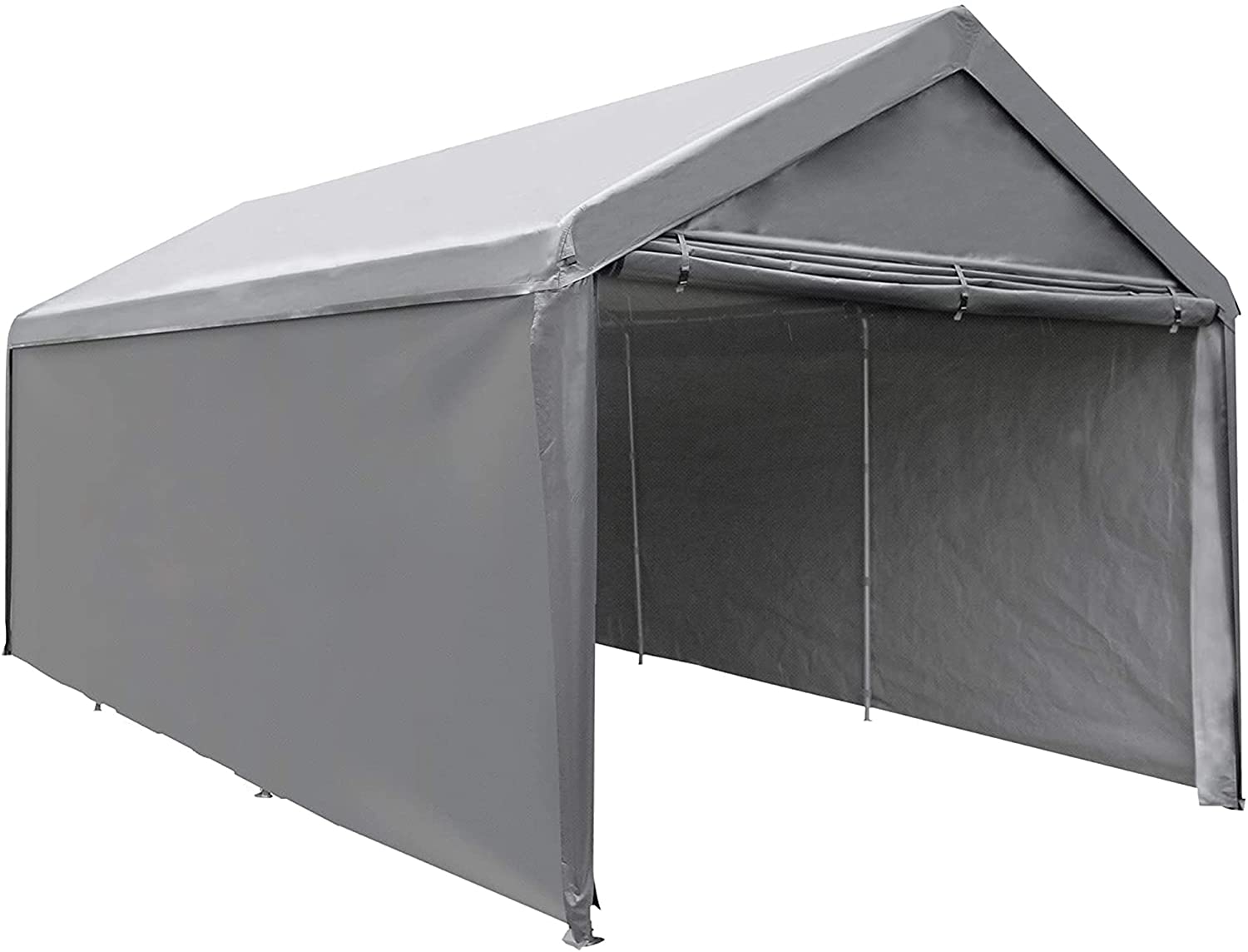 Abba Patio 10 x 20-Feet Heavy Duty Carport Quick Look:
---
10'W x 20'L x 9.4'H (at peak)
Power coated steel frame
Polyethylene canopy
Removable side panels and doors
Easy to set up
As you can tell from the product name, this 10 x 20 portable garage is heavy duty, but has very clean lines, giving it a more contemporary and less industrial look. The size of this heavy duty garage allows for both cars and trucks, as well as boats and motorcycles. It can also be used for seasonal recreational vehicles. The frame consists of 1.5" powder coated steel tubing. The coating protects the steel from the elements, as well as corrosive particles. There are also foot pads installed directly onto each of the eight canopy legs. This is a fantastic feature as it allows for easier access to secure the anchors. The peak height is 9'4", and the sidewall height is 6'5", so there's plenty of clearance space for free movement. In addition, the slope is just enough that snow loads or heavy rain shouldn't be a problem.
The water and UV-resistant polyethylene top cover can easily be installed, and heavy duty bungee cords secure the tarp to the frame. One of the best features of this portable garage is that it has three removable panels, including a zippered door, making it extremely versatile. Put all of the panels up, and it will protect vehicles or other possessions from the elements. Take the panels off, and you have shade from the sun but open air on the sides, making it perfect for decks, outdoor parties or exhibits. It's fully collapsible for easy transport and storage as well. In spite of no warranty mentioned by the manufacturer, this is an excellent choice and one of the best car shelters you can buy.

---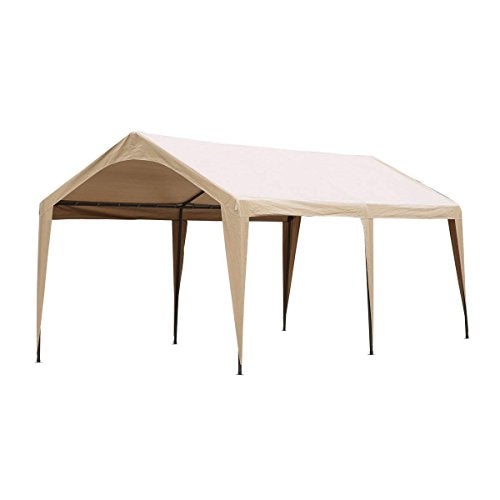 Abba Patio 10 x 20-Feet Outdoor Carport Canopy Quick Look:
---
10'W x 20'L x 9.5'H ft (at peak)
Powder coated steel frame
Double layer, UV-resistant polyethylene cover
Bungee cord attachment (tarp to frame)
Easy set up
This Abba Patio model has six legs, but has the same foot pads as the 12 x 20 portable garage listed above, which will allow for easy anchoring. It also features the same quick collapsibility for easy transport. The biggest difference is that there are no side panels, only the top cover, making it really just a canopy. While this obviously makes it less ideal for storage or full protection against the elements, it can be beneficial as the open sides allow for more space, possibly allowing for a slightly larger vehicle (with no poles or sides to inhibit space). Because of its specifications, it's one of our top choices for the best car canopies.

---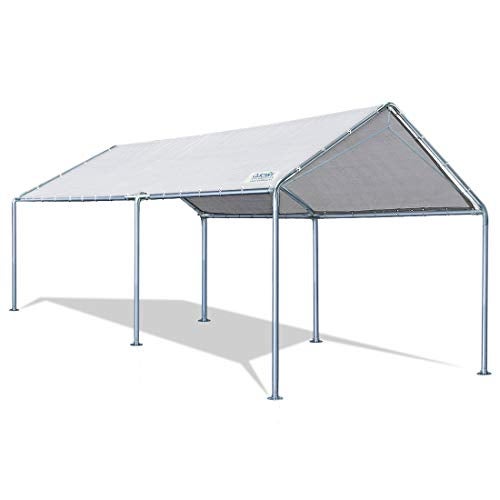 Quictent 20'X10′ Upgraded Heavy Duty Carport Quick Look:
---
10'W x 20'L x 8.7'H ft. (at peak)
Heavy duty galvanized steel tubing
Extra thick Polyethylene Fabric
Reinforced steel cables for extra structure stability
Lifetime free replacement on some items (see Overview)
The length and width of this canopy certainly allows for smaller pick-up trucks, but the height might be prohibitive for bigger pick-ups and SUVs. The heavy duty, galvanized steel tubing frame of this canopy makes it extremely durable, yet easily portable. Unlike other portable garages, this one doesn't require extra drilling or cutting. There are extra steel cables that work to reinforce the entire structure, making the frame sturdy and the top more secure. The waterproof, UV protected polyethylene cover is pulled tight on top of the frame, so there's no great risk of sagging under snow or heavy rainfall.
One unique feature of this model is that Quictent offers a great warranty. In addition to a (fairly) industry-standard 1 year warranty on poles and covers, they up the game with some additions. They also offer lifetime free replacement for connectors, pegs, ropes and elastic ropes; lifetime free replacement for a few "natural-loss" poles (i.e. due to unpredictable weather); and a lifetime 50% off parts supplies. This means you can keep your Quictent in fine repair for years. The warranty certainly makes this an attractive choice. However, since there are no sides to this unit, it may not be the best option if you need full protection from the elements.

---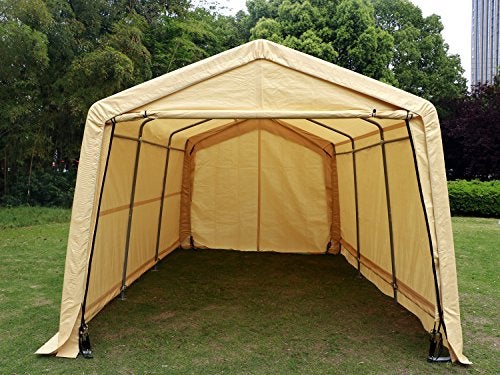 Bestmart INC 10x15ft Heavy Duty Carport Portable Garage Quick Look:
---
10'W x 15'L x 8'H
Powder coated steel frame
Polyethylene cover
Ratchet Tite Tensioning system
Easy for one person to set up
The dimensions of this portable garage allow for anything from motorcycles to small trucks. As it's enclosed, it's also ideal for small trailers, seasonal vehicles, wood or wood pellet storage and other bulk items. The high grade steel frame gives this model extra strength and stability. A premium powder coat finish protects the steel from rust, corrosion, peeling and chipping.  There are four tent peg-type fixtures – one for each corner – to anchor the carport. The "Rugged Ratchet Tite Tensioning" system makes it easy to set up, while pulling the frame and cover together to ensure a perfect fit.
The waterproof cover is made of polyethylene material and treated with anti-yellowing and anti-aging agents, so it shouldn't fade over time. The cover is also UV-treated and anti-fungal, so it will protect items from harmful rays and mold. The cover and sides are all one piece, but both ends of this model open so you can drive through it. It's been noted by current owners that this unit has remarkable heat retention. One owner reported that when placed in direct sunlight – and when the tent was completely closed on both sides – it became extremely hot and almost humid inside the tent. You should take this into consideration when determining where to position the tent, and what you need to store inside it.

---
How to Choose The Best Portable Garage
It used to be that if you didn't have a garage, your vehicles had to sit on the road out in the elements throughout the year. However, there are now portable shelters that can double as carports. There are many models out there to choose from, and there are some things you should consider before making your purchase.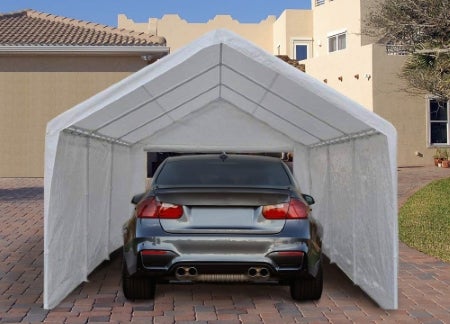 Size
It's pretty obvious that you need to make sure to buy a tent that's big enough for your vehicle to fit under. You'll also want to be sure that there's enough room on either side to open doors, at least enough to move in and out of the vehicle comfortably.
But what many people don't think about is unintentionally buying a tent that's too big for their vehicle. If you have a smaller sedan but buy a portable car canopy that can fit an SUV, you're leaving an awful lot of room for the elements to get to your vehicle. Wind and snow will be able to blow right in.
Location
Is the garage canopy going to be in front of an actual garage? Consider buying one that's open or has adjustable flaps so you can enter from any side (depending on the layout of your driveway). Is it going to be off to the side of the house, or in your backyard to be used for other purposes?
You could probably find a car canopy for any one of these locations. But remember, you're looking for something portable, so it should be easy enough to move around. Think about the spaces around your house where you may want to position the canopy. Again, this isn't just about the amount of space for width and length that you'll need, but the height as well. Be sure that you take roof lines, gutters and downspouts into consideration.
Style
As mentioned above, location might determine the features in your preferred carport. However, if you're fortunate enough to have multiple spaces to install your temporary garage, you can then decide if you want one that's enclosed on three sides – with the option of closing the fourth – or one that's simply a canopy (covering the top only).
Are you looking for one with a flat top, or a canopy with more of a peak? This could be important if you plan on using it throughout the year, and you happen to live in an area that gets a lot of snow or rain. A flat top will just hold water, and the weight of snow could make it collapse, while a peaked top will allow for runoff. If you plan on using it all year round, you may want to consider one that has flaps that roll up and down as needed. This may be beneficial for protection against wind when necessary, but also to increase air flow in the warmer months.
Anchoring the Shelter
This actually goes hand in hand with location. You should have a clear idea of what kind of terrain you'll be placing the portable garage on, especially if you're going to be moving it. If it will only be on cement or gravel, you'll need weights to ensure it remains firmly on the ground. If you have softer ground under the gravel or will be putting it on a lawn, consider one that has stakes (not unlike tents) that will anchor the legs to the ground. If you're setting it up on both terrains, make sure the legs are versatile so you can secure it a number of ways.
Regardless of how to secure your shelter, you should have enough anchors to fully secure it. General practice is to have at least one anchor for each rib of the shelter. This will provide stability and balance, keeping the shelter firmly planted at multiple points.
Material
No matter where you live, this should be an important factor in your decision making. We already mentioned snow and rain (in terms of the shape of the structure), but you should also consider the type of material the portable car cover is made of, as well as any extra features (such as antifungal agents).
If you live in an area that gets heavy snow and/or wind, look for a tent made of materials that are designed specifically to withstand the elements. Some even come with wind and snow load ratings. If you're putting your shelter where it gets direct sunlight (i.e. no tree shade), check to see if the material is UV-rated. This will protect your car from the sun's rays. And if you're in a coastal area, prolonged exposure to salty air could rust or further corrode the metal legs of a canopy, so you could consider one that's specially coated (usually vinyl coating) to better withstand salt exposure. A cover with anti-fungal treatment should be a priority in areas with high humidity.
Conclusion
As you've surely noticed, many portable garages have similar features. As with any item, you should do further research to figure out what special or unique features will best suit your purposes. Remember to check your city's codes to make sure you don't violate any height or permanent/temporary structure restrictions. After you have all of that information, you should be ready to decide which of these is the best portable garage for you! And if you're a motorcycle owner, we've also created an article on portable motorcycle garages.
FAQs
What is the difference between a canopy, tent or portable garage?
Honestly, not a whole lot; they're all ways of referring to the same thing. That's why you may have noticed that we've used these terms interchangeably throughout our review. Generally speaking, however, a canopy usually only has a top, while a tent will probably have sides. Both can be used as portable garages or carports.
How do you reinforce a portable garage?
Using different types of anchors to secure your portable garage is the best way to reinforce it, so that it can withstand the elements and won't collapse for any reason. You can use cross cables, rope (often nylon is a good option) and a combination of bricks or metal stakes to secure the cables and/or rope to the ground. This should make the walls and roof of your portable garage as sturdy as possible.
Can I use my portable canopy for multiple cars?
Yes. Whether it's for storing vehicles to protect them from the elements or for use as an actual outdoor garage, you can store as many as you can safely fit under the canopy. Be sure to refer to our guide above to gauge how big of a canopy you may need, so you don't run out of space.
Are there other uses for a portable garage?
Absolutely! You can use it for many things other than just a garage. It could be a deck or patio cover, used as a shade over a kid's play area, or a marquee for an outdoor function space. Some of the bigger ones have enough space for workbenches or other large supplies.
If I'm putting one of these up, do I have to get building permits?
It all depends on your local ordinances. Most municipalities would consider this a temporary structure, which would mean that you wouldn't need permits. However, you'd still need to check for height restrictions so you don't break any municipal codes. Definitely do your research for any potential restrictions before you buy!
Recent Updates
January 20, 2022: Verified all products for availability. Additional FAQs have also been included to address common customer queries.
Notice:
OutsidePursuits.com is a participant in the Amazon Services LLC Associates Program, an affiliate advertising program. OutsidePursuits.com earns fees from products sold through qualifying purchases by linking to Amazon.com. Amazon offers a commission on products sold through their affiliate links.