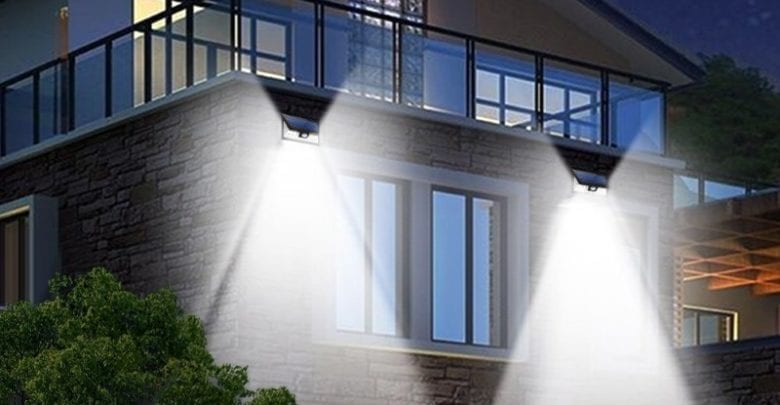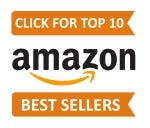 LED outdoor solar lighting has advanced significantly. We review the top-rated best LED solar-powered outdoor lights for the money. Also see: How to Choose the Best Solar LED Garden And Landscape Lights later in the article.
Best LED Outdoor Solar Lights
Best Solar Spot Lights
Best Solar Flood Lights
Best Solar Patio Lights
Urpower Solar Spotlight
Litom Outdoor Solar Flood Lights
Avaspot Solar Outdoor Patio Lights






Light Source
4 LEDs (per unit)
24 large LEDs
15 LEDs (per unit)
Light Time
(on full charge)
6-9 hours
4-8 hours
4-8 hours
Best For
Spotlight, ground illumination
Flood light, overhead illumination
Patio light, overhead illumination, door light
Customer Rating
4.4 / 5.0
4.6 / 5.0
4.2 / 5.0
Also see: LED Outdoor Solar Lights Comparison Table and YouTube Video Review
---
 Quick Answer: The Best-Rated LED Outdoor Solar Lights – 2019
---
Best LED Outdoor Solar Lights Reviews
Features of the Urpower Solar Spotlight

Best for: Spotlight, ground illumination
Placement: Mount or stake
Light source: 4 LEDs (per unit)
Auto on/off: yes
Light Time: 6-9 hours on full charge
Weatherproof: Yes
Click To See MoreSee Less

The Urpower solar spotlight is a highly versatile model with dual functionality as well as two placement options. You can stake these outdoor solar lights into the ground, or mount them onto a wall with the included screws.

In both scenarios, you can adjust the spot for optimal illumination.

This pack includes two solar LED lights, each of which features four LEDs with 50 Lumens each for a total of 200 Lumens.

This spot is very bright and perfect for illuminating walking areas, shining light on walls, architectural highlights or garden designs.

The spot can be rotated at a 90° angle, while the solar panel can be adjusted at a 180° angle, enabling you to optimize the charging capabilities for each light individually.

A replaceable lithium-ion battery of 2,220mAh powers each unit, providing light for six to nine hours on a full charge.

Depending on light conditions, a day of sunlight is enough to give you sufficient charge for the lights to last from dusk until dawn. An automatic on/off setting powers the lights up at dark and shuts them off at sunrise.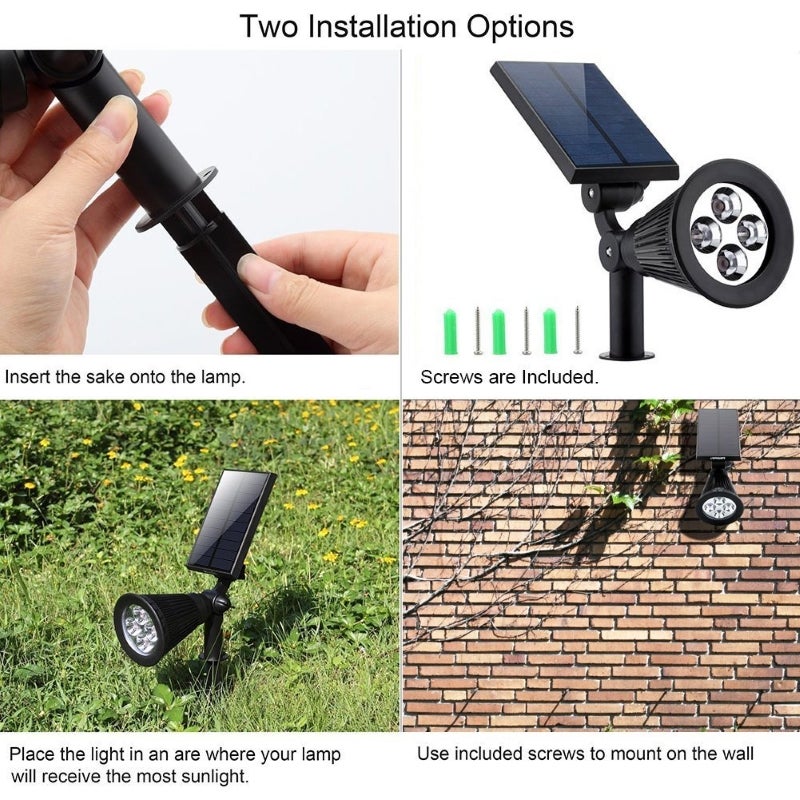 You have two different brightness settings, the brighter of which can light up things at a distance of roughly 15 feet.

These lights could actually be too bright for subtle effects, in which case you can dim them further by manually applying a transparent foil over the LEDs.

The Urpower solar spotlight is available in cold and warm white as well as a multi-color option with a red, green, blue and yellow LED where the unit cycles through a mix of colors.

Thanks to bright LEDs and adjustable light source and solar panel as well as two placement options, this model is not only very affordable, but also versatile and well-suited for a range of use cases.
---
Features of the Litom Solar Outdoor Lights

Best for: Flood light, overhead illumination
Placement: Wall mount
Light source: 24 large LEDs
Auto on/off: yes, with motion sensor (26ft. sensor chip)
Light Time: 4-8 hours on full charge
Weatherproof: Yes, IP65 waterproof, heat resistant, frost resistant
Click To See MoreSee Less

The Litom Solar Outdoor Light is a powerful flood light that will reliably illuminate areas outside your house. You can use this solar light for step lighting, security lighting, pool lighting, or overhead lighting for doors and entrances.

This solar LED light is very bright with big LEDs, 18 of which will illuminate the area underneath, while three more on each side provide light to the left and right of the unit, giving you a lighting angle of 270°.

This wide-angle design provides light to an area that's on average 2.5 times larger than other similar models.

With three different modes, the Litom solar outdoor light is great for different use cases. The medium light mode works like a simple timer mode, providing medium brightness from evening to morning.

The other two modes make use of the built-in motion detector.

The dim light sensor mode shines a dim light all night, but switches to super bright light when motion is detected. In sensor mode, the unit stays off until motion is detected and then shines a super bright light.

The motion sensor has a 120° sensing angle and a range of 10 to 26 feet. In order to provide light throughout the night, the Litom solar flood light needs sunshine of at least 7 hours.

The manufacturer therefore recommends an approximate install height of 5.6 to 6.6 feet. In winter, the lack of light can lead to shorter illumination hours.

This model is durable and waterproof thanks to high-impact ABS material. The installation is quick and easy with the provided wall plug and screws.

The light can easily be removed and placed in a different spot on a different bolt. The Litom solar flood light comes with a two-year warranty and customer service.
---
Features of the Avaspot Solar Outdoor Lights

Best for: Patio light, overhead illumination, door light
Placement: Wall mount
Light source: 15 LEDs (per unit)
Auto on/off: yes, with motion sensor (26ft. sensor chip)
Light Time: 4-8 hours on full charge
Weatherproof: Yes, IP64 waterproof
Click To See MoreSee Less

The Avaspot solar outdoor lights come as a pack of two units. This makes them ideal for mounting on either side of your patio door, or on opposing walls.

For a large area, you can get more than one pack and install several units. These patio solar lights feature 15 LEDs per unit for plenty of bright light.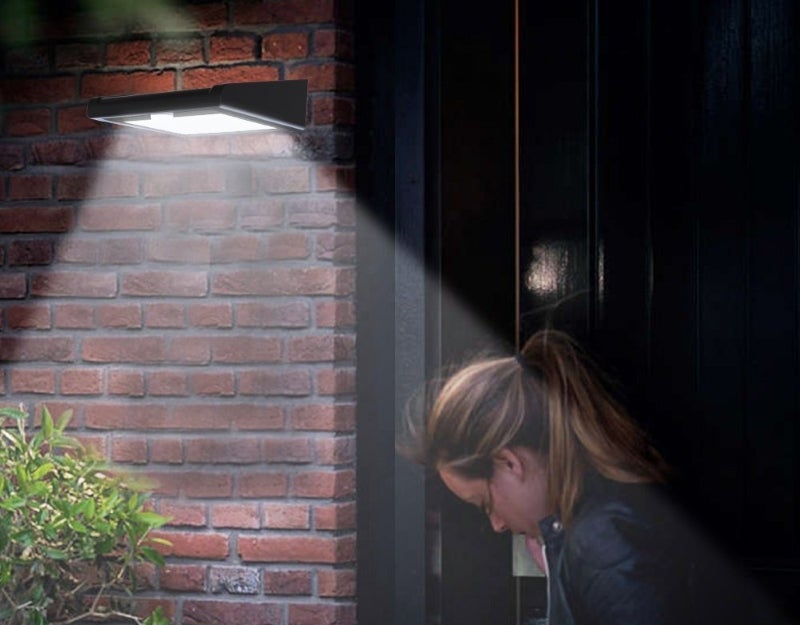 The design of this unit is unique, with a slanted top housing a large solar cell. The angle ensures the cell is able to catch more sunlight during the day. The bottom with the LEDs is flat and will be parallel to the ground when mounted on a wall.

The Avaspot solar outdoor lights work with a motion sensor that features a 120° sensing angle and can detect movement from 10 to 26 feet away.

The lights come on bright when there is movement within range, and stay on for 10 more seconds after the last motion has been sensed. There is no variation in brightness.

Each unit is powered by a 1,200mAh rechargeable lithium 18650 battery. On a full charge, this will give you 4 to 8 hours of light.

A slightly higher battery capacity would be better for holding more charge, but this size paired with the large solar panel at least ensures you can return to a full battery with one day of sunshine.

These outdoor solar lights are made from durable plastic and are IP64 waterproof with a design that prevents water infiltration when it rains.

The slanted designs prohibits the buildup of snow on top of the solar panel. Installation is easy and straightforward with no wiring. The mounting hardware is included.

You get a 12-month warranty with these outdoor solar lights and a 6-month money-back guarantee. In addition, Avaspot is known for their reliable customer service.
---
Features of the Amir Solar Powered String Lights

Best for: Decoration, festivities, indoor/outdoor use
Placement: Stake or wall mount
Light source: 100 or 150 LEDs
Auto on/off: yes
Light Time: Up to 12 hours on full charge
Weatherproof: Yes, IP65 waterproof
Click To See MoreSee Less

The Amir solar powered string lights are highly flexible solar lights with a wide range of applications and nearly infinite possibilities.

You can use these lights to decorate indoors or outdoors, illuminate festivities such as parties or weddings, create scenes for Christmas and Halloween, or creatively light up your patio, lawn, windows and much more.

These solar string lights consist of 100 or 150 LEDs strung together on 33 feet or 50 feet of high quality copper wire.

You can see the lights from every angle and the flexible wire becomes nearly invisible in the dark for a truly impressive effect. You can select the light temperature: warm white or bright white are available.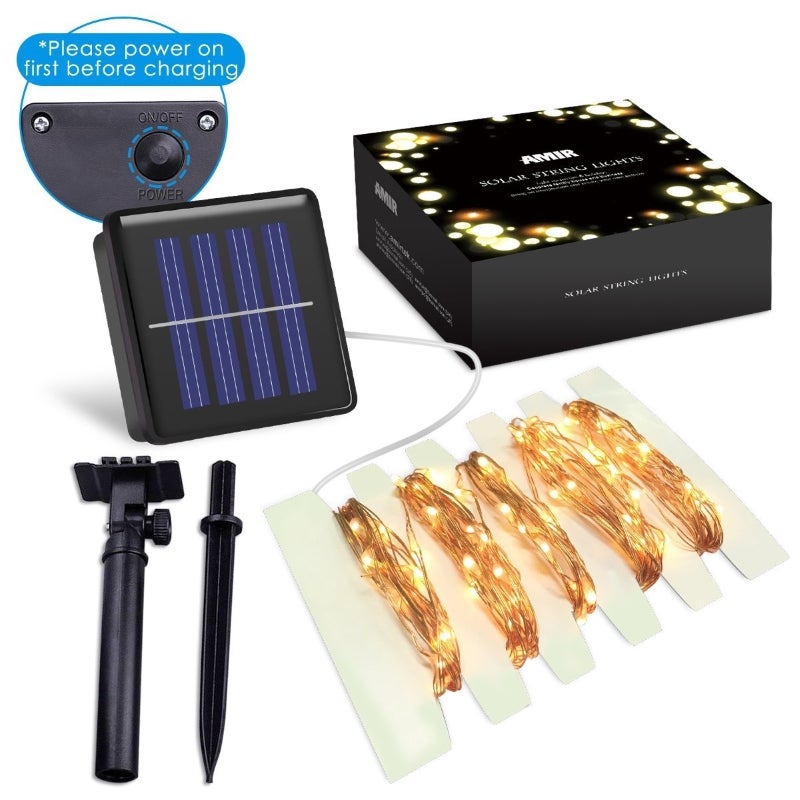 The lights are coiled with a bobbin winder for easy and compact coiling and storage. The flexible wire can easily be wrapped around trees and structures to build any shape you want.

You can select an auto on/off for light from dusk until dawn, and there are two light modes, flashing or steady lights.

Thanks to true placement options, you are also very flexible in how you charge and use the Amir solar string lights.

You can use the included stake to place the solar cell on the ground for charging, either temporarily or permanently. You also have the option to mount the solar cell on a wall.

When placed close to a window or door, you can easily string the lights inside. Of course, you always have the option to place the lights into the sun before they are needed and then string them after the battery has charged.

You get up to 12 hours of light on a full charge, which requires approximately 8 hours of sunlight, depending on conditions.

The built-in 1.2V 1,200mAh Ni-MH battery cannot be replaced, and you cannot replace individual LEDs.

However, failure of an individual light does not mean the entire chain goes dark, and these LEDs have a long lifespan.

Both the solar panel and the string lights are IP65 waterproof, so you need not worry about leaving them out in the rain.

The Amir solar powered string lights are a highly affordable and flexible solution for creating stunning decorations and amazing light effects, both inside and outside.
---
Features of the Gama Sonic Baytown II Solar Outdoor Light Fixture
Best for: Pole light, outdoor light fixture
Placement: Wall or pole/post mount
Light source: 10 LEDs with light-enhancer, 130 Lumens
Auto on/off: yes
Light Time: Up to 10 hours on full charge
Weatherproof: Yes, waterproof and rustproof
Click To See MoreSee Less

The Gama Sonic Baytown II is a versatile outdoor solar light fixture suitable for a wall mount or placement on a post or pole. It is made from rugged and UV-protected ABS poly-resin and will resist rain and snow.

The construction is water- and rustproof. The only maintenance required is replacing the batteries every 2 to 3 years.

All the hardware necessary for a wall or surface mount or placement on a post is included. The dimensions are 16 x 12 x 10 inches, and the collar fits a standard 3" round pole (not included).

The best placement is where the unit ix exposed to ample sunshine hours during the day.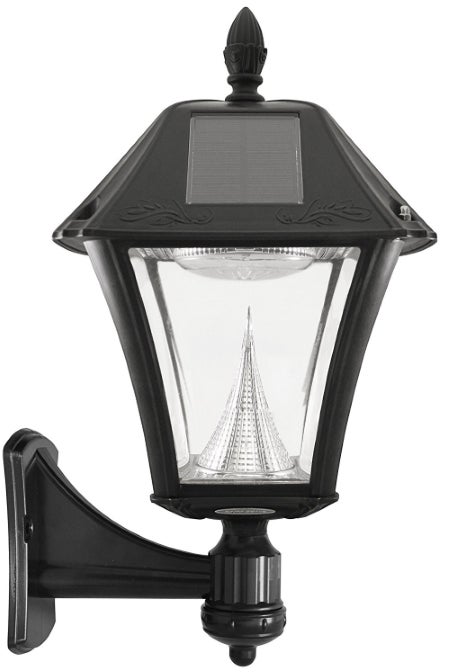 The solar light will automatically turn on at dusk to shine at 130 Lumens for up to 10 hours on a full charge. The LEDs are surrounded by a cone reflector to enhance the brightness and 360° distribution of the light.

The color temperature is specified as 6000K, a crystal white.

The built-in monocrystalline solar panel is protected by tempered glass and will charge the internal lithium-ion battery in about 6 hours of sunshine.

A unique feature is the second battery compartment. The unit includes one replaceable battery already. You have the option to add a second 1,500mAh battery.

This is helpful if there are more than four sunshine hours per day and you can increase the light hours of the unit. With shorter exposure, the second battery will not charge.

The only minor disadvantage to this outdoor solar post light is that there is only one color choice. The unit comes in a stylish black design, but some users might prefer an inconspicuous white.

Apart from that, you get a durable and long lasting bright outdoor light with the Gama Sonic Baytown II.
---
LED Outdoor Solar Lights Comparison Table
---
Overview of LED Solar Lights: Spot Lights / Flood Lights / Patio Lights / String Lights / Post Lights
Outdoor solar led lights are an affordable and environmentally friendly way to illuminate your property. With the best outdoor solar lights you can add light to your outdoor areas completely independent of a power source.
Solar outdoor lights powered by the sun are cost-effective, low on maintenance and available in a variety of styles, suitable for different applications. We have reviewed the best outdoor solar lights for five different use cases around your house.
What are the best solar LED garden and landscape lights?
In this side-by-side product comparison Outside Pursuits leads you through everything you need to know in order to compare and choose the best LED outdoor solar lights for your needs and aesthetic preferences.
How do you decide which LED Outdoor Solar Lights are best for your needs?
We've made the selection process easy and straightforward for you by picking the top model in five categories: solar spot lights, solar flood lights, solar patio lights, solar string lights and solar post lights.
We've highlighted the features and best uses for each model, and then answered common questions regarding outdoor solar lights.
Benefits of Solar Lighting
Eco-friendly
Solar LED lights are environmentally friendly and help you reduce your carbon footprint by using less energy from non-renewable sources.
Easy installation
All of the models we've reviewed are simple and straightforward to place or put up. You don't need to worry about wiring as solar lights are independent from the power grid.
They're safe to use around children and many lights can simply be placed on or near the ground with no manual labor necessary.
Variable use
Because there are no permanent wires, you can easily rearrange your solar lighting setup. Even wall mounted lights commonly use hooks or mounts that are not permanently attached to the device, allowing you to move individual units around as needed, for example for summer/winter variations.
Low maintenance
Once installed, you need to pay little attention to outdoor solar lights.
The panel needs cleaning now and then, and you might want to check that stake models are still firmly placed in the ground now and then. An annual battery check-up is also recommended.
Different styles
With many different applications, styles, light color temperatures and numbers of LED, it's easy to pick the right solar outdoor light to fit your need.
Cost-effective
Solar energy has become very affordable. Apart from the fact that the models we've reviewed already feature great prices, you'll be saving on your energy bill in the long run.
Flexibility
You can always add more solar LED lights without the headache of having to run more power wires to remote locations on your property.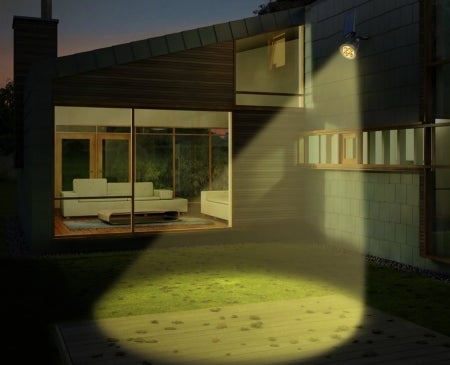 FAQs: Frequently Asked Questions About Outdoor Solar Lights
Question: How do outdoor solar lights work?
Answer: Most solar powered outdoor lights consist of a solar cell, a rechargeable battery, LED lights and a photoresistor. During the day, the solar panel is exposed to sunshine and charges the battery.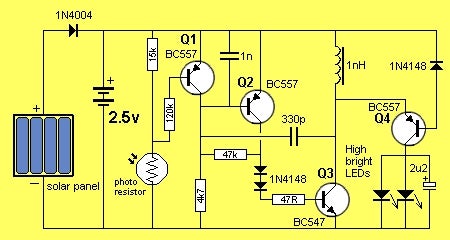 As it gets dark, the photoresistor detects the absence of light and the device switches from charging to powering the LEDs, which illuminate the area around them. Some models also include a motion sensor and give you the option of only powering the lights when nearby movement is detected.

Question: How long do solar lights last?
Answer: In terms of light hours, it depends on the individual model. A larger solar panel can charge the internal battery faster, and a higher battery capacity means more light hours.
Most models are built to power through the night on a day of solid sunshine, so uptime is typically between six and eight hours.
As for overall lifespan, rechargeable batteries tend to last for two to three years if they are charged periodically. Most LEDs have a lifetime of up to 100,000 hours.

Question: Is solar lights maintenance required?
Answer: Outdoor solar-powered LED lights require sunshine as their source of energy. To ensure optimal function and efficiency, clean the solar panel regularly so no dust or dirt accumulates.
During the winter, days are shorter, so you might experience shorter light hours at night, especially on cloudy days.
Make sure no snow or ice covers the solar panels. For storage, switch the device off and keep it in a dry place. Both in use and in storage, check the battery at least once per year.
Question: How durable are outdoor solar lights?
Answer: Solar lights for outdoor use are designed with durable materials that keep out water and humidity. On a model with tempered glass, make sure the appropriate temperature range is not exceeded so the glass does not shatter.
If there is a lot of rain, snow or wind, outdoor solar lights might need extra protection. Don't submerge outdoor solar LED lights under water and don't expose them to extremely hot temperatures.
Conclusion
Solar powered outdoor lights are a cheap, flexible and durable option for illuminating many different spots around your property or decorating individual parts of your house, patio or garden.
Using the sun as a free energy source, you're independent of outlets and need not bother with wiring.
You can combine different models to create the effect or amount of illumination you require.
We trust that you'll be satisfied with the solar spot lights, solar flood lights, solar patio lights, solar string lights and solar post lights we've reviewed.
---
Thanks for reading The 5 Best LED Outdoor Solar Lights. We hope that the article has been helpful and informative to you when selecting outdoor solar lighting for your home or business.
And if you're shopping for other gear take a look at these related review articles from Outside Pursuits:
HOME & GARDEN  LED GROW LIGHTS | HYDROPONICS SYSTEMS | GROW TENTS | HYDROPONIC NUTRIENTS | HYGROMETERS | SOIL PH METERS | HERB GARDEN KITS | LED LANDSCAPE LIGHTS | LED SOLAR LIGHTS | FOOD DEHYDRATORS | COOLER ICE PACKS | BUG ZAPPERS | WHEELBARROWS | PRUNING SHEARS
YouTube Video Review
Amazon Bestsellers for LED Outdoor Solar Lights
SaleBestseller No. 1
Bestseller No. 2
BAXIA TECHNOLOGY BX-SL-101 Solar Lights Outdoor 28 LED Wireless Waterproof Security Solar Motion Sensor Lights, (400LM,4 Packs)
[PIR Motion Lights and No Dim Mode]- Designed with No dim mode to increase product life span. When motion is detected within 3-5m, the motion sensor lights will turn on automatically in darkness or at night, which provides your illumination for security and safety protection.
[28 LED Ultra-Bright Solar Powered Lights]-There are 28 powerful LEDs and the motion angle is 120 degrees which can provide excellent illumination and turn the dark space into a bright lighted space. With a lampshade covering the led, well designed to longer its performance life.
SaleBestseller No. 3
Bestseller No. 4
Bestseller No. 5
LITOM Premium Solar Lights Outdoor with 270°Wide Angle Illumination(4 Pack), IP67 Waterproof Wireless Solar Motion Sensor Lights,Easy-to-Install Security Lights for Front Door, Yard, Garage, Deck
【Solar Powered & Widely Use】 Upgraded 30 LEDs provide extra brightness and more visible area in a 270° super wide lighting angle to your front door, yard, garage, fence, path, etc.The illumination range of one solar motion sensor light can reach 215 square feet and 860 square feet for 4 solar lights to be used simultaneously
【No Dim Mode for Longer Use】This solar security light designed with no dim mode to extend the work time and life span. The bright modes comes on once it is triggered by object passing. It will light up for 30 seconds, or stay on as long as someone or thing is moving in front of it
Bestseller No. 6
MagicPro Solar Lights Motion Sensor Solar Powered Light - 136 LED Outdoor Security Lighting for Porch, Garden, Driveway, Energy Saving, Durable and Waterproof White Light 2PK
ENERGY SAVER AND LONG-LASTING QUALITY: No wire or electric needed just exposed it to sunlight for 4-5 hours, then it's good to go for the brighter evening and safe household, warns you if someone is approaching your doorways, gate, backyard, etc. Made with high impact ABS lamp body that has high-temperature resistance, anti-corrosion and waterproof too, while the solar panel is made of poly- crystal with high efficiency up to 17% + energy-saving built-in 4400 mAH lithium battery.
WIDER LIGHTING ANGLE, EASY TO INSTALL: 136 LED solar garden light installed with the most advanced PIR motion sensor technology, that provides solid brightness and wide illuminating light up to 120° angle. This solar motion sensor light can be mounted on the wall with provided wall plug and screws in seconds, no cable or wire necessary, and oh don't forget to press the front button. Best mounting height of 1.8-2.2 meters. Please follow the instructions inside.
Bestseller No. 7
Bestseller No. 8
LITOM Original Solar Lights Outdoor, 3 Optional Modes Wireless Motion Sensor Light with 270° Wide Angle, IP65 Waterproof, Easy-to-Install Security Lights for Front Door, Yard, Garage, Deck
【World-leading Solar Light Brand】As the leader of the solar light industry, LITOM focuses on the innovation of design and technology to provide the best lighting experience to customer from all over the world. LITOM has sold more than 5,000,000 solar lights and been favorably reviewed by more than 4,000,000 customers
【Brighter & Wider Lighting】Equipped with upgraded high power LEDs and newest energy management chip, LITOM solar powered light is the first light with wide range design in the world, which increases the angle and area of illumination by 50%. The illumination range of one light can reach 200 square feet and 800 square feet for 4 lights to be used simultaneously
Bestseller No. 9
Solar Lights Outdoor, Hikeren IP65 Waterproof Solar Lights(White Light), 30 LED Spotlight, Easy-to-Install Security Lights for Front Door, Yard, Garage, Deck
【Leading IP65 Waterproof Technology】Made of high-impact ABS plastic and having been enormous technological break throughs in waterproof grade, hikeren solar lights outdoor has unique IP65 waterproof design and can withstand all kinds of terrible weather. Much more durable than other less waterproof grade solar lights outdoor.
【Upgrade Detactable Design】:6.5h fully charged for 4400mAh battery lighting up to 18h,quickly and absolutely absorb solar energy. hikeren solar panel and light are connected by a 16.4ft cable. Adopt 180° adjustable solar panel and light holder,No limits for the installation place, just need to make sure the solar panel can absorb the direct sunlight.
Bestseller No. 10
Solar Ground Lights,8 LED Garden Lights Waterproof Patio Outdoor Light with Light Sensor for Lawn,Pathway,Yard,Driveway,Step and Walkway (8 Pack White)
【Solar Charge & Light Sensor】- Each solar garden light has a built-in 600 mAh battery,when replacing it use only the type:600 mAh Ni-MH battery.These Solar lights automatically turn on in darkness or at night and turn off in daytime or bright area.It can illuminate for 8-10 hours with 6-8 hours of charging.(Charging and working time will change depending on the weather)
【Waterproof & Upgraded Design】- IP65 waterproof and high strength ABS make it suitable for outdoor use.It can effectively isolate the water and mist.Suitable for outdoor use, no worries about rain,snow,frost,or sleet.And enough strong to withstand inclement weather and 100KG standing body.
We chose the Urpower Solar Spotlights as the Editor's Choice for best solar-powered LED spotlights.
Last update on 2019-11-20 / Affiliate links / Images from Amazon Product Advertising API
Notice:
OutsidePursuits.com is a participant in the Amazon Services LLC Associates Program, an affiliate advertising program. OutsidePursuits.com earns fees from products sold through qualifying purchases by linking to Amazon.com. Amazon offers a commission on products sold through their affiliate links.