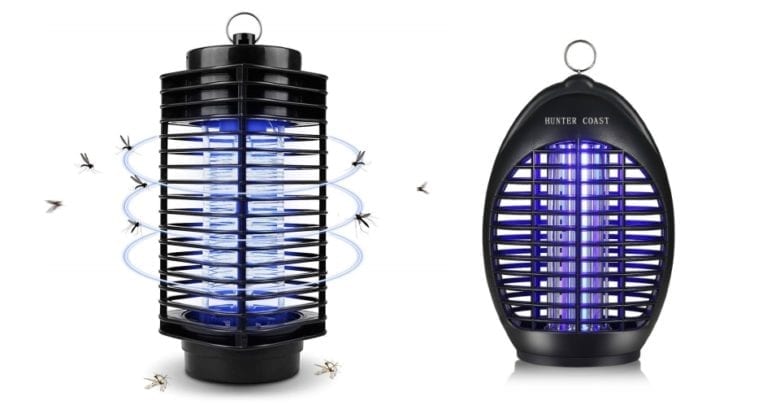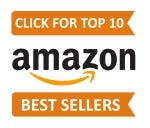 We'll take a look at the top-rated best bug zappers and electric insect killers for the money. Indoor and outdoor bug zappers are included in these product review.
And also see our buyer's tips in How To Shop For Bug Zappers later in the article to help you determine what is the best bug zapper for you.
Best Bug Zappers
| | Flowtron Insect Killer | KPS Bug Zapper | Hoont Bug Zapper |
| --- | --- | --- | --- |
| | | | |
| | | | |
| Wattage | 40- watt bulb | 40-Watt bulb | 7-Watt bulb |
| Killing Radius | 1/2 acre and 1 acre | 1 acre | 600 square feet |
| Special Features | Rugged, weatherproof polycarbonate construction; will not rust, crack or fade | special designed black light tube ( ultra-violet rays ) is completely harmless to human bodies and pets. | For indoor use, or outdoors where unit will stay dry. |
| Customer Ratings | 4.0 / 5 stars | 4.4 / 5 stars | 4.0 / 5 stars |
| | | | |
---
Quick Answer: The 5 Best-Rated Bug Zappers – 2020
Also see: Bug Zappers – Price Comparison Table
---
Outdoor Bug Zapper Reviews
Flowtron BK-40D Electronic Insect Killer at a Glance:

Wattage: 40- watt bulb
Killing Radius: 1/2 acre and 1 acre
Waterproof/Weatherproof: Yes
Rating: 4.0/5.0
This Flowtron outdoor bug zapper comes in two options for coverage: 1/2 acre and 1 acre. It has a UV light that offers continuous coverage, especially against flies. It also comes with optional mosquito attractant which will increase the number of mosquitoes that are killed.
Click To See MoreSee Less

It is suggested that you use the attractant as mosquitoes are not naturally attracted to UV light. This one is designed to be hung on a hook which can be purchased when you purchase it so you can stick it in the ground a safe distance from you and your activities.

The Flowtron bug zapper is our overall editor's choice for best electric bug zapper.
---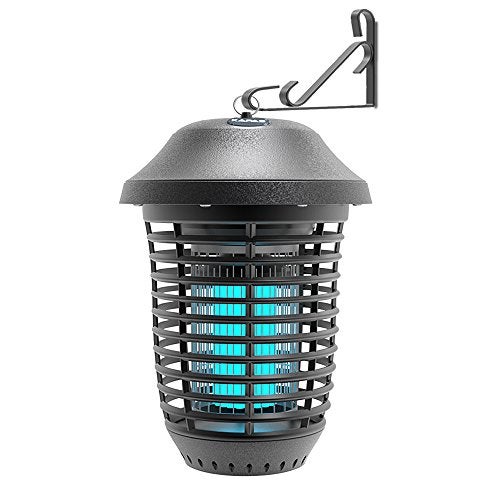 KPS 40W Outdoor Bug Killer Lantern at a Glance:

Wattage: 40-Watt bulb
Killing Radius: 1 acre
Waterproof: Yes
Rating: 4.4/5.0
This black light lantern style 40-Watt bug zapper is for outdoor use lonely and covers up to 1 full acre. It is water and weatherproof meaning it can continue to attract and zap bugs, even when it is raining.
Click To See MoreSee Less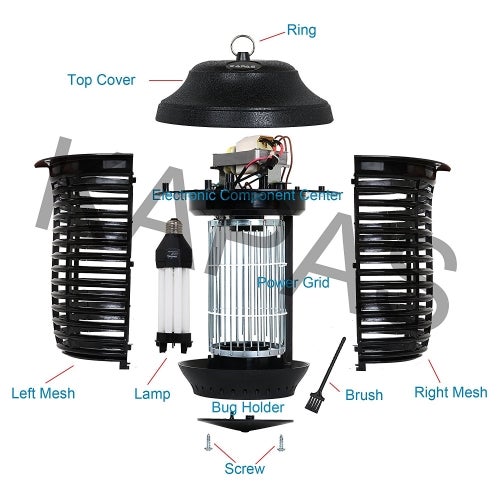 It doesn't use any chemicals to attract insects and the outer mesh is tough and durable making it great for killing insects outdoors while still being safe to handle when necessary.

It attracts and kills moths, mosquitoes, flies, gnats, and other flying insects.
---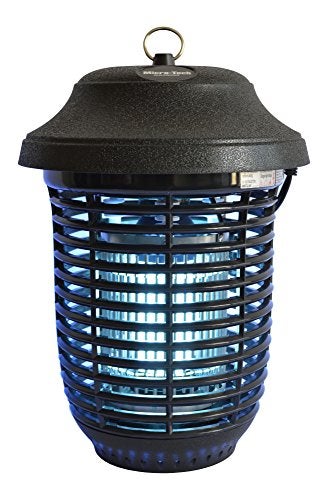 Teza Products Insect Killer Zapper at a Glance:

Wattage: 15, 40, 50, and 120 watt options
Killing Radius: 6,000 square feet
Waterproof: Yes
Rating: 4.0/5.0
This outdoor waterproof bug zapper by Teza is effective for 8,000 to 10,000 hours of continuous use and covers up to 6,000 square feet of space. It is suitable for both indoor and outdoor use and the hook on top makes it easy to hang on a hook or a stand anywhere.

Click To See MoreSee Less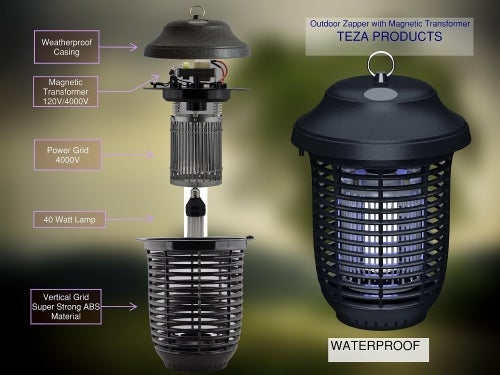 It uses a magnetic transformer allowing it to run longer, cooler, and more efficiently than electric transformers. Magnetic transformers can last 25 years or more if they are taken care of, making this a product that should last. Uses heat from the light and ocetnol gas to attract mosquitoes from up to 100 feet away.
---
Indoor Bug Zapper Reviews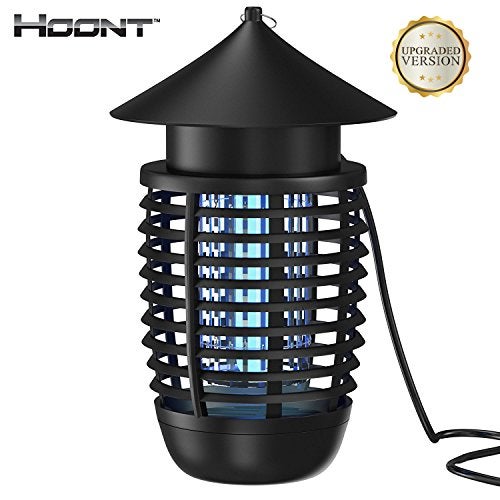 Hoont Powerful Electric Indoor Bug Zapper at a Glance:

Wattage: 7-Watt bulb
Killing Radius: 600 square feet
Waterproof: Yes
Rating: 3.6 / 5.0
This indoor and outdoor fly and mosquito killer has a nice sleep hooded design with a ring at the top, making it easy to hang up and out of the way. This allows you to place it somewhere out of sight and out of mind.

Click To See MoreSee Less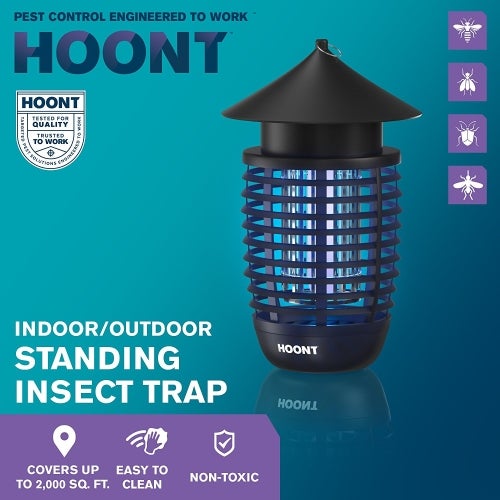 While still using UV light to attract the bugs away from you. The 7-Watt light bulb might be a little weak for outdoor use but should work great for indoor situations.
---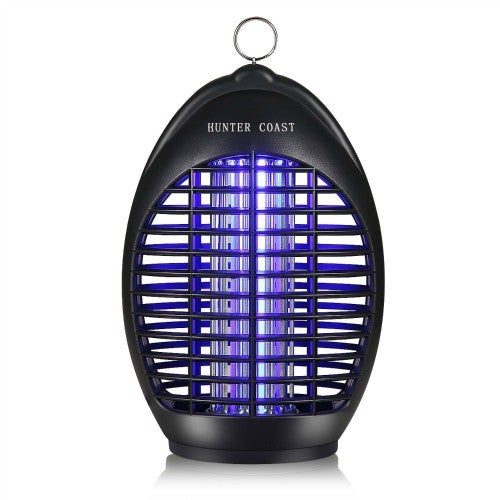 HUNTER COAST Electric Bug Zapper at a Glance:

Wattage: Unknown
Killing Radius: 500 square feet
Waterproof: No
Rating: 4.0 / 5.0
This tiny little bug zapper by Hunter Coast is less than 10 inches tall and 6 inches wide. But is great for getting rid of those annoying mosquitoes and flies that somehow manage to find their way into our homes and offices. It uses 365 nm UV light without any additional chemicals to attract insects.

Click To See MoreSee Less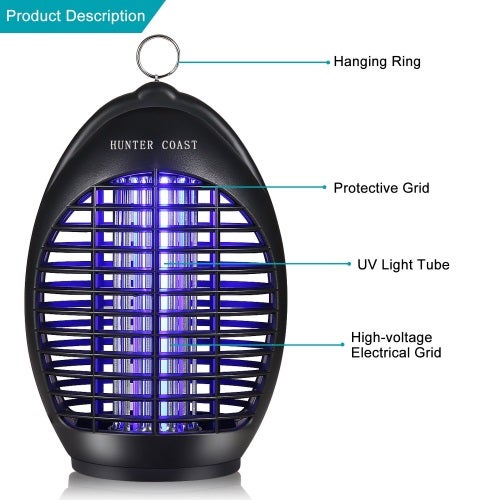 With 360 degree coverage for up to 500 square feet, it is great for bedrooms, kitchens, and even office cubicles. The plastic housing also helps to make it safer and keep you from accidentally getting zapped.
---
Bug Zappers – Price Comparison Table
---
How to Shop for Bug Zappers
The best way to control all kinds of unwanted flying insects around your home or business is by using electric bug killers, also know as "bug zappers".

In this article we review and compare the best bug zappers on the market based on overall sales and customer ratings.

Mosquitoes and flies pose a particular inconvenience to homeowners. So the products we reviewed are best in the categories of electric mosquito killer and electric fly killer.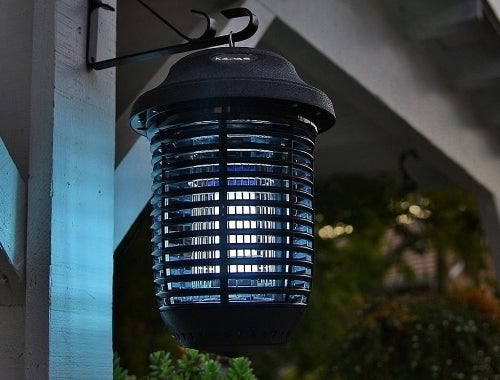 In this side-by-side product review Outside Pursuits leads you through everything you need to know in order to compare and choose the best bug zapper for your specific needs and home environment.

These are reliable, effective bug killers that are able to control populations of several types of flying insects.

Before you venture out into the wonderful world of electric bug zappers, there are several things you need to consider first. I have made a list of four items to think about.

After much research and deliberation, I was finally able to narrow down the dozens to five. These 5 bug zappers are what I consider to be the best on the market.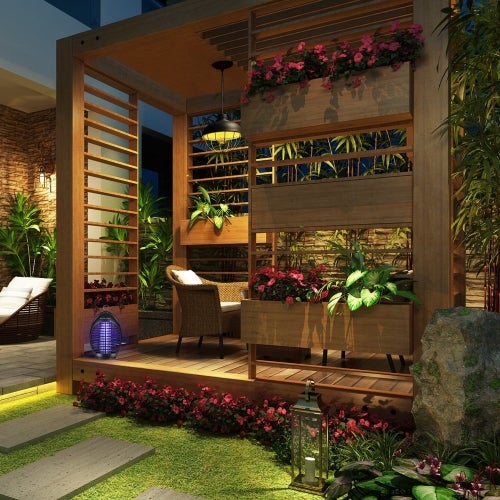 Since we all have different bug zapping needs, there is a variety of shapes, styles, and purposes. I also made sure to include a few for indoor use and a few for outdoor use. Let's get started with the outdoor zappers first.

I also want to explain why all bug zappers are not created equal and why the light is very important to attracting to pesky critters.

Outdoor bug zappers are what you would place on your patio, in the garden, and near the swimming pool to keep the insects away from you and your family.

They tend to be weather-proof and will not rust or become damaged if they get wet. I have a list of three that I consider worthy of being called the best bug zappers.
Types of Bug Zappers
We've divided the product reviews into the (2) sections: "Best Outdoor Bug Zappers" and "Best Indoor Bug Zappers" so that you'll learn the right product for your specific property needs.

Beyond outdoor versus indoor there are four primary types of bug zappers: vertical, horizontal, light bulb and non-luminescent.
Vertical Zappers
Vertical Zappers are nice because they can be made waterproof. That means they can be left outside. Usually, they are structured with a non-metallic exterior to help prevent people and pets from being electrocuted.

This is the best design for outside use like near the pool or around the patio.
Horizontal Zappers
Horizontal zappers are usually found for interior use as they can't really be made waterproof. They usually look like a metal box but instead of having every side closed, there is wire mesh on the front to allow the bugs to see the light and enter to their eternity.
Light Bulb Zappers
Light bulb zappers are what they say, a light bulb that you can screw into a normal light bulb socket. These are usually for external use like in an enclosed area where they won't get rained on.

They do emit a small amount of light so they can be used to replace or used with other porch lights. And they will zap the insect attracted to it.

But it doesn't have any wire mesh or non-metallic casing for catching the dead insects or protecting people and animals so it is best not to put it in reach of these things.
Non-luminescent Zappers
Non-luminescent zappers do not use a light source to attract insects. In fact, they use a high pitched sound that humans cannot hear to scare off the insects.

This means that they don't actually zap or kill the insects, they just ward them off from the area surrounding the device.
Lights
Most bug zapper will have a light source. This is because insects are naturally drawn to light. For this reason, you will want to keep the bug zapper away from the location that you don't want the bugs because they must be attracted before they are zapped.

Typically, there are three types of lights used in bug zappers. Neon and Ultra Violate or UV are very common. Though insects can actually see UV lights best, making it the most common option.

The third type is a mercury vapor lamp which essentially produces light by burning mercury. It is confined in a glass tube so it is not harmful to people. But it will attract and lap flying bugs, especially at night.
Wire Mesh
Wire mesh is how the bugs get zapped. One to two layers of wire mesh are formed around the light source. When the bugs fly toward the light, they meet the wire mesh first and that is when they get zapped.

Make sure when you buy your bug zapper, it has high voltage wire mesh for the best defense against those nasty insects trying to ruin our party.
Housing
Housing refers to the exterior design of the bug zapper. The biggest thing to consider with housing is safety. The better and safer zappers usually have a plastic or non-metallic exterior to help keep people and pets safe from electrocution.

The second thing to consider with housing is whether or not it is waterproof. If you want to use the zapper outside in the elements, it needs to be waterproof in case of sudden rainstorms.

Not all bug zappers are meant for outdoor use so make sure the model you purchase is if you want to use it outside
Sounds
Most bug zappers emit some kind of sound. There is usually a humming sound when it is running. This is because of the electricity running through the wire mesh.

And usually, when a bug gets zapped, it makes a popping sound. There shouldn't be any sparking but there is normally a sound.

When shopping for bug zappers, it is probably a good idea to look for one that is as quiet as possible.

Reading product reviews and things like that from customers who have already purchased it will give you a good idea of the noise level of the zapper while it is turned on and when it zaps a bug.
FAQs – Frequently Asked Questions About Bug Zappers
Q: Is it safe to use in the kitchen and near food?

A: Here is an interesting fact, these bug zappers can actually splatters the insects' remains up to 6 feet away from the initial zapping location.

In other words, it is not advisable to hang on above your dining room table. Ideally, you will keep it at a safe distance where the bugs will be attracted to the zapper and away from your family and food.
Q: Are electric insect killers 110V or 220V?

A: This depends on the specific bug zapper. Some are suitable for both. But it is important to make sure they are suitable for the voltage you are using.

The standard in North America is 120v so the 110v is what you need. If you use 220v you will need a converter so you don't short-circuit the zapper or blow a fuse.
Q: What kind of bugs will a bug zapper kill?

A: Most bug zappers are effective against gnats and flies for sure. Though mosquitoes are not attracted to UV lights, if they are in your yard, they will most likely be zapped by your zapper.

Bees, wasps, yellow jackets, hornets, and horseflies are also usually attracted to the light source.

Other insects like moths, and even ants, and centipedes that don't fly are attracted to the light and will be zapped. You can also add things like specific insect pheromones to attract them to the light.
Q: Do they make bug zappers that don't make sounds every time an insect dies?

A: Not really, not unless you are using something to repel the bugs instead of zap them. The zapping sound is caused by the electrical current jumping from the wire mesh to the insect which is what kills the insect.

Kind of like when you wear socks and walk across the carpet and touch a metal doorknob. But some are significantly quieter than others. If the sound bothers you, try keeping further away from the area you are most of the time.

It will still attract the insects, even if it is farther away from you.
Q: What is the range that the bug zapper reaches?

A: Different bug zappers have different ranges. Most range from 500 square feet to 1 full acre. There are some that will cover even bigger spaces, closer to 2 acres. But for indoor, 500 square feet is most common. And 1 acre is most common for outdoor zappers.
Bug Zapper – Safety Tips
Keep bug zappers at a safe distance from food, children, and pets to avoid potential contamination and/or injury.
Make sure to keep the tray clean. The tray that collects the bugs after they get zapped will need to be cleaned. The frequency depends on the time of year and how big of a pest problem you have. Summer will naturally need to be cleaned more often than winter. If you are constantly using the bug zapper, it is probably a good idea to check it once or twice a week unless you see that it doesn't need it that often.
ALWAYS unplug the bug zapper before you clean it. You want the bugs to get zapped, not you.
Make sure it is mounted properly. Some zappers can sit on the table and be fine while others are designed to be hung from a chain or mounted on a wall. Make sure you get the appropriate design for your situation.
Don't use an indoor bug zapper outside and vise versa. This may seem obvious but it is something that is important to remember. Indoor bug zappers aren't able to withstand the elements.
Follow all instructions for usage and cleaning. To avoid injuries and fire hazards, read the instructions before using and cleaning the bug zapper. It's for the safety of you and your family.
Conclusion
Bug zappers come in all shapes and sizes. With different voltages and even methods of attracting those unwanted pesky pests. In the end, to get what you want, you have to know what you want.

Whether you are grilling out in the backyard or you are leaving the doors and windows open on a cool summer night, you have one thing you don't want to worry about. Insects.

Now that you have a better understanding of what a bug zapper really is, you are ready to go out and start shopping for your own.

A good place to start is certainly the ones on my list and then you can go from there to finding the best bug zapper for your home and yard.
---
Thanks for reading The 5 Best Bug Zappers. We hope this article has helped you to discover the best electric fly killers and electric mosquito killers for your needs and your preferences.

And if you're shopping for other gear take a look at these related review articles from Outside Pursuits:

HOME & GARDEN  LED GROW LIGHTS | HYDROPONICS SYSTEMS | GROW TENTS | HYDROPONIC NUTRIENTS | HYGROMETERS | SOIL PH METERS | HERB GARDEN KITS | LED LANDSCAPE LIGHTS | LED SOLAR LIGHTS | FOOD DEHYDRATORS | COOLER ICE PACKS | BUG ZAPPERS | WHEELBARROWS | PRUNING SHEARS
---
Amazon Top 10 Bestsellers – Bug Zappers & Insect Killers
Sale
Bestseller No. 1
Flowtron BK-40D Electronic Insect Killer, 1 Acre Coverage,Black
Advanced Electronic Insect Control,ultraviolet(UV) light units
1 Acre Killing Radius, 40-Watt Bulb,the cord is 9" in length,insect traps. Place the unit 25 away from the area intended for human activity. Position the insect killer between the source of insects (woods,lowlands, etc.) and the area to be protected
Sale
Bestseller No. 2
Flowtron BK-15D Electronic Insect Killer, 1/2 Acre Coverage
Advanced electronic insect control; non clogging killing grid; 1/2-acre killing radius, requires plug.
Recommended not to be used within 25-feet of area intended for human activity, should not be attached to house or deck or other structures
Sale
Bestseller No. 3
Electric Bug Zapper, Powerful Insect Killer, Mosquito Zappers, Mosquito lamp, Light-Emitting Flying Insect Trap for Indoor(Black)
⚡PROFESSIONAL MOSQUITO KILLER: Physical mosquito killer. Works right out of the box - Just plug in the power cord, UV light attracts mosquitos, flies, moths, and other insects with the special (365 nm) wavelength, and then killing them by the 1000V high-voltage grid.
⚡SAFE FOR HUMANS AND PETS: No more pesticides or potentially harmful sprays. Non-irritating odor, non-toxic and harmless to humans. We encased the shock grid in a durable ABS plastic housing to prevent potential shock injuries to pets and children.
Bestseller No. 4
Bestseller No. 5
PIC Contact Solar Killer Torch (DFST), Accent Light, Kills Bugs on C, Unknown
A SUSTAINABLE INSECT CONTROL SOLUTION: think green with no air pollutants or fuel replets comred to sndard oil-burning torches, insect killer tch can replace up to (90) reills of torch fuel (projected consumption based on 4-moths of an average evening of use)
FLICKERING FLAME EFFECT LED and BLUE UV LED: Acheve the same fae effect without the haard of an open flme with the fliering fame effect LED powered by the sun, the blue UV LED helps attract unwanted flying insects to keep your tdoor experience clear of unwnted pests
Bestseller No. 6
Sale
Bestseller No. 7
Bestseller No. 8
Sale
Bestseller No. 9
Hoont Bug Zapper Bulb, Traps Flies and Mosquitoes for Indoor and Outdoor Use
Features a high intensity UV bulb that attracts all pesky flying insects into the device. Insects then make contact with an extremely powerful high voltage electrically charged metal grid, instantly killing them. Kills a limitless amount of insects.
Designed to spread light in all four directions, providing a 360 degrees fly eliminating protection. Effective for a large area of up to 500 sq. feet.
Bestseller No. 10
We chose the Flowtron BK-40D Electronic Insect Killer as our Editor's Choice for best bug zapper.
Last update on 2020-05-29 / Affiliate links / Images from Amazon Product Advertising API
Notice:
OutsidePursuits.com is a participant in the Amazon Services LLC Associates Program, an affiliate advertising program. OutsidePursuits.com earns fees from products sold through qualifying purchases by linking to Amazon.com. Amazon offers a commission on products sold through their affiliate links.