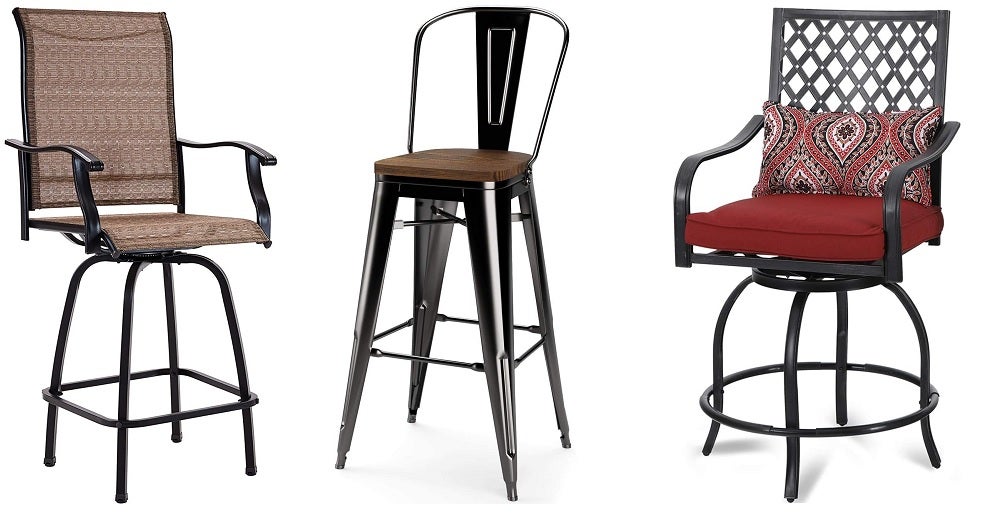 Our Editors independently research, test, and rate what we feel are the best products. We use affiliate links and may receive a small commission on purchases.
Imagine having the perfect space to entertain friends and watch the game, enjoy a drink after work, or relax with some cold beverages by the pool – your own backyard bar, complete with outdoor bar stools would be perfect. Spending more time outdoors and soaking up the sun's rays is something we all need after spending so much time inside recently, no matter what activity you want to do. And if you're working on creating the ultimate space, complete with an umbrella, and a grill, you need a bar, too. One of the most important things you will need to achieve your dream outdoor bar is a great set of sturdy, dependable, and stylish stools. Finding the best outdoor bar stools for your unique patio space can be challenging, but the end result is definitely worth it.
Best Patio Bar Stools
For more of our backyard recommendations, have a look through these popular Outside Pursuits guide links: Outdoor Rocking Chairs, Outdoor Hammocks w/ Stands, Patio Gliders.

Quick Answer: The 7 Best Rated Outdoor Patio Bar Stools
Our reviews of the top rated outdoor bar stools with our comparison table and buyers guide will help you choose the right one for you.
---
Outdoor Bar Stool Reviews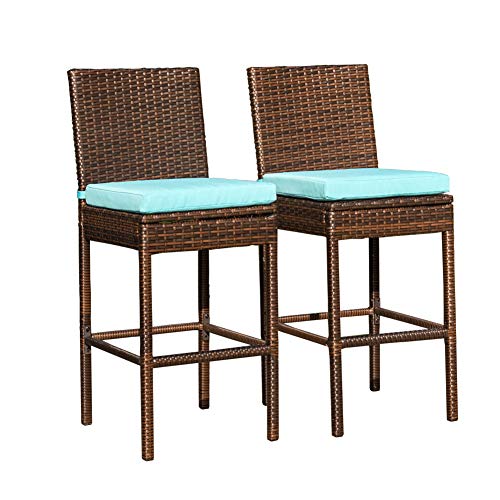 Sundale Outdoor Bar Stools at a Glance
:
---
Frame Material: Aluminum
Seat Material: Wicker
Seat Height: 30.5 inches
Weight Capacity: 300 Pounds
Swiveling: No
First on our list is the Sundale Outdoor Bar Stools Set. This gorgeous wicker set of two will be sure to spruce up and brighten any outdoor area. This dark-brown classic wicker gets a modern pop of color with the turquoise cushions. The moisture resistant PE rattan wicker prevents the bar stools from absorbing water on rainy days and is also easy to clean. Featuring a slightly-slanted backrest and built-in footrest, these outdoor bar stools will not make you ache even when sitting for long periods of time.
These wicker bar stools are resistant to rust, weather, fading, chipping, and cracking. Designed to last for years of perfection and comes with a 12 month warranty.

---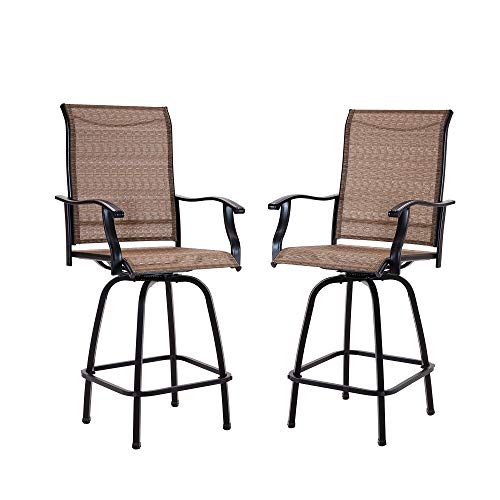 Outdoor Counter Height Swivel Bar Stools at a Glance
:
---
Frame Material: Steel
Seat Material: Textilene mesh
Seat Height: 30 inches
Weight Capacity: 300 Pounds
Swiveling: Yes
Switching things up with some all-weather swivel bar stools, using these chairs will make you feel like you've been transported into a bar. The design of these stools ensure that you will be comfortable lounging for hours on end. Each stool features ergonomic armrests and well-ventilated seats. The stools also swivel to get the perfect angle to watch TV or for talking to friends and family,
These are easily the most comfortable patio bar stools out there. The durable powder coated steel frame protects against rust and rain for easy maintenance. These stools are perfect for your patio, porch, garden or backyard. There is also a matching table available if you want to keep the entire set cohesive.

---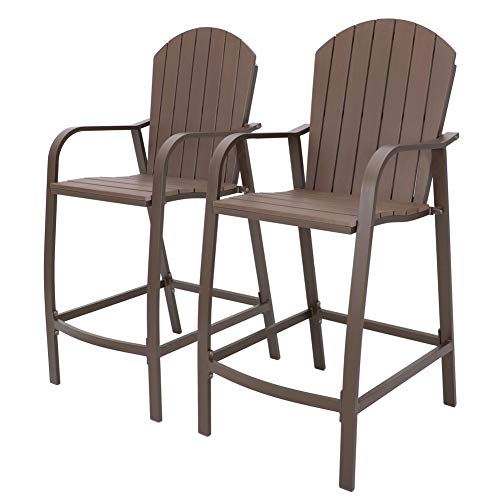 Crestlive Products Counter Height Bar Stool at a Glance
:
---
Frame Material: Aluminum
Seat Material: Polywood
Seat Height:

28.3

inches
Weight Capacity: 270 Pounds
Swiveling: No
Create the perfect cozy space for your family and friends with these beautiful heavy duty outdoor bar stools. This classic design will be the perfect addition to any outdoor space. If you aren't sure what aesthetic you are going for, these wood-looking chairs will match with any decor you already have.
These aluminum and Polywood bar stools make for extremely easy cleaning and maintenance. Since there is no fabric material on these chairs, they will hold up outdoors rain or shine. High seat backs and arm rests make them comfortable for hours of lounging. To make things as easy as possible for you, these bar stools can be assembled in minutes so you can enjoy your outdoor bar space ASAP.

---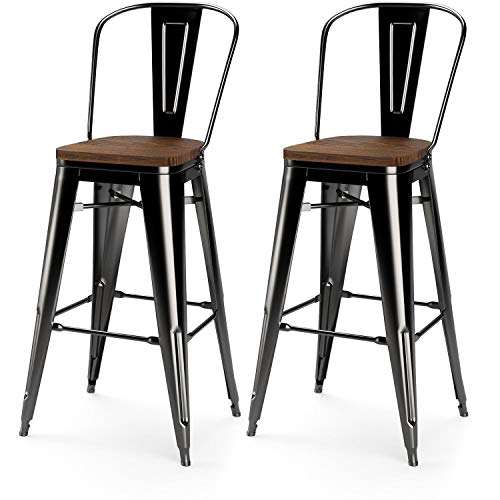 VIPEK Metal High Back Outdoor Bar Stools at a Glance
:
---
Frame Material: Alloy steel
Seat Material: Wood
Seat Height: 30 inches
Weight Capacity: 330 Pounds
Swiveling: No
Moving on to number four on our list, the Vipek Metal Bar Stools are hands down my favorites. Without a doubt some of the best patio bar stools on the market right now. These bar stools have an industrial look to them, which is very trendy but will not go out of style. These extremely sturdy stools are perfect for both indoor and outdoor countertops. Better yet, you can easily transport them to any space and utilize them for multiple purposes.
You also have the option to take off the back of the seat and turn these into flat-top stools if you want to change up the look or fit the stools into a different space. For these bar stools, we recommend placing them under a patio umbrella or bringing them inside during harsh weather. Long term exposure to rain or sunlight because of the wooden seats. However, for the look of these stylish chairs, the upkeep is worth it.

---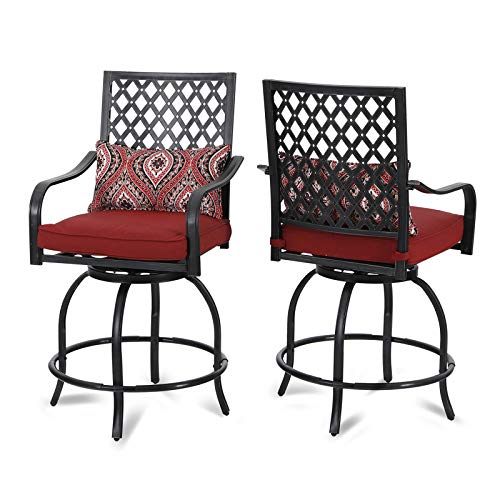 PHI VILLA Outdoor Patio Swivel Bar Stools at a Glance
:
---
Frame Material: Powder coated steel
Seat Material: Waterproof fabric cushion
Seat Height:

24

inches
Weight Capacity: 300 Pounds
Swiveling: Yes
If you're on the hunt for something more a bit comfortable for those long hours spent lounging outside, then you will want to take a look at the Phi Villa Patio Swivel Bar Stool Set. These classic bistro chairs can elevate the look of any space. In addition to being amazing to look at, the 360 degree swivel design along with two seat cushions is sure to bring you all-day relaxation. The cushions are designed to be easy to clean and water resistant.
We wouldn't recommend leaving the cushions outside in a storm, so be sure to bring those inside if you know you are going to have bad weather. The frame is made from a durable steel and has a rust-resistant coating, so those stools will last for years in all conditions! All around, we can confirm that these are the best outdoor swivel bar stools.
The manufacturer also throws in a one year warranty, which can bring you peace of mind about investing in these bar stools.

---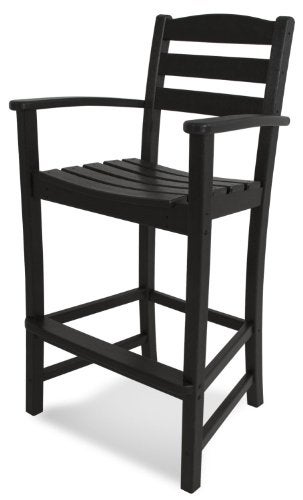 POLYWOOD La Casa Café Bar Arm Chair Bar Stools at a Glance
:
---
Frame Material: Polywood
Seat Material: Polywood
Seat Height: 30 inches
Weight Capacity: 350 Pounds
Swiveling: No
Following up that gem with the La Casa Café Bar Arm Chair, this tall chair features a contoured seat and comfy armrests made with fade-resistant Polywood recycled material. This is an especially great bar stool if you don't want to sacrifice durability for looks. The sleek black wood-look fits into any space beautifully.
The Polywood recycled lumber looks like painted wood, but you will have virtually no upkeep compared to the maintenance that real wood requires. This Polywood will last for years to come with no splintering, cracking, chipping, or staining. If you want to invest in something long lasting, stylish, and easy to maintain, this is the best outdoor bar chair for you.

---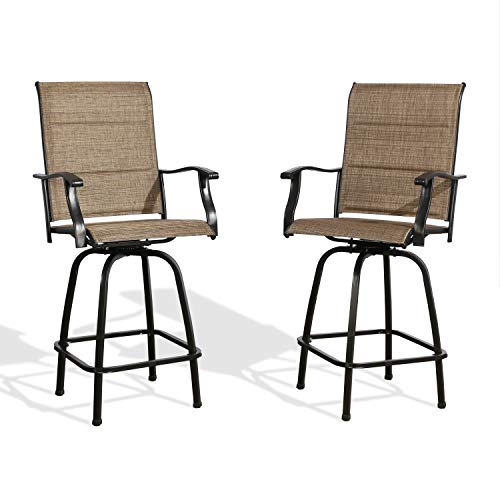 Iwicker Patio Swivel Outdoor Bar Stools Bar at a Glance
:
---
Frame Material: Powder coated steel
Seat Material: Textilene mesh
Seat Height: 30 inches
Weight Capacity: 250 Pounds
Swiveling: Yes
Last but certainly not least we have the Iwicker Patio Swivel Bar Stools. This affordable set is made from a breathable textilene fabric and padded with foam to certify that you will be comfortable sitting all night. The frame is rust and weather resistant. You can leave these stools outside in all weather conditions and not have to worry about them. Keep in mind that these chairs will require about 45 minutes to assemble. Invite a friend over to help and you will have amazing and cozy chairs on your patio or bar in no time!

---
Outdoor Patio Bar Stool Comparison
How to Choose the Best Outdoor Bar Stool – Buyers Guide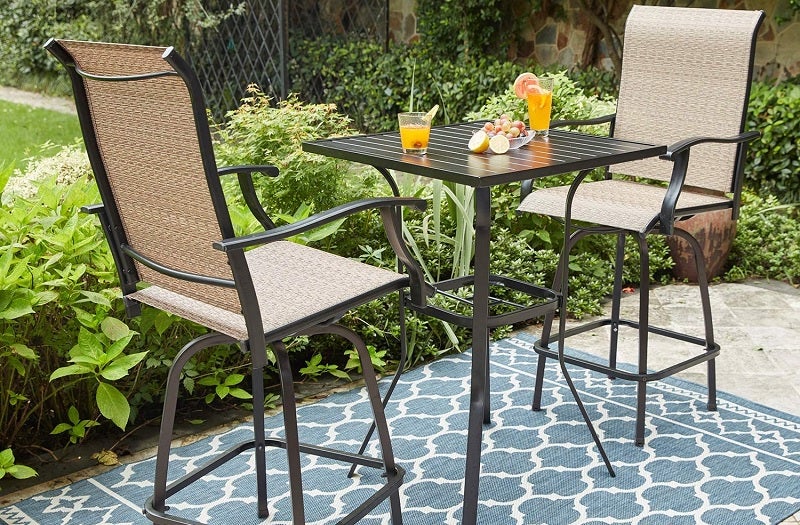 Size
The last thing you want to do is purchase outdoor bar stools that don't fit your space. It is essential to know how large of an area you have when choosing pieces for an outdoor entertainment or hangout area. Be sure to measure the height of your outdoor bar or countertop so that you can select chairs that are appropriately sized for what you have.
Materials
Another important thing to think about is what the outdoor chairs you are considering are made of. To be good for outdoor use, you need weather-resistant materials.
Steel – This sturdy metal alloy is extremely strong. Its density helps prevent dents and other damage from frequent use. While it does get hot to the touch when exposed to the summer heat, stainless steel endures extreme temperatures better than most metals.
Aluminum – Aluminum is an all-around great material for outdoor furniture. Aluminum bar stools do not rust, are very easy to clean and don't require a lot of maintenance. Cast aluminum furniture is sturdy enough that it won't be blown away by the wind but is still light enough to move around easily.
Wicker – Rattan is one of the best and most common choices for good outdoor furniture including bar stools. It is weather-resistant, easy to work with, affordable, and has a great classic look!
Textilene – Textilene fabric comes from woven polyester covered in PVC. Commonly used for sunshades and outdoor furniture, textilene is waterproof, flame retardant, and mould-resistant.
Comfort
Make sure the stools are wide enough for you and your family members to move around freely. You also want to be sure that they are well-padded enough if you plan on using it for extended periods of time. If the stools are not padded, at least look for a model with a flexible fabric that will mold to you, or an ergonomic contouring that works with the natural curves of your body.
Style
As you create your outdoor space, functionality and size are very important. However, style takes no backseat. You need a space that makes you feel good when you see it. You want something attractive that matches your personal style well. Choose a set of stools that you love the look of and then match other pieces for your outdoor space with it for the best look possible.
Price
How much are you willing to spend on the perfect set of bar stools? You don't want to end up spending more than you feel comfortable with, so make sure that you look at pieces in the range of what you want to spend. Create a budget for yourself and make sure you don't go over it. However, if you can afford to spend a bit more, it will often pay off in the end due to the added user-friendliness and extended lifespan.
FAQs About Outdoor Bar Stools
Q: Are backless bar stools comfortable?
A: Backless stools can be great for looks and they may fit better tucked under a counter or an island. However, if you are going to be sitting on the stool for longer periods of time it's much more comfortable to have backs on them.
Q: What's the difference between counter stools and bar stools?
A: Bar stools are typically five to six inches taller than counter stools, making them ideal for a traditional bar counter, which typically falls between 40 and 42 inches high. This is why it is critical to measure your counter height and check the dimensions of the bar stools you want in your space!
Q: Can you use outdoor bar stools inside?
A: Outdoor furniture doesn't always need to stay outdoors! If you find a style and size that fits in your home, these long-lasting bar stools can make a great addition to your space.
Q: Are bar stools with backs better?
A: Stools with backs are usually your most comfortable because they give support on the back if you're spending a lot of time on them. If you're socializing for an hour or more at the bar or counter, a stool with a back will be much more comfortable.
Notice:
OutsidePursuits.com is a participant in the Amazon Services LLC Associates Program, an affiliate advertising program. OutsidePursuits.com earns fees from products sold through qualifying purchases by linking to Amazon.com. Amazon offers a commission on products sold through their affiliate links.