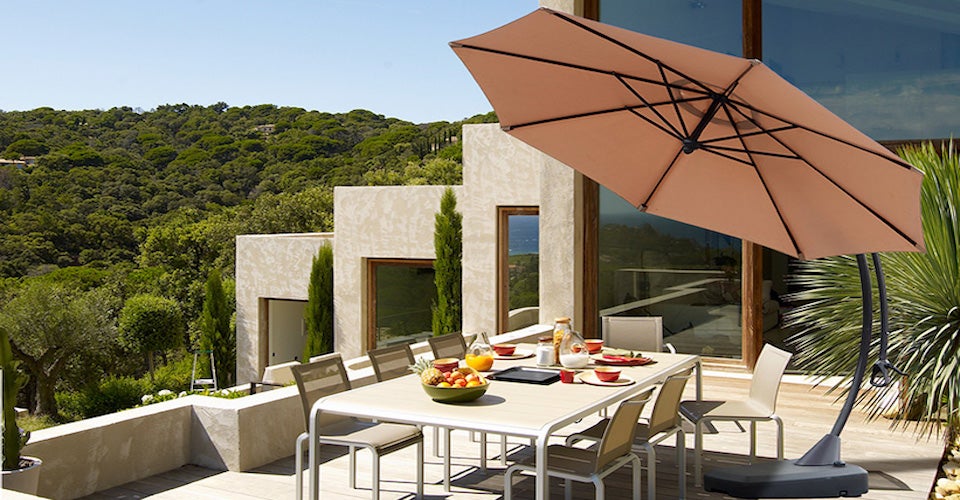 Our Editors independently research, test, and rate what we feel are the best products. We use affiliate links and may receive a small commission on purchases.
Good shade is important – you can't have a comfy outdoor space without some coverage to protect yourself from the elements. But finding proper shade isn't always easy – many patio umbrellas tend to be cumbersome, hard to move, or come attached to picnic tables, which limits their versatility. A cantilever umbrella presents a solution to all of these problems – also known as an offset or side pole umbrella, these are supported by a pole located on their side rather than in the middle.  This 'offset' feature frees up space and allows more flexibility with the patio layout. Many also offer tilt, rotation, and folding features for enhanced coverage and portability. It's no wonder they've been flying off the shelves this summer. Here are our picks for the best cantilever umbrellas to get you one step closer to your dream patio.
Best Cantilever Umbrellas
Quick Answer: The 7 Best Rated Cantilever Umbrellas
Our reviews of the top rated cantilever umbrellas with our comparison table and buyers guide will help you choose the right one for you.
---
Cantilever Umbrella Reviews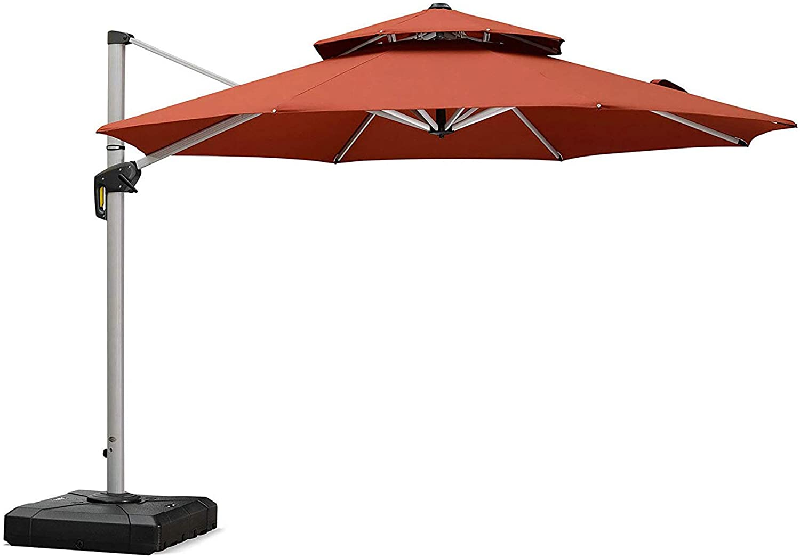 PURPLE LEAF Deluxe Patio Umbrella at a Glance
:
---
Dimensions: 10, 11, 12, 13 Feet
Frame: Alloy Steel
Fabric:Waterproof & Fade-resistant 240/gsm polyester
Base included: No
Starting our list with our Editor's Choice, we have the Purple Leaf Deluxe Patio Umbrella and our Editor's Choice for the best offset patio umbrella on Amazon. Featuring a durable alloy steel frame painted with anti-oxidation spray for extra protection, this model is built to thrive in rain or shine.
The canopy itself is designed with easy-to-clean waterproof and fade-resistant 240/gsm polyester. With a simple hand-crank system, opening and closing the 10-foot canopy is also especially easy. You can also enjoy a 360-degree rotating function and choose between 6 different heights and angles. The umbrella bones utilize aluminum painted with an anti-oxidation spray to ensure a long lifespan. There are 8 heavy-duty ribs for extra stability. You won't have to worry about your umbrella flying away in a bout of inclement weather.
Unfortunately, the weighted base made specially for this model is not included with purchase, but can be found here.

---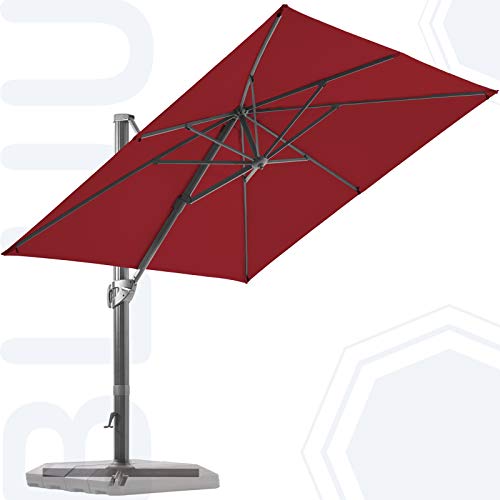 Bluu Patio Offset Cantilever Umbrella at a Glance
:
---
Dimensions: 10, 11 Feet
Frame:

Aluminum

Fabric:

280 GSM fabric with PU waterproof coating

Base included: No
The Bluu Patio Offset Cantilever Umbrella offers a spacious, 10 foot canopy (9 and 11 ft models available) a large shade overlay – perfect for covering tables, swimming pools and hot tubs. The expansive canopy is constructed with 5 layers of 280 GSM polyester. Like the LeConte, it is AATCC 169-2003 Grade 4 rated, meaning it has a high level of color retention with its 280 GSM polyester. A robust cantilever framework and innovative crank technology provide effortless assembly designed for daily use.
Simply unlock, adjust, relock and crank the umbrella open to the desired position. With the simple push of a button, you can tilt the canopy for versatile wide coverage. The frame construction is also exceptionally sturdy – built with lightweight aluminum hardware that is coated in anti-oxidant paint, it is rust, rain and wind resistant. The core pole is connected to eight strong ribs that allow the umbrella to easily glide open and closed.
Though this umbrella is strong, maintenance is still key – you should cover and store it during extreme weather conditions to avoid damage and ensure lifespan. To evenly distribute the weight and anchor your umbrella, you can use sandbags/bricks or a weighted base.

---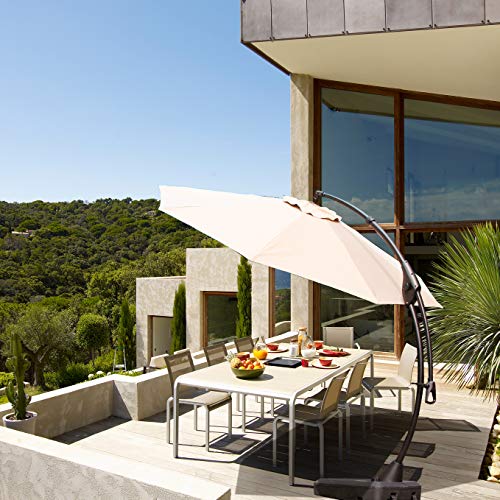 Grand Patio Napoli Offset Cantilever Umbrella at a Glance
:
---
Dimensions: 11 x 11 Feet or 12 x 12 Feet
Frame: Aluminum
Fabric: Polyester
Base included: Yes
The Grand Patio Napoli Cantilever Umbrella will add another level of style and comfort to your outdoor living space. Perfect for shading large seating areas or dining furniture, the umbrella's pole and 8 heavy duty ribs are constructed of rust-resistant, durable aluminum. The canopy features water and fade-resistant polyester fabric that is UV-treated for guaranteed longevity. Choose between a red and a champagne color for a beautiful umbrella that will remain vibrant for years. The umbrella is easy to open and close with its simple hand and crank lift operation. An innovative auto-lock system allows you to adjust the opening angle and canopy tilt to your desire.
The Grand Patio Napoli is also one of the rare options which includes an integrated base with hidden wheels. Not only will this save you money from a separate purchase, but it's also a godsend for those seeking portability. You'll be able to re-configure your patio layout at will without having to worry about lugging around a heavy umbrella and base.  The base itself features metal safety bars, with adjusting levelers for added stability. This will come in handy in any environment that experiences heavy winds.  Simply fill the base with water or sand, and you're good to go. This is the best offset umbrella for those seeking portability without compromising durability.

---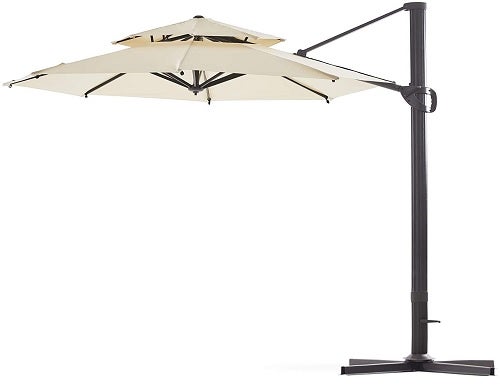 VINEY Banquet Cantilever Umbrella at a Glance
:
---
Dimensions: 11 Feet, (9 & 10 ft models available)
Frame: Powder coated aluminum
Fabric: 280 gsm fabric
Base included: No
The VINEY Banquet Cantilever Umbrella is another excellent cantilever umbrella for variety of good reasons. The VINEY offers 90 to 180 degree tilt ability with infinite tilt, meaning you can adjust it to any position in between not just set positions. The umbrella can also be rotated 360 degrees as well. What good is a cantilever umbrella without a quality crank mechanism and Viney has you covered there with a quality, easy to use crank for adjusting the umbrella.
The canopy is secured with 8 aluminum ribs and made from fade resistant AATCC 16 Grade 5, 280 gsm fabric so it's water and UV resistant with a 3 year warranty. The double top allows air to flow through to help prevent it from swaying or tipping. It does not come with a weight base but Viney makes a weight base that is compatible with it.

---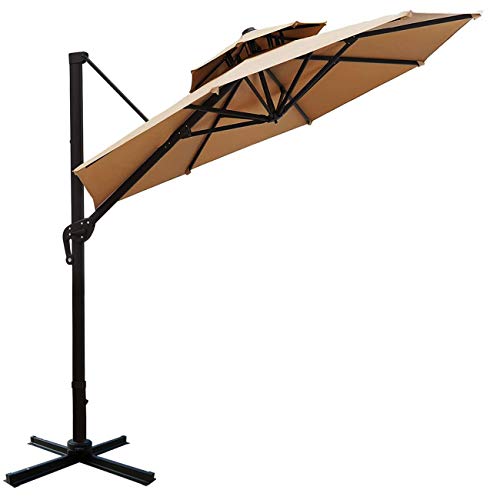 Sunnyglade Double Top Patio Offset Hanging Umbrella at a Glance
:
---
Dimensions: 11 Feet
Frame: 

Aluminum

Fabric: Polyester
Base included: No
Next up, we have the Sunnyglade Cantilever Patio Umbrella. This model offers a classic, timeless look but has all the trappings of a high-tech, modern umbrella. It offers 360 rotation ability and features a freely adjustable tilt mechanism. Find the angle that's right for you by moving the crank up and down a groove lined with fixing holes. This lets you customize your coverage depending on the weather or your mood – you aren't limited to the typical 5 or 6 tilt positions that most models offer.
In terms of frame, the Sunnyglade is exceptionally durable, featuring a 3.6″ powder coated aluminum pole with a steel bottom frame and 8 sturdy steel ribs.  The canopy is designed with 250g/sqm polyester fabric that is equipped to protect against UV rays and rain fall. It also features a wind vent which allows for air equilibrium and stability in the case of strong gusts. However, if wind speeds rise above 10 MPH, this umbrella should be taken down and stored safely indoors. This will preserve the umbrella's longevity. A weighted base will also need to be purchased separately – find Sunnyglade's option here.
With its diverse rotation and tilting abilities, this is the best cantilever patio umbrella for those in need of a wider range of shade configurations.

---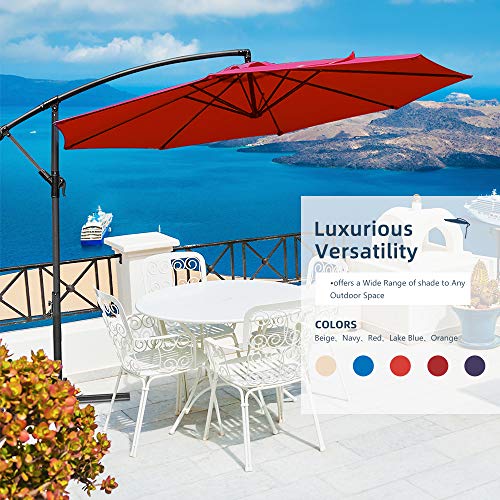 LeConte Patio Offset Umbrella at a Glance
:
---
Dimensions: 10 Feet
Frame: 

Powder-coated iron

Fabric: Polyester
Base included: No
The LeConte Patio Offset Umbrella is an opulent model with a wide arching canopy and elegant iron framework. The modern design was created to fit seamlessly in areas such as outdoor seating spaces for office buildings, restaurants and commercial businesses. Rest assured –  it's just as functional as it is beautiful. Its powder-coated iron pole and sturdy iron umbrella ribs offer enhanced performance under a wide range of weather conditions. Its canopy is constructed with 5 layers of UV-resistant, waterproof polyester fabric with AATCC 169-2003 Grade 4 colorfastness (standard for color retention of textiles).  It also features an outlet at its top to allow heat and air to circulate. This reduces wind pressure and improves stability during inclement weather.
Close and open the canopy with a simple crank system, and enjoy various tilt options with a simple push-button operation. It also sports multiple height options for multi-angled shade. Built with safety and convenience in mind, the LeConte has actually been through various testing phases, and the current model is designed with 25% thicker poles and 30% more wind resistance than previous models. Keep in mind that you will need to purchase a weighted base separately. Fortunately, most 10 ft offset umbrella bases on Amazon are compatible with this model. You can also consider using sandbags, bricks, or bolts to lock this into the ground. With its superior quality and durability, the LeConte is the best cantilever umbrella for wind.

---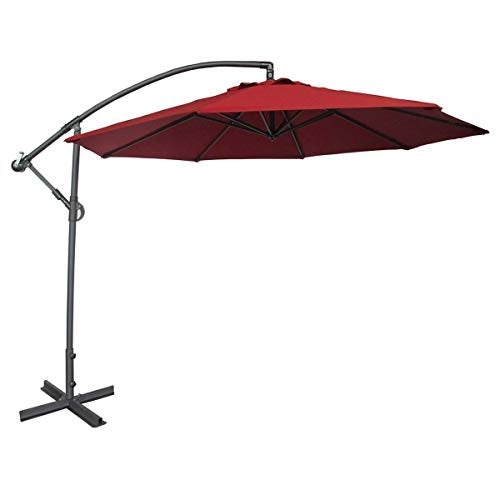 Abba Patio Offset Hanging Umbrella at a Glance
:
---
Dimensions: 10 Feet
Frame: Powder-coated aluminum; 8 ribs
Fabric: Recycled polyester
Weighted base included: No
Abba Patio Offset Hanging Umbrella is a top pick in the budget-priced end of the spectrum. This is an attractive, high-quality option – and with a waterproof, sun-proof canopy made from post-consumer recycled polyester fabric, its doing the environment a favor as well. It features a dual vented canopy for enhanced airflow and even includes a solar powered central light! On overcast days, simply charge the light with a USB port.
The Abba comes with a powder-coated aluminum pole and 8 steel ribs that prevent rust, chipping, peeling and corrosion.  A simple hand-crank lift mechanism allows you to open and close the canopy with ease, and a convenient slide and lock operation system offers 6 different angles for shading. You can easily control the tilt position by adjusting the handle on the support pole.
Choose between 2 color options – deep burgundy and sandy beige – for an aesthetically appealing umbrella that will go well with most types of patio furniture. While this umbrella includes a heavy duty steel cross base, you will still need to purchase weights to keep it more stable. Abba Patio Furniture recommends this weighted base to support the model. This is the best cantilever umbrella for the environmental enthusiasts out there.

---
Cantilever Umbrella Comparison Table
How to Choose the Best Offset Cantilever Umbrella – Buying Guide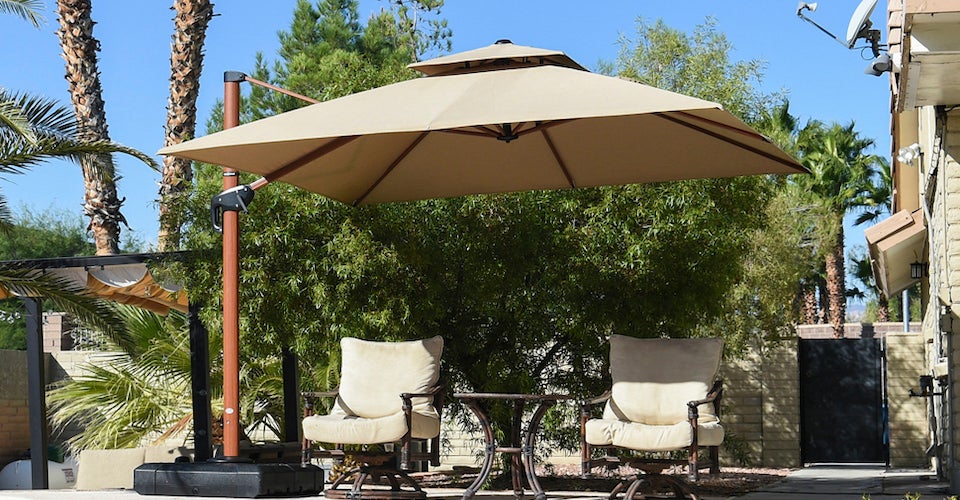 If you're looking to save space, time, and money when deciding on an umbrella for your patio, a cantilever option is definitely the way to go. But with so many amazing products on the market, it can be hard to settle on one. We've written up this handy buyers guide to help you pick the best offset patio umbrella for your needs, tastes and lifestyle. After reading, you should have no qualms about which is the ideal choice for you.
Umbrella Type: Market or Cantilever Offset
First let's clarify the types of umbrellas. There are two main styles of outdoor umbrellas – Market and Cantilever Offset.
Market – This style is the more common and inexpensive type.This is type type of umbrella you might see at a farmers market or street vendor using to protect the themselves from the sun.
This umbrella normally slides into your table through the hole in the center.  It then mounts into a base at the bottom. You can see my patio market umbrella recommendations here.
Cantilever Offset – These are the umbrellas we have reviewed in this article. With this style, you can have the umbrella off to the side of the table.
They advantage being you have more usable table space since you don't have a pole sticking up through the table. You can also adjust it more to better block the sun.
This type is nice in that it doesn't take up any space around a table. You just angle the umbrella over it. If you have a couple lounge chairs or maybe a daybed or hammock, you can use this type of umbrella to keep the sun off you.
Available Space
If you're thinking about buying an offset umbrella, you've probably already considered the space you have available, and are trying to plan around it – which means you're off to a great start. Be sure to carefully measure the area of space you want to shade. This will help you decide how big of a canopy your umbrella should have. For best coverage, pick a canopy with a diameter at least 5 feet larger than the shaded area.
Also take into account the width and height of the pole and that of its base. Weighted bases are relatively small, but if you underestimate their size you could end up having to cram it awkwardly into the side of your patio. The height of the pole also matters – if you have any tall objects fixed within the shaded area, the umbrella canopy must rest a level above them.
Umbrella Fabric
One very important consideration is your umbrella's canopy fabric. Since the main job of an umbrella is to block the sun, it is constantly exposed to dangerous UV rays, not to mention the cold, rain and wind of other seasons. Therefore, the fabric will need to be UV resistant so it doesn't fade. Many umbrellas loose their vibrancy in less than a year due to poor quality and constant exposure.
Be sure that your umbrella fabric is not just water resistant, but is actually waterproof.  Water droplets will simply slide off a waterproof fabric – in contrast, a water resistant fabric will soak up water rivulets and start dripping in heavy rain. Also be sure the fabric is also mold and mildew resistant. Mold and mildew will stain the fabric after a period of time in wet, humid environments.
One of the most popular fabrics for umbrella canopies today is the "SUNBRELLA" fabric. As seen in the Purple Leaf Cantilever Umbrella, SUNBRELLA remains a crowd favorite because it is designed to be UV resistant, waterproof and guaranteed not to fade. However, any fabric with these protective qualities (not necessarily just SUNBRELLA) should serve you well for years to come.
Umbrella Bases
You will also need a base to hold down your umbrella. Only one of the cantilever umbrellas on our list – the Grand Patio Napoli – offers an integrated base. All other options require a separately purchased weighted base.
Here are a couple key facts to know about umbrella bases before settling on one.
There are three main types of bases:
Water Weighted: As the name implies, you will fill the base with water to anchor it. This is probably the best option, as its easy to fill and drain out as well.
Sand Weighted: Pretty straightforward – this is a base filled with sand.
(Pro Tip – most water weighted bases can be filled with sand, and vice versa. The two fillers can be interchanged based on your preference.)
Metal Weighted: This type uses a large mass of steel to provide weight. They work well, but have the disadvantage of being heavy and less portable. Luckily, just about every cantilever umbrella uses a "universal fit" so that it slides into the base regardless of manufacturer or model.
Simply choose the base type you'd prefer and you're good to go.
Ribs
The ribs are the pieces of metal connected to the canopy that cause the umbrella to open and stay up. Shade umbrellas usually come with two different rib options, 6 or 8. The number of ribs is generally a personal preference thing, but with more ribs come more stability. A model with 8 or more ribs is likely sturdier and less prone to collapsing. All the options on our list come with 8 or more durable ribs.
Pole
All of the offset umbrellas featured in this guide are have aluminum poles. Aluminum is lightweight and rust-resistant which is why it is a preferred choice for poles, especially if you'll be moving your umbrella around from time to time. But aluminum is not the only option. You can also buy patio umbrellas with wooden or steel poles depending on your preference.
If you want a more natural look to fit the style of your patio, you might choose wood, though it tends to weather faster than the other options. If you are looking for something that is stronger and more heavy duty, steel is probably the best option for you. If your umbrella will remain stationary aside from opening and closing, the extra weight from the steel won't be a problem.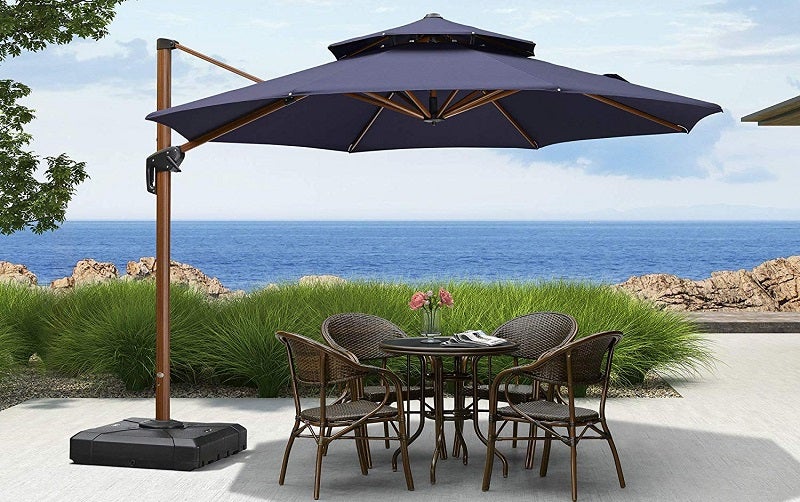 Lifting Methods
The lift method is basically how you raise and lower the umbrella. Since it is always advisable to lower or close up the umbrella when it is not in use to minimize the wear and tear from exposure to the elements, this is actually a really important feature.
There are three methods for raising and lowering patio umbrellas – crank, push up, and pulley.
Crank
This is the most common and the easiest method for most people, because it doesn't require much physical strength. Typically, if you can open a turn a doorknob, you can turn the crank and open the umbrella.
Most options on our list feature a crank system. Here's how it works: simply turn the crank until the canopy is fully opened. Often, the same crank mechanism used to lift the umbrella canopy can also be utilized to pivot the canopy in different directions.
Push Up
One of the more difficult methods though it is still very common. If you are getting a smaller patio umbrella, the push up lift method should be fine. But for larger umbrellas, an easier lift method that doesn't require as much strength is advisable.
When using the push up lift method, it works just like a normal umbrella you would use when walking in the rain. You grab the umbrella pole in one hand and use the other hand to push it up and open. You must continue to push until it clicks and locks into place. When you want to close the umbrella, there is usually a pin or a button you must push to release the umbrella.
Be careful not to pinch your fingers or knock yourself in the head when the umbrella is closing.
Pulley
Not very common and is a combination of the crank and push up lift methods. Instead of pushing it up by hand, you will pull on a cord that will pull up on the umbrella, like if you were turning a crank.
When you want to close the umbrella, you much push the button or release the pin that locks it in place and you can use the cord to lower it slowly so it doesn't fall closed on you while you're still standing under it.

Tilting Methods
There are three different methods for tilting the outdoor umbrella. Being able to tilt the shade umbrella allows you to make adjustments in the angle of the umbrella as the sun changes locations.
Collar Tilt
This method allows you to adjust the umbrella easily from a seated position as long as you can reach the pole, also known as the collar, of the umbrella. You simply have to twist the collar in one direction or another until the umbrella is at the desired angle.
Crank Tilt
The crank tilt is normally use the same crank to adjust the tilt that is used to open and close the umbrella. This is probably the easiest tilt method because you don't actually have to move the umbrella, like with the collar tilt method, you just turn the crank.
Push Button Tilt
This requires you to push a button is probably the most difficult method and usually required two people. One person to push the button and make sure it doesn't lock again and the second person to adjust the umbrella to the right angle.
When you hear button, you probably thing button like on a TV remote but this method uses a metal button that locks into place via a hole in another piece of metal. One plus side to the button tilt method is that it is usually cheaper than other methods.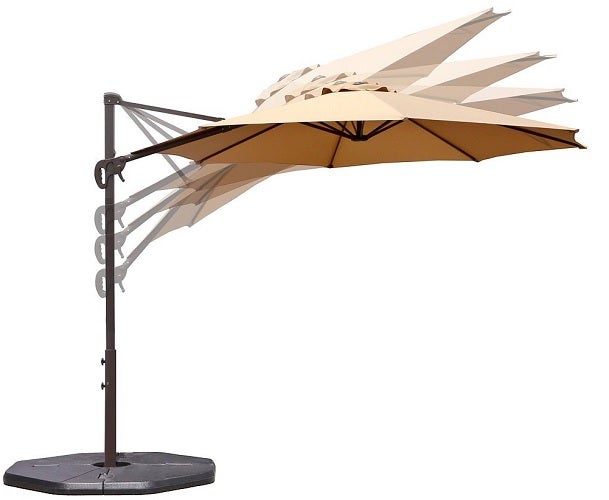 FAQs About Cantilever Umbrellas
Q: Why should I choose a cantilever umbrella (vs. a traditional market umbrella)?
A: The main advantage to having a cantilever umbrella is that it saves space. Its offset design means that the only ground space it takes up is that of the pole.
Without an unwieldy center pole obstructing your vision and awkwardly taking up space, you can use all of your shaded area to its full potential.
But there are more advantages than that – they also save time and money. You won't have to consider drilling a hole into your picnic table, or getting an option that comes with an umbrella included.
Cantilever umbrellas also tend to be more portable (many offer folding capabilities for compact storage!) and thus don't present a challenge if you plan to reconfigure your patio layout.
Q: How does a cantilever umbrella work?
A: A cantilever is a type of construction support which allows for overhanging structures without any external bracing.
A weighted base and vertical support pole anchor the umbrella from the side, connecting to its canopy with a cross-base (a perpendicular rod).
Rather than having a pole at its center, the umbrella hangs off the support arm, presenting an unobstructed shaded area.
This gives complete line of sight and equal shade for all under the umbrella.
Q: How do you stabilize a cantilever umbrella?
A: By nature of their design, cantilever umbrellas will sway in heavy winds or inclement weather.
Many people choose to stabilize them by locking the base in place with bolts or even pouring concrete over it for maximum security.
Be aware though, that if you drill the base in place, you'll have permanent holes in your deck. If you choose to meld it into your concrete or patio blocks, it becomes much harder to move the umbrella.
If you live somewhere with more extreme weather, you may have to sacrifice the portability of your cantilever umbrella for stability.
Q: How much wind can a cantilever umbrella take?
A: Here is a general rule to abide by – if you aren't comfortable being outside due to wind levels, you should assume that your umbrella feels the same way.
These are quite delicate objects which aren't meant to be indestructible. If the wind is up to a point where you feel unsafe standing outside, you should fold up your offset umbrella and store it indoors.
Some manufacturers rate their umbrellas on the Beaufort Wind Scale, with most falling between a 1 and 5. You can always directly contact the manufacturer for this information.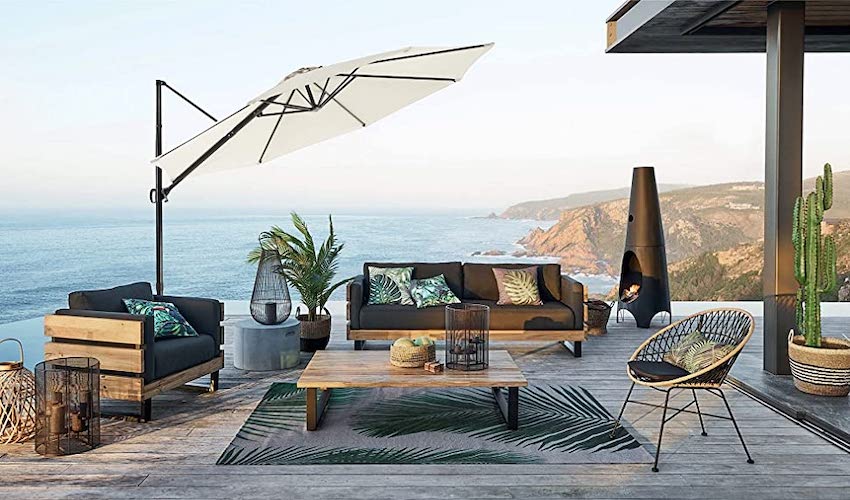 Tips For Choosing Cantilever Umbrellas
#1: Measure the space you need covered
It's always easy to over or underestimate how much space you need.
For best coverage, be sure to pick an umbrella canopy with a diameter that is at least 5 feet larger than that of the area you need covered.
This way you can be sure that every square inch of space will actually be covered.
#2: Buy a base!
This one is worth repeating – most cantilever umbrellas are sold separately from their weighted bases. Make sure you purchase a sand, water or metal base, or buy a model that comes with an integrated base.
If you try to set up your offset patio umbrella without one of these, it won't hold up even in the slightest of winds. Stabilizing it with a base is essential to its functionality, so don't forget it!
#3: Maintenance is key!
Just because umbrellas are built for the outdoors doesn't mean they're indestructible!
Be sure to follow the safety and maintenance rules listed by the manufacturer of whichever umbrella you choose.
Most will advise you to take your umbrella down during heavy winds or rains, and store it indoors.
Many umbrellas are rated using the Beaufort Wind Scale, which should give you an idea of the windspeed threshold they can handle.
If you're really unsure, gauge whether you yourself feel comfortable standing outdoors in the weather. Chances are, if you feel unsafe outdoors due to wind or rain, your umbrella will too.
Take it inside to preserve its quality and longevity!
If you don't want to bother taking it in and out all the time, you can also invest in a protective cover for your umbrella.
How to Install a Protective Cover on Your Cantilever Umbrella
TG AG28 Cantilever Protective Cover
A protective cover will allow you to keep your umbrella in good condition while saving you the time and energy of having to drag it in and out depending on the weather.
This is a great choice for those living in more temperamental climates.
Summary
There's a lot to consider when settling on a good cantilever umbrella for your patio area. You must be aware of the space you need covered, the material of your umbrella, the durability of its frame, and how to maintain it. On top of all of that, you have to pick an umbrella that goes well with your existing patio furniture and the aesthetic you want for your home. But overall, what's most important is that you choose a product that fits your unique tastes and lifestyle.
Notice:
OutsidePursuits.com is a participant in the Amazon Services LLC Associates Program, an affiliate advertising program. OutsidePursuits.com earns fees from products sold through qualifying purchases by linking to Amazon.com. Amazon offers a commission on products sold through their affiliate links.