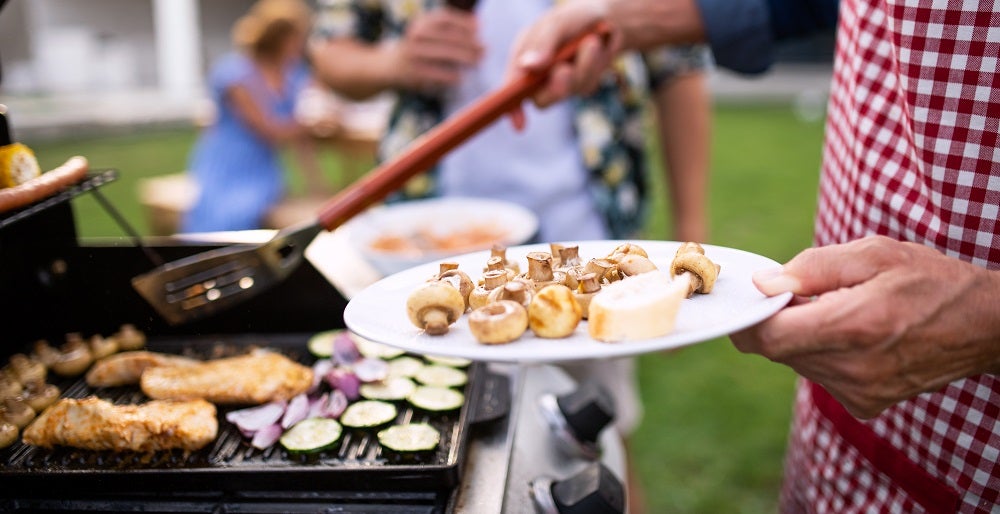 Our Editors independently research, test, and rate what we feel are the best products. We use affiliate links and may receive a small commission on purchases.
One of the best things about summer is being able to put something tasty on the grill and enjoy it with your favorite people in the fresh air. You deserve perfectly-grilled eats every time you fire yours up, which is why we've taken our own experience and recommendations of consumers to bring you the best BBQ grills out there. We know your stomach has probably started to growl, so let's jump right in.
Best BBQ Grills
Quick Answer: The 10 Best Rated BBQ Grills For 2021
Our reviews of the top rated BBQ grills with our comparison table and buyers guide will help you choose the right grills for you.
---
BBQ Grill Reviews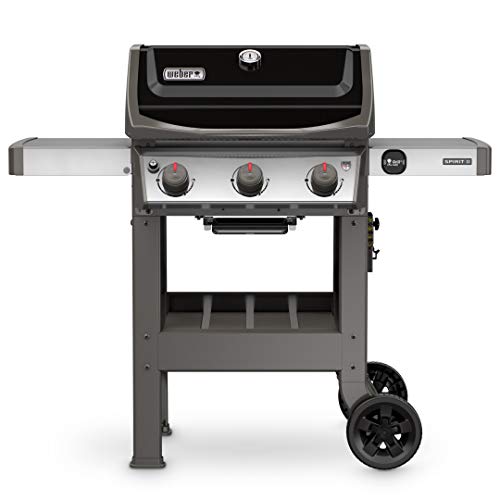 Weber 45010001 Spirit II E-310 Propane Grill at a Glance
:
---
Fuel: Propane
Cook Area: 529 Square inches
Size: 52 x 27 x 44.5 inches
Side Table: Yes
Other: Large Cooking Area
While we know it's hard to pick amongst the hundreds of thousands of grills out there and name just one the best BBQ grill, the Weber Spirit II E-310 Propane Grill makes a pretty solid case for the spot. It's not perfect by any means, but it does look good, is great for all types of grillers, and makes it easy to organize tools. Coming in Black, Ivory, and Red, it also stands out visually and will be sure to make your neighbors jealous.
Featuring 3 main burners, this is more than enough to grill up some tasty burgers, hot dogs, ribs, and more. It doesn't come with side burners, however, so if you'll be cooking a ton of food in a short amount of time, you may need more. 529 square inches of cooking space is nothing to balk at, though. Whatever you do cook, though, is going to be delicious due to their Gs4 grilling system. The system incorporates improved infinity ignition, a convenient grease management system, and porcelain-enameled Flavorizer Bars.
These basically collect all of those little bits of food that fall off, allowing the smoke to rise up and further season your food. Not only that, but their burner tubes worked well to cook evenly so everyone gets a perfectly-finished piece of meat, veggies, etc. The 6 tool hooks make for better efficiency, so you always have what you need at a moment's notice. 2 large wheels make it easy to move the grill around exactly where you need to, without throwing out your back. With a solid 10-year warranty, you'll really be able to put a lot of love and effort into this grill. It'll be there for every BBQ, family event, celebration, and so on.

---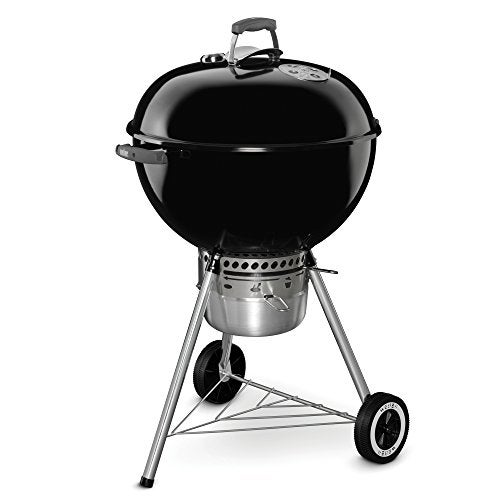 Weber Original Kettle Premium Charcoal Grill at a Glance
:
---
Fuel: Charcoal
Cook Area: 363 square inches
Size: 38.5″ x 27″ x 22.5″
Side Table: No
Other: Classic, simple design
If you're on the hunt for the best BBQ charcoal grill, then give our next model a good look over. The Weber Original Kettle Charcoal Grill comes in the classic black, but also in a striking Copper and Green option. Made of steel, it's small but efficient and designed to last for many years to come. If you're tight on space or simply don't need all the cooking space other grills offer, then this is a nice selection.
The 363 square inch cooking area can fit up to 13 burgers at once, and really maximizes room so you can cook all kinds of delicious cuisine. The angled lid hook lets you take and hang your lid on the side of the grill, so you never have to sit it on the questionably dirty ground unless you want to add more flavor. Hang all of your grilling tools on the included grilling tools, just like on our last model. The heat shield keeps your hands protected while using the handle, so you don't burn yourself.
To control the temperature of the grill, itself, simply adjust the dampers and arrange charcoal on the fuel grate to your liking. Even while grilling you can add charcoal, thanks to the conveniently hinged cooking grate. Once you're finished, the one-touch cleaning system lets you remove ash and dirtiness simply by pushing it into the large, removable ash catcher. Weighing just 32.3 pounds and featuring two wheels, you can move it into storage or wherever you'd like when not in use. Just like other Weber grills, this one also comes with a hefty 10-year warranty.

---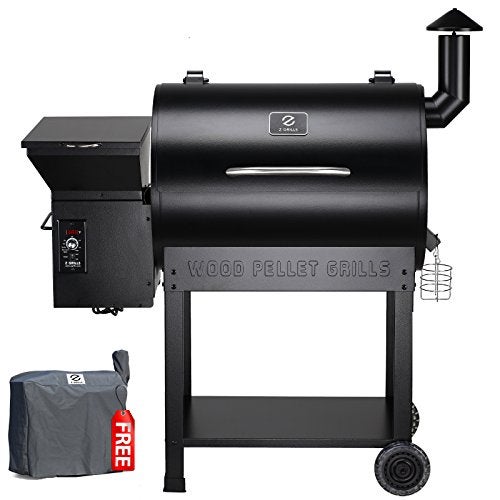 Z Grills ZPG-7002B Wood Pellet Grill & Smoker at a Glance
:
---
Fuel: Wood Pellets
Cook Area: 700 square inches
Size: 48 x 22 x 51 inches
Side Table: No
Other: Automated electric pellet-feed system
If you want to be a cross between a lumberjack and a chef, then the Z Grills ZPG-7002E Wood Pellet Grill & Smoker is right up your alley. Coming in either Silver or Black, it has an amazing industrial look to it that simultaneously manages to be sleek and high-class. As an 8-in-1, the BBQ has the ability to grill, smoke, bake, roast, braise, and of course, barbecue!
Instead of using propane or charcoal, you'll be using wood pellets. Not only is it arguably healthier for you and the environment, but it offers that authentic wood-smoked flavor that is hard to replicate. Seafood, meat, veggies, and more – it will completely transform your pallet. You can even choose pellets infused with flavors like hickory, cherry, apple, and other yummy choices. With a 700 square inch space to grill, you really have endless options here. We tried every way to cook on this thing, and found everything except searing to be a seamless success. The LED display lets you choose the exact temperature you want, and we found it to stay within 10 degrees of the desired number, depending on the temperature outside.
You get a massive hopper with a 20-pound pellet capacity that lets you cook for around 20 hours. This means that it's not only a cheaper option than other fuel choices, but is simply more convenient. In the past, there were people hesitant to use pellet grills due to having to use starter fluid, but that's no longer necessary due to the auto-start ignition. The waste oil collector makes for a neater, quicker cleanup as well. The stainless steel body is incredibly durable, and resistant to corrosion which means it's great for all types of weather conditions and environments.

---
Weber Summit 7171001 E-470 Propane Grill at a Glance
:
---
Fuel: Propane
Cook Area: 580 square inches
Size: 38.6 x 30.5 x 52 inches
Side Table: Yes, Burners
Other: Tuck-Away Rotisserie System
We just can't get away from Weber products, as we have their E-470 up next. Yet another stainless steel model, it's one of the most robust and durable available. You get the full package here, with a large, 580-square-inch cooking area along with 2 side burners and a tuck-away rotisserie system. When you open the grill up, you'll see 4 main burners, one sear burner on the side, one side burner, and a rotisserie burner. The rotisserie system has a flip-up motor along with its own spit and fork storage. This is perfect for large family gatherings, parties, and more as it can cook large quantities at once.
Just like with other models from them, this one also features their famous Flavorizer Bars for richer taste in everything you grill. On top of that, there's an integrated steel smoker box to infuse your food with smoky smells and flavors. The grease management system catches greases away from the burner tubes and the tray slides out for quick emptying.
This BBQ gas grill is easy to clean, with all stainless steel work surfaces, aluminum handles, doors, and chrome-plated accents. With 6 tool hooks, it's easy to stay organized, even while grilling and chatting with others. The LED tank scale and individual burner-ignition system also makes things more convenient. The overall build quality is wonderful, from the smoothly-opening shroud to the undeniable strength in every component. The burner tubes, for example, are made from a single piece of steel instead of various pieces welded together to create a more resilient form. Covered with their 10-year warranty, you can put a lot of use into this BBQ and feel confident it'll always be reliable.

---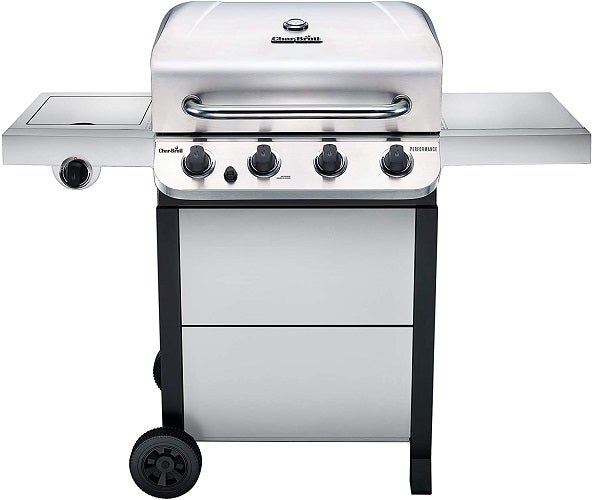 Char-Broil Performance 4-Burner Gas Grill at a Glance
:
---
Fuel: Propane
Cook Area: 425 square inches
Size: 50.4 x 24.5 x 45 inches
Side Table: Yes, Burners
Other: Durable stainless-steel construction
Are you looking for the best BBQ grill under $500? Then check out the Char-Broil 463377319 Performance Liquid Propane Gas Grill. The stainless steel beauty may look sleek but it's made for some serious business. Not only is the body made of stainless steel, the burners and heat tents are, too. 4 top-ported burners are designed for lengthy performance while offering a wide temperature range to accommodate anything you want to throw on. With 425 square inches of cooking space, you have room for around 20 burgers at once. The surfaces are all porcelain-coated and rust-resistant for easy cleanup and long-lasting use.
In addition, you'll find 150 square inches of space on the included swing-away warming rack. We loved this feature for making toasts, toasting buns, and veggies. The stainless-steel side shelves are equally as tough as the rest, including a 10,000-BTU lidded side burner. You can also grill extra sides or prep sauces and more here, keeping it separate from your main food items. The lid-mounted temperature gauge makes it easy to monitor grilling without having to constantly open the lid to do so. You also get two 7-inch wheels, allowing you to move the grill wherever you need it to be.

---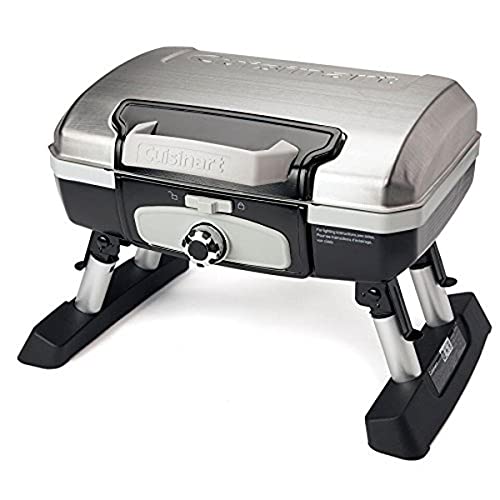 Cuisinart Gourmet Portable Tabletop Gas Grill at a Glance
:
---
Fuel: Propane
Cook Area:

145-square inches

Size:

18.5 x 16 x 11.5 inches

Side Table: No
Other: Highly Portable
Perhaps you don't have the room for a full-sized barbecue or simply want something more portable. Whatever the case may be, the Cuisinart Gourmet Portable Grill is there to help you out. It's made to sit on a tabletop, countertop, etc. so you can use it indoors and outdoors just as easily. Weighing just 17 pounds, you can absolutely carry it without issue or move it around to wherever it needs to be without exhausting yourself. You can even carry it with you in the car and take it to a park. Requiring zero assembly, once you get it home you can realistically have it up and cooking in less than 5 minutes. This is great for people who aren't particularly DIY-savvy or feel like hassling with putting one together.
With 1 porcelain 5,500-BTU burner, you get an electronic ignition with no matches needed. Dedicated control knobs for each one offer precise temperature selection and monitoring. The stainless grates offer everything a bigger grill does, cooking food evenly and quickly. It does operate with a 20-pound propane tank as well, but just remember that this doesn't come included.
To keep things safe and neat, you'll find a drip tray to collect any grease and little pieces that may fall off during the cooking process. It has a 3-year limited warranty but Cuisinart is very reputable and you can tell it's probably going to last you much longer than that.

---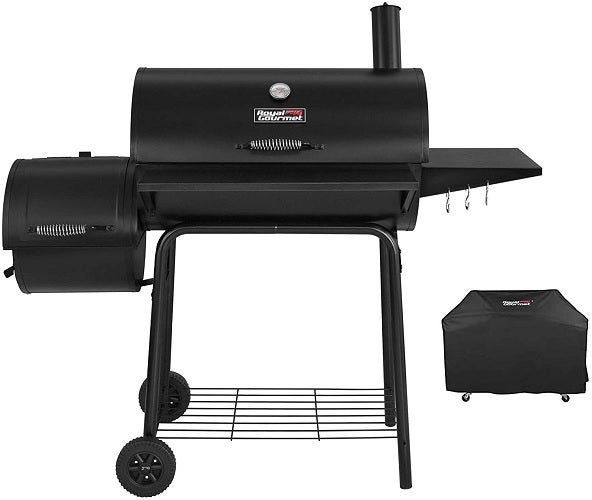 Royal Gourmet CC1830SC Charcoal Grill Offset Smoker at a Glance
:
---
Fuel: Charcoal
Cook Area: 801 square inches
Size: 53.7 x 28.2 x 48.8 inches
Side Table: Yes
Other: Side mounted o

ffset smoker
To earn the name of the best BBQ charcoal grill, it needs to be powerful, reliable, and have enough space for everyone's food. You'll find that and more with the Royal Gourmet CC1830SC Charcoal Grill. Featuring an offset smoker with cover and 801 square inches of cooking area in total, you'll be able to fill everyone's stomachs without fail. Much like the others we've reviewed so far, this model is also made of a durable stainless steel. A black coating makes everything uniform and beautiful to look at, but also withstands temperatures all the way up to 400 degrees Fahrenheit.
The package includes a free cover as well, with an offset smoker that attaches to the grill easily. This ensures proper circulation of heat and smoke, with a little side door to add more charcoal and remove ash. The dual-style model facilitates both grilling and smoking, automatically stoking the fire. A 2-level adjustable charcoal pan offers great control over the temperature, supporting up to 4.4 pounds of coal at a time. The main chamber is almost 443 square inches, though you also have 184 square inches in the side box for grilling and smoking.
A swing-away warming rack offers another 184 inches perfect for warming buns. You'll find both front and side shelves perfect for seasonings, sauces, and grilling tools. There's also a bottom shelf that can hold up to 20 pounds. When you're done, the removable charcoal pan makes it simple and safe to dispose ashes and the cool-touch spring handles ensure safety the entire time.

---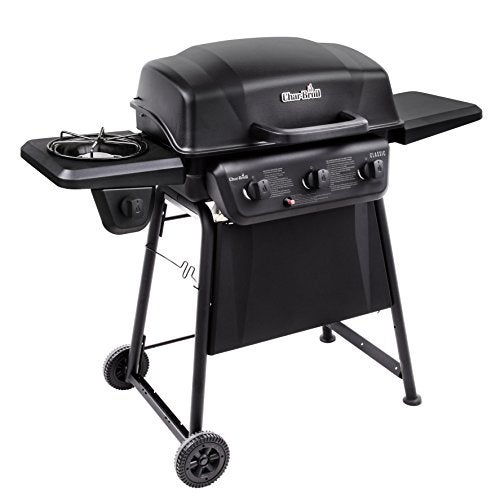 Char-Broil Classic 360 3-Burner Liquid Propane Gas Grill at a Glance
:
---
Fuel: Propane
Cook Area: 360 square inches
Size: 24.1 x 51.2 x 43.5 inches
Side Table: Yes, Burners
Other: Porcelain-coated steel
Char-Broil is another brand that has one of the best reputations in the game, so it comes as no surprise we had to add their Classic 360 Liquid Propane Gas Grill into the mix. This one is perfect for the no-frills guy or girl who just wants a solid grill that will serve them well for years.
The all-black look looks slick and is made of stainless steel so you'll keep serving up mouth-watering, perfectly-barbecued food each time you fire it up. In total, you're receiving 360 square inches of cooking space: 170 square inches on a swing-away warming rack and the rest allocated on the main grill and one side burner. The stainless-steel inline burners are sublime if you need reliable high-to-low heat control like for searing. The 8,000-BTU side burner is useful for keeping sauces warm or grilling up some side dishes.
Instead of fumbling around trying to get things up and running, the Piezo Ignition system offers seamless burner start-ups just by pressing a single button. On the other side, you'll find a metal side shelf which is great for prepping food instead of having to do so inside or on a separate surface. However, if you do need to move around the grill you have two 6" wheels. As it weighs just 48.5 pounds, rolling it around is smooth sailing.

---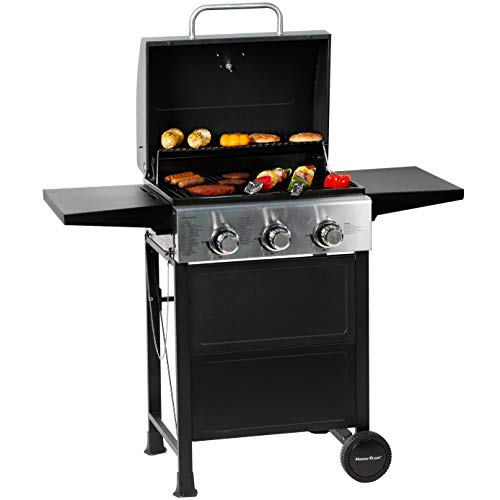 MASTER COOK 3 Burner BBQ Propane Gas Grill at a Glance
:
---
Fuel: Propane
Cook Area: 472 square inches
Size: 46.46 L x 20.87 W x 41.14 H inches
Side Table: Yes
Other: 
If you're on a tight budget, then you may feel like you have to choose a lower-quality, smaller grill. The good news is that there are some very affordable, high-quality options out there, just like the MASTER COOK 3 Burner BBQ Propane Gas Grill. Easily one of the best BBQ grills under $300, it's one you simply can't skim over.
Featuring a stainless-steel body with a painted black finish, it fits perfectly in the most sophisticated of yards and gardens. The control panel sports chromium-plated control knobs which also look expensive and feel great to the touch. On each side, sit 2 foldable, black tables that are great for holding cooked food and sauces, as well as prepping them. With 3 burners, the grill can put out 30,000 BTU per hour and also comes with a Piezo Electric Ignition system so you can simply press a button to start it up.
With a total of almost 472 square inches of cooking space, you'll be able to grill up and serve large amounts of food in one go. Should you end up roasting chicken or turkey, there's a handy built-in thermometer right on the cover. The only part that was a bit of a struggle was putting it together. While it wasn't the most difficult out there, it does take a bit of time to assemble.

---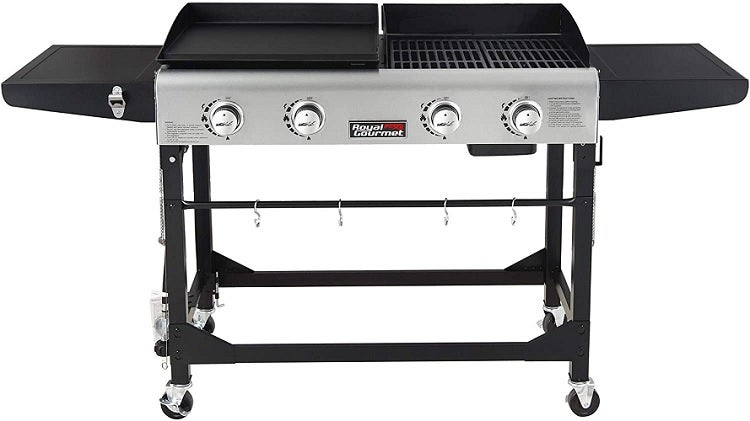 Royal Gourmet GD401 Gas Grill and Griddle Combo at a Glance
:
---
Fuel: Propane
Cook Area: 584 square inches
Size: 66.1 x 21.8 x 43.7 inches
Side Table: Yes
Other: Easily folds up
For lucky number 10, we have the Royal Gourmet GD401 Portable Propane Gas Grill and Griddle Combo. This model is quite a bit different visually and functionally than the others we've covered so far. Combining portability with high-quantity output, it's an excellent alternative to your traditional barbecue.
Whether you're looking to bring BBQ to tailgates, camping, and other festivities, the GD401 has you taken care of. At home, you can easily fold it up and stow it away indoors or simply leave it on the patio or porch for easy access. Coming with the obvious grill as well as a griddle section, it's the best choice for making delicious breakfasts. You'll not be able to make, eggs, toast, steak, bacon, and so much more on one BBQ! With a total of 584 square inches of cooking space, it can grill up a surprisingly large amount of food at once!
The stainless-steel setup is very durable, and comes with 2 fixed side tables great for preparing and storing food until it's ready to be served. The lower bar comes with various hooks so you can keep all tools and accessories handy. For easy cleanup, you have a grooved drip tray to move grease neatly into the grease cup that can be quickly emptied out when you're done.

---
Best BBQ Grill Comparison Table
How to Choose the Best BBQ Grill – Buying Guide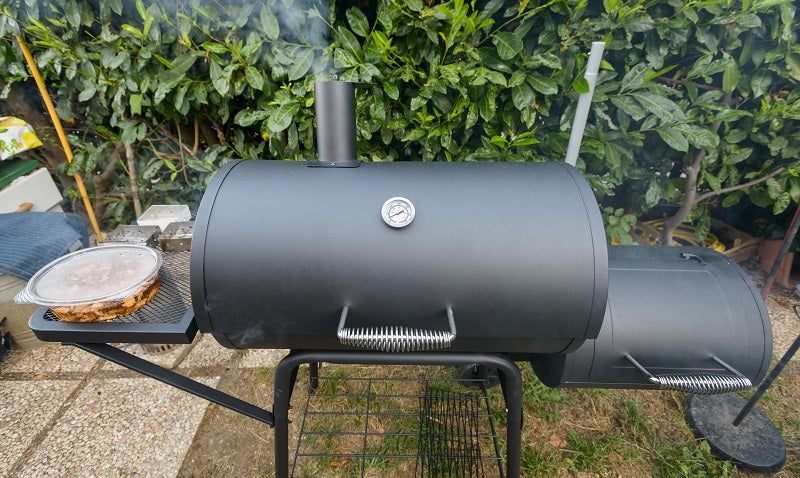 Now that you've made it through all of the best BBQ grills out there, have you decided which one is perfect for you? If not, we completely understand! We know that it can be challenging trying to select just one when there are so many excellent options to choose from.
We've decided to write up a user-friendly guide that details each consideration to take to make sure that you're getting the one best suited for what you need.
Size
First things first: you need to determine the size of grill you need and what can fit in your patio, deck, or wherever you're going to be grilling. Not only that, but think about how many people you're going to be cooking for. For 2-4 people, you can go for the smaller grills like the tabletop or the Weber Original Charcoal Grill.
That way, you're not spending much nor taking up a lot of space but will still be able to maximize food output. If you'll be cooking for more people, look at a model that has at least 4 or 5 burners.
Fuel Type
As you probably already noticed, there are various types of fuel. But which type is right for you? Let's take a look at each:
Gas – Gas BBQ grills are definitely one (if not the) most popular kind, utilizing either a separate liquid propane tank or natural gas if you can connect it to your home's natural gas line. While the latter is much more affordable, liquid propane is clearly much more versatile and portable though requires refilling. The upside to gas is that you do have more control over the temperature and tends to offer a more even cooking experience. The vast majority of the grills on our guide are fueled by propane gas.
Charcoal – Charcoal grills are popular due to creating that smokiness that makes our mouth water. They come in all kinds of configurations and sizes, such as the Weber Original Charcoal Grill and the Royal Gourmet CC1830SC. However, charcoal grills do take a bit of practice, as you'll likely have to light the briquettes and spend more time waiting for things to heat up than you would with propane models. Also, you'll spend more time cleaning up and disposing of ash once you're finished grilling. The upside is that the flavor it infuses and how affordable they are.
Pellets – Pellet grills are probably the most rare of the bunch, as pellets can be pricey and a bit more difficult to find. However, they offer the best smokey, authentic wood-fired flavor out there. These use a hopper on the side of the grill, and also smell quite nice when burning. The grills feature an onboard computer which offers a great amount of control over the temperature.
Durability
Chances are, you're looking for a barbecue that's going to last you for at least a few years. For the most durable grills, we highly recommend you opt for a stainless-steel model. Stainless-steel is resistant against rusting, which makes it great for dry desert climates all the way to more humid or oceanside environments.
Most people will just be left outside when not in use, which means it needs to be able to hold up well against the elements. If yours has a paint finish, make sure it won't peel nor fade in extreme temperatures.
Types of Cooking
As you're in the market for a BBQ grill, we're assuming you plan on grilling some food. However, maybe you want to expand upon that and try some new cooking methods! As you saw, there are some models that let you braise, sear, bake, and so much more!
We're also big fans of the grill/griddle combos, as they're perfect for getting up early and throwing some eggs, bacon, and pancakes onto the grill and surprising your loved ones (or yourself) with a delicious breakfast!
Portability
Are you looking for a grill that's just meant to sit in the same spot all year long or do you need something that you can move around as you wish? You'll find some pretty hefty models out there, which yes, can be moved around but not quite as easily as the more lightweight grills.
No matter what, it's a good idea to have a barbeque that includes at least a couple of wheels so if you need, you can relocate it out of the rain or what have you. Some take portability a step further, and are so compact and lightweight that you can take it in the car and grill just about anywhere you want!
Side Tables/Grills
About half of the grills on our guide come with side tables, which can be really handy to have around. You can use these tables to store a beer to sip on while you're BBQing, prep food, store burgers until they're ready to be served, etcetera. Some even have grills built into the side tables, which are also really helpful for keeping sauces warm and for grilling smaller items.
Price
How much do you feel comfortable with spending on one of the best backyard grills? We recommend you set a budget for yourself before you really get into shopping around, so you aren't spending more.
However, no matter what your budget is, we're sure you'll find at least a couple of options that will fit into that. Price doesn't automatically equate the level of quality, but more so how many features they come with.
FAQs About BBQ Grills
Q: Are charcoal BBQs better than gas?
A: If you are on a budget, charcoal grills are very often much more affordable than gas grills. Charcoal offers a more smokey flavor and aroma, though they're a bit more difficult to control the temperature with precision.
Q: Do you need lava rocks on a gas BBQ?
A: Not at all; in fact, we recommend against doing it.
Q: What is the healthiest way to grill?
A: First, make sure you aren't letting char build up on your grill. It's been suggested that cooking at slightly lower temperatures can be healthier than higher ones. Grilling overall, though, is very healthy as it allows excess oils to drip off of the meat.
Q: Which is healthier grilling or smoking?
A: Recent studies suggest that smoked meats are healthier than grilled meats. This is because the high temps from grilling causes potential risks when the flames interact with animal fat. Since smoked meats are cooked at lower temperatures, the same dangers are basically eliminated.
Tips For Choosing BBQ Grills
#1: Make sure that children are always supervised and never get too close to the grill, even while it's not in use.
Avoid grills with sharp metal corners and edges. Grills aren't meant to be used around children.
#2: Keep in mind when looking into the actual price of the grill, that you're also considering the price of the fuel.
Gas is a little bit more expensive, pellets are often the most expensive, while charcoal is a very affordable option.
#3: While it's easy to place focus on the BTUs of a grill, place more attention to the cooking area.
Smaller, more compact barbeques can reach higher temperatures with fewer BTUs, and still prepare food nicely.
Summary
Now that you know just about everything you could ever want to about what makes good BBQ grills, have you determined which one is perfect for your grilling needs? No matter which one you purchase, just know that all of the models on our guide are the best out there.
We hope our guide has helped you figure out which grill fits nicely along with your expectations. As long as you follow our buying guide, you can be sure you have. Thanks for tuning in, and we'll see you again soon!
How We Researched
To come up with the top BBQ grills, we researched a variety of sources for reviews such as Home Depot, Lowes, Target and Wayfair along with our own personal experience.
We also consulted online magazines for product research and reviews to get as much unbiased information as we could. To help weed out fake reviews we used Fakespot.com to make sure we only looked at genuine reviews.
With so much quality gear available, we had to narrow it down based on what we felt were the best options were for the price. The staff authors have a wide and varied background in yard design and home repairs.
The authors have decades of experience and are eager to share their knowledge with readers.
To help narrow down the selection we used personal experiences along with recommendations from landscapers, bloggers and contractors.
After extensive research, we came up with our list to help you choose the right one for you.
Sources
Notice:
OutsidePursuits.com is a participant in the Amazon Services LLC Associates Program, an affiliate advertising program. OutsidePursuits.com earns fees from products sold through qualifying purchases by linking to Amazon.com. Amazon offers a commission on products sold through their affiliate links.