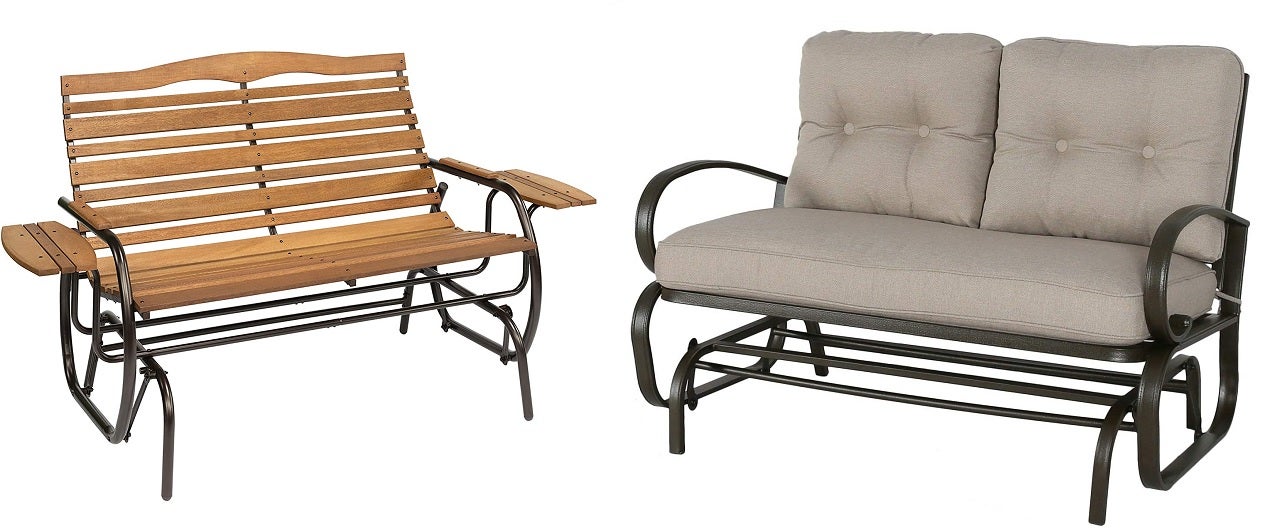 Our Editors independently research, test, and rate what we feel are the best products. We use affiliate links and may receive a small commission on purchases.
One of the best parts of life is simply relaxing with a cup of coffee or a drink, especially if you're able to do so in the comfort of your backyard.
One of the best ways of doing that is in a patio glider. This type of outdoor furniture manages to combine comfort, quality, and durability.
We've taken our own experiences along with consumer recommendations to bring you the top patio gliders available so you can select among those that you'll use for many years to come.
Best Outdoor Gliders
For more of my backyard recommendations, have a look through these popular Outside Pursuits guide links: Outdoor Rocking Chairs, Outdoor Daybeds, Adirondack Chairs.

Quick Answer: The 7 Best Rated Patio Gliders For 2021
Our reviews of the top rated patio gliders with our comparison table and buyers guide will help you choose the right one for you.
---
Patio Glider Reviews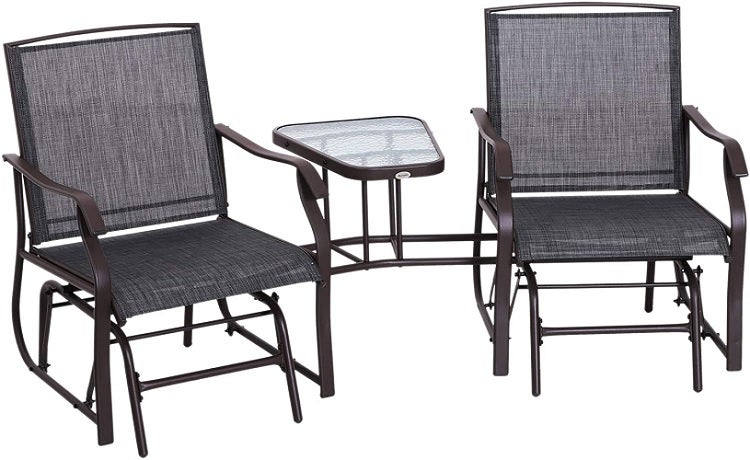 Outsunny Outdoor Rocker Glider Chair at a Glance
:
---
Size: 76 x 35 x 36 inches
Weight Capacity: 350 Pounds
Materials: Powder coated steel, Mesh Fabric
Other: Center Table
To earn the title of the best outdoor glider chair, the model must feel comfortable for long periods of time, must be durable, and should be convenient.
The Outsunny 2 Person Outdoor Sling Glider Rocker Chair is all that, and much more! Coming in either Brown or Grey, it also offers a sophisticated look that works beautifully with outdoor environments.
This set comes with 2 gliding seats which glide independently, as well as a convenient center table. This table looks great, with a clear surface and metal frame, and can hold up to 35 pounds. That means that you'll be able to hold drinks and snacks with ease.
All frames of the chairs are also made of an incredibly durable steel that is designed to last throughout all kinds of weather conditions. The backs and seats of the chairs are made with sling mesh fabric which is lightweight, durable, soft against the skin, and flexible.
We appreciated the ventilation the fabric provided, which is particularly nice on a hot day. As they're quick-drying, you can keep them poolside and they won't be damaged if they get wet.
The weight limit here is 350 pounds per seat, which will be more than enough for the vast majority of people. The seats themselves are quite wide, so no one will feel like they have to squeeze themselves in – there's more than enough room to move around.
Simple assembly is required, and you can expect to have everything ready in less than an hour.

---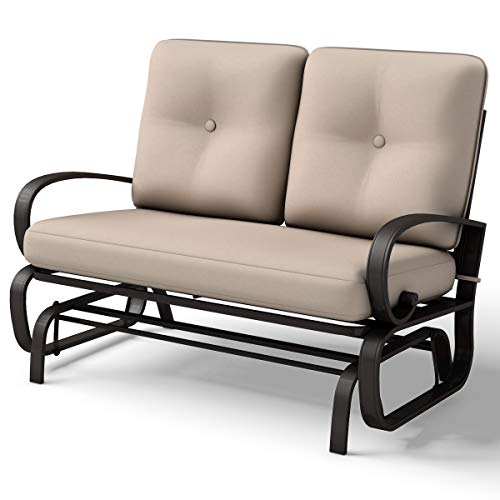 Giantex Loveseat Outdoor Patio Rocking Glider at a Glance
:
---
Size: 47.5 x 29 x 34 inches
Weight Capacity: 500 pounds
Materials: Powder coated steel, Cotton blend fabric
Other: Thick, comfortable seat cushions
Perhaps you're looking for a single bench instead of separate seats. If that's the case, here's the best outdoor glider bench: the Giantex Loveseat Outdoor Patio Rocking Glider. This one is the "biggest bang for your buck", offering a nice combination of luxury, quality, and price.
Coming in both Beige and Navy, it's certainly a beautiful bench that will look wonderful on any patio. The button finishes and smooth fabric only adds to the visual appeal. However, it doesn't just offer looks, but luxurious comfort.
With breathable, thick cushions, it's perfect for long hangout sessions, book-reading, and more. In case of rain, the cushions are also easy to take off and put back on. The cushion covers are designed to be waterproof and non-fading in the sun, making them great for poolside use, garden use, and will retain their original good looks.
The glider features a sturdy steel frame with a rust-free coating, making it great for keeping outdoors all year-round. The bench is able to support up to 500 pounds in total, which makes it great for seating 2 people. The rocking motion is great for relaxation and comfort, allowing for blood flow as well.
Assembly is pretty simple as well, and shouldn't take you more than around 30 minutes.

---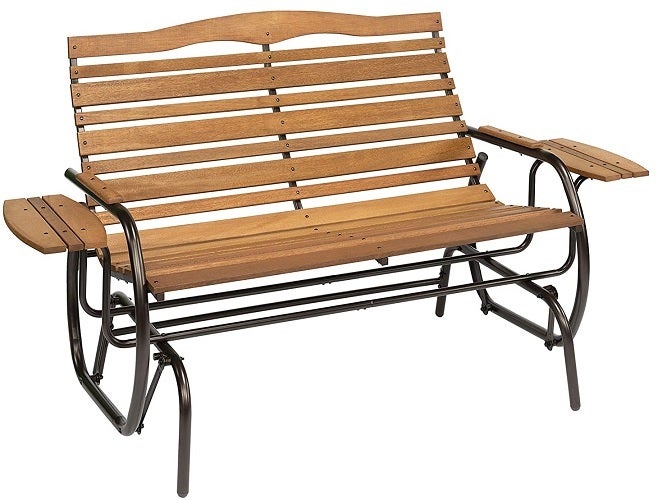 Woodlawn Home Hardwood Glider at a Glance
:
---
Size: 71 X 30 X 37 inches
Weight Capacity: 500 pounds
Materials: Powder coated steel, Hardwood
Other: Convenient Side Trays
Next up, we have the Woodlawn Home Hardwood Glider with Trays, which is a simplistically beautiful bench. As you can see, this model is quite a bit different from the others we've looked at and is made from hardwood. This bench is great for reading, snacking, enjoying a coffee or tea, and just spending time with a loved one.
The hardwood not only looks attractive, but is very high-quality and is knot-free. The wood does require a bit of maintenance, though is treated with a preservative to help keep it lasting for a long time.
This will help keep the original wood color and detail, though through natural exposure to the elements, may lose a bit of saturation. You can easily restore the original wood look by simply staining the slats, though.
The base is made of a durable metal, coming with a powder-coated finish that protects the steel from wearing down or rusting. It also comes with a bronze-colored paint that gives a more elegant look that will instantly add style and visual appeal to your garden or patio space. Just like the previous model, it supports up to 500 pounds.
Another small but game-changing feature, is the inclusion of 2 side tables: one on each side. These small side tables or "trays" are perfect for keeping a book, beverage, or snack handy.
The Woodlawn Store brand comes with many other optional accessories, so you can create a fully-cohesive patio furniture setup if you'd like to expand later on.

---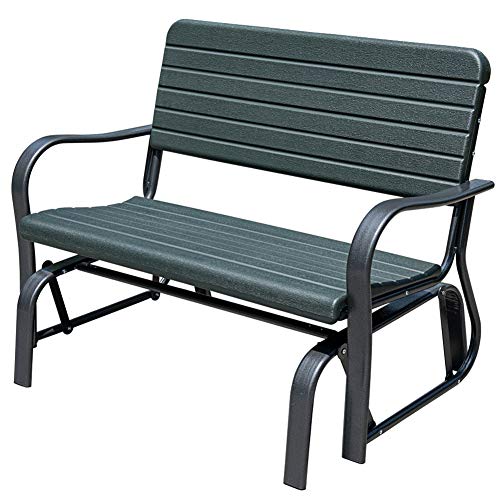 Sundale Outdoor Deluxe Loveseat Glider at a Glance
:
---
Size: 17 x 34 x 41 inches
Weight Capacity: 500 pounds
Materials: Powder coated steel, HDPE Plastic
Other: Weather-Resistant
The Sundale Outdoor Deluxe 2 Person Loveseat Glider Bench Chair is a straightforward, no-frills bench that's great for 2-person lounging around in the fresh air.
Very similar to a park bench, it's designed to withstand the elements and offer patio seating for many years to come. The Dark Green color works wonderfully with the natural colors of the outdoors, as well.
Weighing 44 pounds, the bench is very lightweight and easy to move around should you want to. Made with HDPE plastic, the seat and backrest are very durable and resilient against UV-rays, keeping its original color very well. We also noticed that it requires practically zero maintenance, nor will it crack, split, rot, etcetera.
The frame is comprised of rust-resistant steel which is incredibly durable. With a powder-coated finish, the metal is further protected against corrosion.
The glider rocks smoothly and thanks to the sturdy construction, you can rock back and forth with confidence. Capable of supporting up to 500 pounds, it's easily able to support 2 people.
Assembly is one of the easiest process with this model, which we also really appreciated. The only downside for us was that if you do end up wanting to add cushions in the future, they do slide around a bit.

---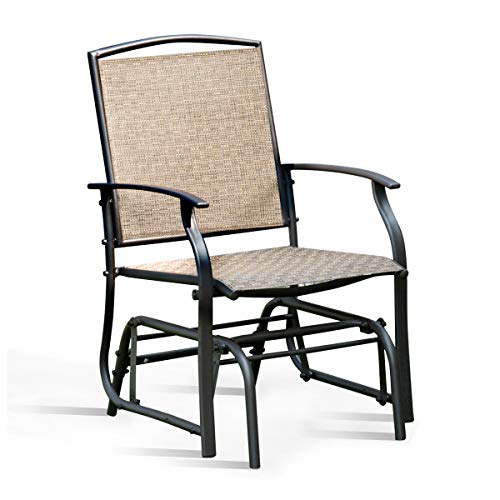 Giantex Swing Glider Chair at a Glance
:
---
Size: 23 x 27.5 x 37 inches
Weight Capacity: 330 pounds
Materials: Powder coated steel, mesh fabric
Other: Ergonomic Style
We're back yet again with another Giantex model, but this time we bring you the Swing Glider Chair. This chair is the best porch glider for single-person use, which is also a nice option if you're tight on space.
It's simple, elegant, and moves smoothly with the gentle rocking motion that's instantly relaxing and can bring you into almost a hypnotic state.
Even though it's designed to support a single person at a time, it still comes with one of the most relatively-high weight capacities, supporting up to 350 pounds.
This is due to the expert construction, but also the heavy-duty iron frame which is insanely strong. Count on this one being able to hold steady in moderate storms, as they won't rust either.
The seat and back material is a very durable, yet unique fabric that has a high tensile strength to support heavier weights. Not only that, but it features excellent ventilation that keeps you cool and dry, even on hot summer days.
Moving back to the rocking motion, the way this model is made means that your weight will always be centered nicely so you don't have to worry about falling backwards or losing your balance! You may notice 4 pads at the bottom of the glider to further eliminate the risk of slipping and also protect the ground underneath.

---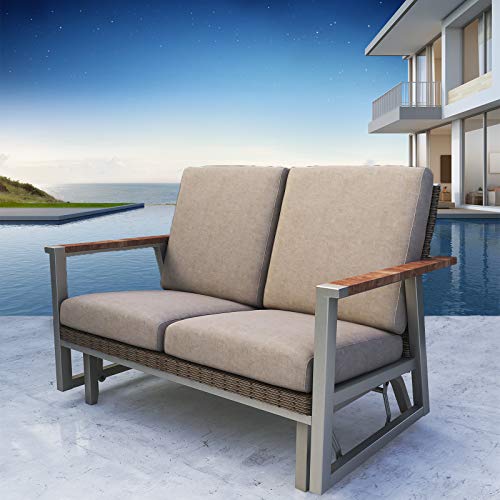 Festival Depot Outdoor Patio Swing Glider at a Glance
:
---
Size: 33.5 x 53 x 36 inches
Weight Capacity: 500 pounds
Materials: Powder Coated Steel, PE Wicker, Olefin
Other: Removable Cushions
Are you on the hunt for the best outdoor glider in terms of looks and comfort? Then do yourself a favor and take a good look at the Festival Depot Glider Rocking Chair 2 Person Bench Loveseat. This one is absolutely a head-turner, and will no doubt become everyone's favorite outdoor seat!
While the price is a bit higher than the others we've touched on today, it's more than worth it when you take into consideration the top-notch quality craftsmanship and materials used.
The loveseat features some of the most lush, comfortable cushions we've had the pleasure of using. The 4"-thick cushions are made of durable foam that won't collapse, making it ideal for long-term use.
All cushions are easy to remove during the colder seasons, but are also made with UV-resistant Olefin material.
This material won't fade, is very breathable, and quick-drying, making it ideal for year-round use. You can easily unzip and remove the covers, throw them in the washing machine, and quickly put them back on for simple maintenance.
The frame plays an equally important role in terms of comfort, featuring an ergonomically-shaped back that will keep you feeling comfortable and your spine properly-aligned for your health and wellness.
The curved rocker arms are heat-resistant so you don't burn your arms, even on the hottest of days. It's all made of a weather-resistant, rust-resistant steel that's powder-coated.

---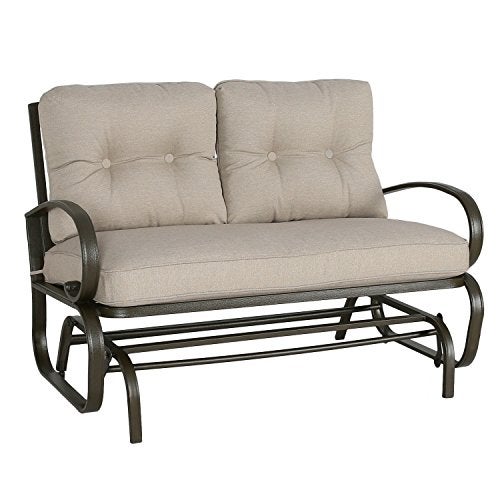 Patio Tree Patio Glider Bench Loveseat Outdoor at a Glance
:
---
Size: 47 x 31.5 x 33.5 inches
Weight Capacity: 500 pounds
Materials: Powder coated steel, Olefin faric
Other: Removable Cushions
If you are in the market for the best patio glider for those on a budget, check out the Patio Tree Patio Glider Bench Loveseat. This outdoor, 2-person rocking patio chair is simple, beautiful, and incredibly comfortable.
Coming in 3 colors, you get to choose between Beige, Brick Red, or Navy – all of which look elegant and will go with just about any existing décor.
We actually can't wrap our minds around why this bench is so affordable, especially when you take into account the high-quality materials used to make it.
Made with alloy steel, the frame is tough and resilient against all kinds of weather, coming with a powder coating for added resistance against rust and corrosion. The dark brown paint works well with all of the color options, and doesn't scratch or crack.
The 500-pound weight capacity is pretty typical for these 2-person configurations, and feature comfortably curved armrests. Cushions are also made with 100% Olefin fabric, which is the best choice for patio gliders.
They're breathable, washable, UV-resistant, and easy to maintain. In fact, the brand assures 1,500 hours of sun exposure and UV protection.
Assembly is required, and we found this one just a tiny bit more complicated than some others on our guide, though overall is still pretty straightforward.

---
Outdoor Glider Chair Comparison Table
How to Choose the Best Patio Glider – Buying Guide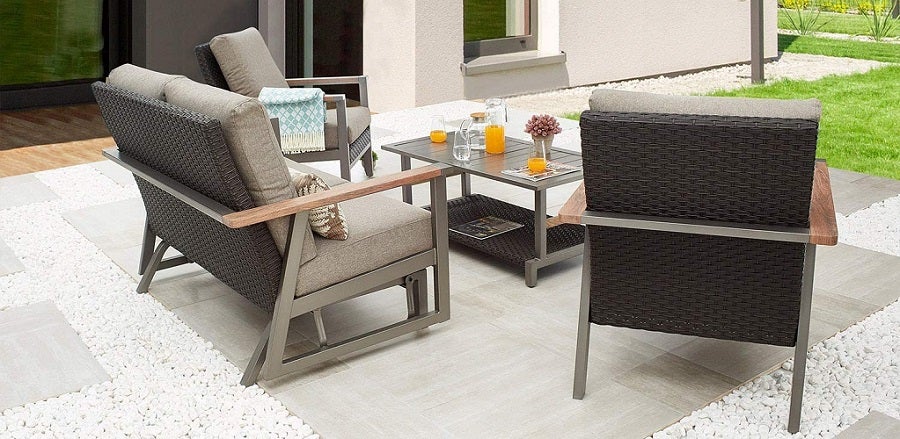 Now that you've read all about the top patio glider chairs available, have you figured out which one is the right one for your home? If not, we're here to help you out! We understand that it can be challenging to narrow it down to just one when there are so many excellent ones to choose from!
We've gone ahead and written up this comprehensive buying guide, below. This guide will take you through each consideration to take when looking for a good outdoor glider chair so that by the time you've read through, there will be no doubt which is the perfect model for you!
Size
First of all, you're going to want to figure out what size of patio glider you need. Are you just looking for yourself, or do you want a glider that'll sit you and another person?
Perhaps you want to sit out on the patio and enjoy a refreshing beverage with your partner, or just want to have another seat available should you have people over. Luckily, this is a pretty easy decision as you really only have a 1-seater or 2-seater to choose from.
Also take into consideration weight capacity, which ties in to the quantity of seating. The vast majority of loveseats support 500 pounds, which is 250 pounds per person (roughly). There are 1-seaters that support anywhere from 250 to 350 pounds, so consider the weight of the sitter, too.
Frame
The frame should be very durable, considering your bench is going to be sitting outside for most of the time. You need your bench's frame to be made of metal: preferably wrought iron or steel. Both on their own will support heavy loads, and are inherently resistant against the elements.
However, it's important that the frame also comes with some kind of powder coating to further prevent rusting and corrosion from happening. Durability is also very crucial, as gliders rock back and forth and you need something that isn't going to crack or become weak over time.
Cushions/Seat
Now, let's move on to the actual seat and backrest of the gliders. Some gliders will feature a configuration where the entire frame/back/seat are made of metal, while other seats and seat backs are just made with fabric.
The latter will essentially suspend the sitter, which can be a comfortable and less bulky way of offering comfort for longer sitting sessions. Some even come with a plastic or a wood seat, which on its own, isn't the most comfortable, but some people don't mind the relative firmness.
If you're someone who really needs added cushiness, then you'll want to look for a glider that comes with cushions. Cushions do vary quite a bit in thickness, though most people seem to like those that aren't going to flatten out completely – otherwise, what's the point of having cushions?
Your cushions should come with a durable cover that won't fade under sunlight, and is ideally waterproof. Even if you aren't going to have water around your seating area, you never know if someone may get too close while watering the garden or if Mother Nature will decide to surprise you with a thunderstorm.
Shape/Comfort
Comfort is not only dependent on cushions or the seat material, it is also affected by the shape of the frame, itself. If you can, try to get a glider that comes with an ergonomic design. These designs are made to keep your spine in proper alignment, which is not only healthier for you, but also keeps you comfortable for longer periods of time.
We also prefer benches that come with curved, smooth armrests to keep your arms from hanging down. Just make sure that if they're made of metal, that they're also heat-resistant so you don't burn your arms during those hotter days.
Tables
What are you planning on doing while sitting on your patio glider? Unless you're literally just going to sit there, you may very well benefit from some type of table that comes along with the seating. Some models come with full tables right in the center of 2 seats, which is nice for bigger snack plates, beverages, and more.
Others come with little side tables, which are more often seen in the 2-seater/loveseat models. The smaller alternatives are nice for keeping a book or cup of coffee handy, but aren't quite as effective for larger plates.
Price
How much do you feel comfortable with spending for a top porch glider? It's a smart idea to figure that out and set a budget for yourself before you really start shopping around. The good news is that no matter what your budget may be, we have at least a couple of options on our guide to choose from.
You can expect higher prices typically when you throw cushions or tables into the mix, but you can absolutely expect a top-notch glider even without those features.
FAQs About Best Patio Gliders
Q: What is a patio glider?
A: They are a type of rocking chair which moves as a swing seat, with the whole frame featuring a seat attached to the base through a double-rocker, 4-bar linkage. The non-parallel suspension arms of said linkage move the chair in a way so that it is very similar to a rocking-chair motion, swinging back and forth.
Q: How much clearance does a glider need?
A: You want at least a foot, or 4 feet altogether, to allow you to rock back and forth without hitting any obstacles or walls.
Q: What is the difference between a swing and a glider?
A: Swings consist of a seat that is connected to some kind of overhead hanging, while gliders connect to a base with a 4-bar linkage that allows for the gliding movement. Swings are oftentimes larger, fitting around 3 people, while gliders usually seat 1-2.
Q: Are gliders or rockers better?
A: There's really no "better", as it varies per person. Rockers are nice, more traditional types of seats, however, gliders do offer a significantly smoother motion. This is nice as it's easier to eat, drink, or read while using them and you don't tend to feel dizzy with the gliding motion.
Tips For Choosing Patio Gliders
#1: If using your patio glider on a wooden deck, make sure that you have something underneath to protect the wood.
Some gliders do actually come with "feet" that will protect the ground or surface underneath. However, if yours does not, you can simply add a mat or a rug!
#2: You can also place your glider on the lawn, if you add the right surface underneath.
If yours allows for it, you may place something like tennis balls on the bottoms of the legs. If not, then you can also use a solid surface such as wood, to keep it from sinking into the grass and earth.
#3: Make sure to regularly maintain your patio glider.
That is, unless your glider is made of a plastic. Plastic tends to require little-to-no maintenance, and withstands the elements extremely well. However, if you have a metal-only bench or even a wooden one, you'll want to make sure to regularly clean it to keep it free of any dirt or debris. This goes double if you have a wooden bench, as wood requires the most maintenance out of the bunch.
Summary
Now that you're pretty much an expert on all things "patio gliders", have you found the perfect one for what you're looking for? If not, then you can rest easy knowing that whichever one you select from our guide, you'll be receiving one of the best models out there.
However, what's most important is that you've been able to narrow it down to the glider that perfectly suits your needs. We hope our guide has helped you to do exactly that. Thanks for tuning in, and we'll see you again soon!
How We Researched
To come up with the top outdoor glider chairs, we researched a variety of sources for reviews such as Home Depot, Lowes, Target and Wayfair along with our own personal experience.
We also consulted online magazines for product research and reviews to get as much unbiased information as we could. To help weed out fake reviews we used Fakespot.com to make sure we only looked at genuine reviews.
With so much quality gear available, we had to narrow it down based on what we felt were the best options were for the price. The staff authors have a wide and varied background in yard design and home repairs.
The authors have decades of experience and are eager to share their knowledge with readers.
To help narrow down the selection we used personal experiences along with recommendations from landscapers, bloggers and contractors.
After extensive research, we came up with our list to help you choose the right one for you.
Sources
Notice:
OutsidePursuits.com is a participant in the Amazon Services LLC Associates Program, an affiliate advertising program. OutsidePursuits.com earns fees from products sold through qualifying purchases by linking to Amazon.com. Amazon offers a commission on products sold through their affiliate links.