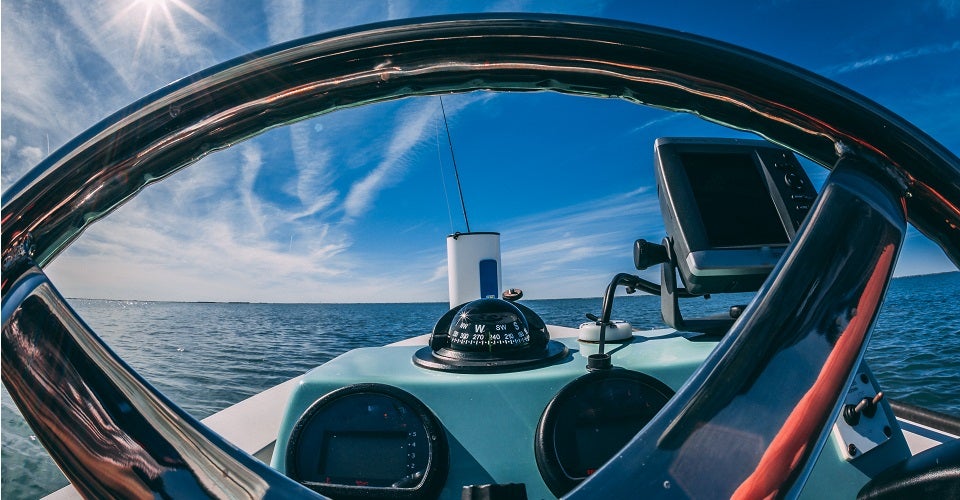 Our Editors independently research, test, and rate what we feel are the best products. We use affiliate links and may receive a small commission on purchases.
When it's time to hit the water you just can't be running blind. Whether you decide to go out fishing, take a spin around the lake, or head offshore being able to see where you're going and where you've been is critical for safety and performance.
Today's marine electronics are much more varied and advanced than ever before. That means it can sometimes be a bit overwhelming or intimidating trying to find the right electronics.
Do you need a chartplotter or a fish finder? What specifications matter, and what do they mean?
In our guide, we'll try to keep it practical and answer the questions you need to know in order to make a good choice for yourself.
I'll also try to recommend some of the most popular marine GPS units so you can spend more time on the water and less time shopping!
Best Marine GPS Chartplotters
Humminbird Helix 5 Marine GPS
Simrad Cruise GPS Chartplotter
Garmin echoMAP CHIRP 74cv Chartplotter
Type:
Chartplotter &
Fishfinder
Chartplotter
Chartplotter &
Fishfinder
Screen:
5"
5",7",9" Available
7"
GPS:
Yes
Yes
Yes
Preloaded Charts:
Minimal
Yes
Yes
For more of my marine gear recommendations, have a look through these popular Outside Pursuits guide links: Marine Battery, Marine Speakers, VHF Marine Radios.
Quick Answer: The 5 Best Marine GPS Chartplotters For 2021
Our reviews of the top rated marine GPS chartplotters with out comparison table and buying guide will help you choose a GPS for your boat.
---
Marine GPS Chartplotter Reviews
Humminbird Helix 5 Marine GPS at a Glance
:
---
Type: Chartplotter/Fishfinder
Screen Size: 5"
Internal GPS: Yes
Preloaded Charts: Minimal
Humminbird is one of the most popular brands of chartplotters and fishfinders in today's market.
Their Helix 5 is affordable, effective, and accurate. Those are some of the reasons it's one of the most popular chartplotters available right now.
Humminbird's Helix 5 combines a simple base map with a great down-imaging fishfinder. That means it's an affordable option both for navigation and fishing.
If you want to upgrade to more detailed maps (highly recommended for heavy navigation) you'll need to take advantage of the onboard micro SD card slot.
Beware, however, that maps can cost quite a bit to upgrade.
It's worth noting that the base maps do include "buoys, day markers, hazards, marinas and countless other navigation aids".
Best for those with a low budget looking for the best marine GPS, fishfinder/chartplotter combo.

---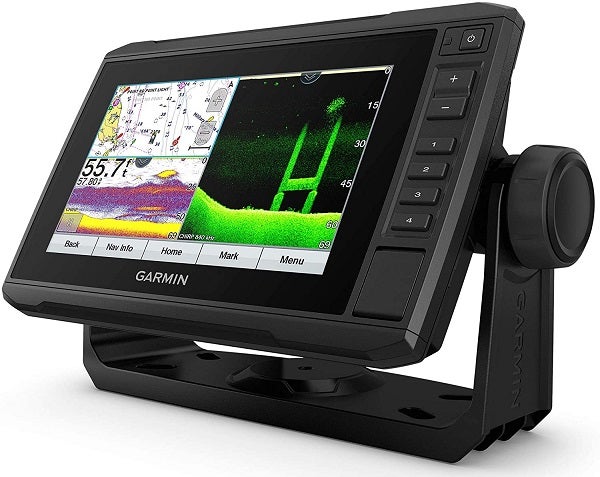 Garmin echoMAP CHIRP 74cv Chartplotter at a Glance
:
---
Type: Chartplotter/Fishfinder
Screen Size: 7"
Internal GPS: Yes
Preloaded Charts: Yes
Garmin's echoMAP series is a fishfinder and chart combo that won't break the bank or overpower casual boaters. Just like the Striker Plus, the echMAP has Quickdraw Contours.
That means as you travel waters the chartplotter automatically gathers data and updates the maps around you based on what it finds.
While it does come with preloaded BlueChart G3 maps they're only for the coastal US. If you fish or travel inland you'll want to buy and install the SD card for your corresponding area.
Other maps available for this chartplotter include US LakeVu HD maps and Canada LakeVu HD maps.
Best for anglers looking for a good fishfinder and the best marine chartplotter in one unit.

---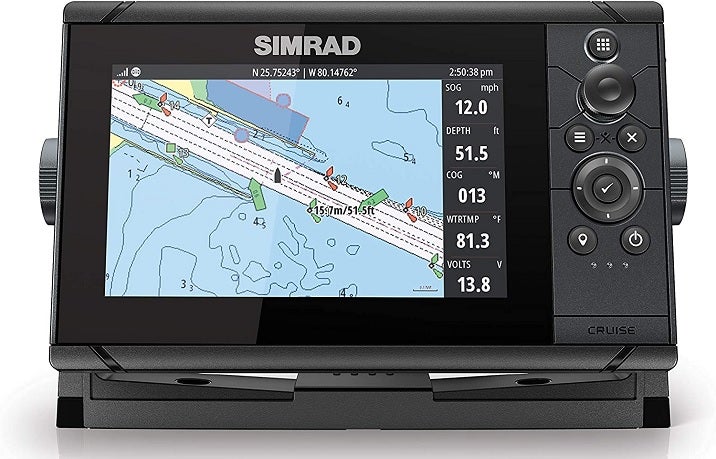 Simrad Cruise GPS Chartplotter at a Glance
:
---
Type: Chartplotter
Screen Size: 7"
Internal GPS: Yes
Preloaded Charts: Yes
Simrad is well known for their advanced chartplotters. This mid-priced model is a fantastic example of seamless hardware and fantastic software on a sonar/chartplotter combo.
While this unit does come with preloaded US coastal maps, you can load enhanced charts from C-MAP and Navionics
Simrad supports almost every chart available including C-MAP MAX-N, Navionics, Insight, Insight Genesis, and NV Digital.
Not only is the screen fully touch compatible (and good-looking, too!) you can also fully customize the home screen. That means shortcuts to your favorite tools, divided screens, and more!
It is also available in three sizes, from a 5″ to a 9″ screen. Out of the box this one is ready with 83/200 kHz downscan imaging sonar. It also includes wifi connectivity and Bluetooth.
Best for advanced boaters and anglers looking for the best boat GPS under $500.

---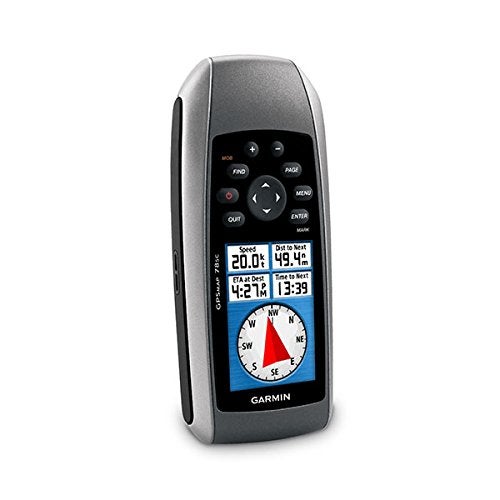 Garmin GPSMAP 78S Marine GPS Navigator at a Glance
:
---
Type: Chartplotter
Screen Size:

2.6

"
Internal GPS: Yes
Preloaded Charts: No
Feeling like the other chartplotters on our list are a bit too big? A little too expensive? Maybe you need something with minimal features and navigation only. Here it is.
Let's be clear – this is a small and simple unit. However, it's still plenty powerful enough to get you where you're going on the water and get you home at the end of the day.
You'll have to navigate the interface using a simple keypad on this handheld unit.
Being small and handheld, however, means you can easily take it on trips, transfer it between boats, or just toss it in your luggage.
You'll probably want to take advantage of the SD card slot to load in charts using Garmin's BlueChart system.
While it is possible to upload and overlay satellite images and advanced mapping, given the small screen size I'd advise you to keep it simple.
Upload waypoints, mark locations, and view your route all on a handheld chartplotter small enough to fit in a pocket.
Best for those with lower budgets or those who travel often.

---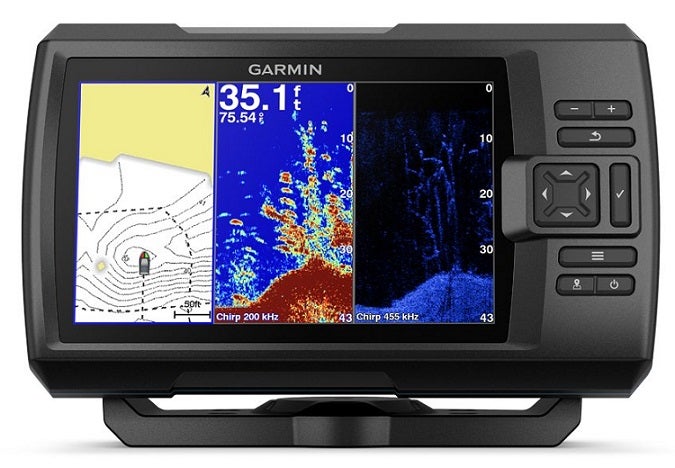 Garmin Striker Plus 7Cv Chartplotter at a Glance
:
---
Type: Chartplotter/Fishfinder
Screen Size: 7"
Internal GPS: Yes
Preloaded Charts: No
Garmin has really made some strides with modern chartplotters. They're working to provide options for people with a wide range of needs and this fishfinder/chartplotter combo is aimed at a specific audience.
Remember when we talked about connectivity options?
The Garmin Striker Plus series uses wifi to connect to the ActiveCaptain app by Garmin. There you can access the Quickdraw Contours Community.
And that, of course, brings us to the next point. The Garmin Striker Plus series does not come with built-in maps or charts.
Instead, as you move around it collects data from below the boat using sonar and maps the areas in real time using the Quickdraw Contours feature.
This is ideal for boaters and anglers who navigate waters that otherwise aren't supported by common marine charts. If you navigate small hidden waters, hard-to-reach lakes, or other areas that aren't mapped by available software, you can make your own maps!
Of course you can still upload your own waypoints using Garmin's software, too.
Best for anglers looking for navigation in hidden waters that aren't supported by downloadable maps.

---
Marine GPS Chartplotter Comparison Table
How to Choose the Best Marine GPS for You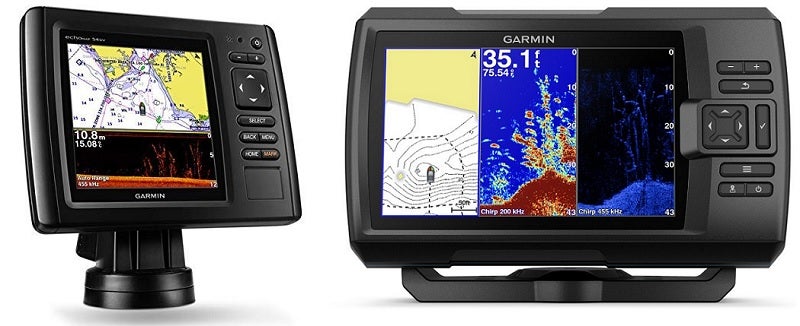 Chartplotter vs GPS
There's a bit of confusion around this topic and, frankly, it's a bit of a silly nomenclature problem. Let's just keep things as simple as we can.
A GPS, in common lingo today, is any device that can access a set of geo-spatial satellites. That just means any phone, computer, tablet, fish finder, chartplotter, or other devices that can hook into GPS satellites.
Chartplotters are marine GPS units that combine a map (chart) with location services (GPS) to plot your location. They are used to plot the locations of underwater features, points of interest, your waypoints, your tracks (paths), and other locations.
Essentially, when you want to find a marine GPS unit, you're probably looking for what's commonly called a chartplotter.
Chartplotter vs Fish Finder
Fishfinders, depth sounders, and sonars are all common names for underwater imagine devices used by anglers. Why should you care? Because chartplotters often have fishfinders built into them.
If you fish at all or think you might in the future, consider a chartplotter/fishfinder combo. Most companies such as Garmin, Humminbird, and Lowrance all make fishfinders and chartplotters as well as combinations of the two.
It's much cheaper to buy a chartplotter/fishfinder combo right out of the gate than it is to buy one or the other and later upgrade.
Food for thought!
Best Use for a Chartplotter
So, what do you use a chartplotter for?
Chartplotters are basically the marine equivalent of a car GPS. They're ideal for navigation in all forms.
Depending on what your needs are, what your budget is, and where you're going a chartplotter can be a very versatile tool.
Let's talk about who doesn't need a chartplotter. If you fish small local waters, little rivers, or lakes that don't have detailed charts available then a chartplotter is probably a waste of your money.
Someone who probably could use a chartplotter is a larger boat offshore. People navigating in poor weather, dark conditions, or waters big enough that you could get turned around or lost would do well with a chartplotter.
Chartplotters bring the best performance for those who do some technical navigation, fishing, and pathing. If you're not the type to spend some time behind the screen, don't get on the chartplotter train.
Chartplotter Features
Marine Charts
Marine charts are basically just marine maps. Instead of highways, gas stations, and fast food joints, however, they have important marine information and details.
Marine charts need to have depth charts. Depth charts are topographic representations of the bottom of the water.
Points of interest can be pre-loaded or programmed in. Good charts sometimes come with POIs for the relevant area. Shipwrecks, hazards, anchorages, harbors, or other markers may be preloaded on good charts.
The shoreline is an integral part of any nautical chart. Maybe that goes without saying…
Routes, pathing, and channels can sometimes be available as part of the chart or the chartplotter itself. They may show shipping lanes and other relevant information in certain areas.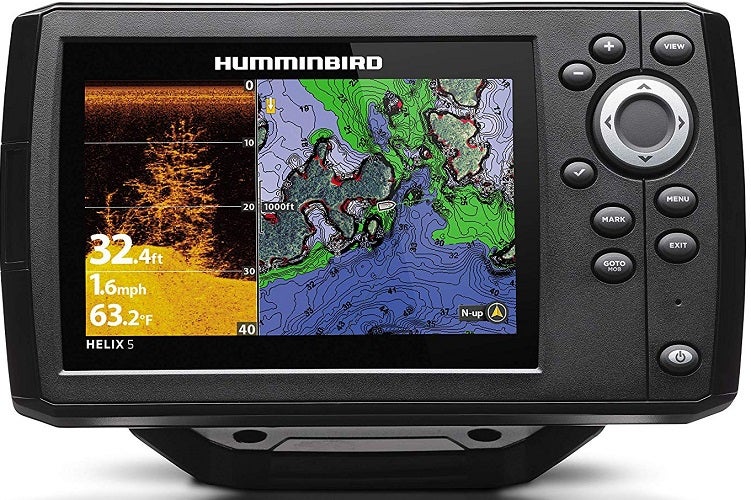 Storage
Storage is important for loading up charts, maps, locations, routes, and other data. Without enough storage, you won't be able to save new locations or even load more maps.
Each chartplotter will have individual specifications as to how much memory it has onboard or how much you can add.
That brings up the second point. Additional memory is a great feature, especially if you visit new waters often.
SD cards are used for additional storage and they come in all sorts of sizes. Check the chartplotter you're thinking about buying to see if it has external storage and, if so, what the maximum capacity is.
Screen Size
This is a pretty straightforward feature. Maybe the biggest hangup for people is figuring out how the screen size is measured.
Remember that screen size is always measured diagonally. So, a 9" screen would be measured from corner to corner, not 9" across the bottom or the side.
When choosing screen size the biggest factor is deciding how much detail you want. Most chartplotters have several display screens. If you want to display more detail or more sub-screens, you'll need a larger overall display size.
Particularly if you choose to purchase a chartplotter/fishfinder combo you'll want the biggest screen you can afford. That way you can display the map and the fishfinder on screen at the same time.
On a smaller screen both the map and the fishfinder display may be so small they're hard or impossible to read side by side.
Of course, bigger screens also cost more than small screens. Pay attention to your budget and balance that with your needs.
Additionally, it's worth mentioning that on smaller vessels, a smaller screen might fit better in the console. Think about where you want to mount your chartplotter before you decide on final size.
Connectivity
Chartplotters today have many options for connecting to one another and accessory devices. Each is unique but I'll give you a few things to think about here.
Systems in use today include:
Wifi
Bluetooth
Ethernet
NMEA 0183
NMEA 2000
Older chartplotters often used cables for communication called NMEA 1083. There's nothing wrong with these cables, just be sure that other accessories are also wired with this standard or they won't be able to interface properly.
Today many new chartplotters are using NMEA 2000 connectivity for wired connections to things like speed transducers, depth transducers, engine monitors, and similar. It is not backward compatible with the NMEA 0183.
Ethernet is sometimes used for device-to-device connectivity when large data streams are present. Sometimes ethernet is used alongide NMEA.
Bluetooth and wifi both are wireless ways for chartplotters and fishfinders to connect to one another or to devices like tablets and cell phones. Most modern chartplotters have some type of wireless interface for uploading and downloading maps or data as well as sharing data across devices.
Whatever kind of connectivity you end up with, just be sure it matches what you already have or what you might buy in the future. That way you'll avoid any unnecessary frustration with setup.
Touchscreen vs Keypad
Right out of the gate, one of the biggest considerations when it comes to choosing interface style is price. Touchscreens can be nice but they're much more expensive than keyed displays in most cases.
Additionally, keyed displays tend to perform better when wet. If it's raining or if you have wet hands the water can really mess with accuracy when touching the screen. So, if you tend to be out in poor weather or if your chartplotter might not be exposed to the elements, consider a keyed interface.
Touchscreens are amazing if you have the budget for them and plan to use them in fair weather or indoors. Larger vessels with enclosed cabins are ideal locations for touchscreen chartplotters!
FAQs For Marine GPS Chartplotters
Q: Where can I buy new charts and maps?
A: Start by going straight to the manufacturer of your chartplotter. They will most likely have all of the available additional maps for sale (though some do not).
If that doesn't work, check your user's manual. See which chart types your unit can integrate with before you buy. Then you can do a little research.
Each type of map and navionics are ideal for different users. Before you buy additional charts just find out which style is right for you and head to that manufacturer's website.
Additionally, you may find some available at common retailers or your local marina. For instance, you can find Navionics Plus online for purchase and it comes preloaded on an SD card.
Q: What size screen should I get?
A: This is maybe one of the hardest decision factors. Once you figure out which chartplotter has the features you want, you'll probably have several screen sizes to choose from.
Remember that price isn't the only factor. Bigger screens are easier to use split-screen views and see fine details, particularly at a glance.
The more detail you need (or want) to see, the bigger the screen you should get.
Consider your view distance as well. Many anglers like to use chartplotters and fish finders mounted to the bow of the boat when fishing. From a standing casting position, viewing a small screen mounted to the bow can be almost impossible.
So, if you want to be able to see the screen from a distance or at a glance, you'll want a bigger screen.
Generally speaking I would advise you to get the biggest screen your budget allows so you can grow into it as you progress.
Q: What is CHIRP sonar?
A: CHIRP sonar is the modern standard for any fishfinders and depth finders.
Oldschool sonar units emitted a single frequency of vibration which was then read and turned into an image on the screen. Today's CHIRP units emit a wide band of vibration across several frequencies
Each of these frequencies then bounces off of things in a slightly different manner and the transducer is able to read the subtleties. This results in a much higher quality image on the screen than traditional sonar devices were able to achieve.
You'll be hard-pressed to find any sonar devices not using CHIRP. However, if it comes to it I would recommend a hard pass on any non-CHIRP devices due to their dated technology and inferior performance.
Q: What is a base map?
A: Base maps are what manufacturers call the simple maps included with most units. A basemap often has a rough outline of the shoreline and separates water from land.
Base maps are practically useless in most cases for modern chartplotters. These modern navigation tools are extremely accurate and powerful and the basemaps on them are often just sub-par to say the least.
In order to get the most out of your chartplotter you really need to buy a chartplotter with good maps already on it or upgrade immediately.
Frankly, I think it's silly that manufacturers don't sell their units with good maps on them already (after all we're paying a lot for them) but what can we do?
Q: Do I need a fishfinder or a chartplotter?
A: That's a good question.
If you're like me, you probably always have your phone in your pocket. That means you can easily access high resolution detailed satellite maps of your area in a second. So why not just use that map and then buy a fishfinder?
Well, that's a strategy you could use. Particularly if you boat on smaller lakes or rivers where a chartplotter would be overkill.
For those who travel or boat on extremely large waters you'll want a chartplotter. Nothing beats having your fishfinder and chartplotter side by side when you're ripping across the lake looking for the best bass spot.
Standalone chartplotters are available, too! If you don't do any fishing and all you need is a detailed navigation tool then a chartplotter by itself is ideal for you.
In the end each person and each boat probably has a different set of needs. Think about how you want to use your device before you make a purchase.
Outside Pursuits Overview
Today's chartplotters make older ones look like children's toys. Accuracy, readability, detail, screen size, and features are all improving each year.
That said, you might not need the bleeding edge tech that will leave your wallet empty. Each person has a different ideal chartplotter.
While there's a lot to learn about chartplotters, GPS units, fishfinders, and how they all work I hope you've learned enough to start shopping around. Technology improves fast and it can be hard to stay up-to-date so this refresher should help you make your choice!
Remember to revisit the "how to buy" section if you have questions and then consider some of the chartplotters on our list!
Notice:
OutsidePursuits.com is a participant in the Amazon Services LLC Associates Program, an affiliate advertising program. OutsidePursuits.com earns fees from products sold through qualifying purchases by linking to Amazon.com. Amazon offers a commission on products sold through their affiliate links.