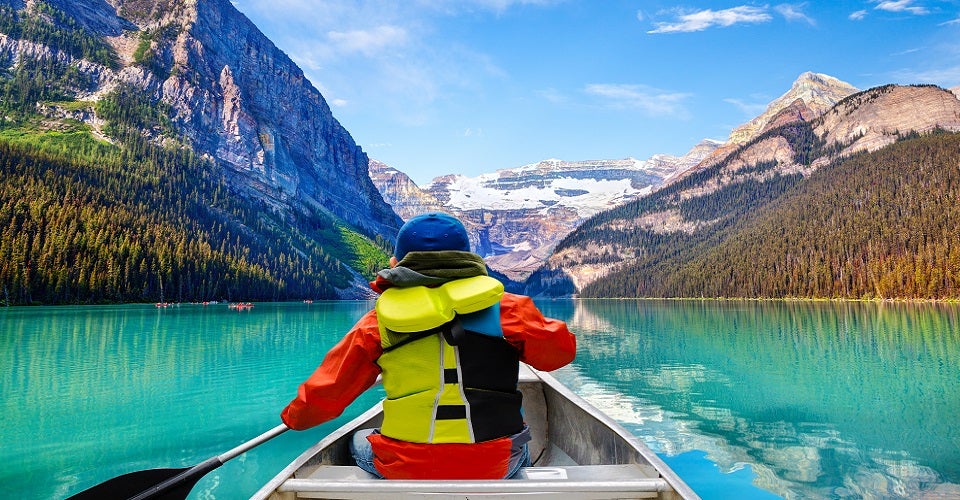 Our Editors independently research, test, and rate what we feel are the best products. We use affiliate links and may receive a small commission on purchases.
As a kid, we always had my dad's old beat up duck hunting canoes to paddle around. They were these riveted aluminum beasts full of dents and covered in dirt.
Today's canoes come in so many shapes, sizes, and materials that it's hard to know where to start. From plastic to fiberglass, one person or four, there's a canoe out there made to help you get after it!
In today's article, we'll look at a range of canoe options available to the modern paddler. I'll try to cover everything from design and materials to the differences between canoe types.
We'll also present a few of our picks for the top canoes you can find!
Best Canoes
| | Old Town Discovery 119 Canoe | Mad River Adventure 14 Canoe | Mad River Explorer 16 T-Formex Canoe |
| --- | --- | --- | --- |
| | | | |
| | | | |
| Hull Material: | 3-layer polyethylene | Polyethylene | T-Formex ABS |
| Weight: | 49 lbs | 75 lbs | 77 lbs |
| Length: | 11'9″ | 14' | 15' 11" |
| Width: | 32.5" | 37" | 35" |
| Weight Capacity: | 500 lbs | 875 lbs | 1100 lbs |
| | | | |
For more of my canoe gear recommendations, have a look through these popular Outside Pursuits guide links: Canoe Paddles, Life Jackets, Canoe Roof Racks.

Quick Answer: The 7 Best Rated Canoes For 2021
Our reviews of the top rated canoes along with our comparison table and buyers guide will help you choose the right one for you.
---
Canoe Reviews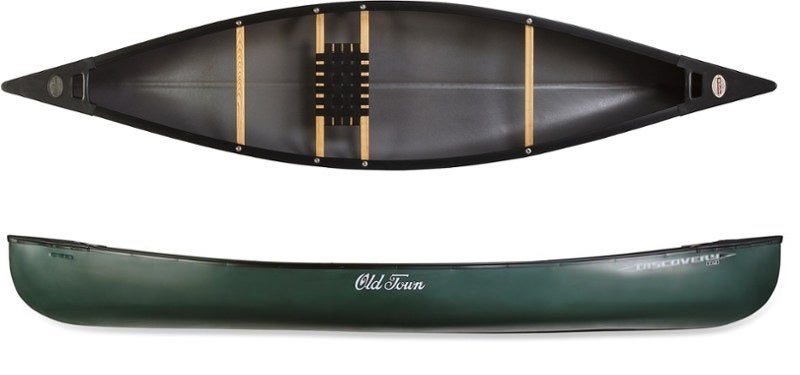 Old Town Discovery 119 Canoe at a Glance
:
---
Hull Material: 3-layer polyethylene
Weight: 49 lbs
Length: 11'9″
Width: 32.5"
Weight Capacity: 500 lbs
Old Town is one of the most prolific names in modern canoeing. Their boats are born out of decades of experience and refinement and the Discovery is a shining example of that.
At almost 12 feet long and 33″ wide, it's a stable beast of a canoe. They've designed this canoe with a large flat bottom for high stability and moderate rocker for a little boost to agility.
With a center bench seat, this is a single passenger canoe with plenty of capacity.
Some features to add creature comforts like a seat with webbing and comfortable carry handles. At 32.5″ you could use a double bladed kayak paddle.
Perhaps the best river canoe for your buck at under $600 for a solid canoe!
---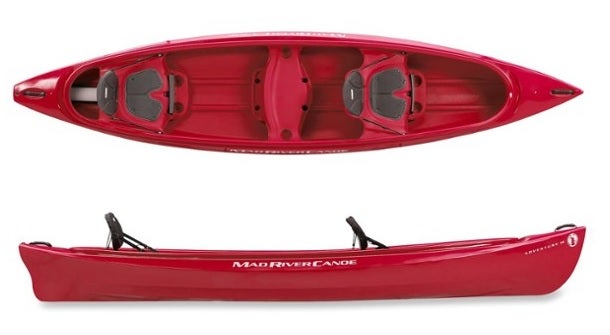 Mad River Adventure 14 Canoe at a Glance
:
---
Hull Material: Polyethylene
Weight: 75 lbs
Length: 14'
Width: 37"
Weight Capacity: 875 lbs
This one-piece rotomolded canoe is a workhorse built around stability, durability, and ease of use. Let's take a look at what makes this one stand apart.
Three seats, nearly 900 pounds of weight capacity, and one-piece construction make this canoe a brute among peers.
Using a multi-chine hull it also packs in a ton of stability. Additionally, the tumblehome hull shape helps with efficiency and slims down the shape.
Maybe my only gripe with this canoe is the barely-there padding on the seats and minimal adjustability. Otherwise it's a great choice for short to moderate length trips.
If you like to sip on a tasty beverage this might be the canoe for you! Each seat has no less than 2 drink holders so you can double-fist the cold cans all day.
Best recreational canoe for day trips.

Buy From REI.com
---

Mad River Explorer 16 T-Formex Canoe at a Glance
:
---
Hull Material: T-Formex ABS
Weight: 77 lbs
Length: 15' 11"
Width: 35"
Weight Capacity: 1100 lbs
Mad River packs in another solid winner on our list. This time modern materials and the wilderness canoe aesthetic combine to hand us a hybrid that can fit the bill.
Right away you should notice the massive payload capacity. Thanks to the nearly 16' long hull and generous hull shape this boat can hold almost twice as much as many similar recreational boats.
That's enough space to hold camping gear for a seriously long trip. While the hull is made from 3-layer polyethylene, inside you'll find more traditional wood components.
This includes the wooden center thwart (yoke) for carrying the boat during portages. This is one of the bigger canoes on our list so it's probably not a top pick for general use.
Best expedition canoe for long trips and lots of gear.

Buy From REI.com
---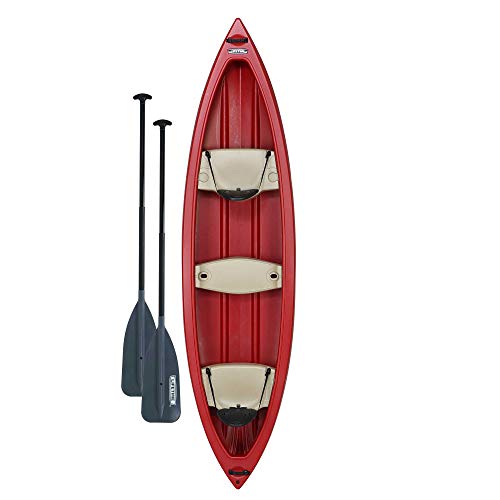 Lifetime Kodiak Canoe with 2 Paddles at a Glance
:
---
Hull Material: Polyethylene
Weight: 96 lbs
Length: 13'
Width: 39"
Weight Capacity: 600 lbs
If you're looking for a package that includes everything you need to start canoeing with ease, it might be hard to beat this. Features to make the canoe easy to use and all the gear you'll need in one place.
We should note right upfront that this canoe is heavy! It's nearly 100 pounds at just 13' long so it's no feather.
That said, it's got some serious benefits to beginners.
Lifetime used a flat bottom that's 39" wide featuring massive stability. There's also a tracking skeg at the back of the boat which helps keep the canoe traveling straight.
Inside the canoe are three seats. Two of the seats have adjustable backrests and the boat features 4 total cup holders. On top of that, the canoe does come with two paddles though I wouldn't expect them to be top-quality.
Best beginner canoe for people looking to get started with all your gear in one package.

---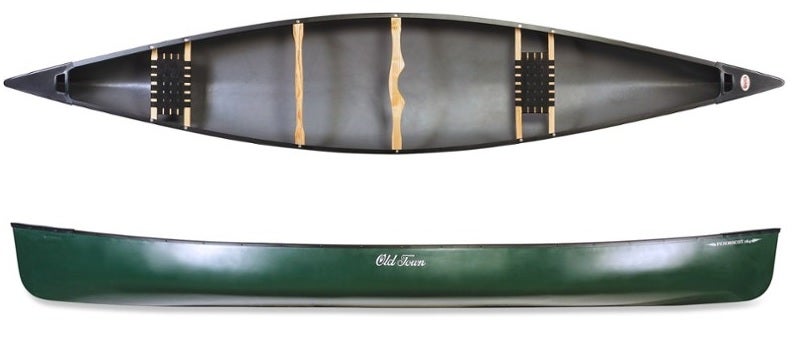 Old Town Penobscot 164 Canoe at a Glance
:
---
Hull Material: Polyethylene
Weight: 75 lbs
Length: 16' 4"
Width: 37.5"
Weight Capacity: 1,250 lbs
If you want a rounded canoe that can serve the beginner, day tripper, overnight paddler, or run rivers then this might be your last stop. Balanced features and a design that can perform are the name of the game here.
Similar to the Discovery 169, this boat has room for gear. In fact it can handle over 1,000 pounds of payload. Two paddlers and everything you need for overnight trips is an easy task.
That said, it's a bit smaller and more agile. The sharp entry line means tons of efficiency and rounded bottom design increases agility.
However, these features also require a higher skill level than comparable beginner boats. Of all the boats on our list, this might be the best whitewater canoe though it's not dedicated to that purpose.
This is the best canoe for lakes for those who want to grow into intermediate or advanced paddling.

Buy From REI.com
---
Best Inflatable Canoes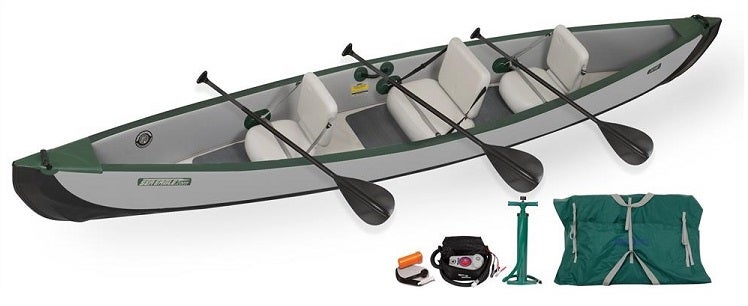 Sea Eagle TC16 Inflatable Travel Canoe at a Glance
:
---
Hull Material: 1000 Denier Reinforced
Weight: 61 lbs
Length: 16'
Width: 38"
Weight Capacity: 800 lbs
If you're looking for a canoe that can pack down to travel or stash in the storage closet, here's your pick. Sea Eagle offers this two-person canoe for a wide variety of tasks with an easy-to-use inflation system.
Note that I was unable to identify the hull material other than the stated "1,000 denier reinforced" it did not list a material. Additionally the canoe width was listed as 38' which I assume to be a typo of 38".
Weighing in at just over 60 pounds, this canoe is very portable when packed. For its size it's quite light. Both the bow and stern are molded components which add stability and durability to the boat.
It takes just 9 minutes to inflate to the recommended max 10 psi. Once inflated you can carry the canoe with one of 3 sewn-in handles.
Best inflatable canoe for those who need portability.

---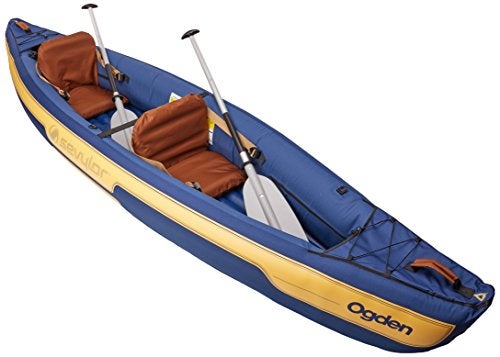 Sevylor Ogden 2-Person Canoe Combo at a Glance
:
---
Hull Material: PVC
Weight: 27 lbs
Length: 10'
Width: 33"
Weight Capacity: 355 lbs
In today's world inflatable canoes deserve consideration. Sevylor delivers this extremely affordable, good-looking option for those seeking a collapsible, portable option to get on the water.
Let's start with the good things. I love the deck rigging for storing gear like extra layers both at the front and the back of this canoe. Also the inflatable seats have some adjustability so you can paddle in comfort.
On the downside, however, the boat is only 10' long and may feel cramped for those with longer legs.
With a capacity of just 355 pounds you'll have to be mindful of the combined weight of the paddlers and gear. Included are two paddles, inflating pump, and a carry bag.
Best for an inflatable canoe on an extremely low budget.

---
Canoe Comparison Table
How to Choose the Best Canoe for You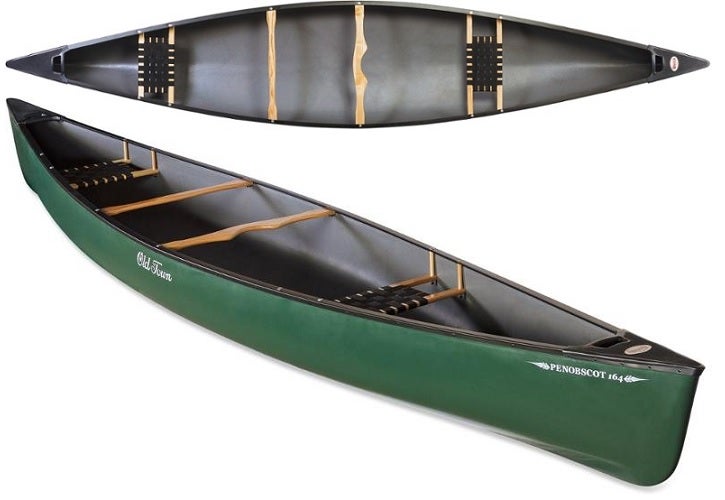 Types of Canoes
Let's take a look at the variety of canoes you can choose from to get an idea which one is right for you.
Racing Canoes
Before you get into racing canoes, chances are that you'll start with a more entry-level type of canoe. Racing canoes are expensive, specially designed machines with speed in mind. You won't find these specialist boats at your average shop either, they're usually custom-made machines.
Budget and Recreational Canoes
Entry-level canoes abound on websites and in stores. These boats are made from durable materials with forgiving shapes and sizes. They're usually meant for flatwater paddling and can hold 2-3 people (or a cooler of brews).
If you're planning to use the boat for recreation or occasional summer use, these are the canoes to keep an eye on. They're affordable and get the job done.
Expedition Canoes
Expeditionary canoes have efficiency and storage in mind. These boats may be designed for 1 or more people and the gear needed to camp and travel overnight by water.
Typically these boats are shaped differently than a recreational canoe. They may require a higher level of skill to use well but result in easier paddling over great distances.
These boats may also have some whitewater or open-water capabilities depending on your needs.
For the beginner, these are not the boats to start with unless you know you'll be using it for extended trips.
River Canoes
Whitewater canoes are shaped specifically for handling treacherous water. They also feature special seating and cockpit design. Typically these boats are paddled from a kneeling position and would find limited use for recreational users outside of dedicated fast-water use.
Inflatable Canoes
For the first time ever, inflatable canoes are now a viable option both for recreational and serious paddlers.
Inflatable boats are awesome if you don't have room at home to store a full-size canoe. They're also a good choice if you don't have the room to transport a canoe in or on your vehicle.

Hull Shape
All boats feature a hull. This is the physical structure that forms the outer layer of the boat. Hull shape dramatically affects the way a boat interfaces with the surface of the water. This results in quite a difference in handling from one hull design to the next.
Which hull shape is best for your uses? Let's find out.
Semi-Round
Semi-round canoe hulls can be a bit squirrelly at rest but gain stability as they move. The more rounded they are, the better efficiency they'll gain at the sacrifice of lateral stability.
Flat
Flat bottom canoes are popular in a huge range of canoes. These are very common on recreational boats.
Flat bottom boats provide a high degree of stability at slow speeds or in flat water. This characteristic makes them popular for recreation, but their paddling efficiency is sacrificed.
V-Hull
V-shaped hulls use a sharp, pronounced keel down the center-line of the canoe. These boats have great tracking and good stability.
Many boats use a combination of V-shape near the bow and stern with rounded or flat segments in the middle.
Side Shape
Canoe hulls feature various shapes not only on the bottom but also along and up the sides of the boat.
The shape of the sides of your canoe will mostly reflect either straight, flared, or a shape called 'Tumblehome'.
Canoe sides flared outward feature a high degree of stability but sacrifice efficiency. Canoe sides flared to the inside or Tumblehome, sacrifice stability in exchange for efficiency.
Flat canoe sides, perhaps the most common on recreational boats, strike a balance of the two features.
Canoe Size
Sizing a canoe is about length, width, and depth.
Beam
The beam measures the widest point of a boat at the waterline under normal operating conditions. Wider beam more or less translates into more stability.
For canoeing, a wider beam also means more room for gear. If you plan to take a few coolers, a third person, or lots of gear then more beam means more room to work.
Depth
Depth basically measures the sidewall of the canoe.
Deeper canoes can hold more capacity as the displacement volume increases. However, the deeper the canoe the heavier it will be. At some point, there is a diminished return on deeper sidewalls.
Shallow canoes may be slightly less forgiving and capable of less payload but can be much lighter to carry and manage.
Length
Probably the first measurement anyone thinks about when sizing a canoe is the length.
Longer boats can carry more gear, more people, and more weight. Length also generally translates into better straight-line tracking when paddling.
Shorter boats, on the other hand, weigh less and are more agile. It's easier to turn and maneuver a shorter canoe.
Materials
Thermoformed
One common plastic material for beginner or recreational canoes is thermoformed plastic. These materials are inexpensive and easy to manufacture.
For most applications, polyethylene and thermoformed plastics share many of the same characteristics in terms of pricing and durability.
Polyethylene
This is one of the most common plastic materials used to make canoes. Many recreational or entry-level boats are made from roto-molded polyethylene.
They're heavy but durable and relatively affordable.
Royalex
This layered material is durable, buoyant, and often used in whitewater canoes. It's more expensive than poly but still reasonable.
This material is a good choice if you're looking to paddle some rough water.
Fiberglass and Carbon Fiber
Both of these materials are lightweight, high-performance materials for canoe construction. They're quite expensive but tend to be the best choices for expedition canoes and racing canoes.
If you're just starting out, these canoes are probably going to be out of your budget and there's no reason to spend top dollar right at first.
FAQs About Canoes
Q: What's the best canoe for beginners?
A: Beginners should focus on an affordable, durable boat that's easy to use. This means a polyethylene or rotomolded canoe.
Materials aside, a shorter length is probably better for beginners. This keeps the boat lighter and more agile on the water. It also makes it easier to lift, carry, and transport at home and on the vehicle.
When you're starting out keep things simple, affordable, and easy to use.
Q: Do I need special paddles for my canoe?
A: There are a bunch of different types of paddles out there. Choosing the best one for your needs is probably beyond the scope of this article.
Suffice it to say, however, that you'll want different paddles if these situations apply:
Paddling by yourself
Paddling with a partner
Whitewater paddling
Distance paddling
Racing
Solo canoe travelers often prefer a double-bladed paddle so you don't have to switch hands all the time. These are similar to kayak paddles.
For paddling with a partner you'll want a single-bladed paddle.
Whitewater, expedition, and racing paddlers will all use different paddles depending on the application.
Blade size, shaft length, angle, handle type, and many other factors come into play when choosing specific paddles. As a beginner, however, don't overthink it. Go with a basic paddle that's affordable and lightweight for your use.
Q: How do I transport a canoe?
A: Great question. Because canoes are quite long, heavy, and wide they're a real bear to transport.
Until recently you had to have a vehicle capable of either trailering it, putting it in the bed of a truck or roof topping a canoe.
Today, the game has changed. Now you can find collapsible, folding, or inflatable canoes. These boats are usually light enough and small enough when collapsed that you can easily transport them in an average size passenger car.
How to transport your canoe safely:
VIRTUAL COACH: How to Transport Your Canoe
Q: Are inflatable canoes safe?
A: Most inflatable canoes have a few safety features built in.
To make them more durable, manufacturers use extremely tough fabrics. High-denier polyester or nylons can handle a huge amount of abuse. PVC is another common material choice that can handle dings and scratches with ease.
If, for some reason, an inflatable canoe is punctured or begins leaking air there's usually a backup feature. Most inflatable boats are made with multiple chambers. If one were to lose air, there are usually one or more additional air chambers that will remain inflated.
Inflatable boats have been used for years in whitewater and river-running applications. They've earned their salt bouncing off rocks, scraping bottom, and living to tell the tale.
Q: Does a canoe have to be registered as a watercraft?
A: Usually not. Most states don't require you to register them unless they're over a certain length or using a powered motor.
To be sure you can pretty easily check your state's recreational watercraft info. Try a quick online search and you'll be flyin' right in no time.
While registration may not be required, you may be required to have safety equipment or other regulations. If you're not sure – ask!
How to Paddle a Canoe
How to Paddle a Tandem Canoe | Tandem Canoeing Essentials
Conclusion
Whether you want an inflatable boat, a recreational canoe, or something that can take you places nobody else goes we've put something on our list for you. While not everyone will find the perfect boat on our list, we hope it helps you get started in the right direction.
There is a lot to know about canoeing and you'll learn many more things as you go. Don't be afraid to get started and learn over time. With the availability and affordability of canoes today there's little to lose by getting started.
Remember to follow local rules and regulations and always carry and use safety gear. If you're not sure, just ask!
Have fun, stay safe, and enjoy the paddle.
How We Researched
To come up with the top canoes for lakes and rivers, we researched a variety of sources for reviews such as REI, Dicks Sporting Goods, Cabelas and Backcountry along with our own personal experience.
We also consulted online magazines for product research and reviews to get as much unbiased information as we could. To help weed out fake reviews we used Fakespot.com to make sure we only looked at genuine reviews.
With so much quality gear available, we had to narrow it down based on what we felt were the best options for the price. The author, Casey Fiedler has been an avid canoeist and leads canoe camping trips during the summer months in his native state of Michigan.
To help narrow down the selection he used his personal experience along with recommendations from canoe tour guides and rental shops.
After extensive research, we came up with our list to help you choose the right one for you.
Sources
Notice:
OutsidePursuits.com is a participant in the Amazon Services LLC Associates Program, an affiliate advertising program. OutsidePursuits.com earns fees from products sold through qualifying purchases by linking to Amazon.com. Amazon offers a commission on products sold through their affiliate links.