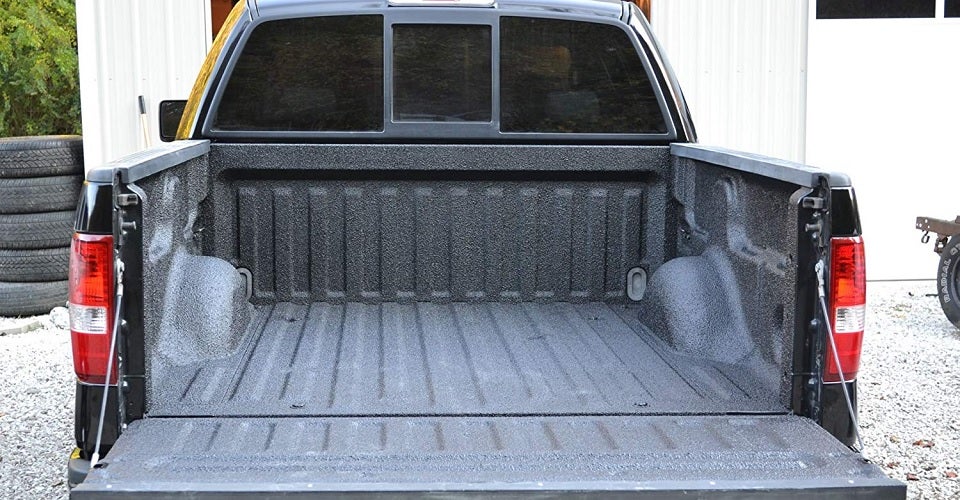 Our Editors independently research, test, and rate what we feel are the best products. We use affiliate links and may receive a small commission on purchases.
Protecting your truck bed is an essential step in either maintaining your truck or restoring your truck if it's already been beaten up.
We're going to be talking about how to pick out the best truck bed liner material for you.
I'll also be taking you through a few top rated DIY spray-on bedliners that you can use to get that bed lined quickly for a fraction of the professional price.
Let's get right into it!
Best Truck Bed Liners
| | U-Pol Raptor Truck Bed Liner Kit | Custom Coat Bed Liner Kit | Herculiner Bed Liner Kit |
| --- | --- | --- | --- |
| | | | |
| | | | |
| Installation Method: | Spray On | Spray On | Roll-on / Brush |
| Installer Included: | Gun | Gun | Roller & Brush |
| Coating: | Urethane | Urethane | Polyurethane |
| Quantity: | 1 Gallon | 1-8 Liters | 1 Gallon |
| | | | |
For more of my truck gear recommendations, have a look through these popular Outside Pursuits guide links: Truck Winches, Truck Bed Covers, Truck Tool Boxes.
Quick Answer: The 5 Best Spray On Truck Bedliners For 2021
Our reviews of the top truck bed liners, with a buyers guide and comparison table to help you choose the right one for you.
Bed Truck Bed Liner Reviews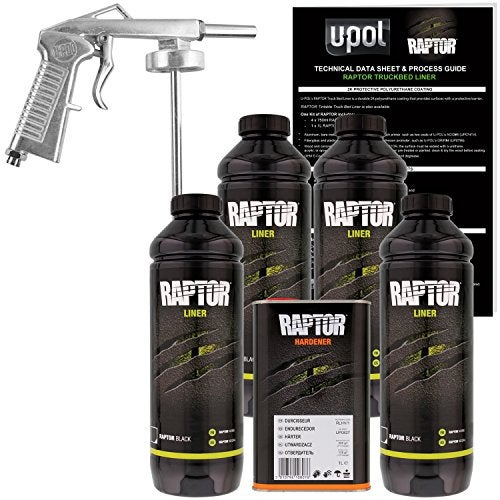 U-Pol Raptor Spray-On Truck Bed Liner Kit at a Glance
:
---
Spray Gun: Included (or roller)
UV Resistant: Yes
Quantity: 4 liters of spray
Other: Included liner and hardener
The U-Pol is our Editors Choice for the best spray on bedliner that is ready to go right out of the box.
The urethane coating is affordable, durable and it doesn't get much easier than this, but does it have what you need?
According to many happy users, the 4 liters of spray included with this kit is just enough to do a full-size truck bed. If you're worried that you won't have enough, however, you can always order a second kit because honestly it's just so darn cheap!
One thing to keep in mind here is that you're going to need your own air supply. In order to keep up with spraying, you'll probably need an industrial capacity air compressor. The ol' pancake nail shooter just won't do it.
When properly installed this spray on liner is scratch and stain resistant though I wouldn't suggest dumping paint on it!
Best for a very affordable DIY liner kit that has been proven to work.

---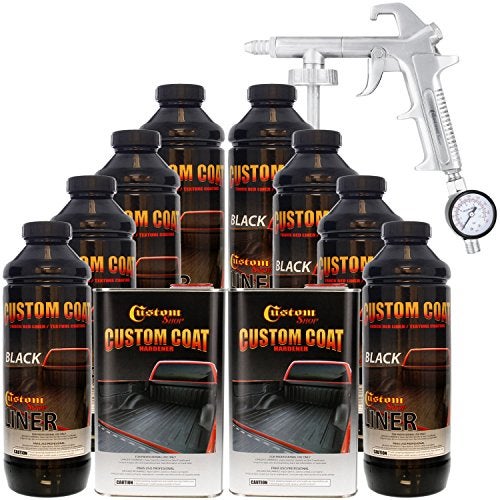 Custom Coat Spray-On Truck Bed Liner Kit at a Glance
:
---
Spray Gun: Choice of gun or roller
UV Resistant: Yes
Quantity: 1-8 Liters available
Other: 7 Colors,Flexible liner material
If 4 liters of coating just doesn't seem like enough for your project, you can double up at less than twice the price. That equates to a darn good deal for you!
One of the coolest aspects of DIY liners is that you can color them with tints. Particularly if you're rocking a customized truck with some serious personality, going the route of color can be a lot of fun.
Be careful, however, as dirt, stains, and grime show up really obviously on tinted bed liners. If you don't want to spend hours cleaning the bed after you use it, just stick with classic black.
This kit is available in 1, 2, 4, 6, and 8-liter kits with both rollers and air sprayers.
To get ready for use all you need to do is add the tint color, mix the hardener, and roll or spray on!
The Custom-Coat is the best spray in bedliner for trucks that is ideal for large jobs and custom colors at a fraction of the price you'd pay a pro.

---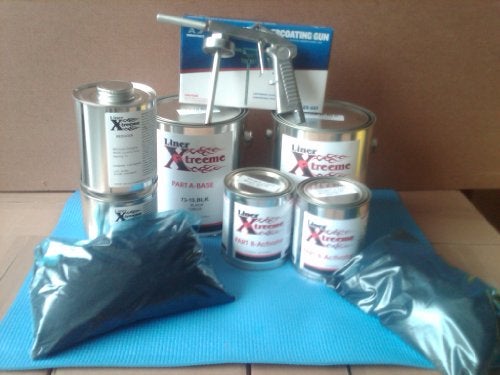 Linerxtreeme spray on Bedliner Kit at a Glance
:
---
Spray Gun: Included
UV Resistant: Yes
Quantity: 3 Gallons (12 Liters)
Other: Included crumb additives
Not happy spraying a thin coat of bed liner that will probably get scuffed right off later? Want to spray an entire truck body? You need gallons!
This urethane based bed liner has a couple things going for it that most of the others on our list do not. Here's how it works: you mix hardener, reducer, and base along with any crumbs you may want. Then you use the included cans as a hopper for the spray gun and carry on!
Because this kit is a little more involved, that means you can add as many crumbs as you want for texture or none at all. You can also tailor the amount of reducer and hardener you want to set the thickness and texture as you spray.
The Linerxtreeme is the best truck bed liner for huge surface area applications and customizing the final product to your preferences.

---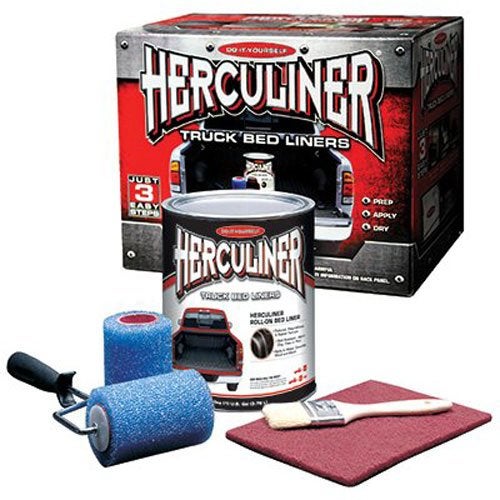 Herculiner Brush-on Bed Liner Kit at a Glance
:
---
Spray Gun: No, roller instead
UV Resistant: Yes
Quantity: 1 Gallon (4 Liters)
Other: Single stage product,

resistant to gasoline, oil & solvents
It's hard to argue with an established brand name like Herculiner. Especially when that is backed up by tons of positive user comments and ratings!
While this is a polyurethane coating it's also single stage which means no mixing. It seems odd not to mix in a hardener, but I trust Herculiner to put out a product that works.
For that reason, this product might be the right pick if you're confused by other liners mixing, reducing, and adding crumbs. This one is dead simple. Just open the can and roll it on.
While there is an included Brillo pad, who are they kidding? You'll need dozens of brillow pads plus a cup brush and hours of time to get that bed prepped for the application. One prep pad is not enough on its own.
Best for truck owners who want the best roll on truck bed liner with a simple single stage application.

---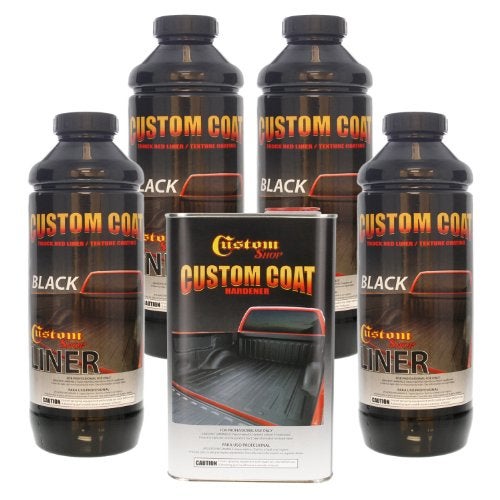 Custom Coat Urethane Spray-On Truck Bed Liner Kit at a Glance
:
---
Spray Gun: Not Included
UV Resistant: Yes
Quantity: 1 Gallon (4 Liters)
Other: Can be tinted,

abrasion and stain resistant
If you already have a sprayer gun or you plan to use a roller and don't want a spray gun, this might be a good choice for you.
Most of the kits out there are going to give you a roller or a sprayer to work with. However, if you've already got the tools you can just skip right to getting the bed liner with this product.
At 4 liters of material the manufacturer claims its, "enough material to re-spray the largest truck beds". I wonder a little about this, however, as it seems 4 liters is much smaller than other products out there.
If you want a thick coating or you have a large truck bed, I'd buy more than one or go with a kit that's larger.
This kit is the best DIY truck bed liner for smaller applications where you already own a sprayer or roller.

---
Spray in Bedliner Comparison Table
How to Choose the Best Bedliner for Your Truck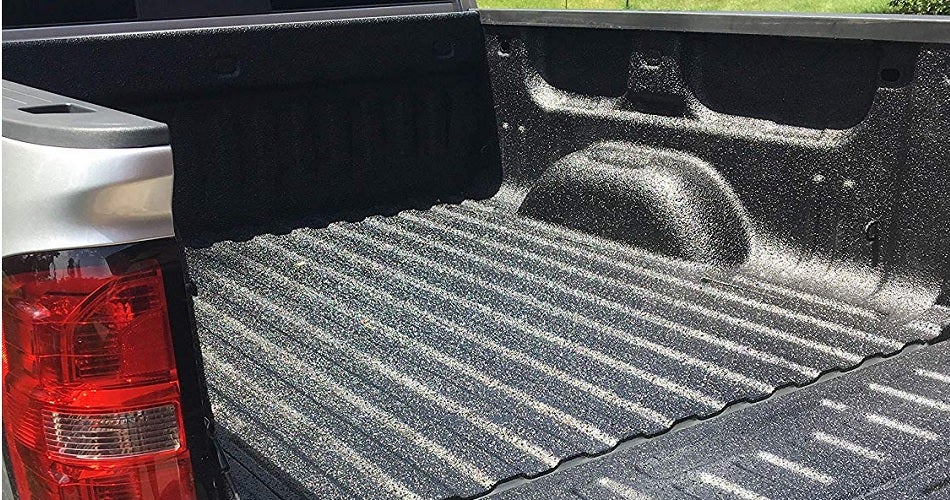 Owning a truck is an investment. I think it's safe to say that the majority of us who own trucks do so because we rely on the truck bed to get tasks done around the house and at work.
At one point those classy old pickups from yesteryear relied on wood for forming the bed lining. Let's be honest wood still looks great in an old car show but it's less than practical for most of us. So today we use rubber, plastic, and spray on urethane liners instead.
Types of Bed Liners
Drop-In Plastic
These are the standard bed liners sold in trucks that come from the factory. They're a drop-in style bed liner made from a thick and durable plastic material that can stand up to almost anything.
Pros:
Inexpensive
Replaceable
Very durable
Cons:
Cheap looking
Can slide around
May not have the texture you want
Drop-In Rubber
Drop-in liners can be both plastic and rubber. The ones we're talking about here are rubberized, aftermarket drop-in liners.
Rubber has great shock absorbancy and traction/grip but it also comes with some drawbacks.
Pros:
Grippy
Shock absorbing
Replaceable
Cons:
More expensive
Hard to slide objects around
Hard to clean
Spray-On Urethane
Spray-on liners are wildly popular today thanks to their many advantages. Don't be fooled, however, it's not all fun and games when it comes to spray-on liners.
Pros:
Many textures to choose
Many colors to choose
Won't slip around in the bed
Cons:
Can't be replaced if stained
Can be hard to clean out with a broom
Much harder to install than drop-in liners
Types of Spray On Coatings
Let me preface by saying that I'm not a chemist and spray on bed liners are exactly that – chemistry. However, I'll attempt to break this stuff down for you in a way that's helpful and within my understanding of these advanced polymers.
Polyurethane
With these types of spray-on liners, you get a flexible, soft coating that's somewhat rubbery feeling. Polyurethane can be somewhat vulnerable to scuffing or tearing under extreme conditions but, when properly applied, should last just as well as any other.
They're ideal if you want something that has a bit of shock absorption, quieting things down in the bed of the truck, and adding a tacky traction to the bed.
Polyurea/Urethane
These coatings are more like a hardened shell compared to the tacky rubbery feel of polyurethane. Polyurea is extremely abrasion and tear resistant but not particularly flexible.
That means if your truck bed gets a ding, bend, or someone drops a heavy load on accident you may get a delamination of the bed liner. While this is still relatively unlikely, it's worth noting.
Video: How to apply a spray on truck bed liner.
Raptor U Pol - How to Spray in a Bedliner
Chemical Properties
When you go and get a professional bed liner applied, they should ask you a ton of questions about how you use the truck. Do you expose the bed to caustic chemicals? Do you load and unload pallets of material with a fork truck? Do you want a high-gloss colored coating for a show?
Each situation will be different and the right kind of bed liner needs to be chosen for the best results.
Not only are polyurethane and polyurea important in their differences, but there are also many different ways their internal chemical properties can be altered. They can be made more UV resistant, more scuff resistant, or resistant to chemical spills among many other things.
Using a DIY kit means you'll be left with whatever properties the material in the can was made for. If you need something special, however, you'll have to go talk to a professional bed liner applicator!

Surface Preparation
Applying a bed liner is not as simple as just opening the can and spraying the liner onto whatever surface is available.
If you've ever done restoration or modification work on any kind of vehicle then you already know how meticulous you have to be with surface prep for painting. Bed liners are exactly the same as paint in that you must take the time to get the surface ready for lining.
Expect to spend 2 hours sanding, scuffing, wiping down, masking, and preparing for every 10 minutes spent spraying liner. Those numbers may be inaccurate, but the truth remains the surface prep should take much longer than spraying.
Sanding and Priming
In order to bond properly, your spray on bed liner needs tons of surface area to grab on to. That means scuffing and sanding are in order.
For new trucks, all you need to do is remove the existing bed liner and prepare the already painted bed underneath. There's no need to completely strip it down to bare metal. Instead, use a cup brush on an angle grinder to scuff up the surface (wear a respirator)!
For trucks that have rusted surfaces, you'll need to sand aggressively. If you have pack rust and the surface is bubbling and peeling you may need to talk to an expert – your bed liner is likely to fail in these areas and waste your time and money. Paint over bare metal or rust with a self-etching acid based primer before spraying bed liner.
Remember that after you sand or scuff you must clean the surface with acetone or alcohol. This creates a chemical-neutral surface that the bed liner spray can bond with. Leftover dust, oil, grease, or dirt will cause the bed liner to peel and separate from the truck bed.
Note: Rust will always find its way back unless you go down to bare metal and start fresh with proper methods. Areas, where rust has eaten through, will need to be cut out and patched with a welded sheet.
Proper sandblasting may be needed. Simply painting or spraying bed liner over rust will always fail over time and you'll be upset. Trust me, I've tried it.
You may be able to pay a body shop to do the surface prep for you and then spray on the bed liner yourself. At that point, however, you might as well pay a pro to do it all.

Liner Thickness
It's tempting to just roll or spray on a coat of bed liner and call it a day. However, that layer of the liner may be too thin to hold up over the long term.
According to my research, it seems that each layer of bed liner usually ranges from about 10 to 30 mils thick. Professional products tend to be applied at about 60 mils on the bed rails (sides) and 100+ mils on the truck bed for thickness and durability.
That means you may need as many as 10+ coats to build up a professional thickness of bed liner on your truck in certain areas!

Rollers vs Air Sprayers
Air spraying is an easy way to apply bed liners but, unlike spray paint, bed liners require an air supply. To keep up with spraying bed liners you'll need a massive high powered air compressor. Something like a 5 hp 60-gallon compressor is in order.
If you don't have one and don't want to spend $500 – $2,000 buying one, then stick with a roller applicator. Rollers will take you longer to apply and have less customization in the final products, but they're much easier and cheaper than a huge air compressor!
Video: How to Apply a Roll on Truck Bed Liner.
FAQs About Spray On Truck Bed Liners
Q: Can a DIY bed liner match professional quality?
A: I'm actually going to say, "no". Before I draw fire from all you DIYers let me also say that I would probably DIY my own spray liner too, so I'm not making fun of you!
All I'm saying is that pros have experience. They know how to prep, sand, mask, and spray.
They can also use very specialized applicator guns that spray the material on hot or cold depending on the chemistry at work. On top of that, as we discussed earlier, pros can also choose from a much wider variety of specialized chemical compounds to make the bed liner work best for your chosen application.
For those reasons, I just don't think most at home sprays can ever truly match a pro job. That doesn't mean DIY spray liners are bad, though!
Q: Can I change the color of my bed liner?
A: Yes indeed.
Look for a bed liner kit that includes a tint color. These can come in just about any color you can imagine including white.
Before choosing a color, however, remember that dirt, stains, and scuffs show up particularly well on colorful bed liners. I mean… it's a pickup truck after all, right?
Q: Can I spray bed liner on other surfaces?
A: You definitely can.
People spray bed liner on vehicle bodies, wood surfaces, and just about anything else you can think of. Just remember to follow proper prep instructions especially when applying to metal surfaces.
For bare metal, such as raw steel or aluminum, scuff them up with some 120 sandpaper, clean with acetone, and then spray an acid etching primer before using bed liners.
Wood surfaces can probably take an application without much prep work since they already have a pretty good surface area.
Of course, you should thoroughly do your own research if deviating from the manufacturer's explicit instructions. There are no guarantees these products will work if not used according to instructions.
Q: How much surface area can ____ bed liner cover?
A: This is impossible for me to answer for you. Why? Because it totally depends on many factors.
Each manufacturer's product goes on with a different consistency. On top of that, most of them have reducers and hardeners that you must add and mix which can change the consitency of the final product.
Finally, the surface area you can cover completely depends on how thick you apply the liner.
I would look up the specifications on the manufacturer's website. If in doubt, call the company and ask a representative how much area their product can cover.
Remember that you probably want about 100 – 120 mils of thickness on the bottom of the bed and 60 mills on the sides.
Q: How do I mask off the areas I don't want to paint?
A: Masking might be the most annoying part of any paint job for me. I hate. That's why I never do it right and my projects always turn out half-ass.
Don't be like me, take the time to mask off your project!
Buy high quality masking tape from the local hardware store. It's easier to work with and sticks better, plus it peels reliably.
You can also buy cheap masking paper or plastic from the hardware store, too. Use this generously with a ton of tape to get a good seal around all parts that don't need bed liner!
If you miss anything you'll have overspray which can become a weak point. Areas, where the bed liner product goes around a corner or over an edge, are prone to peeling which can spread over time!
Spend plenty of time on this part and you'll get a payoff in the form of results!
Final Thoughts
Any time you're doing painting or bodywork on a vehicle, you're in for a serious chore! If you have what it takes in the form of patience, attention to detail, and plenty of time to spare then you can achieve near-professional results with your bed liner.
Remember that some bed liners are great for show trucks, some are great for landscaping, and some are ideal for moving furniture. You'll need to carefully choose the best spray on bed liner for your needs otherwise you'll be let down when it inevitably fails you down the road.
Now that you know what it takes and which products can help you get the job done, it's time to head out to the garage and get started working.
Remember guys, follow the instructions! Don't forget to have fun, too.
How We Researched
To come up with the top bed liners, we researched a variety of sources for reviews such as Camping World, Lazy Days, Real Truck and Walmart along with our own personal experience.
We also consulted online magazines for product research and reviews to get as much unbiased information as we could. To help weed out fake reviews we used Fakespot.com to make sure we only looked at genuine reviews.
With so much quality gear available, we had to narrow it down based on what we felt were the best options for the price. The staff authors have a wide and varied background in RV camping, automotive repairs and backpacking.
The authors have decades of experience and are eager to share their knowledge with readers.
To help narrow down the selection we used personal experiences along with recommendations from mechanics and retailers.
After extensive research, we came up with our list to help you choose the right one for you.
Sources
---
Notice:
OutsidePursuits.com is a participant in the Amazon Services LLC Associates Program, an affiliate advertising program. OutsidePursuits.com earns fees from products sold through qualifying purchases by linking to Amazon.com. Amazon offers a commission on products sold through their affiliate links.