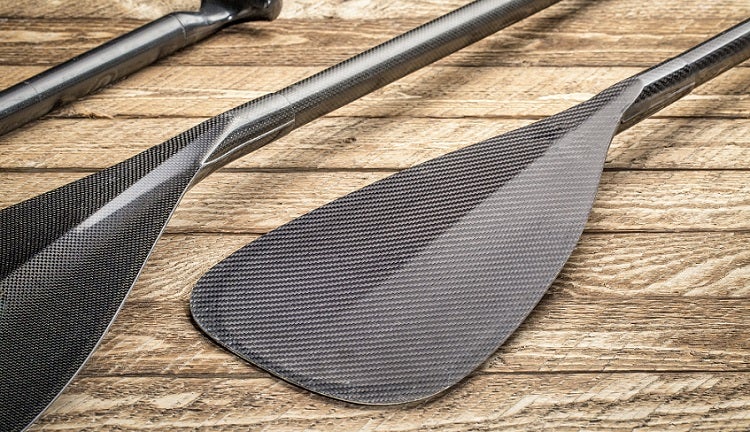 Our Editors independently research, test, and rate what we feel are the best products. We use affiliate links and may receive a small commission on purchases.
Finding the right paddle is almost as important as finding a great standup paddle board (SUP).
If you already own a SUP, a paddle probably came with it.
While these paddles are functional, the problem is they tend to be cheap and heavy; and they usually do not float.
Not an ideal combination.
The best paddle for you will be comfortable for your style of paddling as well as efficient in order to keep fatigue to a minimum.
This guide will assist you in buying the best SUP paddle for your needs based on our comparisons of the top brands.
Best SUP Paddles
| | NIXY Carbon Fiber Hybrid Paddle | ISLE Surf SUP Board Carbon Paddle | South Bay Convertible SUP Paddle |
| --- | --- | --- | --- |
| | | | |
| | | | |
| Shaft: | Carbon Fiber | Carbon Fiber | Carbon Fiber or Aluminum |
| Blade: | Carbon Fiber | Available in Carbon Fiber or Nylon | Nylon Composite |
| Floats: | Yes | Yes | Yes |
| Length: | 68" - 84" (175-215 cm) | 72" - 86" (170-213 cm) | 65″ - 84″ (165-213cm ) |
| | | | |
For more of my SUP gear recommendations, have a look through these popular Outside Pursuits guide links: Life Jackets, Stand Up Paddle Boards, Inflatable Paddle Boards.
Quick Answer: The 7 Best Rated SUP Paddles For 2021
Our reviews of the top rated SUP paddles with our comparison table and buying guide will help you choose the right paddle for you.
SUP Paddle Reviews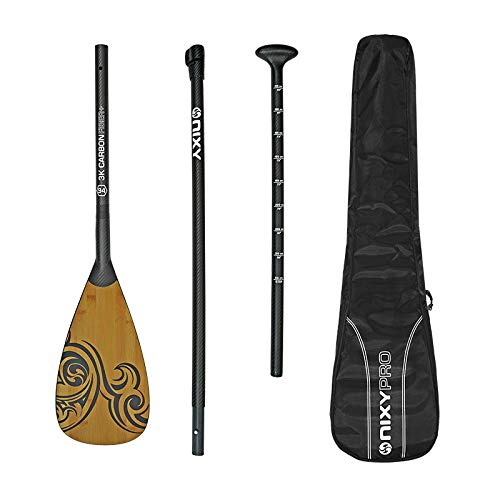 NIXY Carbon Fiber SUP Paddle at a Glance
:
---
Shaft: Carbon Fiber

Blade: Carbon Fiber

Length:

68″ – 84″

Weight: 21 oz
Carry Bag: Yes
This SUP paddle by California based NIXY is not only beautiful but functional at the same time. The paddle features a carbon fiber shaft and paddle with a ABS reinforced edge to prevent chipping.
This high performance paddle has a dihedral blade (see below) to help eliminate "fluttering" and give you a smooth powerful stroke.
It's a 3 piece paddle so it gives you the ultimate in portability. When disassembled it is about 3 feet long so you can take it anywhere and easily fit it in your vehicle.
The carbon fiber paddle has a wide range of adjust-ability, from 68 to 84 inches (175 cm to 215 cm) and has secure, easy to lock design. I was able to assemble and adjust the paddle in about 15 seconds after a few tries.
Being extremely lightweight at about 21 ounces, you will not get as tired with conventional aluminum or fiberglass paddles and it of course it floats, unlike many other SUP paddles.
This is for the paddle boarder who wants a quality, lightweight paddle and is my top pick for the best carbon fiber SUP paddle.

---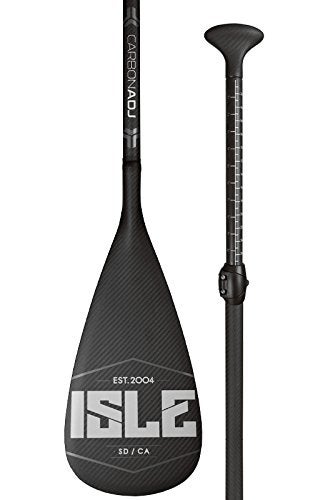 ISLE Surf and SUP Stand up Paddle Board Paddle at a Glance
:
---
Shaft: Carbon Fiber
Blade: Carbon Fiber
Length:

67″ – 84

"
Weight: 24 oz
Carry Bag: No
The ISLE Surf SUP paddle was designed from the ground up to be the lightest, strongest SUP paddle.
Weighing in under 2 pounds (1.9) it's among the lightest sup paddles on the market. This is a 2 piece adjustable SUP paddle, that can be adjusted in length from 67 to 84 inches (170 to 213 cm).
When you break down the paddle into sections, it measures 36 inches (91 cm). Going on vacation? Take the paddle with you, just be sure to get a good paddle storage bag like the Dakine Stand Up Paddle (SUP) Paddle Cover.
The ISLE Surf and SUP comes in 5 models; everything from a one piece 100% carbon fiber paddle to one with a carbon fiber shaft with a strong, lightweight nylon blade.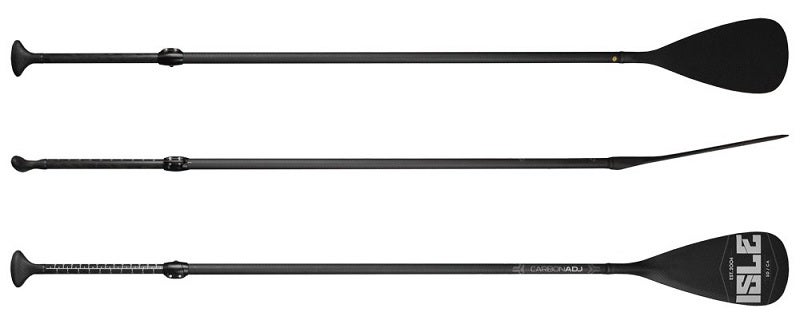 The locking mechanism is the easiest to use of any paddle tested, you can literally assemble it in 5 seconds flat. At its shortest length of 67 inches, it will work for someone who is about 4′ 6″ feet tall and up, making it ideal for teens and kids.
The ISLE Surf and SUP comes in a variety of paddle sizes, from 105 sq inches to 90 sq inches and blade angles from 12 degrees down to 6 degrees.
So no matter your level of experience you will be able to find a paddle to fit your paddling style. If you are into catching some waves, this may be the best SUP paddle for surfing!
Whether you like to race, surf or just recreational paddle, the ISLE Surf and SUP is an excellent choice.

---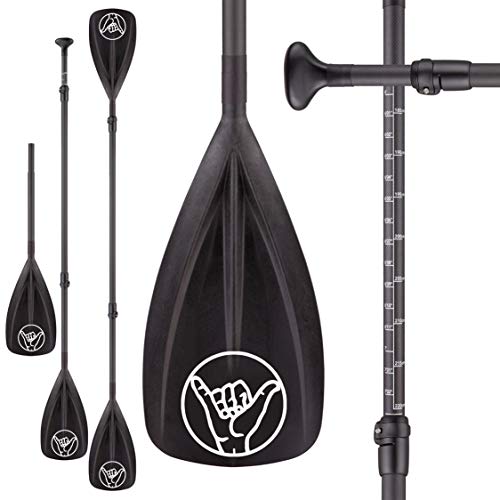 South Bay Paddle Convertible Carbon SUP Paddle at a Glance
:
---
Shaft: Carbon Fiber
Blade: Nylon Composite
Length: 65" – 84"
Weight: 36 oz
Carry Bag: No
Want to sit down on your paddle board and use it as a kayak? The South Bay Paddle is just what you need. This 4-piece paddle easily converts from a SUP paddle to a 2 bladed kayak paddle!
The paddle is made with a lightweight carbon fiber shaft for strength and durability. The blade is made from a nylon composite that is light and strong.
The handle has been designed to be ergonomically correct, providing maximum comfort for long periods of paddling.
The longest piece is only 31 inches (167 cm), making it easy to carry to and from the water, or fit in the trunk of your vehicle when taken apart.
The South Bay paddle has a wide range of adjustability from 65" – 84" allowing you to get the perfect length for most any paddler over 4'8″.
It is ideal for general use for beginners as well as the more advanced stand-up paddle boarder for paddling all day.
I like the fact that the paddle is guaranteed to float in fresh and salt water. You will appreciate not having to dive into the water to find your sinking paddle, if you drop it.
I would have liked to see it come with a protective cover, but they are not very expensive.
The Carbon SUP Paddle by South Bay is a good choice from a company that knows how to make paddles and in my opinion, the best convertible SUP paddle under $100.

---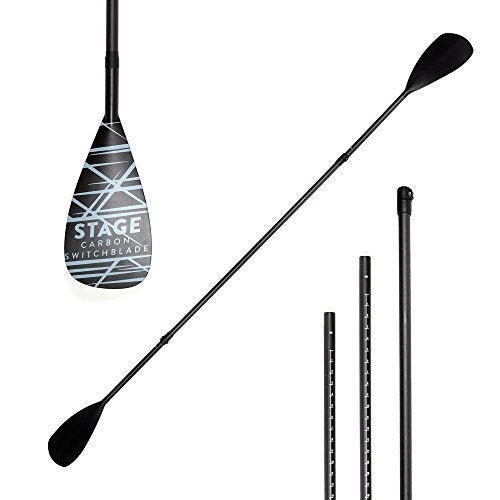 Stage 2Side Double-Bladed SUP Paddle at a Glance
:
---
Shaft: Aluminum
Blade: Blend of Polypropylene and Fiberglass
Length: 112″-  156″
Weight: 3.12 lbs
Carry Bag: No
By far the most innovative SUP paddle on our list is the Stage Switchblade Double-Bladed SUP Paddle. Essentially it's a kayak style paddle adapted for use as a SUP paddle.
It's biggest advantage is the fact you don't need to switch hands to change which side of the SUP board you are paddling.
You get into a rhythm of each stroke providing a push on each side of the board, this makes it easier for you to keep the board in a straight line. Perfect for beginners!
Since you no longer need to switch hands anymore it aids in balance and you will be able to paddle faster. Again, not only ideal for beginners but for any paddle boarder.
It is heavier than some of the other paddles on our list at 3.2 pounds. The paddle breaks down into four pieces and you also have the capability to use it as a traditional one bladed paddle.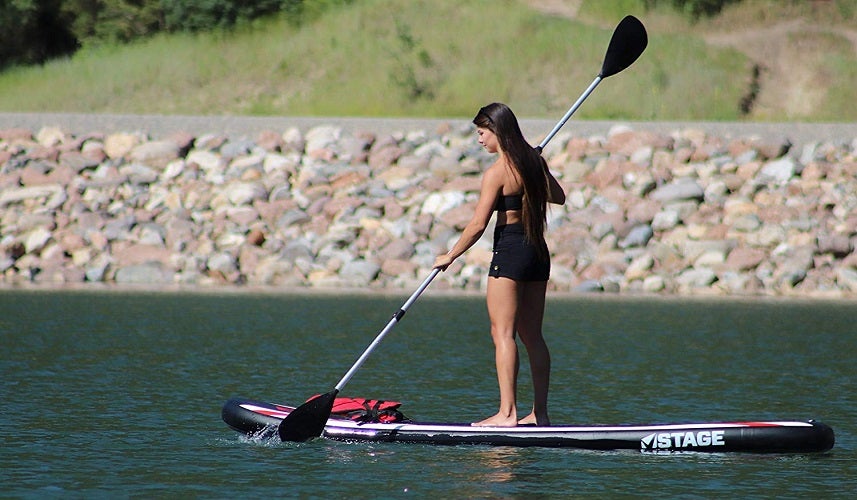 If you paddle in rougher conditions like small waves or wind, the Stage Switchblade will make your paddling easier than a traditional one bladed model.

---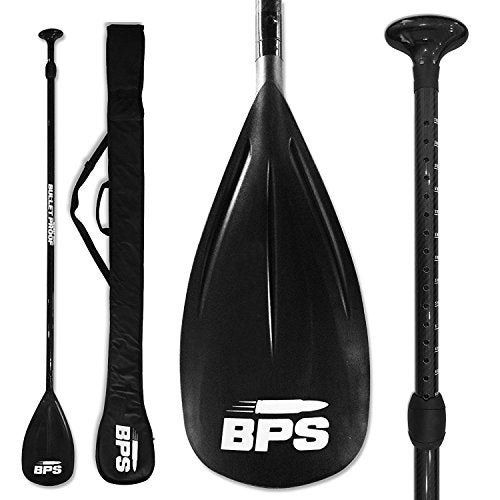 BPS Adjustable SUP Paddle at a Glance
:
---
Shaft: Fiberglass
Blade: Nylon
Length: 71″ – 84″
Weight: 1.7 lbs
Carry Bag: Yes
This paddle was designed by Bullet Proof Surf to be in their high performance line, with a carbon shaft, composite fiberglass, nylon blade and a durable handle made with strong carbon fiber.
The blade of the paddle face is 420 mm (16.5 inches) in length and 215mm (8 inches) at the widest part.
The paddle length is easily adjusted to the size of the paddler, and stays tightly locked in to place. At its longest length, it reaches 2150 mm (85 inches) suitable for taller paddlers.
For shorter users, the length can be adjusted to 1760mm (69 inches). Unfortunately, this paddle does not come apart for traveling and storage.
The composite blade is more forgiving than full carbon blades and won't suffer chips or other damage and has proven to be stronger and durable when coming in contact with the board or pushing off docks or even rocky surfaces. The carbon fiber handle is smooth and easy on the hands.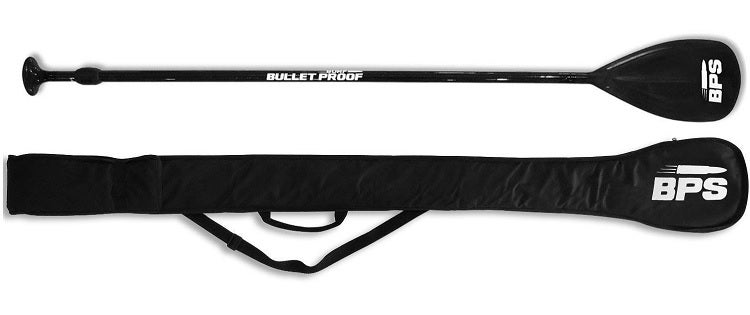 It comes with a free storage and travel bag for the paddle to protect it from chips, scratches, or other damage.
The bag is constructed with a convenient heat reflective lining to protect from the harmful UV rays of the sun. It also has Velcro straps on the outside of the bag, adding the ability to carry a second paddle.
Bullet Proof Surf offers a 12 month guarantee for refund or replacement if their paddle fails to perform as expected. In my opinion it's the best SUP paddle for the money.
The Carbon Fiber SUP Paddle by Bullet Proof Surf is one our top picks and the best SUP paddle under $100.

---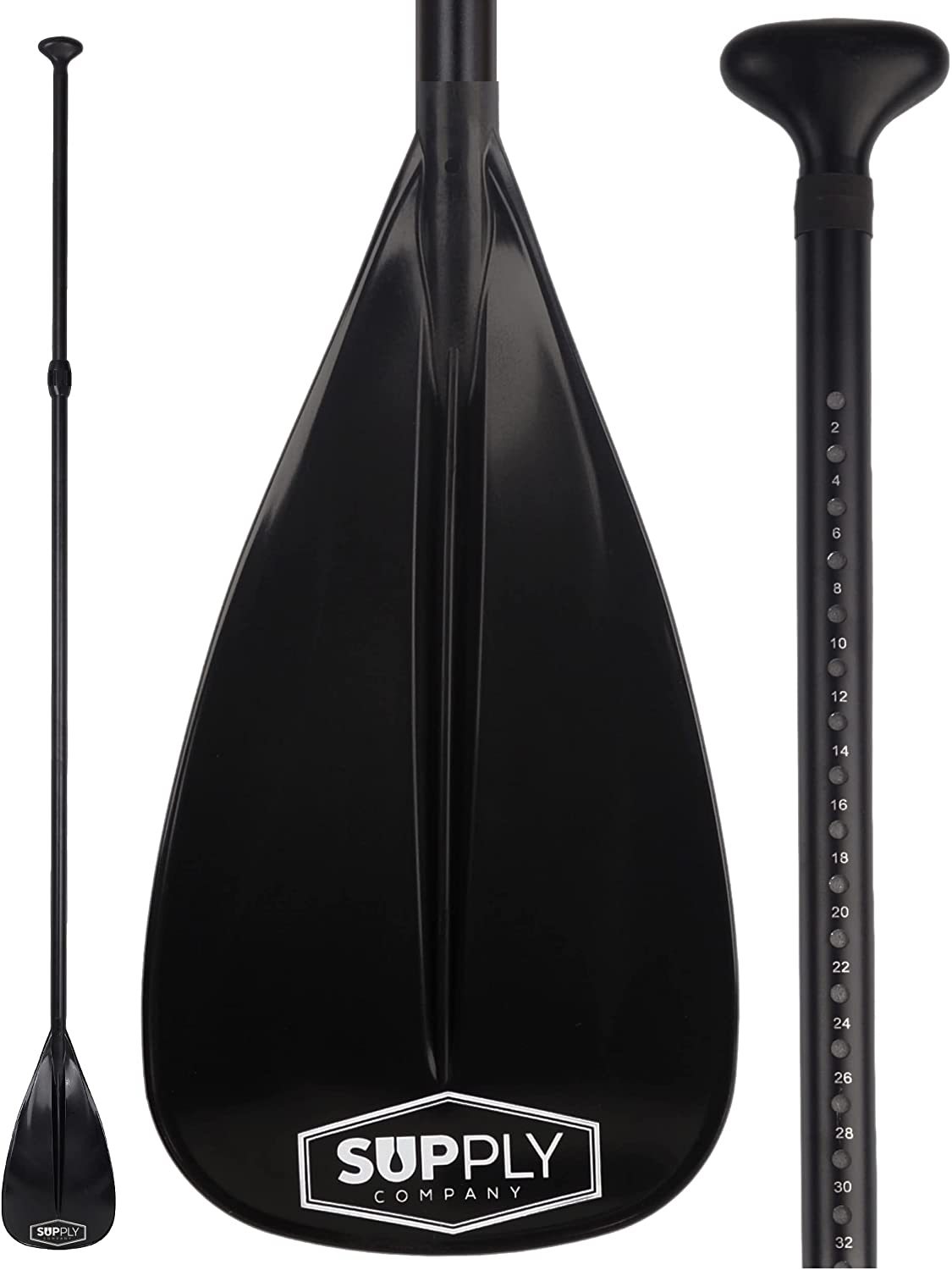 SUP Supply Adjustable Alloy SUP Paddle at a Glance
:
---
Shaft: Aluminum
Blade: Polypropylene
Length: 67″ – 85″
Weight: 2.2 lbs
Carry Bag: No
This SUP paddle by SUP Supply is durable and strong while being lightweight due to its aluminum alloy shaft and polypropylene blade. Its light, at 2.2 pounds making it comfortable for most paddlers at all levels of experience.
The paddle handle features a comfortable ergonomic design that can be adjusted from 67" to 85". The adjusting mechanism is a pin that slides into holes, rather than a twist-off, which will prevent loosening in the water with frequent use.
The grip is smooth, and easy to hold on to for long paddle boarding sessions. ALL SUP Supply paddles float in fresh or salt water. This paddle is also available in two other colors.
Traveling and carrying the paddle is convenient, because it easily separates into three pieces. The longest section of the paddle being 3 feet long, which will fit in the back of most vehicles.
The Adjustable SUP Paddle by SUP Supply is a good choice for the best budget SUP Paddle.

---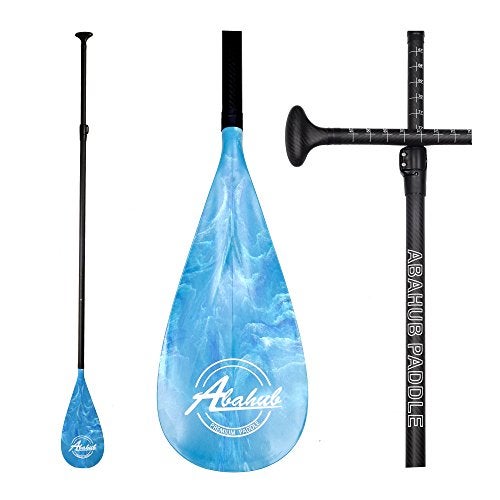 Abahub Adjustable Carbon Fiber SUP Paddle at a Glance
:
---
Shaft: Carbon Fiber
Blade: Fiberglass/polypropylene
Length:

67'' –   86''

Weight: 28 oz
Carry Bag: Yes
The Abahub Adjustable Carbon Fiber SUP Paddle is one of the more colorful paddles on our list. Of course that's not why you want to buy it.
The abahub paddle comes with a 3K carbon fiber shaft and a fiberglass/polypropylene blade that is not only light but strong.
It's a 3 piece paddle that adjusts from 67'' to 86'' (170cm to 218cm) and is suitable for paddlers from 5' to about 6'8" tall.
It's available in 5 models, all offer a carbon shaft with either a nylon blade or carbon fiber blade. Blades sizes range from 91 sq inches to 98 sq inches.
The double-concave blade design gives you a smoother more powerful stroke with less "flutter" than comparable paddles.
The Abahub comes with a nice travel/storage bag and 3 separate compartments for each section of the paddle with a convenient shoulder carry strap.
Abahub offers a "No Question Asked" warranty on the paddle so you can be confident buying it!

---
SUP Paddle Comparison
How To Choose the Best SUP Paddle – Buyers Guide
Length
Finding the right length for you and your SUP depends on a variety of factors, including your height, the condition of the water, and the length and width of the SUP's hull.
A general rule to consider in choosing the correct paddle size is to stand the paddle upright and it should be eight to twelve inches taller than you.
Any shorter than eight inches you will have to exert more energy to paddle, due to a decrease in leverage.
Any longer than twelve inches and the paddle will be harder to pull up out of the water. This test is a general rule of thumb, but an ideal solution is to get an adjustable paddle so that you can try different lengths to see what works best.

Blades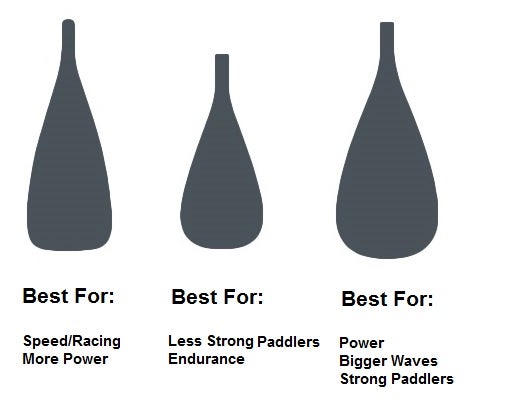 The most important component of the SUP paddle is the blade. The blades are designed to be slender with a low profile for less drag. As you pass the blade through the water, it exerts force on the water, in turn creating acceleration for the paddle boarder.
SUP paddle blades come in roughly size categories: small, medium and large. The size you use will depend on your fitness and experience level.
Guide to choosing a blade size and shape:
Small blade – Best for beginners and less fit paddlers.
Medium blade size squared off blade  – Best for speed and racing.
Large rounded off blade – Stronger more experienced paddlers or large waves.
Blade Angle
As you have probably noticed SUP paddle blades are angled to the shaft. This may seem strange and counter intuitive but there are good reasons for it. Normally you will see blade angles of about 10% but they are available from 6% up to 12%.
Three Reasons the Blade is Angled:
The angle of the blade allows the paddle to begin its power stroke a little bit further away and gives you a bit more power in the stroke.
With an angled blade the force of the stroke doesn't dip the nose of the board into the water as much give the paddler better glide through the water.
At the end of the stroke an angle drains the water from blade better so you don't lift any water left over when you pull the paddle out of the water.
Blade angle is a personal preference and if you are not sure it is best to stick with the traditional 10% or so angle.
Blade Shape – Dihedral vs. Flat
There are two main shapes for a SUP paddle; flat and dihedral. So the question is, why would you want a "dihedral" blade? Well the theory is, that a dihedral blade reduces what is known as "flutter". Flutter is when the blade does not come straight back during the power stroke.
The blade may wobble or rock back and forth because the paddle does not have enough strength to keep the blade from "fluttering". When the paddle flutters you can end up banging the paddle against the rails of the board.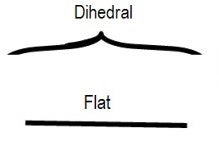 The dihedral shape allows the blade to cut through the water better. There is a downside of course and that is you lose some power in the stroke because of it.
Some paddlers also feel it takes longer to turn the board, this is especially important to surfers who need to turn the board rapidly to catch a wave.
For this reason this blade shape tends to be used by beginner paddlers who are willing to sacrifice a little "catch" or power in their stroke for a smoother stroke.
Small / Medium
These blades are primarily made for individuals that use an SUP for touring and recreational use. These small blades require far less strength, than larger paddles do. However, small and medium blades will not move through the water as quickly as larger paddles. Small blades are better for children.
Large
Large blades are designed with the surf and turbulent paddle boarder in mind. The larger blades help the rider to navigate through the ocean's surf or other more unruly bodies of water better than small and medium blades.

Blade Materials
There are several option to consider pertaining to blade material. As it is with any other activity, choose what a good fit for you. Understand that different materials exhibit different physical qualities, such as: durability, rigidity and flexibility.
Carbon Fiber
Carbon fiber is extremely light weight and strong. The lighter weight becomes especially important when you are on the water for hours at a time or racing. They also tend to be tougher and can withstand the abuse of pushing off and avoiding obstacles.
Fiberglass
Fiberglass is slightly heavier than carbon fiber. It is a good material for the intermediate paddle boarder being lightweight and strong but cheaper than carbon fiber.
Aluminum
Out of all the material available for paddle boarding, aluminum is the least expensive and relatively light in weight. This is a good material for beginners to enjoy their SUP endeavors.

Shaft Shapes
SUP paddles are manufactured with the blade at an angle to the shaft, this also called an "elbow".(see above diagram on angle). This elbow increases efficiency for the paddle boarder and divert pressure from the wrists, especially during long periods of paddle boarding (touring).

Grip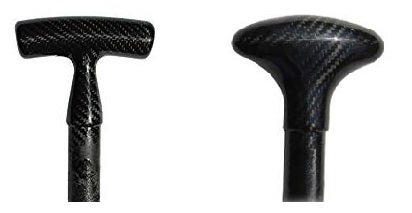 There are two SUP paddle grips available. The "T –Grip" and the "Palm Grip" each have their advantages. Most paddles you see and all of the ones on our list have the palm grip style grip.
It's the more comfortable type of grip for just about any type of paddle boarding you will do. The "T-Grip" style is mostly used for paddle boarders who like to use them for surfing and it does offer a bit more secure grip.
How to Paddle a SUP
Video: Beginners guide on paddling techniques.
SUP Tips: How to paddle straight on a Stand Up Paddleboard (reverse J stroke)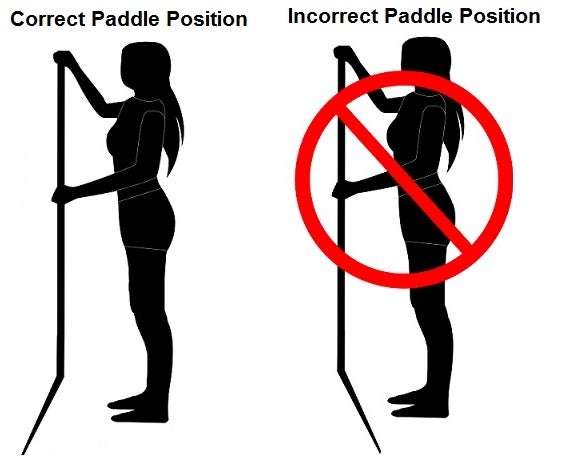 If you would like a guide on how to paddle board, click here. I personally use an inflatable SUP, here are my reviews on my favorite boards. Looking to try paddle board yoga, here is a guide on how to start.
Notice:
OutsidePursuits.com is a participant in the Amazon Services LLC Associates Program, an affiliate advertising program. OutsidePursuits.com earns fees from products sold through qualifying purchases by linking to Amazon.com. Amazon offers a commission on products sold through their affiliate links.