Finding the right paddle is almost as important as finding a great standup paddle board (SUP).
If you already own a SUP, a paddle probably came with it.
While these paddles are functional, the problem is they tend to be cheap and heavy; and they usually do not float.
Not an ideal combination.
The best paddle for you will be comfortable for your style of paddling as well as efficient in order to keep fatigue to a minimum.
This guide will assist you in buying the best SUP paddle for your needs based on our comparisons of the top rated brands.
These are our top 3 Paddles that have won our trust because of their superior performance.
Here is an overview of the SUP paddles with full reviews and our buying guide below.
If you don't have a SUP yet, see my buying guide here.
The 3 Best SUP Paddles
| Mobile Users Scroll Over => | Adjustable CARBON FIBER 'Slider' SUP Paddle by Bullet Proof | Adjustable Alloy SUP Paddle by Bullet Proof Surf | Adjustable Alloy SUP Paddle by Own the Wave |
| --- | --- | --- | --- |
| | | | |
| | | | |
| Shaft: | Carbon fiber shaft | Lightweight aluminum shaft | Lightweight alloy shaft |
| Blade: | Fiberglass and nylon composite blade | Nylon composite blade | Nylon composite blade |
| Floats: | Yes | Yes | Yes |
| Shaft Length: | 69" - 85" inches (2150mm -1760mm) | 71" - 83" inches (1800mm - 2130mm) | 71" - 83" inches (1800mm - 2130mm) |
| Price: | ~ $99 | ~ $49 | ~$49 |
| | | | |
SUP Paddle Reviews


This paddle was designed by Bullet Proof Surf to be in their high performance line, with a carbon shaft, composite fiberglass, nylon blade, and a durable handle made with strong carbon fiber.
The blade of the paddle face is 42 mm (16.5 inches) in length and 215mm (8 inches) at the widest part. The paddle length is easily, adjusted based on the size of the paddler, and stays tightly locked in to place. At its longest length, it reaches 2150 mm (85 inches) suitable for taller paddlers. For shorter users, the length can be adjusted to 1760mm (69 inches). Unfortunately, this paddle does not come apart for traveling and storage.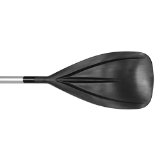 The composite blade is more forgiving than full carbon blades and won't suffer chips or other damage and has proven to be stronger and durable when coming in contact with the board or pushing off docks or even rocky surfaces. The carbon fiber handle is smooth and easy on the hands.
This paddle has been thoroughly and ruggedly tested with trials on the west coast of New Zealand. It comes with a free storage and travel bag for the full paddle to protect it from chips, scratches, or other damage. The bag is constructed with a convenient heat reflective lining to protect from the harmful UV rays of the sun. It also has Velcro straps on the outside of the bag, adding the

ability to carry a second paddle, if desired.
Bullet Proof Surf offers a 12 month guarantee for refund or replacement if their product does not float properly or fails to perform, as expected. In my opinion it's the best SUP paddle for the money.
The Carbon Fiber SUP Paddle by Bullet Proof Surf is our top pick. It costs a little more than the other paddles but it is well worth it for someone who wants the best.

This SUP paddle by Own the Wave is durable and strong, but is lightweight in construction due to its alloy shaft and nylon composite blade. Its light, 2.2 pound overall weight makes it comfortable for most paddlers at all levels of experience.
The paddle handle features a comfortable ergonomic design that can be adjusted from 1800mm – 2130 mm (71" to 83"). The adjusting mechanism is a pin that slides into holes, rather than a twist-off, which will prevent loosening in the water and with frequent use.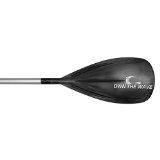 The grip is smooth, and easy to hold on to for long paddle boarding sessions, lessening the potential for painful blistering. Due to the foam core, this paddle is 100% guaranteed to float in fresh water or salt water. The end of the paddle is bent to make the stroke more efficient in the water.
Traveling and carrying the paddle is convenient, because it easily separates into two pieces. The longest paddle is 1675mm (66 inches), which will fit in the back of most vehicles. Each paddle comes with a free ''Own the Wave blade cover'' to protect the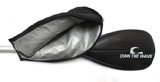 paddle when traveling or carrying it to and from the water. The paddle cover is constructed with a heat reflective internal lining which will protect the paddle from the heat of the sun.
This paddle is put through its paces with numerous trials under conditions that simulate the sport. The paddle carries a one year guarantee from Own the Wave.
The Adjustable Alloy SUP Paddle by Own the Wave is your best bet for an inexpensive SUP Paddle.

This adjustable paddle by Bullet Proof Surf is made with a lightweight aluminum shaft, contributing to its strength and reliability. The sturdy blade is manufactured with solid nylon composite which increases its durability. The handle has been designed to be ergonomically correct, providing maximum comfort. This is a significant asset to those adventurist paddlers who choose to take on the more difficult waters, as well as novice paddlers orienting to manipulating a paddle.
The Bullet Proof paddle is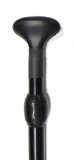 adjustable, as it quickly and easily can go from 1800mm to 2130mm (71" – 83") making it easily adjustable to the perfect length and comfort for any paddler regardless of stature. With a light weight of 2.2 pounds, it is ideal for general use for beginners as well as the more advanced stand-up paddle boarder.
The paddle handle shaft is constructed with a foam core giving it the ability to float in freshwater and salt water alike. The paddler will greatly appreciate not having to dive into the water to find a sinking paddle, should they drop the paddle. This claim was tested by being held three feet under water for a full five minutes to ensure it would continue to float after submersion.
The paddle is easy to transport, since it separates into two pieces. The longest piece is a modest 1675mm (66 inches), making it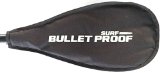 easy to carry to and from the water, or to toss in the back of a vehicle. Additionally, each paddle comes with its own blade cover with a heat-reflecting lining, which protects the blade from the sun.
This cover keeps the paddle blade safe when traveling in planes or vehicles, or when transporting it to and from the water. This paddle is tested under rugged conditions on the west coast of New Zealand. Bullet Proof Surf provides a generous 12 month guarantee on the product. If the paddle does ceases to float or fails in any way, Bullet Proof Surf will replace the paddle or provide a refund to the customer.
The Adjustable Alloy SUP Paddle by Bullet Proof Surf is a great option from a company that knows how to make paddles.
How To Choose A SUP Paddle
Length
Finding the right length for you and your SUP depends on a multitude of factors, including your height, the condition of the water, and the length and width of the SUP's hull.
A general rule to consider in choosing the correct paddle size is to stand the paddle upright and it should be eight to twelve inches taller than you. Any shorter than eight inches you will have to exert more energy to paddle, due to a decrease in leverage.
Any longer than twelve inches and the paddle will be harder to move up out of the water because of too much leverage. This test is ideal as a general rule of thumb, but it is always good to consult with a sporting store representative to help assess what is the best length for your particular needs.
Blades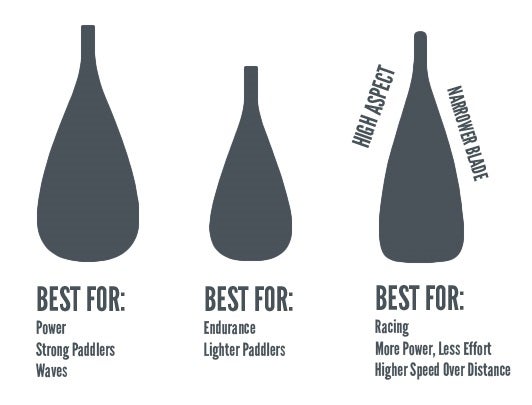 The component of the SUP paddle that make it viable is the blade. It is extremely hard to propel yourself through the water with only a pole. The blade is designed with a slender with a low profile. As you pass the blade through the water, it exerts force on the water, in turn creating acceleration for the paddle boarder SUP paddle blades essentially come in three dimensional categories: small, medium and large. Choose a paddle and blade combination that best suits your needs.
Small / Medium
These blades are primarily made for individuals that use an SUP for touring and recreational use. These small blades require far less strength, than larger paddles do. However, small and medium blades will not move through the water as quickly as larger paddles. Small blades are better for children.
Large
Large blades are designed with the surf and turbulent paddle boarder in mind. The larger blades help the rider to navigate through the ocean's surf or other more unruly bodies of water better than small and medium blades.
Blade Materials
There are several option to consider pertaining to blade material. As it is with any other activity, choose what a good fit for you. Understand that different materials exhibit deferent physical qualities, such as: durability, rigidity and flexibility.
Carbon Fiber
This material is extremely light and promotes agility for the paddle boarder. The paddle shaft can be more rigid for use in SUP racing or more flexible, for the touring and recreational enthusiasts.
Fiberglass
Fiberglass is slightly heavier than carbon fiber. It is a good material for the paddle boarder at the intermediary stage in his or her "career".
Aluminum
Out of all the material available for paddle boarding, aluminum is the least expensive and relatively lightest in weight. This is a good material for beginners to enjoy their SUP endeavors.
Shaft Shapes
SUP paddles are manufactured with an angle, also called an "elbow". This elbow increases efficiency for the paddle boarder and divert pressure from the wrists, especially during long periods of paddle boarding (touring).
How to Paddle a SUP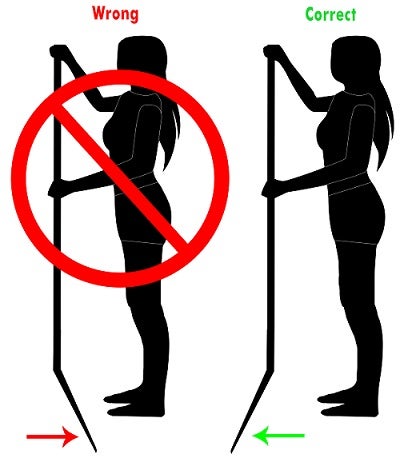 If you would like a guide on how to paddle board, click here. I personally use an inflatable SUP, here are my reviews on my favorite boards. Looking to try paddle board yoga, here is a guide on how to start.
Notice: Outside Pursuits is a participant in the Amazon Services LLC Associates Program, an affiliate advertising program to provide a means for sites to earn advertising fees sold through by advertising and linking to Amazon.com. Amazon offers a small commission on products sold through their affiliate links. Each of your purchases via our Amazon affiliate links supports our efforts to bring you the best possible product reviews at no additional cost to you. We appreciate your support here at OutsidePursuits.com
Review Overview
Summary : The Adjustable Alloy SUP Paddle by Bullet Proof Surf is our top pick for a SUP paddle. The combination of the materials, construction and value make it unbeatable.