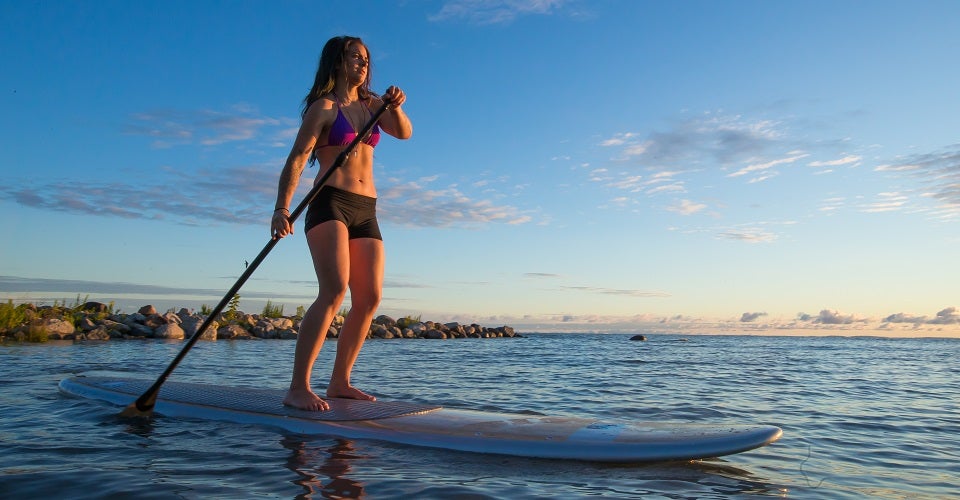 Our Editors independently research, test, and rate what we feel are the best products. We use affiliate links and may receive a small commission on purchases.
Looking to try paddle boarding? or just looking for your next board?
Well you're in the right place, we're going to look at 7 of the best SUPs on the market.
We're going to cover the best stand up paddle boards that are good for the ocean, flat water, surfing, fishing and of course beginners.
With so many SUPs on the market it can be confusing, so we're going to help you choose the right one for you.
If you are in the market for an inflatable paddle board, see more reviews of iSUPs here.
Best Stand Up Paddle Boards
| | SereneLife Inflatable SUP | South Bay Board Co. Paddle Board | Roc Inflatable Stand Up Paddle Board |
| --- | --- | --- | --- |
| | | | |
| | | | |
| Type: | Inflatable SUP | Rigid SUP | Inflatable SUP |
| Length: | 10' | 10'4" | 10' |
| Width: | 30" | 32" | 33" |
| Thickness: | 6" | 5" | 6" |
| Capacity: | 275 lbs | 350 lbs | 350 lbs |
| | | | |
For more of my paddle boarding gear recommendations, have a look through these popular Outside Pursuits guide links: SUP Paddles, Life Jackets, SUP Board Bags
Quick Answer: The 7 Best Stand Up Paddle Boards For 2021
Our reviews of the top rated paddle boards along with our comparison table and buyers guide below will help you choose the right one for you.
---
Stand Up Paddle Board Reviews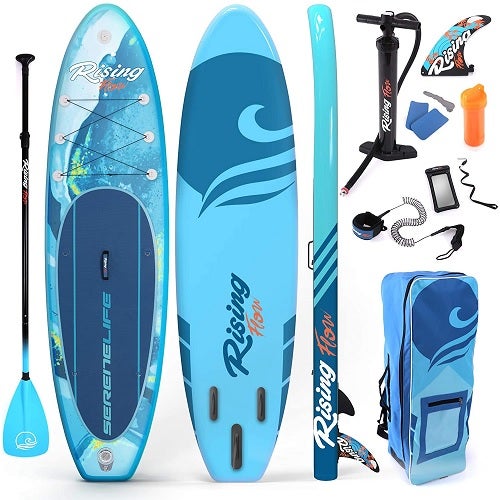 SereneLife Inflatable Stand Up Paddle Board at a Glance
:
---
Construction: Inflatable PVC
Max Weight:

275 lbs

Size: 10′ x 30″ x 6"
SUP Weight: 19 lbs
Includes: 3-Piece fiberglass paddle, dual-chamber pump, carry backpack and leash
The SereneLife is the lightest SUP on our list. So if you are worried about being able to carry a SUP, this is the one for you!
While it weighs only 19 pounds, it supports 275 pounds and if you are experienced you can exceed that.
So if you want to bring along a passenger or plenty of gear you should be able to do that.
The SereneLife is pretty close to the performance of the epoxy SUPs on our list. It is a bit narrower at 30″ so it's faster than the typical 32″-33″ SUPs.
What is nice about the SereneLife SUP is that it's a complete package meaning it comes with everything you need for a day on the water. Included is an inflation pump, carry backpack, lightweight fiberglass SUP paddle and leash.
The paddle breaks down into 3 pieces and is fully adjustable. The SereneLife has deck bungee cords in the front for storing gear although I would have liked to see it in the rear as well.
Everything fits in the backpack for easy transport and storage. The deck has a thick padding for all day comfort. Available in three colors you should be able to find one you like and suites your style!

---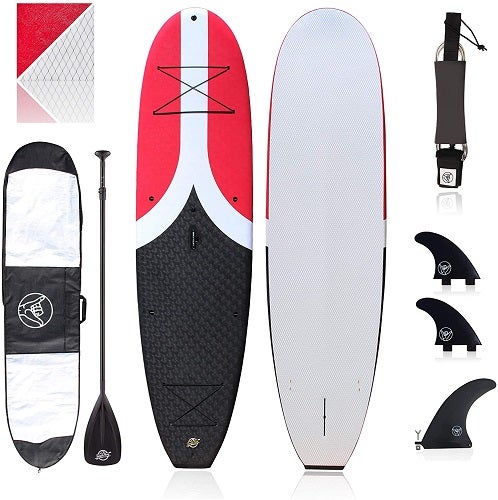 South Bay Board Co. Soft Top Stand Up Paddle Board at a Glance
:
---
Construction: Molded EPS foam core
Max Weight:

350 lbs

Size:

10'4″ x 32″ x 5″

SUP Weight: 25 lbs
Includes: Adjustable paddle, center fin, car roof rack, leash
This classically designed paddle board is made of Polyethylene plastic – the most common type of durable plastic – and is a strong and long-lasting board.
It's a standard length board at 10'4″ and 34″ wide for good stability for riders of all skill levels. It has deck bungee cords in the front of the board for bringing along a cooler or other gear for a day on the water.
One notable thing about the South Bay Board Co. is they include not only an adjustable paddle but also a storage bag. It's the only one I am aware of that comes with a storage bag making it the best deal on Amazon!
The built-in ergonomic handle with recesses makes carrying it much easier and more comfortable to carry the board to the water.
The South Bay Board Co. Soft Top Stand Up Paddle Board is an excellent paddle board for kids as well and is a top contender for the best SUP.
Best For: Families and Beginners

---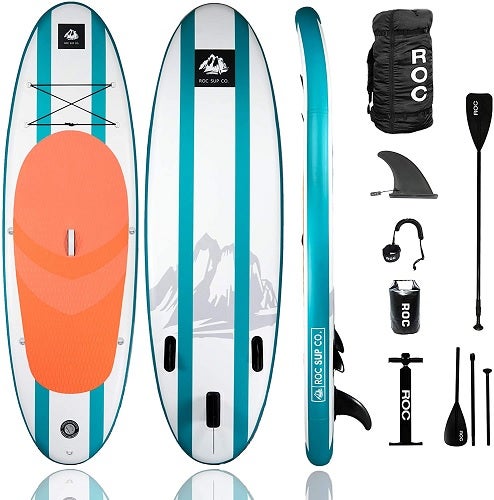 Roc Inflatable Stand Up Paddle Board at a Glance
:
---
Construction: Inflatable PVC
Max Weight: 350 lbs
Size:

10′ x 33″ x 6″

SUP Weight: 17.5 lbs
Includes: 3 Piece adjustable paddle, pump, carry backpack, drybag, leash, removable 9″ center fin
This is a pretty standard all around stand up paddle board with a soft top deck that gives you plenty of traction and forgiving if you happen to fall on it.
This board is most suitable for flat water and small waves like in a lake or close to the shore in the ocean. With its drop stitch PVC construction, it is stable and durable, making it great for everyone in your family.
It's slightly wider at 33″ wide with a non-slip deck. At 10 feet long, there is even room for Fido or Fluffy to hop on board for a ride.
Video: First impression of the ROC Stand Up Inflatable Paddle Board.
ROC Stand Up Inflatable Paddle Board
SUP boarding with the family dog can be a great way to get the whole family involved in family outings. Roc also includes a 3-piece adjustable paddle, a 9" center fin for good tracking, carry backpack, leash and inflation pump.
Roc thoughfully also included a a dry bag for valuables to store under the deck rigging. The Roc is probably the best all around stand up paddle board. The only knock is the carry backpack does not have wheels so you can pull it behind you like a suitcase.
Best For: All Around Recreational Use

---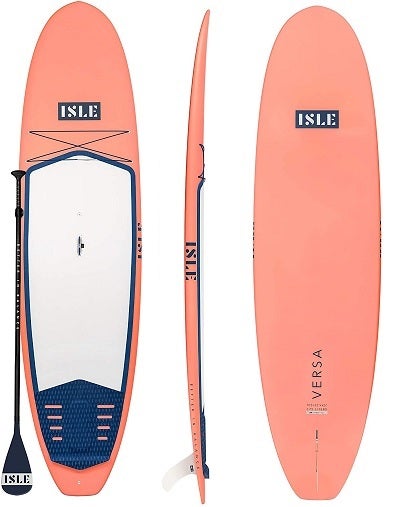 ISLE Versa Rigid Stand Up Paddle Board at a Glance
:
---
Construction:

Molded ABS, Watertight EPS Foam Core

Max Weight: 300 lbs
Size: 10'5″
SUP Weight:

32 lbs

Includes: Corbon paddle, removable center fin, leash
The ISLE Versa is a surf board inspired paddle board that is good all-around SUP and generally best used on flat waters and small waves.
It's hard to argue that it might also be one of the most beautiful SUPs on the market with its coral pink color scheme.
The high density EPS closed cell foam construction allows for a lightweight and durable board that is surrounded by a tough ABS hard shell.
One of the knocks on this type of board is they accumulate dents and dings. To prevent this, Peak has put a thick bumper rail around the board to protect it.
The deck of the SUP is coated with a textured IXPE for comfort and traction. Unlike many rigid SUPs, the ISLE Versa comes with a carbon paddle and a leash.
When you consider a paddle can go for $150, you are getting a pretty good deal with this board. The front of the board has some deck bungee cord for securing some cargo like a small cooler or PFD.
This SUP board is suitable for surfing smaller waves but also has a great glide for when you're on flat water. It's like having the best of both worlds all in one board making it the best all around sup.
Best For: Recreational, Surfing Small Waves

---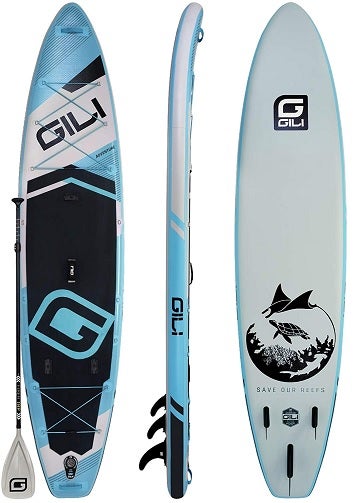 GILI Adventure Inflatable Stand Up Paddle Board at a Glance
:
---
Construction:

Inflatable

with Dual layer, Fusion technology

Max Weight: 280 lbs
Size: 11′ &

12′" x 32" x 6"

SUP Weight:

19 lbs

Includes: Fiberglass adjustable paddle, high speed pump, carry backpack, leash & removable 9″ center fin
The Gili All Around is an 11″ long inflatable paddle board that is perfect for not only for beginners but all skill levels. It's a slightly longer than most paddle boards so it's more stable and paddles easier than a shorter board.
If you want even more speed for touring, it also comes in a 12' model as well.
Unlike cheaper inflatable paddle boards, the Gili uses a dual layer construction for more durability and rigidity.
Weighing about 19 pounds, it's a extremely lightweight SUP board that is easy to transport with not only a center handle but also front and rear handles as well.
The length and volume of this board makes it ideal for people who want to progress into touring and has plenty of storage for coolers, life jackets etc.
Video: First impression of the GILI Inflatable Stand Up Paddle Board.
GILI Adventure Inflatable Stand Up Paddle Board Review
Gili makes it easy to keep your gear secure with a large front area with deck rigging, 17 D-Rings and a large non-slip deck pad for comfort.
The Gili is a complete package with everything you need to get out on the water. It includes a 3-piece fiberglass paddle, a 9″ center fin for excellent tracking, high volume pump, leash and high quality travel backpack.
The Gili All Round is a mid range priced SUP and it may be the best stand up paddle board for the money, you won't go wrong with it!
Best For: All Skill Level Paddle Boarders

---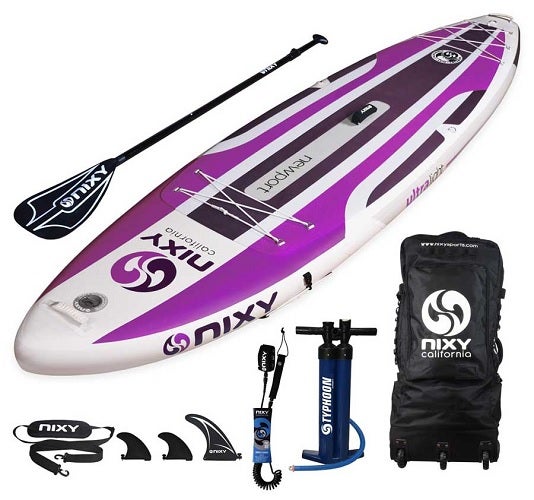 NIXY SUP Inflatable Stand Up Paddle Board at a Glance
:
---
Construction: Inflatable PVC
Max Weight: 350 lbs (can be exceeded)

Size: 10'6″ x 33″ x 6"
SUP Weight: 23 lbs
Includes: 3 Piece carbon fiber paddle, dual-chamber pump, wheeled carry backpack and leash
The California based NIXY brings us our second inflatable paddle board and the widest on our list at 34" wide for extra stability.
The Newport uses a new technology for creating the board called "fusion lamination", this allows for a lighter, stronger SUP than competitor models.
NIXY lists the weight limit of 350 pounds but that can be exceeded. The Venice comes as a complete package with all the accessories you could need.
The 8 stainless steel D-rings along with front and rear bungee cord deck rigging let you attach a seat or accessories, plus secure gear like a PFD or cooler.
The included paddle has a carbon fiber shaft unlike most that come with aluminum or fiberglass. There are two other features that set the Venice apart from other iSUPs.
Video: First impression of the NIXY iSUP.
NIXY Stand Up Inflatable Paddle Board
The storage/travel bag is not only able to be used as a backpack, the bag has wheels so that you can pull it behind you like a suitcase. A huge advantage taking it to and from a parking lot or your home.
It also comes with a "Typhoon" pump has dual chambers that will inflate the SUP in just a few minutes.
Coming in 5 attractive colors and a 2 year warranty, the Venice is one of the top paddle boards that is sure to please in style and performance!

---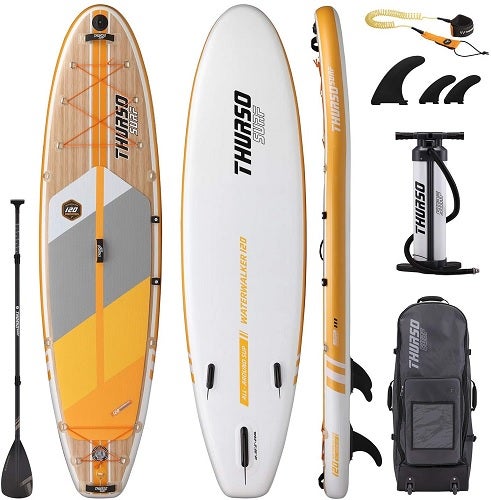 THURSO SURF Waterwalker Inflatable Paddle Board at a Glance
:
---
Construction:

TWO-layer PVC coated tarpaulin

Max Weight:

400 lbs

Size:

11" x 33" x 6"

SUP Weight: 24 lbs
Includes: 2-Piece Carbon Fiber paddle,

roller backpack,

front & rear deck bungee cords, dual chamber pump & leash
The THURSO SURF Waterwalker is probably the most beautiful board on our list! Now that of course is not a great reason to buy a SUP but it doesn't hurt.
It has a large traction pad that allows you flexibility to move your position on the board but also do Yoga.
The Thurso Surf is 33 inches wide so it's a stable board that is ideal for beginners but is suitable for intermediate to more advanced paddlers.
At 11' long, it's a fast SUP with 3 removable fins that provide good tracking.
THURSO SURF included bungee cord rigging in the front and rear for a PFD or cooler. There also plenty of "D" rings to secure a leash, a seat or other gear. I like they reinforced the rails for extra protection from abrasion.
Video: First paddle on the Thurso Surf Waterwalker iSUP
Thurso Surf Waterwalker Inflatable Paddleboard
It has one of my favorite features for a SUP bag, wheels! Trust me when I say you will really appreciate them when hauling it over a distance. Carrying it on your back can be a pain!
It weighs only 24 pounds, and it's easy to transport with front, rear and center handles. THURSO SURF thought of everything with this beautiful SUP!
Best For: Beginner/Intermediate paddlers who want a beautiful SUP that is ideal for all around use.


---
Stand Up Paddle Board Comparison Table
How to Choose the Best Stand Up Paddle Board – Buyers Guide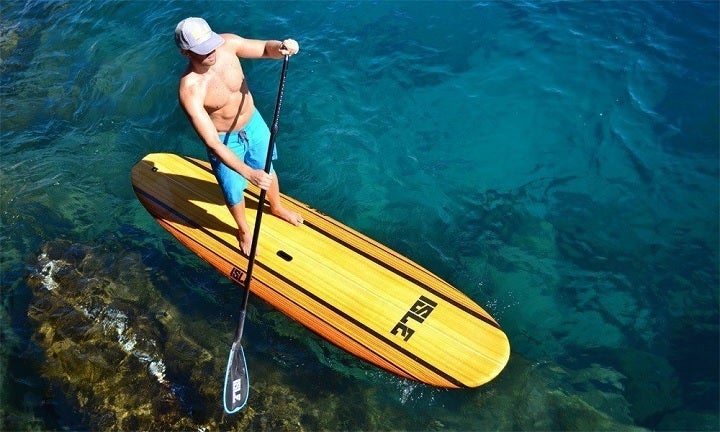 Paddle boarding can be a fun and exciting experience, if you are prepared with the right equipment and the knowledge required to be successful.
The first and most important thing that you will need to begin is, of course, the paddle board.
In this guide, you will find helpful hints and tips for both buying the perfect paddle board for your needs and some things you should remember if you are just starting out.
Paddle boarding is a test of balance, agility, your powers of observation and even your knowledge of the ocean, river, or lake. Being prepared is very important so that you can enjoy an exciting and fun boarding experience.

Types of Paddle Boards
There are four main types of paddle boards, determining what your goals are will help you to decide which board works best for you.
All-Arounders: These boards are similar to traditional surfboards and are great for beginners and for those who tend to stay close to the shore or on calmer water. These are also great for anyone who wants to fish from their board.
Race and Touring Boards: These boards generally have a pointed nose which makes it easier to paddle longer distances.
However, the entire board tends to be narrower so it is a good idea to make sure that you have a board that you can balance on and the narrower boards take more practice to get used to balancing on them.
Being more pointed and narrower means you can get up to higher speeds.
Kids' Stand Up Paddle Boards: As the name says, these boards are designed specifically for kids and younger or smaller paddle boarders. They are usually lighter in weight, wider and smaller in size making them easier for kids to maneuver in the water.
There are different types of kids' boards so you will still have to look further into the boards best for your children if you are shopping for young boarders.
Family Boards: These are great for the whole family, and they are soft-top boards that have a wide nose and stable tail making it easy for everyone to use, kids included. These are perfect for some good family fun.
Boards For Women: When paddle boarding first became popular, the boards were heavy and difficult to carry. Now you can buy boards that are lightweight and some even have a narrower middle, making it easier to reach across the board for more convenient carrying.
Some boards are even meant specifically for yoga stretching and poses.

Considerations For a Stand Up Paddle Board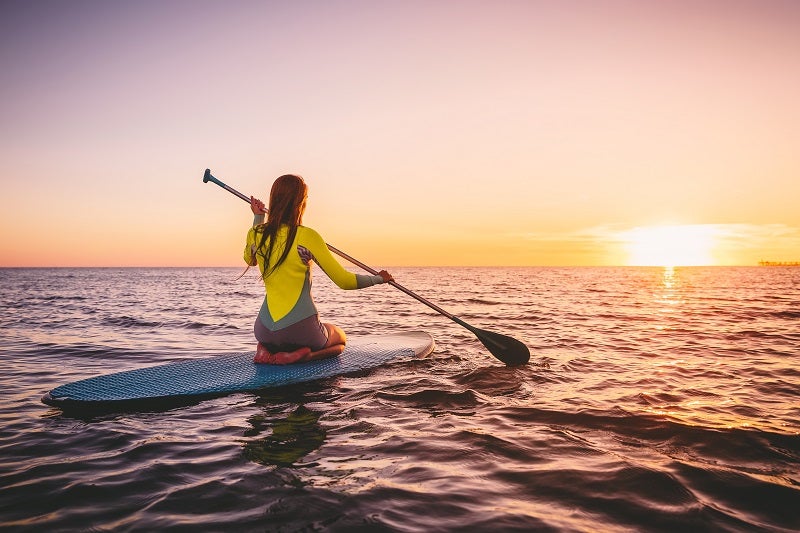 Length
So let's take a look at some things you need to know to choose the right SUP.
The SUP length is the primary determination of how the board handles and how fast it goes. Just like kayaks, the shorter the SUP the easier it is to turn and maneuver.
SUP <10 Feet – These paddle boards are ideal for surfing with their short length and good maneuverability. Short boards are also ideal for kids because they are easy to turn.
SUP 10-12 Feet – This is the "typical" size for paddle boards. These are excellent all around boards for beginners to intermediates.
SUP >12 Feet – Paddle boards over 12 feet are known as "touring" SUPs. With their longer length they are faster and meant for long distance paddling. They also tend to track better but as a tradeoff less maneuverable.
Just keep in mind, longer boards are harder to store and transport!
Width
The width of your SUP is also a factor in how it maneuvers. As you may guess a wider board is more stable. Unfortunately you give up some handling but also SPEED.
Wider boards are slower. SUPs come in widths between 25 and 36 inches with 30-33 between by far the most common.
Height/Width – Try and match your board width to your body type. So if you're a shorter, lighter paddler then go with a narrower board because you will have a much easier time maneuvering it. While a taller, heavier person should go with a wider more stable board.
Skill Level – If you are an experience paddler, the narrowest board that has sufficient buoyancy and storage space is best to allow faster, easier paddling.
Style of Paddling – If you plan on touring or going out for hours with a cooler and other gear, then keep in mind you will need more storage area. A wider board of 31-33 inches should be sufficient. If you plan on doing Yoga, you definitely want a wider, more stable board.
Thickness
Our last criteria in a SUP is thickness. Once you determine your length and width you need to look at thickness.
Being a thicker board is going to have more buoyancy and therefore more weight capacity per given length. So two paddle boards of similar width and length but one is thicker, it will support more weight.

Inflatable Rigid SUPs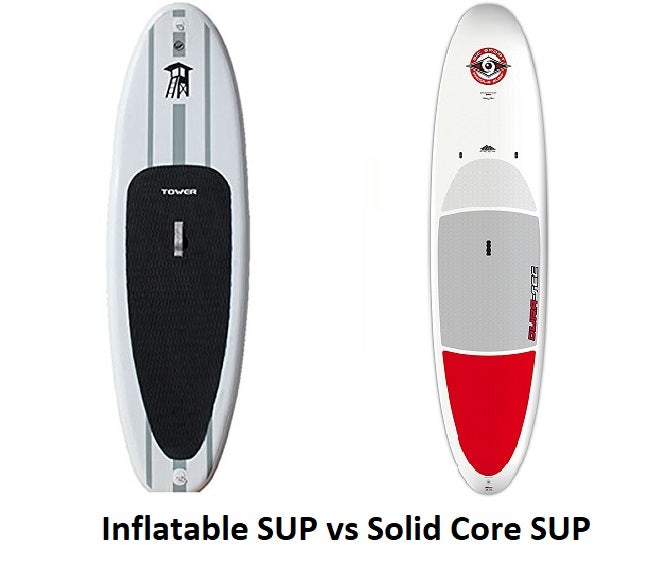 Inflatable SUPs have become very popular of late for some good reasons. Lets take a look at both types to see what is best for you.
An inflatable SUP is made from a PVC, drop stitch design that when inflated to 10-15 PSI becomes very rigid, approximating a solid SUP.
Inflatable SUP Advantages
1 – Packing it in: If you plan on hiking back to a lake or river then an iSUP will be the far better option. They can be put in a pack and carried on your back. Not really possible with a solid SUP
2 – Storage Area: Live in a small apt, or condo? Then an iSUP may be your only option as a solid core SUP will take up more room and is harder to store.
3 – Traveling: Want to bring your SUP with you on a plane or long distance in your vehicle? An iSUP will be far easier to transport and store. An iSUP can be checked while a solid core, even if it could be checked, do you trust the airline with your board?
4 – Yoga: While an inflatable is not "soft" they have a bit more give making them more comfortable for doing your Yoga poses.
If you like these advantages, see my iSUP reviews, I will give you some recommendations on my favorite iSUPS.
Solid SUP Advantages
1 – Stability/Rigidity: A solid paddle board is by its nature more solid and rigid which gives you a more stable ride. They are also a little bit faster, and more maneuverable.
2 – More Size Options: Solid SUPs are available in far more lengths and widths so you can get the perfect size for your needs.
3 – Performance: A solid SUP is faster and better for touring and speed. If you are out all day paddling a solid board may be a better option.
4 – Last Longer/Simpler: With a solid SUP there is nothing to inflate/deflate of puncture. Just put it in the water and go!

5 Questions to Ask When Choosing a SUP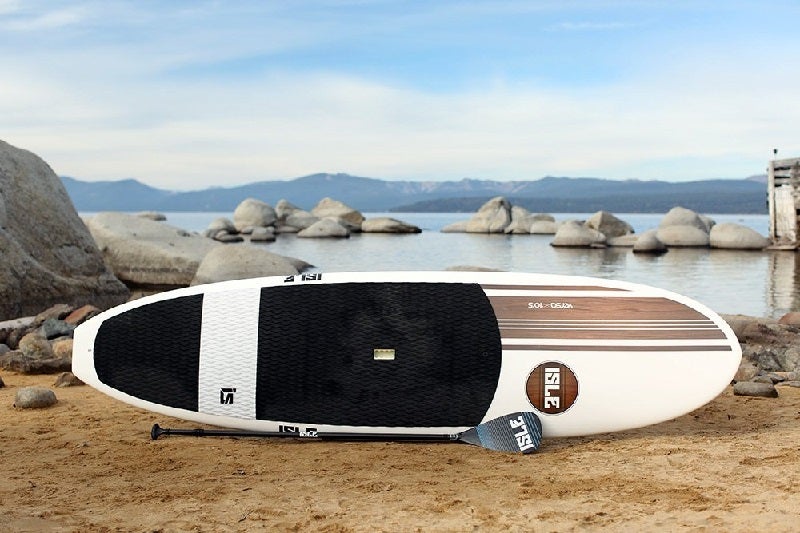 There are many factors that must be considered when buy a paddle board and a list of these things alone can be overwhelming. To make it a little easier for you, here is a short list of questions to ask yourself as you get started:
Q: Where do you plan to paddleboard?
A: Whether you are planning to board in the ocean with the possibility of some pretty big waves or you stick to flatter bodies of water like small rivers, lakes, and ponds, this can affect the type of board you buy.
Some boards are very diverse and can be used in any body of water while other boards are perfect for training but don't stand a chance when put up against huge waves.
Knowing where you plan to go boarding is important. If you aren't really sure or want to try out many places, it's probably best if you buy a board that is suitable in diverse settings.
Q: What size board are you interested in using?
A: When deciding on your board size, it is a little more complicated than small, medium and large. You have to consider the length of the board first. Most boards range from 9 to 14 feet in length, though there are some that are longer and shorter.
Longer boards are generally used for long distance paddle boarding and racing. Shorter boards tend to turn over more easily but they are significantly easier to use when riding the waves because it's simply easier to control a shorter board.
Depending on your goal for boarding, this will help you better determine the best SUP length for you.
Board width is also important. Most boards start at about 32" wide because anything under 30" can make it a little more difficult to keep your balance.
Narrower boards are usually faster but finding your stride can be a bit more of a challenge.
For beginners, it is probably best to use a wider paddle board until you get comfortable on the water.
Finally, when determining what size to get, a general rule of thumb people will suggest that a beginner start with a board that is twice their weight.
Once you have gained experience, you can choose to go with a larger or smaller volume for your board.
Q: What material do you want your board to be made of?
A: There are many different options here. You can choose from wooden boards, foam boards, inflatable boards and even hybrid boards that are made of a combination of these and other materials.
Depending on the material used to make the board, the board may be heavier or lighter and more or less durable. The price range is also affected by the materials used to make the board.
Q: How much do you weigh and how tall are you?
A: These questions aren't asked to judge you, it's just simple fact that if you are short, paddle boarding is going to be quite different for you compared to someone who is a towering giant and vice versa.
The same is true for weight, whether you are slim, curvy, muscular or somewhere in between, it is important to consider your weight because certain boards have certain weight limits.
But also, if you are light weight, a big heavy board may be difficult for you to maneuver not only in but also out of the water.
Q: Are you planning to race or just have a fun leisurely ride?
A: This actually affects multiple aspects in the board buying adventure. If you are planning to race, you will have a different nose shape than you will need if you are just planning to have nice and easy rides.
The weight of the board, the tail shape and the contour of the bottom of the board can make racing more or less difficult and should be considered when you are board shopping.
Paddle Board Size to Weight Table
Paddlers Weight
Paddle Board Length
9 to 10.5 Feet
10.5 to 11.5 Feet
11.5 to 12.5 Feet
> 12.5 Feet
<100 Pounds
X
125 - 150 Pounds
X
150 - 175 Pounds
X
175 - 200 Pounds
X
X
200 - 225 Pounds
X
X
225 - 250 Pounds
X
X
> 250 Pounds
X
5 Tips on Getting Started with SUP Boarding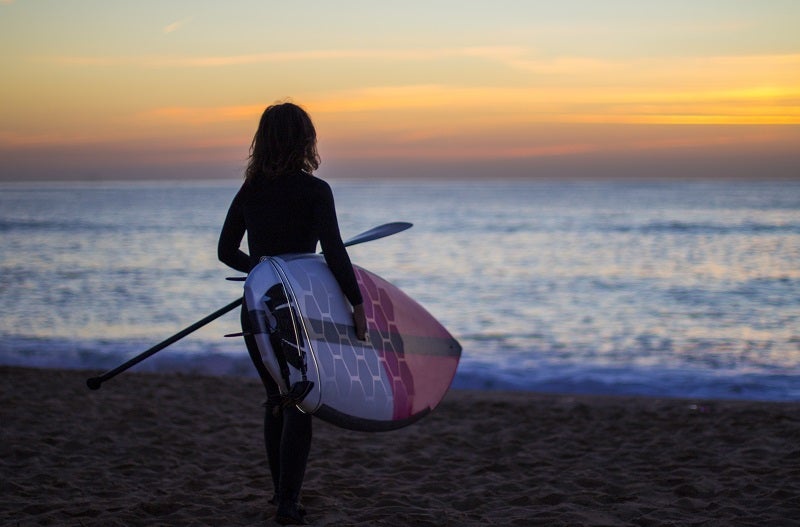 Once you have made your purchase, it's time to get started learning how to use your new toy.
Paddle boarding can be a bit challenging, especially if you are just starting out but don't worry, with enough time and practice, you will figure it out.
It's just like with any sport – it just takes time and practice. Some of this may seem like common sense but it's better to be safe and prepared than to be sorry. Here are a few things you should know:
1 – Take it Slow
You won't be able to jump from the start and ride all of the killer waves you have been dreaming about. Take things slow at first and the build up your intensity as you progress.
Anything that is worth doing usually takes time and practice. This is true with paddle boarding.
If you go for the monstrous waves on your first few tries, you could get hurt, or even damage your confidence. Water is a powerful force and even the most experienced paddle boarders know when to ride and when to let the wave go.
Remember why you wanted to start paddleboarding – think first and take things slow.
2 – Your Leash is Your Friend
Though you may think it is uncool to use the leash, you will soon realize the importance of it. It's there not only for your safety but for the safety of those around you. Don't be that girl or that guy who is too cool for safety. Decide which leash is best for you and then use it!
3 – Mind Your Space
Whether you are in the ocean, a lake or a river, there is enough room for everyone. You don't have to be in the same space as others who are paddleboarding. Give yourself and others plenty of room to do their thing.
There are plenty of waves to go around, you don't have to share the same wave, just the same body of water. Be considerate of other paddle boarders and you may even make some new friends and get some helpful advice in the process.
4 – Falls Happen, Proper Falling is Important
Everyone falls of their board from time to time. It doesn't matter if you have been paddleboarding for ten minutes or ten years, falls are unavoidable. However, you can help yourself to avoid getting seriously injured if you will simply learn to fall properly.
Paddleboards are not soft plushy pillows so they can hurt pretty badly if you fall on them or you get hit with them after you fall. The most important thing to remember is to fall away from your board.
If you fall on the board or the fin, it can cause serious injury and no one wants that to happen.
Though it is so much more fun to practice tricks and catching waves, it is probably a good idea to practice wiping out a couple of times, too.
When you think you are going to fall, think fast and fall away from the board and in the opposite direction that the board will be pushed by the waves.
If you are using the leash like you are supposed to, you won't have to worry about losing your board because it can't go far if it's attached to you.
5 – Make Sure You're Facing the Right Direction
This may seem like the most obvious thing in the world but for those who are new to paddleboarding, it's an important reminder. If you're not sure, that's okay, what better time to learn than now.
Take a look at your board and find the fins. If you are riding the board correctly, the fins will be at the back of the board. This will help you to paddle more easily.
If your fins are at the front of the board you will be fighting against the waves and your board will be fighting against you, making you more likely to fall off the board when you try to catch a wave.
The fins are used for something called tracking which keeps the board straight when you are paddling and helps you to holding on to the wave once you catch it,
Video: Some tips to get you started paddle boarding.
How to Start Paddle Boarding For Beginners
Best Paddle Board Brands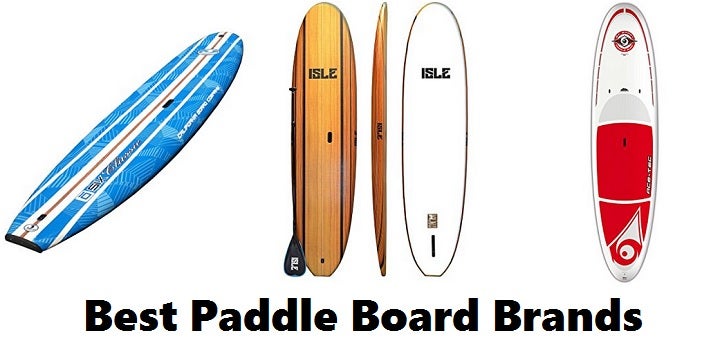 Having paddle boarded for many years and trying out a variety of SUPs I can offer my opinion to the best sup brands. Of course it's subjective and it also depends on type of paddle boarding you do but I think you will not go wrong with these brands:
ISLE Paddle Boards
BIC Sport Paddle Boards
California Board Company
FAQs About Stand Up Paddle Boards
Q: Is Stand Up Paddle Boarding good exercise?
A: YES! It is a low impact exercise that just about anyone can do. It works out your arms, shoulders and core.
Q: How do you stand up on a paddleboard?
A; Start by kneeling on the board and paddling. As you get comfortable, move up one knee so your on one foot and knee. Then push up with the foot on the board and stand up.
Important: You are not surfing! Both feet should be pointed forward.
Q: What are the different types of paddle boards?
A: There are quite a few types of paddle boards. There are solid core SUPs, inflatable SUPs, racing/touring SUPs, Yoga SUPs, Surfing SUPs.
Q: How do you keep your balance on a paddleboard?
A: Keep your feet parallel, toes pointed forward. You should be in the center of the board, with your knees slightly bent. Then paddle using your core and shoulders and NOT just your arms.
Q: How much is a paddle board?
A: Paddle boards range widely in price. Cheap, beginner SUPs can cost as little of $300 and go up into the thousands.
Q: How heavy is a paddle board?
A: Paddle boards range from as little as 15 pounds all the way up tp 50 pounds for the larger touring SUPs.
Q: What is a stand up paddle board made of?
A: Solid core paddle boards are made of a Expanded Polystyrene (EPS) core with a shell of epoxy/fiberglass for stiffness and waterproofing.
Q: How long is the typical stand up paddle board?
A: It depends on what the paddle board is being used for. The typical, all around paddle board ranges between 9 and 12 feet.

How to Buy A Stand Up Paddle Board
Let's now wrap it up with some specific steps to get you on your new paddle board:
Consider your Skill Level – If you are you a complete beginner, go with a wider, longer board that is easier to balance on. 32″ inches wide is probably with minimum width you should look for and at least 10′ long.
What Will You Use it For? – Are you planning on paddling in calm lakes and rivers or rougher ocean conditions. Perhaps you will surf with it, either way there are paddle boards for each type of conditions you plan on paddling in.
What Type Do You Want? – We have covered this but it's worth mentioning again. There are two main types of paddle boards, iSUPs and Rigid SUPs. Each have their advantages and disadvantages. Review the differences here.
Can You Store and Transport it? – This goes hand in hand with the above question. Do you have room to keep a paddle board where you live? You will probably want a rack to store it on so it doesn't get damaged. Do you have a vehicle to transport the SUP? You will most likely need a roof rack to transport it.
What is your Budget? – Lastly, how much can you afford to spend? Rigid SUPs tend to be more expensive than iSUPs. You can get prices for iSUPs under $300. Rigid SUPs usually start in the $500 range.
Final Thoughts
There are plenty of other things that you should consider and be aware of, like the direction of the wind, the correct way to paddle, how to stand up, and being aware of your surroundings at all times.
Much of this is just common sense but it is important to be reminded of these things. This is just a quick guide with some key points to consider.
Remember that paddle boarding is supposed to be fun but if you aren't careful, what is supposed to be an exciting sport to do with family and friends can take a tragic turn. Be safe, be smart, and have fun on your exciting journey to becoming a paddle boarder!
---
I hope this guide was helpful for finding the best stand up paddle board to fit your needs. If you want to comment or recommend a SUP I didn't include, please use my contact form to get in touch.
No matter what paddle board you go with, have fun out there and be safe!
How We Researched
To come up with the top stand up paddle boards we researched a variety of sources for reviews such as REI, Dicks Sporting Goods, West Marine and Backcountry along with our own personal experience.
We also consulted online magazines for product research and reviews to get as much unbiased information as we could. To help weed out fake reviews we used Fakespot.com to make sure we only looked at genuine reviews.
With so much quality gear available, we had to narrow it down based on what we felt were the best options were for the price. The author, Richard Remick has been an avid paddle boarder for over 10 years.
To help narrow down the selection he used his personal experience along with recommendations from paddle board instructors, and rental shops.
After extensive research, we came up with our list to help you choose the right one for you.
Sources
Notice:
OutsidePursuits.com is a participant in the Amazon Services LLC Associates Program, an affiliate advertising program. OutsidePursuits.com earns fees from products sold through qualifying purchases by linking to Amazon.com. Amazon offers a commission on products sold through their affiliate links.