What are the best mountain bike helmets worthy of protecting your head? If your riding trails its only a matter of time before you crash and hit your head.
So make sure what you have on your head is going to protect it.
But what should you look for in a helmet? And what factors are most critical?
We took 8 of the most popular models and tested them for durability, protection, comfort, adjust-ability and ventilation.
First lets take a look at the mountain bike helmets, then well talk about how to choose the best one for you.

Here is a feature overview of the mtb helmets with full reviews and our buying guide below.
The Best Mountain Bike Helmets
| | Troy Lee Designs A-1 Helmet | POC Tectal Race Bike Helmet | Smith Optics Forefront Mountain Bike Helmet |
| --- | --- | --- | --- |
| | | | |
| | | | |
| Weight: | 17 Ounces | 12 Ounces | 11 Ounces |
| Construction: | Polycarbonate Impact Shell with EPS liner | Fusion In-Mold Polycarbonate Shell with with EPS liner | In-mold Koroyd tube co-polymer construction |
| Ventilation: | 16 distinct vents with internal channeling. | 15 large channeled vents bring cool air in through the front. | 12 vents with internal channeling for superior ventilation. |
| | | | |
Mountain Bike Helmet Reviews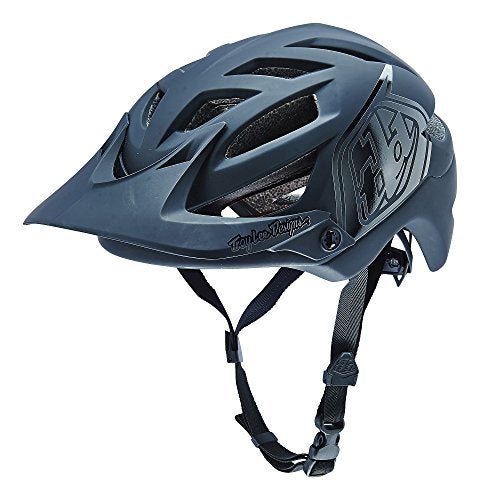 The Troy Lee Designs A-1 Helmet is a straight forward option that is designed for optimal protection of your head. The helmet has 16 air vents that move air into, over, and out of the helmet and the CoolMax pads will keep you dry– perfect for riding in hot and humid conditions.
The helmet has wide range of adustability, I was easily able to get a great fit by adjusting the simple cam-lock stabilizer.
The shell of the helmet is constructed with an advanced smoot, polycarbonate, shell material.
This simple and effective design is for the mountain biker and cross country rider whose is looking for safety and functionality, instead of extra unwanted features.
Probably the first thing I noticed about the helmet was the design provides full protection of your head, because if it doesn't do that, what good is it as a helmet?
The A-1 Helmet helmet also provides excellent protection for the back of your head, so if wipe out doing a back flip or just manage to hit the back of your head, you will have full protection.
The padding is minimal compared to other helmets in its class, but the strategic placement and easy adjustability of the pads makes this a non-issue.
As is the case with most helmets we tested, they tend to run tight, so when you measure your head and if your on the borderline of a size, go up to the next size.
The Troy Lee is the best mountain bike helmet for a big head because its the only one with size of extra large.
The helmet felt a little odd compared to other helmets we tested because of the thinner padding but you will come to appreciate the stream lined feel.
Its price point places it square in middle of the pack compared to other helmets tested. In my opinion it is the best mountain bike helmet for the money.
It is light weight, well ventilated– maintaining the highest quality and protection. The Troy Lee Designs is my top overall pick for a trail riding/mtb helmet.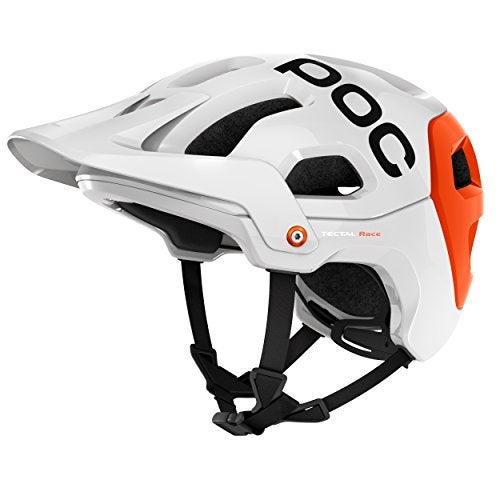 If you're ready to head out on the trails but you need a new helmet, I would seriously look at the POC Tectal helmet. Once you pick it up you will see the quality construction that went into it.
The solid unibody construction of the Tectal gives you serious protection in the event of a head impact. And you know it's a question of when, not if!
The Tectal has a unique "Aramid" grid that you're paying a little extra for. The Armid grid is able to absorb and dissipate the forces of an impact reducing forces on your skull to prevent injury. The helmet has large openings for ventilation that was designed in a wind tunnel to optimize the size and placement.
It features an adjustable visor for sun protection and a goggle on the back if you choose wear them. The 4 point harness system keeps the helmet firmly on your head and is fully adjustable to get the perfect fit.
The helmet comes down on the back of your head further than most helmets giving you superior protection where you most need it and most likely to hit your head. The liner is comfortable and has wicking properties to keep your head cool and dry.
The POC Tectal provides superior protection and is one of the best MTB helmets you can get.  And since it's your head your protecting, isn't it worth it?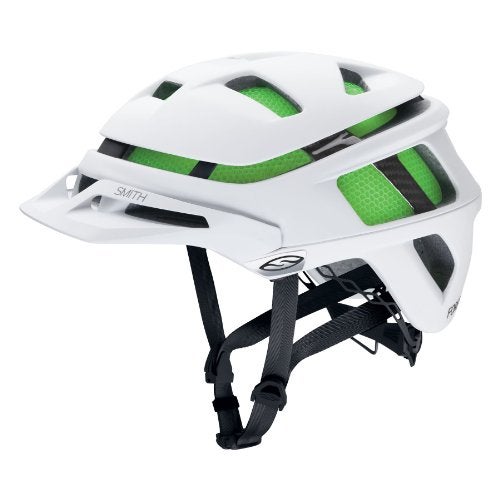 When I think of Smith Optics the first thing that comes to mind is their ski googles BUT their helmets are definitely worth a look. The Forefront MTB helmet was designed from the ground up to protect your head!
It has an In-Mold construction of "Koroyd tubes" that are made from a co-polymer that not only looks bad-ass, like something out of Start Wars but it protects your head better than a typical EPS foam helmet.
And it's not just looks and protection, it also gives you lighter weight AND its cooler because the hollow construction of the co-polymer tubes allows significantly better airflow through the helmet. This keeps you cooler when the temperature starts rising.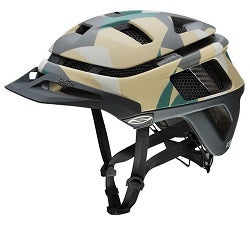 The fitting system will give you unmatched fit and comfort and the 4-point harness keeps it securely on your head if you crash.
What I really like other than the protection and looks is it has a pre-installed mounting bracket for a bike headlight (click here for my reviews of bike lights) or a GoPro to record your ride.
The co-polymer construction gives the helmet the lightest weight of any tested, 11 ozs! You barely notice it on your head. It has large vents to allow good airflow and a goggle retention strap but also works fine if you just wear sunglasses.
This particular helmet does NOT feature MIPS (Multi Directional Impact Protection System) construction, if you want the extra protection, click here for Smith's MIPS Forefront helmet.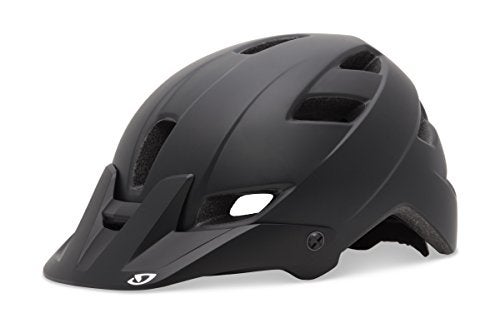 The Giro Feature Mountain Bike Helmet is the perfect blend of protection and performance. This model is deal for trail riding in rough terrain.
You will love Giro's updated shape that provides more coverage than most other mountain bike helmets.
The helmet has twelve vents that provide upward air flow, pushing heat up and out of the helmet— preventing heat exhaustion on a hot summer day.
The In-Form fit system provides maximum stability adjustment, while the adjustable moto-style visor offers additional protection for the eyes.
Giro is well known for making excellent helmets and this model is no exception. The adjustable visor is a nice feature of the helmet keeping the sun out of your eyes.
The wrap around design hugs your head comfortably and not only looks good but provides full protection for your head.
Like any helmet, make sure you take careful measurements of your head before ordering to get the correct size.
This is a solid helmet with its best features being the 12 effective cooling vents, the light weight design, and the comfortable, secure fit.
In my opinion the Giro Feature helmet is the best MTB helmet under $100 and is one of my top picks for a mountain bike helmet.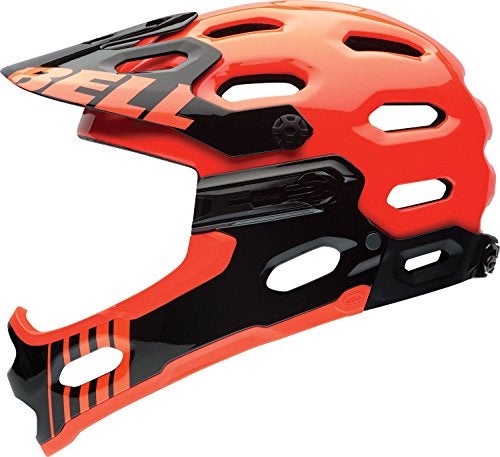 The Bell Super 2R Helmet 2015 is a full face, feature packed helmet to keep your head protected on the trails and give you confidence go all out knowing your melon will not get hurt.
This top of the line helmet includes:
Wraparound Protection with a removable chin bar
23 channeled openings,
4 Velocity Flow over brow ports,
6 chin-bar vents,
Integrated Breakaway Camera Mount,
GoggleGuide Adjustable Visor System
Twin Access Gear Retention system
The helmet is comprised of a Fusion In-Mold Polycarbonate Shell with internal reinforcement– this helmet packs in all the safety features you will ever need, while going above and beyond minimum safety standards.
The Bell Super 2R MTB helmet is a versatile helmet for both recreational rides and extreme trail riding. Its unlike the other helmets tested,  it features a modular construction so you can take the chin guard off when not needed, making it two helmets in one. You really get the best of both worlds, a great open face helmet AND the best full face mountain bike helmet.
The helmet provides full coverage, is well ventilated, has an open visual field, and accommodates any size protective goggles.
The wheel adjustment system gives you a custom fit and the option to add in a 'Go Pro' camera is a nice added bonus for catching your best rides (or crashes) on video.
Whether you are a pro or just want to 'look like a pro'—this helmet will do the trick. The Bell Super 2R Helmet is well worth the money and is packed with added features that make it one of the best full face MTB helmets on the market.
One thing to keep in mind is it tends to run a little small to size so if you are borderline in a size, go up to the next size. If you are into more extreme riding then the Bell Super 2R Helmet is your best bet.
How to Choose a Mountain Bike Helmet
Mountain bike helmets are specialized helmets that are designed to protect a bicyclist while riding through rough terrain. They are well ventilated even at low speeds, and are often built with visors to protect riders from mud, rain, and sun.
They are typically made with rear-head coverage, and some options provide full face protection with a wraparound chin bar. These helmets are ideal for downhill mountain biking and park riding. Here are some things to think about when selecting a mountain bike helmet.
What to look for in a Mountain Bike Helmet
There are two styles of mountain bike helmets to consider; the first is the open face design. An open face model resembles a traditional road bike helmet and is typically lightweight, aerodynamic, well-ventilated and provides coverage to the side and back of the head.
Similar to road bike helmets, mountain bike helmets are made with an inner EPS liner, molded or glued to a hard outer plastic shell. Open face helmets are great for versatile riding styles because they can be used for road biking as well.
Full face options are ideal for downhill mountain bike riding or other high speed riding where the risk of injury is increased. Full face styles provide full protection around the head, while shielding the chin, jaw, and cheeks, as well.
These models are heavier than open face designs, though they are made of light, high-tech materials such as carbon fiber. Due to their intricate design, full face helmets are typically more expensive, however, they provide the option of customizing your helmet to include additional safety features, such as neck braces.
Safety First
All mountain bike helmets must meet the American Society for Testing and Materials, Snell, and/or U.S. Consumer Product Safety Commission safety requirements, regardless of the designs, features, or price range.
This allows you to focus on which type of helmet to purchase based on your individual riding needs, as oppose to attempting to discern whether or not the helmet is a generally safe choice. For example, a full face helmet provides more overall protection, but it is not the best option for an individual who wants to ride cross country, or on a single track, due to the limited visibility.
Likewise, an open face option is not ideal for someone participating in extreme sports because the lack of coverage and increased risk of injury require a more comprehensive design.
Finding the Right Fit
The most important factor when choosing your mountain bike helmet should be selecting a model that has a secure fit. The helmet should be snug, but not too tight, and should sit about an inch above your eyebrows. There should also be enough wiggle room on the side to wear goggles or sunglasses as well.
If possible, try on your favorite pair of sunglasses with the helmet you are considering, to make sure they are a good fit. No area of the helmet should be painfully tight, and any area that does not make secure contact with the skull should be supplemented with additional pads or liners.
Most sizes are general and include small, medium, and large options. To determine which size is best for you, measure around the head just above the eyebrows. Record the measurement in inches or centimeters and look for the size range in which your measurement falls.
Bottom Line
Overall, when looking for the best mountain biking helmet it is essential to assess what type of riding you will be doing– recreational or extreme adventure. This will influence what type of added features to look for in a helmet.
Always remember that safety comes first—and finding the right fit and style for your needs can save your life. While some models are equipped with additional features and intricate designs, all helmets are certified to provide full protection in the event of an accident. Taking the time to find the right fit and style for your needs is the best decision you can make.
Need a bike rack to take your bike to the trails? Here is my guide to the best bike racks, covering roof racks, trunk mount racks and hitch mounted, ride at night? If so see my bike headlight reviews.  Need a quality road bike helmet, see my guide to the best road bike helmets. No matter your riding, you should have a good hydration pack, here are my recommended ones.
Notice: Outside Pursuits is a participant in the Amazon Services LLC Associates Program, an affiliate advertising program to provide a means for sites to earn advertising fees sold through by advertising and linking to Amazon.com. Amazon offers a small commission on products sold through their affiliate links. Each of your purchases via our Amazon affiliate links supports our efforts to bring you the best possible product reviews at no additional cost to you. We appreciate your support here at OutsidePursuits.com
Review Overview
Summary : The Troy Lee Designs A-1 Helmet is my top over pick for a off road bike riding helmet based on all criteria of comfort, ventilation, durability and price.