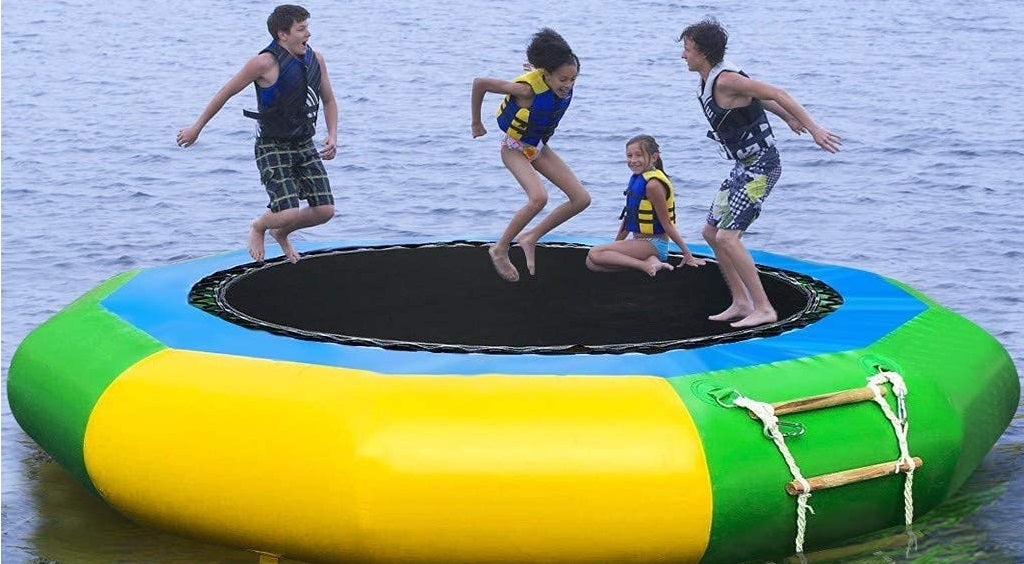 Our Editors independently research, test, and rate what we feel are the best products. We use affiliate links and may receive a small commission on purchases.
Playing on trampolines is fun. Playing in the water is fun. If you could combine the two somehow, that would mean endless fun all summer long!
Well now you can, thanks to the invention of water trampolines! We've taken on the task of researching all the available models so we could bring you the top water trampolines out there, so let's get started!
Best Water Trampoline
For more of my water gear recommendations, have a look through these popular Outside Pursuits guide links: River Tubes, Floating Water Mats, Inflatable Water Slides.

Quick Answer: The 5 Best Rated Water Trampoline For 2021
Our reviews of the top rated water trampoline with our comparison table and buyers guide will help you choose the right trampoline for you.
---
Water Trampoline Reviews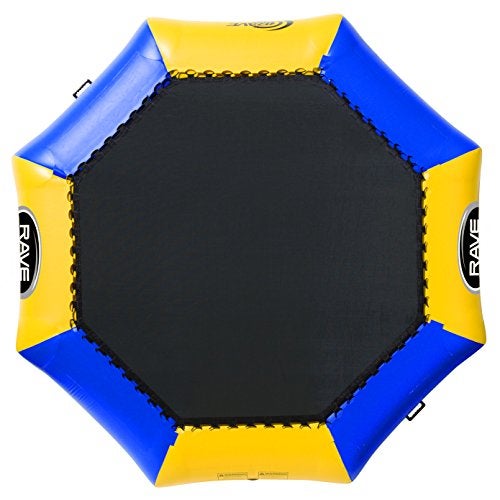 RAVE Sports Bongo Water Bouncer at a Glance
:
---
Size: 10 feet (4 sizes available)
Weight Capacity: 500 pounds
Weight: 37 pounds
Other: Easy set up,

3-step ladder
Everyone needs a good rave in their life after spending so much time inside their homes, and you can get that with the Rave Bongo Water Bouncer.
The 13-foot trampoline is perfect for 2 adults, 4 children, or otherwise up to 500 pounds. Weighing just 37 pounds, it isn't all that heavy yet sturdy enough (especially with recommended anchor weights) to support hours of fun.
Having originally made their Water Trampoline over 20 years ago, RAVE Sports was a leader in this area and has had more than enough experience to perfect their product.
Made of heavy-duty, commercial-grade material, it's designed for regular use with rough-and-tumble kids! It even comes with a UV treatment, keeping the material's structural integrity intact and preventing fading to keep it looking as good as new.
The black nylon webbing jump surface is even more durable, and can be easily replaced should you ever need to. Attaching directly to the main tube with an interlaced nylon rope, it places itself in a whole other league. Most water trampolines come with metal springs, which can understandably cause a bit of concern.
This is undoubtedly a safer way to go, and allows for even easier setup. The only slight downside, is that it allows for a bit less bounce/jump but it's not going to inhibit fun in any way.
If you'd like, you can even expand on the trampoline with over 10 add-on attachments from the manufacture!

---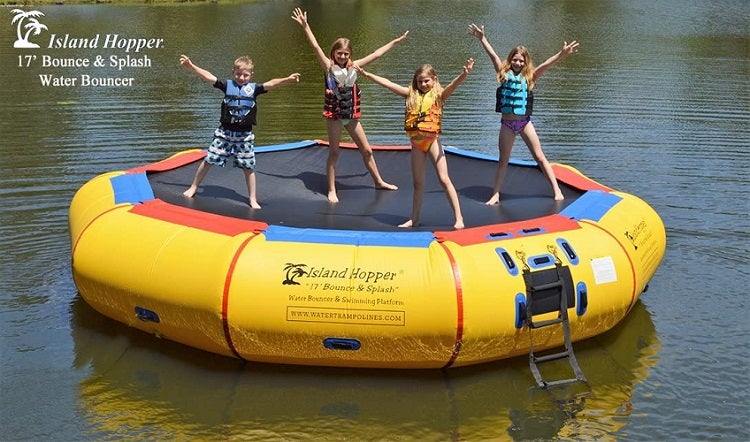 Island Hopper Bounce N Splash Water Bouncer at a Glance
:
---
Size: 17 feet
Weight Capacity: 1000 pounds
Weight: 95 pounds
Other: 6 step ladder, 5 year warranty
If you're searching for the best water trampoline for bigger groups of people, you need to seriously consider the Island Hopper 17' Bounce N Splash Padded Water Bouncer. If you're willing to pay a bit more for a significantly more amount of space and weight capacity, then this top-notch.
The 17-foot water bouncer is absolutely one of the longest-lasting models as well, and will be a fun supplier for many summers to come!
Comprised of heavy-duty, reinforced 1,000-denier PVC, you simply aren't going to find something tougher than this one. Even bumping into rocks and twigs isn't an issue, as it's designed to hold up against consistent use. With a protective ½-inch foam perimeter padding, it's also one of the safest bouncers out there.
Just like with our previous model, it comes with interlaced nylon webbing with tube flex. This means that you'll still get a trampoline-like bounce while keeping the users safe from metal springs. Designed to support up to 5 kids or 1,000 pounds, it features 6 anchor-tie D-rings for added security.
While kids are capable of throwing themselves through the air without issue, us adults do get exhausted quicker. That's why we really appreciated the 6-step access ladder rather than trying to lift ourselves out of the water and onto the jump surface.
To ensure nothing gets in your way of your day on the water, the package also includes a carry/storage bag, repair kit, and instruction manual. The only possible downside to this one is that while it is bigger and supports more weight, the bouncer itself is also heavier.

---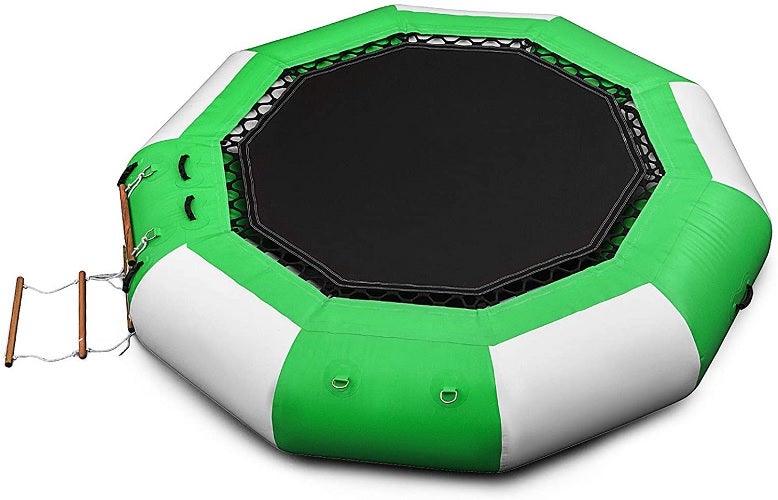 Happybuy Inflatable Water Trampoline at a Glance
:
---
Size: 10 feet
Weight Capacity: 880 pounds
Weight: 59 pounds
Other:

4-step ladder
The best water bouncer should be able to support everyone partaking, be durable, and reliable. You'll find all that in more in the Happybuy Inflatable Water Trampoline. The 10-foot bouncer comes in a modern, marine-esque blue-and-white colorway that's festive and easy to spot on the water!
Weighing 59 pounds, it's capable of supporting up to 880 pounds which is quite an impressive ratio! This is probably due to the excellent attention to detail and high-quality materials, such as the SGS certified 0.9mm PVC tarpaulin.
The PVC makes up the smooth, waterproof surface and is resistant to fire, extreme temperatures, UV rays, and overall keeps strong over the years. Holding up to all kinds of important certifications, you can rest easy knowing this one will be a safe option.
While this one is quite a bit lower to the water (23.6" height) than our previous product, it still comes with a convenient 4-step ladder.
You'll also find high-quality bungee cord and cloth which keep the jump surface tight and resilient. However, the material is also smooth enough to lounge around on if you get tired from jumping around!
Due to how easy it is to move around and set up, it's great for big families. The handles mean that you can simply grab and pull it around, instead of awkwardly trying to grasp at it.

---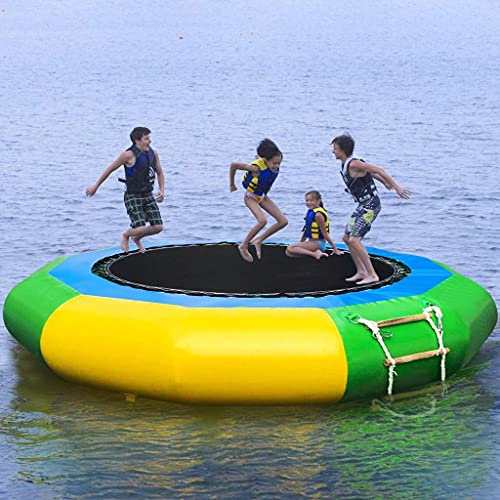 Wotryit Inflatable Water Trampoline at a Glance
:
---
Size: 10 feet
Weight Capacity: 500 pounds
Weight: 24 pounds
Other: Very lightweight and portable
Next, we bring you the best inflatable water trampoline from Wotryit. Their 10 Ft Inflatable Water Trampoline functions as a bouncy swim platform that is capable of supporting up to 500 pounds. If you're looking for something for younger kids to keep busy with this summer, without spending a ton of money, this is it.
However, just because it's affordable doesn't mean it's cheap. With a high-strength molecular composite PVC mesh cloth, it's passed various anti-aging tests and holds up to the international EN-71 fire retardant standard.
It's overall very resistant to abrasion, tears, peeling, cracking, and fading so it will retain its strength and good looks well.
For easy on/off, there's a 4-step ladder which is made out of rope and wood yet won't splinter or irritate the hands or feet.
We appreciated the single inflation valve, which made it super simple to inflate. In fact, it was probably the easiest of all the products we had the pleasure of trying. Included, they provide a high-speed inflator and deflator so that when you're ready to go, you can just go instead of waiting around for it to deflate.
Safety is our highest priority, and with a spiral self-locking safety high-pressure nozzle, it won't overinflate or pop. While it doesn't have much to do with performance, we also took great value in the fact that everything holds up to EU RoHS environmentally-friendly, non-toxic standards.

---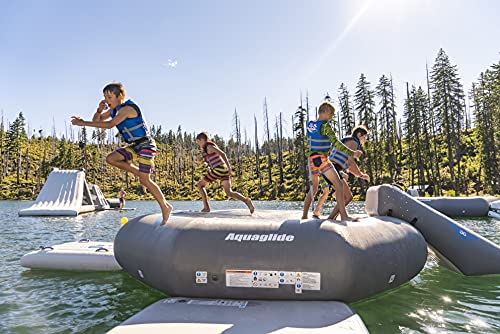 AQUAGLIDE Ricochet Aquapark Inflatable Trampoline at a Glance
:
---
Size: 12 feet
Weight Limit: 600 pounds
Weight: 100 pounds
Other: Lounge deck
We simply couldn't leave the AQUAGLIDE Ricochet Water Trampoline off of our list, as it's the best floating trampoline for easy transportation. Weighing 100 pounds yet capable of supporting up to 600 pounds. This makes it a feasible option for 3 kids, with a jump mat size of about 8 feet!
Taking just 3 minutes to completely inflate with a high speed pump (not included), the nylon web jump surface connects directly to the inflatable portion.
To keep your water jumper around for a long time, it's made with commercial-grade, reinforced PVC. The heat-welded seams are designed for long-term use and the interlaced nylon webbing bouncing surface is very safe to jump on.
It's made of 1000-denier PVC with a heavy-duty bladder that will keep it "bouncy" for as long as you have it. Just remember that water does absorb a bit of that.
Including an anchor connector kit, you can safely keep your bouncer stationed where you want it. It features 3 tied D-rings to keep anchors connected, along with a deck for lounging.

---
Best Water Trampoline Comparison Table
How to Choose the Best Water Trampoline – Buying Guide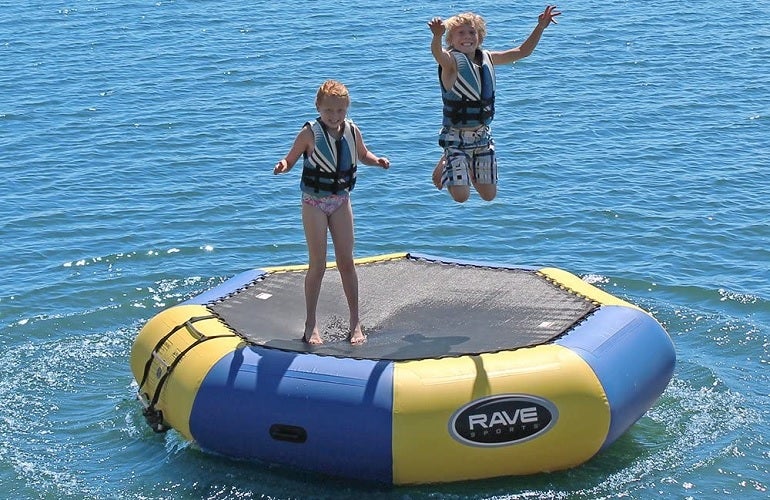 Most people haven't yet used or owned a water trampoline, which can make it difficult to choose the right one. You may not even know what to look for, which is why we've decided to go ahead and create a comprehensive buying guide, below.
This guide will take you through each consideration to make to ensure that by the time you're finished reading, there will be no doubt which model is right for you and your family!
Size
First off, you want to determine how many people will be using the trampoline, as well as their size/age. For example, you're going to want a much smaller water trampoline for a few kids under the age of 10 as opposed to a few fully-grown adults.
If you are looking for something for younger kids, then a 10-foot water bouncer is probably just the right size. If you're looking for something for 4 or more kids or at least a couple of adults, then you'll want anything from 17 – 20 feet in size. This will feature a larger bouncing surface so everyone has enough space and stays safe.
Weight Limit
This kind of goes along with our last point, but is something you should separately take a look at. For example, 4 kids could weigh the same as 2 adults so think about who realistically is going to be using it and more or less how much they weigh.
It's a smart idea to at least give yourself a 50-pound buffer or more just to make sure that you aren't putting too much pressure on the bouncer.
Take a look at the weight limit of each model, as they can vary quite a bit, even if they're the same size. It all comes down to how they're made and the materials they use.
Durability
Tying into the last point, durability is a huge factor in which trampoline you choose. Are you looking for a model that you'll realistically use maybe a few times for one summer? Chances are that you want a bouncer that will last you for many years of consistent use!
After all, the price isn't going to vary too much anyway – you may as well get yourself something that you can get good use out of.
All water bouncers start with an inflatable circular tube that makes up the perimeter. Differences in models will vary with how the frame attaches to the tube, but the tube itself must be tough and resistant against ripping, fading, popping, etc. 1000-denier PVC is the cream of the crop here, and you'll find that in many of the models we've featured on our guide.
It not only is incredibly heavy-duty, but will stay looking new summer after summer. The stitching and craftsmanship are equally as important, as any weakness in stitching or valve can create a hole or other potential issue.
However, it's always a good idea to bring along a kit that can solve any small tears or holes, should one happen to develop. Most of the top manufacturers will already include this, so you don't have to purchase one separately.
Springs
We all know the old metal springs that regular "land trampolines" come with. Unfortunately, these springs have resulted in many serious injuries over the years. When we add water into the mix, things can get even more risky. That's why we highly prefer those that come with nylon/tube springs instead.
These are nothing like metal springs, and greatly reduce risk of pinching and other injuries. However, there are select models we've added to our guide that do come with more traditional-style springs.
Due to the attention to safety and high standards when it comes to craftsmanship, they've earned their spot as equally-as-safe alternatives.
Anchor System
Any high-quality water trampoline should come with the option to use an anchor system. No worries, you don't have to use one of those old metal anchors to keep it in place, but rather a weighted bag.
Using a water bouncer without an anchor can be pretty dangerous, and can end up with it moving to a more shallow location. You'll find that most require at least 8 feet of water depth for safe/proper operation.
Sturdy D rings will help with this, and are metal attachment clips which work for anchors but can also be used as accessory attachment points.
Ease of Use
There are a couple of other features which can make the water trampoline easier to use: ladders and handles. There are plenty that come with ladders with 3-5 steps (typically) that will make it a breeze to climb from the water onto the top of the jump surface.
Handles further help to mount the jumper, but also help with transportation and moving it around to where you want it to be.
Weight
We've already covered the weight capacity, but we also need to look at the weight of the jumper, itself. The weight will typically vary anywhere from around 25 pounds to around 100 pounds.
It's often directly correlated to the weight capacity of a bouncer, so the more weight it can support, the more it's often going to weigh.
However, how much are you or your partner able to comfortably carry? Think about this as well when choosing the best water trampoline.
Price
Now that you've read through every other consideration to take, how much are you willing to spend on the best inflatable water trampoline? This is a very important aspect as well, and we recommend you set a budget before you start shopping as it can be all too easy to spend more than desired.
However, if you are willing to spend a bit more, you'll often see that they last longer, come with more "bounce", and even include longer warranties.
FAQs About Water Trampolines
Q: What is a floating trampoline?
A: These are nicely-sized, floating platforms that come with a bouncy surface to jump around and off of. They are made to be easy to assemble and offer all kinds of fun. They are meant to be used in lakes, deeper ponds, and even some calm enough rivers. Most water trampolines accommodate 3-6 adults or children.
Q: Can you use a water trampoline on land?
A: Yes, if you use it on a soft, even, grassy surface. You should never use it on a gravel surface, on abrasive materials, cement, etc. Remember, that these are inflatable and thus a bit delicate in that regard.
Q: What is the difference between a water trampoline and a water bouncer?
A: The most obvious distinction between the two is that a water trampoline is made with springs, however, sometimes this term is used interchangeably. Water bouncers are typically always going to be a term referring to a bouncer where the jump pad connects to the outer tube. However, these can also be referred to as water trampolines, so make sure you know which one you're buying.
Q: Are water trampolines safe?
A: They totally are! Otherwise we wouldn't be recommending them to you, much less using them ourselves! However, there are some standard precautions you need to take. First off, it's not recommended for children under the age of 6 to use them. Adult supervision should be standard while kids are using them. All participants should be in the center of the jumping surface and never stray too far to the edges while jumping.
Tips For Choosing Water Trampolines
#1: Even though flips can be fun to do, never let anyone (or yourself) do them on a water trampoline.
First, they are simply not built for handling the kind of impact that in-ground ones are. They're nowhere near as big and don't have the capacity to deal with as much weight/pressure as land trampolines can. Not only that, but this is going to be a wet surface as it's literally in the middle of the water. Even if you consider yourself to be a good gymnast or talented at flips, you can easily slip and seriously become injured.
#2: Consider how you'll be transporting your water bouncer.
Once again, look at how heavy the trampoline is and see if you or someone else in your group will be able and willing to carry it to and from the water. Not only that, but consider how you'll carry it. Many come with carry bags, which are the best idea as they're made specifically for that model.
#3: Even though there are plenty of dogs that love going stand up paddleboarding, they should never be on a water trampoline.
They can also slip and can be put at risk of injury or worse.
Summary
Now that you're practically an expert when it comes to good water trampolines, have you figured out which is right for you and your family? If not, then the good news is that no matter which one from our guide you select, you'll be getting one of the best out there.
However, what's most important is that you select just the perfect one for you. We hope that our guide has helped you to do just that. Thanks for tuning in, and we'll see you again shortly! Have fun jumping around!
How We Researched
To come up with the top inflatable water trampolines, we researched a variety of sources for reviews such as Home Depot, Lowes, Target and Wayfair along with our own personal experience.
We also consulted online magazines for product research and reviews to get as much unbiased information as we could. To help weed out fake reviews we used Fakespot.com to make sure we only looked at genuine reviews.
With so much quality gear available, we had to narrow it down based on what we felt were the best options were for the price. The staff authors have a wide and varied background in yard design and home repairs.
The authors have decades of experience and are eager to share their knowledge with readers. To help narrow down the selection we used personal experiences along with recommendations from bloggers.
After extensive research, we came up with our list to help you choose the right one for you.
Sources
Notice:
OutsidePursuits.com is a participant in the Amazon Services LLC Associates Program, an affiliate advertising program. OutsidePursuits.com earns fees from products sold through qualifying purchases by linking to Amazon.com. Amazon offers a commission on products sold through their affiliate links.