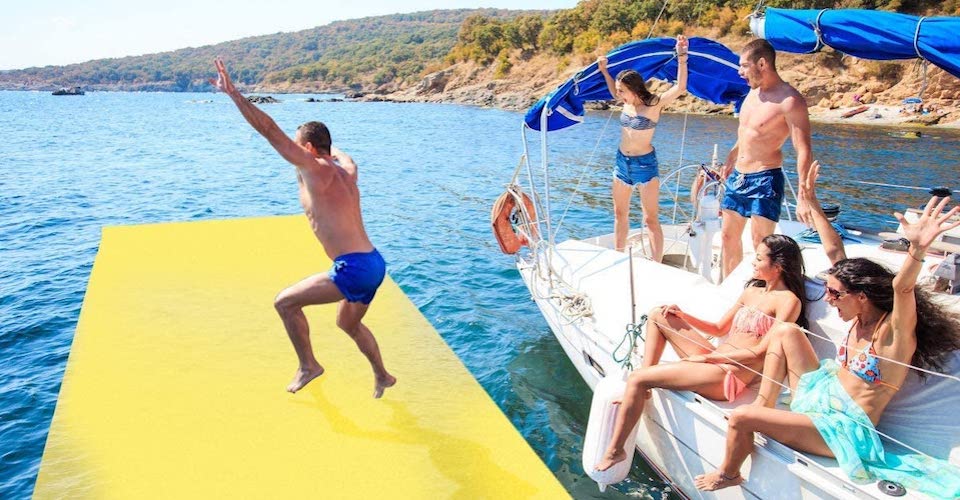 Our Editors independently research, test, and rate what we feel are the best products. We use affiliate links and may receive a small commission on purchases.
As summer sets in, the hotter months and longer days have most of us longing for a refreshing dip in the water, and you should consider ditching the old floatie or inner-tube for one of this summer's most popular water toys – the floating water mat. Also known as swim pads or lily pads, these function like floating foam walkways resting on the water. Extremely versatile, they are ideal for reading, relaxing or group play. You'd be amazed at how many people you can fit on one of these fun pads, too.
Best Floating Water Mats For The Lake
| | Rubber Dockie Floating Water Mat | AQUA Floating Mat | Aqua Lily Pad |
| --- | --- | --- | --- |
| | | | |
| | | | |
| Weight Capacity: | 1400 Pounds | 1,000 Pounds | 1300 Pounds |
| Dimensions: | 18 x 6 Feet, 9 x 6 Feet | 11 x 5.6 Feet | 18 x 6 Feet |
| Materials: | Closed Cell Foam | Cozi-Soft Fabric, Mesh | Cross Linked Foam |
| Extras: | 12 foot bungee tether | Anchor dock points, mooring loops | Connectors, FlexCore tech |
| | | | |
Quick Answer: The Best Rated Water Mats
---
Floating Water Mat Reviews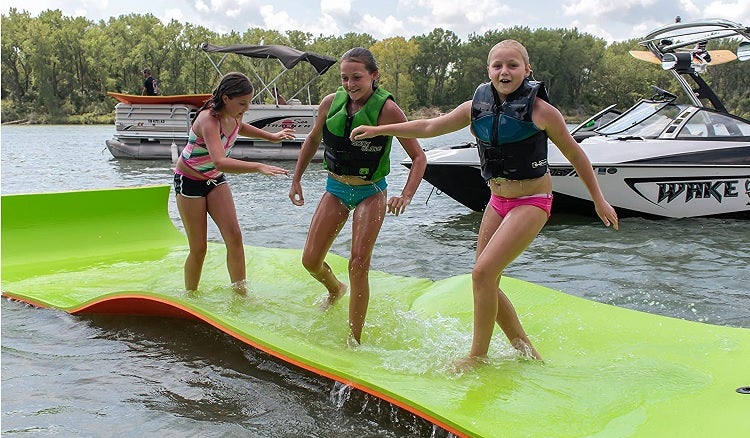 Rubber Dockie Floating Water Mat at a Glance
:
---
Weight Capacity: 1400 Pounds
Dimensions: 18′ x 6′, 9′ x 6′

Materials: Closed cell foam
Extras: 12 foot bungee tether
Probably with the best name on our list is the Rubber Dockie. Now that's not a good reason to buy it of course! It is the most durable floating water mat being made from a tough closed cell foam that is fade and slip resistant. We love the super bright color combination of florescent orange and green for extra visibility that helps boaters see the mat. Coming in two sizes of 18'x6′ or 9'x6′ depending on how many people you want to have using the mat. The large size can support roughly 14 kids and adults along with a dog or two.
Don't worry about tearing the Rubber Dockie, the tear resistant outer cover will resistant dog claws and pretty much anything you throw at it. It's also very slip resistant so you can run across it and do some acrobatic dives into the water. To top it off it comes with 12 foot bungee tether to keep it anchored to a dock or boat so it doesn't drift off into the path of boats.

---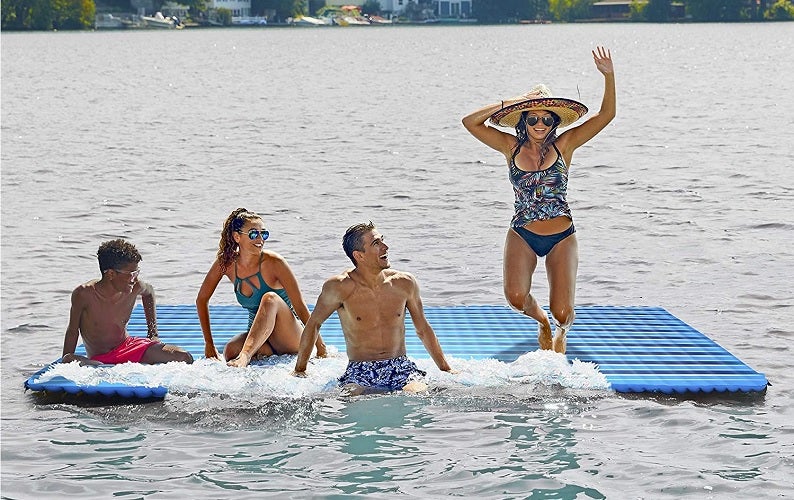 AQUA Floating Mat Island at a Glance
:
---
Weight Capacity: 1,000 Pounds
Dimensions: 11 x 5.6 Feet

Materials: Cozi-Soft Fabric, Mesh
Extras: Inflatable, dock points, mooring loops
Starting our list off strong, the first product we recommend is the AQUA Floating Mat Island. This huge water mat boasts an 11 ft length and whopping 1,000 pound weight capacity. Three sides of the mat are lined with heavy duty zippers, allowing users to link additional water pads together and extend the fun. The AQUA swim mat also comes with anchor dock points and mooring loops, so you can lock your personal foam island in place and relax without fear of drifting away.
This swim pad is designed with patented Cozi-Soft Fabric, which is stated to be 60% thicker than the average pool float material. The fabric increases buoyancy, durability and fade-resistance. In fact, the colors of the AQUA mat are said to actually grow in vibrancy upon contact with water. For inflation and deflation, it is recommended to use an electric AC/DC air pump (not included). This model's easy in-out air valves should make the job a breeze. Because of this product's sheer size and strength, it is the best water mat for parties and group activities. Spice up your summer with the AQUA Floating Mat Island.

---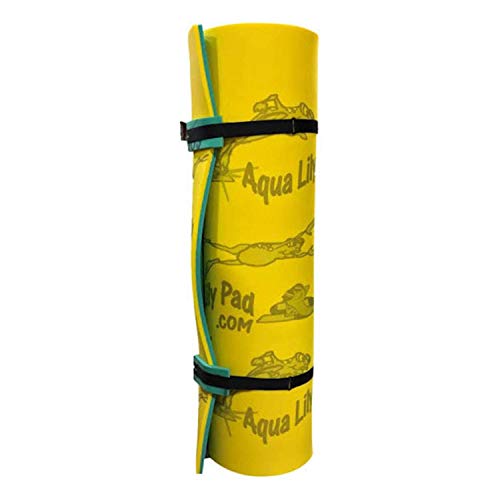 Aqua Lily Pad Water Mat at a Glance
:
---
Weight Capacity: 1300 Pounds
Dimensions: 18 x 6 Feet

Materials: Cross Linked Foam
Extras: Connectors, FlexCore tech
The Aqua Lily Pad was actually the first water mat to have ever been created! Crafted with superior technology and materials, there is truly no other swim mat like it. Unlike most floating mats, the Aqua Lily Pad is made of patent pending, marine grade 'Cross Linked Foam' material, which prevents water absorption and mold development. FlexCore technology adds reinforcement and rip stop resistance, while keeping the mat lying flat always. It is also topped off with a UV resistant film to improve surface longevity.
This mat also comes with a 6 ft tether system for boat docking and hook and loop straps for simple storage. Thanks to its durable foam material, the Aqua Lily Pad can hold up to 1300 pounds of distributed weight – an ideal option for pool family get-togethers or rowdy pool parties. This model is made with the detail to keep your family and friends floating on the lake season after season. Best water mat for those looking for a long-term investment.

---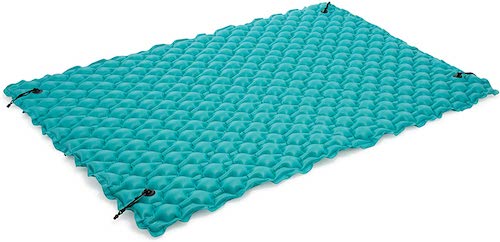 Texas Recreation Floating Pool Mattress at a Glance
:
---
Weight Capacity: 660 Pounds
Dimensions: 9.5 x 7 Feet

Materials: Vinyl
Extras: Connector system
We bring you the Intex Giant Inflatable Floating Mattress. This floating water mat creates the perfect space to relax with friends and family on any lake, pool or river. Featuring a new vinyl design for optimal comfort, the Intex has the perfect amount of buoyancy to float right on top of the waters surface, letting in just enough moisture to keep you cool.
Though this mat weighs a mere 19 pounds, don't let its small stature fool you – it can support up to 660 pounds of weight. Each of its corners also features Intex's patented connect N' float system, which allows you to connect other floats of the same brand to create a massive floating island. Simply inflate with a hand or electric pump for use, and deflate for compact storage.

---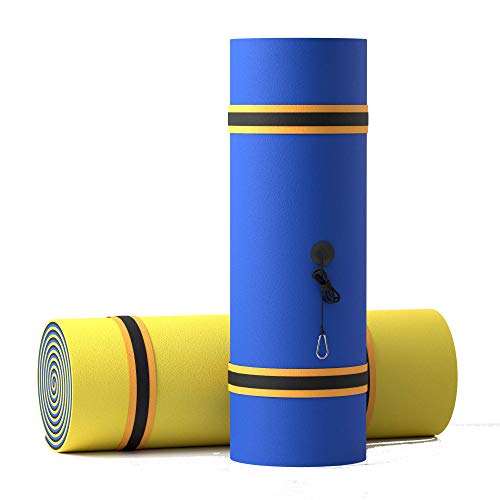 SOWKT Floating Water Pad at a Glance
:
---
Weight Capacity: 1320 Pounds
Dimensions: 18 x 6 Feet

Materials: XPE foam, mesh
Extras: 

Heavy-Duty Carabiner, Bungee Tether Leash, Fastener straps
The SOWKT Floating Island is another top contender for the best water mat. Like the Aqua Lilly and Rubber Dokie, this swim pad is constructed with 1.3″ thick XPE foam for durability. An added inner net sealed with heat ensures the pad's resilience. This is a great float for adults and children alike, offering 18 feet of length and a maximum weight capacity of 1,320 pounds. Rather than inflating or deflating, the SOWKT floating island rolls up for storage and transportation. Fortunately, hefting this 34 pound mat up isn't too hard either.
Included with the package are a heavy-duty carabiner, a bungee tether leash and extra long fastener straps – everything you need to get out on the water with your new toy. Available in 5 different colors to please everybody's unique tastes, the SOWKT floating water mat is a great option.

---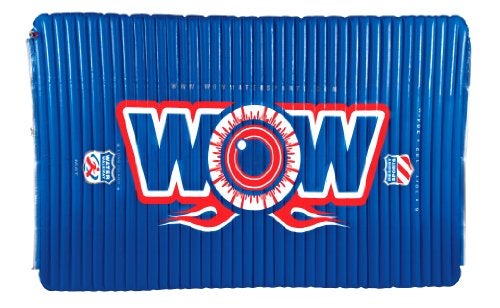 WOW Floating Water Walkway at a Glance
:
---
Weight Capacity: 900 Pounds
Dimensions: 6 x 10 Feet

Materials: 30-Gauge PVC, Foam
Extras: Inflatable, grommets, connecting zippers
Next up, we have the WOW Floating Water Walkway. With World of Watersports being one of the most reputable American brands for pool toys, it's no wonder this is a fan-favorite. The WOW water mat is built with heavy-duty 30 Gauge PVC and vertical I-beams. These additions ensure that it can fully support up to 6 adults (roughly 900 pounds).
Like the last product, the WOW has a zipper system for connecting additional mats and building floating islands. Grommets on each end also allow you to secure it to a boat. The WOW water walkway is very lightweight and can be easily inflated with a manual or electric pump. It deflates fast and dries even faster in the sun due to water-resistant foam. Though it seems to float precariously on the water's surface, it is also exceptionally stable – World of Watersports even recommends using it as a walkway between boats.
Offered in red, green, blue and yellow, this water mat is high quality, durable and portable. Its overall stability makes it the best for actively playing in the water.

---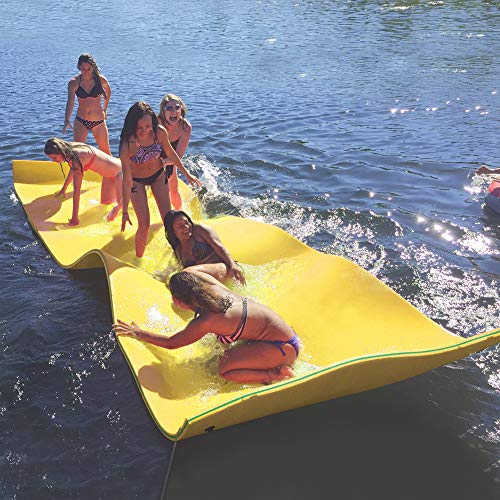 Outroad Water Floating Mat at a Glance
:
---
Weight Capacity: 800 Pounds
Dimensions: 12 X 6 Feet

Materials: XPE foam
Extras:

3-5 Person capacity
Next on our list is the Outroad Water Floating Mat, a roll-up swim pad that offers 12 feet of pure fun. Made with layers of strengthened XPE foam to prevent odor and bacterial growth, this is a sturdy option which can fit 3 – 5 adults at once (roughly 800 pounds). The Outroad mat is constructed with tear-stop inner matrix to prevent lacerations and punctures, making it great for jumping, playing and running over the water's surface.
Another special feature of this swim pad is its easy maintenance – simply wipe it down with soap and water, then roll it up for easy storage or transportation. It even comes in a variety of dimensions and colors to suit everyone's specific tastes – we've reviewed the 12 foot model, but you could choose between 9, 12 and 18 feet of length. Whether you're craving some alone time in the water or planning a summer party, this pool toy is sure to satisfy your needs. Best all-purpose water mat.

---
Floating Water Mats Comparison Table
| Water Mat | | Capacity: | Dimensions: | Materials: | Extras: |
| --- | --- | --- | --- | --- | --- |
| AQUA Floating Mat | | 1,000 Pounds | 11 x 5.6 Feet | Cozi-Soft Fabric, Mesh | Anchor dock points, mooring loops |
| CoolerZ Floating Island | | 800 Pounds | 10.5 x 9.5 x 2 Feet  | Vinyl | Sun shade, cup holders |
| Aqua Lily Pad | | 1300 Pounds | 18 x 6 Feet | Cross Linked Foam | Connectors, FlexCore tech |
| Intex Giant Inflatable Floating Mat | | 660 Pounds | 9.5 x 7 Feet | Vinyl | Connector system |
| SOWKT Floating Island | | 1320 Pounds | 18 x 6 Feet | XPE foam, mesh | Heavy-Duty Carabiner, Bungee Tether Leash, Fastener straps |
| WOW Water Walkway | | 900 Pounds | 6 x 10 Feet | 30-Gauge PVC, Foam | Grommets, rope, connecting zippers |
| Outroad Water Mat | | 800 Pounds | 12 X 6 Feet | XPE foam | N/A |
How to Choose the Best Swim Mat – Buying Guide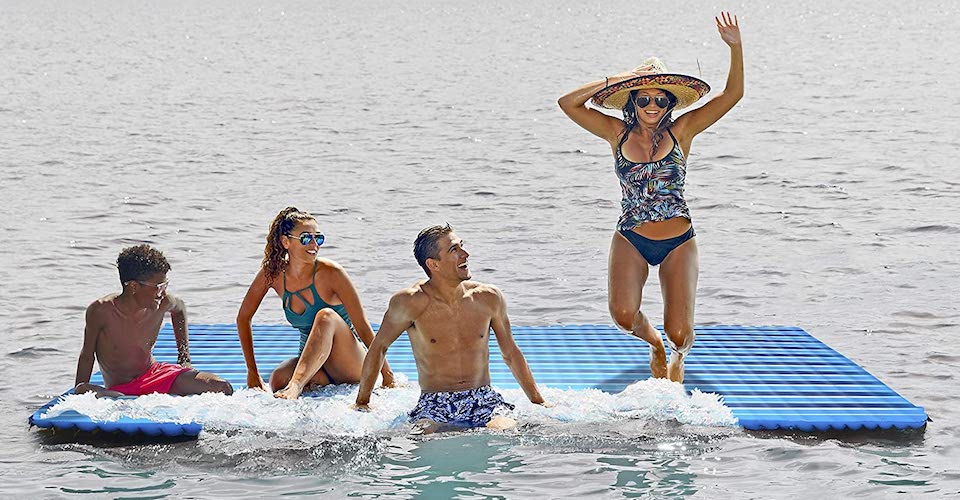 Now that you've taken a look at the best floating water mats the market has to offer, you may be feeling a bit overwhelmed – there are so many great choices. If you're having trouble deciding, have no fear. We've compiled a handy buyers guide to help you streamline your options and find the right one for you.
Utility: How Will You Use It?
The most important thing to consider throughout the buying process is utility : how do you plan to use your mat?
Floating water mats are most often used as party or group attractions, due to their large size and general stability. But, essentially being huge squares of floating foam, they are incredibly versatile and can be used as a landscape for a range of activities, from solo play to group activity. Fortunately, water mats come in a variety of dimensions and designs to support a plethora of uses. You should evaluate the design and materials of your mat to ensure they are suitable for your purposes.
Design – If you intend to purchase a water mat mainly for solo relaxation and peaceful drifting, design is key. Consider going for a more streamlined, lightweight option over a durable option. The small size is suitable for one person at a time, and if your personal foam island is light enough it can be easily transported anywhere. If you're looking for the best water mat for individual use, consider options like the Texas Recreation Floating Pool Mat

and the

HOMKOM Foam Swim Mat.  

If you intend to purchase a swim pad for parties and groups, consider something larger and more sturdy, constructed with high-tech durable material. If this is the case, to check the weight capacity of your water mat! This is a vital determinant of how many people it can support at once. There are a couple large, durable options on this list – for group activities, consider the

AQUA Floating Mat

, the

Outroad Water Mat

or the

SOWKT Floating Water Pad

.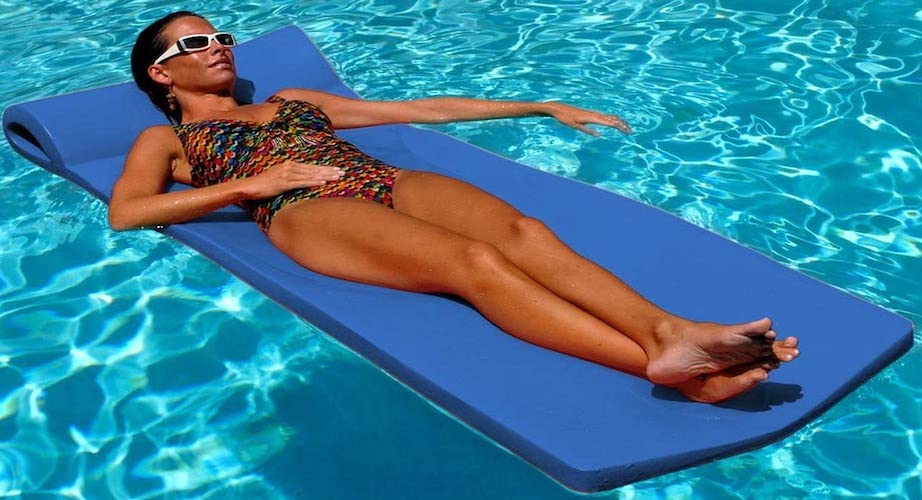 Materials – Most floating water mats are made from some type of foam, as it best resists water absorption and can support heavy weight. There are a couple different types of foam materials used in designing swim pads. The most common is XPE Foam

, which is

a nontoxic cross-linked polyethylene foam.

XPE is chemically stable, difficult to decompose, odorless and flexible. It is the preferred material for making not only mats, but also soundproof and heat insulation layers. Other materials like mesh and PVC are often also used alongside various kinds of foam. Mesh

is typically used to sandwich layers of foam, for tear resistance and added protection from water absorption. Inner layers of mesh wire significantly increase a water mat's lifespan. On the other hand,

PVC

is added for increased durability and weight capacity. PVC beams are often added into the inside of the mat for sturdiness during vigorous activity and use.
For more of water entertainment recommendations, have a look through these popular Outside Pursuits guide links: Water Slides, Outdoor Lounge Chairs, and Floating Pool Loungers.
Day 21: Things To Do On A Floating Mat
Tips For Choosing a Floating Water Mat
 Consider utility – Decide firmly whether you intend to use your mat for group play or solo relaxation.
Check the weight capacity – You really don't want to end up damaging your mat because you didn't take a minute to check its weight capacity. Make sure to do this before attempting to throw any large scale group activities on a water mat.
Decide inflatable v. roll-up – Inflatable water mats are typically easier to store, as you don't need to struggle with rolling up a water-logged mat after use. However, our research has shown that most smaller mats are only manufactured in the roll-up variety. Only two products on this list are inflatable – the AQUA Floating Mat Island

and the

WOW Floating Water Walkway

. 
We've now covered some good floating water mats, you can see that there are many factors to consider before finding a good one for you – design, materials, portability, and more. Most importantly, you should pick a water mat which suits your unique lifestyle and tastes. Hopefully these reviews and buyers guide have helped you figure out what that option is. Now, go have some fun on the water.
FAQs About Floating Water Mats
Q: Why are floating water mats so expensive?
A: Floating water mats are generally expensive because the foam used to construct them must be extremely high quality, non toxic, buoyant and durable. Remember that many water mats can support over 1,000 pounds of weight – an incredible feat. Though they may seem simple in design, water mats are quite complex and thus more expensive.
Q: What are water mats made of?
A: They are typically made of some kind of cross-linked foam, like XPE foam. Additional materials like PVC and mesh layers are also often used.
Q: How do you anchor a water mat?
A: Most models come with grommets , ropes and tethers so you can easily tie your mat to another object to secure it. Simply loop the rope through the grommets, then tie to a static object to keep from drifting away.
Q: How do you clean your floating walkway?
A: Fortunately, foam is one of the most low-maintenance products in existence. Simply wipe your mat down with water, soap and a sponge. Dry it carefully before storage to ensure that no mold collects.
How We Researched
To come up with the top floating water mats, we researched a variety of sources for reviews along with our own personal experience. With so much quality gear available, we had to narrow it down based on what we felt were the best options were for the price. What we plan to do, too, is get our hands on several of these and just go out on the water and have some fun.
Notice:
OutsidePursuits.com is a participant in the Amazon Services LLC Associates Program, an affiliate advertising program. OutsidePursuits.com earns fees from products sold through qualifying purchases by linking to Amazon.com. Amazon offers a commission on products sold through their affiliate links.