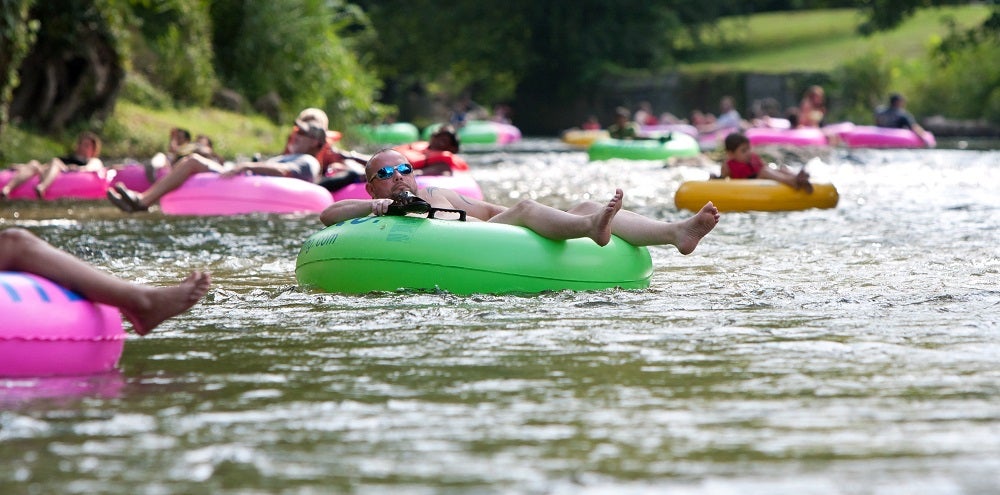 Our Editors independently research, test, and rate what we feel are the best products. We use affiliate links and may receive a small commission on purchases.
Undoubtedly, one of the best things about summer is floating down the river! However, having a faulty or uncomfortable tube can completely ruin the experience or even put you in danger.
That's why when making our guide, we not only took looks into consideration, but style, durability, and much more!
If you're looking for the best river tubes, you're in the right place because our guide has them all! We know you're excited to get in the water, so let's move right into the reviews!
Best River Tubes
For more of my water gear recommendations, have a look through these popular Outside Pursuits guide links: Floating Water Mats, Inflatable Paddle Boards, Inflatable Kayaks, Inflatable Boats.
Quick Answer: The 7 Best Rated River Tubes For 2021
Our reviews of the top rated river tubes with our comparison table and buyers guide will help you choose the right river tube for you.
---
River Tube Reviews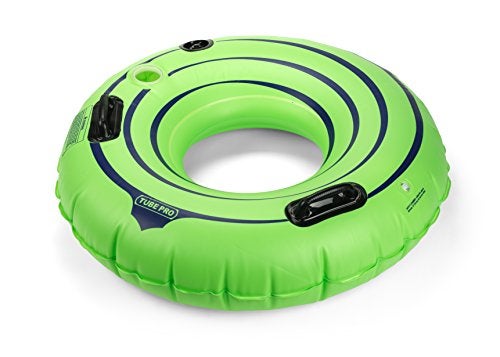 Tube Pro Green 44″ Premium River Tube at a Glance
:
---
Size: 44″
Cupholders: Yes
Cooler: No
Mesh Bottom: No
Easily one of the best river tubes out there, the Tube Pro Green 44" Premium River Tube is one you need to check out. The bright green tube is certainly eye-catching and sporty – perfect for making sure others spot you. It's a relatively simple design, with a blue spiral detail but it is reliable which is the most important factor.
Made of heavy-duty, 30-gauge PVC vinyl, it's definitely tough enough for river use! You can move over more shallow waters while being able to rely on this model. Not only that, but it comes with double air chambers as an extra layer of security. This makes it strong enough even to be used as a towable tube, or in the winter!
The 44" size is ideal for the vast majority of users, as this is designed to be a single-rider setup. 2 large support handles will keep you from (mostly) sliding or slipping off of the tube, and you have one beverage cup holder to keep hydrated for the entire trip.
To fill it, you can do so with your mouth which is the easiest way for most. However, if you are really in a hurry or don't have the biggest lungs, you can use a small electric pump.

---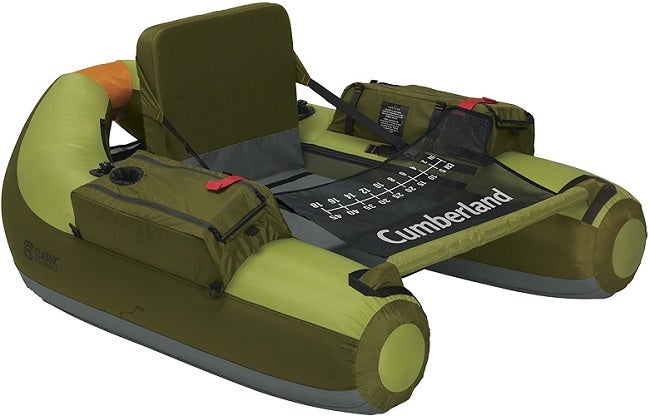 Classic Accessories Cumberland Float Tube at a Glance
:
---
Size: 56″ x 44″
Cupholders: Yes
Cooler: No
Mesh Bottom: No
Next up, we have a model that's quite a bit different from the previous: the Classic Accessories Cumberland Float Tube. If you're looking for one of the best river floats for fishing, we can't recommend this one enough. It has just about everything you could need for river or lake fishing on a budget while keeping things efficient.
Coming in green, it blends in nicely with Mother Nature, with the fabric and abrasion-resistant PVC bottom holding up well against UV rays, rocks, branches, and debris. Due to the design, you'll probably want to use this one more on ponds of lakes but it is quite versatile.
Due to the fine craftsmanship and quality materials, this seat can hold up to 350 pounds while merely weighing 14! If you have some extra wiggle room, you can even take some extra gear with you, thanks to the 2 cargo pockets. You also get a mesh stuff pocket, mesh storage platform, 2 rod holders, and 2 drink holders.
Oh, and since you'll probably be using this for fishing, they've even included a mesh stripping apron with a fish ruler on it. Fishing usually requires more than an hour out on the water, which is why they've placed comfort at the forefront of the design. The extra-high seat comes with thick padding and is ultra-adjustable.

---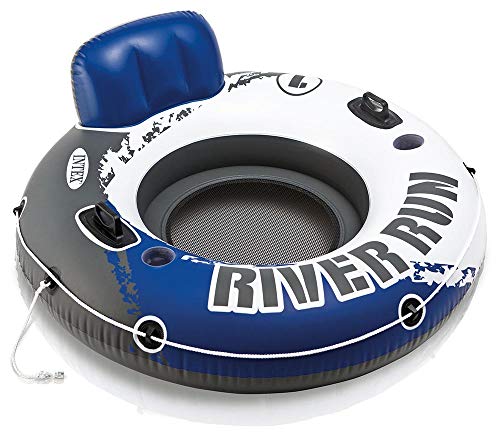 Intex I Sport Lounge Inflatable Water Float at a Glance
:
---
Size: 53″
Cupholders: Yes
Cooler: No
Mesh Bottom: Yes
Intex is a brand we've really grown to love, thanks to their overall consistency in their quality and user-friendly designs. Their River Run I Sport Lounge Inflatable Water Float is no exception, which is why we had to add the 53" tube on our guide.
Coming in either Blue or their Limited Edition colorway, they look sporty and modern yet bright enough to stand out on the river. This one is just a bit thinner than the Tube Pro Green 44" that we covered first on our guide, as it's made of 18-gauge PVC vinyl.
However, it's still very durable and great for an array of summertime water fun. Weighing just 5 pounds, it's very easy to carry from the car to the river and back, too!
While most tubes are just, well…tubes…this one comes with a built-in backrest. The backrest offers just enough support to keep you lounging comfortably for hours in the sun. The mesh bottom keeps you cool while keeping you protected against any debris that may be hanging out.
You may see a thin, white rope around the perimeter of the tube. This is a grab rope, making it easier for tubing buddies to grab onto your tube, or to connect to theirs to stay close together.
The 53" diameter is a great size for most people, including 2 heavy-duty handles to keep you planted on the tube. 2 cup holders will also keep your refreshments handy, and more importantly, help keep you hydrated under the hot sun.

---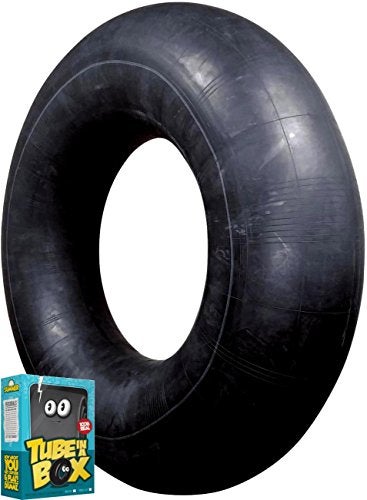 Tube in a Box The Original Swim Tube at a Glance
:
---
Size: 45″
Cupholders: No
Cooler: No
Mesh Bottom: No
Most of us have already used or seen one of the best tubes for river floating: the classic rubbery black ones! You know them – the ones that resemble big racecar tires! Back in the day, it seemed like it was the only river floating tube out there and there's a reason why it's still around today!
They say that there's no need to fix something that isn't broken, and that's a prime reason why we still love the classic black tube. This model is by Tube In a Box and is their Original Swim and Snow Tube.
The 45" extra-large selection is perfect for summer and winter use due to how tough it is. Made of 100% commercial-grade rubber, it's the toughest you're going to find for the price. You won't even have to think of it popping or tearing, even while traveling over sharper rocks and twigs!
Speaking of the price, it's also our top selection in terms of budget-friendly options. If you're trying to save some cash, or simply keep that wallet padded for summer adventures, definitely put this tube on your list!
Regarding comfort levels, it's pretty average. We appreciated that the safety valve stem has been transformed from the annoying metal ones that would poke you before. Just make sure you're practicing the "stop and start" air inflation method to avoid the tube bulging.
As the entire tube is UV-protected, it won't deflate prematurely and will keep you floating the entire ride.

---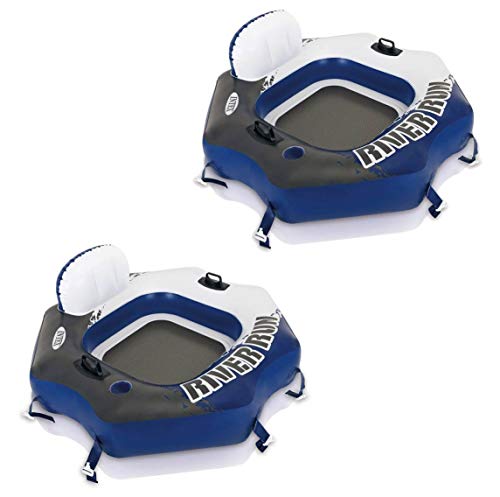 Connect Lounge Inflatable Floating Water Tube 58854EP at a Glance
:
---
Size: n/a
Cupholders: Yes
Cooler: No
Mesh Bottom: Yes
If you and your partner or friend are looking to go tubing together but don't have any, check out the Intex River Runn Connect Lounge Inflatable Floating Water Tube 58854EP 2 Pack. With each one weighing about 5 pounds, they're easy to transport around when you're not riding on them.
The US-made tubes are designed with high-quality materials that will keep you afloat for many summers to come.
Made of 18-gauge vinyl, it's almost entirely tear-resistant and pop-resistant. While it's not made to be used in whitewater or high-intensity environments, it's a great option for lazy river riding and calmer waters.
Comfort and relaxation are the main focus here, with a built-in backrest that will make you want to stay floating around all day long! A mesh bottom closes off the center of the tube while keeping you cool. The great part about a mesh bottom is that it doesn't collect water and debris, but still doesn't leave you completely exposed.
You'll find 2 heavy-duty handles on each side for added security and stability, ideal for going over gentle rapids and small "waterfalls". 2 air chambers provide a balanced feel that's safer and easier to use for all experience levels.
You get 2 built-in cup holders on each tube, which is perfect for keeping extra drinks handy.

---
Pafalo Store Adult Pool Floats Sport Lounge at a Glance
:
---
Size: 53″
Cupholders: Yes
Cooler: No
Mesh Bottom: No
Are you on the hunt for the best floating tube for the 4th of July? Well, look no further than the Pafolo Store Lake Floats for Adults! The 53" tube is large enough for most people to remain confident and comfy without feeling like they're constantly sliding off.
This one is made to be ultra-thick to hold up to those durable rubber selections while offering a softer feel against the skin.
The red, white, and blue colorway is certainly patriotic but looks good regardless of the date as its smooth and comes with bright colors. However, you also have 2 other colorways: Blue, White, and Yellow or Blue, White, and Grey. Both are very athletic-looking and even a bit trendy!
As we said, comfort is one of the brand's top priorities. Here, you'll find a separate inflatable headrest that's been our personal favorite of any we've tried out. It has up-down flexibility which means it works with an array of different positions, from sitting to laying back.
The mesh bottom keeps you cool, while 2 cup holders makes sure you never have to resort to drinking river water to quench your thirst.
We found this one to be one of the toughest against leaks. The thick PVC is very strong and finished with detail around the edges, with double seals around the seat. The seal valve lets air in during inflation, but aside from that it won't let any air out.

---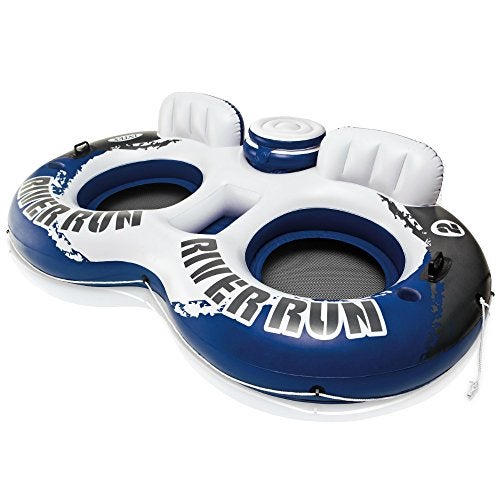 Intex 58837EP River Run II Sport Lounge Inflatable Water Float at a Glance
:
---
Size: 95″ x 62″
Cupholders: Yes
Cooler: Yes
Mesh Bottom: Yes
Yep, we're back again with yet another Intex model. This time, we bring you the Intex 58837EP River Run II Sport Lounge Inflatable Water Float. If you want the best inner tube for river floating in duos, there's no better option than this one.
Sure, there are other tubes which can be tied together to ensure everyone in a group stays close by. However, this one takes things up a notch as they feature double seats in one unit. Coming in either white and blue or white and red, they are by many standards the best-looking.
This is the ultimate cruiser, made with a built-in cooler with a lid so you can bring along all kinds of ice-cold drinks and chilled snacks! While it obviously varies depending on the products, you can easily fit 18 cans in along with some ice and snacks.
On each side is a built-in cup holder as well so you don't have to keep reaching into the cooler and can keep your hands free. Moreover, you have a sunken-in space between the two seats for you to store extra snacks or use it as a storage space for a dry bag or other gear.
To keep everyone safe, it comes with 5 air chambers to make sure a small hole doesn't put it out of commission. 2 durable grab handles are built in, though we do recommend bringing along some smaller paddles to help navigate. A grab rope comes included too, if you'd like to connect to any other Intex tubes!

---
River Tube Comparison Table
How to Choose the Best River Tube – Buying Guide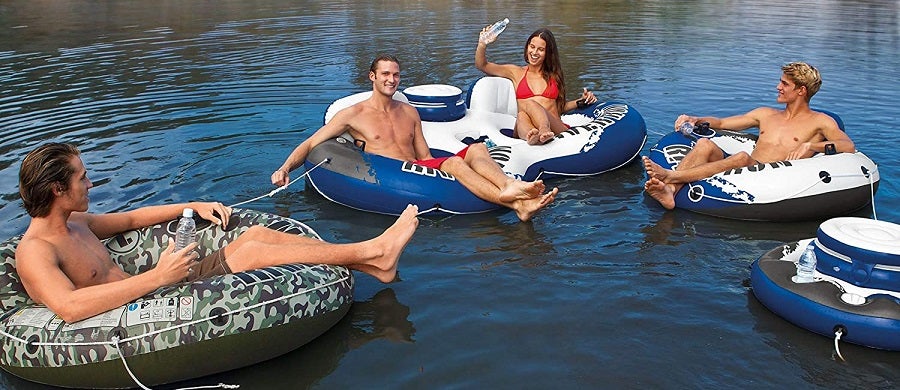 Now that you've read all about the best river tubes, do you know which one you are going to take out onto the water this summer? If you're still undecided or can't settle on just a single tube, that's okay! We understand that it can be a bit challenging when there are so many great options!
That's why we've taken it upon ourselves to write up a user-friendly, comprehensive buying guide on the matter. By the time you're done reading through the guide, there will be no doubt which one is perfect for you and your needs!
Type
Before you do anything else, you'll want to figure out which "type" of river tube is right for you! That's right, there are different types, as you can see from our tube selections up above. There's your regular floating tube, which is literally just a tube. Then you have more of the "lounging" tube, which comes with a headrest and is a bit more luxurious.
After that, you have fishing tubes, which are a bit more heavy-duty and complex. These come with more complete headrests, backrests, or even full seats. They tend to be more expensive due to the more durable materials, larger size, and added versatility.
Number of Users
Next up, decide how many people you'll be tubing with! Does your tubing partner(s) have a tube already or will they need one as well? If they need one, do you guys want separate tubes or a conjoined one with double seats?
Separate tubes can be fun as they're easier to navigate in, but this means that you may lose your floating buddy at some point unless you hook a rope together. If you do hook up ropes together, if one person tips out of their tube it can cause you to do so, too.
You can also choose to just go for a duo-rider tube where you're both using the same tube. These tend to be a bit more tricky to navigate but if each one of you have good paddling skills, it's not an issue.
Durability
Durability is obviously one of the most important factors when selecting one of the best river floating tubes. You want something that will be able to brush up against rocks, branches, debris, plants, and more. You never know what you're going to encounter when on the river, so the material the tube is made of should be resistant to popping and tearing.
PVC is almost always used, due to it being dense and resilient yet soft to the touch. Rubber is the original material used on river tubes due to how strong it is, as well. However, in the hot summer sun it can get pretty hot and feel sticky or even burn against the skin. Of course, you can solve this by getting it wet but it's all down to personal preference.
Inflation
How easy is the innertube to inflate completely? The vast majority can be inflated with our breath, while others may work with air pumps, as well. Some tubes come with various air chambers, which is designed so that if you get a hole in your tube, not every single chamber will be affected so you will still ideally remain buoyant!
You may have noticed that some manufacturers recommend you use the "stop-and-go" method of inflation which means you don't just inflate the tube all at once. Rather, you inflate it a bit and wait, then inflate a bit more, until the tube is fully inflated. This is to avoid bulging.
Try to get yourself a tube that has the valve stem can be sunken into the side of the innertube so that it's not poking out.
Handles
You may notice that the more classic-style river tubes don't have anything – it's literally just an inflatable tube. There are no handles to grab onto if things get a bit too wild in the water. This is fine if you're in really calm waters or don't feel you need handles.
However, many people do like them to stay more securely on the tube while going over little rapids or to avoid slipping off when the tube is wet. Not only that, but it makes the tube a bit easier to transport on ground when inflated!
Comfort
Whether you think so or not, comfort really does play a big part in your experience of floating a river or in a pond/lake! If you have neck issues or tend to get a tired neck easily, we highly recommend opting for a tube that comes with some kind of headrest!
The vast majority of headrests are stationary, while there are others that have the ability to be adjusted in height. This can offer neck support in various positions while sitting or laying back!
Most of the tubes on our guide come with a mesh bottom, as well. Mesh bottoms are nice because they don't let river water pool inside the tube, nor do they let you fall through the opening. On top of that, you can realistically store some extra gear, refreshments, and belongings with you inside the seat as the mesh bottom won't let them fall through.
Beverage Holders/Coolers
This also depends on your style of floating and playing in the water. If you're someone who enjoys drinking beverages while floating around, having at least one cupholder built into your tube is ideal. Some tubes come with two cupholders, which is even better – especially if you don't have a cooler with you to store more drinks.
With that being said, there are some tubes (like the Intex dual-seater tube) that actually come with coolers built-in as well! The coolers allow you to not only store a bunch of drinks, but snacks, too!
FAQs About River Tubes
Q: Can you use pool tubes in a river?
A: It's definitely not a smart idea. Pool tubes are very flimsy and are designed to be used just in that: a pool. They're not tough enough to hold up against sharp rocks or twigs, and will pop very easily which can put you in a potentially dangerous situation. Just don't do it.
Q: Are water tubes and snow tubes the same?
A: They can be, but it's not a rule. Make sure if you are looking to buy one tube for both purposes, that the manufacturer specifies that this is possible. Water and snow tubes should be very durable and resistant against extreme temperatures and rocks.
Q: What do I need for river tubing?
A: First off, you're going to need a good tube. You need to bring along sunscreen with at least a 50 SPF+ protection and make sure to reapply every couple of hours (whatever is indicated on the sunscreen). Many people like wearing water shoes so they can walk along the more shallow parts of the river or explore.
Flip flops and slides are ok but they can come off easily in the water and can get stuck on rocks. It's also a good idea to have a dry bag to keep your keys, IDs, cards, and snacks. If you have a cooler, try to bring some drinks and ice, too!
Q: How do you not fall off when tubing?
A: If you are worried about the tube sinking, try pulling back a little (make sure you don't pull back too much or you could just fall backwards off the tube). Pulling it back just enough will help avoid it from going in the water. Also keep a solid grip on your handles – they play a big role in keeping you on your tube!
Q: Do you need water shoes for tubing?
A: You don't need them, but they come highly recommended for the aforementioned reasons!
Tips For Choosing River Tubes
#1: Try to get a tube that's UV-resistant.
If it's not, it can be vulnerable to deflating too quickly which can cut your tubing session short or deflate while you're in the middle of riding it! Not only that, but it could cause the material of the tubing to crack over time, which we don't want.
#2: Make sure your tube can support your size and weight.
40″ tubes are ideal for those who weigh around 120 – 175 pounds while 45″ tubes and up are better-suited for those who weigh above 280 pounds. If you're really tall and don't weigh that much, though, you'll still be better off with larger tubes as they'll help you keep your balance better and stay more comfortable.
#3: If you opt for a black tube, you may want to get a cover for it.
A tube cover will help protect your skin from the black material getting hot and burning you. As these black PVC or rubber tubes are still one of the most durable in our experience, they're still one of the top options even despite this factor.
Summary
Now that you know just about everything you could ever want to about the best river tubes, have you decided which one you'll be using? Just make sure to choose according to what activities you'll be doing on the water, your weight, and preferences. The good news is that no matter which one you select on our guide, you'll be receiving one of the top river tubes out there. Thanks for tuning in, and we'll see you again soon!
How We Researched
To come up with the top river floats, we researched a variety of sources for reviews such as REI, Dicks Sporting Goods and West Marine along with our own personal experience.
We also consulted online magazines for product research and reviews to get as much unbiased information as we could. To help weed out fake reviews we used Fakespot.com to make sure we only looked at genuine reviews.
With so much quality gear available, we had to narrow it down based on what we felt were the best options were for the price. The author, Richard Remick has been an avid paddle boarder for over 10 years.
To help narrow down the selection he used his personal experience along with recommendations from paddle board instructors, and rental shops.
After extensive research, we came up with our list to help you choose the right one for you.
Sources
REI
Notice:
OutsidePursuits.com is a participant in the Amazon Services LLC Associates Program, an affiliate advertising program. OutsidePursuits.com earns fees from products sold through qualifying purchases by linking to Amazon.com. Amazon offers a commission on products sold through their affiliate links.