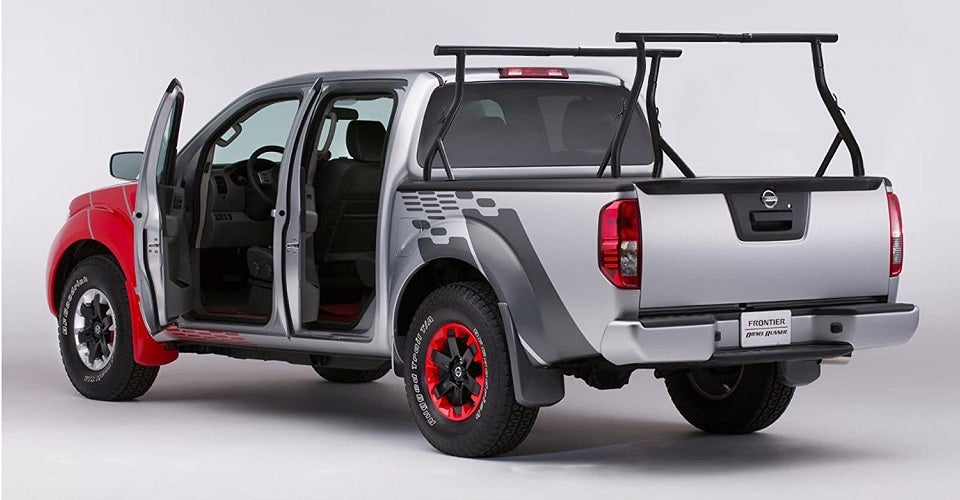 Our Editors independently research, test, and rate what we feel are the best products. We use affiliate links and may receive a small commission on purchases.
Trucks are great for work and play but even the biggest truck beds can use some extra help sometimes.
Whether you've got toolboxes, a short bed, or a bed full of materials a kayak rack can save the day. In this article, we'll go over what options are out there, what to look for, and what to avoid.
Truck kayak racks can extend the length of your bed or allow you to pack kayaks over the top of the cab. They're great, affordable options that give you more flexibility when you're mixing work and play.
If you can't or don't have time to reorganize the bed of your truck every time you want to take the kayaks out, a rack is for you!
Best Kayak Racks For Trucks
| | Thule Xsporter Pro Truck Rack | AA-Racks Model APX25 Truck Rack | ECOTRIC Foldable Hitch Extender |
| --- | --- | --- | --- |
| | | | |
| | | | |
| Mounting: | Bed Rail | Bed Rail | Hitch |
| Adjustable: | Yes | Yes | Yes |
| Kayak Capacity: | 2+ | 2 | 1-2 |
| Material: | Aluminum | Aluminum | Steel |
| | | | |
For more of my top kayaking gear recommendations, have a look through these popular Outside Pursuits guide links: Kayak Carts, Kayak Trailers, Kayak Storage Racks.

Quick Answer: The Best Rated Truck Kayak Racks
Our reviews of the top rated truck kayak racks along with our comparison table and buyers guide will help you choose the right one for you.
---
Truck Kayak Rack Reviews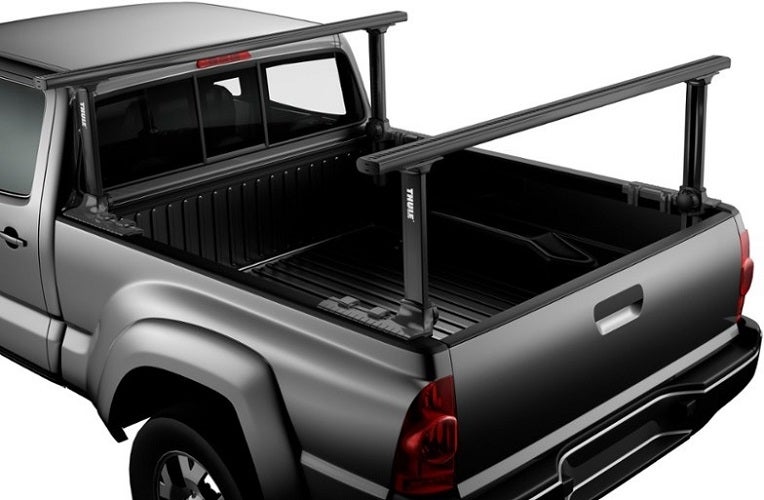 Thule Xsporter Pro Aluminum Truck Rack at a Glance
:
---
Material: Aluminum
Type: Bed Rail
Adjustable: Yes
Capacity: 2+
Thule has been a big name in vehicle accessory racks for ages. Their experience shows through great design, reliability, and quality.
Thule put a lot of effort into designing these racks so they're efficient and aerodynamic. AirTrip technology helps redirect airflow around the bars. Additionally, WindDiffuser technology uses raised strips to disrupt airflow and make things whisper-quiet when driving.
Thule always does a good job with security. On these racks, Thule included two locking cylinders on each of the racks so nobody's going to steal your rack unless they cut it off.
Keep in mind that each bar is height adjustable so you can customize the fit.
You'll still need kayak racks to do on these bars, though. So keep in mind when purchasing that you'll want to budget for money to spend on the actual kayak holders themselves.
Without aftermarket racks, it just might make the best paddle board rack for trucks thanks to the flat, open surface you can strap down to.
Best for an adjustable solution to bed rail mounting your kayak racks.

---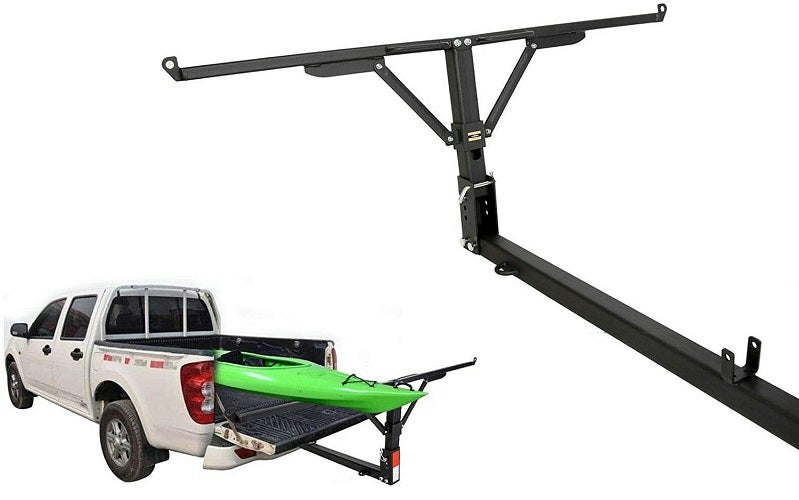 ECOTRIC Foldable Pick Up Truck Bed Hitch Extender at a Glance
:
---
Material: Steel
Type: Hitch
Adjustable: Yes
Capacity: 1-2
If you're looking for a hitch mount truck bed extender this one goes out to you. It made the list thanks to the simple, foldable design that allows for easy truck bed kayak storage.
Made from black powder-coated steel, this hitch kayak extender is rated for 400 pounds. It's a no-brainer bed extender for adding support. It's particularly relevant to short bed trucks.
However, even long bed trucks can benefit from an extender when carrying canoes or long kayaks. It does mount to a 2" square receiver so make sure you've got the right hitch hardware.
You can adjust the height vertically to 3 different settings to fit your truck. Once the folding support arms are extended you can use the welded attachments at each end to throw a tie-down strap over the top to hold everything in place.
Best truck bed extender for easy storage to carry boats, tools, or lumber.

---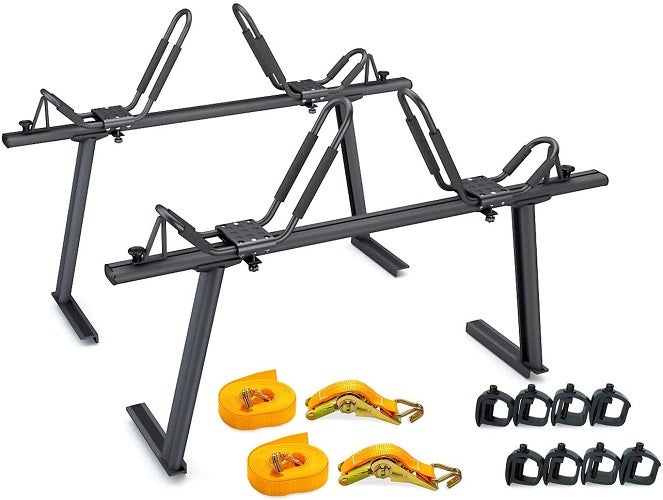 AA-Racks Model Aluminum Truck Rack at a Glance
:
---
Material: Aluminum
Type: Bed Rail
Adjustable: Yes
Capacity: 2
Looking for an inexpensive bed rail kayak rack? Thanks to the great price, easy install, and having all accessories included this one might just make the best kayak rack for trucks.
What makes this rack so darn good overall? It comes out of the box with two sets of J-racks for holding your kayaks. That's on top of the two bed rail bars and all the accessories you need to get going. It's a plug-and-play solution.
Use the 8 included C-clamps to tighten down and secure the bed rail bars. Then, install and adjust the J-racks for holding your boats. When it's time to go, use the two included ratchet straps to secure your kayaks and you're good to go!
You can also use the bars without the J-racks if you want to transport a canoe or paddle board.
Best all-purpose kayak rack for trucks.

---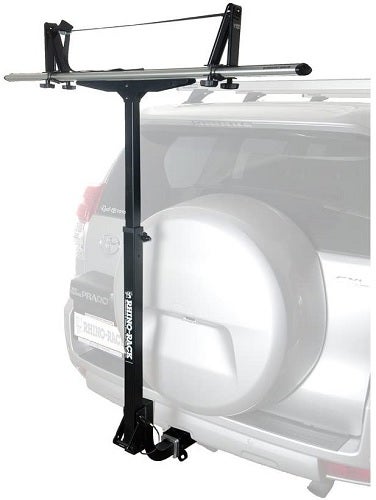 Rhino Rack T-Loader Canoe and Kayak Rack at a Glance
:
---
Material: Aluminum/Steel
Type: Hitch
Adjustable: Yes
Capacity: 1
Looking for a versatile hitch-mounted kayak rack? Keep your eye on this one because it's great for small trucks to SUVs.
Compatability-wise, you'll need a 2" hitch (or an adapter) for this rack. It adjusts from 95cm to 154cm in height. To find out if it will work for you, measure the vertical height from your hitch to the next rack.
This rack is meant to extend the length of existing roof racks. If you have an SUV or small truck with one or more roof racks, this one adds an additional support point at the rear of the vehicle. See the product photos for more.
All that said, it does come with adjustable supports side-to-side so you can dial in the fit for paddle boards, kayaks, or canoes.
Best for small trucks, cars, or SUVs with existing roof rails that need extensions.

---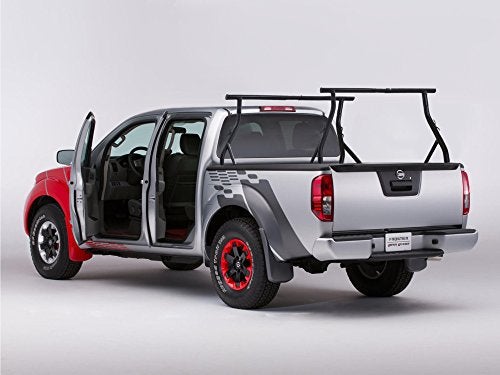 TMS Universal Pick Up Truck Ladder at a Glance
:
---
Material: Steel
Type: Bed Rail
Adjustable: Yes
Capacity: 2+
If you're trying to keep things on a budget but need a universal fit for your bed rail rack, here's your stop. Easily adjustable for any size truck, these simple and affordable racks make a great starter option.
Using a 3-piece sliding design these bars can be adjusted in width from 56" to 84" rail-to-rail width. They sit up high enough to carry a canoe, paddle board, or kayaks over the cab of your truck with ease.
Out of the box, however, they're designed to be bolted to the bed rail which means drilling holes. If you've got a newer truck or don't want to drill, you can buy bed removable bed rail clamps (separate).
You'll also need some good ratchet straps to tie down your kayaks. What makes it nice, however, is that you're only limited by your imagination as to how many and in what configuration you can carry your kayaks!
Best for an entry-level affordable bed rail kayak rack.

---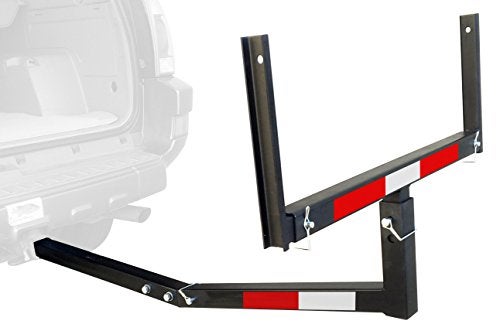 MaxxHaul 70231 Hitch Mount Truck Bed Extender at a Glance
:
---
Material: Steel
Type: Hitch
Adjustable: Yes
Capacity: 1-2
Whether you've got an SUV, crossover, or truck this extender will help you fit your kayaks securely. Simple, adjustable, and very affordable it makes a no-hassle choice to get you started.
There are two models of this with slightly different dimensions. The smaller one is more ideal for crossovers and SUVs while the larger is probably ideal for trucks or taller vehicles if you plan to use it as a roof rack extension.
One thing this extension does that we haven't seen yet is that it adjusts both vertically and horizontally. You can set the width from 28" to 48". Additionally, you can use it either to extend loads from the bed of your truck or SUV or you can use it to extend your roof rack length.
Thanks to the extremely affordable price and maximum adjustability this makes an awesome all-around choice as a pickup bed extender.
Best price on an adjustable bed/roof extender.

---
Truck Kayak Rack Comparison Table
How to Choose the Best Truck Kayak Rack for You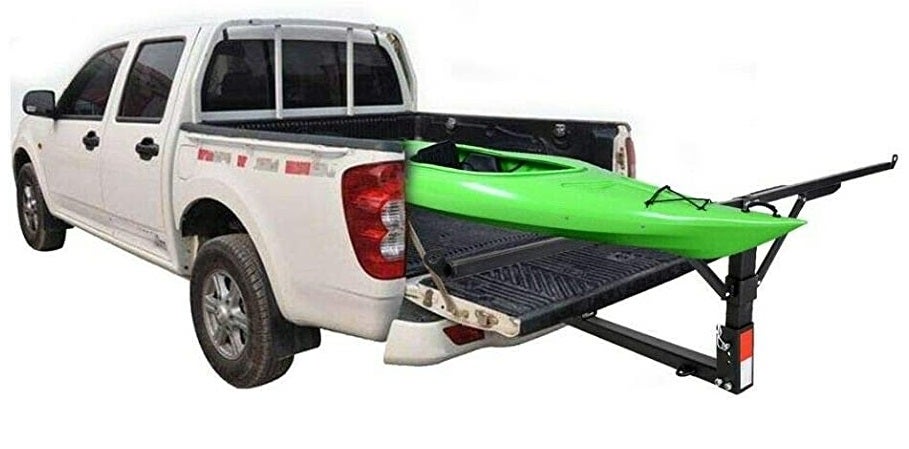 There's no single solution for everyone. I'm going to cover the ins and outs of what you should be thinking about before you buy your next truck kayak rack.
Types of Truck Kayak Racks
There are essentially two different styles of truck kayak racks. One style of rack extends the length of your bed, the other allows you to stash kayaks over the top of the cab.
Receiver Racks
Receiver racks, as you might guess, go into the receiver of your truck. Take out the hitch and ball and slide in the kayak rack. They adjust vertically and support your kayaks when you stash them in the bed with the tailgate down.
These are best for short bed trucks where you don't have room for longer boats. Of course, you'll also need to have a receiver installed on your truck in order to use one. If you don't have a receiver, no worries. They're cheap and easy to install so get one!
Receiver racks are easy to install and easy to access.
Bed Rail Racks
Truck beds have rails on each side called, you guessed it, bed rails. Bed rails are an excellent spot for attaching toolboxes, racks, rails, and other accessories.
Bedrail racks attach to the rails or go into the stake pocket on the rails. Stake pockets, by the way, are the holes in the bed rails where you can put 2x4's or other attachments.
Bed rail racks are an awesome choice because you can leave them installed all the time. They go up and over the truck so they don't get in the way of your payloads. You can still fill the bed with construction material, moving junk, or whatever you need.
Their biggest drawback, however, is that they usually are tall and hard to reach. Once you learn to use them, however, they're great!
Kayak Rack Materials
Whether it's a bed rail or hitch style kayak rack, there are two materials you can find.
Steel
Steel is cheap, strong, and widely available. However, it's also heavy.
Steel kayak racks usually are rated to handle and hold a lot more weight/force than aluminum. If you think you might use your receiver extender or your bed rail rack for things other than kayaks a sturdy steel rack is ideal.
Aluminum
Aluminum tends to be a little more expensive than steel. It's lightweight, though, which makes it ideal if you're installing and removing your rack every time you use it.
Aluminum also often gets sprinkled in with steel. Because steel is better for some applications and aluminum excels in other areas, you'll find steel and aluminum components used in conjunction with a huge majority of kayak racks.
Kayak Rack Security
You might be worried about opportunistic thieves making off with your kayaks. But, what about that expensive kayak rack?
It's not unheard of to come back from a day of paddling just to find your receiver rack gone. So, before you buy your next kayak rack, think about how you'll keep it safe.
For receiver racks, you have two options. Sometimes they come with locks but, if not, it's easy to find a locking hitch pin. Either way, make sure you get a lock for your hitch rack.
Kayak racks that go on your bed rail are a lot harder to secure, however. For bed rail racks it's important to look for those with built-in locks or a place where you can put your own lock. Because of their design, bed rail racks have limited options for installing your own lock unless they're built to take one.
Don't forget to spray some lubricant into the lock before leaving it out in the weather for long periods. Lock tumblers tend to seize up when left out on a truck in the elements.
Kayak Rack Capacity
There are two things to think about when it comes to capacity.
First, consider how many kayaks you'll want to carry. Most truck beds can fit two boats side by side and most hitch racks will handle the same. Bed rail racks also work for about two boats at a time just because of the limitations of the width of the truck.
Second, you'll want to consider how long your boats are. Usually, any bed over-the-cab rack or hitch rack will be able to handle any kayak length. However, if you have particularly long boats like 15' or more be sure to check the specs for the rack you're buying.
Of course, a kayak rack doesn't have to extend the entire length of your kayak. As long as the center of gravity is within the bed of the truck or rack you'll be able to securely strap the boat in.
Really long boats do better on bed rail racks, though.
Since a with a short bed truck that's 6' long or so, a 15' boat can hang out 9' or more beyond the normal tailgate of the truck. That's a great distance behind a truck when you're driving in traffic. To avoid tickets, collisions, or damage to your kayak consider using a bed rail rack to put the kayak above the truck.
Even long kayaks, when stored above the cab of the truck, are quite easily manageable.
Tongue Weight Capacity and Receivers
Hitch-mounted kayak racks are subject to all the limitations of the receiver they're fitted to. Receivers are the square sockets on a truck, car, or SUV into which the hitch goes.
Without a doubt, the most important thing to pay attention to is tongue weight rating.
While a kayak rack might be rated to hold 400 pounds, your receiver may not be. This can lead to bending, breaking, or destroying your receiver, hitch, bumper, and boats!
Never put more weight on your kayak rack than your receiver can handle. Keep in mind, however, that most hitch kayak racks share the weight of a kayak with other parts of a vehicle. Therefore, an 80-pound kayak may only put 20 pounds of force directly on the receiver itself.
I can't calculate how much force or weight will act on your kayak rack or receiver for you. Just be aware of these limitations when loading your hitch mounted kayak rack.
For more on receiver load rating and tongue weight capacity, check out this article.
FAQs About Kayak Racks For Trucks
Q: How much weight can my kayak rack carry?
A: Most, if not all, kayak racks should have a listed maximum weight rating. Be sure to install your kayak rack to specification in order to achieve max weight ratings.
Most kayaks weigh less than 100 pounds so even with two boats you should be well within the weight capacity of almost any rack or extender.
Remember to secure your kayaks using tie-down straps so loads don't shift. Shifting loads can cause momentary weight increases and could stress kayak rack attachment points beyond their specified load rating.
Q: Do I still need a kayak carrier for my extension or rack?
A: Maybe. Some bed rail racks are made to take aftermarket kayak racks like the J-style racks which cradle and hold your boat.
For instance, the Thule Xsporter on our list is made so that it can have roof rack attachments clamped on.
Many general racks do not need or won't work with roof rack style kayak racks. Most bed extenders and multi-purpose bed rail racks have a simple round or square bar not designed for accessories.
This is great if you want the flexibility to come up with your own strapping system. Use tie-downs and ratchet straps to secure any load whether it's a kayak, a ladder, or some construction materials!
Q: Do I have to take my rack or extender off when not carrying kayaks?
A: Most bed rail roof racks for trucks are designed to be left in place once installed. To mount them securely you'll need special hardware and some time to install everything. Taking it all apart each time you use it would be impractical and time-consuming. If you plan on leaving the kayak on your truck, a kayak cover is advisable to protect it from the sun.
Receiver or hitch mounted kayak racks are meant to be removed after use. You don't want to have some rear-end your rack with it sticking off your vehicle when not in use! Plus, they would just get in the way.
Hitch mounted kayak racks just have a single clevis pin to remove and you can pop the assembly off for storage so it's easy and quick.
Q: Will I get poor gas mileage using a kayak rack for my truck?
A: There's no doubt that having a rack sticking up over your truck will decrease your gas mileage. More air resistance means less gas mileage.
That said, it's most likely a very minuscule difference and you probably won't notice it. Let's be honest, trucks aren't exactly fuel-efficient to begin with, so it's likely a moot point.
Thule's Xsporter is designed for aerodynamic efficiency, however. They've used some design changes like little bumps to redirect airflow which helps keep the rack quiet and efficient. If you want the best fuel economy, look there.
Q: How do I attach my kayak to a truck rack?
A: Whether you're using a roof rack or a bed extender you'll want a healthy supply of ratchet tie-downs on hand.
No matter what kind of rack you're using two ratcheting tie-down straps will securely hold your kayak in place. Investing in quality tie-down straps will save you a lot of headaches and frustration so don't skimp on these.
Using two tie-downs per boat gives the most security and redundancy in case anything goes wrong. Watch this guide on securing a kayak from Yakima – a leading kayak accessory maker!
Yakima [] School Of Rack [] How To Tie Down A Boat
Final Thoughts
You don't have to pay through the nose for a kayak rack or truck bed extender to carry your boat. We've looked at everything from bed rail racks to bed extenders in today's article. Choose the one that seems best suited to your truck and get out there!
Kayak racks are a great option for your truck so you can go from work to play without having to rearrange everything. Don't forget to re-read the "how to choose" section before you buy to get an idea of what to look for when choosing a good truck kayak rack.
Paddling days are upon us so go enjoy!
How We Researched
To come up with the top truck kayak racks we researched a variety of sources for reviews such as REI, Dicks Sporting Goods, Cabelas and Backcountry along with our own personal experience.
We also consulted online magazines for product research and reviews to get as much unbiased information as we could. To help weed out fake reviews we used Fakespot.com to make sure we only looked at genuine reviews.
With so much quality gear available, we had to narrow it down based on what we felt were the best options for the price. The author, Casey Fiedler has been an avid kayaker and leads kayak camping trips during the summer months in his native state of Michigan.
To help narrow down the selection he used his personal experience along with recommendations from kayak tour guides and rental shops.
After extensive research, we came up with our list to help you choose the right one for you.
Sources
Notice:
OutsidePursuits.com is a participant in the Amazon Services LLC Associates Program, an affiliate advertising program. OutsidePursuits.com earns fees from products sold through qualifying purchases by linking to Amazon.com. Amazon offers a commission on products sold through their affiliate links.