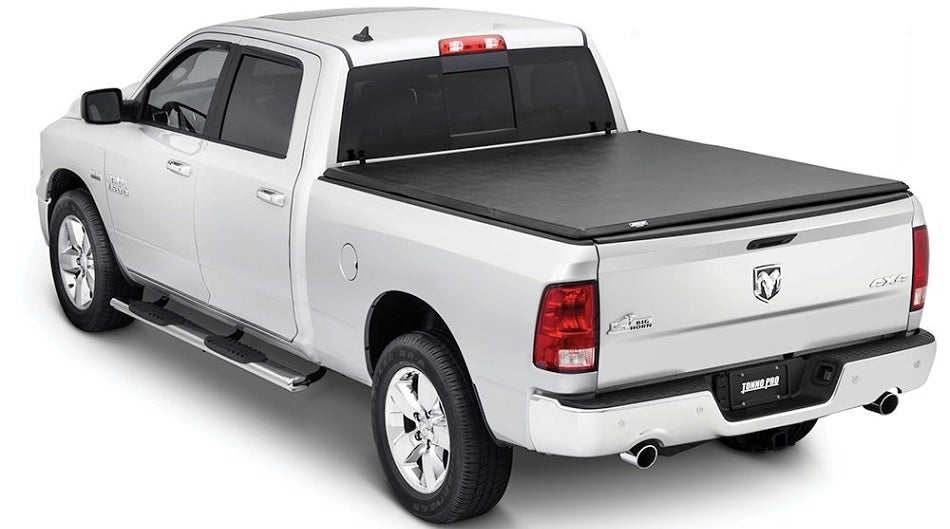 Our Editors independently research, test, and rate what we feel are the best products. We use affiliate links and may receive a small commission on purchases.
It's probably occurred to you that the bed of your truck can be useful for more than just hauling lumber, right?
I mean… what if you could cover it and protect it from rain? Now it's a camping space, grocery hauler, and moving van all in one, right?
That's why we're going to review some of the best truck bed covers for your money that can keep cash in your pocket while helping you get more out of your truck. That's the goal, right?
Don't worry if you're not 100% sure how to pick out the best pickup bed cover, we'll go over all that, too!
Best Tonneau Covers
| | MaxMate Truck Bed Cover | Tyger Truck Bed Cover | Gator ETX Soft Tri-Fold Truck Bed Cover |
| --- | --- | --- | --- |
| | | | |
| | | | |
| Cover Material: | 24oz marine grade vinyl | 24oz marine grade vinyl | Tear Resistant vinyl |
| Frame: | Powder coated aluminum | Powder coated aluminum | Aluminum |
| Style: | Tri-Fold | Roll Up | Tri-Fold |
| Installation: | No-Drilling installation | No-Drilling installation | No-Drilling installation |
| | | | |
For more of my truck recommendations, have a look through these popular Outside Pursuits guide links: Truck Bed Tents, Truck Winches, Truck Tool Boxes.
Quick Answer: The 5 Best Rated Tonneau Covers For 2021
Our reviews of the top rated tonneau covers, with our buyers guide and comparison table to help you choose the right one.
Truck Bed Cover Reviews
Keep in mind only one type of truck is listed in the review, most of these covers are available for most makes of trucks!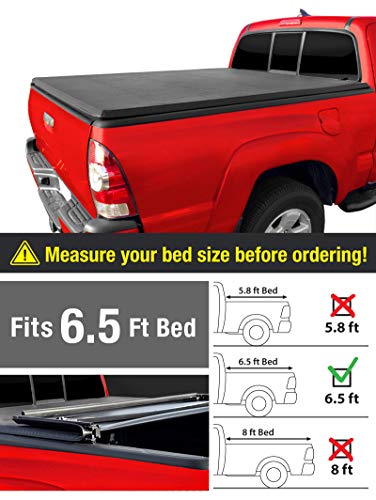 MaxMate Tri-Fold Truck Bed Tonneau Cover at a Glance
:
---
Quick latch rear clamp

Heavy duty aluminum powder coated frame

Pre-assembled horizontal crossbars

10-year warranty
Okay, so I try not to take sides when it comes to brands, but we know there are plenty of Ram lovers out there.
If that's you, the MaxMate is our Editors Choice for the best tri fold tonneau cover. This is weatherproof cover is a option you can't skip over!
I've always been a fan of the slim, sleek look of a folding bed cover. At under $225 it's hard to beat the price, too!
If there's one drawback to a folding soft cover it's the lack of security.
Since the cover is made from waterproof marine grade vinyl it will last for years, but it won't stop someone who wants to get inside.
If your truck doesn't have a locking tailgate, however, it doesn't really matter anyway.
As with most bed covers, this one is a no-drill install. The only exception is if you have over the bedrail liners.
Best for Dodge Ram owners with 6.5' beds from 2003 – 2021.

---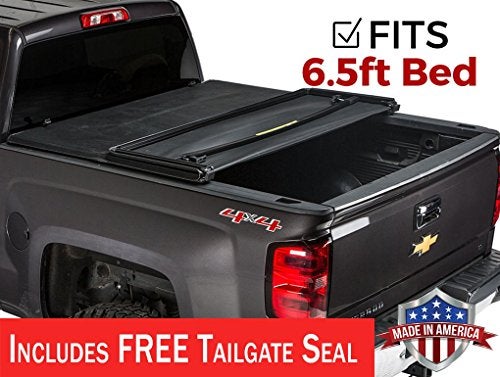 Gator ETX Soft Tri-Fold Truck Bed Tonneau Cover at a Glance
:
---
Tool-free installation
2014-2018 truck models
Lightweight aluminum frame
Made in the USA
Whether you have a short bed, regular bed, or long bed this folding cover will fit your Silverado or Sierra truck.
As popular as both of these models are, I know this will probably work for a huge majority of you.
If you want to use your truck bed in a rush, a heavy cover just won't cut it. That's why lightweight aluminum is the material of choice for the best tonneau covers.
There's just no need for steel, plus the aluminum is rust-proof anyways.
Thanks to the toolless installation it's pretty easy to throw this cover on your truck. Later, if you need more space in the bed, you can remove the cover entirely to use up the whole space.
All of the latches are fully adjustable to get the fit just right for your truck.
Best for Silverado or Sierra owners with any size bed from 2014 – 2021.

---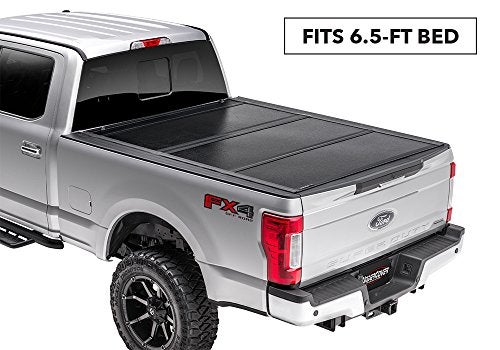 UnderCover Flex Hard Folding Truck Bed Tonneau Cover at a Glance
:
---
One-tool install
Fits 2014 – 2019 truck models
Ultra-low profile design
Can be propped fully open
If you're not happy with a soft cover then the next step up is a folding hard cover for your truck bed.
In this case, the cover also boasts an increase of up to 10% in fuel efficiency thanks to improved aerodynamics.
One of my biggest pet peeves with some truck bed covers is that they stop at ⅔ open. With the lifting prop rods on this hardcover you can actually get it completely out of the way!
Unfortunately, that also means that, when in this position, the cover completely obstructs your view from the rear window…
While I can't confirm a 10% fuel efficiency gain, even half that would be helpful and eventually pay for itself!
Covered by a 3-year warranty it also gives a little peace of mind that you don't always get with mystery products. Trusting the manufacturer goes a long way!
If you're looking for the best hard tonneau cover, you won't go wrong with the Undercover Flex!
Best for Silverado and Sierra owners with short or regular beds from 2014 – 2021.

---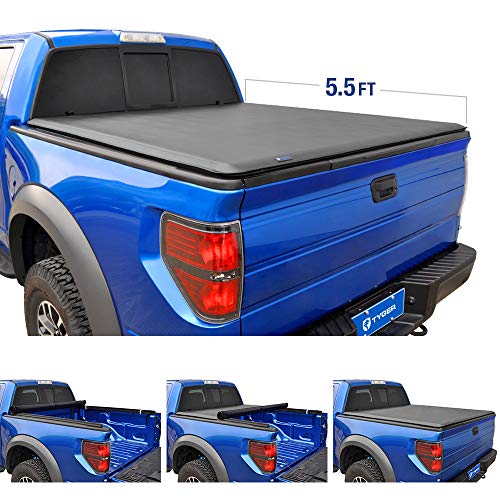 Tyger Auto TG-BC1F9029 Roll Up Truck Bed Tonneau Cover at a Glance
:
---
No-drilling installation
Full velcro side seal
Heavy duty aluminum powder coated frame

2015-2018 truck models
Instead of a folding bed cover, which can sometimes leave too much of the bed covered or get in the way of your rear window, a rolling cover like this one almost disappears.
A ton of users love this truck bed cover for its one big feature. Each side by the bed rails has a full line of velcro that secures the cover to the rails.
That means there's practically zero chance of dirt or water getting in under the cover. Maybe my favorite aspect of this bed cover is that it rolls up in small pieces.
Instead of the ⅓ system of most folding covers, this cover rolls up to tuck out of the way better.
In my opinion, it's a more efficient system for utilizing the full space available in your bed making it one of the best truck bed covers!
See how easy it is to install the Tyger Bed Cover:
TYGER T1 Roll Up Tonneau Cover Installation
I should also mention that the Tyger bed cover comes with a limited lifetime warranty.
Best for Ford F-150 owners with 5.5' beds from 2015 – 2021.

---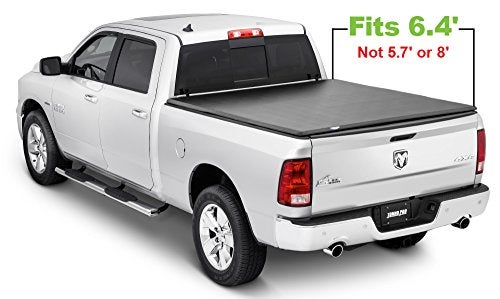 Tonno Pro TRI-FOLD Truck Bed Tonneau Cover at a Glance
:
---
Comes with UV protecting cover cleaner
Tool-free installation,

installs in less than 10 minutes

Weather tight Q Seal Gasket
Dodge RAM 2002 – 2018 truck models
Another waterproof tri-fold truck bed cover, the Tonno Pro has a couple features I really like. I think you'll find something to love here and they make covers for practically every make, model, and year of truck.
Just another soft cover, says you? There's more to the story, says I!
My favorite feature on this cover is the Q Seal Gasket. This thick rubber gasket pulls the edge of the cover down to seal against the frame on the bed rails.
There's no noisy, annoying velcro – just a good quality rubber seal.
I also appreciate the SureSeal Tailgate Seal and UV resistant cleaner that comes with it. While they're not necessary they're good touches which show that Tonno Pro is paying attention to their product.
If you're looking for a hard folding tonneau cover, take at look here at Tonno Pro's offerings.
Best for Dodge Ram owners with 6.4' beds from 2002 – 2021.

---
Truck Bed Cover Comparison Table
How to Choose the Best Truck Bed Cover for You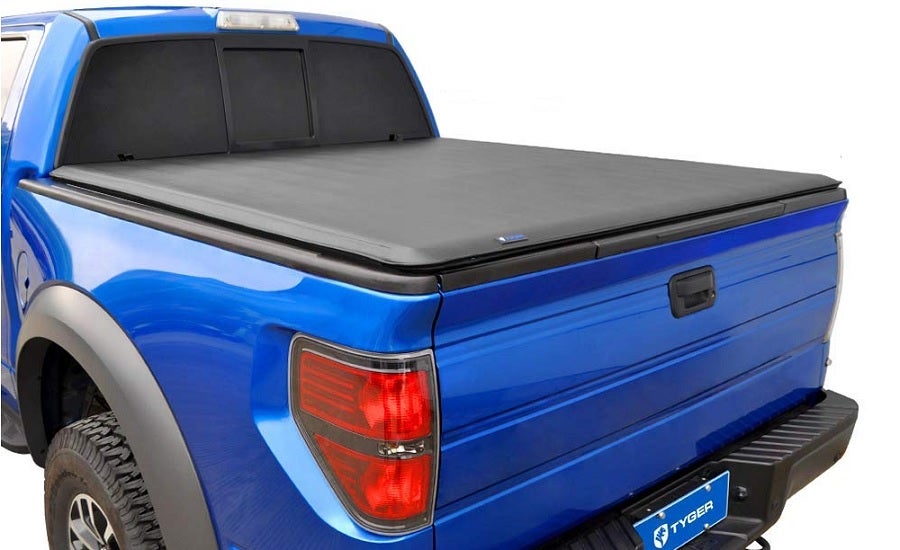 Okay, maybe you don't have to volunteer to help friends move, but a truck bed cover adds so much utility value to your truck that it's not even funny.
Whether you're hauling a boat or hauling gear to the job site, we know most of you are outdoor lovers in general will want a bed cover.

Types of Truck Bed Covers
Painted Lids
Your truck probably cost almost as much as my house. They're expensive investments! With that expense comes a measure of pride and sometimes we all want that truck bed cover to look darn good.
In my view, the best pickup bed covers are the painted fiberglass covers. These are often only available from custom shops or straight from the manufacturer when you buy the truck.
They're some of the most expensive covers you can buy but they can be made to match the look and feel of the truck better than any other aftermarket option.
Flat Locking Lids
Similar to the painted lids, a flat locking cover is a smooth polymer pop-up style lid for your truck bed. They're usually made of some strong man-made plastics but don't come in as many colors as the painted fiberglass covers.
These lids are rigid but can be removed from the truck if you need more space. The biggest drawback is that they don't really collapse so you need a huge space to store it when it's off the truck.
Retractable Truck Bed Covers
Unlike rigid covers, these retractable covers are able to roll up into a tight space. Like those big overhead doors at the mechanic shop that roll up into a loop at the top? Yeah just like that.
Retractable bed covers are great for saving space and they nearly completely disappear when they're retracted. They take up very little room.
However, because they rely on a system of mechanical rails, wheels, and greased slides they're vulnerable to dirt and debris. If you regularly fill your truck with dirt, wood chips, or other dirty loads this debris can be whipped up and blown into the retractable cover mechanisms which may cause binding or jamming over time.
Folding Covers
Folding truck bed covers are one of the most popular options out there. They're relatively affordable, easy to use, and quick to remove.
Folding covers may come in soft or hard shell styles. If you're looking for a secure truckbed, go with the hardcover folders that have locks. Softshell folders can easily be slit to gain access to the contents of the truck bed.
Roll Up Covers
These are one of the cheapest options out there. They are slim and easy to store when off the truck. Plus they almost disappear when rolled up on the truck bed.
These advantages come with the benefit of not having mechanical moving parts. That means a roll-up cover can get covered in dirt and dust without binding or jamming.
The worst part about roll-up covers is that they are relatively insecure. They're made from soft materials like waterproof fabrics. Because of this, they can easily be cut open with a knife if a thief wants access to your truck bed.
Comparison of Roll-Up cover vs a Tri-Fold Truck Bed Cover:
Roll-Up Cover vs. Tri-Fold Tonneau Cover Comparison
Waterproofness
I think it stands to reason that a solid rigid cover is probably the most waterproof cover for your truck bed, right? I mean, short of disastrous damage to a rigid cover it's going to shed water forever.
Soft covers, on the other hand, can wear out. Sun exposure, minor tears or punctures, and other damages can easily cause leaks in your cover. That said, they're pretty easy to repair and even simple duct tape can keep water out for a while.
By far the most important factor in waterproofness is a good fit and proper installation.

Fitting a Truck Bed Cover
There are no two ways around it – you need to check the manufacturer's fitment guide for truck bed covers. Every truck bed is going to be slightly different in measurements – even from a full bed to a full bed.
Of course, it's obvious that a full bed truck cover won't fit on a short bed. However, from brand to brand the sizes can vary slightly on your truck. That's why a manufacturer's sizing guide is the only way to find the right cover.

Covers With Other Accessories
It's worth taking the time to note that truck bed covers are not compatible with many other bed accessories. If you're using the bed of your truck regularly, a cover might not be a good choice.
Camper hookups, luggage racks, and accessories that mount on the bed can all be compromised with a tonneau cover.
Fortunately, there are side rails and capper mounted accssory racks that can help with compatibility issues. If you think that using a truck bed cover will get in the way of other accessories, consider looking for other options.
If nothing comes to mind, talk to your local truck accessory store. There are many options out there and customized work can be done.

FAQs For Truck Bed Covers
Q: Does each manufacturer make a cover for all trucks?
A: Many, if not most, manufacturers do make covers that will fit practically any truck. If you've found a cover by a certain maker that you're really in love with but it doesn't appear to come in the right size for your truck, try the manufacturer's website.
A lot of times manufacturers only have some of their products available at your local store or online stores. To find that one that fits your truck you may have to dig deeper.
Q: I have a toolbox/rails/cargo carrier – will these fit my truck?
A: Usually, the answer is no.
Bed rails and cargo racks always get in the way of a truck bed cover. That's just the way of the world, unfortunately. Because bed liners use the rails of the truck bed, any accessories mounted to the rails will prevent the install of a truck bed cover.
Toolboxes can sometimes work with a bed cover though. Your toolbox has to be below the level of the truck bed rails in order to accommodate the use of a bed cover.
To check and make sure, use a 6 or 8-foot level and set it across the top of the bed rails of your truck above the toolbox. If the toolbox sits under that level, you should be good to go!
Q: Where can I get a custom painted fiberglass hard cover made?
A: These types of bed covers are expensive as we mentioned earlier. Not only are they pricey, but they can also be hard to locate and order!
To get a bed cover that matches the color and design of your truck, start by calling the local dealership. They should be able to locate any manufacturer available truck bed covers and that's probably the best bet, to begin with.
If that course of inquiry fails, the next step is to talk to a reputable local truck accessories store. They will definitely have access to pickup truck bed covers for you and if they can't scare one up, they'll know who can help you custom order one!
Q: What's the most secure option for storing valuables in my truck bed?
A: If you carry expensive equipment or cargo regularly, you may want to keep it locked up. Valuable items tend to disappear out of the back of parked trucks.
The first step in determining if you can even lock up your truck bed is to check for a tailgate lock. Without a locking tailgate, there's no way to secure your load.
Don't have a locking tailgate? Talk to your local dealership – they can probably install one for you.
Once you have a locking tailgate you can then look for a locking bed cover! Usually, the most reliable ones are bed covers straight from the manufacturer. So, while you're there asking about a tailgate, look into a bed cover too!
Q: How do I protect and care for my bed cover?
A: That's a good question.
For soft covers, you'll want to use something like a marine grade vinyl UV protectant. Wipe the truck bed cover with this product at least once a month to prevent degradation of the vinyl.
If you have a hard truck bed cover, make sure to check what material it's made from. Most are some type of plastic, but there are many different types of care products out there for different kinds of plastics. Using the wrong one can actually harm the cover.
For painted fiberglass covers, just wash and wax the cover whenever you wash and wax the truck. In states where road salt is used, this should be done more frequently.
Final Thoughts
At the end of the day, your truck bed cover needs to be an extension of you. Before you buy one, make sure it's the right choice for you. Truck bed caps, bed rails, and cargo racks are all other options you may want to consider.
As long as you go through the steps of choosing a truck bed cover that makes sense for your needs, you'll be able to easily start picking out a cover that will last for years. Use our buyer's guide section to get started thinking about what you want and what to avoid.
Remember that your truck bed cover will only last as long as you take good care of it! A good cover, properly cared for, should last the life of your truck.
How We Researched
To come up with the top truck bed covers, we researched a variety of sources for reviews such as Camping World, Lazy Days, Real Truck and Walmart along with our own personal experience.
We also consulted online magazines for product research and reviews to get as much unbiased information as we could. To help weed out fake reviews we used Fakespot.com to make sure we only looked at genuine reviews.
With so much quality gear available, we had to narrow it down based on what we felt were the best options for the price. The staff authors have a wide and varied background in RV camping, automotive repairs and backpacking.
The authors have decades of experience and are eager to share their knowledge with readers.
To help narrow down the selection we used personal experiences along with recommendations from mechanics and retailers.
After extensive research, we came up with our list to help you choose the right one for you.
Sources
---
Notice:
OutsidePursuits.com is a participant in the Amazon Services LLC Associates Program, an affiliate advertising program. OutsidePursuits.com earns fees from products sold through qualifying purchases by linking to Amazon.com. Amazon offers a commission on products sold through their affiliate links.