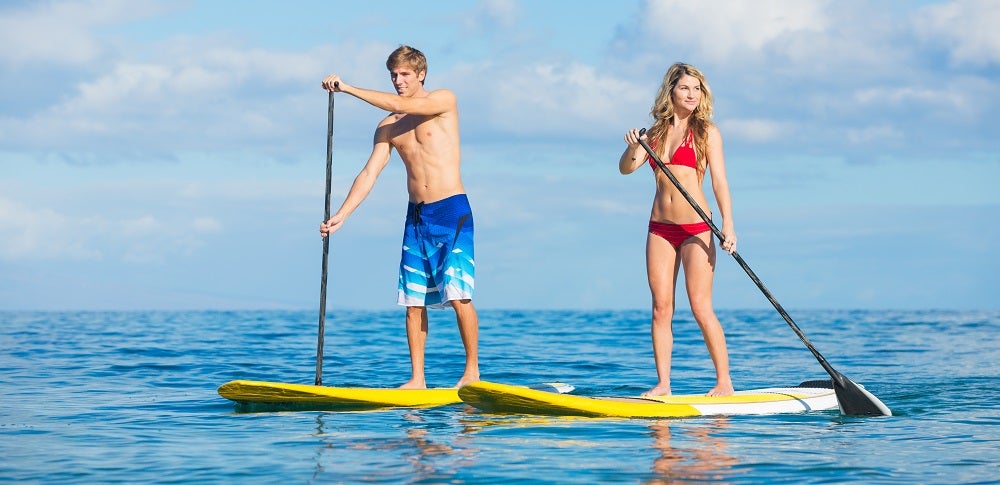 Our Editors independently research, test, and rate what we feel are the best products. We use affiliate links and may receive a small commission on purchases.
Stand-up paddle boards, often referred to as "SUPs", come in all shapes and sizes.
However, if you're in need of a SUP that's great for traveling longer distances, exploring coastal regions and waterways or higher speeds, then touring a SUP is what you should be looking for.
There are quite a few models out there, which may make your search for the right one a bit of a challenge.
We've gone ahead and done our own research, taking our first-hand experience along with that of many other paddlers to bring you the top touring paddle boards. Let's get started!
Best Touring Paddle Boards
Attention: The internal data of table "1535" is corrupted!
For more of my paddle board recommendations, have a look through these popular Outside Pursuits guide links: Electric Inflation Pumps, SUP Paddles, SUP Roof Racks.

Quick Answer: The 7 Best Rated Touring SUPs For 2021
Our reviews to the top rated touring SUPs with our comparison table and buyers guide will help you choose the right SUP for you.
---
Touring SUP Reviews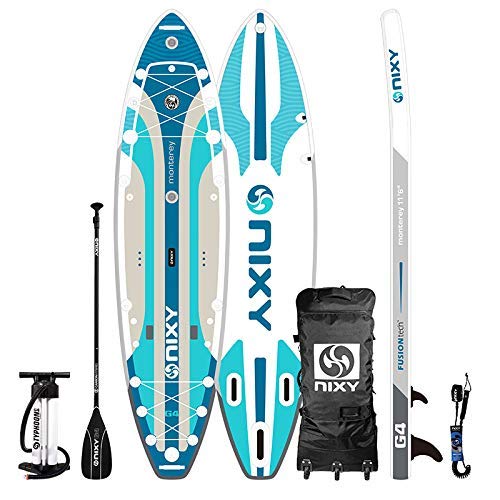 NIXY Monterey Paddle Board Touring Inflatable SUP at a Glance
:
---
Type: Inflatable
Length: 11'6″
Width: 34″
Weight Capacity: 400 pounds
The NIXY Monterey Paddle Board Expedition & Touring Inflatable SUP is not only great for touring alone, but for taking your dog and extra gear along, too! With a weight capacity of up to 400 pounds and measuring 11'6", it's robust and made for long journeys.
The Monterey G4 comes with 2 chambers, which offers additional security and comes with various mounting brackets for holding your bags and any other gear you may need to bring along. Weighing just 25 pounds, the inflatable board is portable so you can carry and set it up just about anywhere.
Made with woven dropstitch fusion technology, the board is tough and made to last a long time. It inflates up to 15 PSI, meaning it will stay rigid and reliable each time you bring it out on the water. Inflatable boards can be just as, if not more reliable than hard boards, after all!
You get much more than a board in this kit. You'll find a tough backpack that is large enough to fit your deflated SUP, along with every other accessory.
An adjustable carbon hybrid paddle is also included, which is super lightweight, strong, and floats if you happen to drop it in the water. On top of that, you'll get a detachable fin, hybrid coiled leash, and a dual-chamber hand pump.
The NIXY boards are all made in Southern California, here in the United States. You know exactly what you're getting here, which is a well-made board with high-quality materials.

---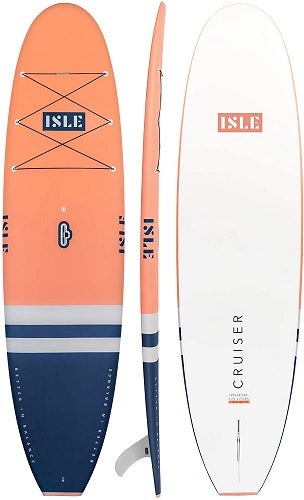 ISLE Cruiser Stand Up Paddle Board at a Glance
:
---
Type: Rigid
Length: 10'5″
Width: 32″
Weight Capacity: 235 pounds
Next up is a brand known to produce some of the best touring SUPs in the world: ISLE! However, among all of their models, their Cruiser Stand Up Paddle Board is undoubtedly the top choice for touring paddlers.
Coming with a full accessory bundle, they're perfect for beginners who don't have any gear yet, all the way to advanced riders who want an upgrade.
Just looking at this board makes you feel like you're halfway to a beautiful beach somewhere. Coming in 3 different colorways, you get to choose from either Coral, Green, or Blue: all of which feature more natural, muted shades that look great.
The 10'5" length is great for all experience levels, offering rigidity and stability in varying waters, too. Whether you're just paddling, doing yoga, etc. you're in good hands. The rigid board is comprised of a lightweight foam core and comfort-top deck pad that weighs just 28 pounds, in total.
The San Diego-based company is known for their croc skin padding, providing a wonderful balance of grip and comfort that's ideal for long trips. Dual wood stringers improve strength and durability, while the slick bottom takes you to high speeds.
Moving onto the full accessory bundle we know you're excited about, you get a carbon adjustable paddle with a nylon blade, an 8' coil leash, and a nylon touring center fin. Some people like more fins, but if that's you, you may find a more appropriate board on our guide. If not, then this is an excellent choice!

---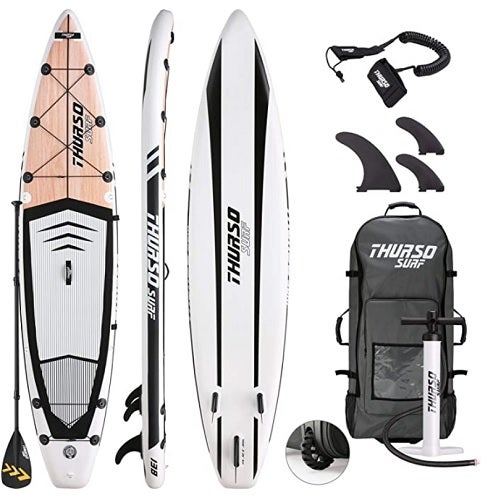 THURSO SURF Expedition Touring Inflatable Stand Up Paddle Board SUP at a Glance
:
---
Type: Inflatable
Length: 11'6″
Width: 30″
Weight Capacity: 330 pounds

In order to gain the title of the best touring paddle board, it needs to be stable, easy to use, comfortable, and look great! The THURSO SURF Expedition Touring Inflatable Stand Up Paddle Board features all that and more!
With a beautiful white-and-black color scheme and bamboo wood detail on the deck, you'll be sure to turn some heads, too!
Created for speed, the body is streamlined and sleek in order to keep drag to a minimum. If you're already an experienced paddle boarder, you'll know the frustration of feeling like you're lagging or stuck in the water.
The sharp nose helps slice through waves, and the narrow tail work together with the nose for speed and excellent control. If you're an intermediate or advanced paddler, then you'll really love how fast this board can go.
Thurso Surf Expedition Touring Inflatable Paddle Board
Also, if you're planning on taking multi-day/extensive trips then this one fits the bill. If you try to steer away from inflatable models, this SUP will change your mind.
In fact, it comes with the toughest structure we've seen, with 2-layer construction and up to 4 military-grade PVC coatings on each side and the deck.
A PVC-coated tarpaulin is stitched onto the deck, which reinforce where you stand, and the sides. As the deck and bottom seams come capped with extra wraps, you can count on it lasting you for many years of adventures.
Included are 3 removable fins and a carbon paddle. The fins offer 2 different configurations; whichever is best for your riding style and what you're looking for. Installing the fins is super simple, as you just slide and clip them without the need of tools.
The carbon shaft paddle is probably the best choice you can make, as it weighs just 2 pounds! This makes it ultra-lightweight and strong!

---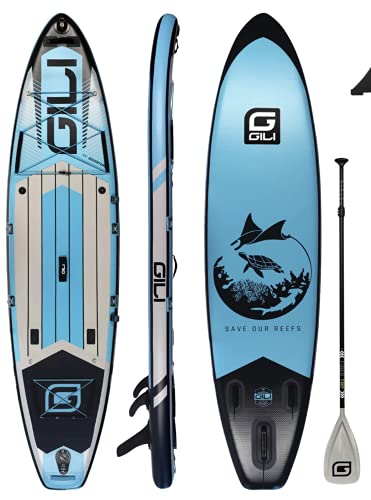 GILI Adventure Inflatable Stand Up Paddle Board at a Glance
:
---
Type: Inflatable
Length: 11′ or 12′
Width: 32″
Weight Capacity: 290 pounds
Are you on the hunt for the best inflatable touring SUP for those on a budget? Look no further than the GILI Adventure Inflatable Stand Up Paddle Board. Along with the board, you get all necessary equipment to have a fun adventure every time – not to mention you get all that for a quite affordable price!
The board's graphics and colorways are really reminiscent of surfboards, offering a very tropical, relaxed vibe. You can choose from Teal, Blue, or Orange, with matching accessories.
Each board comes with either a "Save Our Turtles" or "Save Our Reefs" graphic on the deck as well, which not only adds to the visual appeal but reminds us of potential actions we can take to do so. The brand will donate a portion of your order to help make the sea a better place for the actual inhabitants of the oceans.
You get your choice of either an 11-foot or 12-foot board, depending on your height, experience level, and the kind of waters you'll be paddling in. Each comes with 19 D-rings, along with front and rear bungees. Dual-layer, fusion technology helps reinforce the board and is machine-laminated to keep it free of any potential weak spots.
The SUP comes with a fiberglass travel paddle, which is sporty, sleek, and lightweight. An included paddle is pretty typical, though they take it up a notch and throw in a GILI inflatable backpack with a 2-stage hand pump, 10' coiled leash, and snap-in center fin.

---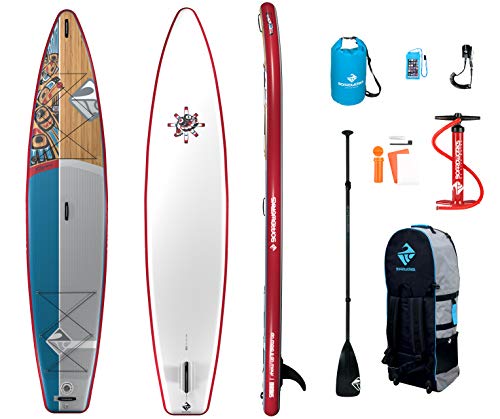 Boardworks SHUBU Raven Inflatable SUP at a Glance
:
---
Type: Inflatable
Length: 12'6″
Width: 30″
Weight Capacity: 260 pounds
The Boardworks SHUBU Raven Touring SUP is an absolutely phenomenal piece of equipment! While it is a bit more expensive, it's more than worth it when you take into consideration the high performance, top-notch quality, and wide array of included accessories.
Not only that, but the design is unbeatable, with a classic Hawaiian pattern and color way. No matter if you're going through lakes, ponds, rivers, or oceans, you'll be able to take the SHUBU Raven out there with confidence.
Actually, we've never quite seen a hard board as versatile as this model. The tapered bow and increased nose rocker make for a very stable platform which is fast enough for advanced riders, but reliable enough for beginners.
Made with Dual Fusion Laminate, the board combines a high-density, drop-stitch core with internal fibers coated in liquid PVC. The sidewall materials are also notably resilient, with a PVC tarpaulin top and sides as well.
You simply won't find a deck as comfortable as this one, with a luxurious Honey Comb, heat-embossed deck pad that's perfect for long paddling days.
The 3 neoprene carry handles make it easy to transport around, while keeping it away from any abrasive materials. Six D-ring tiedowns on the front and rear with bungee cargo cords let you bring along a few days' worth of gear, too.
A lightweight, adjustable 3-piece carbon fiber paddle, backpack roller carry bag, high-pressure pump/gauge, FCS II quick-connect single fin, leash, and repair kit are also included.

---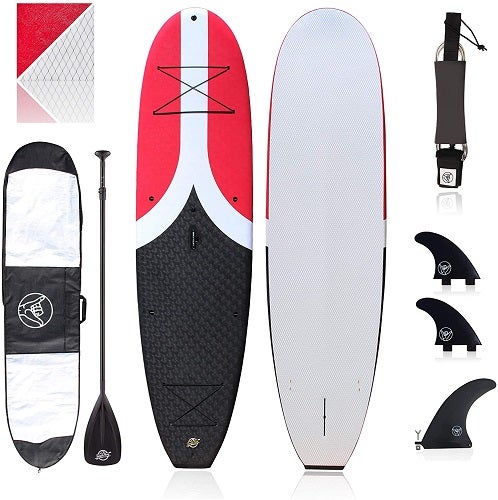 South Bay Board Co. Soft Top Stand Up Paddle Board at a Glance
:
---
Type: Rigid
Length: 10'4″
Width: 32″
Weight Capacity: 350 pounds
A crowd favorite, the South Bay Board Co. Stand Up Paddle Board offers a low cost, good quality, and a great reputation. Featuring PVC military-grade plastic layering and carbon fiber wrapper rails, it's also very durable.
We're big fans of the fingerprint-like texture on the wax-free foam deck for excellent comfort levels, too. This big cruiser will fit the majority of paddlers well, so long as you're less than 350 pounds!
The 10'4" SUP is great for those who stand at least 5 feet tall, as anything shorter than that may make navigation a bit of a challenge. If you feel more comfortable on a rigid board, then we highly recommend this beauty.
Made of a closed-cell EPS foam core, it manages to be lightweight but still very sturdy. You also get 6 ounces of resin layers on both the top and the bottom to only add to this.
Squared-off rails facilitate stability for beginner paddlers, with a wide, rounded nose and center section. In fact, this is likely the best touring stand up paddle board we've seen.
In order to safely store the board when not in use, it comes with a heat-release valve, rubber tail bumper, and bamboo body armor. This helps keep it in good condition in hot conditions, and eliminates the risk of bubbling and other potential damage like scuffs or dents. The EZ carry handle makes it easier to transport, too.
We appreciated the addition of kayak seat hooks, should you prefer to paddle sitting down, and the bungee strap system on the nose keeps your gear safe and easily accessible.

---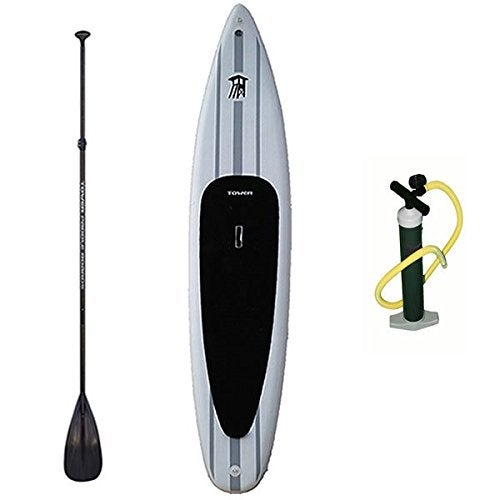 Tower Xplorer Inflatable Stand Up Paddle Board at a Glance
:
---
Type: Inflatable
Length: 14′
Width: 32″
Weight Capacity: 800 pounds
If you love touring and racing on your SUP, do yourself a favor and check out the Tower Xplorer Inflatable 14' Stand Up Paddle Board.
At 8 inches thick and 14 feet long, it's certainly a behemoth of a board and is capable of supporting up to a massive 800 pounds! However, as it can be rolled up like a sleeping bag, it's still a breeze to store and transport!
Due to the large weight capacity, it's perfect for long adventures, as you will be able to store days' (or even weeks!) worth of food, clothing, and other gear!
We loved bringing along our dogs, as they will be able to comfortably lay and relax, and there's more than enough room for them. Heck, you could even fit another person on your board, too – great for couples!
The inflatable SUP is perfect for use in white water rapids, rocky shores, and other waterways that wouldn't be accessible with other models. The durability is genuinely unmatchable, due to supreme drop-stitch construction and military-grade material.
It's rugged enough to be thrown into the back of a truck/trunk, on the ground, garage, or wherever else.
While we've focused on the board being used for more advanced paddlers, we should mention that it's also an excellent learning SUP due to the added stability. You'll also receive a high-pressure pump and 3-piece, adjustable paddle.
The one drawback we don't like, is the lack of an included backpack. We researched and found this to be a good transport bag with wheels. For a large SUP like this, I would HIGHLY recommend an electric pump.

---
Touring SUP Comparison Table
How to Choose the Best Touring SUPs – Buying Guide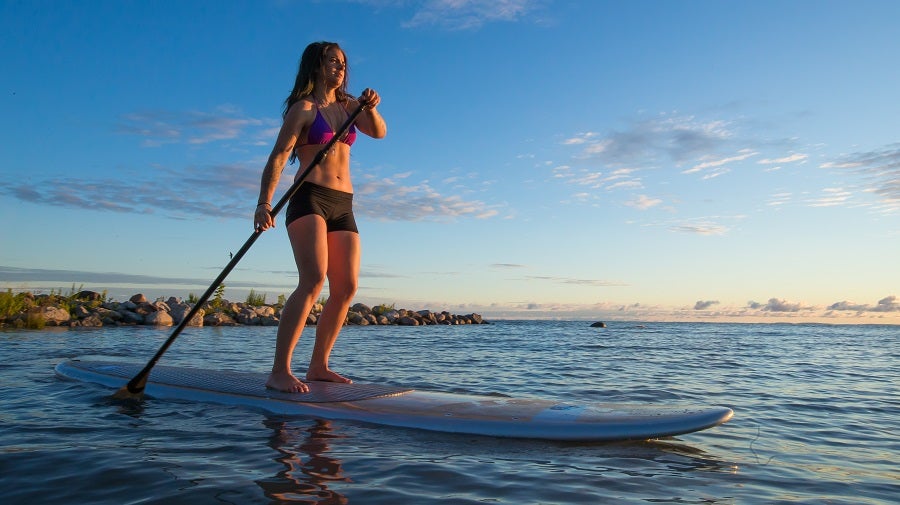 Now that you've read through all of the top touring stand up paddle boards, have you figured out which board is right for you? If not, then we're here to help! We know that it can be a bit challenging to choose from when there are so many excellent models. We've decided to go ahead and compile a comprehensive buying guide, taking you through each consideration to take when narrowing it down to the perfect model to you.
Size
First off, you need to select the right size for you. With touring SUPs, you'll usually find short, medium, and long boards which sit anywhere from 10 to around 15 feet. To select the right length, you'll need to look at your riding style, experience level, and height.
Short – These typically have a planing hull, and are easier to maneuver than longer boards are for most people. If you want to surf waves and take tight turns, a short board will likely work best for you. These are around 8-10 feet long, though anything shorter than 10 feet is probably going to be for kids.
Medium – These are 10-12 feet long and are ideal for the vast majority of riders who stand between 5 to 6 feet tall. They are also relatively easy to maneuver and work well in most bodies of water. You'll also see that most of the touring SUPs on our guide fit into this category.
Long – These boards start around 12 feet and typically end around 15 feet. There are a couple of models on our guide that fit into this category, and are often the fastest of the bunch. They're excellent for touring overall, and long trips as they are incredibly reliable and have plenty of room for you to keep gear, food, or even a dog or human partner!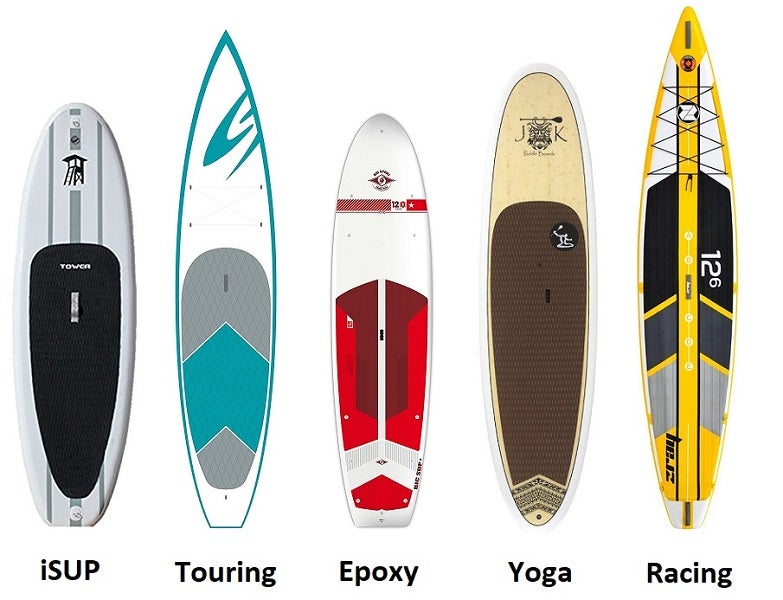 Width
The width doesn't vary as much as the length does, and though the small variations may not seem like a big deal, they can make a significant difference in your riding experience. One thing to note, is that the wider a board is, the more stable it will be.
Anything less than 30″ will be harder to balance on, and isn't really ideal for most beginners but they will be faster. 32″ is a pretty typical width for touring SUPs, and offers a nice blend of speed and balance! Basically, unless you're an absolute beginner, 32″ is a great choice.
Weight Capacity
It doesn't matter how cool or fast the board is – it isn't going to function very well if it can't support your weight! That means that along with the size of the board, you need to pay attention to the weight capacity.
Remember, you need to take not only your weight into consideration, but the weight of any gear/dogs/humans you're going to take with you, as well! So, think about it; what are you bringing along for the ride?
Try to give yourself at least a 50-pound buffer, so if you weigh 150 pounds, find a board that will support at least 200 (which all of them do).
Weight capacities on touring SUPs usually land anywhere between 250 to 400 pounds, though you'll absolutely find some on our guide that can support 500, 600, or even 800 pounds! That's because the boards are designed to bring multiple people along, or multiple days' worth of food, clothes, and other gear.
Inflatable or Rigid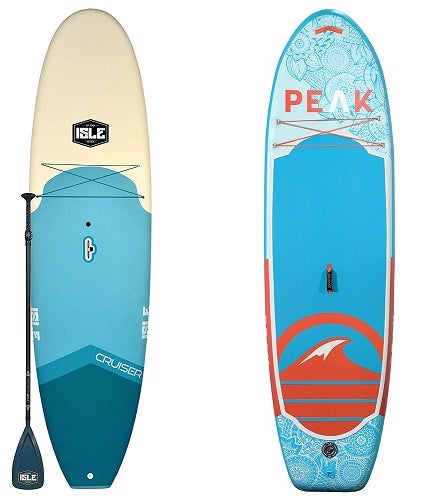 Ah yes, the argument that every SUPer has likely had with another: are inflatable or rigid boards better? Well, we'll be honest: we think that inflatable boards have a ton of benefits over rigid boards. However, there are absolutely some reasons why one may prefer a rigid board over an inflatable. Let's take a look at the pros and cons of each!
Inflatable – Inflatable SUPs are much easier to store and transport, as you can deflate them, roll them up/put them in a backpack and you're ready to go! Inflatables are simultaneously more durable, yet softer than a rigid SUP, making it more comfortable – particularly during long adventures! They're very lightweight yet more stable, making them a great option for all experience levels.
Rigid – As we're talking about touring here, we're guessing that you may place a lot of value on the speed at which your board can travel. Rigid boards are known to generally be able to reach higher speeds than their inflatable counterparts. They also offer improved glide and momentum, which means you'll be a bit less tired as you head to your destination.
Not only that, but they are more resistant against the wind, which can make things easier as well. Finally, you don't have to worry about the time spent inflating and deflating your board. Once you get to the water, you can just go.
Portable
This section kind of goes hand-in-hand with the last one, but you should consider how portable your board is on land. What kind of traveling will you be doing with it? Will you be taking it on a plane? Are you just driving down to a local spot?
If driving, do you have a large enough vehicle to tie a rigid board on top or put it in the back of a truck/SUV? If you do happen to have a large vehicle, then a hard board may be easier for you if you're willing to tie it down properly. If not, then an inflatable is honestly much easier for most.
Deck Pad
The deck pad may have the biggest influence on user comfort level, especially for longer distances. If you're a new rider, your feet may get sore easily as you're not yet used to it. Deck pads offer comfort and traction, though the level of both will vary depending on the manufacturer and model.
Some boards even come with full-length deck pads which may be preferable if traveling with a human partner or dog. The traction design is important, and you may see fingerprint-like, alligator, or diamond patterns mentioned – all of which are great!
Accessories
Honestly, a good bag of accessories can make a big difference when it comes to saving money, performance, and the user experience. We highly recommend choosing a board that at least comes with a fiberglass or carbon fiber paddle (ideally one that floats), at least 1 fin, a leash, and a backpack or carry bag of some type. We've even seen some bags that are buoyant as well, which is amazing!
FAQs About Touring SUPs
Q: What is the best touring SUP?
A: We love each and every one of the boards on here, but if we had to choose, we'd select the THURSO Surf Expedition. It's a great value for the high-quality performance, comfort, style, and versatility!
Q: What is a touring SUP board?
A: These boards are usually shaped with a pointed nose, similar to a kayak. They're made for longer adventures, and for reaching high speeds.
Q: Should I get an inflatable or rigid paddle board?
A: That all depends on you! If you have a means to transport a rigid paddle board and the space to safely store it, then go for it! If you don't, then an inflatable is preferable in most cases.
Q: Can you surf on a touring SUP?
A: You definitely can, though the type of maneuverability you get from a board is going to vary, depending on the style, weight, and length.
Tips For Choosing Touring SUPs
#1: Remember to take into account your dog or human partner if they'll be riding on your board with you.
First, make sure you have enough space for them on the board, and that the weight capacity of the model can support both of your weights and any gear you may take along.
#2: Make sure to regularly maintain your stand up paddle board.
This can be done by simply rinsing it off with water (and possibly a bit of soap if dirty), each time after you use it. This goes double if you've been using the board in saltwater!
#3: Before you head out, always check the weather conditions.
Check the weather conditions for each day you're going to be out on the water, as well as the wind direction and speed. Trust us, it can get pretty windy when you're out on the water and your first priority is staying safe.
Summary
Now that you're practically an expert when it comes to the best touring paddle boards, have you decided which model is right for you? If you haven't selected one yet, you can rest assured that no matter which one you select from our guide, that you'll be getting one of the best out there. We hope our guide has been able to help you select the perfect SUP for you. Thanks for tuning in, and we'll see you again shortly!
How We Researched
To come up with the top touring paddle boards we researched a variety of sources for reviews such as REI, Dicks Sporting Goods, West Marine and Backcountry along with our own personal experience.
We also consulted online magazines for product research and reviews to get as much unbiased information as we could. To help weed out fake reviews we used Fakespot.comto make sure we only looked at genuine reviews.
With so much quality gear available, we had to narrow it down based on what we felt were the best options were for the price. The author, Shayanne Weeks, is an avid paddle boarder.
To help narrow down the selection she used her personal experience along with recommendations from paddle board instructors, and rental shops.
After extensive research, we came up with our list to help you choose the right one for you.
Sources
Notice:
OutsidePursuits.com is a participant in the Amazon Services LLC Associates Program, an affiliate advertising program. OutsidePursuits.com earns fees from products sold through qualifying purchases by linking to Amazon.com. Amazon offers a commission on products sold through their affiliate links.