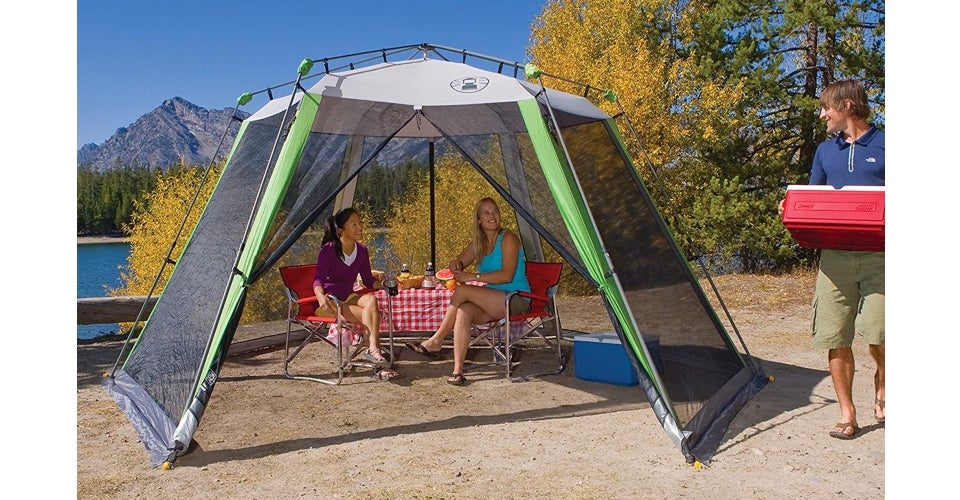 Our Editors independently research, test, and rate what we feel are the best products. We use affiliate links and may receive a small commission on purchases.
Best Screen Tents
Also see: Best Screen Tents Comparison Table
---
Quick Answer: The Best-Rated Screen Tents
Also see: How To Select The Best Screen Tent 
---
Screen Tents Reviews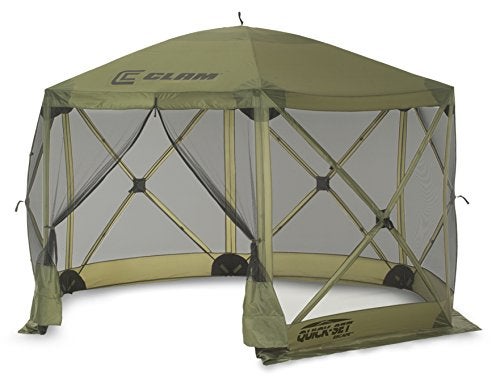 Quick Set Escape Shelter Popup Tent At A Glance
:
---
Interior space: 110 square feet
Center height clearance: 90"
Fits: 6-8 people
Clam Corporation is one of the most well-respected companies in the pop up screen tent world, and their 9281 Quick Set Escape Shelter is a favorite of ours and many other consumers.
Coming in Green, Tan, Gray, Brown/Tan, and Camo, you can use these in just about any outdoors setting.
Thanks to a grand total of 110 square feet of space, the screen house is incredibly versatile. Cook dinner, camp, or even hang out on the beach all while being protected from harsh conditions.
As it's able to fit up to 6-8 people and even a standard picnic table, you can imagine the possibilities!
One thing that stops many people from using a screen tent is the set up process, and it's easy to understand why!
When all you want to do is have a good time, the last thing that you should have to deal with are complicated designs that are a hassle to set up and take down.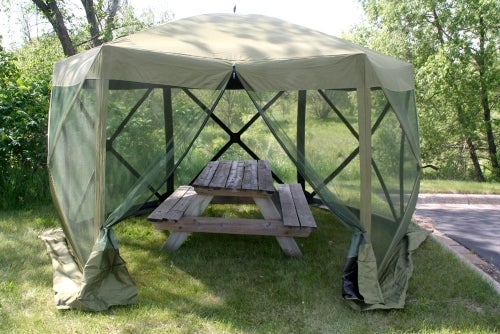 This clam screen tent is a breeze to use, popping open in just 45 seconds. Simply lay the shelter flat, pop out each hub, push the roof up, and you're ready for some fun.
Stowing away the tent is just as simple, and comes with a carry bag for easy transportation.
While it may be simple, it's anything but frail. Comprised of 210 denier fabric and 600 denier in the center area of the roof, you can put it through a beating and it will still look like the first day you used it.
The 11mm fiberglass poles and triple-layer corner pole pockets are also made to last, with water-resistant taped seams to ensure your belongings inside last, too.
If conditions start getting windy, simply draw the wind panels to shield you and others. If you'd like to enjoy the light breeze on the beach, well-ventilated mesh allows you to soak it in, while keeping insects and sand out.
The only real downside we experienced, was that while it is water-resistant, it is not waterproof. That means during particularly heavy rainfall, you may experience some light leaking.

---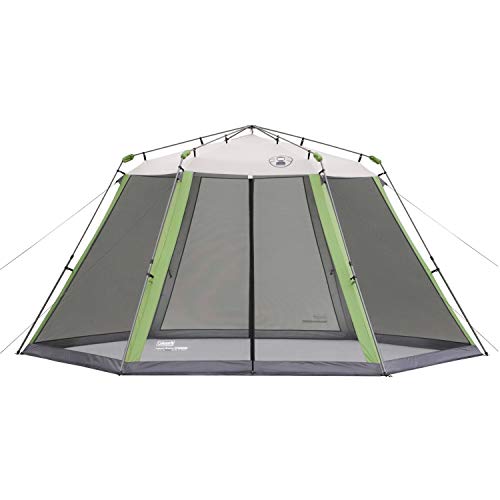 Coleman Screened Canopy Tent At A Glance
:
---
Interior space: 90 square feet
Center height clearance: 8'4"
Fits: 5-7 people
Coleman is one of the biggest names in the outdoor gear world due to their consistently high level of quality, and their Screened Canopy Tent with Instant Setup is no exception.
The model doesn't come in many colors (only Brown or Green), but it's made to be to-the-point and simple to use. If you're on a tight budget but still want one of the best, keep on reading.
While the former model may be a tad bit easier to set up, this one is clearly no challenge, either. Telescoping poles and Comfort Grip technology facilitate the process, taking no more than a minute to have it ready for use.
To make sure it doesn't get knocked over or blow away, Coleman also includes ground stakes and pre-attached guy lines to keep it properly anchored.
The Coleman screen house is suitable for both day and night use, though we wouldn't recommend it for use in heavy rain conditions due to the lack of wind panels and waterproof seams.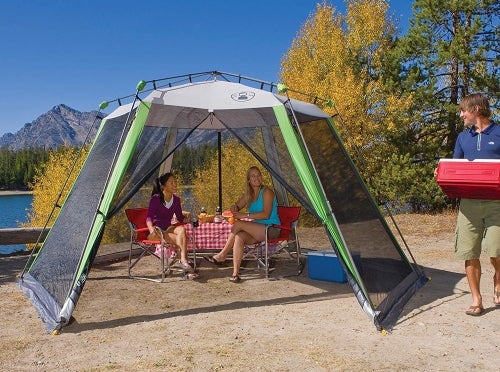 Made of Polyguard 2x Double-Thick Fabric with UVGuard 50+ UPF protection, it will keep you free from harm under the sun's rays.
At night when the bugs come out, you can enjoy your party's company and fresh air without worrying about being swarmed with the wide mesh walls.
Two double large T-doors make it easy to get in and out of the Coleman instant screen house; no crouching down or crawling necessary.
The 8'4" center height makes it easy to stand up, sit, or lay down at your convenience, while 90 square feet of space means a group of around 7 people can fit with ease.
When you're ready to pack your Coleman screened canopy up for the day, simply place it into the carry bag. It folds down just as quick as it sets up, so you won't be wasting any time.

---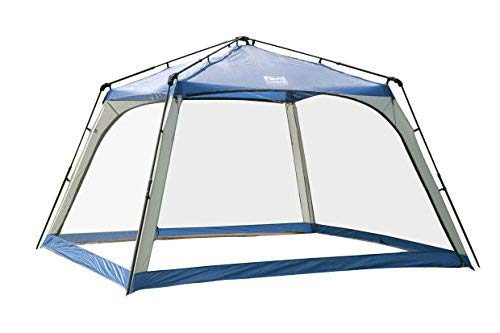 Timber Ridge Screen Tent House At A Glance
:
---
Interior space: 11 x 11 feet
Center height clearance: 84"
Fits: 5-8 people
Another excellent budget product, we have the Timber Ridge Instant Screen Tent House next. If you feel you don't really need a fully-featured model like the others on this guide, this may be the one for you.
It's also not made for heavy rain, but it performs wonderfully in the sunshine. Take it to the beach, park, or camping, and you'll have a much more comfortable experience.
The large mesh walls give excellent airflow so you can inhale all the fresh pine tree-scented breeze you'd like without dealing with the mosquitoes.
Eat your hot dogs and hamburgers in peace, without worrying about flies trying to share your meal. While it doesn't protect entirely against wind, it does do well in light rain, too.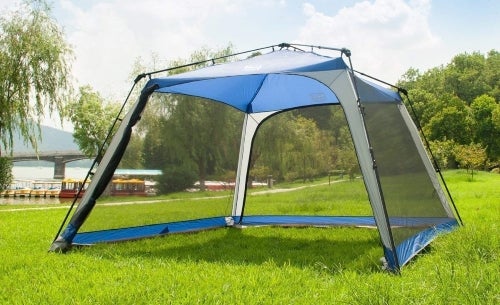 Suitable for 5-8 people, you can fit in some lawn chairs and small tables in with no problem. Two large D-shaped doors make it easy to go in-and-out, which also makes it handy for use on the sidelines at sports games.
The no-floor design actually may make these outings more convenient, as you won't risk cleats or chairs tearing the fabric.
Setup and take-down is quick and easy, with no assembly required. Everything takes about a minute, so it won't impede on your fun. Slide it into the included carry bag, and you're on your way.

---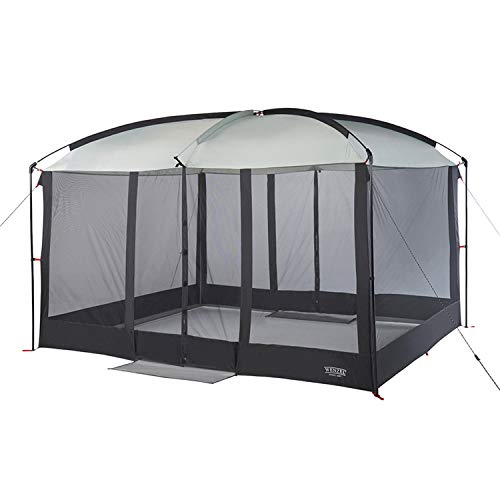 Wenzel Magnetic Screen House At A Glance
:
---
Interior space: 99 square feet
Center height clearance: 5 feet
Fits: 5-8 people
Wenzel has been around longer than any of us have, so they've had quite a while to perfect their engineering.
Their Magnetic Screen House is one of the best we've seen to protect against pesky insects. We like this screen house for picnicking or parties at the park or yard.
Unfortunately, we wouldn't suggest using this tent in rain, wind, or direct sun. Rather, try placing it under a tree or in the shade of a building if you can.
The model doesn't included UV protection, though it does add a bit of shade, which can save you from burning.
With steel and fiberglass poles, setup is a bit more tedious than with the aforementioned products, but it is worth it in the end.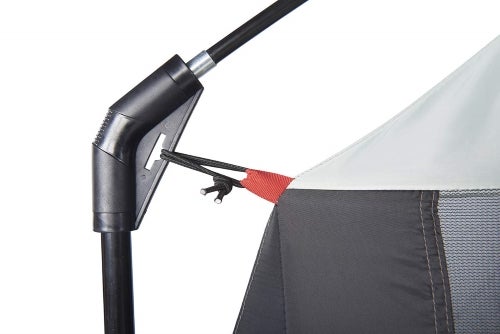 Keeping kids or pets in confined spaces for more than a few minutes is a challenge. However, with the model's unique magnetic doors, it's no longer an issue.
Magnetic strips line each spacious door, for hands-free entry/exit. This feature is also perfect for those moments when your hands are full and no one is around to open the door for you.
The large interior makes it easy to host parties without making it feel crowded, and as it includes a "floor" you don't have to worry about bugs sneaking underneath the walls.
The entire build is made to last, and Wenzel's 10-year warranty contests to a high level of quality.

---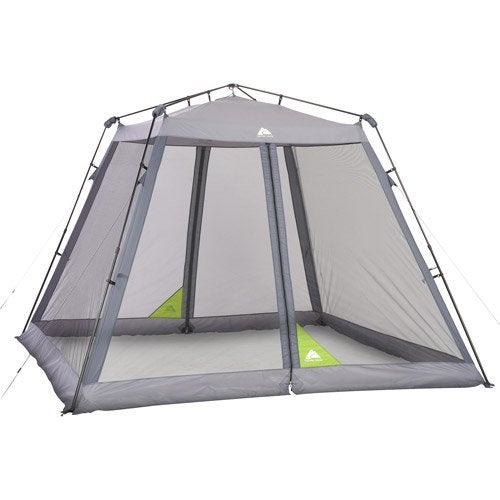 Ozark Trail Instant Screen House At A Glance
:
---
Interior space: 10 x 10 feet
Center height clearance: 84"
Fits: 5-7 people
If you're going for a more basic design still, check out the Ozark Trail Instant Screen House. The model is incredibly inexpensive when you consider how well it performs in various weather conditions.
The light grey and green design looks modern and sporty, and is made of polyester and steel. The build isn't the most durable out there, but it should still hold up for many seasons.
The screen house tent will change your summers at the lake, river, or even on your porch. It will save you from bug bites, and can even reduce wind a substantial amount.
We also enjoyed the fact that the walls of the tent provided 50+ UV protection, which is important for anyone, any time of year. As the walls are at an angle, some heavy rain can leak through, but light rain is no match for the outdoor screen tent.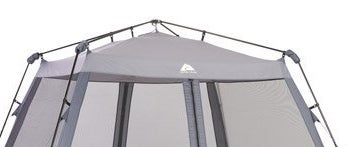 The screen house is made of tough polyester mesh, which will easily resist against rips and tears. The steel frame is pre-attached, which means assembly is quick and easy.
In fact, it took us no more than a minute to get it ready for use. Stakes and tie-downs are also included, so it remains completely stable.
The 7-foot center height is a bit shorter than the other models on our guide, but should be more than sufficient for most users to stand comfortably inside.
A 10 x 10 foot interior space can fit in around 7 people, while still allowing room for tables and chairs.
Once you're done, take-down is simple, and slides right into the included carry bag.

---
Best Screen Tents Comparison Table
---
How to Select the Best Screen Tent
Ah, the great outdoors. There's nothing better than enjoying the fresh air with friends and family, surrounded by the majesty of nature. However, there are some aspects of nature that are less-than-pleasant, such as cold raindrops ruining a delicious cookout, or mosquitoes eating you alive.
The good news is, there is a solution: screen tents. These can shield you and your guests from potential sunburns, insect bites, and rain, while providing a bit of privacy and comfort.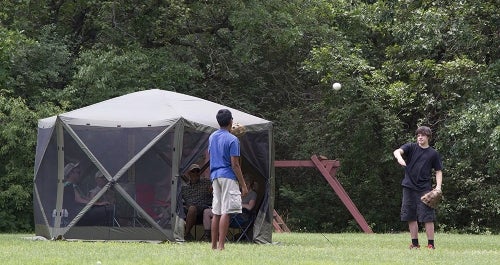 We've spent the last few weeks researching, and have come up with the best screen tents for you. Keep on reading if you've had it with itchy insect bites!
Selecting the proper product for you may be more difficult than it sounds. With so many excellent options out there, it can even be overwhelming at times.
That's the exact reason why we've decided to take it upon ourselves to create the user-friendly buying guide, below.
It will lead you through each step of the buying process, so you can feel 100% confident in your decision.
Weather Conditions
What type of weather do you plan on using your new dining tent in? Perhaps you live in a climate that stays nice and sunny all year.
In that case, you may not require much rain or wind protection, but you will want UV protection. In contrast, should you take your tent to the beach or camping, consider a model that has panels to ensure the wind doesn't come inside your portable oasis.
Water Resistant vs. Waterproof
This kind of ties into the last point, but make sure you know the difference between these two. Water resistant tents will not be harmed if water contacts it, and can typically keep light rain out of your screened canopy.
However, once you subject it to heavy rainfall, it can force water through little holes and spaces in the model. Also check to see if the seams are heat-sealed or not. If they're not, this can also let water in.
Space
How many people do you plan on being with inside your mesh tent? Have a solid idea in mind, but plan on adding on a bit, as people love to congregate.
If possible, keep the size of the guests in mind, too, as this will affect the number of people that can comfortably fit inside.
You may want to add in some chairs and tables for eating or playing poker, which you'll also need to add into consideration.
Ceiling Height
Ceiling height varies a surprising amount among the best canopy tents. The center height should be no less than 7 feet so that you and your guests can stand normally without hunching over.
However, this is just the max center height. The supporting framework may be much lower, which can shave off the available space inside. Cathedral-style canopies eliminate the risk of this happening, so every inch of internal space is used.
Frame Material
Speaking of frames, let's talk about the type of materials you should be aiming for. We recommend opting for either aluminum or steel.
Aluminum is typically much more lightweight, so you can more easily take it from one place to the other. However, it may not handle windy weather as well as its steel counterparts.
Steel is a bit stronger, too, so if you're looking for sheer sturdiness, that's our winner.
Canopy Material
The canopy makes up almost the entirety of the outdoor screen room, so search for toughness and lightness. Most high-quality models will be comprised of 150D, 420D, or 600D material.
The "D" refers to how fine the weave of the material is, as well as its weight. 600D will be the heaviest, but also the most long-lasting.
The strength should be the more important factor here, so we do recommend going with the higher rating if you can.
Price
How much are you willing to spend on the best shade tent? It's recommended that you have a solid number in mind, and try not to go over that number.
There are plenty of very affordable products on our list, but also remember how durable they are. You may initially pay a higher price tag for a product that lasts twice as long as a model that costs a few dollars less.
By purchasing the higher-priced tent, you're ultimately saving money in the end.
Frequently Asked Questions About Screen Tents
Question: How long can I expect my screen tent to last?
A: If you properly care for it, you can easily use it for 10 years without any serious problems. Considering, of course, that you're only using it in the summer time as opposed to all year long.
Question: What is a screen tent?

A: These are straightforward, simple products that are made to be convenient and flexible. The average size is 10 x 10 feet, which can be used for usually up to 8 people. They can be used to travel with, preventing mosquitoes and other bugs from coming in, and rain and sun from penetrating.
Question: How long should set-up take?

A: We'd recommend no longer than 2 minutes, but the vast majority of models on this guide take less time than that to get it up and going.
Buyer's Tips
#1: If you find your pop up tent is getting harder to close, slick the frame.
The most popular way of doing this, is by spraying the metal frames, then wipe it down. Make sure to get rid of any extra silicone residue before you attach the top.
#2: To extend the life of your shelter, make sure to properly clean it.
Never use a detergent, as this can be too harsh for the fabric. Instead, use a mild soap and a large amount of water to clean off any dirt and grime.
#3: If your tent forms condensation or gets rained on, make sure it's properly dried off before storing.
If it's not, it can actually damage the tent. If you have leaks, take it to a seam sealer to stop that from happening.
Summary
Now that you've had the chance to read about all of the best screen tents, which one will be making its way to your doorstep? We hope that this article has helped you select the perfect product for you. Thanks for tuning in, and we'll see you again soon!
---
Thanks for reading The 5 Best Screen Tents. We hope this article has helped you to discover the best screen tent or canopy for your needs and preferences.
And if you're shopping for other gear take a look at these related review articles from Outside Pursuits:
HOME & GARDEN  LED GROW LIGHTS | HYDROPONICS SYSTEMS | GROW TENTS | HYDROPONIC NUTRIENTS | HYGROMETERS | SOIL PH METERS | HERB GARDEN KITS | LED LANDSCAPE LIGHTS | LED SOLAR LIGHTS | FOOD DEHYDRATORS | COOLER ICE PACKS | BUG ZAPPERS | WHEELBARROWS | PRUNING SHEARS
How We Researched
To come up with the top screen tents, we researched a variety of sources for reviews such as Target, Dicks Sporting Goods and Best Buy along with our own personal experience.
We also consulted online magazines for product research and reviews to get as much unbiased information as we could. To help weed out fake reviews we used Fakespot.com to make sure we only looked at genuine reviews.
With so much quality gear available, we had to narrow it down based on what we felt were the best options for the price. The staff authors, have extensive experience with a variety of outdoor sports like paintball, roller skating, baseball and golf.
To help narrow down the selection they used their personal experience along with recommendations from instructors and retailers.
After extensive research, we came up with our list to help you choose the right one for you.
Sources
Notice:
OutsidePursuits.com is a participant in the Amazon Services LLC Associates Program, an affiliate advertising program. OutsidePursuits.com earns fees from products sold through qualifying purchases by linking to Amazon.com. Amazon offers a commission on products sold through their affiliate links.