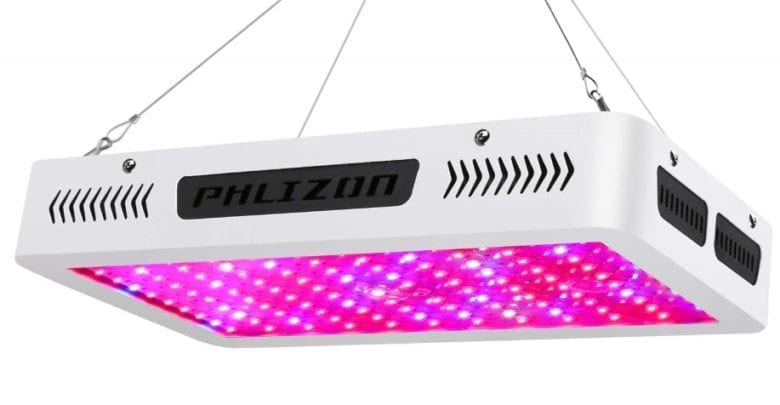 In this side-by-side product review Outside Pursuits leads you through everything you need to know in order to pick the best LED grow lights for your specific needs and growing requirements.
We'll take a look at who makes the best LED growing lights for the money and what to avoid.  Also see How To Choose An LED Grow Light later in the article. So, what is the best LED grow light?
Quick Answer: The 5 Best LED Grow Lights
---
Best LED Grow Lights
Also see: LED Grow Lights Comparison Table
---
Best LED Grow Lights Reviews
Phlizon 1200W LED Plant Grow Light at a Glance

8 x 8.3 x 2.4 inches
Full spectrum
Hanging kit with adjustable rope
Timer
Humidity monitor
The Phlizon 1200w is my first recommendation for an all around, high quality  LED grow light. It will easily cover a 5 x 5  to 5 x 8 (about 20-40 square foot) grow space when your light is about 24 inches from the top of the plants.
The height is easy to adjust with the hanging kit and rope system, so you can keep making adjustments as your plants need them. I think the Phlizon is one of the top LED grow lights because it's a full LED grow light kit. They all come great grow equipment like a timer, but this one also includes an adjustable hanging kit and a humidity monitor.
Not everyone will need to check the humidity of their grow space to have a successful yield, but if you're interested in precision, or simply like to nerd out on pH, soil quality, and home grower gadgets, you'll want to invest in a grow light kit that has one.
---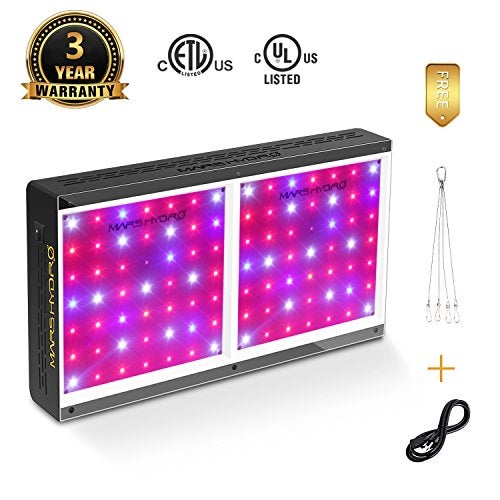 MARS HYDRO 600W LED Grow Light at a Glance

600w
5 x 11.8 x 3.1 inches
Full spectrum
Timer
Steel hanging kit
I also love the MarsHydro 600w grow light. It's fantastic for a small indoor plant garden, with an ideal coverage for a 3 x 5 to 4 x 5 foot area, so about 12-20 square feet, perfect for four large plants or five smaller ones.
This 600w LED grow light uses a reflective frame that keeps light uniformly spread over your growing area, helping to increase your yield and maintain consistent growth in your plants.
The timer is easy to set and the fan is nice and quiet, so it won't overheat, but it also won't overwhelm the room with excess noise or distract you anytime you're nearby. It comes with a steel hanging kit which is light enough to easily mount, yet study enough to last and hold the light in place.
For a few extra dollars you can add the MarsHydro rope hanger to more easily adjust the height and distance of your light to your plants during their different growth stages.  If you're looking for just a cheap LED grow light to simply get by, this isn't for you.
But if you're looking for a high quality light for a smaller home grow space that won't keep you up at night, I think you'll like the MarsHydro.
Coverage:  Core Coverage: 2ft*3.1ft
Max Coverage: 3.6ft*5.5ft
---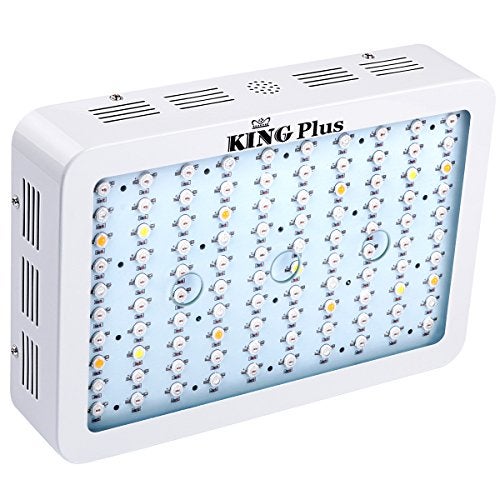 King Plus 1000w LED Grow Light at a Glance

2 x 2.4 x 8.3 inches
Full spectrum
Timer
Hanging kit
If you're looking for a bigger LED grow lamp that just looks and feels natural, you and your plants will love The King Plus's light spectrum. The higher wattage efficiently covers a 4 x 5  to 5 x 6 footprint (approximately 20-40 square feet) in all of the growing, fruiting, and flowering stages.
This 1000W LED grow light is hot, so be sure to keep it 24 or more inches away from plants when they're in the germination stage. This light encourages straight, natural growth, so seedlings will stay happy, sprouting quickly and vertically.
To make those correct adjustments, you can use The hanging kit is simple to use. It has a simple hook system so you can easily make the right distance adjustments for the type of plant or plant stage that will ensure the best yield.
---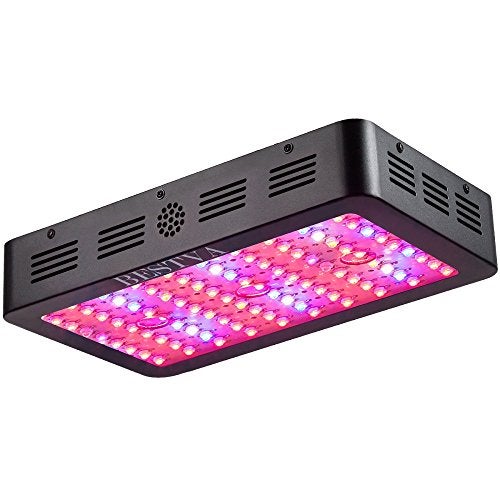 BESTVA 1000W LED Grow Light at a Glance

2 x 8.26 x 2.36 inches
Full spectrum
Timer
Hanging kit
I love how bright this light is. It covers a 4 x 5  to 5 x 6 (approximately 20-40 square feet)  workspace beautifully at 24 inches, so my plants stay warm and happy even with a bigger footprint. This 1000w LED grow light will bring your struggling plants back to life and keep your healthy plants happy.
Some grow lights can feel a little hot to the touch if you get too close to the LEDs, but not the Bestva. Despite the bright, warm feel of this full spectrum LED light, it won't  burn your hand if you get too close while checking or moving around your plants.
The fan works great, keeping your lights cool and safe for your growing area, and it comes with simple hanging kit that  is easy to use and adjust to your and your plants' liking.
---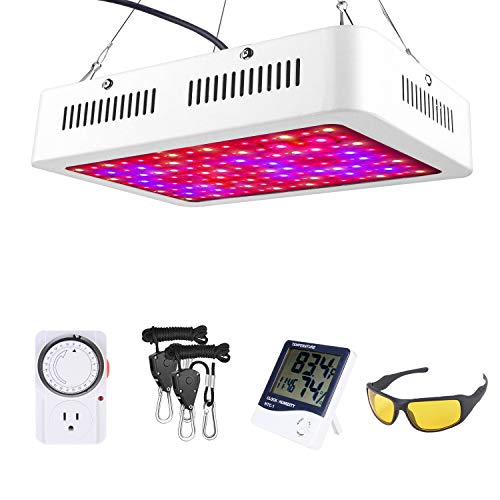 HOMENOTE 1000W LED Plant Grow Light at a Glance

5 x 10.9 x 4.9 inches
Full spectrum
Hanging kit
Timer
Humidity monitor
Goggles
The Homenote provides the best bang for the buck. It comes with more features and equipment than most other grow light kits, and Homenote offers great customer service too. They guarantee to try the light immediately before packaging to ensure a working product; they don't just ship from storage without looking.
Considering this is a fairly cheap LED grow light, it is impressive in the amount of grow equipment you'll get with this grow light kit. In addition to a temperature meter, this light also comes with a humidity meter, both are easy to set and adjust based on the germination stage and type of plant you're growing.
It also comes with a rope hanger and hanging kit to keep your plants the right distance for optimum yield. A cool safety feature for this light is the goggles.
If you like to change out or adjust the LED panels on your lights to experiment with different color and radiation gradients, you can wear the goggles in case you need to look more directly at the lights so you can make adjustments to the lights without blinding yourself in the process.
---
LED Grow Lights Comparison Table
---
How to Choose An LED Grow Light
In a perfect world, our seedlings would be exposed to the just the right amount of natural sunlight and warmth in the yard or window box, but if you've ever attempted to grow plants and veggies outside, you already know that controlling temperature and light exposure is tricky.
Growing indoor is a great alternative to having an outdoor garden and indoor garden gives you more control over every stage of the growth process. LED grow lights are the best option for growing indoor plants, flowers, and vegetables.
LEDs gives off full spectrum light, which is the closest to natural sunlight, making them the best grow lights for plants. They also use half the electricity of fluorescent bulbs, last years longer, won't shatter, and won't burn your plants' foliage.
LED lights can last for up to 100,000 hours as opposed to fluorescent lights which last closer to 25,000 hours. To get started, you'll need the right LED grow light kit. I'm here to help you narrow down your options with my top five recommendations for the best grow lights.
Light intensity
In the germination stage, it's hard to get enough natural light to your seedlings if they're simply placed in a window or spare room. You'll need intense, bright light to help your seedlings sprout, so choosing the right LED grow light is crucial to get your plants started.
Intensity can be controlled through wattage and how close your light is to your plants. As a general rule, you'll want about 32 watts per square foot. So a 600w led light will work for about a 3 x 4 to 4 x 5 foot (12-20 square feet) workspace, and a 100w led light will work for about a 4 x 5 to 5 x 8 (20-30 square foot) workspace.
Additionally, you will definitely want your light to be adjustable. Each germination stage calls for different light intensity, and different plant types will thrive under different intensities, so a flexible, easy to adjust mount is key.
Light duration
The amount of time plants need under light will vary from plant to plant and germination stage. You'll absolutely want an automatic timer on your grow light so you don't have to worry about over or under-heating your plants.
Plants all need sunlight and they all need a rest period. In general, vegetables will require a longer amount of light than flowers or herbs—usually around 14-18 hours of full spectrum light is needed for heartier veggies.
However, plants and seedlings also need to rest, so be sure to set your timer to turn off to give your plants around 6 hours of night, or darkness.
FAQ – Frequently Asked Questions
What color light do I need?
There is one main rule to buying grow lamps: natural is best. LED grow lights give off full spectrum light, though LEDs primarily give off what's called red and blue light, which is as close to natural light as you can get for your seeds.
Plants only need exposure to red and blue light to grow, so LED lights are perfect for increasing indoor yields.
Are LEDs better than other types of lights?
Simply put, yes. Standard incandescent and fluorescent lights give off many colors that your plants simply don't need. Plus they use more energy and are harder to control in regard to temperature and intensity. LEDs will save you money and produce higher quality flowers, plants, and vegetables. If you're serious about indoor growing, you want to be successful, and you want the best grow lights LEDs are the only way to go. 
---
Thanks for reading The Best LED Grow Lights. We hope this article has helped you to discover the best choice for your needs when selecting a full spectrum led grow lamp.
If you have any questions or comments for us just use this Contact Form.
Notice: Outside Pursuits is a participant in the Amazon Services LLC Associates Program, an affiliate advertising program to provide a means for sites to earn advertising fees sold through by advertising and linking to Amazon.com. Amazon offers a small commission on products sold through their affiliate links. Each of your purchases via our Amazon affiliate links supports our efforts to bring you the best possible product reviews at no additional cost to you. We appreciate your support here at OutsidePursuits.com