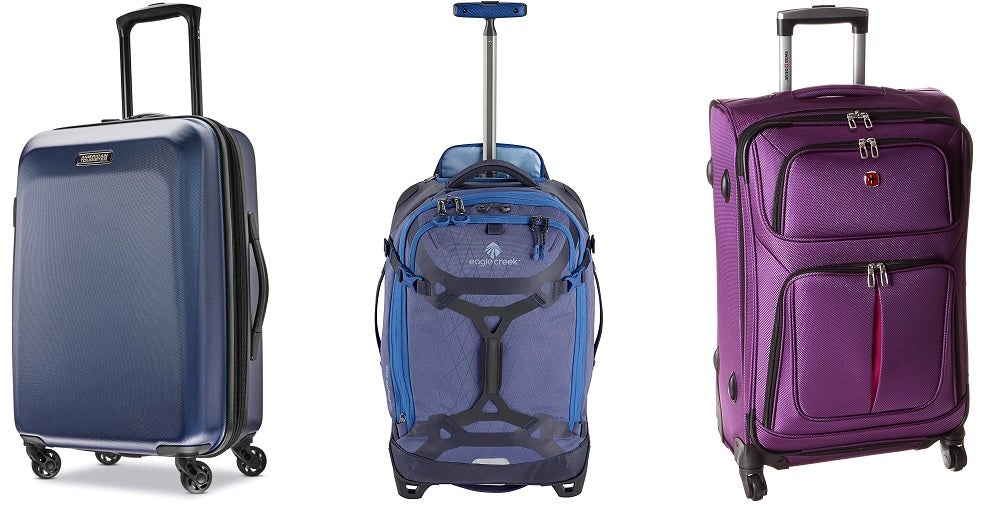 Our Editors independently research, test, and rate what we feel are the best products. We use affiliate links and may receive a small commission on purchases.
If you want to travel with the least amount of hassle as possible, you need a good carry on bag. Carry on bags play an important role, as you're going to use it to carry your most important items with you.
Checked bags can and occasionally do get lost, and you want to make sure your carry on has everything you need if it does. It should be comfortable, durable, convenient, and look good.
We've taken our first-hand experience along with that of countless other travelers to bring you the best carry on suitcases available.
Best Carry-On Bags
For more of my travel gear recommendations, have a look through these popular Outside Pursuits guide links: Wheeled Duffel Bags, Carry-On Backpacks, Carry-On Garment Bags.

Quick Answer: The 7 Best Rated Carry-On Luggage Bags
Our reviews of the top rated carry on bags with our comparison table and buyers guide will help you choose the right carry on for you.
---
Carry-On Bag Reviews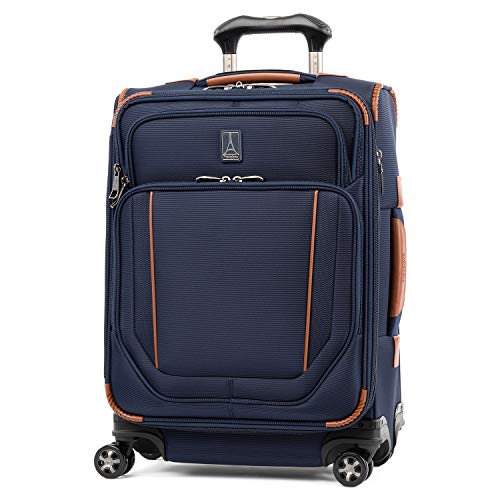 TravelPro Store Crew Versapack Softside Luggage at a Glance
:
---
Size: 21 inches
Type: Softside
Weight: 8 pounds
Other: Spinner Wheels
The best carry on luggage should be functional and have you looking good while traveling. The Travelpro Crew Versapack Softside Expandable Spinner Wheel Luggage is all that, and more! You get 4 interesting colorways to choose from, too: Patriot Blue, Perfect Plum, Titanium Grey, and Jet Black.
As it is softside, it's great if you really tend to pack as much as humanly possible in your luggage. You're not set to an absolute limit like you are with hardshell options, maximizing carry-on sizer bin restrictions. The expansion option increases up to 2" and comes with a zip-in garment organizer for business or vacation trips.
Anyone who's run through an airport to try and catch their flight on time knows how important control is with their luggage. The PrecisionGlide System that comes with this luggage offers precise control, while offering a patented Contour Grip to avoid hand cramps.
The PowerScope Extension Handle works with people of all heights, while the self-aligning magnetic wheels roll in any direction just fine.
No more having the zippers get stuck when you need to access the contents. The Supra zipper heads are made to hold up against regular use, while the handles are cushioned and low-profile to keep them from getting caught on things or damaged.
The warranty is simply unbeatable here, with Travelpro offering a lifetime limited warranty!

---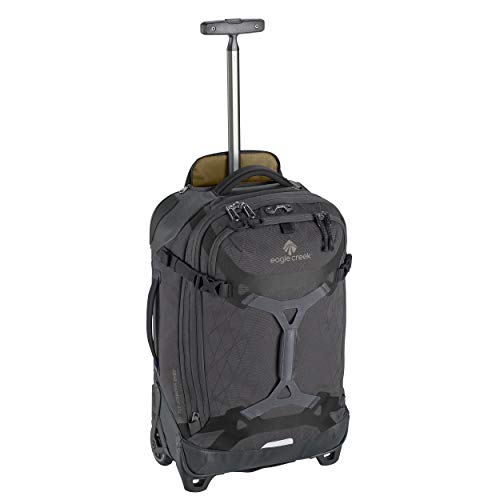 Eagle Creek Gear Warrior Carry Luggage at a Glance
:
---
Size: 20 inches
Type: Softside
Weight: 4 Pounds, 12 oz
Other: 2 Wheels,

Lifetime Warranty
Next up, we have yet another softside luggage: the Eagle Creek Gear Warrior International Carry Luggage. This bag was made for the ultimate adventurer; the person always on-the-go who loves taking a lot of gear with them.
Coming in either Jet Black or Arctic Blue, they look sporty enough and are meant to hold up well against being thrown all over by airlines.
The duffel carry-on is also great for the outdoors, translating perfectly from airports and hotels to hiking and tents. Weighing just 4 pounds, 12 ounces, they really try to keep things easy on your neck and shoulders. For smoother surfaces, you also have 2 small rolling wheels and a thin, telescoping handle.
Made from 100% recycled PET ripstop and recycled coating, among other eco-conscious travel gear, you can rest assured your purchase isn't harming the earth in any way.
We loved the equipment keeper that's made to hold jackets and other gear you need to grab at a moment's notice instead of having to dig through the interior compartments. The attached Porter Key bottle opener is equally as important, helping you crack open the cold beverage of choice to ensure you're always, er… well-hydrated.
While you may be a light traveler, who knows what you'll find on your trips! That's where the handy expansion zipper comes into play. For the best carry on bag for adventuring, this is a selection you should definitely put high on your list.

---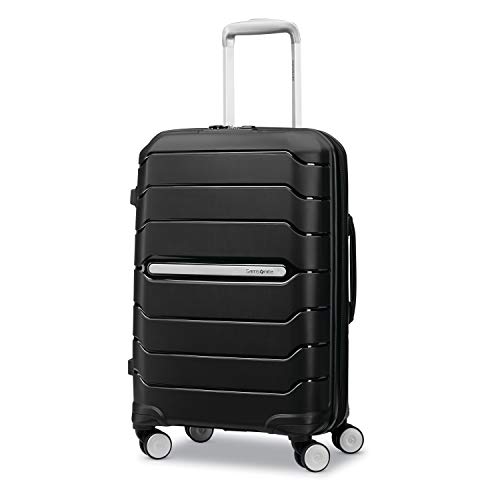 Samsonite Freeform Hardside Expandable at a Glance
:
---
Size: 21 inches
Type: Hardside
Weight: 6.5 Pounds
Other: 10-year warranty
If you're looking for a hardside luggage, check out the Samsonite Freeform Hardside Expandable. This sleek selection is for the modern traveler who wants a suitcase that will last them throughout countless adventures.
With a massive 10-year warranty, you can rest assured Samsonite has thoroughly tested their luggage to ensure their workmanship is to the highest standards.
Coming in 12 different colors, you get to choose from shades like Black, White, Tangerine, Mint Green, Merlot, Lilac, and many more. There's definitely a color to suit everyone here.
The 21" luggage is often considered the best hardside carry on luggage, due to how well it protects the inside contents. Including a recessed TSA combination lock, you don't ever have to worry about anyone getting into your suitcase, no matter where it goes. The ultra-light shell is easy to carry around yet incredibly tough.
4 multi-directional double spinner wheels move a full 360 degrees so you can utilize upright rolling as well. This is the easiest on the entire body, but particularly the most vulnerable areas: shoulders, neck, and back. Handles are accessed with a push button, storing inside perfectly when you don't need them.
For convenient packing, you also get a cross ribbon and divider, along with various pockets and a built-in ID tag. Even if you aren't a very organized person, this bag makes it easy to be. You also get an expansion option so you can keep clothes folded neatly, without wrinkles.

---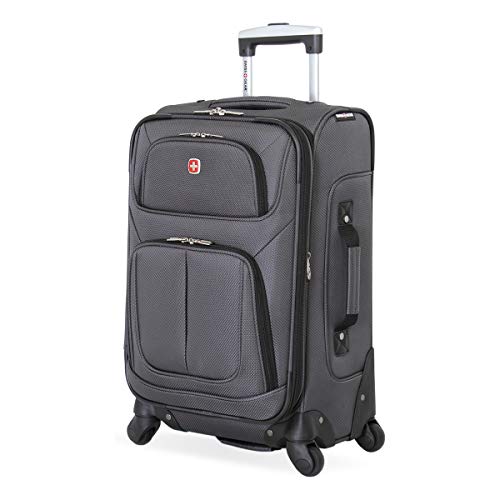 SwissGear Sion Softside Luggage at a Glance
:
---
Size: 21 inches
Type: Softside
Weight: 8 Pounds
Other: Spinner wheels
While SwissGear has a wide selection of top-notch bags, but their Sion Softside Luggage has to be their best carry on suitcase. The 21" luggage is also one of those "best bang for your buck" items, packing a ton of functionality into the design. With 7 colors to choose from, each one is simultaneously sophisticated and sporty.
Made from tough, scuff-resistant polyester, it may be soft but it's by no means vulnerable to heavy travel. The fully-lined interior features adjustable luggage tie-down straps, a removable zippered wet bag, big mesh lid pocket, and a packing pocket.
This means you'll be able to carry everything down to the smallest item, knowing exactly where you've placed them. In the front, you have 2 panel pockets for quick-grab items and must-have security features like a built-in ID tag and TSA locks.
A padded top and side handles keep you comfortable and your belongings safe, along with a convenient locking push/pull handle system. The 4 spinner wheels all rotate a full 360 degrees for completely upright rolling.
The Sion is expandable, should you find some extra souvenirs you want to take home. Overall, if you want an amazing piece of softside gear from one of the most reputable brands out there, you can't go wrong with this one.

---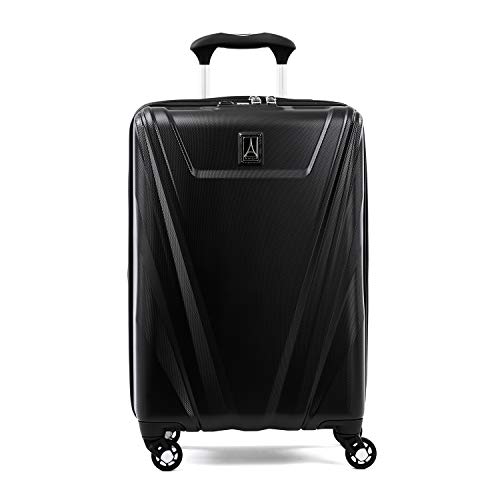 Travelpro Maxlite 5-Hardside Luggage at a Glance
:
---
Size: 21 inches
Type: Hardside
Weight: 5.4 Pounds
Other: Spinner Wheels
By now, you know we're fans of Travelpro, but we also love their Maxlite 5-Hardside Spinner Wheel Luggage! You get to choose from either Black, Azure Blue, Dusty Rose, or Slate Green – all of which look elegant yet modern.
The dynamic lines and sleek appearance are a great contrast to the ample space offered inside, making it a nice choice for all types of travelers. The shell is made up of 100% polycarbonate, which is lightweight, strong, and designed for impact-absorbing flexibility.
This means there's very little chance of it cracking or having your items inside getting damaged. Comparable to the best softside carry on luggage, it keeps things on the lightweight theme with a PowerScope Lite handle. The handle locks at both 38" and 42.5", working with travelers of varying heights.
The countoured, rubberized touch point handle is great for walks throughout large airports or around the city. 4-wheel spinners only facilitate this further, rotating a full 360 degrees. This makes a huge difference when you're tired and want to effortlessly move around.
Inside is just as convenient, with an interior divider and hold-down straps for seamless packing and versatility. The low-profile top handle maximizes storage space, while an integrated lock allows TSA agents to unlock and lock it up when they need, while keeping your belongings safe from would-be thieves.
Once again, Travelpro has your back with their generous lifetime limited warranty which will also cover the cost of repair for damage caused by an airline or other common carrier for the first year within the date you register your luggage.

---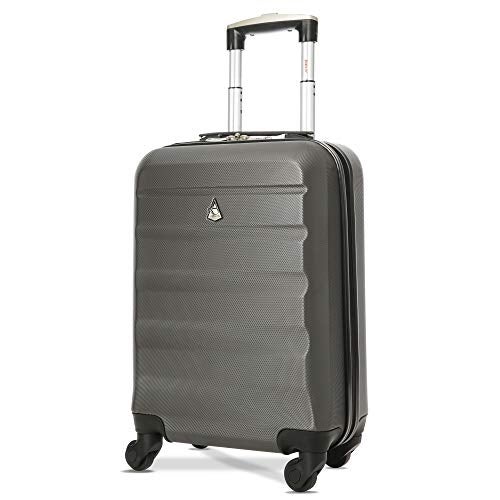 Aerolite Carry On Hardside Luggage Bag at a Glance
:
---
Size: 22 inches
Type: Hardside
Weight: 4.6 Pounds
Other: Spinner Wheels, Shoe Pockets
Are you searching or the lightest carry on luggage? We've found the lightest luggage that still offers the right amount of protection, structure, and durability in the Aerolite Maximum Allowance Carryon Suitcase. Not only that, but it's one of the most budget-friendly at this level of quality!
Coming in either Charcoal or Rose Gold, it makes it the perfectly stylish option for both men and women. The hard exterior gives off a sheen that gleams modernity and sophistication. However, it's not just there for looks – the shell is one of the toughest around and is made to withstand whatever transport has in store for it.
Boasting a massive 40L capacity yet weighing just 4.62 pounds, you'll be able to pack in all you need without exhausting your body.
However, for a good carry on you not only need strength but ease of transport! We all know how tiring it is lugging around a glitchy case with wheels that stick or don't spin properly.
The smooth-rolling, well-elevated wheels on this model is made to work not only on the smooth, even floors but uneven terrain outdoors, as well. The handle is smooth as well, and is thick enough that you don't develop cramps or discomfort, either.

---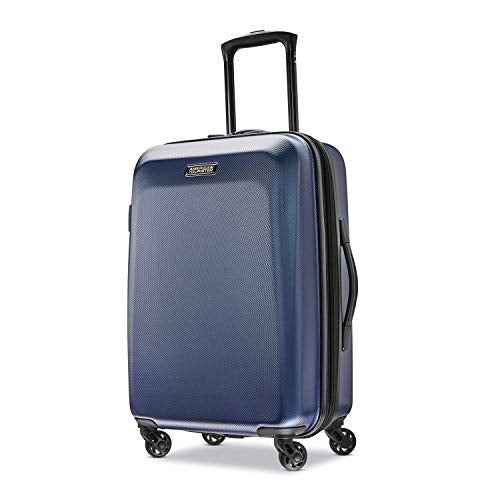 American Tourister Moonlight Hardside Expandable Luggage at a Glance
:
---
Size: 21 inches
Type: Hardside
Weight: 8.2 Pounds
Other: Spinner Wheels
Last but not least, we have the American Tourister Moonlight Hardside Expandable Luggage with Spinner Wheels. That's quite the mouthful, but the design is one of the most simplistic and functional out there.
As the best cabin luggage, it's also a prime design for those who want a fantastic carry-on while being able to keep cash allocated for the fun stuff.
You get your choice of 13 different colorways/patterns, including Navy, Ascending Gardens Rose Gold, Palm Trees, Black Marble, and more. From plain to festive, there's something for everyone here.
The 21" size will suit the majority of carry on size restrictions to make international and domestic travel a breeze. The book opening case features a mesh divider and cross straps, along with a zipped modesty pocket for you to keep all your belongings well-organized and protected.
Should you end up purchasing more clothes or souvenirs, you also have a 1.5" expansion option. To move around effortlessly, there's a push-button locking handle that stores and extends quickly. The 4, multi-directional, oversized spinner wheels are a crowd favorite and stay smooth even on rougher surfaces.
The hard shell is relatively boring, but is very durable – so much so that they've included a 10-year limited warranty to ensure it meets all your needs and more!

---
Best Carry On Bags Comparison Table
How to Choose the Best Carry On Suitcase – Buying Guide
Having a good carry on can make the difference in saving hundreds (or thousands) of dollars in checked bag fees, can keep you from missing your flights, and can make sure you don't suffer through a neck kink while on the plane or when you land in your destination.
It can keep your clothes perfectly folded and even your tiniest items organized. If you're a regular traveler, this is even more important.
If you're still trying to decide between the options on our guide, we understand! We know it can be a bit challenging trying to narrow things down when there are so many great choices out there. That's why we've taken it upon ourselves to write up the comprehensive buying guide, below.
This guide will take you through each consideration to make while selecting the best carry on for you and your traveling habits.
Size
First of all, you need to make sure that your luggage is going to fit into the size requirements of your airline(s). TSA says that carry-ons shouldn't be longer than 22 inches, while most airlines state that your carry-on shouldn't be bigger than 45 linear inches (the length + height of your bag).
If you have any doubts, we recommend simply navigating to the airline(s) website and refer to what they've specifically indicated because there are plenty out there that accept bigger or smaller than that.
Storage
Yes, storage space is often directly correlated with the overall size of the bag, but it's not a rule. There are plenty of bags that maximize the storage space due to smart planning.
Having conveniently-placed compartments can be an awesome way to organize all of your belongings inside, but there are some brands and models that have made it in a way that the compartments actually take away space.
If you're a frequent traveler, you already have a pretty good idea of what kind of space you need and what you'll regularly be taking with you. It can be fun to buy the bag with the most space, but you may not actually even need it! Then you're just carrying around a bigger suitcase than you need to.
Wheels
Wheels can often make the biggest difference in your user experience. You could have the most spacious, durable, cool-looking bag out there, but if the wheels aren't good enough you're still going to be hauling it around. This can quickly lead to fatigue, arm soreness, muscle cramps, headaches, and much more. The last thing you need during a day or night of travel is that.
So now, you need to decide if you want 2 or 4 wheels. If you can, we always recommend opting for 4 wheel spinner luggage. 2 wheels are a help, yes, but they're nowhere near as functional or smooth as a 4-wheel setup. 2 wheels will come with 2 legs/stoppers, that can sometimes get caught and you can't roll your bag completely upright.
4 spinner wheels, on the other hand, can rotate a full 360 degrees and allows you to roll it in any direction – including completely upright. If there's any one feature aside from the obvious size to pay attention to, we'd say it's this one.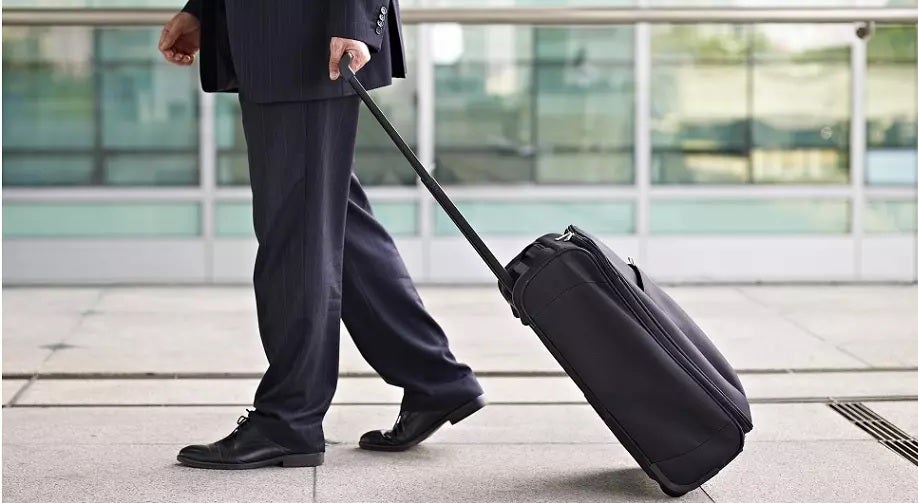 Softside vs Hardside Luggage
While there are pretty good cases for each type, it all comes down to your own personal preference here. Let's take a look at each type and discuss a bit more about their pros and potential cons:
Softside – The potential "con" with softside luggage is that they aren't usually going to be completely weather-proof and they're almost never as durable as hardside alternatives. Oh, and they're not typically as easy to clean. However, they're usually much lighter than hardside cases, and do have a bit of flexibility so if things are really tight in a trunk, overhead compartment, etc. you have a bit of wiggle room.
Hardside – Hardside luggage are almost always going to be completely weather-proof and are ultra-durable. This means that for any kind of weather condition, anyone throwing it around, etc. it's likely to hold up to it well. While it's not 100% resistant to every tool, would-be thieves are much less likely to try and crack or rip open a hardside case than a softside one. Not only that, but if you have delicate things inside the bag, a hardside will protect it from being squashed by outside outside factors.
Handles
The handle should also be very comfortable, as very thin/hard ones can end up with hand cramps, general discomfort, or even blisters! You may be thinking that you would be carrying your bag around for long enough to develop cramps or blisters, but all it takes is one confusing airport, a moved gate, etc. for that to change!
You want the handle to come out smoothly and easily, and when not in use, slide back in neatly without sticking too far out of the rest of the case. Some even come with little rubber points, contours, and padding to help with comfort and grip.
Zippers
Good zippers make sure that nothing gets in: curious hands, moisture, dirt, and so on. You want zippers to be incredibly well-made and durable. They should be smooth yet not get caught easily in clothing and other fabrics. You also want them to stay put and not break off easily, so that you can put a lock on it if you need to. Some already come with built-in locks, which is preferable for most users.
Price
How much are you willing to spend on one of the best carry ons? As you may want to save money, there are definitely some great budget items on our guide for you. However, if you're a frequent traveler who really puts a lot of use in your bags, then we suggest you invest a bit more than you normally would.
While the lower-priced bags on our guide as great, the higher-priced ones will often last for 10 years and up (with a warranty to back that up!). Trust us when we say that having a great carry-on is invaluable and you'll realize that as it serves you well over the years.
FAQs About Carry-On Bags
Q: What is the largest size suitcase you can carry on a plane?
A: You may notice an inch or 2 of a difference among different airlines, the standard domestic carry-on luggage size is 22″ x 14″ x 9″, which includes the handle and the wheels. If you're traveling internationally, definitely check out the individual airlines' restrictions as they could vary greatly. Also keep in mind that this size includes the wheels and handle!
Q: Which is better, hard or soft luggage?
A: As we stated earlier, there's really no "better" – it just depends on your individual needs. For example, hard luggage will protect your belongings better, though soft luggage has more "give" to it and will fit into more places easier. If you're just going to be traveling short distances in areas you know to be relatively safe, you will probably be better off with soft luggage. If traveling internationally or will be carrying delicate items, hard is better.
Q: Does hard shell luggage crack?
A: It definitely can! It's not all that common, but if it's starting to wear down, is dropped from a high enough distance, is in extreme cold, etc. it can happen.
Q: What should I look for when buying a suitcase?
A: You want something that will fit all of the things you need to travel with and a bit more, will fit airline carry-on restrictions, will last you for many years, will keep thieves away, and protect your belongings. You also want it to be comfortable and convenient.
Tips For Choosing Carry-Ons
#1: Don't just look at size – consider weight limits, too!
Not every suitcase or airline supports the same weight limits, so if you're going to be carrying heavy stuff, make sure you're double-checking!
#2: Choose a bag that stands out.
Even if you don't have to go looking for it on the luggage carousel, you want a bag that stands out. It's not unheard of for someone to try to take another passenger's carry ons, and it's much harder for them to do so if you have a very stand-out bag.
#3: Get yourself a luggage lock, or better yet, a luggage that has a lock built-in already.
The bags on our guide that have locks built-in are TSA-approved. This means that the TSA agents can access the contents of your bag, making security a breeze, though never leaving your items vulnerable to thieves.
Summary
Now that you're pretty much an expert on all kinds of carry-on luggage, have you decided which one is right for you? If you haven't, you can rest assured that no matter which product on our guide you choose, you'll be getting one of the best out there.
However, what's most important is that you read through our guide and use that to select the one that's perfect for your needs. We hope our guide has been able to do just that. Thanks for tuning in, and we'll see you again soon! Happy travels!
Notice:
OutsidePursuits.com is a participant in the Amazon Services LLC Associates Program, an affiliate advertising program. OutsidePursuits.com earns fees from products sold through qualifying purchases by linking to Amazon.com. Amazon offers a commission on products sold through their affiliate links.