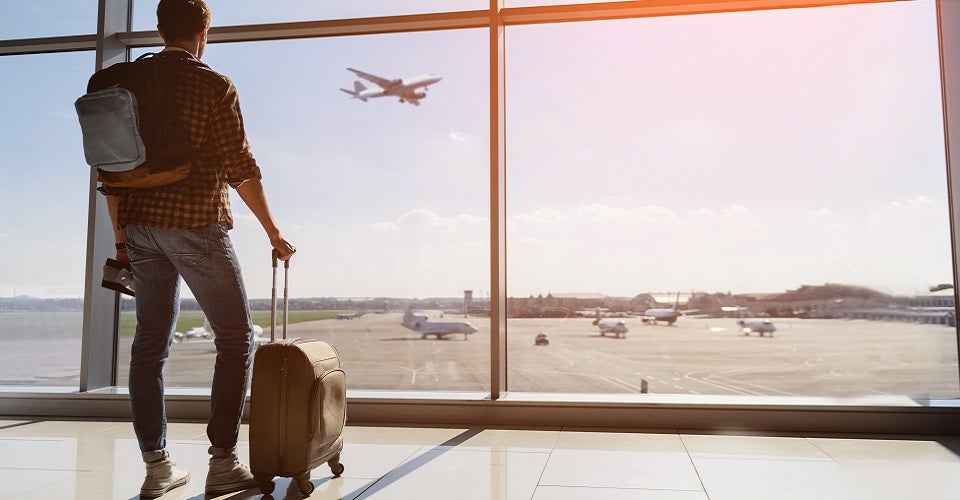 Our Editors independently research, test, and rate what we feel are the best products. We use affiliate links and may receive a small commission on purchases.
Spinner suitcases have become very popular over the last few years. It's easy to see why when you're walking through the airport and see other travelers casually walking with their suitcases.
So why haven't you made traveling more convenient for yourself as well? Now that there are so many options when it comes to the best spinner suitcase that are not only convenient but also very inexpensive.
Now's the time to be seen in the trendiest styles and make traveling a lot easier and much more fun!
Best Spinner Luggage
| | Samsonite Winfield 2 Spinner Luggage | Coolife Expandable Spinner Suitcase | Kenneth Cole Reaction Out-of-Bounds Spinner |
| --- | --- | --- | --- |
| | | | |
| | | | |
| Colors: | 5 | 3 | 12 |
| Sizes Available: | 20", 24", 28" | 20", 24", 28" | 20", 24", 28" |
| Style: | Hard Sided | Soft Sided | Hard Sided |
| Shell: | Polycarbonate | Oxford Cloth | Polycarbonate |
| | | | |
For more of my travel gear recommendations, have a look through these popular Outside Pursuits guide links: Rolling Duffel Bags, Carry-On Backpacks, Carry-On Garment Bags.

Quick Answer: The 7 Best Rated Spinner Suitcases For 2021
Our reviews of the top rated spinner luggage with a comparison table and our buyers guide below will help you choose a suitcase for you.
---
Spinner Luggage Reviews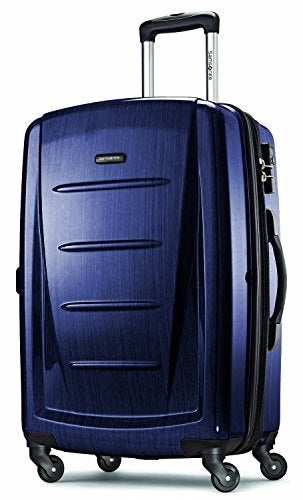 Samsonite Winfield 2 Spinner Luggage At A Glance
:
---
Colors: 5
Size(s): 20″, 24″, 28″
Warranty: 10-year Limited
Exterior: Hard
Materials: Polycarbonate
Samsonite has been a well-known and well-respected name in the luggage world. The brand caters to those who travel often, whether for business or leisure, and that is reflected in their design and construction.
Samsonite's Windfield 2 line improves upon its predecessors with new and helpful features. It is highly durable with an outer shell that resists scuffs and scratches.
They have also been designed to absorb impact much more efficiently.
This 24" Samsonite spinner suitcase is a popular size for medium to long trips. However, both a 20" and a 28" size is available.
Need more than one piece of luggage? A 2-piece set is available, as well as a 3-piece set with all three sizes listed here.
If you're in the market for a lightweight, hard-sided spinner suitcase, you can't go wrong with Samsonite and their well-built luggage.
Cross-straps, zippers pockets, a privacy curtain, and more make the Windfield 2 one of the best hardside spinner luggage available.

---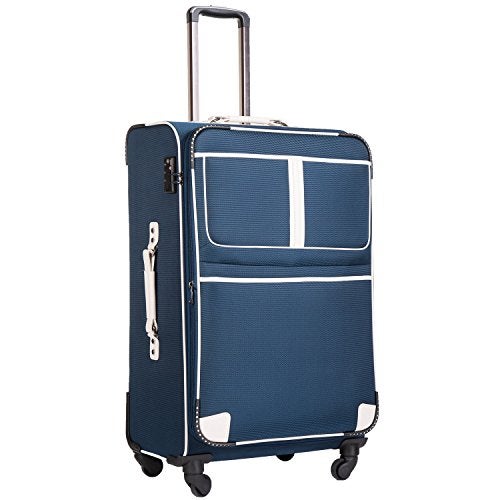 Coolife Expandable Spinner Suitcase At A Glance
:
---
Colors: 3
Size(s): 20″, 24″, 28″
Warranty: 2-Year Worldwide
Exterior: Soft
Materials: Jacquard Oxford Cloth
Jacquard Oxford Cloth isn't just beautiful, it is also highly durable and the best softside spinner luggage on our list.
Coolife has also built in corner protectors to keep that cloth looking just as great after 5 years as it did on the day you received it.
The telescoping, aluminum handle helps to keep the spinner suitcase lightweight and easily stored. There are three available sizes of the Coolife Expandable Spinner Suitcase.
The 20" option is perfect as a carry-on, with dimensions of 23" x 10" x 14". The suitcase itself is slightly larger so the packing area is 20", giving you much more space.
The 24" size measures 27" x 11" x 16" while the 28" suitcase measures 31" x 12" x18". Each smaller size suitcase can fit inside a larger one for easier storage. You can choose just one of these sizes of spinner suitcases or purchase a set of spinner luggage with either 2 or 3 pieces.
Each of these Coolife suitcases can be expanded to offer additional packing room. They are also equipped with a TSA-approved combination lock. Make sure the pros can get in, but no one else.

---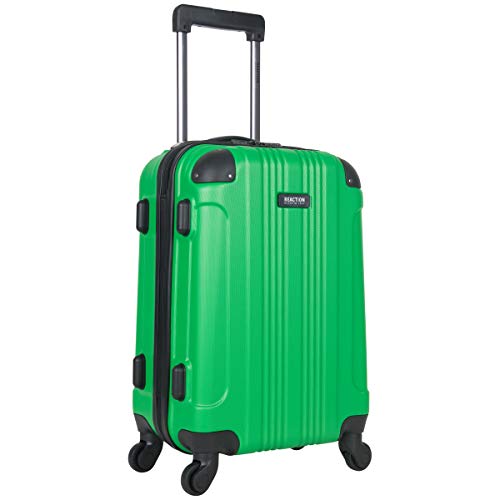 Kenneth Cole Reaction Out-of-Bounds Spinner Carry-On At A Glance
:
---
Colors: 12
Size(s): 20″, 24″, 28″
Warranty: 10-year Limited
Exterior: Hard
Materials: Not Listed
Are you tired of having to scour the baggage claim to find your suitcase because it looks just like every other suitcase?
You won't have to worry about that with a Kenneth Cole Reaction "Out of Bounds" spinner carry-on suitcase. Choose from bright colors such as pink, neon green, and more.
While this 20" spinner suitcase is perfect as a carry-on, there are 24" and 28" sizes also available.
This makes it easy to invest in a set of spinner luggage if you need more than one piece per trip, or if you want to choose the one with the right size for the trip.
Because this Kenneth Cole spinner suitcase has a zipper located around the middle instead of along a top edge, the two sides open flat.
This offers two large packing compartments. Use them for extra items or utilize each to help separate items.
The interior organization features of this spinner suitcase are what makes it really shine. There are restraint straps to keep things where they should be and there are several zippered pockets.
Kenneth Cole Reaction luggage is also waterproof is the best carry on spinner luggage, especially for the price!

---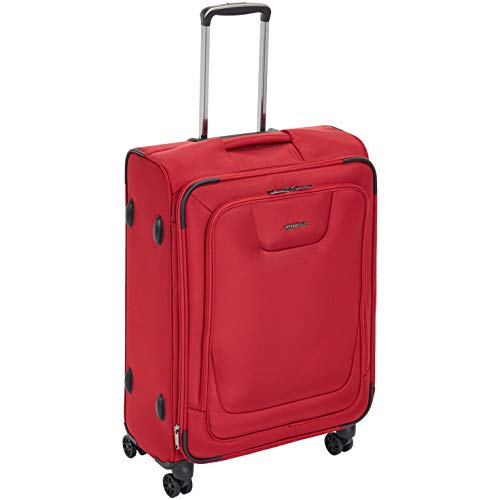 Amazon Basics Premium Expandable Spinner Luggage At A Glance
:
---
Colors: 6
Size(s): 18″, 21″, 25″, 29″
Warranty: 3-year Limited
Exterior: Soft
Materials: Polyester
Amazon has amazed us with their wide variety of products that have all the features and quality construction as their name brand counterparts.
Why not use the Amazon Basics brand to find a great spinner suitcase as well?
This Amazon Basics spinner suitcase is available in 4 different sizes:  18", 21", 25", and 29". This makes it very easy to pick the suitcase size that best matches your needs.
If you need a great set of luggage that will give you size options or extra suitcases depending on your needs, you can also purchase a 2-piece set or a 3-piece set.
Amazon Basics makes it easy to invest in a set of luggage due to the lower price point, without having to compromise on quality.
The spinner wheels on these Amazon Basics suitcases are protected from the dirt and grind on the ground keeping them easy spinning.
The TSA-approved lock makes it easier to keep the sneaky ones out of your luggage while giving TSA the access they need. if you are looking for the best 4 wheel suitcase for a budget price.

---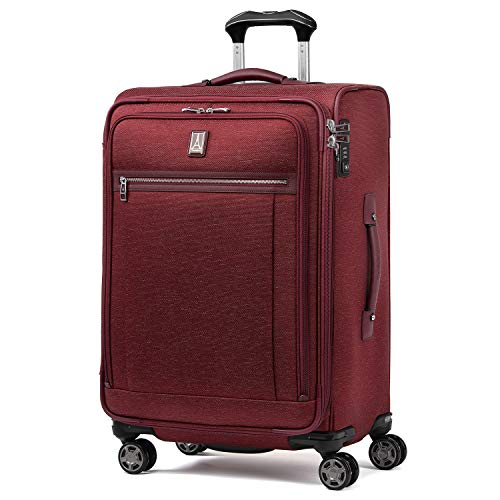 Travelpro Platinum Elite Spinner Suiter Suitcase At A Glance
:
---
Colors: 4
Size(s): 25″
Warranty: Lifetime Limited
Exterior: Soft
Materials: High-density nylon treated with DuraGuard
Travelpro is another popular name in the luggage world. Their products are used by those who travel extensively, even airline pilots and flight attendants.
This particular model features a large size that can be expanded even further with 2" more room if you need it.
It's not just the extra space that makes the Travelpro Platinum Elite Spinner the best spinner suitcase for those who travel often.
There is a built-in suiter feature that allows you to pack blouses, blazers, suit jackets, dresses and more from becoming wrinkled.
This high-quality spinner suitcase is tip resistant. It also features durable, leather handles on both the side and top for easier carrying if needed.
On the bottom of the suitcase, if it is standing upright on its wheels, there is a cup that makes lifting the large suitcase easier as well.
The interior of this Travelpro spinner suitcase makes packing and unpacking a breeze.
Tie downs keep everything where it should be while accessory pockets keep smaller items from getting lost with the rest of your items. Don't forget the integrated TSA-approved lock as well!

---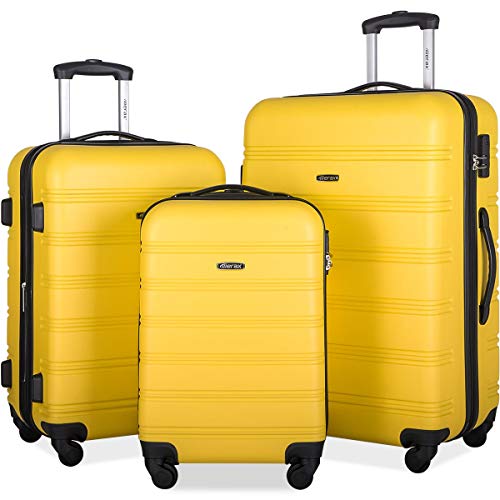 Merax 3-Piece Spinner Suitcase Set At A Glance
:
---
Colors: 10
Size(s): 20″, 24″, 28″
Warranty: 5-year Worldwide
Exterior: Hard
Materials: Polycarbonate
This 3-piece spinner luggage collection from Merax is the ideal set for those who travel for long lengths of time, travel with family or groups, or don't always need the same size suitcase for every trip.
In fact, each of the 3 included sizes has different features so choosing the right one is much easier. The smallest is 20" and has dimensions that make it ideal as a carry-on.
It weighs just 6 pounds and can hold as much as 33 pounds. The 24" suitcase measures 24" x 16" x 11" and weighs just 8 pounds. The largest size, 28", weight only 10 pounds. This makes it much easier to avoid overweight fees.
The hard, outer shells help to make these suitcases impact resistant. Not only is that good for any drops you may cause, but it can also stand up to the baggage handlers. All three spinner suitcases are expandable as well.
All three Merax spinner suitcases included in this 3-piece set have a TSA-approved lock integrated into the design. Each can also expand to offer as much as 25% more room.
Handles located on the top and the side of the suitcase make them much easier to lift in and out of vehicles, ticketing, baggage claim, and if using the small spinner suitcase, even overhead compartments. If you are looking for the best spinner luggage set, look no further!

---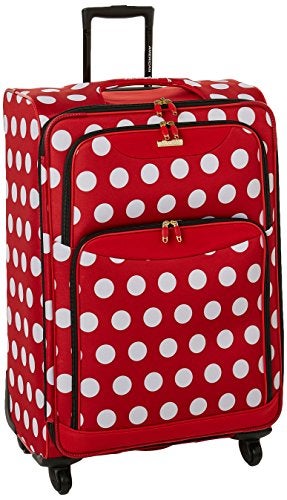 American Tourister Disney Spinner Suitcase for Kids At A Glance
:
---
Colors: 5
Size(s): 28″
Warranty: 10-year Limited
Exterior: Soft
Materials: Polyester
Now you can make traveling even more fun for the kiddos. These Disney spinner suitcases feature the most popular characters, such as Mickey Mouse and Minnie Mouse.
With the spinner suitcase design, it's also easier for them to transport their own luggage, which gives them a better travel experience.
These Disney spinner suitcases are also a larger size. It allows you to bring all of your child's clothes, toys, electronics, and more all in one suitcase.
You may even be able to pack for more than one child with the large size. Let's face it, carrying one suitcase, even if a bit bigger, will always be easier than checking multiple bags.
The large packing compartment designed into these best kids' spinner suitcases aren't only convenient for packing but are also lined with fun Disney designs.
The interior cross straps also make it easier to keep items where they need to be, and for separating items inside the suitcase if needed.
Padded handles on both the top and side make lifting and carrying this Disney suitcase much easier, although perhaps not for the little ones. A retractable handle makes it easy to use as well as store.

---
Spinner Luggage Comparison Table
| Spinner Luggage | | Colors | Sizes Available | Style | Shell |
| --- | --- | --- | --- | --- | --- |
| Samsonite Winfield 2 Spinner Luggage | | 5 | 20", 24", 28" | Hard Sided | Polycarbonate |
| Coolife Expandable Spinner Suitcase | | 3 | 20", 24", 28" | Soft Sided | Oxford Cloth |
| Kenneth Cole Reaction Out-of-Bounds Spinner Carry-On | | 12 | 20", 24", 28" | Hard Sided | Polycarbonate |
| Amazon Basics Premium Expandable Spinner Luggage | | 6 | 18″, 21″, 25″, 29″ | Soft Sided | Polyester |
| Travelpro Platinum Elite Spinner Suiter Suitcase | | 4 | 25″ | Soft Sided | High-density nylon treated with DuraGuard |
| Merax 3-Piece Spinner Suitcase Set | | 10 | 20″, 24″, 28″ | Hard Sided | Polycarbonate |
| American Tourister Disney Spinner Suitcase for Kids | | 5 | 28″ | Soft Sided | Polyester |
How to Choose the Best Spinner Luggage – Buying Guide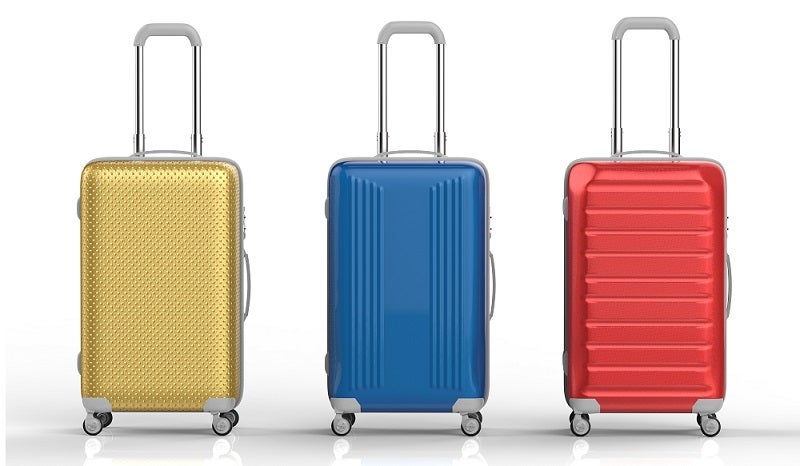 As you can see after reading all those reviews up there, every spinner suitcase offers different features. It's important to figure out which features are most helpful for you based on the type and length of travel, and whether you travel alone or with others.
Let's look at the main features of spinner luggage.
Hard vs. Soft Sides
Spinner luggage will feature either soft sides, made of thick and durable fabric, or hard sides made of plastic, such as polycarbonate. Both soft and hard-sides spinner suitcases have different pros and cons.
Pros of Soft-sided Spinner Luggage:
Sides move and stretch, often allowing for more items
Usually has compartments on the outside, easier for holding identification and travel documents
Wear and tear is usually less visible
Pros of Hard-sided Spinner Luggage:
Lightweight
Most are waterproof
Impact-resistant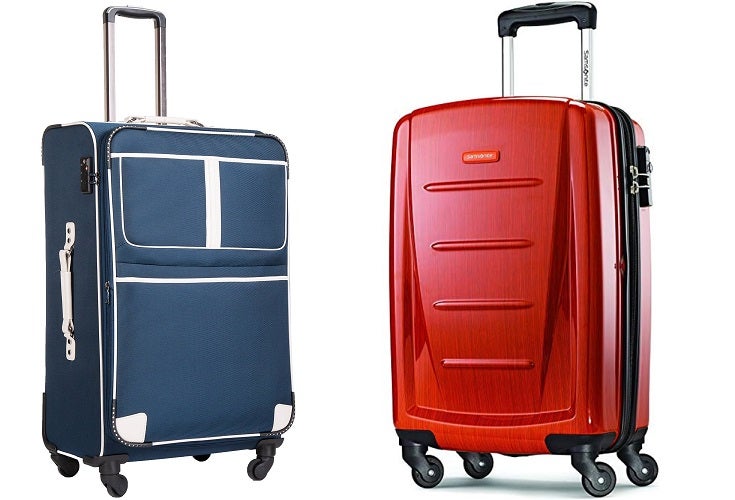 Size
The ideal size of a suitcase for you depends on what you plan on doing with it. If you take short trips or don't need a lot of items where you are headed, a 20" spinner suitcase is ideal. Most can fit well in overhead storage. Of course, there is luggage available that's smaller than that as well.
Suitcases sized 22" to 26" are designed for trips from 1 to 2 weeks. But of course, you can use this size for shorter trips if you intend on bringing more items with you or bringing souvenirs and other items back home.
Spinner suitcases larger than 26" are designed for long trips, such as going out of the country for business, or taking a family vacation more than a week.
If you don't always need the exact same size suitcase, you may want to consider purchasing a 2- or 3-piece luggage set. The Merax luggage set we reviewed above is perfect for many travelers, but don't forget about the Amazon Basics luggage that is available in 4 sizes for individual, 2-piece, or 3-piece sets.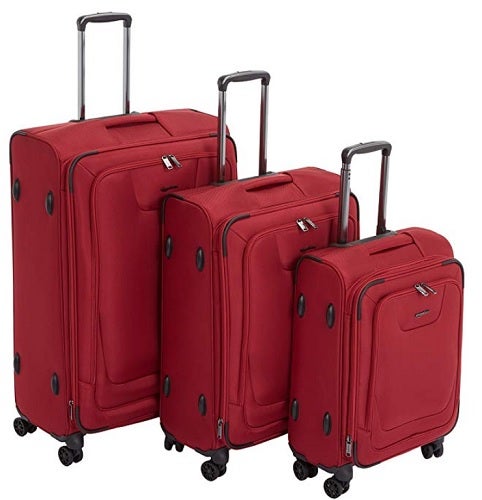 Weight
If you find that you are constantly paying overweight fees at the ticketing counter, or if you hate to weigh your packed suitcase on your bathroom scale at home, it's time to invest in a lightweight spinner suitcase.
Most often, it is the hard-sided spinner suitcases that are lightweight. For example, even the largest of the Merax suitcases in the 3-piece luggage set only weighs 10 pounds and can carry up to 55 pounds. A suitcase like this will make it much easier to travel with everything you need without additional fees.
Materials
Even in each category of suitcase type, soft-sided and hard-sided, you will find there are many different materials used. Some are more durable than others, some are lighter than others, and some look completely different.
Hard-sided spinner suitcases usually have an outer shell made of polycarbonate plastic or a polymer plastic that can resist impacts or even pop back into place if dented. Soft-sided spinner suitcases can be made of everything from polyester to nylon and even blends.
Zippers
Why does it always seem that your suitcase still seems perfectly fine, even with thousands of miles of travels on it, but the zipper gets difficult to use or breaks completely? Out of all the elements of a suitcase, the zipper is the one feature that sees the most use and is usually the weakest.
However, newly designed luggage, especially spinner suitcases, are made with more durable zippers. They are of higher-quality and designed in a way that they are easier to use and stand up over time. All the best spinner suitcases, such as the 7 we reviewed above, feature improved zipper design.
TSA-Approved Luggage Lock
It used to be that any traveler could put any type of lock on their luggage as they wanted. This made it easier for those traveling because they could choose a lock that worked best for their luggage and meet their own needs. With increasing global security, there are now rules regulating luggage locks.
Many suitcases now come with a lock already designed into the zipper. These locks are TSA-approved which means TSA, or Transportation Security Administration, officers are able to open your luggage to ensure safety. However, the lock is clever enough that other mischief makers can't get into your luggage.
Wheels
The quality of the wheels under your spinner suitcase makes a big difference in how easy it is to roll and maneuver. The quality also determines how long the wheels will stand up over many trips. Needless to say, higher quality rolling suitcases often come with higher quality wheels.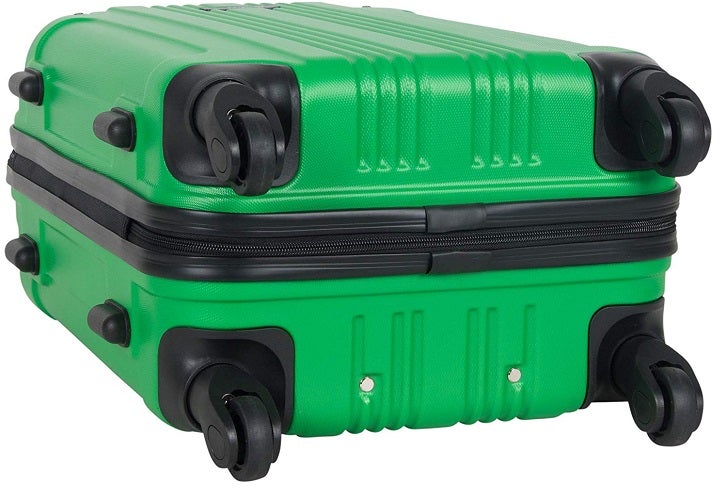 FAQs About Spinner Suitcase Luggage
We're pretty sure you still have some questions about spinner suitcases, including their features and how to choose the right one. The following questions are frequently asked by those also choosing new luggage and are considering a spinner suitcase.
Q: How should I store my spinner suitcase when it's not in use?
A: A hard-sided spinner suitcase can be easily wiped off if it gets dusty, so putting it in the back of a closet or even in the garage or shed won't harm it. Because they are more resistant to bumps and scrapes, they can also be left out in the open if it's more convenient.
Soft-sides suitcases are made of fabrics. These can easily get very dirty and dusty. It can be quite hard to wash the dust off these fabrics so you will want to keep it put up somewhere protected. You may also want to place it in a large garbage bag or other large bag for protection.
Remember, when investing in a set of luggage that comes with several sizes, many smaller suitcases can fit inside the larger ones. Storing one suitcase with the others inside it makes it much easier.
Q: What size spinner luggage do I need?
A: Do you only travel with a carry-on? More and more travelers are finding this the best way to fly, without having to deal with baggage claim lines at their destination. A 20" suitcase is usually the largest that will be allowed as a carry-on.
If longer trips, that are farther away from home, are commonplace for you, you will want a bigger suitcase. Any spinner suitcase 22" or bigger may fit the bill. If you are already using a suitcase, you can base the size you need on the one you currently use.
Do you need a smaller one? Would a larger one be more helpful? Do you need more organizational features?
Soft-sided suitcases are best for carry-ons as there is a bit of movement in the sides, making it easier to fit into smaller areas. Hard-sided spinner suitcases are best when checking your bags as they are usually waterproof and can handle the hard bumps and drops that happen during baggage handling.
Q: Are top and side handles necessary?
A: After you use spinner luggage with handles on the top and side, you'll realize just how convenient they are. While your suitcase may have a retractable handle, that handle is not meant to carry the weight of the suitcase when it's lifted onto a scale, into a car, etc.
The top and side handles all you to easily lift the suitcase wherever you need it, and in the best possible position. Don't want to, and don't need to, lean over very far to place your bag on the scale? Use the top handle. Want more room to lift the suitcase into the trunk of a car? Grab the side handle.
Q: How important is a luggage warranty?
A: Nearly every reputable luggage company will stand by a great warranty. Companies like Samsonite and Travelpro know their products will last through the warranty period and beyond. Even the less expensive brands, like Amazon Basics, offer a warranty on their products because they are high-quality.
Q: Are the wheels on a spinner suitcase replaceable?
A: Nearly every spinner suitcase will already come with high-quality wheels that are designed to give a smooth roll, tight maneuverability, and long life. They may even have guards to keep from hitting the wheels on walls, bumps, and things like that.
However, for those who travel quite often, you may notice the wheels are wearing out. Most luggage brands offer replacement wheels if they need to be replaced outside of the warranty period.
Q: Which brand of luggage is the most durable?
A: In our opinion Samsonite still makes the most durable luggage that is also a good value.
Q: What is the best hardside spinner luggage?
A: This should be no surprise as we are a fan of Samsonite and the Winfield 2 is the most durable spinner on our list that will standup to the abuse that checked baggage takes!
Tips to Help You Choose the Right Spinner Luggage
You now know what features are most important when investing in a spinner suitcase, or even a set of spinner luggage. We've also answered several of the most common questions consumers have when choosing the best one for them. AND! We've reviewed our top 7 best-rated spinner suitcases for you.
Need some additional tips to make sure you end up with the right suitcase? Here are 5 of them!
Tip #1: Pay Attention to Dimensions, Especially for a Carry-Ons
It's important to look at the dimensions of any suitcase you are considering. If you're looking for a carry-on, anything up to 20" will usually work quite well. However, most airlines also offer overall dimensions for carry-ons they will accept.
Some airlines also charge an oversize fee as well as an overweight fee. While one larger spinner suitcase can make traveling much easier than carrying several, it could hit your wallet instead. Be sure to look up the suitcase size and weight requirements for the airline you plan on traveling, or use most often.
Tip #2: Check the Interior Dimensions
Sometimes, a luggage manufacturer will give the outer dimensions of a spinner suitcase. Sometimes they will give you the inner dimensions. Most will give both so it's important also to ensure you are looking at the dimensions you need.
When determining if a suitcase will work as a carry-on, look for the outer dimensions. If you are more concerned about having enough space inside, take a look at the interior dimensions.
Tip #3: Look for Helpful Organizational Features
Almost every newly designed suitcase will have some features built into it that allow you to more easily pack your items and keep them in place.
Cross-straps can keep folded clothes in place, reducing the chance they will become wrinkled. Plastic pockets can keep liquid toiletry items from leaking over the other contents of your suitcase.
Want to see these helpful organizational features at work? The Kenneth Cole Reaction review shows that you have two equally sized halves when it's open, as well as zipper compartments.
Another great example is the Travelpro Platinum Elite. There are various sizes and types of pockets located throughout the interior of the spinner suitcase. You also have ideal storage for clothes that shouldn't be wrinkled. And on top of that, this suitcase makes it very easy to travel with more than one person.
Tip #4: Compare a Spinner Suitcase with a Rolling Suitcase
While each type of suitcase features wheels, there are some big differences. A rolling suitcase will usually only have 2 wheels.
From there, you extend a handle and "drag" the suitcase before you. These tend to be less expensive and best for those who don't travel often.
A spinner suitcase keeps it standing upright, on 4 or more wheels. These wheels allow the suitcase to roll easily in any direction no matter which way it is facing. This makes them ideal when you have to stand in ticket lines, or when crossing the airport.
Tip #5: Consider a Water-Resistant Spinner Suitcase
Many of the hard-sided spinner suitcases are also waterproof. If you think about it, the outer shell is plastic. Many luggage makers include a waterproof zipper to make them even more waterproof. This is sometimes a very helpful feature for regular travelers.
Do you travel a lot to rainy places? Other types of bad weather? A waterproof spinner suitcase can keep water out if it were to tip over, or even if it lands in a puddle on the tarmac by a careless baggage handler when waiting at the gate.
It's Time to Get Packing!
We've provided a lot of important information about spinner suitcases and spinner luggage sets. Bet you didn't know there was so much to learn, huh?
Which features we went over in the buying guide helped you the most? Did you have any of the same questions as those featured in the FAQ sections? Did our tip section help you narrow down the spinner suitcase best for you?
Which one, out of the 7 reviewed above, is your favorite? Where will you be taking it first? Let's get packing and world-trekking! Oh, and when you get back, tell us about your awesome trip!
How We Researched
To come up with the top spinner suitcases, we researched a variety of sources for reviews such as Target, Lowes, Bed Bath & Beyond and Walmart along with our own personal experience.
We also consulted online magazines for product research and reviews to get as much unbiased information as we could. To help weed out fake reviews we used Fakespot.com to make sure we only looked at genuine reviews.
With so much quality gear available, we had to narrow it down based on what we felt were the best options for the price. The staff authors have a wide and varied background in adventure travel, hiking and backpacking.
The authors have decades of experience and are eager to share their knowledge with readers.
To help narrow down the selection we used personal experiences along with recommendations from fellow travelers and tour guides.
After extensive research, we came up with our list to help you choose the right one for you.
Sources
---
Notice:
OutsidePursuits.com is a participant in the Amazon Services LLC Associates Program, an affiliate advertising program. OutsidePursuits.com earns fees from products sold through qualifying purchases by linking to Amazon.com. Amazon offers a commission on products sold through their affiliate links.