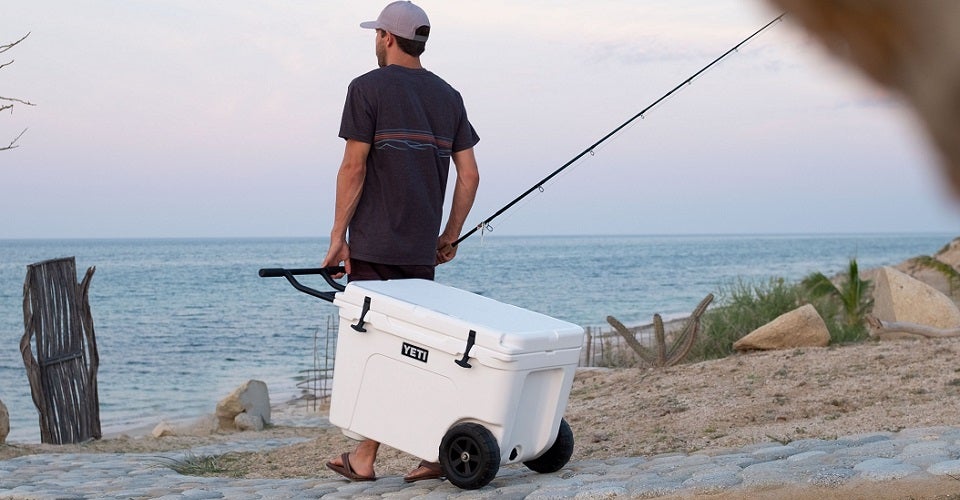 Our Editors independently research, test, and rate what we feel are the best products. We use affiliate links and may receive a small commission on purchases.
No matter if you're a frequent camper, fisherman, sports fan or just frequently find yourself in the outdoors, you'll probably need a cooler. Having the best cooler with wheels makes transporting your food and drinks so much more convenient. Coolers can be heavy, and having the ability to roll it around makes a world of difference. After researching the best ones that are currently on the market, we feel confident you're going to love these coolers just as much as we do!
Best Wheeled Coolers
| | Pelican ProGear Elite Wheeled Cooler | YETI Tundra Haul Wheeled Cooler | Igloo Glide PRO Wheeled Cooler |
| --- | --- | --- | --- |
| | | | |
| | | | |
| Capacity: | 45 & 80 Quarts | 38 Quarts | 110 Quarts |
| Ice Retention: | Up to 10 days | Up to 10 days | Up to 5 days |
| Weight: | 51.5 Pounds | 32 Pounds | 25 Pounds |
| Insulation: | Polyurethane | Polyurethane | Ultratherm® |
| | | | |
For more of our beach gear recommendations, have a look through these popular OutsidePursuits guides: Beach Canopies, Beach Chairs, Beach Umbrellas.
Quick Answer: The Best Wheeled Coolers
Our reviews of the top rated wheeled coolers with a comparison table and our buyer's guide below will help you choose the right cooler for you.
---
Wheeled Cooler Reviews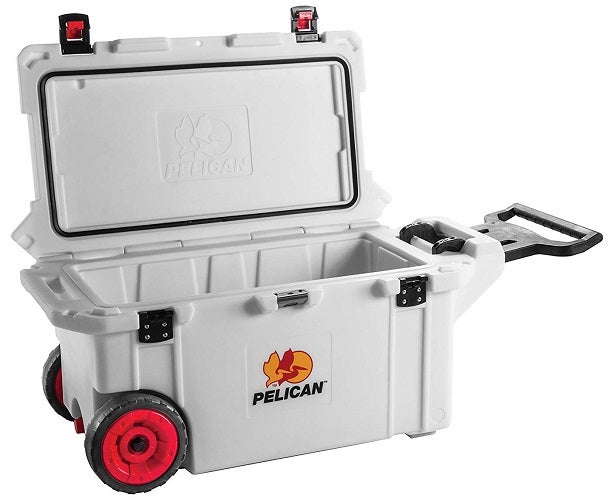 Pelican ProGear Elite Wheeled Cooler at a Glance
:
---
Ice Retention Time: Up to 10 days
Insulation: Polyurethane
Weight: 51.5 Pounds
Capacity: 45 & 80 Quarts
Coming in either Marine White or Outdoor Tan, the Pelican ProGear Elite Wheeled Cooler is definitely one to turn heads. It's our Editor's pick and also the best large cooler with wheels. As well as its looks, this cooler's functionality is sure to impress. With a capacity of either 45 or 80 Quarts and double polyurethane insulation layers, it can retain ice for up to 10 days, making it perfect for long fishing trips, camping trips or any situation where you'll need lasting durability. With rotomolded construction made out of polypropylene (which is ideal for insulation), you'll have this thick-walled cooler for years to come.
However, insulation is nothing if you don't have a proper seal, which Pelican Elite delivers. The freezer-grade gasket and embossed lip essentially locks in the air. Combine that with the powerful Press-and-Pull latching system, and nothing is getting in or out that you don't want to. You'll also find a built-in bottle opener, molded tie-down slots, non-skid raised feet, a threaded drain plug and a dual handle system with rotating hinged handles.

---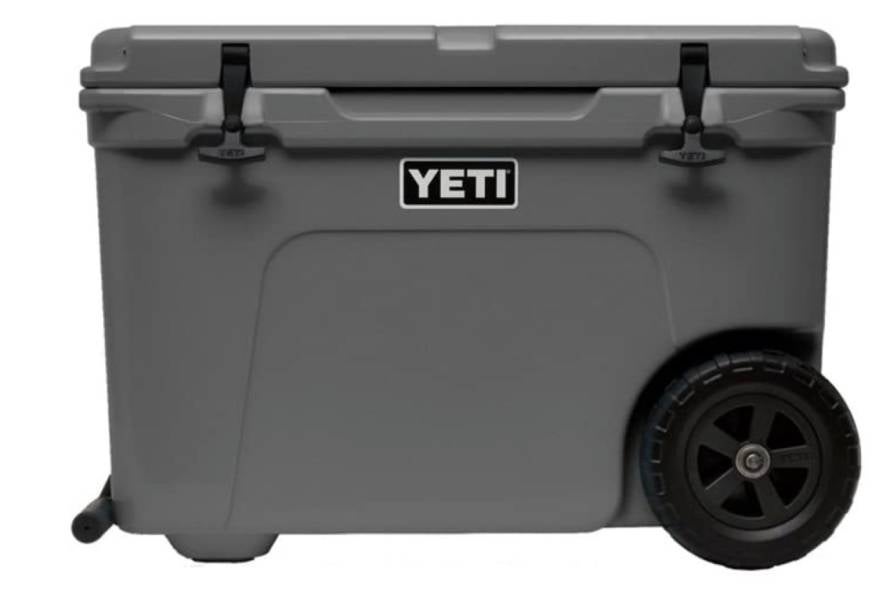 YETI Tundra Haul at a Glance
:
---
Ice Retention Time: 3 Days
Insulation: Polyurethane
Weight: 32 Pounds
Capacity: 38 Quarts
YETI is perhaps the most well-known name in the cooler world, and the Tundra Haul will tell you why. Coming in either white, blue or tan, it keeps consistent with the classic YETI look and makes it stand out from the crowd. It's actually the first-ever YETI on wheels. The Neverflat Wheels feature a solid, one-piece tire construction that's puncture-resistant and perfect for taking on dirt, sand, rocks etc. The StrongArm Handle furthers the ease of transport, with sturdy, welded aluminum and finished off with comfortable grips. The curved design tracks left or right for heel-capable towing.
It has rotomolded construction which makes it incredibly durable, made to last through whatever surfaces you drag it onto. Ice retention is only a few days – which may not be enough for some, especially on longer trips – but for the vast majority, this will be more than sufficient. If you want an incredibly sturdy cooler that will keep your items safe and cold inside, this might be the best rolling cooler for you.

---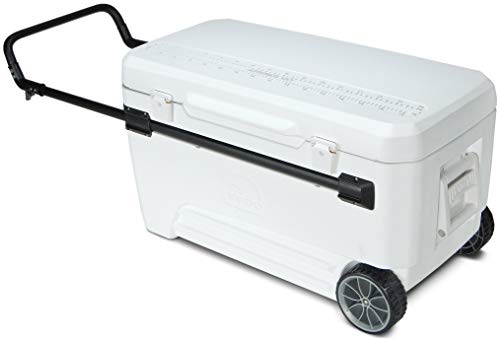 Igloo Glide PRO Cooler at a Glance
:
---
Ice Retention Time: Up to 5 days
Insulation: Ultratherm®
Weight: 25 Pounds
Capacity: 110 Quarts
If you need ample storage, the Igloo Glide PRO Cooler should be one to look at. You no longer have to take multiple coolers with you on your camping trip, thanks to the whopping 110 Quart capacity. With its oversized sport rally wheels and long telescoping handle, managing this large cooler is easy to take around tight corners, uphill or even on the beach. We've dubbed this one the best camping cooler with wheels, as it can fit so much food and drink inside. It doesn't last as long as others as far as ice retention goes, but 5 days is still impressive.
That's also long enough for a long weekend camping trip. As far as durability goes, it wasn't quite as rugged as some other models on our list, but it's definitely not flimsy. It features thick hinges and large latches that will certainly keep it closed tightly. If you're looking for the best cooler for camping with wheels, the Glide may be for you.

---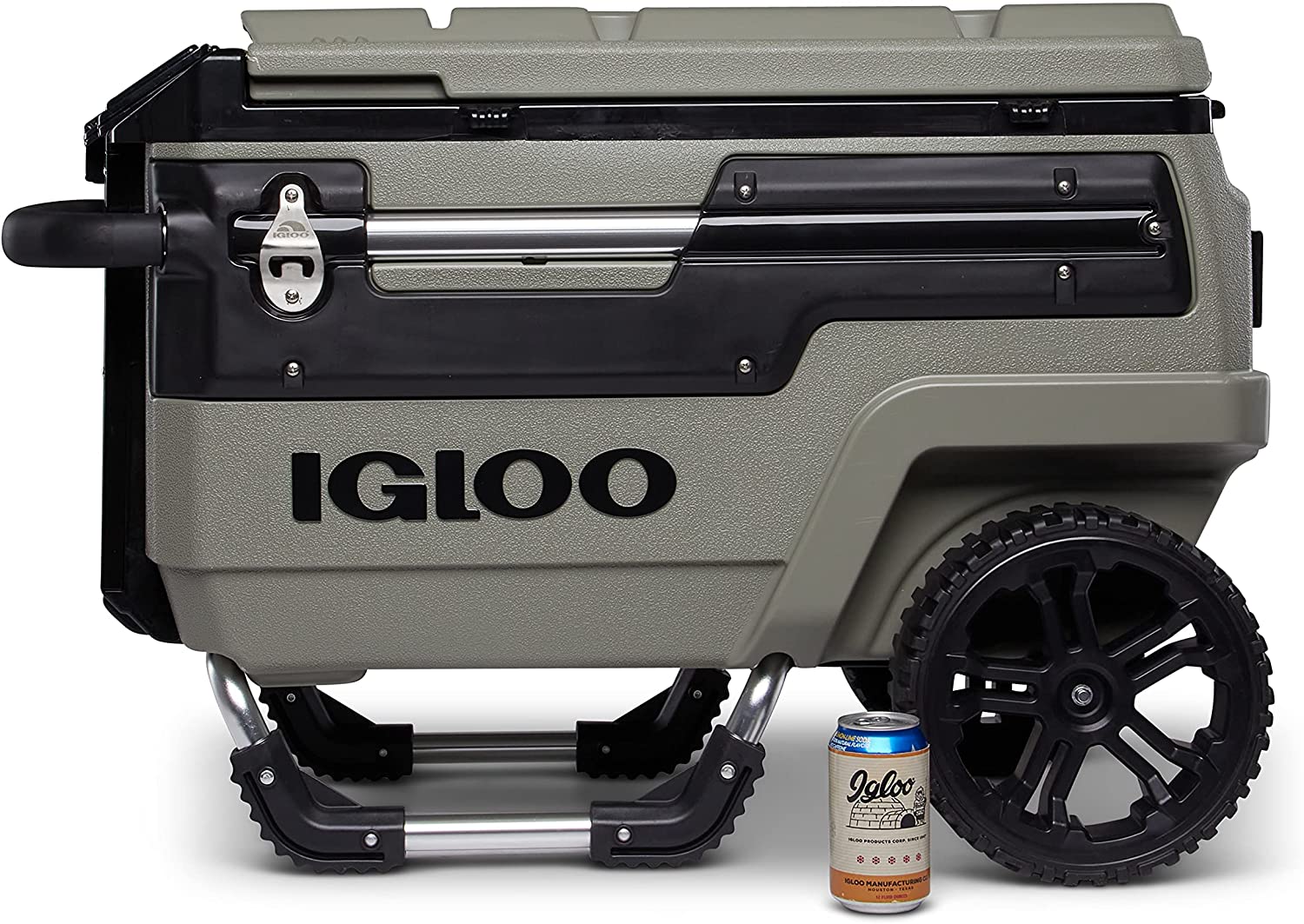 Igloo Trailmate Journey at a Glance
:
---
Ice Retention Time: 4 Days
Insulation: Ultratherm®
Weight: 34 Pounds
Capacity: 70 Quarts
The Igloo Trailmate Journey is essentially the Rolls Royce of the wheeled cooler world. Just by looking at it you can tell it has all the bells and whistles you could ever need for your next adventure. First off are the massive 10-inch wheels with an aggressive tread that's perfect for sand, dirt, grass and pretty much anything else you'll be wheeling it through. There are two aluminum stands on the front which offer stability, and a no-slip grip to prevent tipping over. The modular butler tray means you can eat anywhere, or serve up drinks and snacks away from any dirt or sand.
Storage space is more than sufficient for a few days, and it has a food basket to hang at the top of the chilled section, perfect for bread and condiments. You'll also find a dry storage bin that's ideal to store your smartphone, wallet and other valuables. One of our favorite features are the built-in LED lights, making the cooler perfect for nighttime use. The ice retention is around 4 days, which should be plenty for most adventures. In addition, you'll get a mobile device stand, dual built-in bottle openers, multiple cup holders, tie-down loops and much more.

---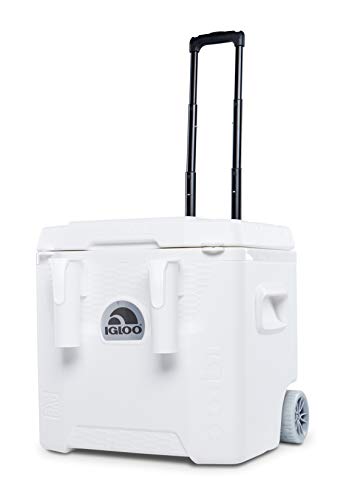 Igloo Marine Ultra Wheeled Cooler at a Glance
:
---
Ice Retention Time: 20+ Hours
Insulation: Ultratherm®
Weight: 10 Pounds
Capacity: 52 Quarts
The Igloo Marine Ultra Rolling Cooler is perhaps our favorite budget product available. While it's not going to last you for days at a time, it's perfect for a day trip, so we've labelled it the best rolling cooler for the beach. It may be inexpensive, but it comes with plenty of premium features, like large latches you'd typically find on more expensive models. We love the hatch lid, which allows for quick access to stored items without having to undo the latches and open up the lid. The drain plugs are very easy to use, as well.
When you're ready to take on your beach day, you can use the rotating side carrying handles as well as a locking telescoping handle. You'll also get molded-in side handles for easy and quick lifting. The wheels aren't the most rugged you can find, but they are decent for the price point. The insulation also isn't the best out there, but it's still efficient for keeping heat out for a day, and the Cool Riser Technology keeps it elevated off the ground. If you're after the best beach cooler with wheels that's super affordable, it'd be hard to go wrong with the Igloo Marine Ultra.

---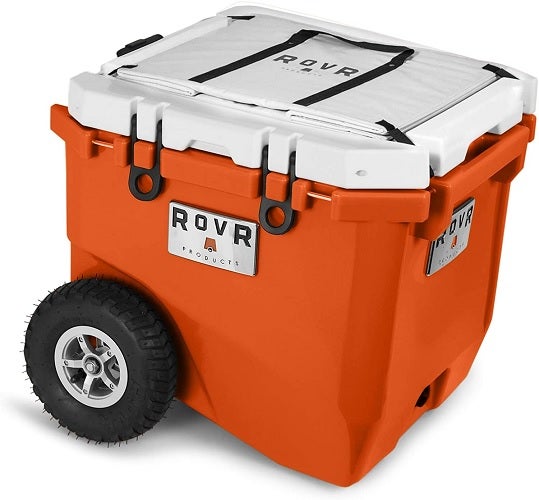 RovR Wheeled Camping Rolling Cooler at a Glance
:
---
Ice Retention Time: Up to 7-10 days
Insulation: Polyurethane
Weight: 43 Pounds
Capacity: 45 Quarts
The RovR Wheeled Cooler is another product that we just couldn't leave off of our list. The 3 inches of insulation will keep your food and drinks cold for days. You'll also get a removable dry bin for better separation between food/drink with individual compartments, and two bottle openers make it perfect for camping, fishing or sports games. Perhaps the most unique feature of the ROVR is the ability to hook up a tow arm to attach to your bike! We have to admit, that's a pretty cool feature.
The 9-inch diameter wheels are large enough to roll over almost any terrain and obstacles. With rotomolded thermoplastic construction and commercial-grade insulation, this cooler is made to last. The D-Seal gives an airtight seal, and an Air Releasing Button opens up the cooler easily when the air pressure inside and outside are different. Stainless steel locking plates come complete with bottle openers, so you'll never go without your drinks, and a lid lock with integrated hinges eliminates accidental lid closing.

---
Wheeled Cooler Comparison Table
How to Choose the Best Cooler With Wheels – Buying Guide
Handle Height
This may not sound like a big deal, but if you're taller than what most consider average, this can end up in not only an annoying situation, but neck and shoulder pain, as well. And that's no way to start off a fun trip! You should also keep in mind how long you'll be towing the cooler for. If it's only going to be for a few minutes, this won't be nearly as big of an issue as carrying it up the side of a mountain.

Wheels
It's not only important to look at how big the wheels are, but what they're made of as well. Wheel size makes a huge difference. Small wheels are obviously not going to do as well in rough terrain. For example, suitcase-style wheels that are often found on less expensive coolers are really only sufficient for use on sidewalks and very smooth, even terrain.
If you want a kind of "off-road" cooler on wheels that will go everywhere you do, then look into something like the Liddup that has huge wheels, crazy tread that's perfect for dirt, sand, grass or rocky terrain.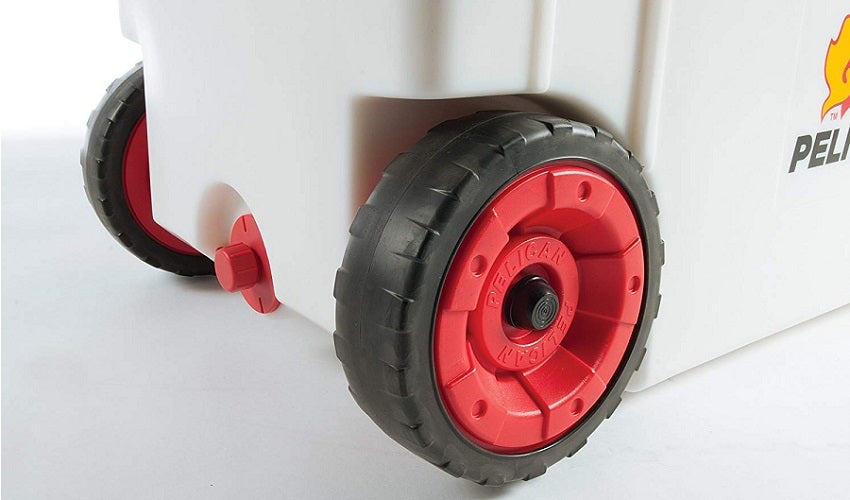 Storage Capacity
This should be the first thing you look at when narrowing down your wheeled cooler options. If you plan to bring a feast for the whole family, you'll obviously need a bigger capacity than you would for a few beers and sandwiches for you and some friends on a day trip. Keep in mind that volume of storage size can come from both insulated and a non-insulated storage area, so if it says 50 quarts of storage, it may not mean that entire 50 QTs is meant for cooled items.
Pay attention to this layout, as many soft-sided coolers will have individual compartments for cold and non-chilled items. This can be a good thing if you need it for both, but if you just need it for chilled items, look for a cooler where you can take advantage of the entire capacity.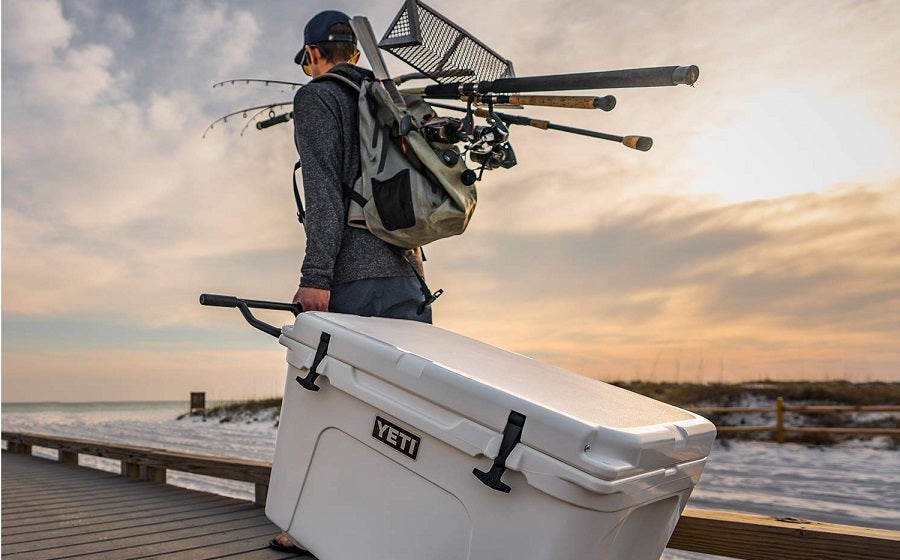 Cooler Size
While this is directly related to cooler capacity, it definitely isn't the same thing. Think about how much room your new cooler is going to take up. Some can be downright massive and difficult to fit into the back of your car, or store in the garage when not in use. If they're too big, you may also have difficulties transporting it. Soft-sided coolers are the winners here, as they're so malleable and can fit into more spaces, especially when empty.

Material
Obviously, material is a huge part of how the cooler works. If you want an ultra-durable one, we highly suggest going for one featuring rotomolded construction. This is typically only found in premium coolers, and it's where the plastic is just one single piece, rather than multiple pieces molded together. This means your cooler will essentially have zero weak points, giving you a super-strong, sturdy product. Plastic is generally very tough, lightweight, waterproof and insulates well.
Fabric is the other most common option, and is generally only found in soft-sided coolers. The strength of these will vary depending on the fabric used. However, they're almost never going to be as strong as rotomolded plastic, so if you're going for durability, you'd be better off with that. Fabric is also won't be waterproof the majority of the time, so you're limited with the kind of weather you can use it for. For example, it won't be the best idea to take it to the beach where it can easily get wet and moisture can seep through to the interior.

Types of Cooler Insulation
This goes hand-in-hand with our last point, but insulation obviously plays a huge role in how your cooler performs. For insulation, you're going to find two main types: polystyrene and foam.
Polystyrene
This is the best insulator for a rolling cooler that money can buy. Put simply, it's a plastic, which means it's cheap, relatively lightweight, poor at transferring heat and is very durable. Generally, the thicker the walls of polystyrene are, the better it's going to insulate the items inside. Most rolling coolers will be made with plastic, which will be the only insulator. To make the insulation greater, they increase the thickness of the plastic walls. It's pretty basic, but it works.
Foam
In less expensive and soft-sided coolers, you're typically going to find that the insulation consists of a foam lining. A foam lining works well if you just need to chill items for a few hours, or for less than a day, as it isn't as effective at keeping ice as polystyrene. With enough thickness, it can be effective for longer periods of time.

Seals
This goes along with our last point, as insulation is nothing if you don't have a tight enough seal. Go with a cooler with high-quality latches with a strong "bite". There are some that take things even further and can provide you with freezer-grade latches that essentially seal out any warm air, so you can keep your items chilled for over a week.

Price
Finally, price is also a big factor when it comes to selecting the best rolling cooler for you. How much are you willing to spend on it? If you're only going to use it infrequently, you'd be better off with a cheaper cooler. Even the cheap ones work fine for short periods of time.
However, if you frequently find yourself enjoying the outdoors, it's better to spend more and get a quality cooler. Look at the higher-end coolers that are going to last you for potentially decades, and provide you with top-of-the-line features. Know that the most expensive products are marked at those prices for a reason, and that you'll get incredibly high performance from them.
Conclusion
So which one of these coolers will be accompanying you on your next adventure? We hope that this article has helped you pick out the best rolling cooler for you. No matter which one you select of our recommendations above, you can be assured that you're choosing one of the best out there.
FAQs
Which type of insulation is best for a rolling cooler?
It all comes down to the type and thickness of the insulation. Polyurethane is the best for insulating, but also the most expensive, which is why you'll find it on the Yeti and Pelican brand coolers. They usually have 2-3 inches for maximum insulation. With this type of insulation, you can almost get a week of ice retention time. Of course, outside temperature and how often you open it also plays a big part.
Can I leave a wheeled cooler in the sun?
This will depend on the cooler you choose. If it's a soft-sided one, it's probably best to keep it in a shaded area. However, the military-grade plastic coolers are almost always UV-protected and won't be affected at all by scorching heat.
Can I use dry ice in my cooler?
Again, this will depend on the cooler you select. If it doesn't specifically say that you can use dry ice with it, then don't even try it. The only one on our list that specifically says you can is the MILEE Heavy duty cooler.
How should I store my cooler when not in use?
We recommend hanging it up in the garage if you're able to, so nothing sits or nests in it.
Recent Updates
March 16, 2022: Verified availability of all products. Additional FAQs have been included to address popular consumer queries.
How We Researched
To come up with the top rolling coolers, we researched a variety of sources for reviews such as Target, Lowes, Bed Bath & Beyond and Walmart along with our own personal experience. We also consulted online magazines for product research and reviews to get as much unbiased information as we could. To help weed out fake reviews we used Fakespot.com to make sure we only looked at genuine reviews.
With so much quality gear available, we had to narrow it down based on what we felt were the best options for the price. The staff authors have a wide and varied background in adventure travel, hiking and backpacking. The authors have decades of experience and are eager to share their knowledge with readers. To help narrow down the selection we used personal experiences along with recommendations from fellow travelers and tour guides. After extensive research, we came up with our list to help you choose the right one for you.
Notice:
OutsidePursuits.com is a participant in the Amazon Services LLC Associates Program, an affiliate advertising program. OutsidePursuits.com earns fees from products sold through qualifying purchases by linking to Amazon.com. Amazon offers a commission on products sold through their affiliate links.