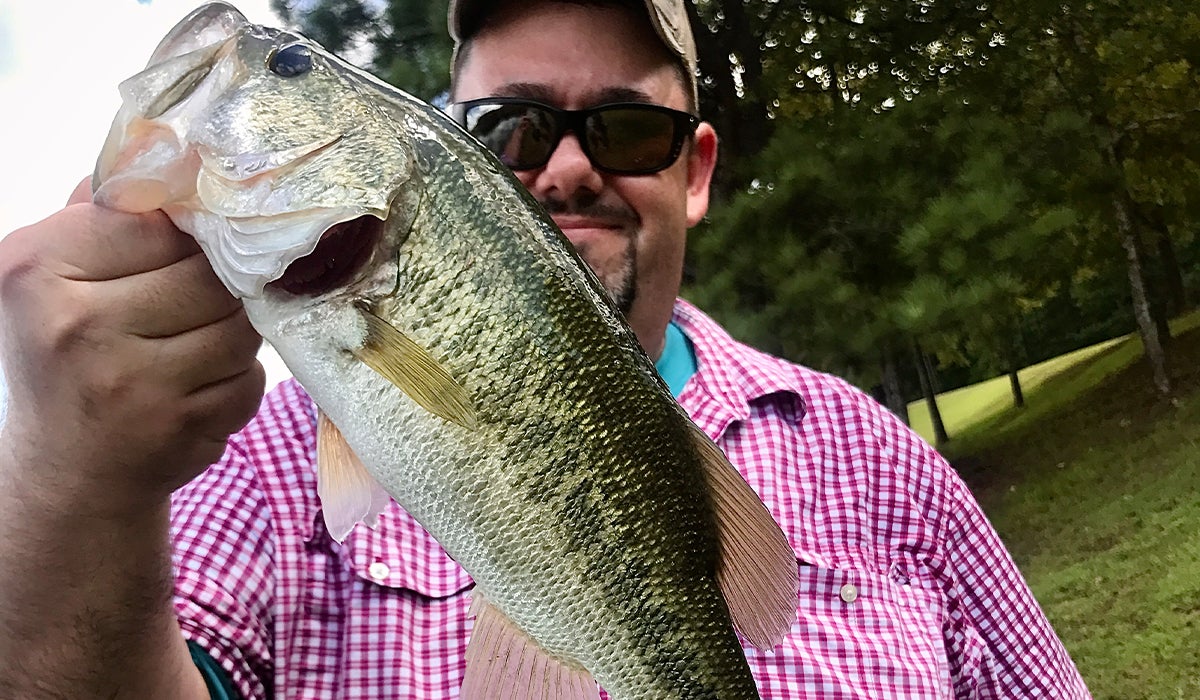 Our Editors independently research, test, and rate what we feel are the best products. We use affiliate links and may receive a small commission on purchases.
There is no doubt that bass make up the number one targeted species when it comes to fishing. Sure, there are lots of folks that catch a lot of panfish, but when it comes to anglers who go after one type of fish, bass are where it's at in North America. It's with good reason, too, as bass fishing is very active and the fish put on a great fight with a lot of fun and excitement. So, how do you catch bass? The answer is both easy and difficult at the same time. Largemouth bass can be a very easy fish to get to bite, while at the same time, prove to be tricky when they don't want to feed. The trick is to know what triggers the strike, even when the fish doesn't truly want to. The answer, most often, is the right lure. Action, presentation and color are what separates a common bait and the best bass fishing lures. As someone who has spent a lot of time working on catching fish, why don't we take a look inside my tackle box to see what are my go-to best bass fishing lures that I use to catch fish.
Cover Image by Derrek Sigler
Best Bass Fishing Lures
| | Terminator Super Stainless Spinnerbait | Berkley PowerBait Power Worms | Rapala Balsa Xtreme Brat Hard Bait Lure |
| --- | --- | --- | --- |
| | | | |
| | | | |
| Depth: | Shallow | Varies | 3 feet |
| Retrieve: | Moderate to fast | Slow | Moderate |
| Sound: | Vibration | none | Vibration |
| Season: | Year round on open water | Year round, very effective early and summer | Summer |
| | | | |
Best Bass Fishing Lures at a Glance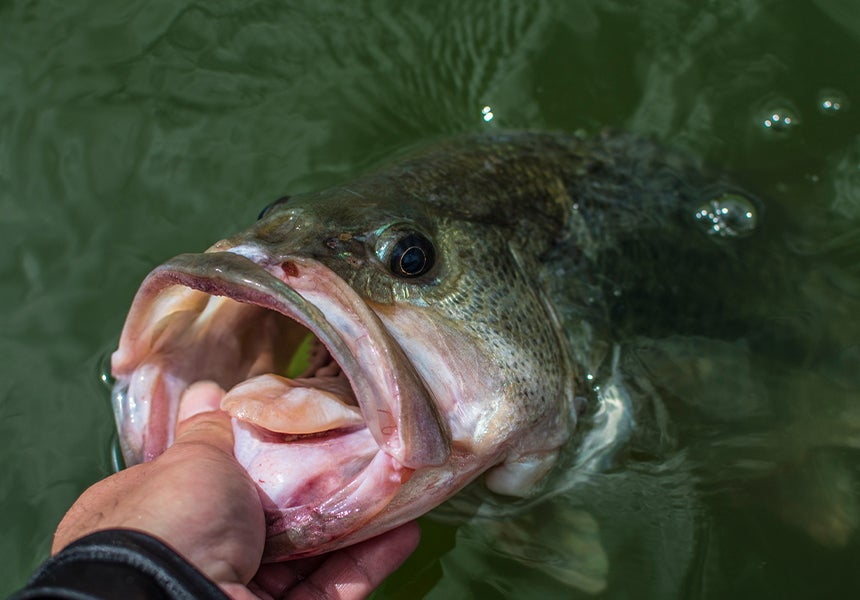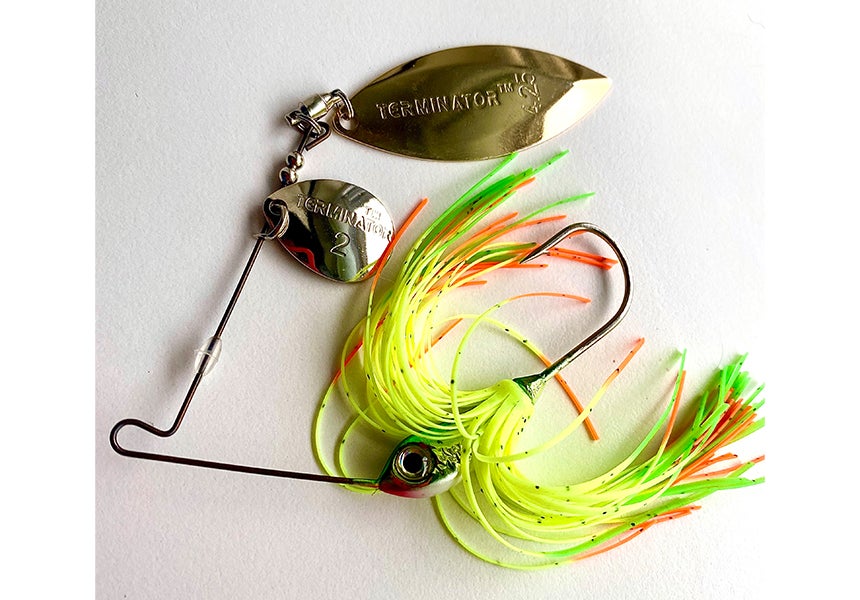 Depth: Shallow
Retrieve: Moderate to fast
Sound: Vibration
Season: Year round on open water
Spinnerbaits are a great tool for the bass angler. They can help locate fish and are generally used  as a speed approach, allowing the angler to cover a lot of water in a short amount of time. There are many color options and different blade shapes and colors, and an angler is wise to carry an assortment. They are best used with a moderate to fast presentation. If you're looking for the right reel to match the presentation, we can help.
The Terminator spinnerbait is a personal favorite due to quality of components and overall quality. I tend to like models with both a colorado and willow blade, and brighter colors for most water. You can add a trailing hook with a curly tail grub for more action, although I tend to prefer to only use this in a trolling situation.
Pro: Cover a lot of water in a hurry
Con: Doesn't always produce fish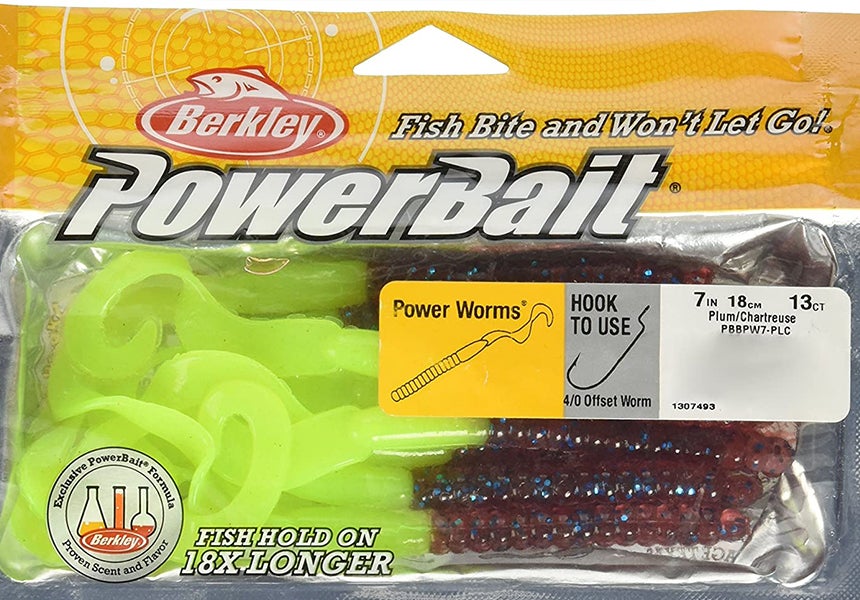 Depth: Varies
Retrieve: Slow
Sound: none
Season: Year round, very effective early and summer
Soft plastics, also known simply as rubber worms, work great and are a staple bait for bass fishing. There are so many ways to fish a soft plastic, and one of my personal favorites is to rig a worm hook weedless and wind drift it over weedbeds. This is a great way to produce fish on high boat traffic days when bass might feel skittish. Spinning rods and reels work great for this bait. 
Berkeley Powerbait Power Worms are my go-to bait and I almost always have a rod rigged for one. The scent trail off these worms catches fish, plain and simple. While other soft plastic baits to catch fish, I have had more luck with this brand by a large margin.They come in a wide range of styles, sizes and colors and I suggest having multiple with you.
Pro: Strong scent trail, can be fished a variety of ways
Con: I'll let you know when I find one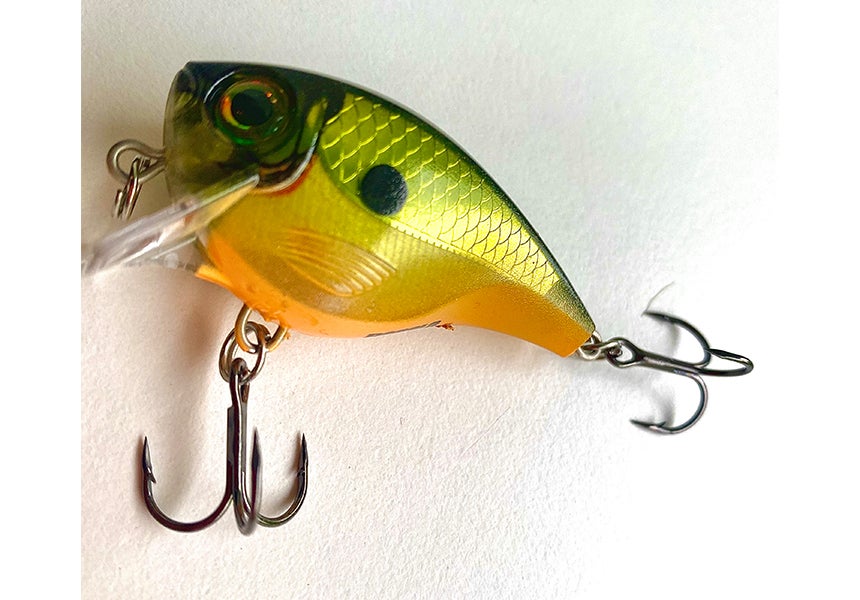 Depth: 3 feet
Retrieve: Moderate
Sound: Vibration
Season: Summer
Crankbaits are a vital bass fishing lure that every angler has on hand. Crankbaits are good for fishing fish and you'll want lures that dive to the depths your electronics or lake chart is telling you to fish to. For most of the lakes I fish, finding bass in the summer months means casting over weedbeds in 5-7 feet of water. For this, I have found a lot of success with a smaller crankbait that runs in the 3ft range. The Rapala BX is an amazing  crankbait for this spot, as it hits right in the wheelhouse, skimming the tops of the weeds without getting fouled too often. And the wiggle is seductive enough to bring fish up for a snack. 
Pro: Small size is deceptive as it catches big fish
Con: Be sure to have the right model for the depth you need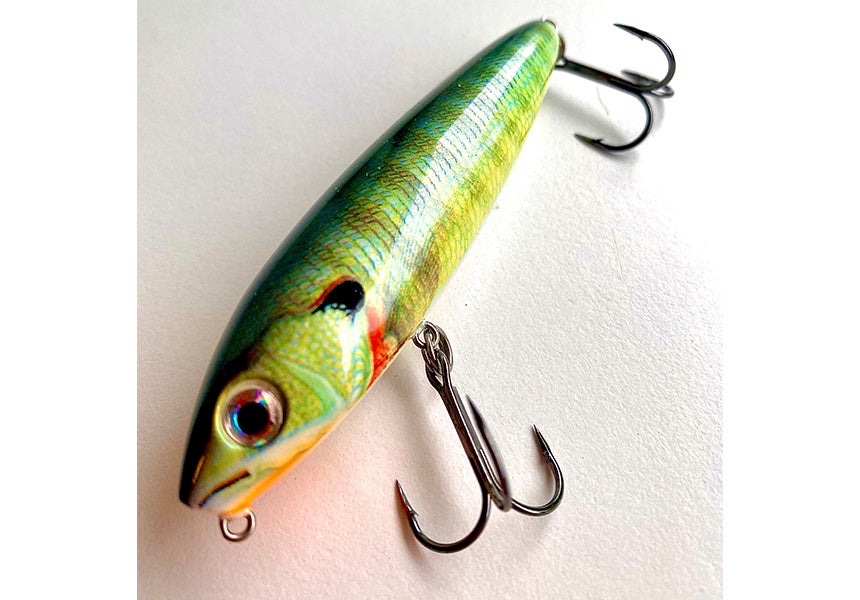 Depth: Surface
Retrieve: slow and exaggerated
Sound: splashing
Season: summer to late
During the summer and later season, when the morning is still, you can often see bass hitting the surface hard. That is when I'll grab a surface bait and start walking the lure, or popping it. The Zara Spook was the original, but there are some truly great lures out there. Right now, I am loving on the Rapala Skitter Walk, as I can jerk and slap it around, like a dying baitfish. My favorite color is the Bluegill, as it imitates one thrashing around. I have a lot of luck hooking into bonus Northern Pike this way, too. If you only have one surface bait on you, a walker, like the Skitterwalk, is a good choice in that it can be walked as well as popped. The more exaggerated you make the retrieve, the better in most cases.
Pro: Versatile surface bait
Con: I find these harder to produce fish with when the surface is choppy
Amazon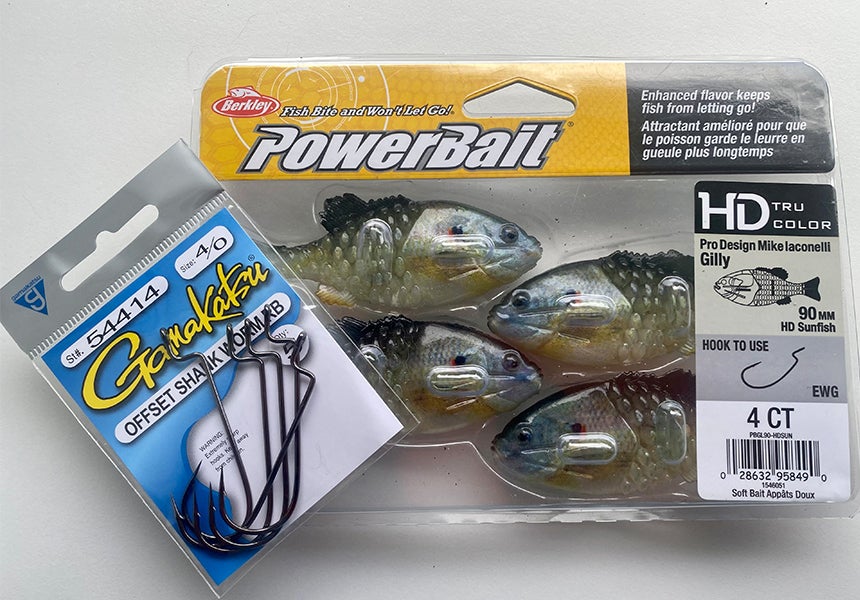 Depth: Varies
Retrieve: Slow/Moderate/Fast
Sound: Water Displacement
Season: Year round
Swimbaits took the angling world by storm a few years ago, but they've honestly been around for decades. They look and imitate a swimming fish, and give you options for presentation. You can simply retrieve it to act like a free swimming baitfish, or you can make erratic moves to imitate a wounded baitfish. 
Berkeley introduced the Gilly to the Powerbait line recently and it won Best New Product at the 2021 ICAST Convention. I got my hands on some and right away fell in love with the look and feel of these soft plastic swimbaits. They have a tremendous scent trail and leave flecks of biodegradable glitter in the water that acts like scales being discarded by baitfish. The "wiggle action" from the rear of the lure is amazing and these bait produce fish. I only use Gamakatsu hooks when rigging my baits, too. They are the sharpest I've used. 
Pro: Amazing action and scent
Con: I'll let you know when I find one
Amazon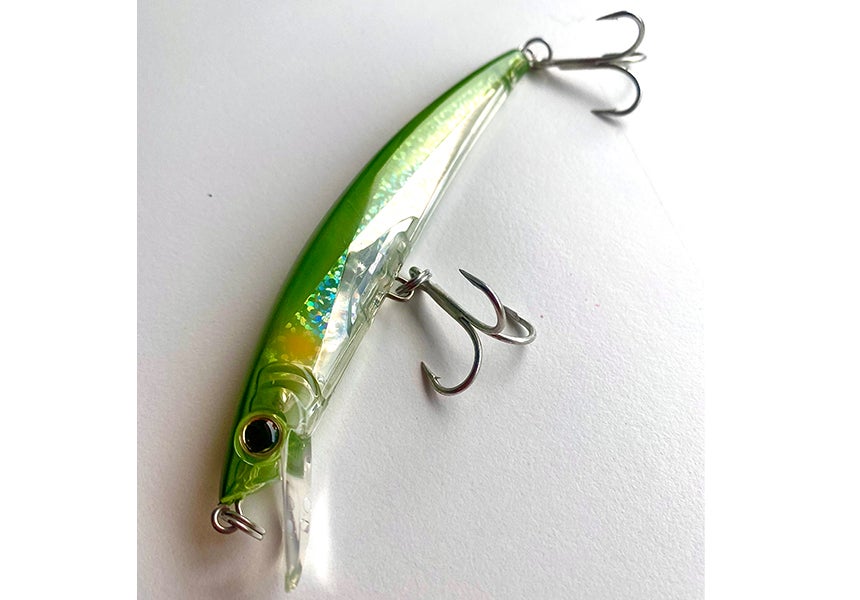 Depth: 3 feet
Retrieve: Slow/Moderate/Fast
Sound: Internal rattles
Season: Year round
Stickbaits are the longer version of a crankbait and have actually been around longer. The original Rapala floating lure is the best known, but I am extremely fond of the Yo-Zuri bait simply because of just how much flash and sound it adds to the action. I love to run these baits behind a 7-foot, heavy-action baitcast rod and reel, using speed to amp up the action. These baits make an entrance with mirror-finished colors and internal rattles that make a tremendous amount of noise as the bait runs along. You can run them straight, which is highly successful, or you can rip them for even more action. They are a floating bait, but the added weight of the rattles makes them ascend a little slower than some other baits, which adds to the attraction factor. 
Pro: Color and sound
Con: Cost is a little higher. I hate losing one.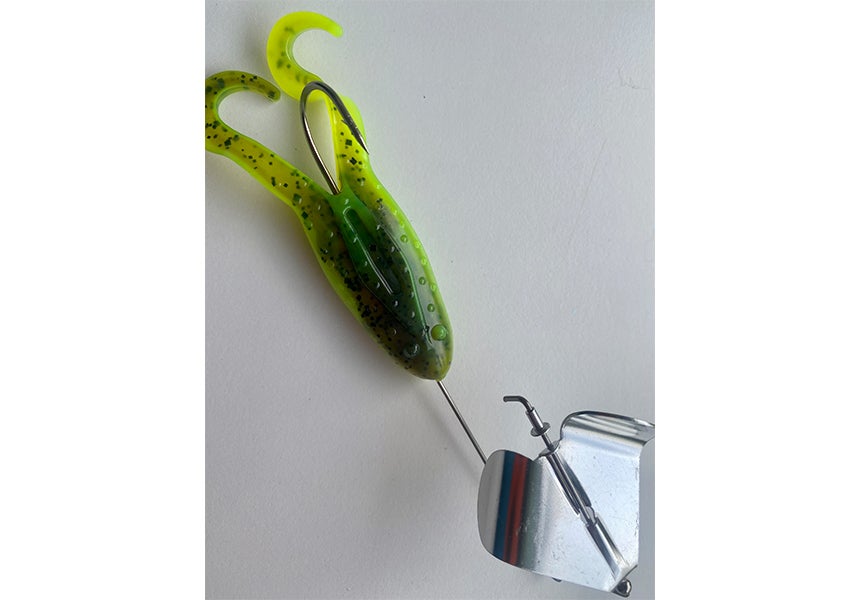 Depth: Surface
Retrieve: Fast
Sound: Splashes
Season: Year round
Buzzbaits are a great surface bait that can work even in heavier cover. They run using a prop-style blade that splashes and carries on, making a huge target for bass to key in on. With their eyes close to the top of their heads, bass are very keen surface feeders, and love to grab unsuspecting frogs for dinner. That is what theis bait recreates. With the help of bass-fishing legend Kevin VanDamme, Strike King has developed a winner of a lure for skimming weedbeds and lily pads, even on windy days. This bait also produces pike hits, too. When  fishing it, a fast, high gear-ratio reel is the best. 
Pro: Great way to work the weeds
Con: Not always effective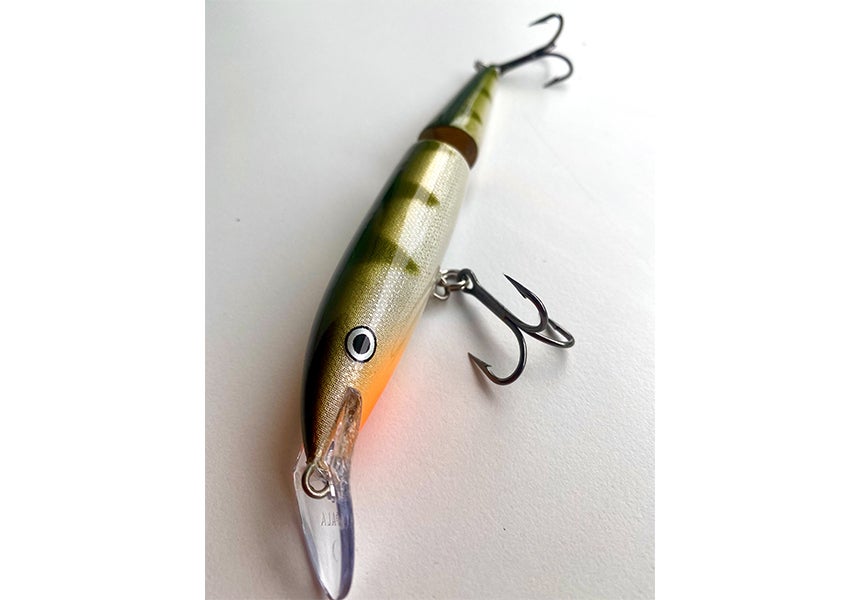 Depth: Shallow 3-5 feet
Retrieve: Varies
Sound: vibration and water displacement
Season: Year round
Rapala's original balsa floating stickbaits have been around for decades, as has the jointed version and this may be the original swimbait, too. The back half of the lure whips side to side displacing water and wiggling around. These have been a go-to lure for a long time, and I like to use a bigger size, in the 4-6 inch range for working bigger fish on days when other lures aren't producing. Yes, they aren't the most fashionable lures, as they aren't the newest, but it's hard to deny results, and these lures catch fish – lots of fish.
Pro: They catch fish
Con: There isn't one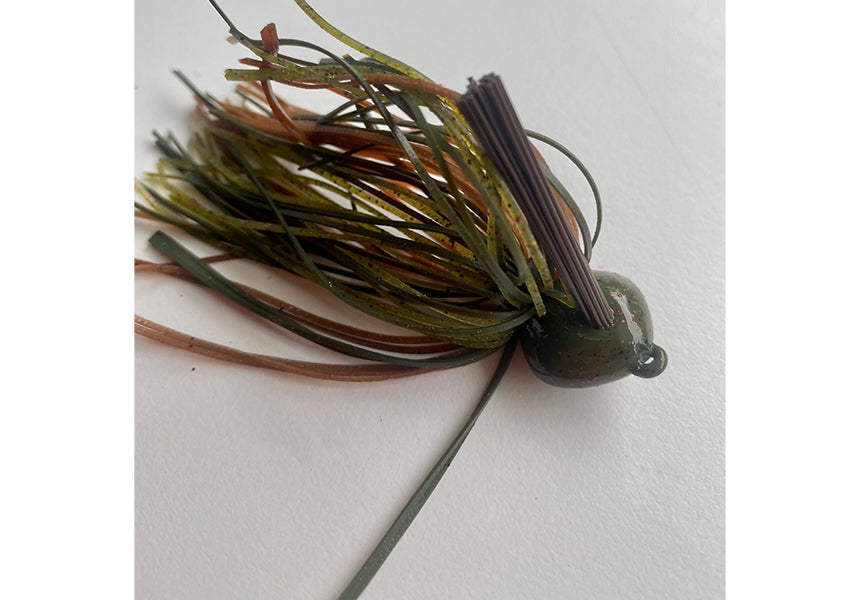 Depth: Bottom
Retrieve: Slow
Sound: Vigration and thumping
Season: Year round
Jig fishing for largemouth bass can be ultra productive, especially when the bite is slow. It lets you throw a bait right in front of the fish and really get into the thick of things. Early season, if the fish are late coming off the beds, you can throw one in and get on the nerves of the bass as it protects the bedding area. Fished weedless, you can drag one through the weeds and get the attention of pressured fish, triggering strikes when you may otherwise not get one. I like theBerkley options as they impregnate scent into the rubber skirts.
Pro: Triggers a strike on hard to catch days
Con: Takes practice to fish right

Bass Fishing Lures Comparison Table
---
How to catch largemouth bass
You might think that just picking a lure and casting it out is the most important part of catching a bass. It's not. Your work actually starts well before you even head out of the house to go fishing. We could go through this all in great detail, but I'll keep it a little on the shorter side. It starts with a weather forecast and goes from there.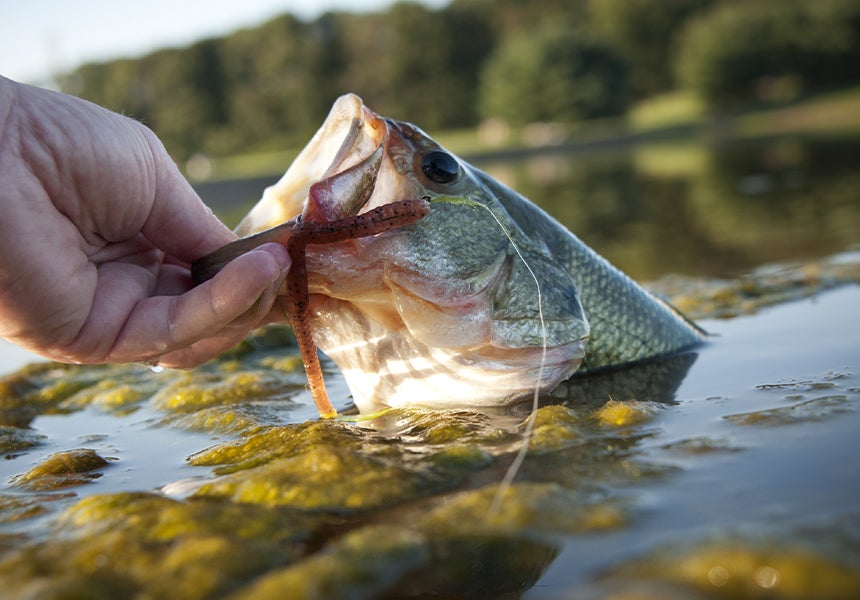 The weather and bass fishing
There's multiple things you need to know about the weather to help you find and catch bass. The most important thing is the barometric pressure. Barometric pressure is, cut down to the most basic thing, the atmospheric pressure in the air around us. This pressure increases and decreases as the weather, season and such change. Low pressure systems generally tend to indicate weather systems and incoming storms.
Now, you might think atmospheric pressure shouldn't affect fish as they live under water. That would be extremely incorrect. Think of water as an amplifier. As the pressure on top of the water increases, so does the pressure under the water as the air above squeezes it. Low pressure systems also tend to cause changes in temperature and wind, which affects the surface temperature of the water, as well as the oxygen capacity the water has. During times of high pressure, fish tend to move shallower and vice versa during times of low pressure. It's knowing when this is going on that helps you locate fish.
However, there is a magical moment when the low pressure systems start to move in that you need to be aware of. As that system starts to work its way to the water, predatory fish species can sense the incoming change far better than people can, and it often drives an urge to feed. This momentary frezy can lead to a massive increase in fishing action that can result in some of the best fishing action you've ever seen. Be hyper aware of changes in barometric pressure.
Lake structure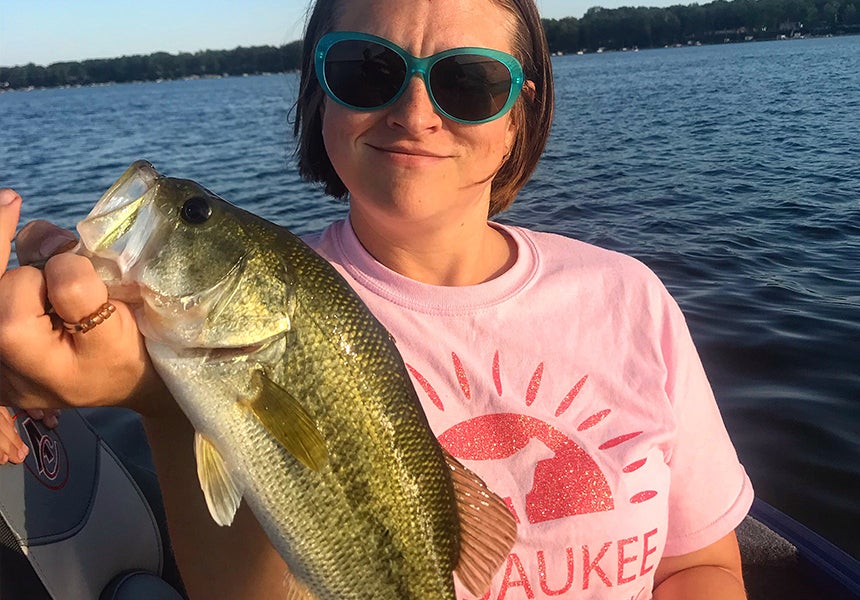 We've all heard about fishing structure and habitat. Most fish don't simply hold in open water, instead opting for settling around underwater structures, like weedbeds, sunken trees etc. You will want to identify these areas and target them first, but it's all a matter of when, too. The aforementioned pressure plays a role, as does water temperature and oxygen levels in the water, as well. Colder water holds more oxygen, but it also slows metabolism, so the fish find a balance. Good electronics in your boat will show you all the information you'll need to get a handle on finding the fish. If you don't have electronics or even a boat, you can still figure things out pretty well just from looking at the water. Good fishing sunglasses are an absolute must.
Water clarity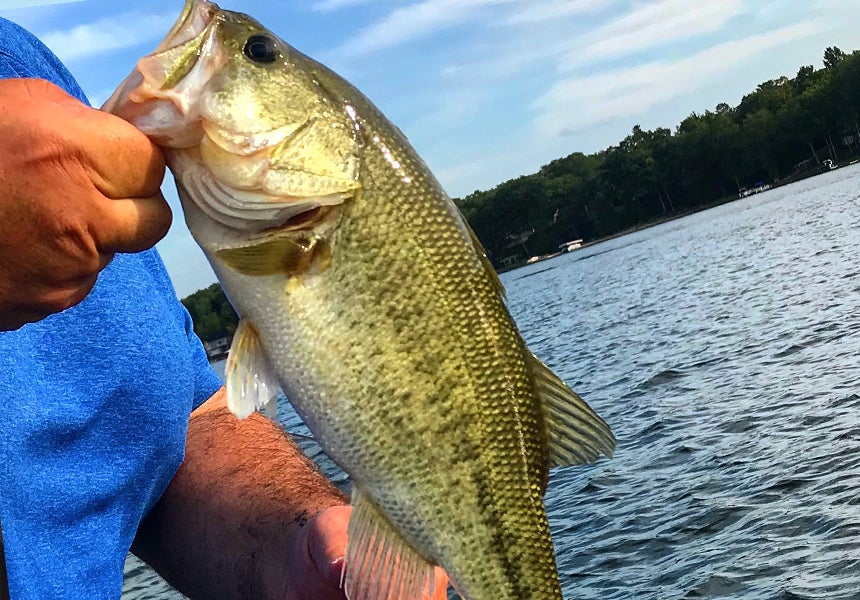 This is a topic that isn't talked about as much as it needs to be. Water clarity plays a role in how you're going to bass fish and what lures you'll use. Turbid water that is harder to see through is going to call for brighter colors, generally speaking, although you can often do well with dark lures, too. Darker water may not indicate dirt in the water, although that is a possibility. There are several factors that can make water harder to see through.
Weather systems have a tendency to cloud up the water of a lake system, and it may just simply be excess gas like CO2, O2 or even just nitrogen discharge from the ground under the water. And boat traffic can really stir up the water and add "prop salad," or chopped vegetation to the mix as well. One other thing that darkens water, especially for northern waterways, is tannic acid. This can also add a bit of foam to the water. For example, the Tahquamenon River, in Michigan's Upper Peninsula has a brown cast to the water, and the two main waterfalls on the river produce a thick foam that floats downstream for miles. It may seem like the water is dirty, yet this is actually one of the purest waterways in the United States. And the lower river has a fantastic fishery for both Bass and muskies.
In clear water, you would opt for lures that do two things – one, mimic local forage species, and two, provide enough flash to attract attention. The flash is important, too. Remember that you're competing with actual prey in the water, so if there is a school of small perch, and you're tossing a perch-patterned stick bait, the flash from the finish catching the sunlight is going to immediately set your lure apart. The reflective finish is also going to help your presentation, so if you're trying to mimic a wounded baitfish, the reflection will amplify the movements under the water.
Bass Fishing Frequently Asked Questions
How do I catch bass?
Even if you're just using a hook, worm and a bobber, you're bound to catch a bass. Routinely targeting and catching bass takes practice and the right equipment, but you can get into the sport with a few lures and taking the time to practice finding them.
How do I catch bass all the time?
You'll see "experts" say that you need to do this, or that to catch bass every time. Truth is, it is called fishing, not catching. You may not catch a bass every time. But if you learn the water, practice with the various lures and the techniques that go with them, you're bound to have more success.
What is the best bass fishing bait?
You just read the author's go-to list. Get some Rapalas, and some Berkley Powerbait worms for starters.
How we researched
We read through all the latest reviews of fishing lures over the winter months, but when it comes right down to it, there is no replacement for fishing and getting hands-on experience with catching fish with various lures, baits and techniques. The author has caught bass all over North America, and has caught largemouth bass in every month of the year, and in just about every type of water Largemouth bass inhabit. He also knows and fishes with tournament professionals and leans on them for techniques and know-how. He also went directly to the companies that produce the baits on this list to get the reasoning behind the designs to know exactly what the developers had in mind, and then he tried out the lures themselves. He has caught fish with every lure on this list.
Notice:
OutsidePursuits.com is a participant in the Amazon Services LLC Associates Program, an affiliate advertising program. OutsidePursuits.com earns fees from products sold through qualifying purchases by linking to Amazon.com. Amazon offers a commission on products sold through their affiliate links.