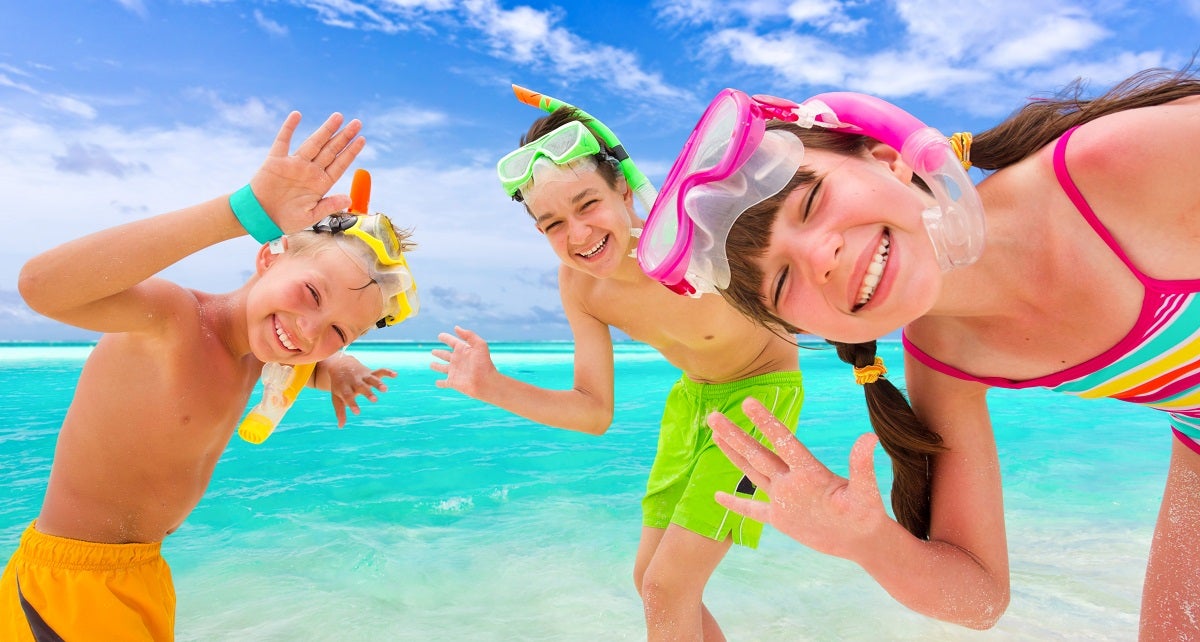 Our Editors independently research, test, and rate what we feel are the best products. We use affiliate links and may receive a small commission on purchases.
Picture this: You're swimming through clear, blue water alongside colorful fish and exotic plants, an unexplored world of beauty all around you. Sounds nice, right?
Snorkeling is a fantastic activity appropriate for the whole family. Your kids will be happier than ever as they discover the amazing sights just below the water's surface.
When you start planning your next beach vacation, take some of these pointers into account to ensure everyone has a terrific and safe experience.
1. Pick the Best Destination
While most beaches offer snorkeling excursions, there are a few locations in the world that are tough to beat. If you're flexible in choosing your destination, consider the Great Barrier Reef in Australia, one of the seven natural wonders of the world, or Buck Island, St. Croix, in the Caribbean.
These places boast clear, shallow waters that are ideal for beginner snorkelers — not to mention the stunning sea life. If you'd prefer to stay closer to home, conduct a quick internet search to find out what types of activities are offered near you.
2. Have the Proper Equipment
Some newbie snorkelers think they have to spend a lot of money on premium gear to have a good experience. While this isn't the case, it's important not to cheap out, either.
Renting a kit from the company you snorkel with may also be a bad move, as their equipment won't be custom fit to you or your kids. Even if you're not sure if you'll ever go snorkeling again, a poorly made piece of equipment can ruin your adventure.
You'll want to find a set that's both cost-effective and quality-made. As you shop around, you'll want to be certain of several things, including:
Your flippers fit. Flippers, or fins, allow you to navigate the ocean quickly. They can't be too loose or too tight. If they are, they might slip off or cause you a lot of discomfort. You can also buy a pair of diving boots or slippers to further protect your kids' feet.
Your mask is tight and won't fog up. This is essential, as you don't want water to leak in. You also want to prevent it from fogging up, which can cause reduced visibility and make your excursion unpleasant. Choose a great snorkeling mask— you won't want to miss the sights. Consider the newer full face snorkel masks, they allow you to breathe through your nose unlike traditional snorkel masks.
You pick up a rash guard and sunblock. The sun's UV-B rays, which cause sunburn, can still harm your skin underwater. Always apply sunscreen at least 30 minutes before hitting the water. This will allow the cream to sink into your skin. Wearing a UV rash guard is another great way to beat the sun, especially if you tend to forget to reapply sunscreen. Rash guards will also keep you and your kids safe from cuts and scrapes, in case you accidentally run into an urchin or reef.
You grab an extra pair of goggles. If someone's mask or snorkel malfunctions, goggles can come to the rescue. This can happen when you purchase or rent gear that doesn't fit properly. While they won't be able to breathe through a snorkel, they'll still be able to take in the sights. This is also an excellent option for family members who can't swim for long periods.
Be mindful of where you are snorkeling, in busy areas people have been hurt by personal watercraft link jet skis etc. If you decide to rent one, be sure to get instruction. A high percentage of boating accidents take place with these type of watercraft.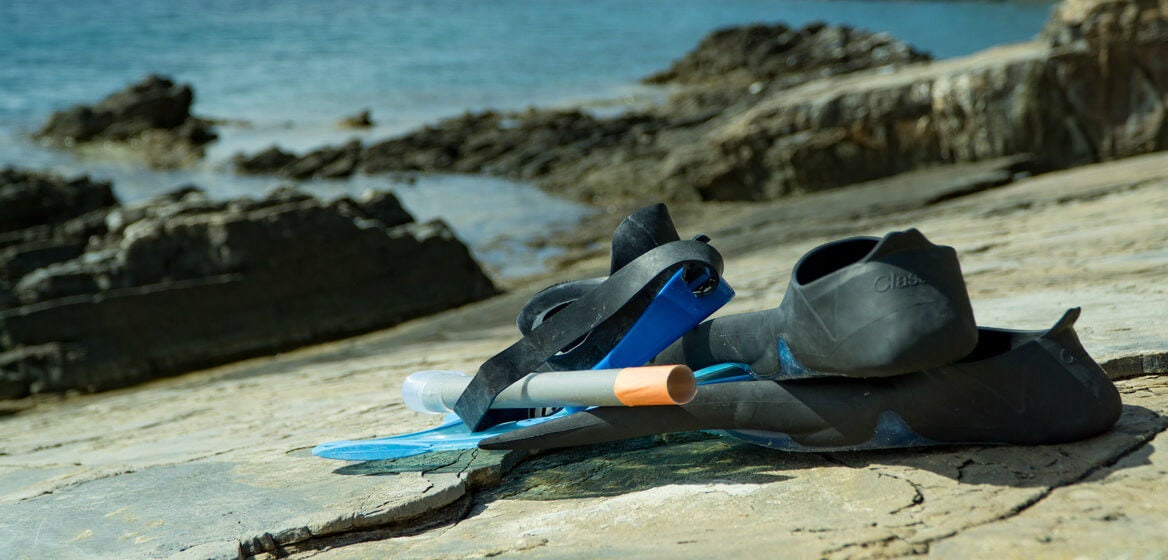 3. Practice Before You Go
Before you even step foot into the ocean, you'll want to learn a little bit of snorkeling 101. Here are a few ways you can prepare your kids at home.
Train in the pool or bathtub. This is a great way to introduce children to snorkeling. After you buy your equipment, you'll want to test it out. Let your kids put the gear on themselves, so they understand how it should fit and feel. Then, have them swim around with their heads underwater. Breathing through the mask will take some getting used to.
Learn to swim with a flotation device. This activity is generally safe, but you can never take too many precautions. While we've all worn life vests before, swimming with them on is a whole different ballgame. Choose jackets or inflatable floaties that are comfortable and secure. Have your kids test them out while they practice with their gear in the pool or tub. They'll gain confidence in their abilities as they continue to practice. Then, when you make it to the beach, you can remove the gear so they can swim deeper into the water.
Take a few snorkeling lessons. If you'd prefer that your kids learn from a professional, check to see if anyone offers lessons in your area. If not, your vacation destination probably does. This way, your children can take a class from an experienced instructor that will teach them the basics.
4. Cover All Your Bases
When you finally get out to the water, safety should be your No. 1 priority. Your family's well-being is the most essential aspect.
Choose a spot that's calm, but still enjoyable. For beginners, experts recommend venturing out from the shore of a beach. You don't want any harsh waves to make your excursion more difficult, so consider snorkeling in the morning, when the water is still.
Never venture out alone. You'll want to have plenty of people in your group that can help if something goes south.
Keep exhaustion at bay. Take small breaks between dives to make certain you and your kids stay alert.

5. Respect What You See
The creatures and ecosystems you'll encounter underwater are as unique as they are precious. Coral reefs provide habitats and food sources for millions of animals, create jobs and incomes that boost our economies, and protect our coastlines from storms. They and the sea life around them are extremely valuable. Unfortunately, one-quarter of the world's coral reefs have endured damage that is beyond repair.
To prevent further devastation, ensure that you and your family practice snorkeling etiquette. Refrain from touching anything, except rocks and sand, that you encounter underwater. This will protect both you and the ocean's inhabitants.
Don't feed any fish or turtles — doing so can cause them significant harm. Try to imagine that while you're snorkeling, you're a guest in someone else's home. Treat all sea life with dignity.
Let's Dive In
Snorkeling is a wonderful activity and learning opportunity for you and your family. Select the perfect destination, grab your gear and get to swimming.
Just remember to stay safe and respect the ocean's invaluable creatures and vegetation. Check off the items on this list and you'll be on your way to a vacation that your kids will never forget.
Notice:
OutsidePursuits.com is a participant in the Amazon Services LLC Associates Program, an affiliate advertising program. OutsidePursuits.com earns fees from products sold through qualifying purchases by linking to Amazon.com. Amazon offers a commission on products sold through their affiliate links.