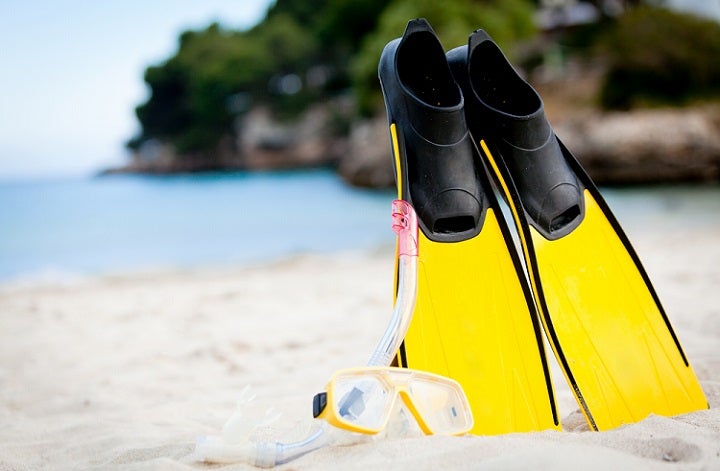 Your snorkel mask is the most critical piece of equipment for a good day of snorkeling.
Your fins are a close second however.
The best snorkeling fins are a combination of comfort, compact size and propulsion.
After evaluating the most popular fins, we have come up with our top five picks that excel in each of these three categories.
Using any of these fins will make your day on the water a good one.
For more of my top gear recommendations, have a look through these popular Outside Pursuits guide links: Snorkeling Cameras, Full Face Snorkel Masks, Wetsuits.
Quick Answer: The 5 Best Snorkeling fins For 2019

Let's take a look at the top rated snorkel fins, then we'll talk about how to find the right pair for you in our buying guide below.
Best Snorkel Fins
| | US Divers Trek Travel Fin | Cressi Palau Light Weight Travel Fin | U.S. Divers Sea Lion Fin |
| --- | --- | --- | --- |
| | | | |
| | | | |
| Fin Construction: | Composite | Rubber | Rubber |
| Size: | Compact | Medium | Compact |
| Design: | Open foot | Open foot | Full foot |
| Features: | Lightweight and compact, perfect for traveling | Soft elastomer foot pocket for an ergonomic and comfortable fit | Brilliant yellow color for good visibility |
| | | | |
Snorkel Fin Reviews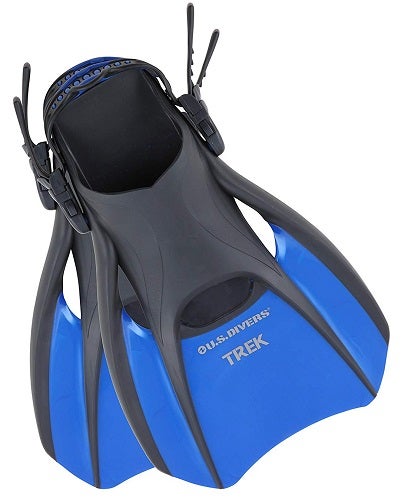 The US Divers Trek Travel fins are the ultimate snorkeling fin for portability.
They are extremely compact and light weight, easily fitting in just about any suitcase or backpack and are the best snorkeling fins for travel.
Even though they are pretty short in length, you will be surprised at how well they still work for moving you through the water with a minimum of effort.
If you are doing your snorkeling from a boat, you will really appreciate the fact that you can actually walk around with these fins. Try that with a normal size set of fins and you will be tripping over your feet in no time.
The Dual composite fins are tough, they can take a beating from scraping against sharp rocks and coral. The one thing I would recommend is wearing a neoprene sock to prevent any chaffing of your feet.
The US Divers Trek Fin is your best bet for a pair of snorkeling fins.
---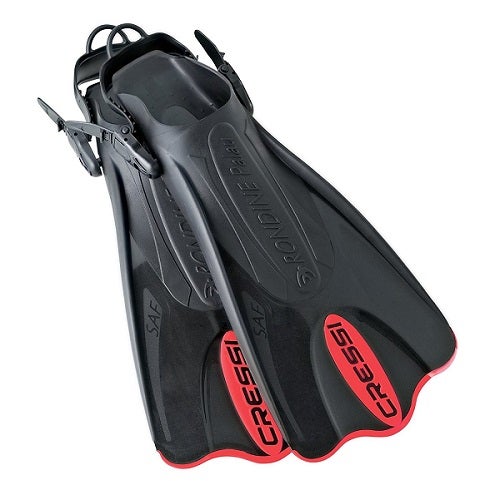 Cressi is well known for their diving fins, they are one of the most popular brands on the market. They have recently introduced a line of snorkeling fins and the Palau fins are the most compact making them ideal for traveling.
These are the best snorkel fins for beginners and for people with wide feet because they are so easy to adjust to almost any size foot.
The soft open heel is adjustable to fit a wide range of foot sizes and are very comfortable, even for extended periods of time in the water.
Cressi has created these fins with a comfortable foot pocket that doesn't require a sock like most other fins. They are also well suited for other water sports like body surfing and boogie boards.
The patented ribbed insole is designed to give maximum amount of thrust from the fin, keeping fatigue to a minimum. With a pair of these fins you are sure to have a good day on the water!
---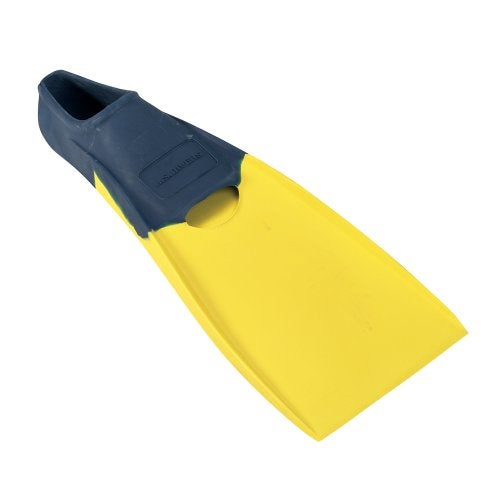 THe US Divers Sea Lion fins are the largest of the compact fins reviewed here. They are still considered a "compact size" fin so they are good for travel and will fit in most any backpack or suitcase.
The Sea Lion fins are full foot, meaning there is not adjustment so getting the correct size is more important than with an adjustable fin.
With the full foot design comes a more comfortable fit as there is not an uncomfortable strap in the back of your foot rubbing it. The rubber is very soft and suitable for snorkeling all day.
Since they are a slightly larger fin, you will get more thrust out of these fins meaning you will be less fatigued.
The Sea Lion fins are the best full foot snorkeling fins because they are ideal of most any water sport as well, so if you want to try some boogie boarding or body surfing, there is no need for a different set of fins.
Overall the US Divers Sea Lion fins are a good bet for your snorkeling adventure.
---
Cressi makes some of the best snorkeling and diving gear so I couldn't leave the Frog Plus fins off my list. The Frog Plus fins are a open heel type of fin so they are more forgiving to sizing and allow you to use a bootie if your feet are getting chaffed or cold.
The fins are made from a polymer that not only is extremely durable but also stay flexible over a wide range of temperatures. It also keeps them flexible for many years so they don't lose there ability to give you the propulsion you need.
The Cressi's have channels on the edges of the fin that add to the thrust and as a result are more efficient and as a result you will be less fatigued with these fins vs fins that don't use this technology.
The buckle is easy to unbuckle so you don't have to struggle to get the fins on and off. They are a quality set of fins that will have you snorkeling all day in comfort!
---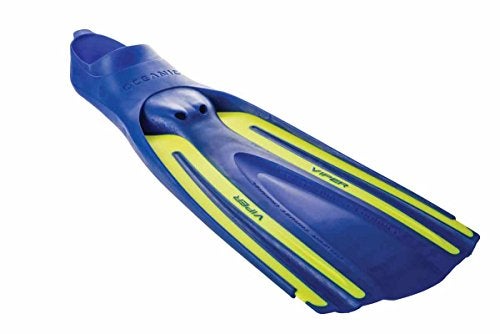 The Viper fins are a full foot snorkeling fin so they offer the advantage of greater efficiency that most open heel fins offer.
Similar to the Cressi Frog Plus fins they are made from a composite polymer that resists tears and scratches so they will hold up to rubbing against rocks and coral.
Being a closed foot fin sizing is more important than an open heel fin. They have a have a very comfortable foot pocket so using a bootie is not necessary with these fins.
The Viper fins have a longer blade design that are more efficient than the typical standard snorkel fin. If you snorkel any distance you will notice less fatigue.
Overall they Oceanic Viper's are a good pair of snorkel fins for a very reasonable price!
---
Snorkeling Fins Comparison Table
Highly Recommended Snorkeling Accessories
Snorkel Mask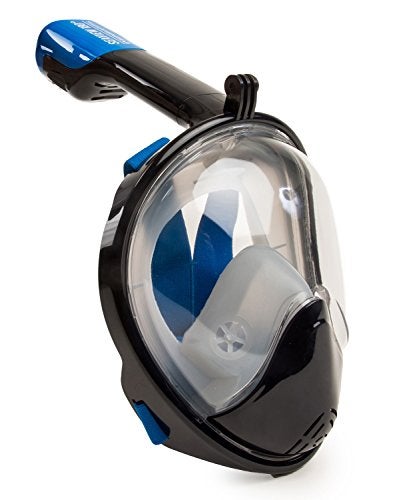 If you have not purchased your snorkel mask yet, you owe it to yourself to check out the Seaview 180 snorkel mask. If you have only used the tradition style snorkel mask you don't know what your missing.
The full face design is makes snorkeling such a better experience. You can read my reviews of my recommended snorkel masks here.
Booties for Snorkeling, Diving & Watersports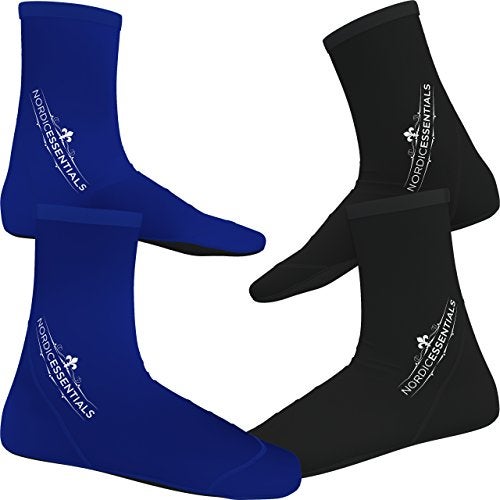 While most snorkel fins are comfortable, if they are a bit tight they will cause some rubbing and chaffing on your feet. The best way to make sure this doesn't happen to you and potentially ruining your day on the water is to spend a few extra dollars and get yourself a pair of snorkel booties.
---
Scubapro Cruiser Snorkeling Snorkel Vest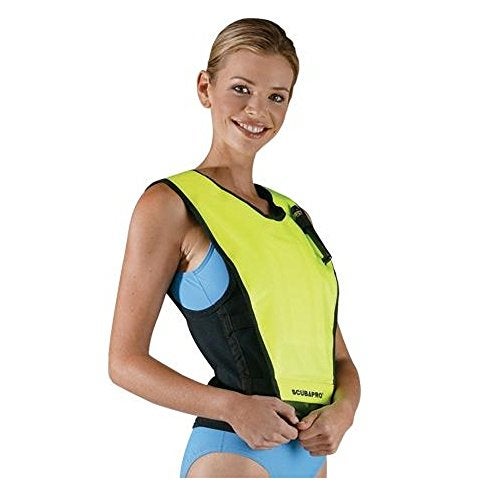 While most people do not have too much trouble staying afloat, (especially in salt water) it can be tiring if you are constantly having to tread water to stay afloat.
This can be especially true for men as we tend to have more muscle mass and find it harder to float. Having a snorkel vest will reduce your fatigue and make for a more enjoyable day on the water.
The other big reason it is worth it to purchase a snorkel flotation vest it will give you total confidence on the water. You wont have to worry that your going to drown and give you the confidence to snorkel if you have any fears.
---
GoPro HERO4 Silver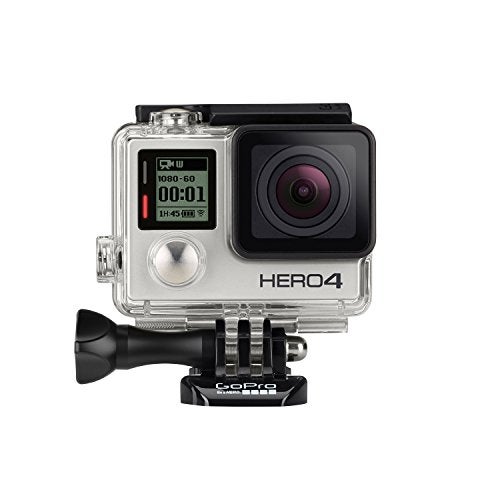 There is no better way to record all of the beautiful sites you will see while snorkeling. While the GoPro is a little more than other underwater cameras/video recorders there is just no substitute for it. I have tried some of the cheaper ones and trust me they are NOT worth it.
Go with the best and don't take a chance that you will miss recording everything you see with an inferior camera plus the picture/video quality is outstanding.
---
O'Neill Wetsuits Mens 2mm
Reactor Spring Suit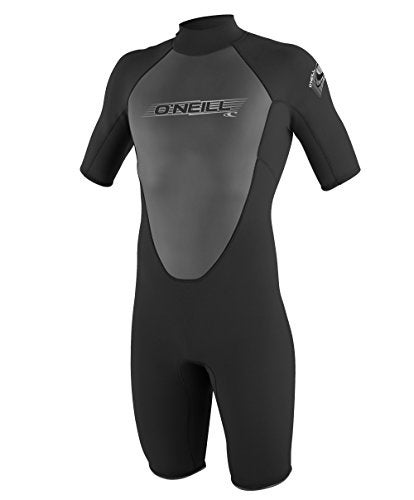 A wetsuit can really make a huge difference in how comfortable you are snorkeling. If you get cold easily then you will really appreciate the extra warmth a wet suit will give you. Unless the water temperature is above 85 degrees F (29.5C) you will quickly get a chill.
Nothing will ruin your day faster then having to get out of the water because you are cold.
The wetsuit also has the added benefits of making you more buoyant so you don't have to worry about treading water plus it gives you protection from accidentally brushing again coral and other sharp objects.
If you have never brushed against it, trust me, it stings! The O'Neill wetsuit is a relatively thin 2mm giving you enough protection and warmth without being uncomfortable of bulky.
---
How to Choose the Best Snorkeling Fins for You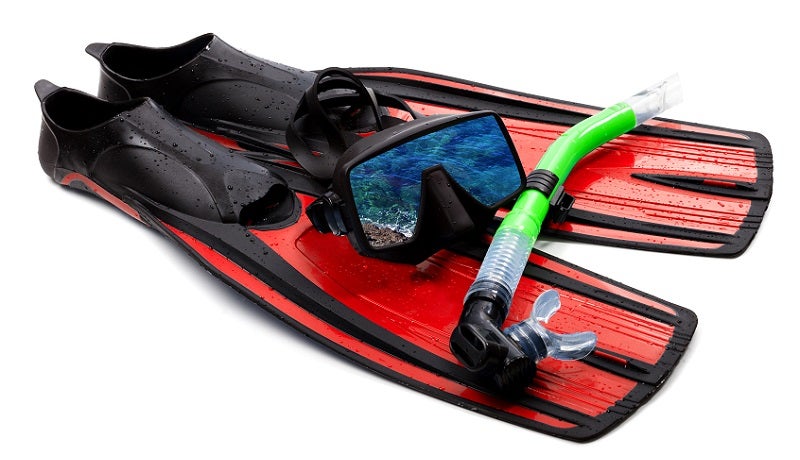 Why You Need Snorkeling Fins
Being an avid snorkeler and scuba diver I can tell you that having a pair of snorkel fins will make a world of difference. You would never find a scuba diver without fins because they make propulsion so much more efficient.
They perform the exact function for snorkelers. Kicking without fins is extremely inefficient. As a result you will become tired MUCH faster and not be able to cover very much territory as you could wearing fins.
If there is any water currents,having a pair of fins will be that much more important!

Buying vs. Renting Snorkeling Fins
Most companies that host excursions offer "house" fins complimentary for booking with them. Many people never consider purchasing personal fins, only to be let-down with the cheap, substandard fins supplied by the company hosting the excursion.
These fins generally finite in the selection of sizes, typically ranging in small, medium, and large. The restricted range of sizes are a painful fit for many people, causing irritation or blistering.
In some situations, the size of the fins prevents them from remaining on the feet during the snorkeling experience. This factor alone can single-handedly ruin one's snorkeling event.
In addition to sizing impediments, hygiene issues must always be considered. When using any piece of equipment that another human has worn, there are always the possibilities of the cross transfer of bacteria, fungus, or disease.
In the case of fin, you may contract athlete's foot or something worse.
It is important to be cautious and spend a little extra time and money obtaining personal fins that properly fit and make you feel comfortable, so that you are able to make the most of your snorkeling experience.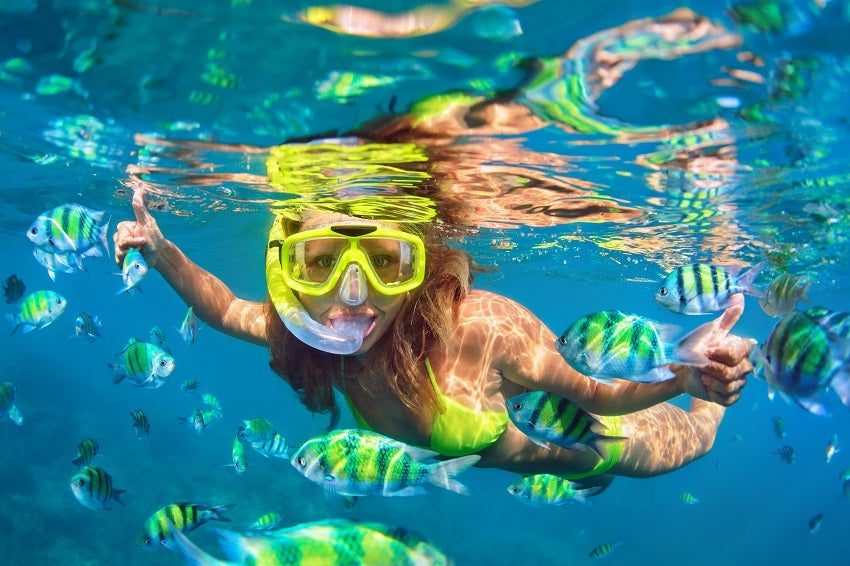 Types of Snorkeling Fins
Open-Heel Fins (Strap Fins)
Open heel fins, also known as strap fins are adjustable in size, providing a more secure fit. However, they leave the snorkeler's heel unprotected.
Some open heel fins can be coupled with dive boots, or scuba booties to protect your heels from being damage by sea life, rocks, or garbage that you encounter during you snorkeling excursion.
If you plan to wear booties or dive boots, you must try your fins on with the added equipment, in order to ensure the best fit.
You can assume that the combination of the two makes these fins more expensive.
Full Foot Fins
A full foot fins keep the heel and the ball of the foot fully covered and safe, but have no way to adjust the size, thus making it difficult to get a secure and comfortable fit. Compared to open-foot fins, full foot fins generally take up less space, allowing for easier storage in a suitcase.
When it comes to propulsion, either type of fin gives the same result. The snorkeler must decide based on need and cost what is the best style fin to meet their particular needs.

Fitting Your Snorkel Fins
Finding the size fin that fits you best, can be the difference between an enjoyable trip and dreadful experience.
After all, your fins can be the most hydrodynamic fin ever made, and be able to propel you fifty feet per second, but they have to fit. Upon getting in the water, your feet will experience thermal constriction (shrink).
Consider this when purchasing your fins. Ideally, the idea is to have fins that fit snuggly, but are not so constrictive that they are uncomfortable. To ensure that there will be no painful blistering, exercise your foot around.
Keep in mind that you may not have an immediate symptoms of the fins rubbing on your feet. If is at all possible, once you have chosen a set of fins you like, take them home and move your foot around inside them.
You may find that prolonged exposure to bring out irritation after you have worn them for a longer period of time. If you have narrowed down your search to just a couple pairs, go with the smaller size.
It is always more comfortable to have fins a bit snug than wrestling with trying to keep them on while you snorkel. For this reason its a good idea to use a neoprene sock with any pair of fins so you done get any chaffing or blisters.

Short vs Long Fins: Which is Better?
There are a couple factors to consider when deciding between a short fin like the Trek Fin and the Sealion Fin.
First and foremost is will you be traveling with them? And will it be by plane where space and size is at a premium. If its by car then probably not as big a factor to you.
Second is your skill level and/or fitness level. If you are just starting out a shorter, easier to kick fin is probably your best bet. If you are fit, have strong legs then a longer fin that gives you better proplusion may be a better fit.
Also a factor would be water currents. If there is a strong current, you may need the extra proplusion that a longer fin will give you.
Snorkel Fin Considerations
Comfort
Your fins of course need to fit correctly so you can enjoy your time on the water. This is one big advantage of an open heel fin that can adjust easily. Not only can you get the perfect fit you will also be able to use a bootie if need be.
Using a bootie has the advantage of preventing and chafing and blisters from your foot rubbing inside the fin. If you use a closed foot fin, you probably will not be able to use a bootie because it may not fit inside the fin pocket.
You may be able to use a very thin bootie however that will not change the fit too much.
Color
While certainly not a consideration for fit and how they function, you may want to consider color for a few reasons. Having a bright colored fin will enable your snorkeling partners to be able to find you easier.
Having multiple colors also allows you to give all of your family members a different color so everyone knows whose fin is whose. Plus it allows for find a fin to suite your "style".
Packability
This goes hand in hand with what we discussed above in the long fin vs short fin consideration. When your traveling with your snorkel equipment space can be at a premium.
Weight typically is not a concern with fins as they are not that heavy unless you opt for a large full size fin. If you are flying with your snorkel equipment, I would advise you get a fin specifically designed for traveling, like the Trek Fin.
Split or Paddle Fins
Snorkel fin blades come in two varieties.
Paddle Fins – are the typical fin and are a one piece design that work fine for most people.
Split Fin – are as the name suggests are split down the middle acting like two fins. They give slightly more propulsion than a solid blade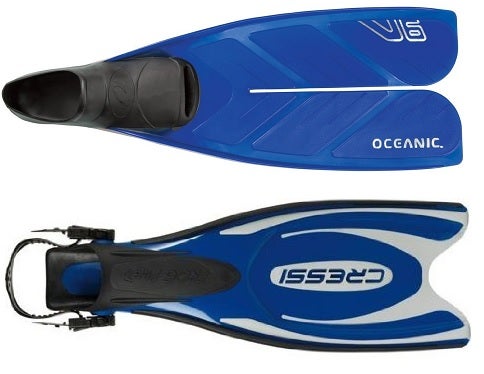 Caring For Your Fins
Your snorkel fins are an investment so you want to make sure they last as long as possible. Possibly the single biggest thing you can do is store them out of the sun when your not using them. The UV rays will cause them to crack and lose flexibility.
Don't leave them in your trunk for extended periods of time if its hot out. When you are store your fins in between snorkeling trips don't store them in you attic or garage if they are not temperature controlled. The heat over an extended period of time will cause them to become brittle.
Store your fins in a cool are out of sunlight. When you get out of the water, rinse them off with fresh water and dry them before storing them.
Following these simple tips will extend the life of your snorkel fins.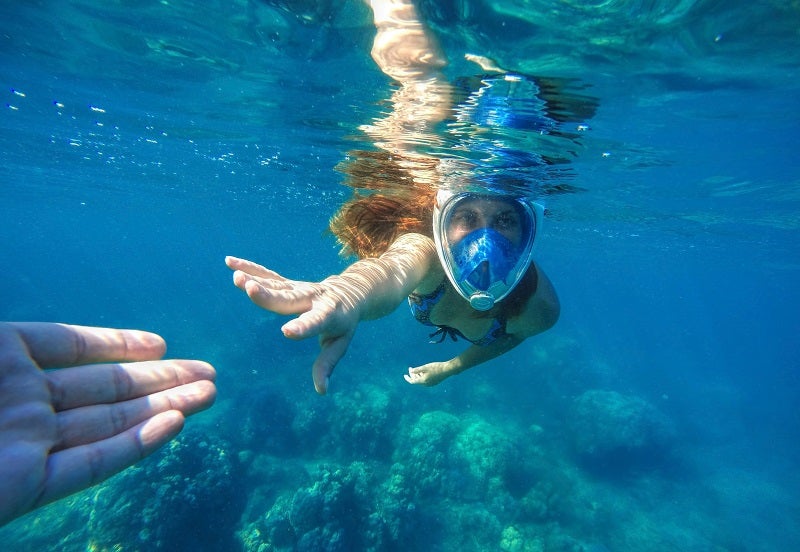 ---
If your in need of a snorkel mask, see our reviews here and snorkel gear sets here. If your new to snorkeling, see our beginners guide on how to snorkel.
See our recommended Snorkel Tours in:
Enjoy your day on the water!
OutsidePursuits.com is a participant in the Amazon Services LLC Associates Program, an affiliate advertising program. OutsidePursuits.com earns fees from products sold through qualifying purchases by linking to Amazon.com. Amazon offers a commission on products sold through their affiliate links.