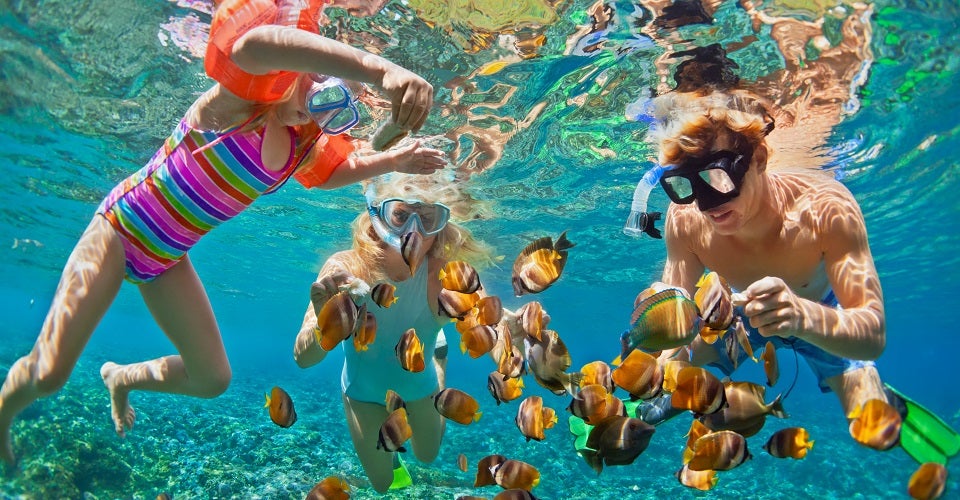 Our Editors independently research, test, and rate what we feel are the best products. We use affiliate links and may receive a small commission on purchases.
When you're on vacation at the beach, snorkeling is one of the most fun activities you can do. You get to see a part of the ocean most people don't ever see in real life, all while burning some calories, too.
However, to take full advantage of the experience, you need one of the top snorkel masks. These will provide you will unobstructed views and comfort that will last as long as you have them on.
We've spent the last few weeks trying out various models and are here to bring you the cream of the crop.
Best Snorkel Mask
| | Phantom Aquatics Snorkel Set | WildHorn Seaview 180° | Cressi Wide View Snorkel Set |
| --- | --- | --- | --- |
| | | | |
| | | | |
| Type: | Traditional | Full Face | Traditional |
| Sizes: | One Size | S, M, L | One Size |
| Breathing: | Mouth only | Mouth or Nose | Mouth only |
| Camera Mount: | No | Yes | No |
| | | | |
For more of my top snorkel gear recommendations, have a look through these popular Outside Pursuits guide links: Snorkel Fins, Cameras for Snorkeling, Snorkeling Wetsuits.
Quick Answer: The 7 Best Rated Snorkel Masks For 2021
Our reviews of the top rated snorkel masks with our comparison table and buyers guide will help you choose the right one for you.
Snorkel Mask Reviews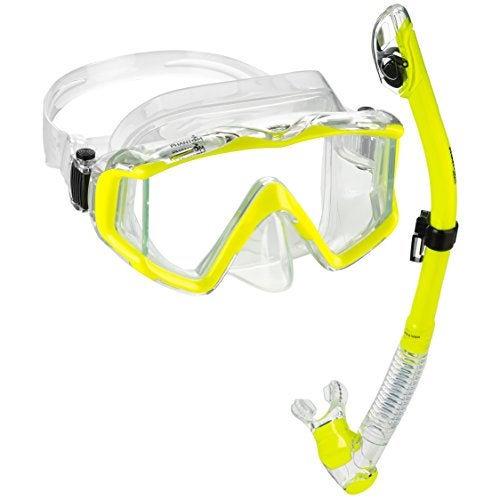 Phantom Aquatics Panoramic Scuba Mask Snorkel Set at a Glance
:
---
Mask Type: Traditional
Sizes: One Size
Breathing: Mouth only
Camera Mount: No
Colors: 6
On its own, the Phantom Aquatics Panoramic Scuba Mask Snorkel Set is an excellent product. When you add in the fact that it's also one of the most affordable models out there, it's practically impossible to pass up.
What fun is snorkeling if you can't see properly? The 3-sided tempered glass design provides uninterrupted views, including peripherals.
Not only that, but it's incredibly durable due to the material and the single lens design so you're sure to have it for countless snorkeling trips to come.
To ensure the perfect fit, the lens is outlined by a double sealed silicone skirt which feels soft and smooth against the skin. It doesn't work against your face; rather the pliable material moves with it.
Combine that, with the frame and you'll never have to worry about the fit being off. Made of polycarbonate, it's notably tough and lightweight – two essential traits for underwater use.
The EZ Equalize nose pocket makes it easy to clear water from the mask, while giving you adequate room.
The entire set is quite fashionable, with the majority of the product coming in Clear, with either yellow or deep red accents. The large exhaust and purge valve at the bottom also help with water clearing, but are made in such a way that the tube is flexible enough to naturally bend toward the mouth.
While we didn't experience any fog ourselves, it is important to note that the lenses don't come with any type of anti-fog coating.

---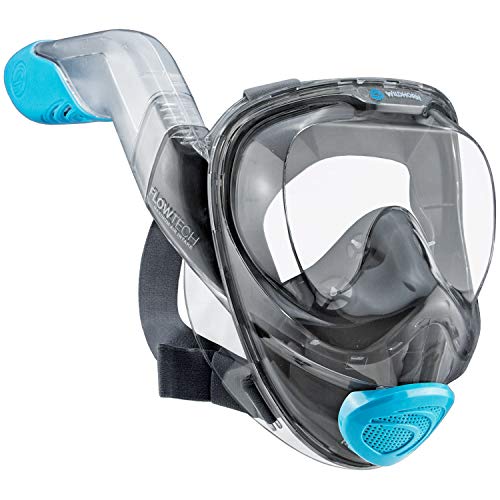 WildHorn Outfitters Seaview 180 V2 Snorkel Mask at a Glance
:
---
Mask Type: Full Face
Sizes: S, M, L
Breathing: Mouth or Nose
Camera Mount: Yes
Colors: 6
Easily one of the most head-turning models available today is the WildHorn Outfitters Seaview 180 V2 Full Face Snorkel Mask. The design not only looks like something you'd see in Tron, but is made to reinvent masks to be more convenient and comfortable.
You don't have to deal with high pressure just around your eyes, but rather, evenly-distributed pressure all the way around your face.
You can't get a wider view than the 180 degrees they offer, either. The flat lens is incredibly clear, though there was the normal bit of distortion around the peripherals.
To try and eliminate fogginess, they've separated the breathing chamber. Water seeping in isn't an issue, either, thanks to the soft silicone skirt and optimized snorkel location.
The fit is snug to ensure water stays out, but is never uncomfortable. Diving underwater wasn't an issue for us, however, it's better to do so at a bit of an angle.
Should any water sneak in, the purge valve at the mask base opens right when you lift it out of the water.
One of the biggest stressors for snorkelers is breathing, and it's pretty understandable why! This model makes it easier than ever before to breathe naturally with a mask on.
The top-dry design makes sure water never gets into the breathing chamber. The optimized position of the air intake lets you breathe normally through your mouth and nose, letting you relax and focus on your form instead.
The polycarbonate lens and frame ensures durability, and the entire mask is visually aesthetic, coming in an array of modern colorways.
If you'd like to attach a GoPro to show the world your adventures, the mask even includes a swiveling camera mount located under the chin!

---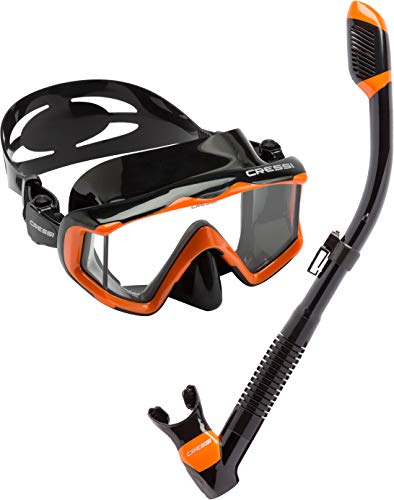 Cressi Panoramic Wide View Mask Dry Snorkel Set at a Glance
:
---
Mask Type: Traditional
Sizes: One Size
Breathing: Mouth only
Camera Mount: No
Colors: 8
The Italian company is known around the world for their high-quality products, and their Panoramic Wide View Dry Snorkel Set is exemplary of the standard they've set.
Not only will it provide excellent visibility, but comfort and fit, too. Coming in either black or clear with various complementary color options, you can select the one that suits your tastes most.
The double feathered silicone skirt surrounding the mask is soft and moves with the individual shape of your face to eliminate pain and discomfort.
Speaking of which, we found this mask to work well for both adults and children due to the quick-adjust straps.
These push-button buckles also make it easy to adjust if you're in the middle of a dive and need a firmer seal. The split straps ensure the mask won't slide off and that the pressure is distributed evenly.
Water in the mask is very rare, with the purge valve design making it easy to clear. A soft silicone mouthpiece works to lower jaw fatigue, and ensure you're relaxed while wearing it.
The 3-lens design allows you to see under the water clearly, and with a nearly-panoramic view. It wasn't quite as good as the previous models due to a bit of blurring but was still exceptional.

---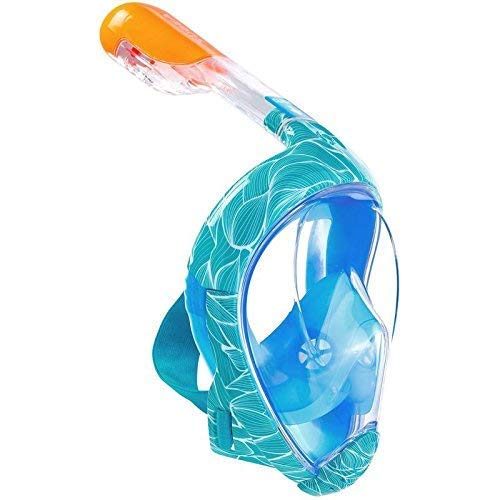 Tribord Subea Easybreath Snorkel Mask at a Glance
:
---
Mask Type: Full Face
Sizes: XS, S/M, M/L
Breathing: Mouth or Nose
Camera Mount: Yes
Colors: 6
The Tribord Subea Easybreath stands out initially, due to the bright color schemes, perfect for children up to adults. Aside from looks, however, this mask has a lot to offer.
What's most important to us and many others, is the ability to breathe naturally.
Especially if you're going to be renting a snorkel somewhere, you don't know where the mouthpiece has been and if it's even been disinfected! Not only that, but not using one means less fatigue for your jaws.
There's no need to concern yourself with fogging, either, thanks to the design which ensures all air stays in the bottom section of the mask. As air is constantly flowing, condensation won't build up, giving you a clear view of what's in front of you.
Speaking of visibility, this mask offers the best you can get. Complete panoramic views won't inhibit you in any way, providing 180-degree views anywhere you look.
The shatterproof polycarbonate lens itself is very durable, as it's made from a solid piece with no weak points. The hypoallergenic silicone skirt is great for sensitive skin, but also creates a snug fit around the face.
The Subea is also a dry snorkel, meaning the tip of the snorkel can go underwater, and you don't have to worry about water getting into your mask.
The design works to float a piece up to the top when it goes underwater, shutting off the end so no water seeps in. However, it's not 100% perfect. If you do happen to get a bit of water in our mask, use the purge valve under your chin.
Finally, if you want to always remember your snorkeling trips, there's a GoPro option on the top of the mask, too.

---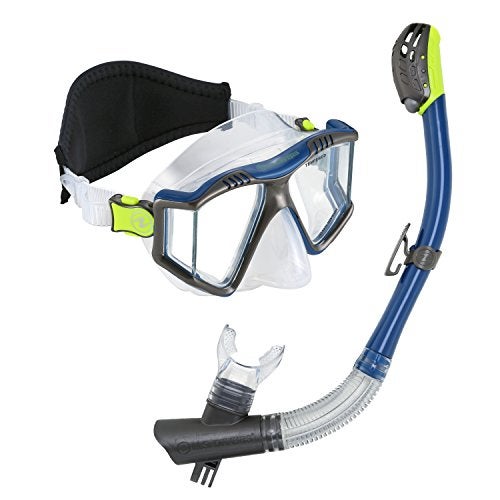 U.S. Divers Lux Purge Grenada LX Snorkel Mask at a Glance
:
---
Mask Type: Traditional
Sizes: One Size
Breathing: Mouth only
Camera Mount: Yes
Colors: 3
This top-of-the-line snorkel mask is ideal if you're looking for a professional-level product with luxurious comfort and high performance.
The Lux Purge Grenada LX is a one-size-fits-all mask but works well with almost all faces. Coming in a dark blue, gunmetal grey, bright pink, and yellow, you can select the color that goes best with your swimwear.
Each piece that goes into the Lux is ergonomically designed to reduce fatigue and stress on your jaws and face. Made with high-quality hypoallergenic, soft silicone, the mask provides an unforced feeling, even while underwater.
The nose pocket is quite comfortable and spacious to fit various sizes and shapes of noses. In addition, it's easy to equalize or purge water in case it does happen to sneak into the mask.
The 100% submersible dry-top snorkel means that you can be submerged underwater without water rushing into your mask or mouth.
The silicone mouthpiece is extremely flexible, making it easy to fit without causing fatigue so you can use it all day long with no pain.
The lens isn't as clear as the full-face models, of course, but it still features quite the panoramic view with two extra windows on each side of the face. With anti-fog technology, it stayed crystal clear the entire session, so you never have to come up to fix your view.
The fit was surprisingly good for a one-size-fits-all mask, and the double straps made sure it stayed on securely. They even thought to include a neoprene strap cover which not only adds a bit of cushiness, but prevents hair from being pulled.
This is wonderful for people with long hair! If you need to adjust the fit, the Pro-Glide buckles make it quick, easy, and secure. If you enjoy uploading videos, then you may like the GoPro-compatible attachment, however it is on the bottom of the actual snorkel which is a bit awkward.

---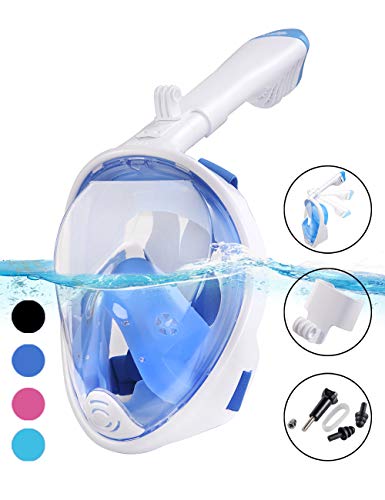 X-Lounger Full Face Snorkeling Mask at a Glance
:
---
Mask Type: Full Face
Sizes: M, L
Breathing: Mouth or Nose
Camera Mount: Yes
Colors: 14
The best budget product for full face masks has to be the X-Lounger Snorkeling Mask.
These types of masks are perfect for children and those just starting out with snorkeling, as you can breathe more naturally. This makes it less stressful for first-timers but convenient for veterans, too.
The model comes in a ton of colors and finishes, including UV protection and an option for a frosted frame, which protects better against scratches.
Whether you have sensitive ears or are purchasing for a child, the addition of removable earplugs is more than welcome. As they're attached to the mask, you won't have to worry about losing them, either.
As far as fit goes, the soft elastic/gel skirt does a good job at sealing while keeping you comfortable. The straps are designed to not pull your hair and are easy to adjust.
The flat lens provides a complete 180-degree view, however, we did feel that it could be a bit snug for those with longer noses. Fogging was not an issue for us, due to the inclusion of a dual-flow air vent system and anti-fog coating on the lens.
The breathing tube unfortunately is not a "dry" model 100% and will probably leak a bit of water in your mask if you submerge it. We did appreciate that you could fold it when you're ready to pack it up, however, making it more compact and streamlined.
Right on the base of the breathing tube, you'll find a detachable GoPro mount, conveniently located to where it won't affect performance. The GoPro extender actually provides the most flexibility and angle options of any we've seen.
---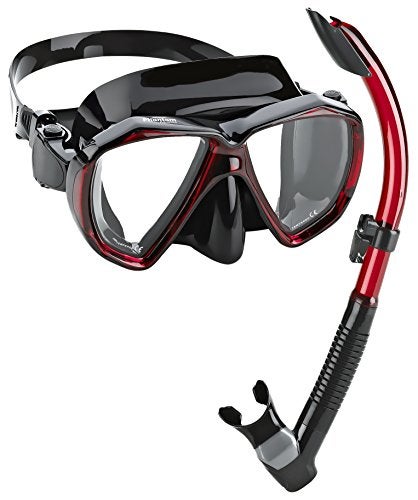 Phantom Aquatics Velocity Scuba Snorkeling Mask Set at a Glance
:
---
Mask Type: Traditional
Sizes: One Size
Breathing: Mouth only
Camera Mount: No
Colors: 11
Last but certainly not least is the Phantom Aquatics Velocity Scuba Snorkeling Mask Set. If you're on a tight budget, we can't recommend this set enough.
It comes with everything you need to get started. If you're just starting out and aren't sure if you'll like snorkeling, or are just purchasing something for a trip, this should be your go-to.
Coming in a huge selection of colors, they're great for buying for families and differentiating whose is whose. While it's not necessarily professional quality, it will get the job done in terms of comfort and performance.
Made of silicone, the skirt around the mask created a quality seal and the speed fit buttons make it easy to adjust the straps, even underwater.
The lens is very tough and provides a clear view, but it doesn't give the full 180-degree sight that the others on our guide do. However, in terms of downward vision, these excel.
The snorkel itself does feature a splash-proof dry guard which helps to eliminate water intake. However, it's essential to mention that this is not a completely dry snorkel, and there is a good chance water will flow in if you submerge it.
Ultimately, we recommend this model if you're just starting out or want to save some cash. It's not subpar by any means, but if you're serious about the sport, may as well spend a bit more and get the U.S. Divers Lux.

---
Snorkel Mask Comparison Table
How to Choose the Best Snorkeling Mask – Buying Guide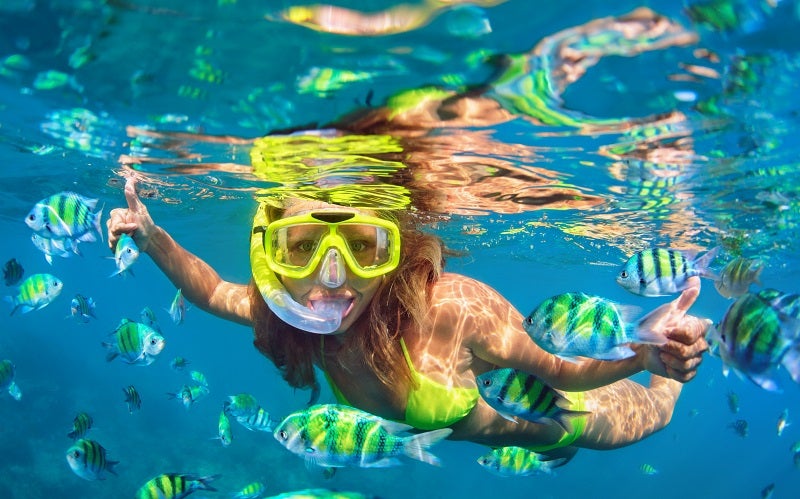 Choosing the best snorkel mask is a very personal thing, as it's going on your face and can affect how you breathe. There are so many different factors that go into choosing the right one, which can make it a complicated process.
That's why we've decided to go ahead and write up the user-friendly buying guide below. By the end, you should have no doubt in your mind which one is the one for you.
Type of Mask
As you could see from the models above, there are your "regular" masks, and then the full face masks were have just recently gained popularity.
Regular/Traditional
These will feature the lens that goes over your eyes, with a separate nose pocket so as to not fog up the lenses and make sure there's separation in case water gets inside.
They come with a separate snorkel which you'll have in your mouth the entire time to breathe. While more flexible snorkels can lower fatigue, after a while, your jaw may start to feel tired.
Full Face
These are relatively new on the scene, and have been making waves all around the world due to how convenient they are. They are large enough to surround the entire face, creating a snug seal so no water gets in.
The actual lens portion is separated off from the area around your mouth, which is where you'll find a type of vent to breathe through. At the top of these you'll find a kind of tube which serves as the "snorkel" portion.
Many have the ability to close once submerged underwater, so you won't be surprised with a rush of water in your face or mouth.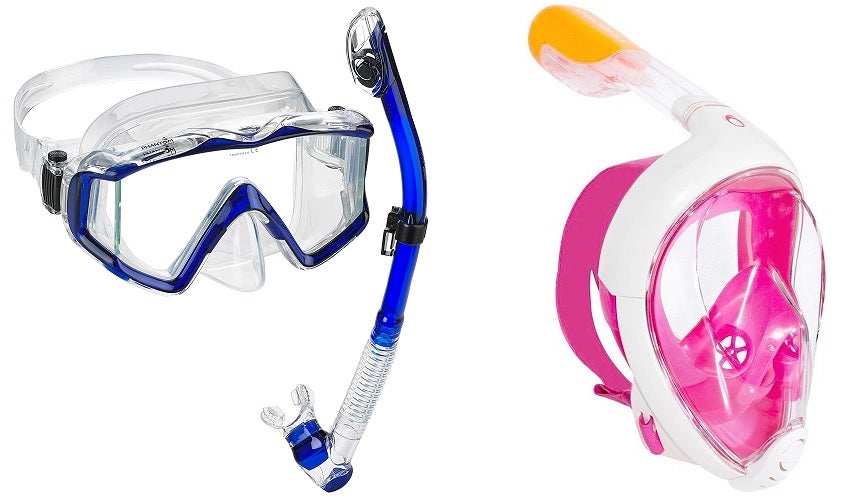 Field of View
The vast majority of the aforementioned products provide a generous 180-degree view. This means that any way you'd like to look, you can see clearly. There are no obstructions on the lens, and oftentimes, no blurriness.
There are also a few which have 3-panel lenses. While the intentions are good, sometimes the two little lenses on the sides can be a bit blurry. Finally, you have those like the Phantom Aquatics which only give you a view right in front of you, so you can't see your peripherals.
Fog Prevention
This goes with our last point regarding vision. If your lenses fog up, you're not going to be able to see, and will have to come up out of the water to clear it. This can be annoying and after a while, tiring.
Imagine seeing an incredible animal passing by, only to have your vision cut off by pesky fog! To combat this, most quality masks will have good airflow, constantly circulating. In addition, you may have a type of anti-fog coating.
Fitting the Mask
The truth is, it doesn't matter how much money you spend on a snorkel. If it doesn't give you a good fit, you're not going to enjoy wearing it. You want to look at the skirting around the mask, the size, and how adjustable it is to create a good seal.
A seal should be snug, but never cause actual discomfort or pain. The seal is essential in making sure no water enters your mask, which would force you to surface frequently.
In addition, getting water in your eyes is annoying, and can be painful if you're in salt water. The strap should be easy and quick to adjust, even under water, and shouldn't pull on your hair.
Snorkel Considerations
The snorkel portion is equally, if not more important than the mask.
Dry Snorkel
Ideally, you'll want to get a dry snorkel. What this means, is that the snorkel has a type of valve or floating piece at the end of the tube.
The valve will make sure no water can come in, but air can go in and out. If you accidentally submerge it in water, you may not be able to breathe as you would regularly, but at least you wouldn't be choking on water. This is huge for children and those who aren't strong swimmers.
Flexibility
If you're getting a snorkel that actually goes in your mouth, you'll want it to be flexible. First, they're easier to travel. More importantly, is that they will sit comfortably in the water, and will feel more natural when you're using it.
Purge Valve
You'll typically find these at the base of your snorkel. These are used for if and/or when water gets in your mask, you'll be able to easily clear it.
Mouthpiece
We highly recommend finding a mouthpiece made of a flexible material such as silicone. Also make sure it's small enough that it fits comfortably and doesn't chafe the corners of your mouth.
Camera Mount
While technically part of the snorkel mask, having an action camera mount will allow you to attach a GoPro or other type camera to record you snorkel adventures.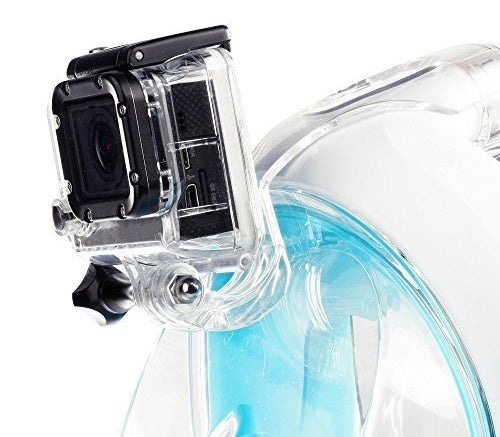 Parts of a Snorkel Mask
Lens
Perhaps the most important part of the mask is the lens since this is what you will be looking through. Modern mask have polycarbonate lens which are not only crystal clear but also shatter proof.
Most masks also have a anti-fog coating to prevent fogging inside the mask. If you find your masking fogging up, there are anti-fog solutions that you can coat the lens with.
Skirt
The material from which the mask skirt is made is an important consideration. Its simple task is to provide a good seal keeping water out while snorkeling.
Look for a mask that has a skirt made of high grade silicone as it will provide you with the best level of comfort as well as superior leak protection.
You can find inexpensive masks with rubber or plastics skirts but they become brittle and crack over time and with use and not recommended.
Advancements in materials have paved way for silicone skirts that are thinner and more comfortable. Additives can also mixed with the silicone in higher quality masks to increase the life of them by reducing the damage caused by UV rays.
Tip: shave your beard and/or mustache before you go in the water, its not possible to get a good seal with the facial hair.
Frame
Standard masks are either framed or frameless. The framed masks have a rigid frame that keeps the skirt, lenses, buckles as well as straps in place. If you're fashion savvy, framed masks are also available in a variety of colors, adding a touch of style to your snorkel mask.
Frameless masks may come across as sleeker and are typically less expensive, but it's important to consider the benefits of the framed masks as they typically have a better fit and last longer.
All newer full face masks are all framed masks so this is not a consideration for them only "traditional" snorkel masks.
Straps and Buckles
Make sure that you buy a mask with wide straps as they provide an extra degree of comfort, stretch and flexibility. The straps should easily adjust to fit to different sizes of heads.
A buckle system that's user friendly and simple to adjust is a critical feature of a quality mask. Better quality masks have a simple to push button release so you don't have to fiddle with adjusting buckles.
Newer model masks have also incorporated the buckles in the strap and away from the frame so they much easier to adjust.
FAQs For Snorkel Masks
Q: How should I put on my mask?
A: Never wear it on your forehead, as it can easily get knocked off by a wave and lost. Most masks aren't going to float, save for some full face masks. Before you put it on, get comfortable with breathing through the snorkel. Make sure the bands are properly adjusted, as well.
Q: Why is my mask leaking?
A: Most of the time, this is due to you having the wrong mask size. Also make sure to take a good look through your mask to make sure the seals are completely in-tact, and that your hair isn't in the way. It's hard to get a good seal if your hair is between your face and the mask.
Q: How should I travel with my mask?
A: If it comes with a bag, then use that. If you don't have one, try to keep it in a mesh bag, and keep it in-between soft articles of clothing so it provides a bit of padding.
Q: Can I get prescription lenses for my mask?
A: There are some manufacturers that do offer this, but the cost will vary depending on your prescription strength. Another possible option is to wear contact lenses.
Tips For Snorkeling
#1: To prolong the life of your scuba mask, make sure to always clean it after each use.
If you're swimming in saltwater, make sure to clean it with fresh water. You don't have to scrub it, a gentle dip in the water will do. If there's sand on your mask, it can easily scratch the lens or frame, so try to get all of that off without friction.
#2: To keep your mask from fogging, you can try using toothpaste.
Some people like to spit in their mask and rinsing it with water, but others find that kind of gross. Put a bit of toothpaste on the tip of your finger, and rub it all over the inside of the lens. Once you have a thin coating, rinse it all off in the water.
#3: To prevent leaking, take a look at your facial hair.
Remember what we said about hair breaking seals? This means facial hair, too! While mustaches typically aren't going to cause an issue, beards can definitely be the culprit of leaks.
How We Researched
To come up with the top scuba masks, we researched a variety of sources for reviews such as Leisurepro, Divermag, DiversDirect and Scuba Pro along with our own personal experience.
We also consulted online magazines for product research and reviews to get as much unbiased information as we could. To help weed out fake reviews we used Fakespot.com to make sure we only looked at genuine reviews.
With so much quality gear available, we had to narrow it down based on what we felt were the best options were for the price. The author, Richard Remick has a wide background in scuba diving and snorkeling in many countries, both shore and from boats.
The author is a PADI certified advanced diver with almost a decade of experience and is eager to share his knowledge with readers.
To help narrow down the selection we used personal experiences along with recommendations from fellow divers, bloggers and dive guides.
After extensive research, we came up with our list to help you choose the right one for you.
Sources
---
Outside Pursuits Overview
Now that you know the ins-and-outs of snorkel masks, which model is the right one for you? While they're all high performers, it's essential that you select the one that's perfect for your face and conditions. We hope that this article has helped you select the best scuba mask for your next adventure. Thanks for joining us, and we'll see you again shortly!
Notice:
OutsidePursuits.com is a participant in the Amazon Services LLC Associates Program, an affiliate advertising program. OutsidePursuits.com earns fees from products sold through qualifying purchases by linking to Amazon.com. Amazon offers a commission on products sold through their affiliate links.