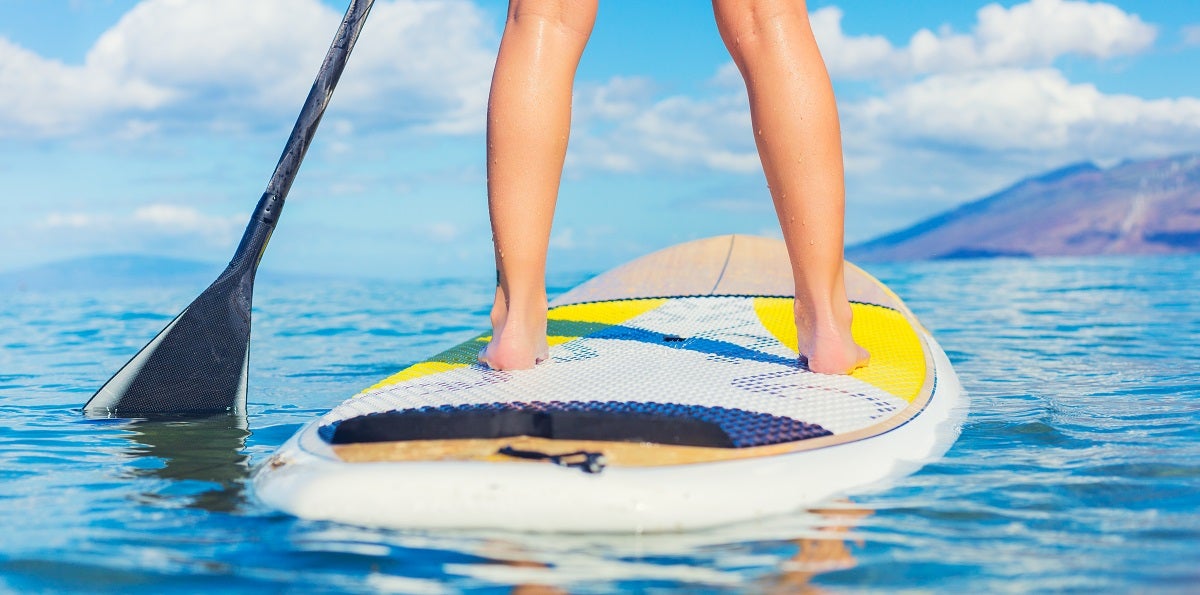 Our Editors independently research, test, and rate what we feel are the best products. We use affiliate links and may receive a small commission on purchases.
Stand up paddleboards have recently shot up in popularity and become one of the most purchased items of water sports equipment in the United States. If you've ever used a SUP, you know why this piece of gear has grown to be commonplace on the water.
The first time you stand up on a paddle board, you begin to see the world from a different perspective. Not only can you get a good workout, but you can also see unspoiled scenery and pristine waters from a different viewpoint than the land lovers.  Likewise, standing on the board versus sitting in a kayak gives you a much better view into the water.
To find the perfect stand up paddle board for your needs, just read our buyer's guide for beginners below. Pay careful attention to volume and weight limits, epoxy versus inflatable boards, hull type, and length, width, and thickness.
1) SUP Volume and Weight Limits
Volume
This is basically how much weight the stand up paddle board can support. Higher volume means the watercraft can support higher weight.
Weight Limits
This is how much capacity your board can hold. When you consider weight limit, consider what is going on top of the SUP. The obvious answer is you, but what else are you bringing on your adventure? The following is a list of some items to think about when choosing your board:
Pets
Lunch and snacks
Sunscreen
Towel
Drinking water
All types of gear: fishing, backpacking, climbing, etc.
2) Epoxy/Composite Versus Inflatable Stand Up Paddle Boards
Epoxy
Epoxy boards, also called composite boards, account for most SUPs on the market today. They are built from EPS foam for lightweight buoyancy, and surrounded by layers of fiberglass and epoxy to create a hard, stable shell.
Epoxy can endure bumps on rocks, they're easy to carry, and relatively inexpensive for those on a budget. In fact, there are a multitude of reasons to purchase this type of SUP:
More agile, smoother maneuverability, longer glide, and quicker speed
Feels more stable due to being partially submerged in water
Better for surfing, touring, and whitewater paddling
More rigid for precise reacting
What Factors Should You Consider Before Buying an Epoxy Board?
We recommend a composite board if:
You are interested in racing, surfing, long-distance touring, and whitewater paddling – basically anything that requires faster speeds.
You have experience paddling – you will notice the smoother ride.
You want accurate, responsive turning movements.
You have space to store it and cash for a protective cover.
Inflatable
Many beginners turn to an inflatable stand up paddle board to learn the sport. This is due to the affordability of the PVC exterior and air-filled pockets. There is typically an included air pump as well as a carry bag, and sometimes even a paddle.
When these SUPs are properly inflated, they become close to as stable and firm as solid boards. Here are the reasons to choose an inflatable versus an epoxy:
Can use for paddling activities from yoga to leisure paddling
Easy to store in a small living space such as a garage or apartment
Easy to store in a small vehicle
Can fly with you on vacation.
More durable with drop stitch technology.
What Factors Should You Consider Before Buying an Inflatable Board?
We recommend an inflatable board if:
You are a beginner and don't want to get hurt when you fall.
You are worried about fatiguing fast – the soft top of a watercraft is easier to stand on for longer periods of time.
You want a light board you can easily take with you on backpacking trips, in a smart car, and through your checked in luggage.
You are going to tackle some rocky shores and want a durable product.
3) Hull Type
Displacement Hull
Stand up paddle boards with displacement hulls have fronts that looks similar to kayaks. The pointy hull is best for displacing water at rapid rates for a quick moving board that can cover long distances. These are generally harder to maneuver than boards with a planing hull.
If you have a displacement hull, be careful with volume and weight. Too heavy a load will cause drag and even sinking. If the cargo is too light for the SUP, it will be hard to maneuver. The best uses are racing, long-distance touring, overnights, and fitness.
Planing Hull
The stand up paddle boards that look like surfboards have a planing hull. This flat and wide hull is best for surfing, yoga, workouts, whitewater, and easy, relaxating paddling. As long as you are within the weight limit, your planing hull will carry you to your next adventure.
4) Paddle Board Length, Width, Thickness
Length
The length of your board depends on how you want your watercraft to handle, as well as what you want to use it for.
Short – At under 10 feet, the short stand up paddle board is great for surfing because it is so maneuverable! An 8-foot board is best for the kiddies. These are the easiest to learn on and always have a planing hull.
Medium – Medium SUPs are between 10 feet and 12 feet long and are perfect for all-around use. If you want to try multiple paddling activities, this is the length of the board you want. Most are planing hulls, but you can find some displaced hulls in these sizes.
Long – Anything above 12 feet and 6 inches is a long board. If you want to take up touring or paddle straight and swift, this is the best stand up paddle board length for you. However, be aware most are displacement hulls and not great for beginners.

Width
Wider boards are more stable, but they are also slower and less maneuverable than narrow stand ups. It's best to use wider SUPs for yoga, workouts, fishing, and carrying gear.
As a general rule, larger people should choose wider boards and smaller people narrower boards. Wider watercraft can be difficult for smaller people to maneuver, and thinner SUPs can be hard for larger people to stabilize.
Regardless of size, all beginners might find narrow is too difficult, and feel more stable starting out on a wider board. Remember the watercraft you learn on doesn't have to be the stand up paddle board you purchase!
Thickness
Thicker boards have more volume and can manage more weight than thinner boards.
Last Word on Finding Your Perfect Stand Up Paddleboard
The best way to find your perfect SUP is trying before buying, and the best way to do that is renting. TripOutside.com is a great new website that features local rental shops in over 60 destinations and online gear rental of equipment like SUPs, kayaks, bikes and more.  Make it easy on yourself and find your rentals all on one site, whether you are a first timer or traveling on vacation, tripoutside.com makes it easy for you!
Notice:
OutsidePursuits.com is a participant in the Amazon Services LLC Associates Program, an affiliate advertising program. OutsidePursuits.com earns fees from products sold through qualifying purchases by linking to Amazon.com. Amazon offers a commission on products sold through their affiliate links.