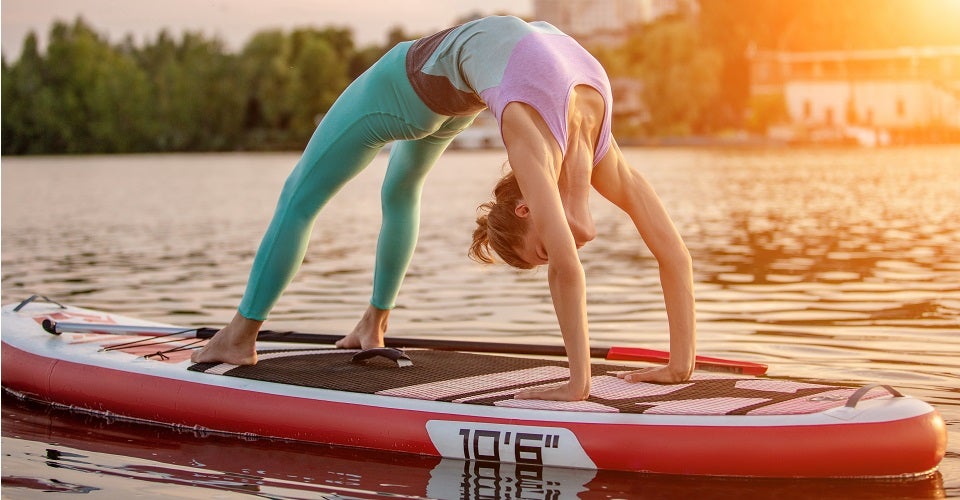 Our Editors independently research, test, and rate what we feel are the best products. We use affiliate links and may receive a small commission on purchases.
Chances are, you've tried yoga at least once before. If you haven't, you've probably heard of its incredible physical and mental benefits. If you want to take those benefits to the next level, then we have just the thing for you: the yoga paddle board. Take your routine to the water, breathe in fresh air and experience a different kind of challenge. However, it's important to note that paddle boards vary from one product to another. We've done the research on the best ones currently out there, so you don't have to. Let's get started and find the right yoga paddle board for you!
Best Paddle Boards For Yoga
| | Abrazo Sports Namaste Yoga SUP | ISLE Versa Rigid Epoxy Paddle Board | ISLE Scout Yoga Inflatable Paddle Board |
| --- | --- | --- | --- |
| | | | |
| | | | |
| Type: | Inflatable | Rigid Epoxy | Inflatable |
| Length: | 10'6" | 10' 5" | 11' |
| Width: | 34" | 32" | 33" |
| Max Weight: | 400 lbs | 275 lbs | 315 lbs |
| | | | |
For more of our paddling recommendations, have a look through these popular Outside Pursuits guide links: SUP Paddles, Life Jackets, Electric Inflatable Pumps.
Quick Answer: The Best Paddle Boards For Yoga
Our reviews of the top rated yoga SUPs along with our comparison table and buying guide below will help you choose the right one for you.
Yoga Paddle Board Reviews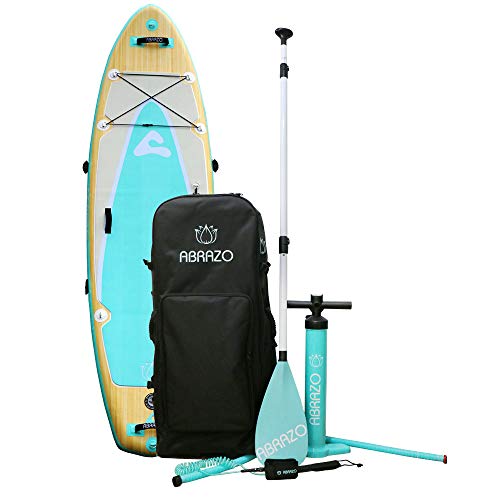 Abrazo Sports Namaste Yoga SUP at a Glance
:
---
Type of SUP: Inflatable
Length: 10'6″
Width: 35"
Weight Capacity: 400
Extras: Paddle, Leash, Repair Kit, Hand Pump, Carry Bag
The Abrazo Sports Namaste Yoga SUP not only looks great, but it has everything you need for a complete yoga paddle board experience. With its bamboo and sea-foam blue color scheme, it not only looks like it's made for yoga, but it also has the features that make it ideal for your yoga practice. This is the widest board on our list at 35 inches for excellent stability. It gives you all the space you need without feeling restricted in your poses.
Despite its width, it's still incredibly easy to maneuver, which also makes it more appealing to those just starting out. To help you stay on your board, they've included a non-slip soft top deck that's similar to a yoga mat. An included coiled ankle cuff safety leash and pedal will also make sure you feel more stable. When you're all done for the day, you can easily deflate it down to a compact size and store it in the included carry bag. It's not bulky, so you can just place it in the trunk or the backseat of your car without any issues!

---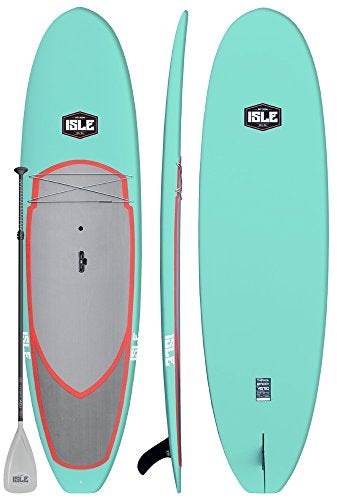 ISLE Versa Rigid Epoxy Standup Paddle Board at a Glance
:
---
Type of SUP: Rigid
Length: 10' 5"
Width: 32"
Weight Capacity: 275
Extras: Paddle, Center Fin
ISLE is one of the better known makers of paddle boards. The Versa Epoxy Paddle Board is a perfect example of the quality SUPs they make. It's one of the most durable, heavy-duty boards we've seen on the market. If that's something you're looking for, then you may not mind the slightly higher price tag. Considering how tough it is, it's surprising that it's only 27 pounds, which is only a few more than most inflatable models. With new thermal molded technology, the company has managed to get rid of waste in the building process which makes it lightweight yet still visually attractive. To make carrying the board easier, it also includes a comfort-grooved carry handle so it's not awkward or cumbersome to transport.
Offering glide in flat water and control in small waves, you'll be able to take your board wherever you want to go. The width and thickness offer excellent stability in various environments, and the classic longboard shape aids in this. The included paddle is made up of lightweight yet long-lasting carbon and plastic, so you don't fatigue as quickly. It includes a 60-day money back guarantee which is a nice bonus, but many other manufacturers offer a 1-year warranty, so this is definitely something that could be improved.

---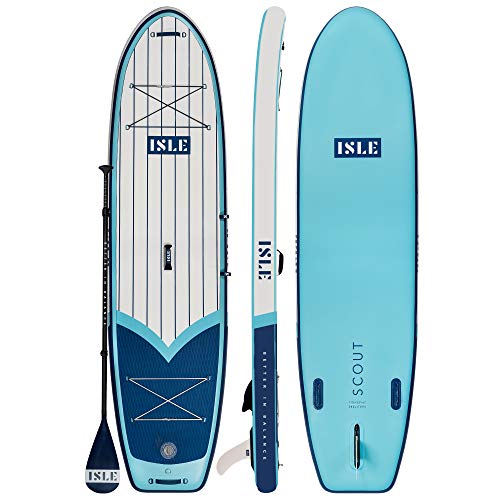 ISLE 10' Lotus Yoga Inflatable Stand Up Paddle Board at a Glance
:
---
Type of SUP: Inflatable
Length: 11'
Width: 33"
Weight Capacity: 240
Extras: 3-Piece Adjustable Paddle, Carry Backpack, High Pressure Pump
We're back with another ISLE product, and this time it's the Scout Yoga Standup Paddle Board. The Scout is an inflatable board that's great for beginners and intermediate paddlers alike. It's the perfect board if you're looking for one that can help keep your balance, while still working on your yoga skills. ISLE is a company continuously working to help conserve our planet and the oceans we love so much, which means all materials used are eco-conscious. The ISLE Scout is made with Airtech construction, meaning it weighs a mere 21 pounds while supporting up to 315 pounds. This is due to the extremely durable construction comprised of military-grade PVC, so it won't ding or rip if you happen to hit a hard object.
Moreover, they utilize machine-coating on drop stitching with a durable seal and bonding layer. The fact that it's also 6 inches thick helps with buoyancy and resilience, so you can use it for years to come. The design features a wide nose and tail outline which is made to offer you the most support. This makes it easier to try out a wider variety of poses with more confidence. It's so sturdy that you can even take your dog along for the ride! To transport it, you don't even have to attach it to the roof of the car. Simply deflate it, roll it up and place it in the bag that's included!

---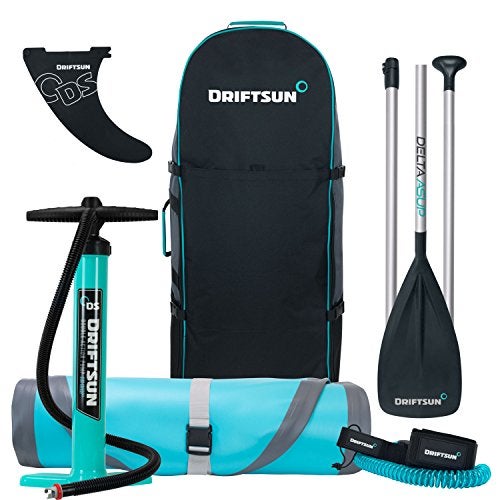 Driftsun Soft Top Rigid Stand Up Paddle Board at a Glance
:
---
Type of SUP: Inflatable
Length: 11'
Width: 34"
Weight Capacity: 400
Extras:

Carry backpack with rolling wheels, aluminum paddle, leash, dual action pump
Both beginners and pros will fall in love with the Driftsun Rigid Paddleboard due to the flexibility and high performance it offers. It is a little bit on the expensive side, but it's definitely worth it if you're serious about paddleboard yoga. However, you can broaden your horizons and even use it for surfing and fishing, too. The size and shape of the model allows you to use it for just about anything you want. It's made to last for years thanks to the strong construction with PVC drop stitch making it resistant against the elements, and a detachable nylon fin to keep you stable in all kinds of weather.
On the top, you'll find soft EVA that's gentle on your body and comfy to lay on. This means you don't have to worry about chafing or scratches. With a width of 34 inches, you'll experience supreme stability which is ideal for yoga (where you may already be feeling a bit off balance!). The weight capacity of 400 pounds means that there's plenty of room for both you and some cargo. If you're not using it for yoga, you can take a passenger along for the ride. If you're still feeling on the fence about the Driftsun board, note that they also throw in a 1-year warranty to give you that extra peace of mind.

---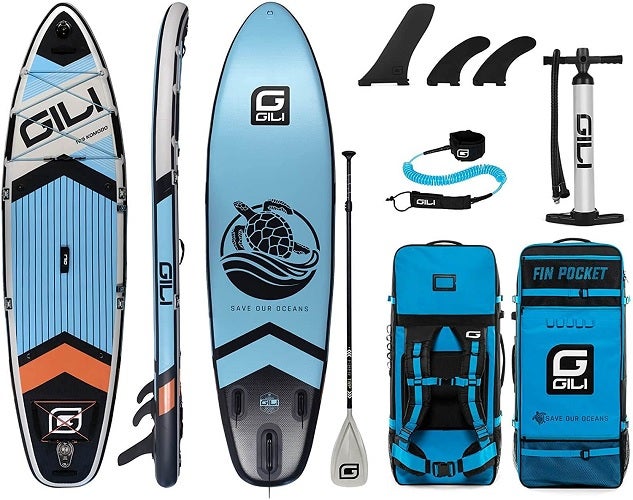 GILI Komodo Inflatable Stand Up Paddle Board at a Glance
:
---
Type of SUP: Inflatable
Length: 10' 6″
Width: 33"
Weight Capacity: 340
Extras: Carbon Fiber Paddle, Wheeled Carry Backpack, High Pressure Pump
The GILI Komodo Paddle Board is probably one of the most versatile SUPs out there. It has a beautiful deck with blue accents, and it just looks like it's made for yoga. Aside from that, it comes with a ton of handy extras including a 3 piece adjustable fiberglass paddle, a backpack, removable nylon fins and a leash. The weight limit of this model is notably greater than the first few boards on our list, so it's definitely suitable to take a passenger with you. It's also the widest board at 33″, so it's going to be stable and ideal for practicing your yoga poses.
The extra-thick EVA foam deck will ensure you remain steady and maintain a good grip on the board, while providing comfort where you need it the most. The foam also works to more evenly distribute weight and stays grippy even if it gets wet. Construction is made to last through countless trips, with "drop stitch" construction to tightly hold the top and bottom military-grade PVC layers together. With this kind of toughness, there's no need to worry about popping or denting. The included paddle is adjustable and can be converted to a kayak-style paddle. It's adjustable from 68″ to 84″ to suit your height, and ergonomically designed so you aren't sore afterward. GILI stands behind the Komodo paddleboard with a 2-year warranty, which is among the longest warranties currently on the market.

---
Yoga Paddle Board Comparison Table
How to Choose the Best Yoga Paddle Board – Buyer's Guide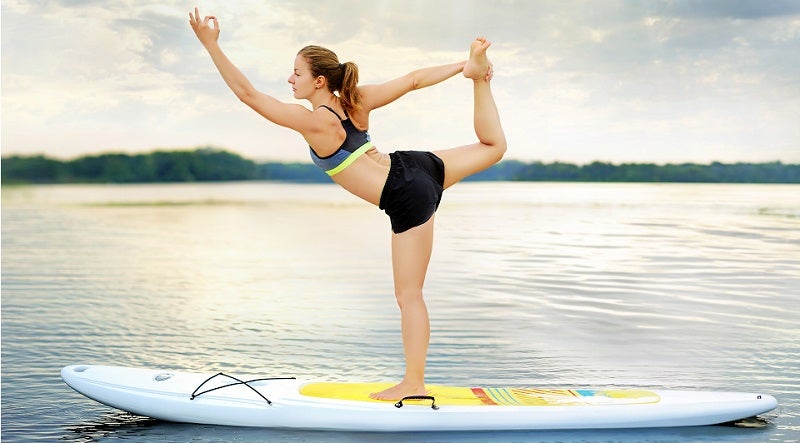 Purchasing the right yoga paddle board for you isn't always the easiest decision. You should consider what type of water you'll be on, what you'll actually be doing on the board, and what will work for your body. We've put together this user-friendly buyer's guide below, so you'll have no doubt about which one's the best option for you.
Board Length
You probably don't want to skip out on length when it comes to a new paddle board. Shorter models may be able to make sharper turns, but for yoga that won't really be necessary. Longer boards give you more space for you to perfect your poses and keep anything extra onboard you may need. When you're standing up, it will give you more freedom to move as you wish.
Weight Capacity
Even if you have the best paddleboard in the world, it won't be of much use if it can't support your weight. Don't just consider your own weight, but anything else you may be bringing with you. It's often recommended that you should count an extra 20% of your weight before selecting a board, just to be on the safe side.
Inflatable vs Rigid Paddle Boards
There are quite important differences between the two, but it will all come down to your preferences and needs.
– Inflatable Paddle Board
These are known to be much more portable, since you can simply deflate and roll them up to be stowed away. You can even take them on a plane as your carry-on luggage if you need to. If you don't have a lot of storage space at home, you should definitely consider an inflatable board. Inflatable boards aren't going to ding or get scratched if you accidentally knock them on something or drop them, making them ideal for rocky areas. However, they don't navigate waters quite as well as rigid models do.
– Rigid/Epoxy
Rigid boards may be bulkier and more difficult to transport, but there's a reason why some prefer them over inflatable ones. Their performance just can't be matched, with greater levels of agility and better glide. However, if you're just using them for yoga, then this may not be of as much importance to you. Be sure to think out how you'll get your SUP to the water. Do you have a vehicle big enough to store it in? If not, you'll likely need a roof rack.
Board Width
Width is going to play a huge factor in how successful you are in yoga paddle boarding. As you know, balance is essential in both of these activities. When you put them together, balance becomes even more crucial. Width is what's going to really help you keep your balance, and give you the room you need to pull off each yoga pose. 32″ should be the minimum to look for. Anything less than this width will make it difficult to stay afloat on your board and perform your yoga moves.
Comfort
Comfort is crucial to any sport you do, as being uncomfortable is not only irritating and detracts from the experience, but it can even result in injury after long periods of time. Some boards will come with a type of EVA foam cover, which not only helps you keep a good grip, but also adds a great deal of comfort. This means you can stay out on the water for longer without getting uncomfortable, and actually enjoying SUP yoga. This deck pad usually covers around three-quarters of the board's surface, and should be soft with a smooth feeling that won't cause your skin irritation.
The Benefits of Stand Up Paddle Board Yoga
The wobbly initial stages of learning SUP yoga is far more unstable and evokes a more challenging mind and body workout than traditional yoga. Ordinary yoga is a challenging practice in itself, but yoga on a water surface requires you to reach deep into your core to achieve and maintain ultimate balance. Practicing yoga on top of a paddle board that's suspended on the water's surface will help improve your overall yoga skills. It's also a great method of meditation that promotes a sense of tranquility as the water gently rocks you, while improving your breathing and concentration.
Yoga comes in many forms, but SUP yoga is by far one of the most challenging practices. Some may find SUP yoga to be slightly intimidating on their first try, and it will require your full concentration. Yoga poses that are typically less difficult to perform on land, such as downward facing dog, suddenly become far more challenging when you're floating on water. And if you experience certain conditions such as vertigo, it may not be the best activity for you.
While perfecting the art of SUP yoga, you should definitely expect to fall many times, but this will hopefully strengthen your resilience. It's definitely advised that you practice traditional yoga on land at least a few times before attempting the more advanced SUP yoga. While paddle board yoga is far more challenging than traditional yoga and will test your patience, the rewards are worth it and will allow you to experience ultimate serenity as you perfect the practice.
Paddle Board Considerations
Deck Padding

The padding on the board is an important consideration for yoga paddle boards. The thicker the pad, the more comfortable it'll be when performing your poses. If you're like me, doing traditional yoga on land with a thin mat is definitely not ideal. I often use a towel – or really anything else as padding – to prop under my knees when holding poses such as tabletop for a long while, where a lot of pressure is put on your knees. So for SUP yoga, and particularly if you have sensitive knees, you want the padding to cover as much of the deck as possible to utilize more of the board. This is also important if you think you'll have other riders along with you, or maybe your dog.
Fins
The fins on the bottom of the paddle board are what aid in "tracking", or the ability to keep the board in a straight line while paddling. A SUP that doesn't track will tend to turn with each stroke of the paddle. Inflatable SUPs are usually of the "tri-fin" design, as you can see in the image below. The layout is a larger center fin of roughly 5″- 6″, with two smaller side fins. Most paddleboards will have the ability to remove all the fins, so it rolls up better. On the other hand, rigid epoxy SUPs typically come with one larger center fin that's removable. Since rigid SUPs tend to track better, they usually only have one center fin.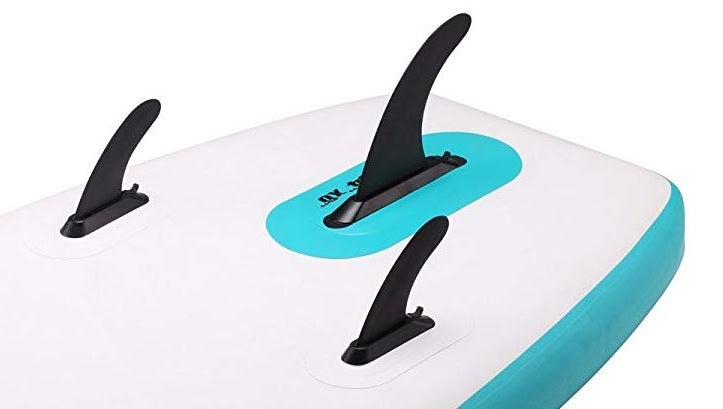 Ease of Transport
Considering how easy it is to transport your paddle board, an inflatable SUP will win almost every time. It's one of the primary reasons to choose an iSUP (inflatable SUP!). They can be rolled up and stored in a backpack that will fit in almost any car. With iSUPs, the carry bag that they come with is also a big factor. Other iSUPs you'll need to put on your back and carry, while rigid ones will need to be transported on a roof rack (if you don't have a pickup truck so you can put in the bed).
Handles
Not many people consider this if they're just starting out, but look for a center handle which has the ability to lay flat. That way, you can sit or lay on it without discomfort. There are a few models which also have removable grips, and these are also great features. Generally, the more handles you have, the better. Three handles are typically more than enough, and allow you to avoid awkward maneuvering to transport it while it's still inflated.
Speed/Ease of Inflation
Obviously this is only a factor with an iSUP, and is determined by the volume of the SUP and the pump you're using. If you plan on using your iSUP a lot, I'd highly recommend an electric pump that plugs into your car accessory outlet, or connects to a 12V battery.
Rocker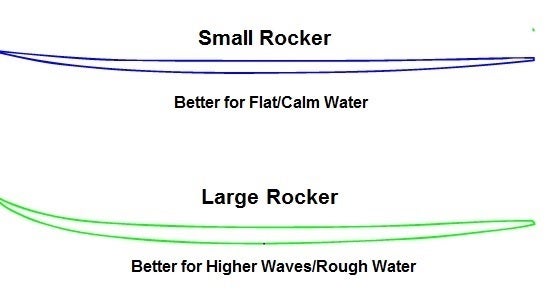 Lastly, the rocker on a SUP board is how much the nose or front of the board is angled up. As you can see above, the more the nose is angled up, the better it is in rough water. If you're planning to paddleboard in flat or calm water such as a lake or river, a small nose rocker is a great choice. On the other hand, for paddling in the ocean or bays where waves are common, a larger rocker is a better option. A larger nose rocker is also a better SUP for surfing.
SUP Accessories
The extras that come with a board can be a make-it-or-break-it scenario if you're looking to save money. Many come with a complete package that has essentially everything you need to have a great paddleboard yoga experience.
Paddle
You'll definitely want a SUP with a paddle, ideally one that's made of fiberglass or carbon fiber. These are both lightweight materials but are incredibly durable, so you get the best of both worlds. Make sure yours is adjustable, so everyone can use it no matter their height.
Carry Bag
Particularly if you have an inflatable SUP, a carry bag is an important consideration. A wheeled carry bag is a huge advantage, allowing you to pull the SUP behind you like a suitcase instead of having to carry it on your back!
Leash
Just like you'll find on every surfboard, an ankle leash is always helpful so you won't lose your board if you fall off. This is also ideal if you're not a strong swimmer, so if you do fall off, you can easily return to your board without having to swim far to retrieve it. Secure your leash to your ankle while taking your board out into the water, and once you've anchored down, take it off so you can freely move and perform each pose with ease.
Conclusion
There you have it! These are our picks for the best paddleboards for yoga currently on the market. We hope that our buyer's guide was particularly helpful in deciding which type is best for you. Paddleboard yoga is certainly a challenging practice, but if you're up for an adventure and have tried yoga on land at least a few times before, why not take to the water and give SUP yoga a try!
Recent Updates
March 29, 2022: Verified availability of all products. Included additional FAQs to address common consumer queries.
FAQs
What exactly is SUP yoga?
SUP yoga involves using a stand up paddleboard (SUP) to practice yoga on. Both require great amounts of balance, and combining the two can not only help you advance more quickly, but it can give you a more serene environment you may not find anywhere else. These paddleboards have been created to be a bit more stable than your regular SUPs, and place special focus on padding and comfort.
What are the benefits of SUP yoga?
Yoga alone improves flexibility, but SUP yoga can also work to further strengthen the muscles and the mind. You'll also benefit from having improved balance, as paddle board yoga requires a deeper focus on balance than traditional yoga on land. Expect to also see an improvement in mental acuity and clarity, as SUP yoga is also a great way to meditate with the waves calmly rocking you.
Can more than one person use my new board?
It's not recommended that more than one person use it at a time, but if you have an adjustable paddle, then there's no reason why more than one person can't take advantage of the board.
How do I properly maintain my board?
It's a good idea to spray or wipe the board down with fresh water after every use, especially if you're going to be using it in saltwater. When you stow it away, make sure it's completely dry and store it away from direct sunlight.
Tips For Using Your Paddle Board
#1: Make sure you're using your paddle the correct way.
While it may seem intuitive to use the paddle to kind of scoop the water out, this is actually not very effective at all. Turning it around will give you a smoother stroke, and will result in less stress on your arms, shoulders, and elbows.
#2: Make sure you're facing the right way!
If you're not already a surfer, then it may not be obvious which side is the nose or tail. The easiest way to do this is to take a look at the fins and see where they're located. Those at the rear help with tracking, which will make it easier to catch few waves while keeping the board straight.
#3: To increase stability, always look towards the horizon.
While it may feel natural to look at the water by your feet, or even at your board, this won't be ideal for your balance at all. This can easily cause you to lose stability and fall in, so keep your gaze at the steady horizon while performing your poses.
#4: Always keep an eye on weather conditions before heading out.
The forecast will let you know when you should pack up and head back, or not go out at all. The worst time to go out, as you can imagine, is during rainy/windy conditions. However, if you do happen to be caught out there in the wind, lay down low and paddle like you would on surfboard to return to shore.
Notice:
OutsidePursuits.com is a participant in the Amazon Services LLC Associates Program, an affiliate advertising program. OutsidePursuits.com earns fees from products sold through qualifying purchases by linking to Amazon.com. Amazon offers a commission on products sold through their affiliate links.