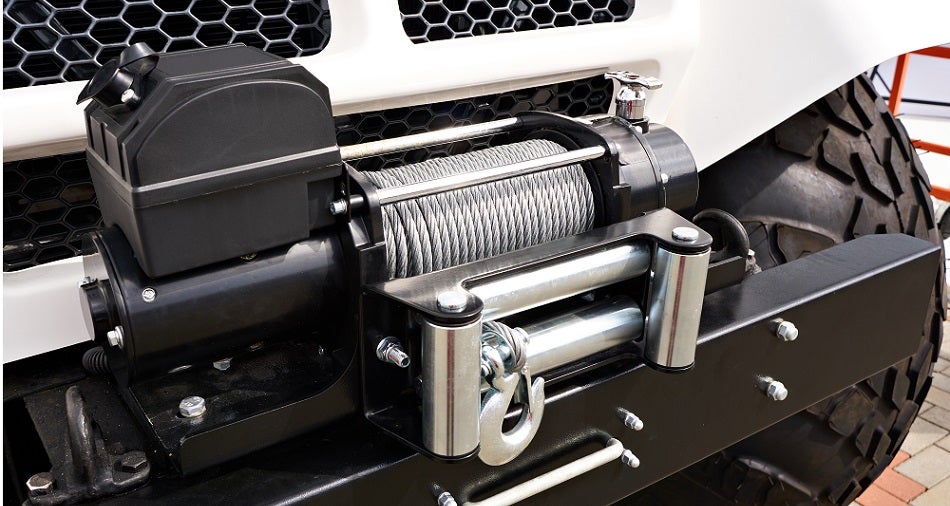 Our Editors independently research, test, and rate what we feel are the best products. We use affiliate links and may receive a small commission on purchases.
Most of us outdoorsy types will eventually end up getting into RVs, ATVs, dirt bikes, or off-road riding.
Crawling down a little-used trail in your Jeep to find a campsite that no one else can get to can be a really fun way to spend a weekend.
What happens, though, when you get 100 yards up the trail and the right two wheel sink to the hubs in slick muck?
This is where having the best winch for your vehicle will be a life saver! Do you really know how to pick out a good winch, though?
We're going to look the most important factors in winch and then review several of the top winches available!
Best Winches
| | Smittybilt 97495 XRC Winch | Superwinch LT3000ATV | OFFROAD BOAR Winch |
| --- | --- | --- | --- |
| | | | |
| | | | |
| Line Pull: | 9,500 - 17,500 | 3,000 | 13,000 |
| Weight: | 83 lbs | 27 lbs | 61 lbs |
| Motor: | 6.6 HP | 1.2 HP | 4.6KW |
| Gear System: | 3-stage planetary | 3-stage planetary | 3-stage planetary |
| Rating: | 4.2 / 5.0 | 4.3 / 5.0 | 4.6 / 5.0 |
| | | | |
For more of my truck gear recommendations, have a look through these popular Outside Pursuits guide links: Truck Tool Boxes, Truck Bed Covers, Truck Tents.
Quick Answer: The 7 Best Rated Winches For 2021
Our reviews of the top rated winches, with our buyers guide and comparison table to help you choose the right one for you.
---
Winch Reviews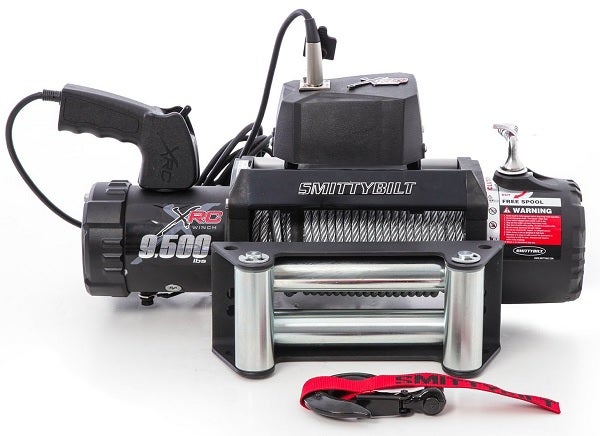 Smittybilt 97495 XRC Winch at a Glance
:
---
Rated Line Pull: 9,500 – 17,500 lb capacities

Winch Weight: 83 Pounds
Motor:

6.6 HP Amphibious motor

Gear System: 3-stage planetary gear drive train
Control:

Corded remote
Looking for a waterproof, remote operated winch? How about a winch that comes with wire cable or synthetic rope?
We thought so. Here it is.
Smittybilt does a really good job of standing behind their products. In fact, their powder-coated winches have a 5-year, 100,000-mile warranty! Not bad.
On the winch is a series wound 6.6 horse motor that runs on a 650CCA battery (min). The power is transferred through a planetary gear drivetrain with a brake system built into the drum of the winch.
You can get this winch in sizes up to 17,500 lb. of pull. The synthetic rope, however, is only available in sizes up to 12,000 pounds.
If you're looking for the best winch for jeeps and a lineup of accessories all from one brand, the Smittybilt is for you!

---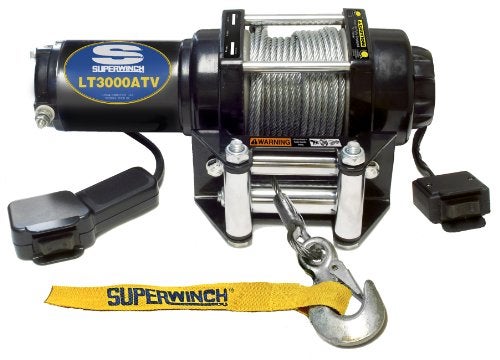 Superwinch 1130220 LT3000ATV at a Glance
:
---
Rated Line Pull: 3,000 lb

Winch Weight: 27 Pounds
Motor: Permanent magnet motor
Gear System: 3-stage planetary gear train
Control: Remote operated or handlebar switch
With a rated line pull of just 3,000 pounds, this winch pales in comparison to the 17,5000-pound rating of the last winch.
That's because it's a small, lightweight winch for ATVs and UTVs.
Unless you've got an ATV that weighs more than my car, this winch should more than cover your needs. You can run this winch while standing beside the vehicle or from a mounted position.
That's because there's an included rocker switch for the dash or handlebars and a remote for external operation.
At full load, this winch can crank your ATV 4 feet per minute. Fortunately, when unloaded, you can then wind up the rest of the cable at a moderately fast 27 FPM.
That's not bad considering the small size and planetary gear system in use here.
The Superwinch LT3000 is the best winch for ATVs, especially considering it's bargain price!

---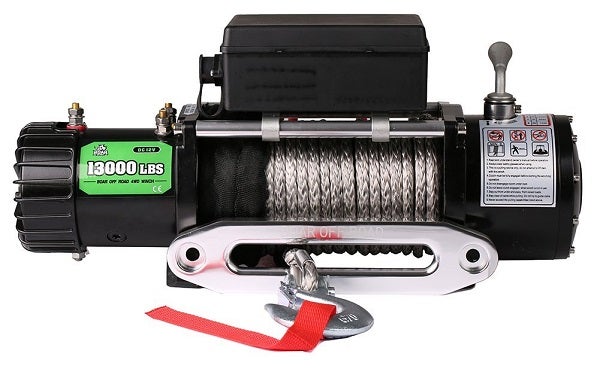 OFFROAD BOAR Synthetic Rope Waterproof Winch at a Glance
:
---
Rated Line Pull: 13,000 lb

Winch Weight: 61 Pounds
Motor: 4.6KW

series-wound motor

Gear System: 3-stage planetary gear train
Control: Automatic mechanical brake
Do you have a vehicle that weighs less than 6,500 pounds? If that's you and you're looking for a synthetic rope winch ready right out of the factory, you're in the right spot.
We'll talk more about synthetic rope in the buyer's guide.
Just keep in mind that while it's easier to work with (much easier) it's also more abrasion prone and susceptible to heat damage.
That said, the wireless remote and low price tag on this winch should have your mouth watering already.
For a synthetic rope, this winch comes in low on the price range. I have to say that in my experience this is probably one of the better overall "value" winches I've seen.
That said, the synthetic rope shouldn't be used under heavy braking loads such as lowering. If that sounds like you, take a look at one of the wire rope winches on our list.
That said if you want the best synthetic rope winch on our list, the Offroad Boar is for you.

---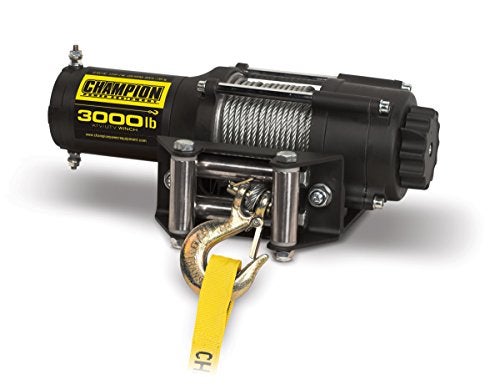 Champion 3000-lb. ATV/UTV Winch Kit at a Glance
:
---
Rated Line Pull: 3,000 lb

Winch Weight: 19.7 Pounds
Motor: 1.3 HP

permanent magnet motor

Gear System: 3-stage planetary gear train
Control: Handlebar mounted control
What's so different about this lightweight ATV/UTV winch kit compared to the first one on our list? Well, it's cheaper, and it has at least one significant difference.
I love that this winch has a 4-way roller for the wire rope. In my mind, this is the only reasonable way to operate as the roller bearings provide a significant reduction in friction to the wire rope.
Remember that since this ATV winch uses a handlebar mounted control only, that means your weight factors into the overall gross weight of the pull.
That means the weight of you, your gear, and the ATV/UTV should be less than 1,980 lb.
Like most winches, this one operates under a free spool clutch whenever you need to pull out line. At just 46 feet of cable, however, you may want to consider an additional jump cable for longer pulls.
If you're looking for the best UTV winch on our list, you won't go wrong with the Champion.

---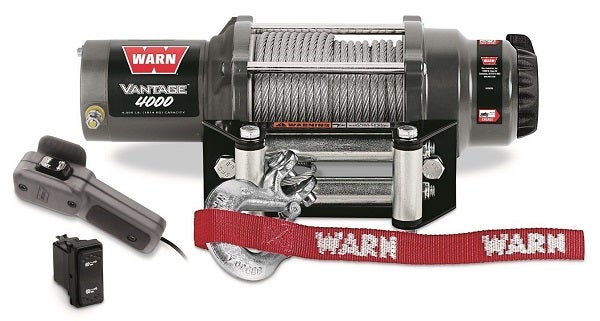 WARN 97035 VR12-S Winch at a Glance
:
---
Rated Line Pull: 2,500 – 4,500 lb capacities

Winch Weight: 68 Pounds
Motor: 252 Amp

permanent magnet motor

Gear System: 3-Stage planetary gear train
Control: Handlebar mounted control
I regret to inform you that you won't find anything cheap here. Just good quality, good options, and solid reliability.
I really do prefer the handlebar mounted rocker switch for winches, but it's not always practical. Often you will be in a precarious situation and it's safer to be off the vehicle or ATV.
Having both options is one reason this winch gets a thumbs up from me.
It's pretty easy to miss it, but they really did a good job of keeping this winch small enough for compact trucks. A lot of winches look bad due to the large form factor, but this one stays minimal.
Watch The New VR Winches in Action
At the same time, the small size belies power packed in by a 3-stage planetary gear and motors from 0.9 – 1.4 HP.
The Warn VR12 is the best winch for trucks and 4x4s when you want quality and don't mind spending a little bit extra!

---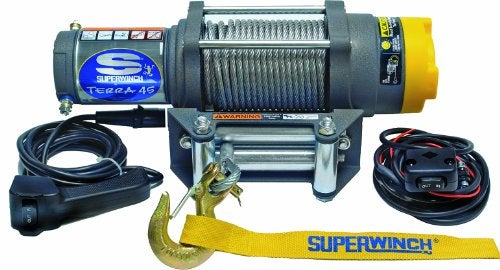 Superwinch Terra 45 ATV & Utility Winch at a Glance
:
---
Rated Line Pull: 2,500 – 4,500 lb. capacities
Winch Weight: 22 Pounds
Motor: 1.6 HP

permanent magnet motor

Gear System: 3-Stage planetary gear train
Control: Handlebar and optional remote control
Since we're on a "roll" with small factor ATV and UTV winches, let's dive deeper.
Superwinch might not be the "Iron Chef" name of winches, but users absolutely love it and I'm sure this brand will rapidly begin to cover more of the market.
At 4,500 pounds this winch tops the scale on this particular line.
Fortunately, if you want to save money, you can go all the way down to 3,500 or 2,500-pound winches in both steel wire or synthetic rope.
Remember that the winch line pull is rated at the bottom-most layer of line, so don't skimp on size.
While it does come with a 10' wire remote and handlebar remote, you can also get an aftermarket wireless remote as well. I like this option because it keeps initial costs low but allows for upgrades later.
Best for a middle-ground of price and quality with several different options to meet your needs.

---
MotoAlliance VIPER Winch at a Glance
:
---
Rated Line Pull: 12,000 lb
Winch Weight: 89 Pounds
Motor: Permanent magnet motor
Gear System: 3-Stage planetary gear train
Control: Wireless remote control
Let's take a step back at the end of our list and give those of you with trucks or Jeeps something to think about.
We're not talking about UTV or ATV winches anymore. In fact, we're not even talking about Jeep accessories (though you could still mount it on a Jeep).
What this winch does well are heavy lifting recovery operations.
The metal body and IP67 rating mean that you can put this on your truck and forget about it. It's going to survive everything short of a laser blast from outerspace.
While it does come with 85' of steel wire cable, you may want to consider putting an extra length in your toolbox for longer pulls. 85' isn't as long as I'd like to see for some recovery operations.
It does come with the wiring ready to go, but with the power-hungry motor driving 12,000 pounds of winch you'll need to make double-sure that your battery can keep up.
If you are looking for the best 12000 lb winch for mudding and recovery operations, the Viper is your best bet!
---
Winch Comparison Table
| Winch | | Line Pull | Weight | Motor | Gear System | Rating |
| --- | --- | --- | --- | --- | --- | --- |
| Smittybilt 97495 XRC Winch | | 9,500 - 17,500 | 83 lbs | 6.6 HP | 3-stage planetary | 4.2 / 5.0 |
| Superwinch LT3000ATV | | 3,000 | 27 lbs | 1.2 HP | 3-stage planetary | 4.3 / 5.0 |
| OFFROAD BOAR Winch | | 13,000 | 61 lbs | 4.6KW | 3-stage planetary | 4.6 / 5.0 |
| Champion ATV/UTV Winch Kit | | 3,000 | 19.7 lbs | 1.3 HP | 3-stage planetary | 4.5 / 5.0 |
| WARN Vantage Winch | | 8,000 - 12,000 | 68 lbs | 457 Amp | 3-stage planetary | 4.3 / 5.0 |
| Superwinch Terra 45 Winch | | 2,500 - 4,500 | 22 lbs | 1.6 HP | 3-stage planetary | 4.5 / 5.0 |
| MotoAlliance VIPER Winch | | 12,000 | 89 lbs | N/A | 3-stage planetary | 4.3 / 5.0 |
How to Choose the Best Winch for You
Whether you're working on the farm or enjoying public lands, winches are some of the most cost-effective methods of gaining self-sufficiency. Do you really know how to pick out a good winch, though? Let's take a look at the most important considerations for your next winch.
Choosing a Winch Weight
The biggest single differentiating factor for winches is their weight rating. This is the total overall weight that your winch is capable of moving.
Yes, there are many other factors in finding the right winch. However, weight rating is probably the most obvious and easiest to understand.
Most experts recommend that you tally up the overall weight of your vehicle and multiply by 1.5 or 2x in order to be on the safe side. The reason it's recommended to multiply the gross weight by 1.5 is to take into factor accessories on the vehicle, things you're carrying, and the factors of parasitic power draw like friction.
Here are a few examples:
ATV weighs 1,600 lb. X 1.5 = 2,400 lb. Winch Capacity
Ford F150 weighs 6,500 lb. X 1.5 = 9,750 lb. Winch Capacity
Rated Line Pull and Tensile Strength
Tensile strength refers to the breaking point, in pounds, of the line on your winch. Whether you have a metal cable or a synthetic rope cable, the tensile strength must exceed the forces exerted by the pull.
Fortunately, I've never seen a manufacturer make a winch with a cable that can't keep up with the motor. Usually, you won't need to worry about the tensile strength – it's safe to say the manufacturer put the right kind of cable on your winch when you bought it.
If you ever need to replace the cable or add additional extensions, however, it's critical that you buy a cable with equal or higher tensile strength to the maximum pull of the winch.

Types of Winch Cable
There are really only two types of winch cable in use today. Most common is the metal cable or wire cable. Less common, but equally useful, is the synthetic rope or synthetic cable.
It's tempting to assume that a synthetic cable can't be as strong as a wire cable, right? I mean, what's stronger than a steel cable?
By weight, there are actually many manmade materials that exceed the tensile strength of steel. In fact, winch rope is often stronger than the equivalent size steel cable!
Winch Ropes
Winch ropes are fantastically lightweight. This is a major factor for choosing a winch that may go on a low-power vehicle like a small ATV or recreational vehicle.
While a wire cable may weight up around 30 pounds per spool, an equivalent spool of rope can weight just 5 pounds.
If you have an existing winch and would like to upgrade or change over, you can buy replacement ropes pretty easily. Just double check the tensile strength.
While winch ropes have some advantages, they also have their own set of drawbacks.
Winch ropes, like any rope, can be prone to abrasion and damage due to heat. Abrasion may be mud and dirt in the rope which microscopically abrade the fibers. Heat can come from many sources but one of the most likely sources of heat is the winch brake itself which can heat up during lower procedures.
Wire Ropes or Cables
This stuff is way cheaper than synthetic rope. However, it's also way heavier. Among the drawbacks are wire rope's tendency to snap with sometimes violent force if it should fail during use.
When working with wire rope, remember that small strands may break and cause snags or cuts on your hands while handling. Use gloves to avoid a snag.
Most factory cables use thicker, more durable steel wires to create the bundle of rope. While you can buy some aftermarket types of wire rope for your winch, the thinner and more flexible ones tend to also be much less durable.
Types of Winch Power
Almost all winches work off of an electric motor. Electric motors have evolved to be efficient, effective, and powerful for winching.
In some small instances, however, hydraulic power can be used to turn the winch on your vehicle. Hydraulic winches can run at full power nearly indefinitely, but they require a vehicle with a power steering system or hydraulic system.
Electric winches, depending on the motor, vehicle, battery, and alternator have what's called a duty cycle. Much like electric welders, the power needed to drive a high-power winch drains an electrical system rapidly and can heat the winch motor to danger temperatures in a short amount of time.
Before buying your winch, pay attention to duty cycle if you expect to need your winch to operate for long periods of time.

Winch Motor Types
Once you've decided on an electric winch, you get to choose between two types of motors.
Permanent magnet motors are relatively cheap but have a couple drawbacks. Permanent magnet motors may lose power in extremely cold weather and are known to be less durable than their counterpart.
Series wound winches are more robust but draw quite a bit more power. They're also quite a lot more expensive so you'll have to decide if the tradeoff is worth it to you.
Winch Drive Types
When you push that button to begin turning the winch, something has to be responsible for passing the power from the motor to the wire. That "something' is called the drivetrain and essentially consists of a set of gears.
There are three types of gears that work for winches: spur gears, worm gears, and planetary gears.
For lowering loads or pulling heavy loads you will be best off with a worm gear drive. While they're slower than the other two drivetrains, worm gears do a fantastic job with heavy loads because the gears, instead of the brakes, can handle most of the lowering work.
Spur gear drives are an older style that's rarely used today but their main advantages are that they're fast.
Planetary gears are kind of in between the other two. They're moderately fast, handle lowering loads well, and have moderate friction and parasitic draw. By far, the biggest drawback is their hub-centered brake which can get very hot.

Electric Amp Draw
Any time you add electrical accessories to your vehicle, ATV, RV, or any other vehicle you need to understand how much power it needs. Then, you'll also need to figure out how much extra power your vehicle has available in the form of amperage.
Amperage output is determined by the charging system in your vehicle. The amperage that your winch will need to operate is determined by the winch's motor and is easy to find in the specifications included with your winch.
Before you buy any winch:
Determine your vehicle's excess amperage
Determine your winch needs
Compare the amp draw of your winch to the amperage excess of your vehicle
If your winch draw is less than your excess available, you're in luck!
If you're not sure how much power you have to work with, take a trip to your local truck accessory store. They'll be able to run a test on your system to tell you exactly how much amperage you can afford to run on the winch.
Electrical System Notes: It's worth noting that batteries, cables, and even some fasteners may need to be upgraded in order to handle a winch. The high electrical demands of a winch may kill a normal car starting battery.

FAQs For Winches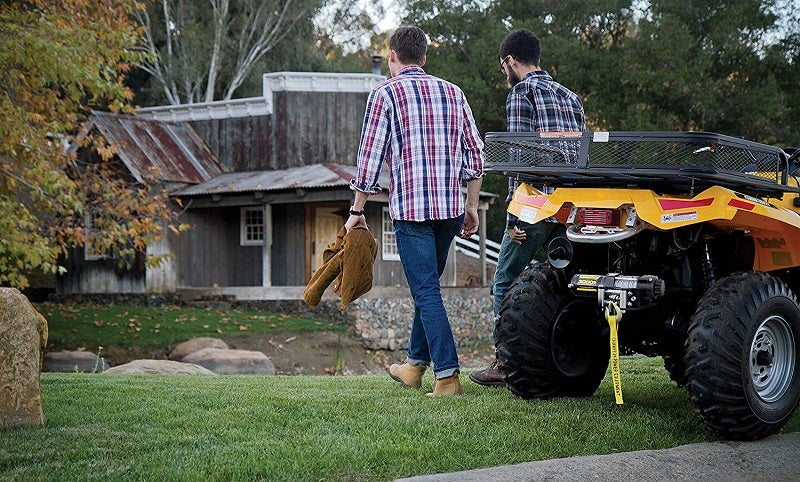 Q: If I run my winch over a pulley, can I use it to lift stuff?
A: The short answer is, no!
Winches have a braking mechanism inside which prevents loads from unspooling once you turn off the power. These brakes, usually, are rated to handle the max working load of the winch at no more than 45 degrees.
That means if you were to suspend the load of the winch at a vertical (90 degrees) it would likely cause complete failure of the winch.
Remember, too, that brakes on many winches can heat up under severe loads. Sometimes this may be to the point of melting or damaging synthetic rope cable.
Q: My cable never spools back on properly, why is this?
A: When you're rewinding your cable, it's important that the cable has at least some tension. Cable without tension during spooling will spool loosely and can often spool improperly.
On top of that, make sure that there is no debris in your spool or on your drum, particularly after mudding.
Finally, the last thing I can suggest is to be sure that your cable is not damaged. Kinked, crimped, or bent cable is not only weaker than manufacturer's specs, but it can also be dangerous. If your cable fails under load it can damage property and people both.
Q: I don't understand electrical wiring, can I still install a winch?
A: Most likely.
You may run into trouble with calculating and understanding what battery size you need and what amperage output your alternator can deliver. I have faith in you, though!
Most winches come with detailed instructions on how to install them. They should also have the required cables and wiring you need. That means you've just got to roll up your sleeves and go for it.
It's actually really unlikely that you'd do any real damage to your vehicle or the winch by making a mistake or two. You might see some sparks or electrocute yourself (potentially quite violently) but it's not likely you, say, fry the onboard computer of your Jeep.
ATVs and UTVs are generally sporting very simple electrical systems so those are even easier!
Q: I'm trying to winch something but my vehicle is sliding instead, help!
A: Okay, so you're trying to pull something toward your ATV or truck. Say, you're pulling a felled tree to drag it out of the woods. Instead of dragging the tree, your ATV simply starts getting dragged toward the tree instead.
Uh-oh!
Essentially the friction of what you're trying to pull is greater than the friction of your vehicle. That's an issue.
In order to solve this problem you could:
Tether your vehicle to a tree or other solid object from behind.
Use blocks to chock the wheels so they can't slide forward.
Add more weight to the vehicle.
Sure, there are a few other tricks you could use. Essentially, what I'm trying to say is that you've got to find a way to stop your vehicle from moving while winching heavier objects if needed.
Q: Does waterproof rating really matter?
A: I think waterproof rating might be one of the most overlooked factors in winch choice. I mean, you're going to have that winch sitting on your vehicle in the mud, rain, wind, and probably even caustics like road salt in the winter.
To keep it working for more than a month at a time, it really needs to be pretty seriously watertight.
In my opinion, any winch for mudding or trail riding should meet IP67 standards. That means dust tight and safe from immersion up to 1m deep.
For lighter duty work, say you won't be driving through a river, you can probably get away with IP66 but I wouldn't risk it.
To learn more about ingress protection (IP) ratings just read through this helpful guide.
Final Thoughts
To make sure you're happy with the winch you purchase, you'll have to really think through how you want to use it. Considerations are going to be quite different for each person whether you're mudding, trail riding, using an ATV, or a full-size farm truck.
Remember to revisit our "how to buy" guide in this article before making a choice. Then you'll be much better prepared to get the best winch for your needs when it comes time.
Happy trails, and good luck with buying and installing your new self-rescue system!
How We Researched
To come up with the top winches, we researched a variety of sources for reviews such as Camping World, Lazy Days, Real Truck and Walmart along with our own personal experience.
We also consulted online magazines for product research and reviews to get as much unbiased information as we could. To help weed out fake reviews we used Fakespot.com to make sure we only looked at genuine reviews.
With so much quality gear available, we had to narrow it down based on what we felt were the best options for the price. The staff authors have a wide and varied background in RV camping, automotive repairs and backpacking.
The authors have decades of experience and are eager to share their knowledge with readers.
To help narrow down the selection we used personal experiences along with recommendations from mechanics and retailers.
After extensive research, we came up with our list to help you choose the right one for you.
Sources
---
Notice:
OutsidePursuits.com is a participant in the Amazon Services LLC Associates Program, an affiliate advertising program. OutsidePursuits.com earns fees from products sold through qualifying purchases by linking to Amazon.com. Amazon offers a commission on products sold through their affiliate links.