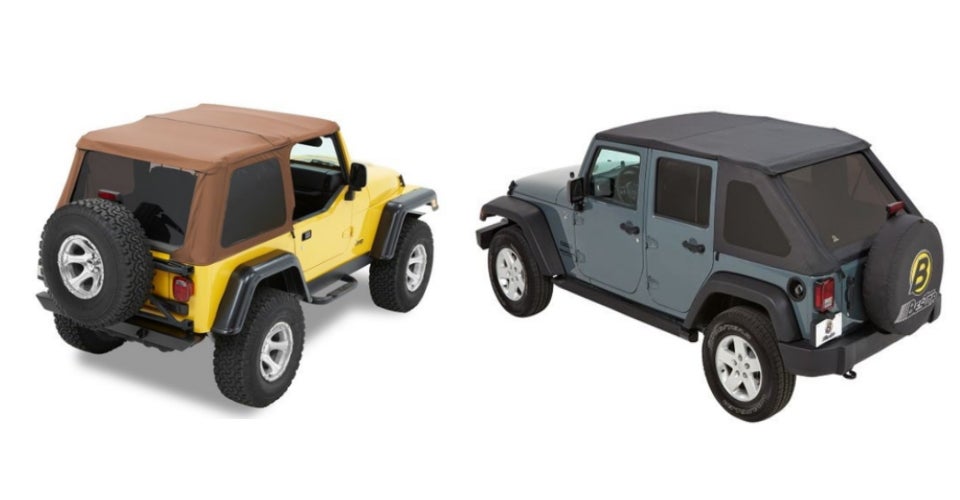 Our Editors independently research, test, and rate what we feel are the best products. We use affiliate links and may receive a small commission on purchases.
If you would like to find the best soft top for Jeep Wrangler check out the 5 top-rated brands below including our Editor's Choice. Also see our buyer's rating guide on Choosing the Best Jeep Soft Top for help on selecting the best Jeep soft top for your needs.
Best Jeep Soft Tops
| | Bestop Soft Tops | Smittybilt Jeep Tops | Rampage Products |
| --- | --- | --- | --- |
| | | | |
| | | | |
| Model options: | All Jeep Wrangler models | All Jeep Wrangler models | All Jeep Wrangler models |
| Materials available: | Factory-style black diamond sailcloth, premium twill | Factory-style diamond fabrics, mesh top options | Black diamond sailcloth fabric |
| Color choices: | 6 | 3 | 6 |
| | | | |
Also see: Best Jeep Soft Tops Comparison Table
---
Quick Answer: The 5 Best-Rated Jeep Soft Tops
---
Best Jeep Tops Reviews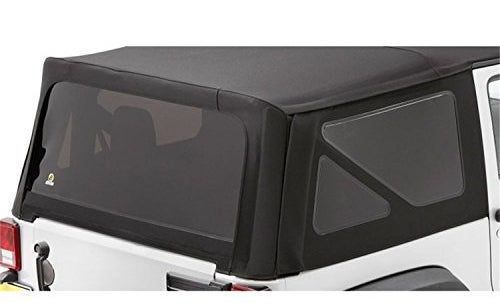 Bestop Soft Tops At A Glance
:
---
Model options: All Jeep Wrangler models
Materials available: Factory-style black diamond sailcloth, premium twill
Color choices: 6
There is really no question that Bestop Jeep tops are some of the best on the market. They are incredibly well-made as well as carefully and cleverly designed. Bestop is a very popular and well-trusted brand due to their consistency and quality throughout the years.
The Bestop name really says it all. With a huge amount of versatility, there is easily a Bestop top for anyone. There are options from Bestop that will work for every model of the Jeep Wrangler.
There are even options that fit on Jeep Wrangler predecessors like the CJ7. The different Jeep Wrangler Bestop tops vary quite a bit from one another.
There really is something for everyone because of the many different feature options to choose from. There are options with a traditional back as well as options with the fastback (slanted back) style.
Most options are available in the black diamond sailcloth that matches the factory-style Jeep soft tops. Many of the Bestop Jeep soft top options are also available in Bestop's premium twill fabric.
This fabric can be purchased in a variety of 6 different brilliant colors. These colors are black, navy, red, gray, tan, and beige. This gives you a lot of room for customizing your Jeep to match your specific style preferences while also helping it stand out from the crowd.
Thick window panels can be clear or tinted at D.O.T. approved levels. They slide in and out as desired to make them especially easy to use.
In fact, Bestop designs all aspects of their tops to be user-friendly for fast and efficient removal and installation. They also have options that are convertible.
This allows you to have the option of full coverage, bikini-style coverage, or no coverage. Bestop's Sunrider tops also have a large built-in sunroof that can even be opened and closed by a passenger while the Jeep is moving.
When it comes to the price of these Bestop Jeep tops, you will find that they are costlier than most other brands by a fair amount.
Even with the higher price, this brand maintains an incredible customer base because of the nearly unbeatable quality and innovative designs that add style and convenience to your Bestop soft top!

---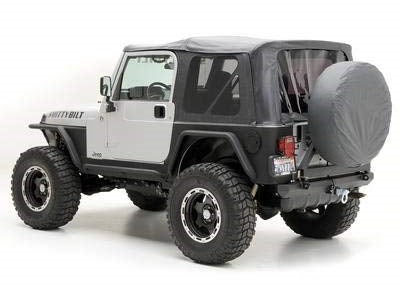 Smittybilt Jeep Tops At A Glance
:
---
Model options: All Jeep Wrangler models
Materials available: Factory-style diamond fabrics, mesh top options
Color choices: 3
Smittybilt is another excellent brand that offers a large variety of different Jeep accessories. They have quite a few options in terms of Jeep tops. One of their popular offerings is their selection of replacement soft tops.
These are very similar to the typical factory tops and are great for if your original soft top has become worn over time and needs a replacement. They have this for all models of Jeep Wranglers.
They are made of high-quality diamond fabric. Smittybilt also offers premium replacement tops. These are similar to the regular replacement tops except they are made of even higher quality materials.
The windows are thicker vinyl material and the fabric itself is layered for noise reduction, higher durability, and greater strength. This also provides better protection against the elements including keeping cold out in the winter.
They've got larger zippers, double stitching, and maximum UV protection. They are a great way to upgrade your Wrangler while still using just the regular stock hardware.
Smittybilt's bowless top options are super versatile and easy to use. They feature the fastback look and install quickly and easily. It takes almost no time at all to go from a completely open-air experience to a fully enclosed Jeep with these tops.
They are also able to be converted into a simple extended standard top that covers only the top of the Jeep with no windows or rear.
If that is all you want, you can purchase the extended standard top on its own or just the regular standard top that only covers the top of the front half of the Jeep.
Finally, if you would like a little protection from the sun's glare and heat while also avoiding a sunburn, Smittybilt mesh tops are a great option that keeps the air flowing freely. Smittybilt is also a decent amount more affordable than the Bestop Jeep tops.

---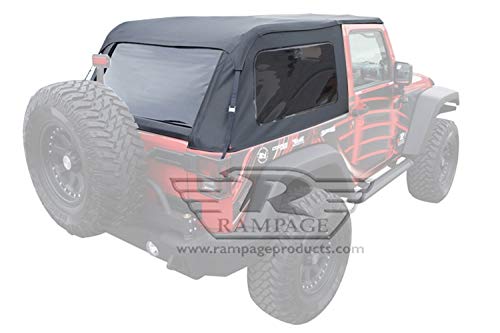 Rampage Products At A Glance
:
---
Model options: All Jeep Wrangler models
Materials available: Black diamond sailcloth fabric
Color choices: 6
This brand is another excellent quality option for Jeep tops. They're called Rampage and they make excellent Jeep tops at decent prices. These fall around the middle of the list in terms of cost.
Like our other picks, Rampage Jeep tops are available for all Jeep Wrangler models. They come primarily in the factory black diamond sailcloth.
There are a few options available where you can choose other colors as well such as blue or gray. There are different types of tops available as well.
You can get options that offer full coverage and even go over the front of the Jeep with soft upper doors. You can also choose options called Brief tops that only go over just the very top of the Jeep at the front.
This provides some protection from the sun but also keeps most of the Jeep nice and open.
Just like Smittybilt, Rampage Brief tops also come in extended versions that cover the entire top of the Jeep rather than just the front section while still leaving the rear and sides open to the great outdoors.
One of the cool things about Rampage is that there really is a great choice for just about anyone.
They also have some tops that feature fold-back sunroof options that allow you to quickly and easily open up the entire top of the Jeep or close it just as quickly.
That can all be done from inside the Jeep with the use of just one hand. Windows on Rampage Jeep tops feature D.O.T. approved window tinting and are designed for easy installation.

---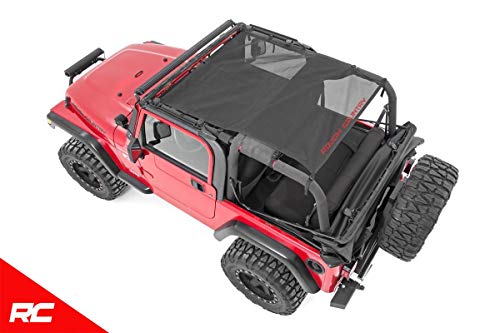 Rough Country Jeep Tops At A Glance
:
---
Model options: All Jeep Wrangler models
Materials available: Vinyl-coated polyester cotton fabric, bikini-style mesh top options
Color choices: 4
Here is a great more budget-friendly option for high-quality Jeep tops. Rough Country makes Jeep tops for all Jeep Wrangler models, but they do have a more limited selection compared to our other picks though.
They basically have two options to choose from for each model range of Jeep Wranglers.
The first option is basically a factory replacement top. It is fully enclosed and made of strong and durable vinyl-coated polyester cotton fabric. This fabric features both UV-resistance as well as mildew-resistance.
The thread used is a special thick-gauge bonded polyester and the seams are then heat sealed. All of this creates a waterproof top perfect for enduring all kinds of weather. They're also designed to go on quickly and smoothly with an excellent wrinkle-free fit.
D.O.T. approved window tinting also matches closely what you get with the factory tops. The second type of Jeep top that Rough Country offers is a bikini-style mesh top cover.
This is a top that keeps the back and sides of the Jeep open to the fresh air. It only covers the top section of the Jeep and the mesh fabric allows air to flow even at the top.
The purpose of this top cover is to provide some relief from the sun. The mesh top gives you a little extra shade and also features UV-resistance that blacks 70% of the sun's harmful UV rays.
You can choose this mesh top in black or red. You also have your choice between the regular bikini-style or the bikini-style plus top.
The regular version covers only the front seat of the Jeep while the plus version covers both the front and back seats with sun protection.
These bikini-style mesh tops are even easier to quickly install or uninstall as desired! Rough Country might not have as many choices overall.
But the tops that this brand sticks to are very well-made and high-quality choices that also happen to be some of our most affordable picks!

---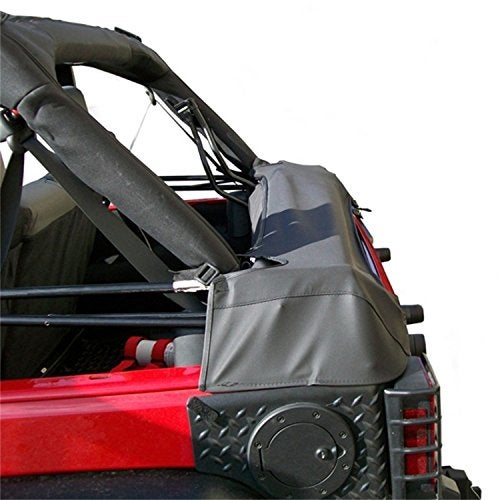 Rugged Ridge Accessories At A Glance
:
---
Model options: All Jeep Wrangler models
Materials available: Multiple available
Color choices: Multiple available including black diamond, spice and khaki
Unlike Rough Country, this brand called Rugged Ridge has quite a few different options when it comes to Jeep tops. Because of their huge selection of options, they also vary a lot in price.
This particular brand has both some of our cheapest picks as well as some of our most expensive. It all comes down to exactly what you want and expect from your Jeep top.
Just like the other brands to make it onto our list, one of Rugged Ridge's offerings is replacement tops. These are tops that will conveniently fit the factory original soft top hardware of your Wrangler.
They are quite similar to the factory soft tops but do have some variances with different brands. In this case, you get a top that is more durable than factory options. They feature strong fabrics that are heat sealed to be waterproof.
You can even choose from multiple colors for your top including black diamond, spice, and khaki. These colors are specially designed to match OE hardware for a cohesive look to your Jeep.
They've also got 30ml-thick glass windows that you can choose between D.O.T. approved tint and clear for. Beyond the simple replacement covers of Rugged Ridge, there are many other options to best suit any needs and desires.
They have brief covers like a couple of the previous brands, for example. These are simply tops that cover only the very top part of the Jeep and not the sides or back. Some of these are mesh, while others are designed to be waterproof.
They all provide protection from the sun and you can choose between options that cover only the front seat or options that cover both the front and back seats. Some even have fun colors and cool designs such as the American flag to choose from.
Rugged Ridge has some tops that are somewhat similar to the replacement tops but are actually designed to be easily installed by only one person with no help.
These are called their Spring Assist tops and are available only for newer Wrangler models. They've also got bowless tops just like Smittybilt. You can always count on high-quality versatile options from Rugged Ridge!

---
Jeep Soft Tops Comparison Table
| Jeep Soft Tops | | Model options | Materials available | Color choices |
| --- | --- | --- | --- | --- |
| Bestop Soft Tops | | All Jeep Wrangler models | Factory-style black diamond sailcloth, premium twill | 6 |
| Smittybilt Jeep Tops | | All Jeep Wrangler models | Factory-style diamond fabrics, mesh top options | 3 |
| Rampage Products | | All Jeep Wrangler models | Black diamond sailcloth fabric | 6 |
| Rough Country Jeep Tops | | All Jeep Wrangler models | Vinyl-coated polyester cotton fabric, bikini-style mesh top options | 4 |
| Rugged Ridge Accessories | | All Jeep Wrangler models | Multiple available | Multiple available including black diamond, spice and khaki |
---
Choosing the Best Jeep Soft Top
One of the most unique features of Jeep Wranglers is the ability to switch out the top and/or remove the top altogether. It provides a special draw to adventurers and anyone that loves the outdoors.
From just riding along on the highway to off-roading deep in the woods, it provides a little extra something special to your experience.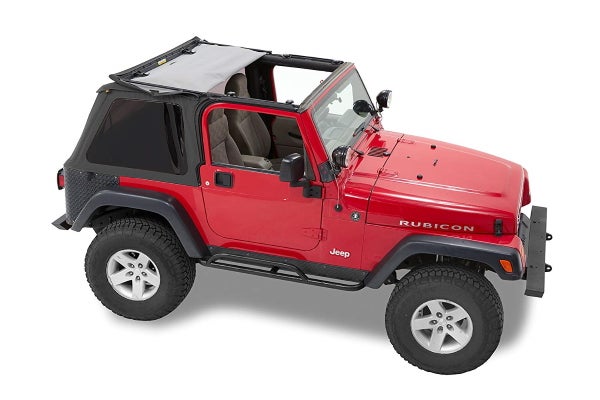 The best Jeep tops for this are undoubtedly soft tops. They're incredibly versatile. Choose the best Jeep soft top to allow yourself to quickly switch between topped and topless on your Jeep Wrangler.
With a soft top you can even remove and replace the top completely and quickly and easily store it right there in your Jeep.
With the huge variety of options available on the market, it can definitely be difficult to select the best Jeep top for you and your Jeep. You want to make sure that the top you choose meets all of your needs as well as most of, if not all of, your desires.
To best do this, it is important to understand how Jeep tops vary. Knowing the differences between Jeep tops lets you more easily select what will work best for you!
Read below to get an idea of what is most important to look for when choosing your own best Jeep top!
Model Fit
There is no questioning that the very most important thing to look for in a Jeep top is the model fit. Obviously, the top will do you no good at all if it won't even fit on your Jeep.
So, first, you just want to make sure you only look at covers that fit your specific model of Jeep.
Every brand that we chose for our top 5 recommendations offers Jeep tops for all Jeep Wrangler models. What you really need to look at is each specific top because a brand may offer some tops for all models and some tops only for specific models.
Usually, each top is designed to fit a range of years or a specific model such as Wrangler JK or YJ.
Coverage
Also very important is the amount of coverage you get with your Jeep top. This can vary a ton and has a major impact on your experience in the Jeep.
You need to consider factors like the weather you will be most commonly driving in and what type of experience you want from the top.
Fully-Enclosed
A fully enclosed top is ideal for inclement weather because you don't want rain or snow pouring down inside your Jeep.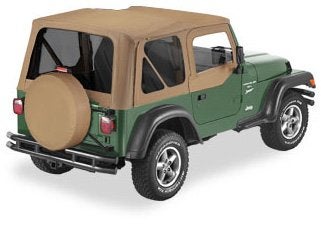 You also don't want it wide open to the air around you if its freezing cold outside. Fully enclosed options protect you from the elements best and allow you better control of the temperature inside the Jeep.
Brief Tops
Brief tops cover only the top of the Jeep and leave the sides and back open.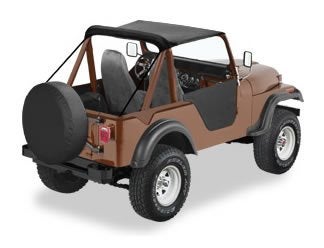 These are good for protection from the sun and small amounts of light rain if they are waterproof brief tops. You can also choose if you want this to cover only the front half of the Jeep or the entire top.
Base this decision off of the number of passengers and the look you want. Mesh tops keep the Jeep mostly open but also allow for good airflow.
Versatility
Some Jeep tops only have one way that they function. Others are much more versatile. This is definitely a highly relevant factor that can help influence your decision.
Brief tops tend to be less versatile because they only cover that one top section of the Jeep with no ability to convert into anything else.
Some of the fully enclosed Jeep top options, however, are able to open up in various ways that create an entirely different experience.
Sometimes the windows simply are able to remove from these while other times, the entire top can fold back or there may be a large sunroof that can be opened.
All of these are cool ways that you can customize your experience each time you drive your Jeep. They are especially helpful for sudden weather changes!
Fabric
The fabric that your Jeep top is made from also determines a lot about the experience you have with it.
One of the most common fabrics you will come across with Jeep tops is black diamond sailcloth because that is the factory replacement top fabric.
This fabric is strong, durable, and waterproof. It is good for lasting a good amount of time and keeping the elements out without costing a ton.
Options like twill or vinyl-coated are also available from certain brands. These are also highly durable options that might very well last longer than the sailcloth. They do tend to cost more, however.
Waterproof
One feature that many Jeep tops have is being waterproof. While most options will be waterproof, this won't apply in all cases.
Brief covers are not always waterproof and mesh covers are never waterproof. If waterproofing is important for you, strongly consider a fully enclosed option.
Things like heat-sealed seams will take it a step further to ensure the option is truly waterproof and won't have any problems with leaking.
UV-Resistant
UV-resistance is another beneficial feature that many Jeep tops have. This is simply protection from the sun's harmful UV rays. This is generally included with most Jeep tops.
The important things to consider here are usually only concerned with brief tops that don't fully enclose the Jeep.
These tops will usually have some level of UV-resistance but may not fully block out the rays.
Mesh options often only stop a portion of these rays but have other benefits, like better airflow, that might outweigh the lack of fully blocking the UV rays for some users.
Mildew-Resistant
You will also find that some tops boast mildew resistance.
This is helpful to guarantee long-term durability. Just keep in mind that just because a specific top does not have this feature listed does not mean that it is prone to mildew.
If a top is waterproof, you generally won't need to worry too much about mildew.
Windows
Not all Jeep tops have windows, so if you actually want them is the first choice to make here.
For fully enclosed options, you will have windows and you will want to consider more specific features of the windows as you try to narrow down your options and choose the best Jeep top for you.
Thickness
The thickness of the windows has a lot to do with durability. The thicker, the more durable. At some point, though, you get to a thickness that just adds a ton of weight and is harder to easily see through.
You want a happy medium with regard to thickness. The most ideal thickness for these windows is 30-40 mil.
Tint
One of the things that will be very important in regard to your Jeep top windows is the tint or lack thereof. Tint refers to how dark the glass of the windows is.
There are important standards in place in regard to the tint of vehicle windows. So, first off, you want to look for something that is D.O.T. approved.
This isn't usually a problem because most brands (including all of the brands mentioned above) only want to make windows that are legal on the road.
Still, it is worth checking. The darker tint is, the harder it is to see inside the vehicle from outside. It has little effect on seeing outside from inside the vehicle, though.
Tint can also affect the style, so keep that in mind as well. If you prefer, you can always go with clear windows and skip the tint altogether as many brands offer both tinted and clear windows.
Removability
You also want to consider how easy it is to remove the windows. Some windows roll or slide out of place to open up.
More often than not, you will zip the windows out of the top when you want to have a more open experience in a fully enclosed Jeep top.
These are all about preference and convenience, so whatever you think will serve you best is fine.
Consider storage as well, though because once you unzip the windows, they will need to go somewhere until you are ready to put them back into place.
Ease of Installation
Most brands aim to make their Jeep tops easy to install for convenience purposes. However, some are definitely easier than others.
Keep in mind that fully enclosed options will take the longest time to install, while brief tops and bikini-style tops are much faster to install.
Options that are fully enclosed generally take more than one person to get a proper install. It is possible to find a fully enclosed option that is designed to be easy for just one person to install if that would be of great benefit to you.
Color
Since one of the most exciting parts of customizing your Jeep is getting a personalized look that you truly love, color is another important deciding factor for your Jeep top.
Nearly all Jeep tops are available in black. There are quite a few options that also come in other colors. Some of the colors you are likely to come across are khaki, spice, grey, and navy.
Sometimes, mesh tops will have even more color options such as prints including things like the American flag.
Cost
Last, but certainly not least, the cost is a very important determining factor for which Jeep top will be right for you. The price of various Jeep covers can vary anywhere from less than $50 to over $1000.
All of the above options and features that we have discussed above play a role in determining the cost of a specific Jeep top.
Since the price does vary so much, it is vitally important to know how much you are able and willing to spend.
Then, from there, consider which features are the most important and balance those with your budget to get the perfect Jeep top for you.
FAQs on Jeep Tops
Are Jeep tops interchangeable?
Of course! One of the best parts of Jeep Wranglers is that their tops are interchangeable. It adds so much versatility to the vehicle and gives you plenty of opportunity for customization.
You don't have to choose just one top, either. You can have multiple tops of different kinds and change them out to whatever you prefer at any given time based on your current desires and needs.
Are Jeep soft tops waterproof?
Many Jeep soft tops are waterproof, but not all of them will be. So, this is something that you really need to check on for each individual option you consider.
More often than not, any fully enclosed top options will be waterproof. Options that don't fully enclose the vehicle may still be waterproof but are less likely to be.
Can I change out my Jeep top on my own?
How many people it takes to install a new Jeep top really depends on the top. Bikini-style tops or brief tops are generally easier to install and may be easy for just one person to take care of on their own.
However, fully enclosed options are often a little more complicated to install and require an additional person for help. There are also options available that are specifically designed for a single person to be able to efficiently install on their own.
Jeep Tops Buyer's Tips
Customization
Making your Jeep your own through customization can be so much fun and certainly very satisfying. It is one of the great draws of owning a Jeep in the first place.
The Jeep top is a big deciding factor on how your Jeep looks as well as the experience you get from driving and/or riding in the Jeep.
Year / Model Fit
When you go to choose a new top for your Jeep, there are some important factors to keep in mind. First off, make sure you choose something that fits your specific model.
This is the most important consideration because the top is useless for you if you don't choose the right fit. Beyond that, coverage and protective features like waterproof fabric and UV-resistance are also very important.
Price
Things like style and price will also help make your final decision for you. Once you have made the very important decision of which Jeep top is right for you, you will also want to choose a good retailer for your purchase.
Even the most affordable Jeep top is still going to be a hefty enough purchase that you don't want to buy it from just anywhere.
Choosing somewhere such as Amazon that has great customer support, good pricing, and great selection will help guarantee that you end up with the best Jeep top that will meet your needs and expectations perfectly!
---
If you're shopping for other gear take a look at these related review articles from Outside Pursuits:
4×4 TRUCK & JEEP  LED LIGHT BARS | STEERING STABILIZERS | LED OFF-ROAD LIGHTS | ROOFTOP CARGO BAGS | HITCH CARGO CARRIER | ROOFTOP CARGO BOX | JEEP SEAT COVERS | JEEP LED HEADLIGHTS | WINCHES | TRUCK BED COVERS | BED LINERS | TRUCK TOOLBOXES
HOME & AUTO  SHOP VACS | PORTABLE JUMP STARTERS | BATTERY CHARGERS | JUMPER CABLES | LED SHOP LIGHTS | INFRARED HEATERS | GARAGE HEATERS | JUMP STARTERS | LED LANDSCAPE LIGHTS | LED SOLAR LIGHTS | LITHIUM-ION JUMP STARTERS | COOLER ICE PACKS | BUG ZAPPERS | PORTABLE AIR COMPRESSORS | CORDLESS IMPACT WRENCHES | PORTABLE TIRE INFLATORS | PORTABLE GARAGES | CAR DIAGNOSTIC CODE READERS
How We Researched
To come up with the top Jeep soft tops, we researched a variety of sources for reviews such as 4×4 Magazine and Outside Online Magazine along with our own personal experience.
We also consulted online magazines for product research and reviews to get as much unbiased information as we could. To help weed out fake reviews we used Fakespot.com to make sure we only looked at genuine reviews.
With so much quality gear available, we had to narrow it down based on what we felt were the best options were for the price. The staff authors have a wide and varied background in offroading, motorcycling, and auto mechanics. They are eager to share their knowledge with readers.
To help narrow down the selection we used personal experiences along with recommendations from fellow auto-enthusiasts and industry experts.
After extensive research, we came up with our list to help you choose the right one for you.
Sources
Notice:
OutsidePursuits.com is a participant in the Amazon Services LLC Associates Program, an affiliate advertising program. OutsidePursuits.com earns fees from products sold through qualifying purchases by linking to Amazon.com. Amazon offers a commission on products sold through their affiliate links.