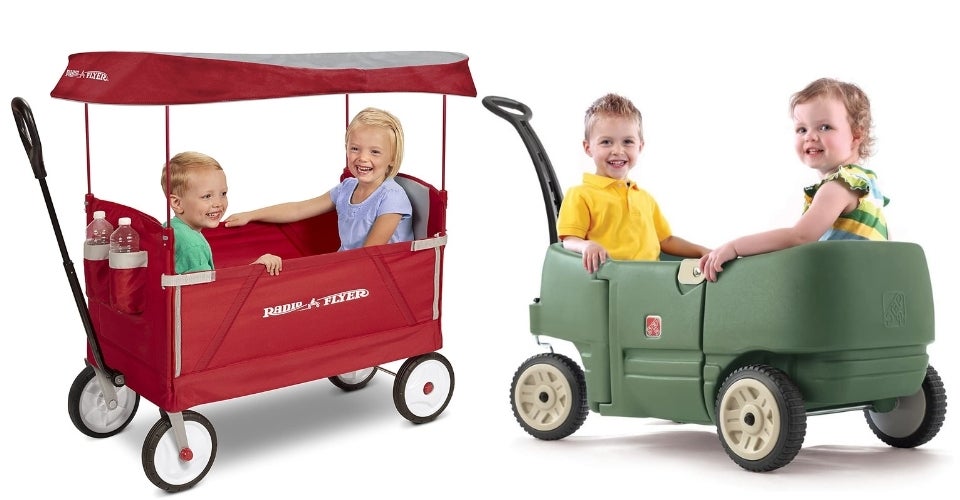 Our Editors independently research, test, and rate what we feel are the best products. We use affiliate links and may receive a small commission on purchases.
Having little ones can be a handful, especially during family trips and adventures. Keeping track of them requires quick hands and a laser focus!
If you struggle with keeping your children occupied, entertained and safe during vacations and outings, a wagon may be the unlikely answer to your problems.
A great alternative to strollers, wagons offer extra storage, great exercise, and an easy way to keep track of those wandering kids.
They also often double as walkers or push toys for toddlers just getting their land legs. With so much utility, there's no wonder why these have been so popular lately!
But before any purchase, it's best to do your research. We've reviewed the top kids wagons on the market to help you make an informed decision.
Best Kids Wagon
For more of my children's gear recommendations, have a look through these popular Outside Pursuits guide links: Kids Scooters, Kids Bike Helmets, Kids Trampolines.
Quick Answer: The 7 Best Rated Kids Wagons For 2021
Our reviews of the top rated kids wagons with our comparison table and buyers guide will help you choose the right one for you.
---
Kids Wagons Reviews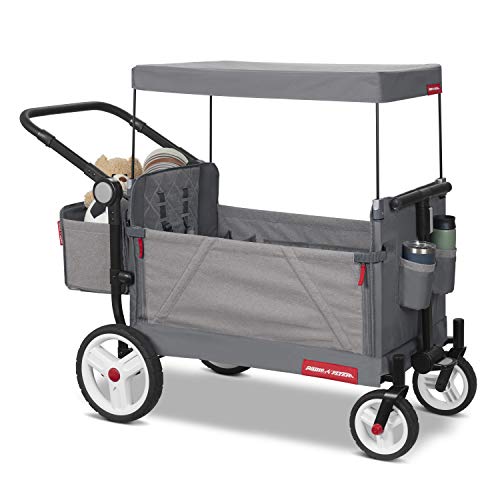 Radio Flyer Odyssey Stroller Wagon at a Glance
:
---
Weight Capacity: 120 Pounds
Dimensions: 47 x 41 x 24 Inches
Construction: Polyester
Folding: Yes
If you are looking for a versatile wagon that's also a stroller and perfect for the beach or shopping, look no further!
This outdoor wagon features a pull handle and a stroller handle, 2 cup holders, and a storage capacity of 120 pounds. It also folds and packs down to just 8 inches for compact storage!
Its cart is comprised of a strong steel frame, with larger rubber wheels in the back and castor wheels in the front for nimble steering.
We loved the removable storage bag and the dual 5 point safety harnesses. This is a well thought, designed wagon! The removable canopy will keep the sun and rain off your children or cargo.
You won't have to worry about rust damage to the frame because of the powder coating. The body of the model sports waterproof 600D polyester for guaranteed longevity with minimal maintenance.
All things considered, we would say its the best stroller wagon you can buy.

---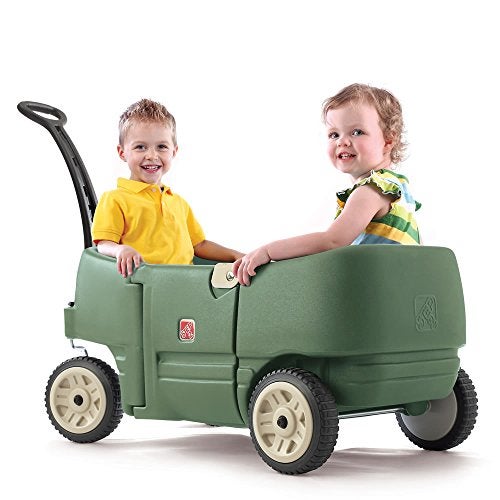 Step2 Wagon For Two at a Glance
:
---
Weight Capacity: 75 Pounds
Dimensions: 40 x 20 x 15 Inches
Construction: Plastic
Folding: No
The Step2 Wagon For Two is a classic option for toddlers and preschoolers.
With 2 contoured seats, child seatbelts and deep plastic leg wells, your kids will remain safe and secure in the body of the vehicle.
This model also features an easy-latch door and molded-in drain holes for easy cleaning. Its 8″ plastic wheels make the Step2 best to use on sidewalks, pavers and backyards.
It also features a storage compartment under the rear seat for toys, snacks and small valuables. Be aware that this model has a relatively low weight capacity of 75 pounds. This means it is ideal for smaller children and lighter cargo.
With that in mind, this is one of the best baby wagons available now.

---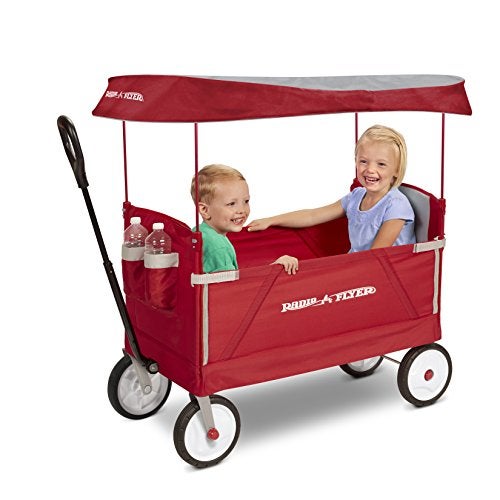 Radio Flyer 3-In-1 EZ Folding Wagon at a Glance
:
---
Weight Capacity: 150 Pounds
Dimensions: 39 x 18.5 x 33 Inches
Construction: DuraCleanTM Fabric
Folding: Yes
Radio Flyer is hands down the most popular wagon brand from the United States. Founded in 1917, this family company has been committed to creating kid-friendly products for over a century.
The 3-in-1 is a full-sized, foldable model that offers 3 different modes at one time – 2 person seating, flatbed hauling, and bench seating.
Designed with child safety as a top priority, it even includes seat belts and a UV protection canopy.
This model is recommended for kids 1.5 years and up, as it can support up to 150 pounds of weight.
Though strong, its surprisingly lightweight, clocking in at a mere 23 pounds. It can be folded with one hand and taken anywhere!
It also includes a rear storage pouch for beverages and snacks.
This brand manufactures an abundance of high quality products, but this is by far the best Radio Flyer wagon on the market today.

---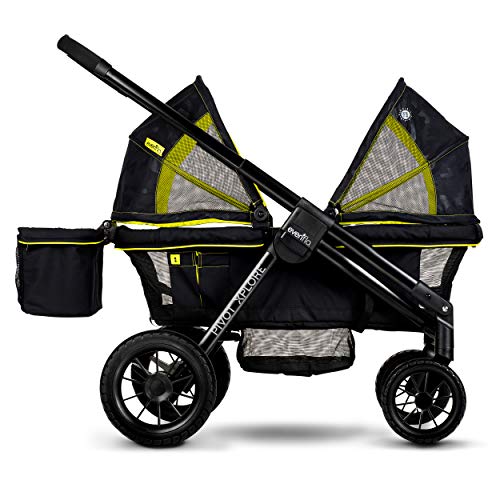 Evenflo Pivot Xplore All-Terrain Wagon at a Glance
:
---
Weight Capacity: 120 Pounds
Dimensions: 45 x 27 x 39 Inches
Construction: Polyester
Folding: No
The Evenflo Pivot Xplore is the perfect all-terrain option for kids aged 1 to 5 years old.
It transforms easily between a stroller and a wagon with a simple flip of the handle. This offers parents both push and pull options on the fly!
A weight capacity of 120 pounds and an easy access storage basket make simultaneously hauling supplies and small children a breeze.
The Pivot Xplore has all-terrain wheels which allow you to adapt to any kind of ground, whether smooth pavement or beach sand.
It also comes with a USP 50+ canopy that will shield your children from powerful UV rays and mild downpours.
This wagon is guaranteed to take you from the playroom to the backyard and beyond! It's one of the best kids wagons we've seen yet.

---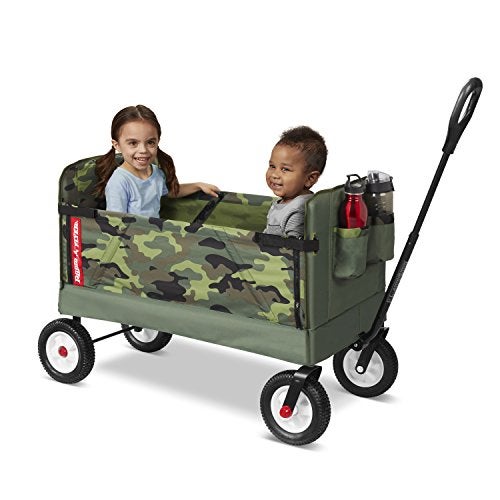 Radio Flyer 3-In-1 Camo Wagon at a Glance
:
---
Weight Capacity:
Dimensions:
Construction:
Folding:
Next up, we have another Radio Flyer option – the 3-In-1 Camo Wagon.
This is yet another collapsible model with 3 riding features – hauling, 2 seater, and benches. You can adapt between the styles using zippers located on the products' sides.
Concerned parents can rest assured – this model also passes the ASTM-F963-13 toy safety standard, meaning it is certified as being child-safe in all regards.
The Radio Flyer can haul up to 150 pounds of kids or cargo, and includes a rear storage pouch and two front cup holders.
Simply fold it up for convenient compact storage – you'll have no issues bringing this nearly anywhere.
Your kids are sure to love this vibrant camouflage wagon for years to come. There's no wonder its one of the best pull along wagons around!

---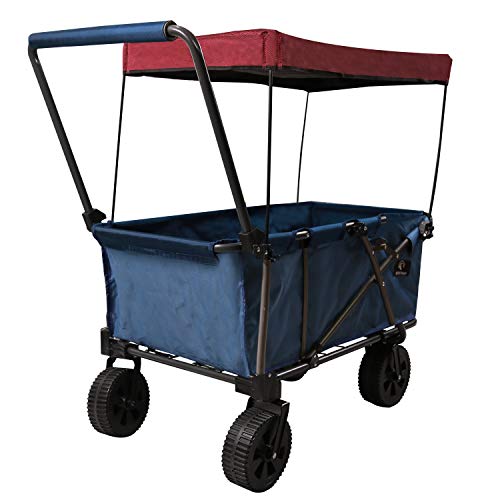 REDCAMP Folding Beach Wagon Cart at a Glance
:
---
Weight Capacity: 120 Pounds
Dimensions: 39.4 x 18.5 x 31 Inches
Construction: Polyester
Folding: Yes
REDCAMP has created a collapsible utility wagon that can support up to 120 pounds of weight.
With no position lock, you'll be able to turn this versatile cart's handle to either a push or pull angle.
Its frame is constructed with sturdy metal and features a strong 1200D Oxford polyester canvas. To clean, simply detach the fabric from its frame and throw it in the washer.
Because of this wagon's 7″ wheels, it is most suitable for even ground like sidewalks and cement. However, it does roll well on sand if necessary.
The REDCAMP wagon is also fully foldable, meaning you can take it anywhere without a lot of storage space.
This model is great for packing and moving things outdoors on shopping days, or for transporting little ones after a long day.
Its one of the best pull along wagons on this list!

---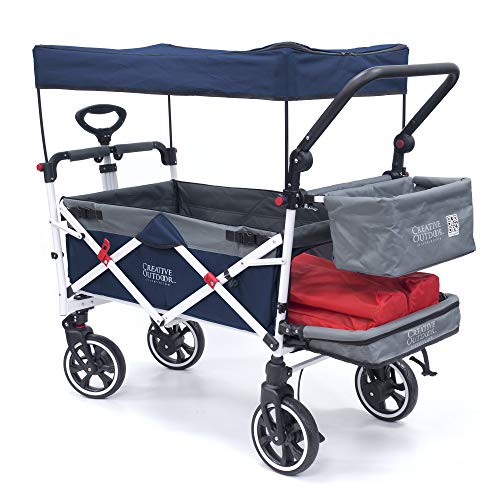 Creative Outdoor Titanium Wagon at a Glance
:
---
Weight Capacity: 150 Pounds
Dimensions: 48 x 22 x 39 Inches
Construction: Denier blend fabric
Folding: Yes
Creative Outdoor's Folding Push-Pull Wagon is another top contender on the market.
With enough room for kids, coolers and personal items, it offers the perfect hub for all your belongings while on the go.
This model is built with a durable steel frame and high-quality denier blend fabric that can support up to 130 pounds at once.
Similar to a tailgate, it features an opening rear door which allows for storing oversized items.
The front wheels also have a 360-degree swivel capacity for easy maneuverability. Meanwhile, sturdy construction and all-terrain wheels further contribute to the versatility of this little wagon.
Extra features include a removable cooler, detachable canopy and an accessory tray.

---
Kids Wagons Comparison Table
How to Choose the Best Kids Wagon – Buying Guide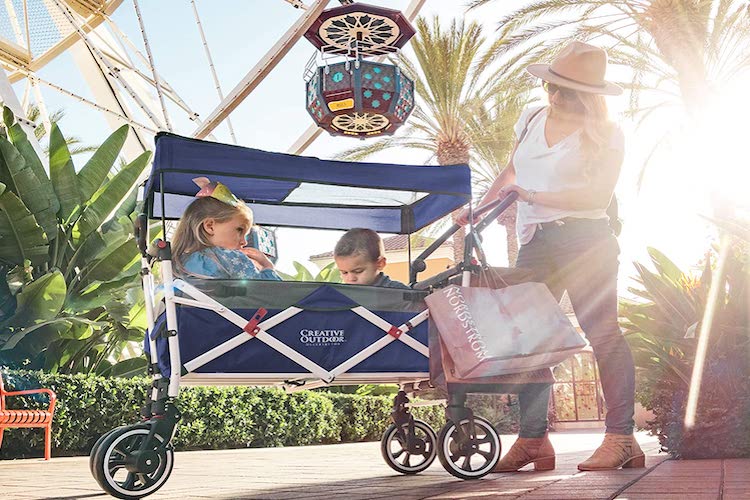 Now that you've seen the best children's wagons the market has to offer, it's time for the hardest part – settling on one to take home!
With so many great options, picking just one can get tricky. That's why we've put together a comprehensive buying guide which will walk you through the selection process.
By the time you're done, you should have no doubts about the wagon for you!
Utility
The first thing you must consider is why you're buying a wagon. What is its intended use?
A wagon can be a very practical investment – many parents get them to pull kids and their toys along after a tiring day out.
They are also popular as children's toys themselves – wagons can be great walkers for toddlers and provide hours of entertainment for the easily bored young ones.
Determining how you'll use it will help you decide which features to prioritize.
If you're using a wagon mainly for transportation purposes, focus on its dimensions, weight capacity, and whether it has any convenient extras, like folding capabilities for easy storage.
If you want to ensure that your kids have a great time in their little wagon, be sure to take note of the materials its constructed with and check for irritants, chemicals or potential allergens.
Don't forget to look out for additional bells and whistles to keep the kids entertained!
Tires
Take a good look at the wheels on your wagon – they will determine the landscapes it works best on.
Many wagons don't drive well over bumpy or sandy ground, especially those with small or cheaply made plastic wheels.
If you're looking for a wagon to take on the beach or rocky ground, look for something with wide wheels.
Generally speaking, larger wheels (diameters above 10 inches) are best for uneven ground.
Be sure to think ahead – do you really trust your kids to stick to the even pavers? If you have high energy little ones, wide-wheeled options will be best.
If you plan on indoor or casual use on sidewalks, patios or yards, simple rubber tires will do the trick.
Beyond diameters, you should also consider the fill of your wheel. There are foam and air-filled options, as well as pure plastic wheels.
Plastic wheels are most affordable, while foam wheels offer a smoother ride. Air-filled wheels function best on uneven ground.
Size & Weight
As we all know, size matters. You'll have to make sure your wagon can support the weight of its users, unless you want a painful accident on your hands.
Be sure to check the weight capacity and dimensions of your wagon before purchase.
As most parents have their child's safety at the top of their priorities, this shouldn't be an issue.
But because many wagons online appear smaller or larger than they are in real life, it never hurts to check the numbers. Eyeballing is not enough!
Special Features
Wagons come with a wide variety of different features – here are a few main ones to look out for.
Canopy
Many models come with canopies included or available for separate purchase. These are a great option for sunnier regions where UV protection is a necessity.
They're also beneficial for mild rainfall or drizzly weather. They'll protect kids from getting drenched in the downpour, and prevent your cargo from getting too wet.
Canopies can also be removed for compact storage or when not needed.
They're a great addition to any wagon, so its even better when they're already built-in!
Foldability
Many wagons, particularly the fabric ones, come with folding capabilities. Foldable wagons offer key benefits of easy compact storage and portability.
They are typically much lighter in weight and so can be taken and used in more locations than the heavier plastic models.
This also makes them easier for children to push and pull around compared to the heavier plastic models. In these regards, foldable wagons are simply more versatile than others.
However, drawbacks involve their lower weight capacities and higher susceptibility to damage.
Bells & Whistles
Finally, consider the little extras like cupholders, tables, a flatbed, or multiple uses.
Many models, like the RadioFlyer 3-In-1 EZ Fold, are capable of switching between push, pull and different riding modes.
Some also come with hidden storage compartments for refreshments and snacks.
The possibilities are truly endless!
FAQs About Kids Wagons
Q: At what age can a baby ride in a wagon?
A: According to most trusted wagon manufacturers, the earliest a baby can ride in a wagon is at around 12 months – 1.5 years of age.
At this age, they are more than capable of supporting their body weight on their own and thus can safely ride in a wagon.
Q: Do kids wagons work on sand?
A: This depends on the wagon!
Some wagons come with all-terrain wheels, which can be used on most landscapes, whether concrete, tarmac or sand.
However, many wagons only come with small plastic wheels which don't fare well at the beach.
Generally speaking, the wider the wheels are, the better they'll function on uneven ground. For the beach, an air-filled wide wheel (over 10″ in diameter) is your best option.
Q: How do you clean a kids wagon?
A: Cleaning kids wagons is typically a very straightforward and simple process.
Because they are usually constructed from fabric or hard plastic, all you need to do is wipe the body down with a damp cloth and some mild detergent.
Some people recommend using a soft-bristled brush to make sure you're getting all the dirt particles out thoroughly.
We'd recommend doing this after every use, just to be on the safe side. Children are notorious for putting things in their mouths, so it's best to practice good hygiene.
Tips For Choosing Kids Wagons
#1: Decide how you'll use it.
Before you look into purchasing a wagon, make sure you've decided how you'll use it.
Do you plan to use it primarily as a kids toy, or are you looking for more practical functions, like towing cargo and transporting tired young ones?
This will determine the design, weight capacity, and special features you should watch out for.
#2: Buy from trusted manufacturers.
We know that your child's safety is your number one priority.
With that in mind, we've taken it upon ourselves to only recommend products from the best, most trusted manufacturers on the market.
Make sure you've done your research, and if you end up going for a product that's not on our list, be sure you've looked up the manufacturer and ensured that their products are verified as kid-safe.
#3: Maintenance is key!
If you want to guarantee the longevity of your wagon, maintenance is key!
While wagon upkeep is generally minimal, if your kids will be constantly using it, it's bound to get dirty.
Make sure you're cleaning it periodically by wiping the fabric and frame down with mild detergent and a wet cloth, or scrubbing with a brush to get the dirt particles out.
If you wipe your wagon down after each use, you should have no problem getting it to last for years to come.
Summary
Now that you know all about how to pick a good kids wagon, its time for you to come to a final decision.
No matter which product you choose, know you'll be getting one of the best on the market.
Thanks for reading & happy shopping!
How We Researched
To come up with the top kids wagons, we researched a variety of sources for reviews such as Target, Dicks Sporting Goods and Best Buy along with our own personal experience.
We also consulted online magazines for product research and reviews to get as much unbiased information as we could. To help weed out fake reviews we used Fakespot.com to make sure we only looked at genuine reviews.
With so much quality gear available, we had to narrow it down based on what we felt were the best options for the price. The staff authors, have extensive experience with a variety of outdoor sports like paintball, roller skating, baseball and golf.
To help narrow down the selection they used their personal experience along with recommendations from instructors and retailers.
After extensive research, we came up with our list to help you choose the right one for you.
Sources
---
Notice:
OutsidePursuits.com is a participant in the Amazon Services LLC Associates Program, an affiliate advertising program. OutsidePursuits.com earns fees from products sold through qualifying purchases by linking to Amazon.com. Amazon offers a commission on products sold through their affiliate links.