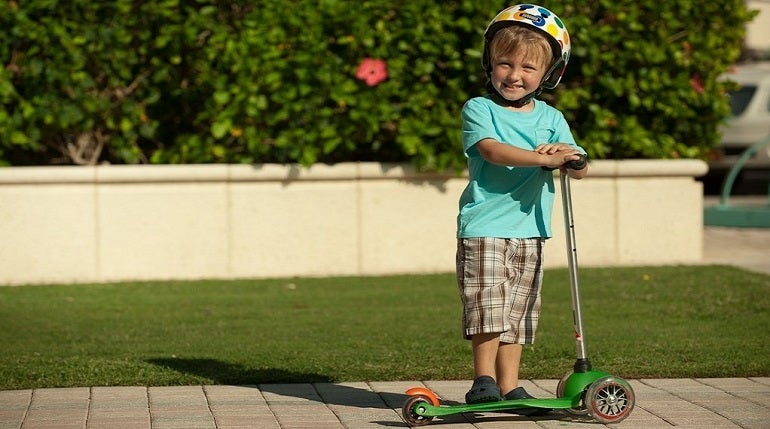 Our Editors independently research, test, and rate what we feel are the best products. We use affiliate links and may receive a small commission on purchases.
A scooter is a perfect way to keep your kids active outdoors, maybe even enticing them to go outdoors in the first place.
There are so many scooters out there that it can be tempting to just buy the first one that's cheap and has good reviews.
So, how do we find the best kids scooters without spending a fortune? Even if we do buy an expensive scooter, how do we know it's worth the money?
These are fair questions and I aim to tackle these for you as we progress through this review. Now I'm going to suggest a handful of top rated kids scooters.
Best Scooters For Kids
| | Micro Mini Kick Scooter | Razor A3 Scooter | Mongoose Expo Scooter |
| --- | --- | --- | --- |
| | | | |
| | | | |
| For Ages: | 2-5 Year olds | 5+ Years | 8+ Years |
| Scooter Weight: | 6 Pounds | 7 Pounds | 17 Pounds |
| Design: | 3 Wheel | 2 Wheel | 2 Wheel |
| Weight Capacity: | 44 Pounds | 143 Pounds | 220 Pounds |
| | | | |
For more of my outdoor gear recommendations, have a look through these popular Outside Pursuits guide links: Inline Skates, Longboards, Roller Skates.
Quick Answer: The 7 Best Rated Kids Scooters For 2021
Our review of the top scooters for kids with our guide and comparison table of the scooters will help you choose the right one for your child.
Kids' Scooter Reviews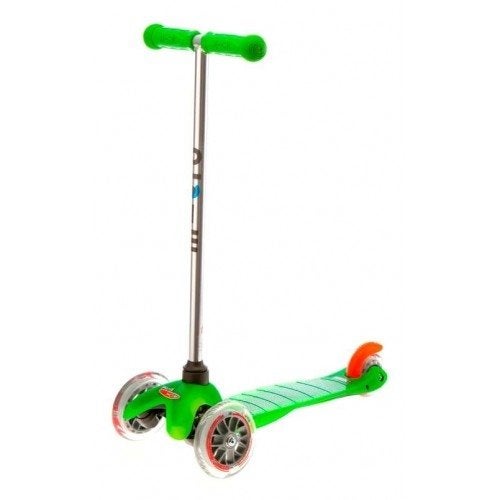 Micro Mini Original Kick Scooter at a Glance
:
---
Age Range: 2 to 5 years
Number of Wheels: 3
Scooter Weight: 6 Pounds
Weight Capacity: 44 Pounds
We could definitely see why this kids scooter is so highly rated and has won multiple awards, such as: ASTRA Best Toy Award, SNAP Award Seal, and Parents' Choice Award.
There are good reasons this scooter has won so many awards and the best scooter for 2 year olds! It is designed with 3 wheels and also very low to the ground which gives it better stability and makes it easier to balance.
With steering designed to be safe, it allows children as young as 2 to easily steer the scooter by shifting their body weight.
This makes it a lot more fun for younger kids, getting more into the ride instead of just the kick to propel them forward.
The wheels and deck that are reinforced with fiberglass giving it extra strength for going over bumps and general abuse that kids will throw at it.
The Micro Mini scooter is made with high-quality materials, so it will last until the child outgrows it, even with everyday use.
All parts are replaceable as well in the event of damage or the wear and tear from regular use. The Micro Mini is our Editor's Choice for the best kids scooter.

---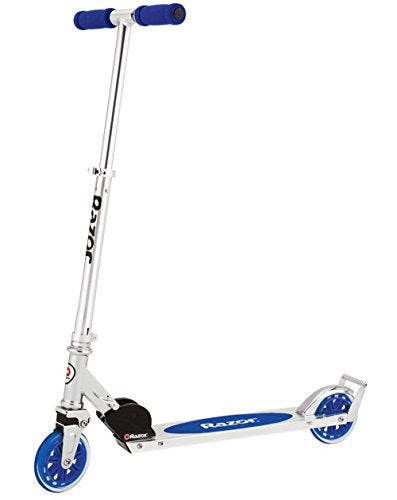 The Razor A3 Scooter is a revamped version of the original scooters that made kids scooters a growing trend. Stopping is easy with a rear brake built into the fender.
A wheelie bar is added for safety when performing tricks and folds up for easy storage and transportation.
A built-in shock absorbing system using both the wheels and deck make for a smoother ride than some others, even over sidewalk cracks or rough road as well as other minor bumps in the road.
You can get this scooter in multiple colors, so it is easy to have several of them for multiple kids to use at once without getting anything mixed up.
The A3 made our list not only it's the best scooter for 5 year olds but because it offers a combination of quality, durability and fun for kids!

---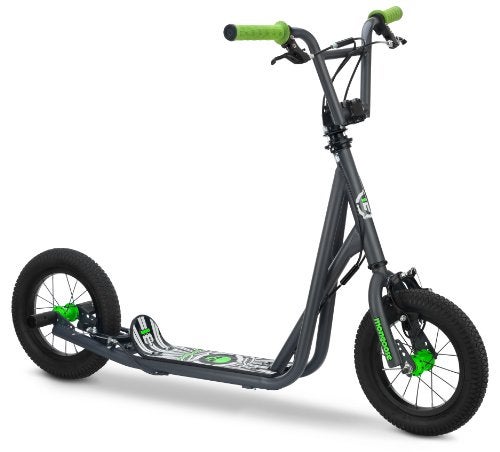 Mongoose Expo Scooter at a Glance
:
---
Age Range: 8+ Years
Number of Wheels: 2
Scooter Weight: 17 Pounds
Weight Capacity: 220 Pounds
The Mongoose is quite a bit different as you can see from the other scooters on our list. Instead of small inline skate style wheels, the Mongoose features 12″ inflatable tires like you would find on a bicycle.
These tires will go over small cracks and bumps in the road much better than smaller wheels and can be taken off road as well where a typical scooter can't.
It is solidly constructed with all parts replaceable, so it will last as long as your child needs it. It offers a smooth and comfortable and a shock absorbing kick board.
Because of the size, weight capacity, and design, even an adult can ride this kids scooter comfortably. It doesn't fold up up like many of the other scooters on our list do but that's probably is only downside.
It also comes completely assembled and ready to ride. The Mongoose Expo Scooter also has front and rear brakes that are hand operated just like you would find on a bike.
This is one of the best we tested and it's not hard to see why it made it to this Top 7 list. It is lightweight, can carry a larger max load, and all these great safety features makes it a perfect choice for a children's scooter.

---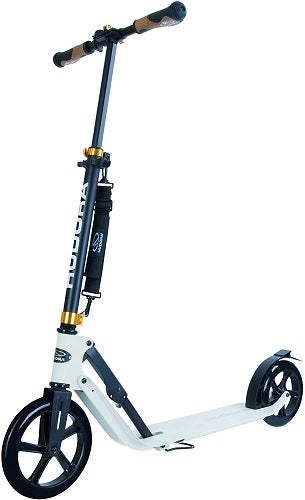 HUDORA Big Wheel Foldable Kick Scooter at a Glance
:
---
Age Range: 8+ Years
Number of Wheels: 2
Scooter Weight: 11 Pounds
Weight Capacity: 220 Pounds
The German engineered and made Hudora is kids' scooter that is a good investment because it will adjust with your child's growth.
The handlebars on the Hudora are adjustable from 34″ to 42″, measured from the height of the deck.
Because the Hudora Scooter is lightweight and allows your child to not only turn easier, and safer, as well as stop more quickly.
With large 230mm wheels it is meant for kids 8 and above and will have a smoother ride as it will go over obstacles easier than a scooter with smaller wheels.
The deck is also equipped with a non-slip covering so your child won't slip off the deck while riding. The wheels and flexible deck make for a smoother ride even on rough surfaces.
The folding design makes it easy for your child to take anywhere, whether to school or on the bus. Hudora also includes an adjustable carry strap for easy portability.
With the highest weight limit of any scooter on our list of 220 pounds, its the best scooter for 8 year olds and above!

---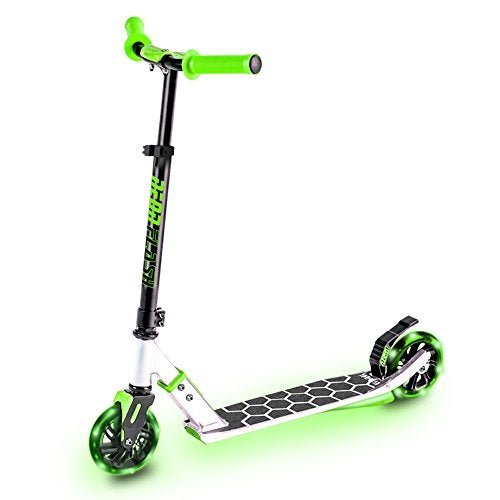 New Neon Flash Kids Scooter at a Glance
:
---
Age Range: 5+ Years
Number of Wheels: 2
Scooter Weight: 12 Pounds
Weight Capacity: 134 Pounds
If you are looking for a kids scooter that will show off your child's personality, then the New Neon Flash Kids Scooter might just be the way to go.
The lightweight aluminum frame is not only durable and provides a strong grip for safety, but it offers a neon LED under glow. The light-up wheels and the under glow are motion activated and powered.
The Neon Flash Scooter is made of durable aluminum that is also lightweight. The adjustable handlebars ensure that your child won't outgrow it.
It is quickly broken down for storage or transportation. The ride is smooth and quiet even over sidewalk cracks and rougher roads. The rear brake makes stopping easy.
The Neon Flash Kids Scooter is the perfect choice for kids that want to do more than just ride around, they want to entertain their friends.
This scooter tested very well among our team members' kids and is the best kids scooter under $100.

---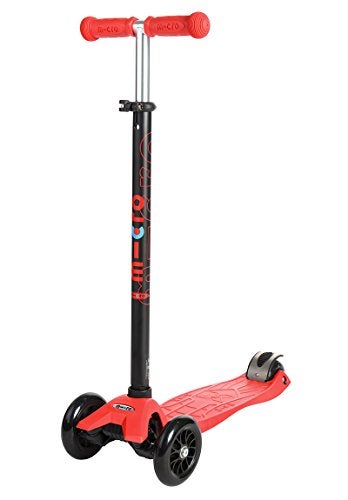 Micro Maxi Kick Scooter at a Glance
:
---
Age Range: 5 to 12 years
Number of Wheels: 3
Scooter Weight: 7 Pounds
Weight Capacity: 110 Pounds
The Micro Maxi Kick Scooter is swiss-designed and built for quality. All parts of this 3 wheel scooter for kids are replaceable making it an excellent choice.
The polyurethane wheels help to absorb the shocks of riding and the handlebar is fully adjustable so you kids will not outgrow it.
Steering the scooter is done not only by the handlebars but also leaning into the turn, which helps your child keep better control of the scooter.
The Micro Maxi has the best characteristics of a skateboard, combined with the features of a kick scooter making it a great choice.
This scooter tested well in both urban and suburban environments. The Micro Maxi is a feature rich scooter and is made to last with high quality bearings and wheels.
The Micro Maxi is one of the original kick scooters and it has only improved with time, it the best kids scooter for the money.

---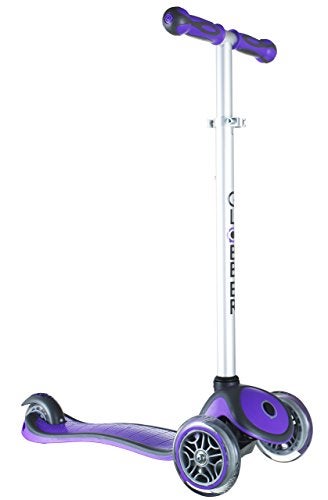 Globber Primo 3 at a Glance
:
---
Age Range: 3+ Years
Number of Wheels: 3
Scooter Weight: 7 Pounds
Weight Capacity: 110 Pounds
There are some specific features of the Globber Primo 3 that make it the best scooter for 4 year olds and an excellent value for parents.
The rear brake of the Globber covers the entire back wheel, so they can stop more quickly and safely. The T-bar steering is adjustable to three different positions, growing with your child.
Globber also reinforced the deck with a steel plate that offers much better support and durability over years of use.
With a deck that is closer to the ground, it increases the stability of the ride. This makes it a perfect choice for kids that are just learning to ride a scooter and may need more stability.
The three-wheel design aids in that as well. The polyurethane wheels as well as the high-quality bearings make for a smoother ride. You can remove the handlebars completely to make it easy to break down for storage or transportation.
With features such as an anti-slip design on the deck, you can rest assured that even with a kid as young as three years old can learn how to ride a kids scooter.
The children we had testing this one found it easy to learn how to ride and the best scooter for beginners.

---
Kids' Scooter Comparison Table
How to Choose the Best Kids' Scooter – Buyers Guide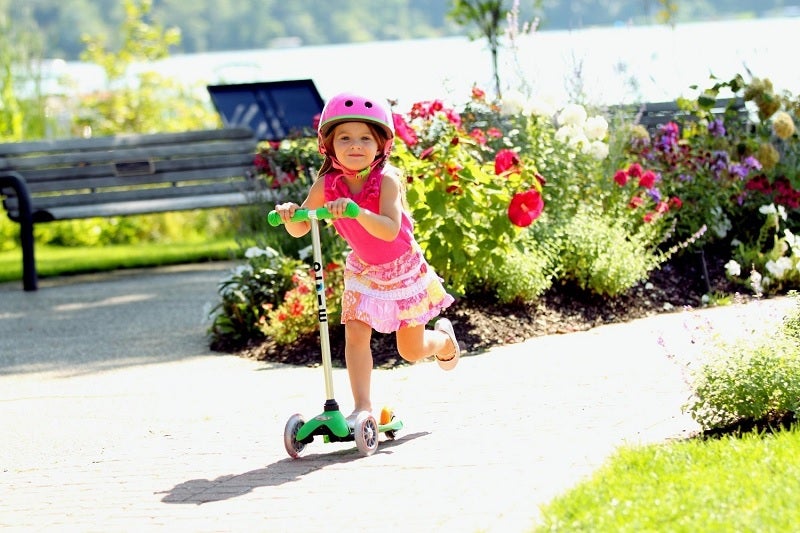 So how do you know that you are choosing the right scooter for your kids? There are several features you will want to look at before making that decision.
The following guide lists the major features of most scooters and how you want to compare them to make your choice a little easier.
Wheels

Some of the scooters featured here have 3 wheels and some have only 2. Most of the time, a younger child will need a kids scooter that has 3 wheels so they have added stability and can turn much easier.
The 2 wheeled scooters are more for the older kids who have used a scooter before or have great balance when skating or riding a bike as well.
Most of the time a child will graduate from a 3-wheeled scooter to one with only 2 as they learn how to ride.

Handlebars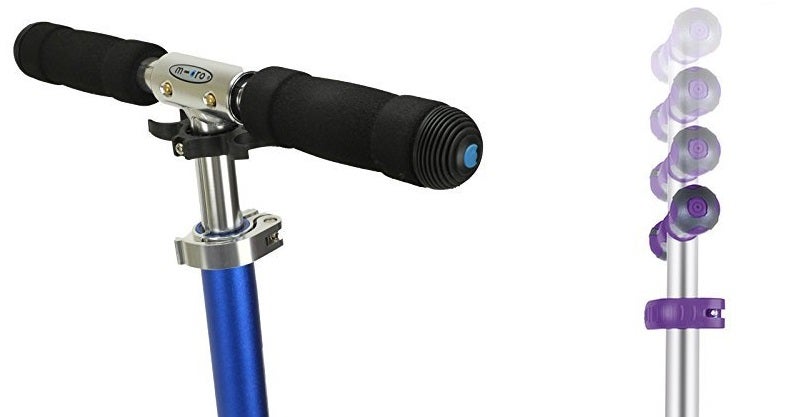 Most scooters have what is called a "T-bar" as handlebars. While these are very effective, you do have options for other types of handlebars.
In the case of the Micro Maxi, you can even purchase an additional type of handlebar to allow your child to steer in a different way that may be more comfortable for them.

Scooter Materials
Most kids scooters are built with an aluminum deck and polyurethane wheels. This not only makes it lightweight, allowing smaller kids to use them easier, but the combination makes for a smoother ride.
Both work together to absorb the bumps they may hit either on sidewalks or in a safe and quiet street. The Globber Primo 3 also has a steel reinforcement plate built into the deck for added stability and strength.

Cosmetic Factors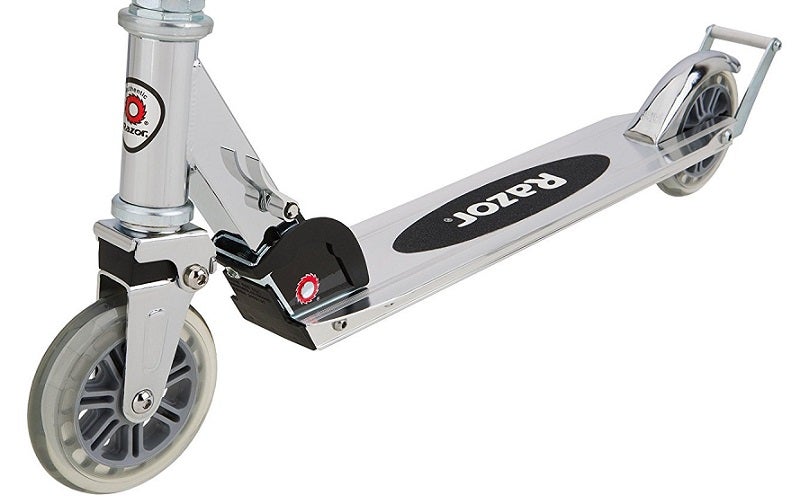 Let's face it, some scooters just look better than others. Most of the scooters we've featured are available in different colors. In the case of the Neon Flash Kids Scooter, you also get an entertaining light show to go along with it.
Kids love to have something that stands out and by choosing from multiple colors, you can get a scooter that matches their personality.

Durability
We've featured only the best scooters on this list when it comes to durability. They are made to last with many or all parts being replaceable. The materials the scooter is made from as well as their high quality construction make the most durable scooters.

FAQs About Kids' Scooters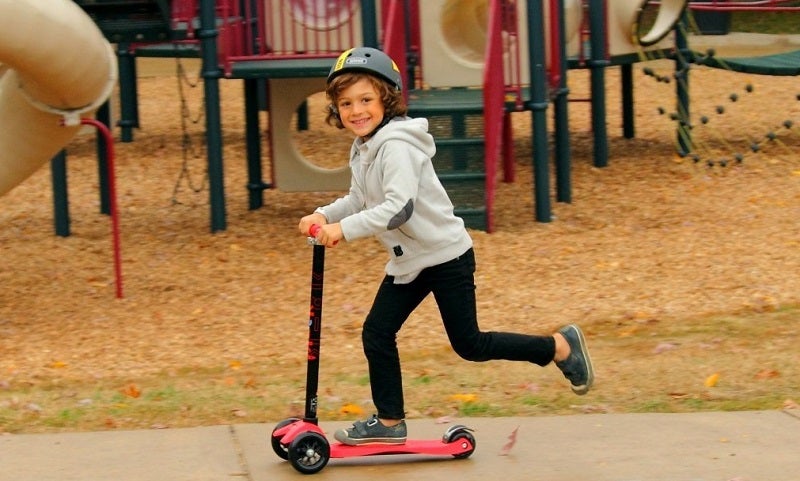 There are many questions that parents have when it comes to buying a scooter for their kid or kids. These 5 questions and their answers can help you feel more at ease when buying a kids scooter.
Q: When do I know my child is ready for a scooter?
A: The best thing to look for is the age range that a scooter is made for. You want to match their age to the abilities of the scooter.
However, a child only needs to be able to keep their balance when walking or running to be able to safely and effectively ride a scooter built for their size and weight.
Q: How safe are these scooters?
A: Just as with riding a bike or skateboard, there are certain risks when riding a scooter. When going fast, a child can fall off of it and cause bumps and bruises. However, if they keep to flat surfaces, the safety features of all scooters minimize injury.
Q: What are the benefits of a 3-wheel scooter?
A: A 3-wheeled scooter offers a lot more stability for younger or inexperienced riders. There are two configurations of 3-wheel scooters.
You can have one wheel in the front and two in the back or you can have two wheels in the front and one in the back. There are different benefits to each configuration. Usually the ones with two wheels in the front are more stable.
Q: What type of helmet is best when riding a scooter?
A: A helmet is always necessary when riding a scooter, especially for inexperienced riders. You can usually find a bundle with a good helmet plus elbow and knee pads for younger kids.
Older kids that are doing tricks or jumps will always need a helmet. Make sure it fits properly and is adjustable, so they can make it fit snug but comfortably.
Q: What is the best way to teach my child how to use a scooter?
A: Scooters are relatively easy to learn how to ride. However, the easiest way to teach a child how to ride a scooter is to go where there are other kids riding them. This will allow your kid to imitate the movements needed to use their scooter.

Tips For Riding A Kids' Scooter
Now that you've decided that you want to purchase a kids scooter, it is time for some Tips that will help you and your kids be safer and have fun when riding. Let's look at the top 5 tips for riding a kids scooter.
Tip #1: Get the Right Protection for Head, Elbows, Knees, and Hands
When a child is first starting out with a new scooter, there will be inevitable falls. To prevent scrapes, cuts, and bruises, it is best to protect the parts of their body that are most likely to catch their fall.
This includes a helmet as well as pads for the elbows and knees. Gloves are usually recommended as well because kids will try to catch themselves with them when falling.
Tip #2: Get a Scooter that is Right for Your Child's Size
Many scooters have adjustable handlebars, so it can grow with your child. However, some of them are rated for certain ages and it is important to take those recommended age ranges seriously.
A scooter may end up being too small for them or too much to handle. You also want to look at the weight capacities to make sure your kid is below the threshold.
Tip #3: Proper Training for the Scooter
Go over all safety rules with your kid before they start riding. Make sure they know how to remove, adjust, and put on all safety gear like the helmet and pads.
After that, it is a matter of showing them how the scooter works and perhaps allowing them to see other kids using them, so they can see exactly what to do.
Tip #4: Always Pay Attention
Just as with other outdoor activities, the parents should always pay attention to their kids when riding scooters. This is especially true with younger riders or those that are just learning how to ride.
Know where they are, keep an eye out for trouble, and be there to dust them off and let them get back to it.
Tip #5: Go as a Group
If you plan on heading to the park, call up some friends and get them all together. You can even let neighbors know that your kids will be on scooters out front and their kids are welcome to join.
The more kids that you have enjoying the outdoors with a scooter, the better the time had by all.
Time For Your Kids to Get on a Scooter!
No matter which kids scooter you choose, you want to make sure it is rated properly for your kid's size and weight. You also want to compare construction materials.
The more research you do into the scooter you choose, the better the outcome will be. So, once you get that new scooter and it is ready to go, let the kids have fun and enjoy the outdoors!
How We Researched
To come up with the top kids scooters, we researched a variety of sources for reviews such as Target, Dicks Sporting Goods and Best Buy along with our own personal experience.
We also consulted online magazines for product research and reviews to get as much unbiased information as we could. To help weed out fake reviews we used Fakespot.com to make sure we only looked at genuine reviews.
With so much quality gear available, we had to narrow it down based on what we felt were the best options for the price. The staff authors, have extensive experience with a variety of outdoor sports like paintball, roller skating, baseball and golf.
To help narrow down the selection they used their personal experience along with recommendations from instructors and retailers.
After extensive research, we came up with our list to help you choose the right one for you.
Sources
---
Notice:
OutsidePursuits.com is a participant in the Amazon Services LLC Associates Program, an affiliate advertising program. OutsidePursuits.com earns fees from products sold through qualifying purchases by linking to Amazon.com. Amazon offers a commission on products sold through their affiliate links.