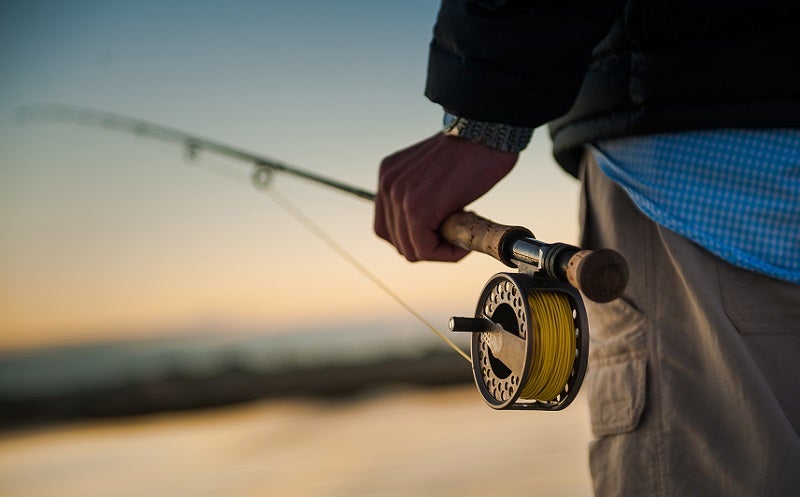 Learning to fly fish was the best thing that's happened for my fishing since my dad first took me out as a kid.
I learned to fly fish in Wyoming where I was lucky enough to enjoy fishing some of the most remote mountain streams I could have imagined. If you're like me then you've already been bitten by the fly fishing bug.
Or perhaps you're itching to get started!
Choosing the best fly fishing rod for your needs is a bit of a daunting task for newer anglers. There's a lot to know and often the details seem out of grasp, like they only really matter to the pros.
Fortunately I'm going to help you figure out how to choose the right fly fishing rod for you. It doesn't have to be rocket science, but we do need to understand a few things first.
We'll cover what to look for when picking out your fly fishing rod and what to avoid. By the end of this guide you'll be ready to make your pick!
For more of my top fishing gear recommendations, have a look through these popular Outside Pursuits guide links: Fly Reels, Waders, Vests, Wading Boots.
Quick Answer: The 5 Best Fly Fishing Rods For 2018
Here is a feature overview of my top 3 overall picks. Our guide and comparison table of the top rated fly rods will help you choose the right one for you.
Best Fly Fishing Rods
Maxcatch Extreme Fly Fishing Combo
Maxcatch Extreme Graphite Fly Fishing Rod
Tailwater Outfitters Toccoa Fly Rod
Includes Reel?
Yes, 5/6 wt Reel
No
No
Length
9 ft
6 sizes available from
8' 4" - 9ft
8' 4"
Weight
5 wt
3/4 wt to 10 wt
3, 5 and 8 wt
Fly Fishing Rod Reviews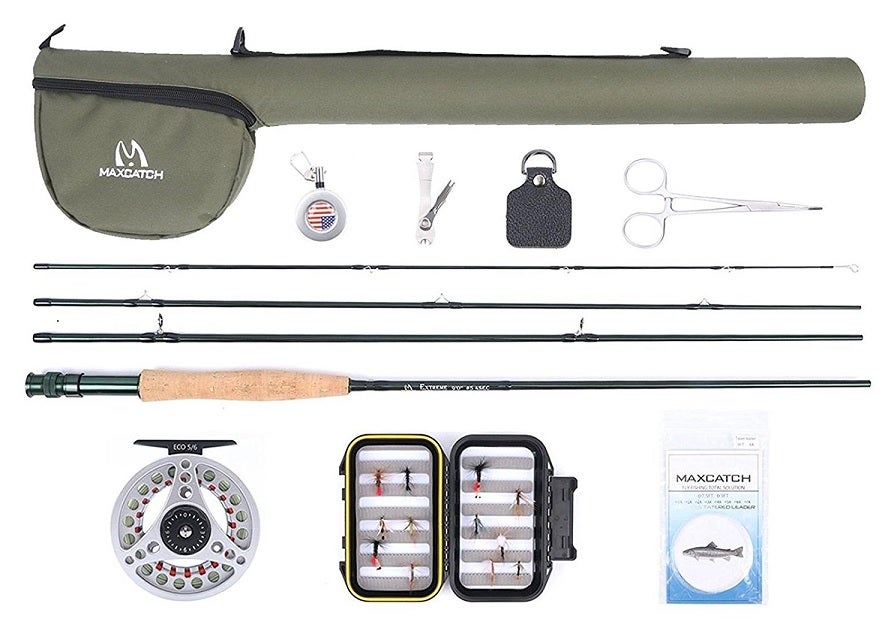 Maxcatch Extreme Fly Fishing Combo at a Glance
:
---
Rod, reel, line, case, and accessories
5 weight rod, reel, and line
9' long fly rod
By far the top pick on our list of the best fly fishing rods for the 2018 season is the Maxcatch 9' combo. It's a great mid-weight combo setup with everything you need to get started.
For a price anyone can agree with, you'll get started with an awesome do-it-all fly rod.
This rod is a medium-fast action rod with a 9' overall length. That means it's going to be on the long and powerful side of the spectrum.
Because it's a 5 weight rod setup it will be good for moderate bass, trout, and other larger fish. It might take some of the fun out of landing smaller fish.
I like that the fly reel comes pre spooled with line and tippet, ready to go right out of the box. You'll get a rod case, clippers, hemostats, fly box, and a few flys.
Of course, if you already have all the beginner gear, the combo kit won't appeal to you as much. Go on to our next pick for just the rod.
Overall this makes an amazing gift for a beginner fly fisher. I wish the action were a bit slower to make it ideal for beginners, but with a little practice I'm sure anyone can master this fly rod and reel combo kit.
Overall I think this is the best fly fishing combo!
Best For: A do-it-all setup or a gift for new/beginner fly fishers.
---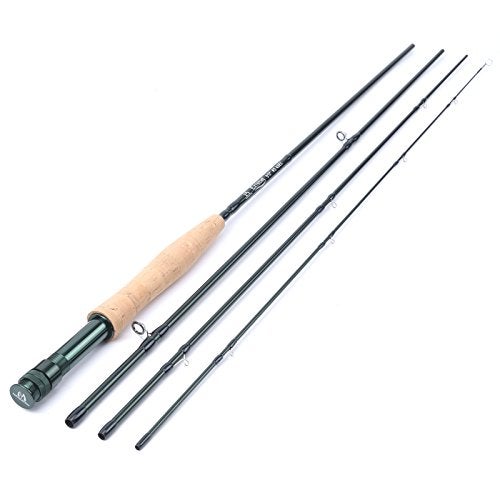 Maxcatch Extreme Graphite Fly Fishing Rod at a Glance
:
---
Available in 6 weight / length combos
Carbon fiber construction
Medium – fast action
Without a doubt, this rod is one of the best "bang for the buck" fly fishing rod buys you can make today.
With a price that just can't be argued with and superstar user feedback this is our top pick for buying just the fly fishing rod. Keep in mind you'll still have to get a matching reel and line.
Unfortunately there's not a great short slow action rod in this lineup. These are exclusively mid-long rods with mid-fast action feels.
Since this rod is available in up to 6 different combinations you'll be able to easily pick out the right rod for your needs. If you're planning to fish mid to larger game fish these rods are a great match for your casting.
I also have to say that I really like the light green coloration on the aluminum rod handle.
If you want to be able to hand pick the right rod for your needs and your budget is a concern you probably won't find a better option than the Maxcatch Extreme rods.
While they may not achieve some of the bleeding edge performance of top end rods, they will leave money in your wallet and a smile on your face while you land your catch.
Best For: A blend of quality and affordability making it the best fly rod.
---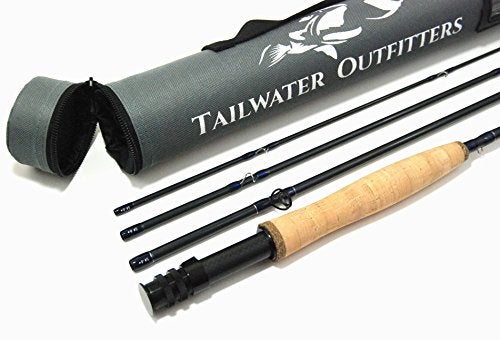 Tailwater Outfitters Toccoa Fly Rod at a Glance
:
---
Available in 3, 5, and 8 weight
Graphite construction
Fast action
This is another rod only choice for those who want to tailor their fly fishing setups. Remember that you'll still need to match the reel and line to the rod.
This fast action graphite rod is a medium length 8' 4" and comes in several weights to meet your needs.
Maybe not the best choice for a beginner, this fly rod is ready for experienced anglers to slay some fish. The fast action means tons of power in the cast.
With a mid-length rod that means you'll get a balance of power, casting distance, and versatility.
I like that the rod includes double lock rings for the reel. Nothing is more annoying than having a ring back itself off so you have to constantly tighten it back up. Boo!
There's a nice four-compartment tube included with this set which means you can easily toss the rod in. Cases are a must have for traveling both in the car and on the trail while you're walking in to your spot. These rods are too delicate and expensive to leave unprotected.
Overall it's a good choice for those looking to cast a fast action rod in short to mid lengths and weights.
Of course fast action in short lengths and short weights doesn't make a whole lot of sense, but there may be times when fishermen want that combination.
Best For: A true fast action rod in mid lengths and mid weights making it a top contender for the best fly fishing rod!
---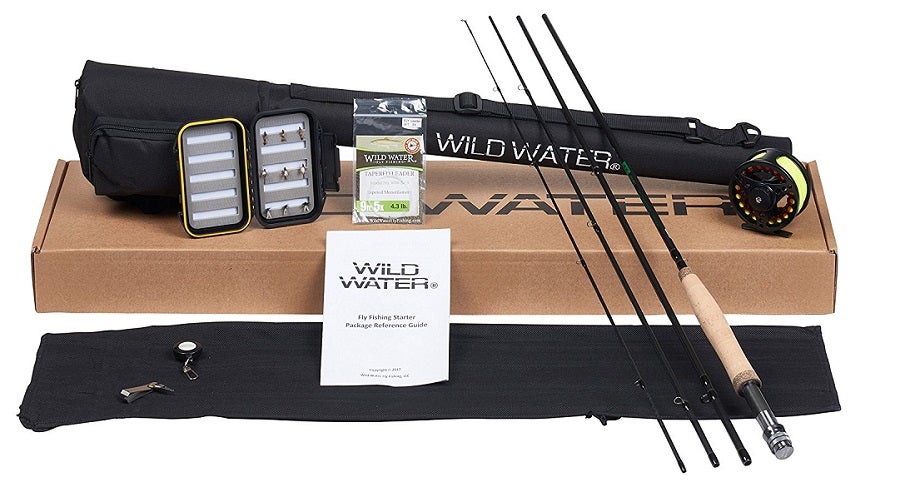 Wild Water Fly Fishing Starter Package at a Glance
:
---
5/6 weight slow action rod
Combo includes rod, reel, case, line, and accessories
Great beginner kit or small stream fishing setup
Of all the fly rod and reel combination kits on our list, I like the case that comes with the Wild Water package the best.
This slow action, mid flex rod is forgiving to beginners and sports a 5/6 weight rod and reel that make it a solid all around choice for new anglers.
This is the first true slow action rod on our list. That means it's great for small streams and gently casts. The slow action rods are also uniquely forgiving to beginners.
Because the rod is a 5/6 weight it will be good for everything from large bass to small panfish. Of course lightweight fish might not be as "playful" as they would on a lighter weight rod and huge bass might be a bit too much. But hey, we can't have everything!
The ideal angler for this kit is fishing in smaller streams or is a beginner fly fisherman. Because of the lighter line and slow action rod it will take a bit more effort than other rods on our list if you want to get those longer casts in.
Best For: Getting yourself a complete fly rod and reel combo for fishing small streams.
---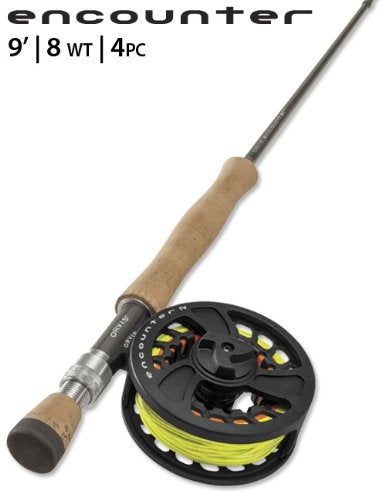 Orvis Encounter Fly Rod Combo at a Glance
:
---
8 weight rod and reel
Preloaded with line, ready to fish
9' rod length
For the last pick on our list I've gone with a fly rod and reel combo by the legendary Orvis brand. Orvis is one of the biggest names in fly fishing and they're bringing us a mid-fast action rod that's ready to land some big fish!
This 4 piece rod comes in at a full 9' length but breaks down into a short 4 piece combo. Unfortunately there isn't a case with this rod so you'll definitely want to pick one up extra.
Orvis is known for their top of the line equipment, but the Encounter series is meant to bring performance at a budget. Weight-forward line is pre-strung on the reel and includes backing and a leader.
One thing that I like about the Orvis Encounter rods is that the butt end of the rod is cork covered.
For those that like to grip behind the reel when landing a fish, this makes the process a bit more comfortable and gives you a larger section to really control in the hand.
Overall this rod is best suited for powerful casts in big streams or rivers where you're expecting to land some large fish. The mid-fast action and 8 weight line mean you should be expecting to haul in a few nice size fish!
Best For: Powerful casts in large water where the goal is landing some big ones!
---
Fly Rod Comparison Table
How to Choose the Best Fly Rod
Let's take a look at some of the most critical buying factors that matter when you're picking out that fly rod.
Deciding What You Will Fish For
Figuring out exactly what you're going to try to catch is the most important factor in picking out a fly fishing pole.
Yes, there are other factors at play when deciding on a fly rod but more than any other, having a target fish in mind is helpful to narrow down your pick.
If you're not sure, do some research. A little research will tell you quickly what types of fish are commonly available in the areas around you, or in the area you plan to visit.
If you're planning to land a few fat bass you'll need a completely different rod than you'd want to use for landing a couple small rainbow trout. Of course there's always the desire to get one rod to do it all.
The proverbial one-rod-quiver. It's possible to get a single rod that will fish decently for more than one fish, but the more accurate your rod is for the fish you're targeting the better experience you'll have.

Fly Rod Action Explained
Every sport needs fancy words to explain general concepts. In archery the spine of the arrow refers to how flexible an arrow shaft is. In fly fishing the rod action refers to how stiff or flexible the rod is along its length.
Fly rod action is measured exclusively on the backswing, called backcast in angler terms. It measures how far the rod bends during this portion of the cast arc. There is no scientific measurement for it, it's purely an empirical term.
Action is measured from slow to fast, with almost every imaginable combination in between. Another way to think about it is soft to stiff. The softer, or more flexible the rod, the slower the action is.
Slow action rods are very flexible throughout the entire rod. Fast action rods are very stiff yet flexible only near the tip of the rod.
Each type of fly fishing pole action is advantageous for certain situations.
Slow Action Fly Fishing Rods
Slow action, remember, means flexible. These rods are comparatively the most flexible type of fly fishing rods throughout most of the length of the rod.
A slow action rod should reach a nearly right angle bend on the back cast. These rods bend slowly and gracefully across most of their length with the first foot or so being relatively stiff and straight.
Flexible fly rods like slow action rods are good for:
Beginners
Small fish
Small streams or bodies of water
For beginners a slow action rod is nice because it's the easiest to learn on. The skill level needed to master a slow action rod is a bit lower than what it might take to master a very stiff fast action rod.
When fishing for smaller catches a slow action rod makes for a more fun "fight". You'll have to work a bit harder to land those smaller fish and the process is just more fun!
Slow action rods are also nice for smaller bodies of water because you can get a good cast presentation. Stiff rods are hard to use in smaller space and tend to have too much power to be usable on small streams.

Fast Action Fly Fishing Rods
These stiff beasts only bend near the tip on the back cast. They're a bit harder to master when compared to slow action rods. However, they pack tons of power and are much more suited to certain situations than a slow action rod.
When casting a fast action rod only the tip will bend slightly. This bend comes with tons of power in the cast and, once mastered, is like a rocket launcher compared to a slow action rod.
Fast action rods are good for:
Large bodies of water
Longer casts
Landing larger fish
Because a fast action rod has more power than a slow action rod, they make ideal choices for long casts. Larger rivers, or open bodied of water are great places to take advantage of a fast action rod.
Fast action rods can also handle heavier fish with more precision. Catching small fish on a fast action rod, however, can feel "unsporty" as it becomes quite easy to overpower a small fish with stiff rod.
Of course perfecting the cast and learning how to take advantage of the whippy cast of a fast action rod takes some time. Beginners may struggle timing the cast while even experts will find fast action rods hard to cast on smaller streams.

Fly Line Weight
This is another confusing point of understanding what fly rod to purchase. Each fly fishing pole is meant to work well with a certain range of fly lines. Line is the key component to a good cast with any fly rod, because it's the line that does most of the work during the cast, not the fly itself.
You need to make sure that the fly rod you're buying will work well with the weight of line that you plan to use. So what weight line do you use?
Well, if you don't already know what weight to use you'll want to review below guide. Once you know what weight you'd like to use based on how you'll be fishing then you can find a rod that matches!
Figure out what weight line you'll want to use before deciding on a rod!
As a note, the weight of fly line you want to use is also important in choosing a reel. Rods often come in packages with a matching reel that is appropriate for the same line weight as the rod itself. If you're buying the rod and reel separate, be sure they match!
Quick Guide to Choosing Line Weight:
| Line Weight | Best For | |
| --- | --- | --- |
| Fly Line Weight 1-3 | Panfish or very small trout | |
| Fly Line Weight 4 | Panfish, large trout | |
| Fly Line Weight 5 | Probably the best "all around" line weight for trout and small bass | |
| Fly Line Weight 6 | Good "all around" line weight for large trout and large bass | |
| Fly Line Weight 7 | River fishing for powerful fish such as bass, salmon and steelhead | |
| Fly Line Weight 8+ | Large powerful saltwater salmon species | |
How to Choose Fly Rod Length
This one is important, but easy to figure out. Mostly there are lengths ranging around the 8-9 feet area. Erring on any side of this isn't the end of the world but getting it right means having a fly rod that works best for you!
Basically the longer the rod, the more power and distance you'll get out of your casts. The shorter the rod, the easier it will be to cast and control in small streams. It's that simple.
5ft Rods are great for a happy medium of all-around fishing
8ft Rods are excellent for smaller streams and short casts
9ft Rods are great for tons of power
How to Cast a Fly Rod
Conclusion
Ultimately there are more combinations of fly rod length, weight, and preferences than we can possibly list in a single article. Above you'll find all the details you need to know to make an intelligent buying decision on your next fly fishing rod.
Plus, I've included some of my favorite fly fishing rods that you can buy to get started right now!
When you're ready to get serious, just browse through what I think are some of the best fly fishing rods for your money right now. Pick the one that best suits your needs, and get out there landing fish!
As you learn and grow you'll probably develop your own opinion and understanding of what fly rods are the best. Over time you may even end up with a whole closet full of rods!
Notice: Outside Pursuits is a participant in the Amazon Services LLC Associates Program, an affiliate advertising program to provide a means for sites to earn advertising fees sold through by advertising and linking to Amazon.com. Amazon offers a small commission on products sold through their affiliate links. Each of your purchases via our Amazon affiliate links supports our efforts to bring you the best possible product reviews at no additional cost to you. We appreciate your support here at OutsidePursuits.com