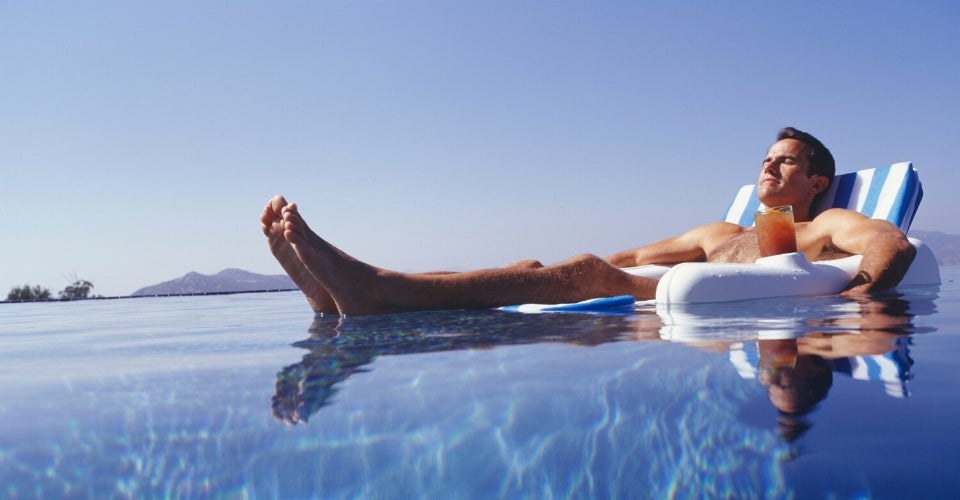 Our Editors independently research, test, and rate what we feel are the best products. We use affiliate links and may receive a small commission on purchases.
Floating pool loungers are an ideal way to upgrade your next dip in the water.
These simple pieces of inflatable furniture are incredibly versatile, providing a perfect space for napping, tanning, or chatting with friends in the pool – all while remaining nice and dry.
Many models can support children and pets as well as adults, creating a safe, all-inclusive attraction for the entire family.
But with so many options on the market, finding a good floating pool lounger can be challenging. Fortunately, we've got your back – we did the research for you.
Keep reading to find out which of these top rated inflatable lounge chairs you should take home next.
Best Floating Pool Loungers
For more of my home entertainment recommendations, have a look through these popular Outside Pursuits guide links: Inflatable Pools, Inflatable Hot Tubs, Water Slides.

Quick Answer: The 7 Best Rated Floating Pool Loungers
Our reviews of the top rated floating pool loungers with our comparison table and buyers guide will help you find the right one for you.
---
Floating Pool Lounger Reviews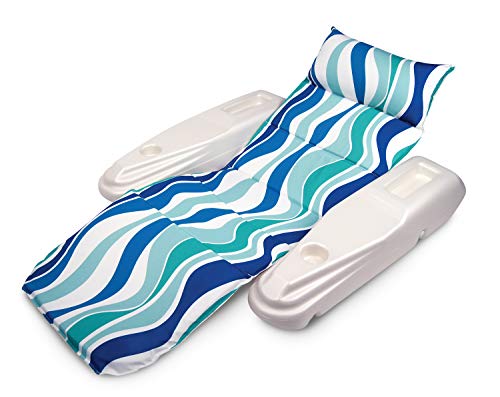 Poolmaster Floating Pool Chaise Lounge Chair at a Glance
:
---
Weight Capacity: 250 Pounds
Dimensions: 56 x 38 x 15.5 Inches
Materials: Mesh, Fabric
Extras: Sun canopy, cup holders
First on our list is one of the best performing options on the market – the Poolmaster Floating Pool Chaise Lounge Chair.
Constructed with cooling mesh and patented inner spring technology, this chaise lounger can support around 275 pounds.
It includes an integrated footrest, headrest, cup holder. Recline, drift, and enjoy a cold drink in the shade on this comfy float. The backrest adjusts from fully horizontal to an upright chair position so you can enjoy your beverage or watch the game on TV.

A key feature of this model is its lightweight design – weighing only 21 pounds, it can easily transported and packed down for storage.
The Poolmaster is the best pool chair float to chill in, whether in a pool, lake, river or bay. It can be used in all bodies of water, barring inclement weather.
With its portability and slim design, this is the best floating pool lounger for frequent solo travelers.

---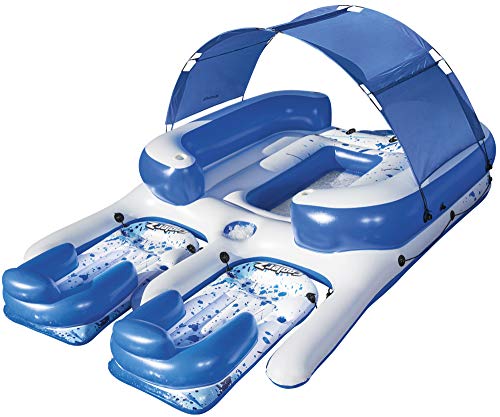 Bestway Inflatable Lounge at a Glance
:
---
Weight Capacity: 1200 Pounds
Dimensions: 24.5 x 17.62 x 10.87 Inches
Materials: Vinyl
Extras: Sunshade, cup holders, climb cushion, grab ropes
Next on our list is the Bestway Inflatable Lounge. This is another top rated floating chair, manufactured by one of the most reputable American pooltoy brands.
The Bestway is an eye-catching recliner, featuring wide pillow backrests, a sunshade and a vibrant blue and white tropical pattern.
With two detachable lounges constructed from sturdy vinyl, this float can support a whopping 1200 pounds! It can easily withstand vigorous group activity in the water.
Also included are 6 cup holders, 1 anchor bag and grab ropes on each end to help with mounting and dismounting.
This is a heavier pool float, weighing 50 pounds. Fortunately, it inflates and deflates relatively quickly with an electric pump (not included). Just fold and pack down to store.
With so many features and so much to offer, its no wonder this model has won the hearts of customers. If you are looking for the best floating pool lounger for pool parties and social events, look no further!

---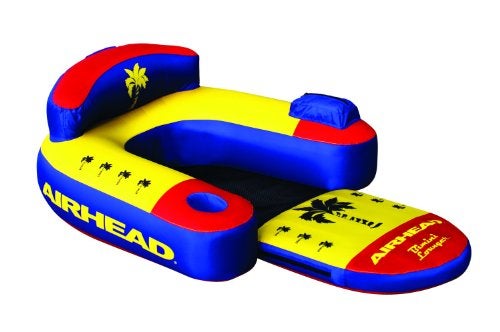 AIRHEAD Bimini Lounger at a Glance
:
---
Weight Capacity: 275 Pounds
Dimensions: 14.3 x 10.7 x 5.7 Inches
Materials: Nylon, PVC
Extras: Cupholder, storage compartment
The AIRHEAD Bimini Lounger is a complete showstopper – a sturdy yet streamlined design, brilliant colors and high quality materials have made it a fan favorite.
This recliner features durable nylon construction and a heavy gauge PVC bladder. It also includes a cup holder and zippered storage compartment for stowing necessities.
With an inflatable backrest and leg-rest for maximum cushioning, this model is designed for comfort. It is just as sturdy as it is soft, easily supporting up to 275 pounds.
Inflating the AIRHEAD is especially simple because it has only 3 air chambers, as opposed to the 6 or 7 typically found in floating pool loungers.
It weighs a mere 4.1 pounds, so upon deflation it can be easily folded up and stored or transported elsewhere.
Being made made of hefty material, we think this is the best pool lounge float that is also extremely portable and can be used in any body of water, provided it is relatively flat. What's not to love?

---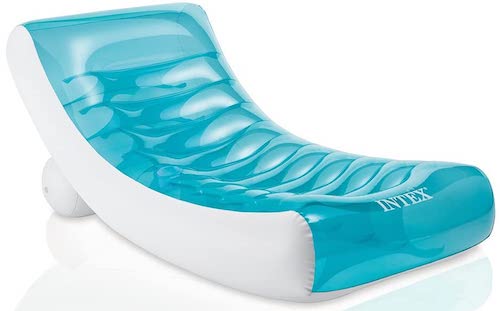 Intex Inflatable Lounge at a Glance
:
---
Weight Capacity: 225 Pounds
Dimensions: 74 x 39 x 53 Inches
Materials: Plastic
Extras: Cupholder, 2 air chambers
Next, we present the Intex Inflatable Lounge. This eye-catching pool float is designed for the ultimate relaxing experience, lined with contoured ridges for butt support and featuring a built-in cup holder.
The great thing about this model is that it includes only 2 air chambers, meaning that inflation and deflation can occur rapidly.
This inflatable recliner is constructed from thick and durable nontoxic plastic. The material fares well in any body of water and resists overheating when exposed to sunlight.
Because of its construction, the Intex is quite lightweight and portable, clocking in at 6 pounds. But don't let its small size fool you – this model can support over 225 pounds.
Though it lacks the bells and whistles of other beach inflatables, it is a simple and reliable option for those looking to test the waters with the best inflatable pool lounger!

---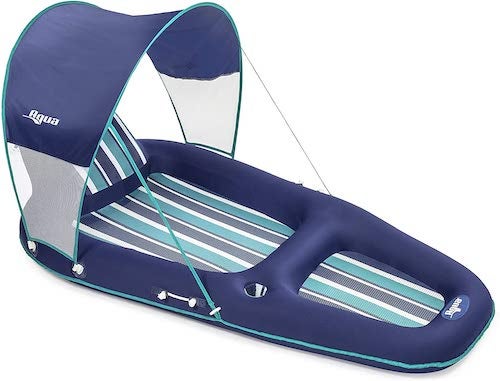 Aqua Deluxe Lounger at a Glance
:
---
Weight Capacity: 300 Pounds
Dimensions: 70 x 36 Inches

Materials: Vinyl, Mesh, Fabric
Extras: Cupholder, sunshade
Moving down our list, our next recommendation is the Aqua Deluxe Pool Lounger.
Constructed with 12-gauge vinyl, cooling mesh and silky fabric, this is a luxury lounger designed for both durability and comfort.
It even includes a removable sunshade for added UV protection. It is also incredibly strong for its light weight – though it weighs but 4 pounds, it can support up to 300.
Although this lounger is strong, it is relatively small – with 70 inches of length, it will leave anyone taller than 5'10 dragging their legs in the water. Be sure to check the dimensions!
This inflatable lounger also features a convenient cup holder and two carry handles for ease in transit.
Duolock valves make for speedy inflation and deflation – It's practicaly pool-ready once it touches your doorstep.
If you decide to invest in this pool float, make sure you have an electric pump on hand, since it does not come included with the package.

---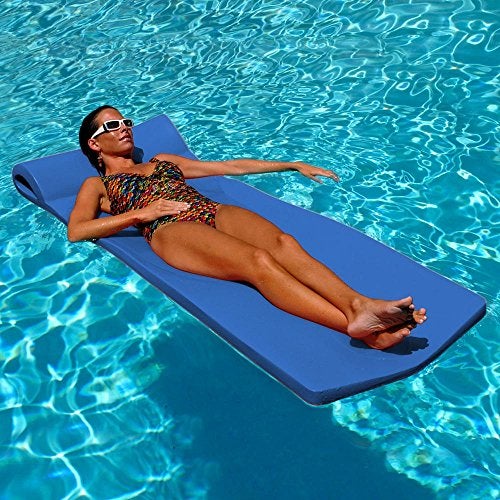 Texas Recreation Sunsation Foam Floating Mattress at a Glance
:
---
Weight Capacity: 275 Pounds
Dimensions:

70" L x 26" W

Materials: Foam
Extras: Headrest
The Texas Recreation Sunsation Foam Floating Mattress is foam pool lounger that simply flies off the shelves.
Available in colors like brilliant fuschia, blue and lime green, the floating mattress is made of foam with a vinyl coating which resists dirt and muck.
The Texas Recreation can support up to 275 pounds of weight and six feet long. You'll stay nice and dry while drifting around on it!
The pool float weighs only 9 pounds and rolls up for easy transport and storage. This model is ideal for those looking for a pool float mat with a pop of color and personality.

---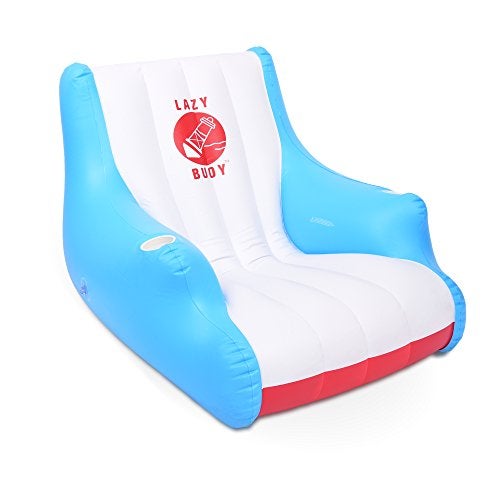 LazyBuoy Lounge Chair at a Glance
:
---
Weight Capacity: 400 Pounds
Dimensions: 15 x 13.2 x 5.8 Inches
Materials: Raft-grade vinyl
Extras: Cup holders, tethers
Last but definitely not least, our final recommendation is the Lazy Buoy Floating Lounge Chair.
Also referred to as "the most comfortable pool float ever", this inflatable recliner is plush, sturdy, and buoyant in the water.
The design was inspired by oversized lounge chairs, specially shaped to prevent from tipping over. Like a classic indoor recliner, it includes 2 big cupholders and a cushy back rest.
This lounger is built with raft-grade vinyl for durability and rip resistance. While it only weighs around 6 pounds itself, it can support 400 pounds of weight!
The Lazy Buoy includes a fill spout which inflates by either pump or mouth.
Use an electric pump, and the chair will be ready in around 1 minute. Manually, it should take around 10.
An included short tether allows you to connect 2 floats together at once, so you can socialize in the water while remaining dry as ever!
This is a fun and functional floating chair that can comfortably hold people of all sizes.
Whether you are tanning, mingling or just lying around, the Lazy Buoy will keep you at ease.

---
Floating Pool Lounger Comparison Table
| Pool Lounger | | Weight Limit | Dimensions | Materials | Extras | Rating |
| --- | --- | --- | --- | --- | --- | --- |
| Poolmaster Floating Pool Lounge Chair | | 250 Pounds | 67 x 39 x 9 Inches | Mesh, Fabric | Snack holder, cup holders | 4.6 / 5.0 |
| Bestway Inflatable Lounge | | 1200 Pounds | 24 x 17 x 10 Inches | Vinyl | Sunshade, cup holders, climb cushion, grab ropes | 3.8 / 5.0 |
| AIRHEAD Bimini Lounger | | 275 Pounds | 14 x 10 x 5 Inches | Nylon, PVC | Cupholder, storage compartment | 4.3 / 5.0 |
| Intex Inflatable Lounge | | 225 Pounds | 74 x 39 x 53 Inches | Plastic | Cupholder, 2 air chambers | 4.6 / 5.0 |
| Aqua Deluxe Pool Lounger | | 300 Pounds | 70 x 36 Inches | Vinyl, Mesh, Fabric | Cupholder, sunshade | 3.9 / 5.0 |
| Texas Recreation Floating Mattress | | 275 Pounds | 70 x 26 Inches | Foam | Headrest | 4.2 / 5.0 |
| Lazy Buoy Lounge Chair | | 400 Pounds | 15 x 13 x 5 Inches | Raft-grade vinyl | Cup holders, tethers | 4.2 / 5.0 |
How to Choose the Best Pool Lounger – Buying Guide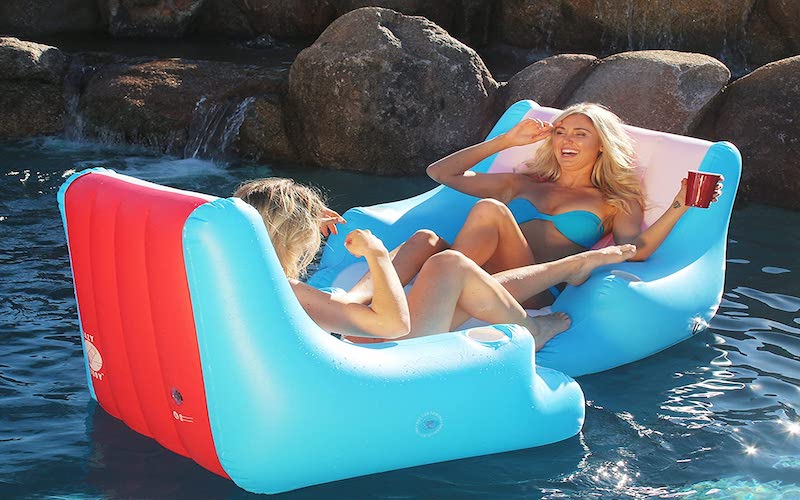 Now that we've taken a look at the best floating pool loungers the market has to offer, its time to pick the right one for you.
As always, choosing from a selection of equally great options can be tricky – but rest assured.
We've compiled a buyers guide to help you take note of the key factors to consider when settling on your next pool float.
How Will You Use It?
This is the first question you must always ask yourself before making any purchase!
Inflatable lounge chairs are quite versatile objects – they can be used for any number of activities, whether solo or group.
Going for a smaller, single-sized pool lounger doesn't mean you have to float alone either – many include tethers and grommets for linking multiple floats together.
If you'd rather invest in a single-sized float but still want the option of group play, consider models like the Lazy Buoy Lounge Chair or the AIRHEAD Chaise Lounge.
However, if you prefer to float in company, you should invest in a lounger with multiple seats which can support you and a partner at the same time.
If this is the case, go for a durable model with a high weight capacity, such as the Bestway Inflatable Lounge.
On the other hand, if travel is your priority and you'd like to test your pool float out in different bodies of water, you should make sure it is lightweight and folds down easily.
Opt for easy-storage models like the SwimWays Float Recliner or the Intex Inflatable Lounge.
Weight Limit
It is vital to check the weight limit of your floating lounge chair! This will determine how many can be on the recliner at once.
Loungers made for 2 should reflect the weight of 2 adults combined, while single-sized floats can have a lower weight capacity.
Because of the inflatable nature of these toys, you'll rarely have to sacrifice weight limit or durability for portability – 6 out of the 7 options on our list are under 10 pounds!
Design
If you're going to be using it frequently, you'll want your inflatable pool lounger to suit your needs while being aesthetically pleasing.
Whether you go for neon colors, tropical prints or modern lines, be sure to pick an option which reflects your personality.
Other important things to consider are key features like air chambers, rests (arm, foot, back), and extra accessories.
Air Chambers
All beach inflatables are constructed with a number of air chambers to contain the air they are blown up with.
The more air chambers a certain model has, the longer it will take to inflate – but the more stable your floating experience will be.
In most pool floats, multiple air chambers are encouraged in case one pops or punctures during time out on the water.
If one chamber is damaged, the others will maintain the stability and balance of the lounger, saving you from tipping over or sinking down.
On the other hand, floats with a lower number of air chambers can take under a minute to inflate and deflate, and are generally lighter and more transportable.
This is all a question of preference and priority – make sure you check how many chambers your model has and decide whether you'd like to potentially sacrifice stability for speed.
Arm, Back & Foot Rests
It may be easy to overlook the importance of arm, back and foot rests, but they are vital elements of any chair!
If you need extra support for your body, or have a history of chronic pain, the sun lounger you pick must have plush back rests in particular.
Arm rests add an extra layer of comfort and convenience, and foot rests are essential for reclining without your feet dragging in the water.
If you're serious about remaining dry on your floating pool lounger, make sure the model you purchase has a long foot rest to keep those toes safe.
Accessories
Keep an eye out for the accessories included with your float – some feature extra cup holders, roll pillows, storage compartments, tethers and grommets.
These small extras will really make your pool experience unique and personal.
Maintenance: How to Care For Them
How to Take Care of Pool Floats
FAQs About Floating Pool Loungers
Q: Is it ok to leave my lounger in the pool?
A: It is not ok to leave your pool floats sitting in the water overnight! The plastic and vinyl can break down over time due to exposure to chemicals like chlorine.
Leaving your floats outdoors can also lead to damage due to sunlight and UV ray exposure.
Q: What is the easiest way to inflate a pool float?
A: If you're looking for the easiest way to inflate something, an electric pump is probably your best bet. These things can blow up pool loungers in under a minute.
Q: Can you use pool floats in the ocean?
A: It is not a good idea to use a pool float in the ocean. Strong tides can easily sweep these lightweight toys out to the open sea, leading to possible fatal injury.
According to the Royal National Lifeboat Institution (RNLI), pool floats act like "massive sails which can whisk you miles out to sea in seconds".
Q: How should I store my pool float during the winter?
A: Pool floats should be fully deflated and laid out flat to dry before being folded, packed down and tucked away for storage in a cool, dry space.
Hack: consider buying or DIY-ing a pool toy holder. It's relatively simple and quick, and can help you organize and store your various pool floats (while saving money!!)
Simply tweak the dimensions to fit your specific float.
Tips For Choosing a Floating Pool Lounger
#1: Check the weight capacity!
This tip is always relevant. Take time to check the weight limit of your pool float to ensure its longevity and the safety of its users.
#2: Buy an electric pump!
This is by far the easiest way to blow up an inflatable lounge chair.
#3: Take care of it!
As with everything, maintenance is key. There are quite a few factors which can impact the longevity of your pool float – rigorous activity, sunlight, lake muck, chlorine – just to name a few.
Do not leave your floating lounger in the water for long periods of time, as this degrades materials like vinyl, plastic and mesh.
Also make sure that before storage, the float is completely dry. This will prevent mold.
Summary
Now that we've gone over some good floating pool loungers and how to choose the right one for you, it's time to make a decision.
Remember that above all, you must pick a float that suits your tastes and the lifestyle you lead.
Thanks for reading & happy shopping!
How We Researched
To come up with the top floating pool loungers, we researched a variety of sources for reviews such as Home Depot, Lowes, Target and Wayfair along with our own personal experience.
We also consulted online magazines for product research and reviews to get as much unbiased information as we could. To help weed out fake reviews we used Fakespot.com to make sure we only looked at genuine reviews.
With so much quality gear available, we had to narrow it down based on what we felt were the best options were for the price. The staff authors have a wide and varied background in yard design and home repairs.
The authors have decades of experience and are eager to share their knowledge with readers.
To help narrow down the selection we used personal experiences along with recommendations from landscapers, bloggers and contractors.
After extensive research, we came up with our list to help you choose the right one for you.
Sources
Notice:
OutsidePursuits.com is a participant in the Amazon Services LLC Associates Program, an affiliate advertising program. OutsidePursuits.com earns fees from products sold through qualifying purchases by linking to Amazon.com. Amazon offers a commission on products sold through their affiliate links.