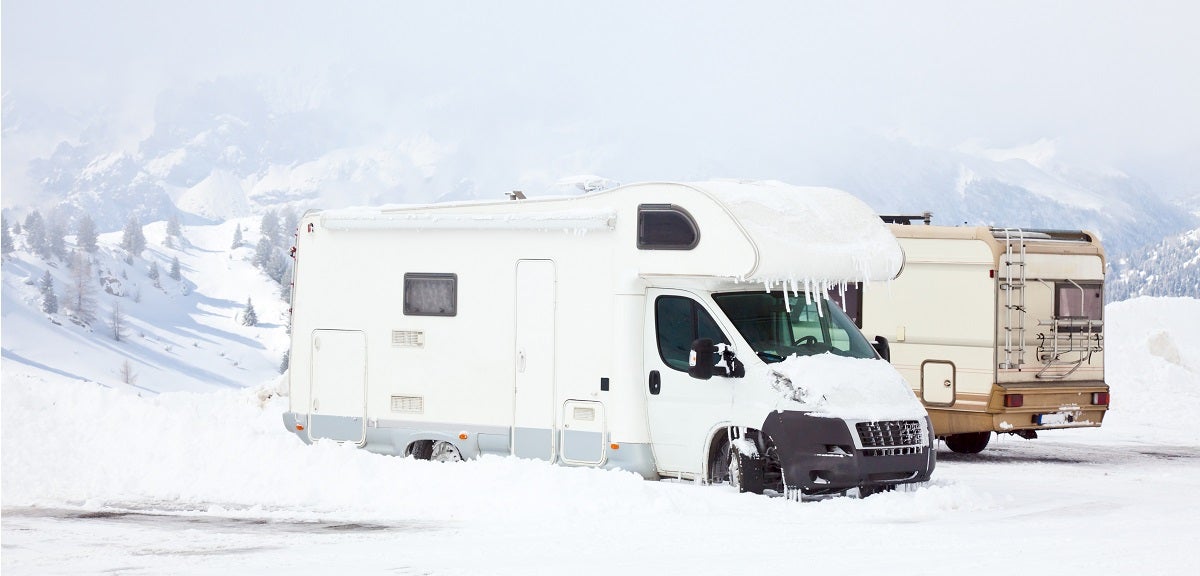 Our Editors independently research, test, and rate what we feel are the best products. We use affiliate links and may receive a small commission on purchases.
While most people may go RVing during the summer, you're not limited just because of cold weather! If you're looking to go RVing during wintertime, then it's more than possible.
In fact, you may find it your favorite season to travel after you get to exploring untouched, sparkling snow and quiet campgrounds. We're here to make sure that you have a wonderful time, so we've come up with our 6 top tips for winter RV camping!
1. Install and/or Upgrade Insulation
Insulation is an easy and probably the most effective way at combating the cold. TV insulation will protect many components from damage caused by the cold and will also keep you and your other passengers nice and warm inside.
We recommend also insulating around the base to keep the cold from harming piping and allowing heat to seep out.
Make sure you don't forget around the windows and doors! These are easy spots for the heat to come out. You regularly want to replace old weather stripping as well.
Window coverings are also easy and relatively cheap ways to help keep everything warm inside. Thick drapes can also keep cold drafts out and keep the warmth inside where we want it. We highly suggest you install skirting to prevent your water tanks from freezing as well.
A cover may not make a huge difference in terms of warmth, but it can help protect the structure from freezing, cracking, or developing a frost that's hard to see through.
2. Keep Your Plumbing Safe
This is not only a hassle and money-sucker but can lead to some serious issues. When ice forms it will expand the pipes and hoses. If they don't burst they may crack or weaken the structural integrity. Here are a few tips to help prevent this:
Use heat tape on pipes and hoses. This will keep them from freezing and are pretty easy to do.
Warm internal plumbing – Open your cabinets so the heating can also get to the plumbing. We like to open the faucets just enough so that you have a tiny drip going to help keep water moving and prevent freezing.
Use internal freshwater tanks – Rather than hooking it up to outside water sources you can fill up the internal one so you can store your freshwater hose without risk of it freezing up.
3. Prepare the Furnace
Before you even get out on the road, we suggest you check the furnace to make sure it's working correctly. If you can, get it checked by a certified RV technician so they know exactly what to look for.
Even if it's working well, cleaning it will help keep it in good condition, using compressed air or a soft brush to get rid of grime. Look at each vent for potential damage or obstructions which could keep air from moving properly.
If you'd like to run a space heater, simply remember that they add moisture to the air which could damage the engine. Of course, an easy way to combat this is by using a dehumidifier as well. You can easily power both with a generator if you'd like to really go "off-grid".
4. How to Keep Yourself Warm
Remember that it's not only crucial that you prepare the RV itself from the cold, but you and other passengers! You really should pack an array of different types of winter clothing, including insulated and waterproof garments.
A breathable yet warm base layer is essential as it will help wick sweat away from the skin along with excess heat but still keeps enough warmth next to your body. If you're planning on skiing, cross-country skiing, snowshoeing, snowboarding, hiking, etc. then these are essential as they'll keep you warm and dry.
You should have at least one mid layer on, though you can bring various types depending on what the weather is like that day. Fleece and wool are some of the most popular materials used for mid layers in wintertime.
Your outer layer should always consist of a waterproof jacket or coat and should keep the wind out as well. If it's really freezing, you may want that jacket to be insulated, too. Don't forget your head and feet! A warm hat and fuzzy pair of socks will help prevent you from losing body heat and are great to wear during cold nights.
As you're obviously going to be outside at some point in time, remember a solid pair of waterproof snow boots with excellent traction on the bottom so you can walk around without losing your balance. Finally, a pair of waterproof gloves will let you work and play outdoors while keeping your fingers dry and warm.
5. Emergency Items
When we're dealing with any extreme climates like you're likely to encounter while RVing during the wintertime, there are emergency items you should always have handy:
Tire chains so if you end up driving in the snow, you have greater traction and a lesser chance of slipping and sliding around
Extra blankets and warm clothing
Sleeping bags just in case temperatures drop below zero
Weather band radio
Extra propane tanks
Emergency GPS system
Solar charging panels so you can recharge house batteries in a pinch
Blow dryer in case you need to defrost pipes or tanks
Cash, along with at least 2 cards
Shovel in case you have to dig your camper out of the snow in the morning
6. Final Tips
Make sure to check beforehand if the campground you're planning on traveling to is even open. Some will close during the winter season or extreme temperatures and you don't want to be stuck in the middle of nowhere.
Watch out for black ice at all times. You'll usually find it near shades spots and close to bridges. If you do happen to hit some though, make sure your RV is directed straight ahead and avoid hitting the brakes with sudden force as this can cause a spin out.
Keep gas tank full – While this may not always be feasible, we suggest keeping it at least halfway full. This not only helps the engine perform more efficiently and prevents ice from forming inside, but will also make your RV heavier, reducing the chances of sliding around.
Summary
Now that you know all about the top 6 tips for RVing in the winter, do you feel more confident about your winter adventures? We hope that our guide has been able to get you acquainted with winter practices and that you are ready for your future trip. Thanks for tuning in and we'll see you again soon!
Notice:
OutsidePursuits.com is a participant in the Amazon Services LLC Associates Program, an affiliate advertising program. OutsidePursuits.com earns fees from products sold through qualifying purchases by linking to Amazon.com. Amazon offers a commission on products sold through their affiliate links.