If you're just getting started hiking, trekking poles (or hiking poles) may not be high on your gear list. Despite the fact that hiking poles have been proven to reduce stress on legs and knees by up to 25%. Some hikers carry trekking poles because the data supports it.
Some carry hiking poles because they aid with balance, or climbing steep hills. Even others will carry hiking poles for all the above reasons and because they can be used to pitch a tarp or tent. There are many reasons to carry and use hiking poles, and some will find them annoying or unhelpful thus refusing to carry them altogether.
I advocate hiking poles for aiding in balance, propulsion, and as an aid for climbing steep or precarious hills. I also find them extremely useful for setting up my tarps without having to carry an extra pole for shelter setup.
At first I began using a pair of adjustable Leki Makalu (gift) adjustable aluminum poles – they were insanely heavy!
My next upgrade was a pair of Black Diamond Z Poles which are a 3-piece fixed length ultralight aluminum pole (now available in carbon fiber), they're amazing.
Now I'm going to help you decide on a new hiking pole and recommend a few top performers:
Here is an overview of the hiking poles with full reviews and our buying guide below.
The 3 Best Trekking Poles
| | Black Diamond Distance Z Z-Poles | Leki Micro Vario Carbon Trekking Poles | Black Diamond Distance FLZ Z-Poles |
| --- | --- | --- | --- |
| | | | |
| | | | |
| Material: | Aluminum | 100% HM Carbon Shaft | Aluminum |
| Weight: | 350g. (12 oz /pair) | 440g. (15.6 oz /pair) | 455g. (16oz /pair) |
| Length: | 100 cm to 130cm | 100 cm to 130cm | 95 cm to 140cm |
| | | | |
Hiking Pole Reviews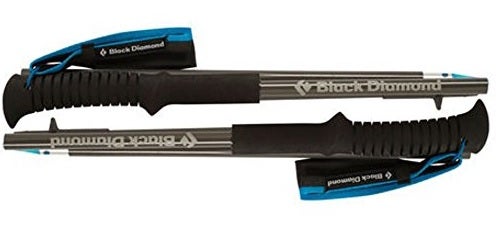 With a relatively light weight (4.5 oz each) and the ability to break into three small segments, this pole is truly an amazing piece. I hiked with the aluminum version for years and absolutely loved them! With a price tag well below $100, they're hard to ignore.
If you're traveling or flying, break the poles down into a three-piece segment and stuff them into your bag. They practically disappear.
This is a major advantage over a fixed length pole. The foam grips are ergonomic and comfortable in the hand and the wrist straps are lined with great micro-fiber that never chafes.
Now that they're being made in a lightweight carbon fiber, their pros are really beginning to get me attracted to this pole again. It's arguably the absolute best choice all around for the perfect balance of weight, cost, packability, and function.
The Black Diamond Z Poles are your best best for an lightweight, quality trekking pole.

Leki has a great name and, in the skiing world, they make one of the absolute best poles on the market. In the hiking world, however, I view their poles as heavy and clunky.
That being said, Leki has been working toward lightening up their poles and offering more sensible hiking poles for those of us who value function and lightweight form.
These poles are 7.9 oz each – quite a bit heavier than the Z-Poles, but they have a few cool features. They're adjustable length poles hybrid with fixed length system for a balance of adjustment and weight savings.
The bottom half of the pole is fixed length (though it breaks apart like the Z-Pole) and only the handle segment adjusts. The Leki Micro Vario Carbon Trekking Poles are a good compromise for those looking to get a lightweight, reliable pole that can be used for multiple sports, these poles are for you.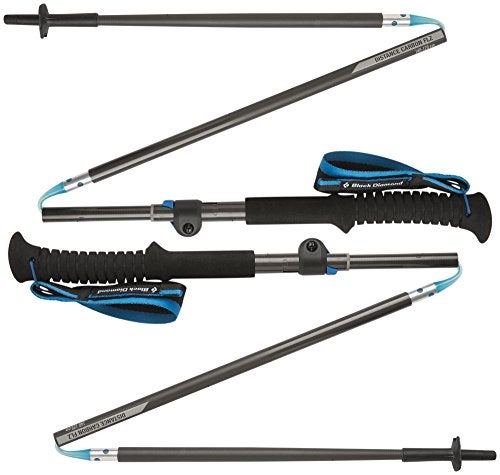 At 7.5 oz each, these poles beat out the Leki Micro Vario and function almost identical. They're cheaper than the Leki poles by enough to make a considerable difference.
They're also lighter, but not by much weighing in just 8oz lighter per pair – though that will add up if you're an ultralight hiker or a weight conscious hiker.
The final nail in the coffin for Leki? I prefer Black Diamond as a brand. Black Diamond executes products almost  flawlessly and I've used them for years for everything from hiking poles to trad climbing gear and skiing gloves.
This brand knows how to execute a great product and I'm glad to be able to see them coming in and owning another market with a superior product at a great price.
How to Choose a Hiking Pole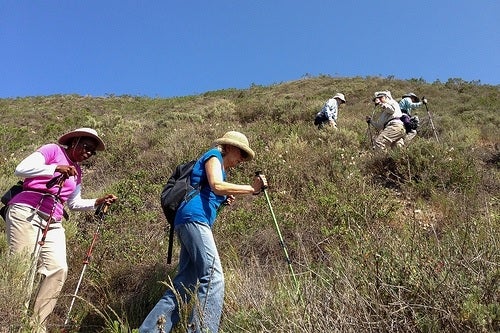 Fixed Length or Adjustable
The biggest hurdle to choosing a fixed length hiking pole is thinking "how do I know what length I need?" It's really quite simple to measure yourself for a fixed length hiking pole and, once you get the measurement, you won't need to adjust it.
Put on your hiking shoes, or boots, and stand straight with your arms bent 90 degrees, parallel to the ground. Measure from the top of your fist to the ground – this is the length you'll want for a fixed length pole.
Most fixed length poles have handles which feature two separate positions – one at full length, and one a little shorter. This gives two "lengths" that can be used, one for walking on flats and descending hills, another for climbing.
As long as you get your initial measurement correct, a fixed length pole won't need to be adjusted and they're always lighter than the equivalent adjustable pole because they are simples and feature less components.
Weight
The biggest consideration for weight is what type of pole you're using. Of the three types (fixed length, 3-piece, or adjustable) the adjustable poles are, by far, the heaviest. Let's take a look at a couple examples:
Shock Absorbing
This might be one of the silliest and most useless selling points ever invented for hiking gear. I have used the Leki Makalu shock absorbing poles on several trips, though I ditched them quickly due to excessive weight, and never once found them to absorb any shock.
Having spent many seasons on the trail, I've hiked with, near, around, and past tons of people using adjustable shock absorbing poles and all I can think is "Gosh, those look heavy and miserable!".
Hiking poles themselves help the legs and body absorb shock by using the arms and upper body to take on some of the burden of hiking. Many times a day, when using poles, I think "Man, I'm glad I had the pole to help me down that!"
But never once have I said, "Man, I'm glad that pole has its own suspension system inside so my hand doesn't jiggle!" I avoid these types of poles because they're almost always too heavy, clunky, and poorly designed.
Basket
Many hiking poles come with interchangeable baskets – a narrow basket for hiking and a wider basket for snow. If you're seriously planning to use only one pole for both hiking and snowshoeing, then you might consider a pole with interchange baskets.
For those of us using the hiking poles for 3-season hiking and backpacking, interchangeable baskets are just a distracting sales gimmick. As an avid backpacker, alpine ski instructor, cross country skier, and occasional snowshoe participant I can tell you that I still prefer to have a dedicated set of poles for each activity.
Why? Because a dedicated hiking pole does its job better than a one-pole-quiver setup.
Locking Mechanism
There are several different locking methods for poles these days and, if you're going to purchase an adjustable hiking pole, you'll be better off understanding them. There are three types: twist lock, flick lock, and pull lock.
Twist Lock
Twist lock poles are the most common and operate by twisting two sections of the pole against each other to lock them into place. They are notorious for coming loose while hiking and needing frequent adjustment.
Flick Lock
Flick lock poles are a bit newer and operate with friction by an adjustable lever mechanism. Each section of the pole is locked by its own small, ergonomic, lever which pinches down against the shaft of the pole and locks the whole thing into place.
Pull Lock
I'm honestly not sure if there's even a name for this type of pole, but the Black Diamond Z Poles operate on this system. The idea is that the whole pole is held together by sliding the handle up along the shaft of the pole until it locks into place.
The handle is attached to each successive segment of the pole via an internal cable and, once locked into place, holds the entire pole in place.
Conclusion
Probably the overall best choice might just be the Black Diamond Z Pole Carbon for its light weight, great execution, awesome price tag, and a rock-solid reputation. If I had to recommend a single pole to every hiker it would be, without a doubt, the Black Diamond Z Pole Carbon.
Be sure to see my favorite hiking shoes, a hiking watch is a great option to have, along with a backpacking sleeping bag,  backpacking tent and a hiking backpack.
Notice: Outside Pursuits is a participant in the Amazon Services LLC Associates Program, an affiliate advertising program to provide a means for sites to earn advertising fees sold through by advertising and linking to Amazon.com. Amazon offers a small commission on products sold through their affiliate links. Each of your purchases via our Amazon affiliate links supports our efforts to bring you the best possible product reviews at no additional cost to you. We appreciate your support here at OutsidePursuits.com