While the performance of an inflatable kayak is not as good as a hard shell kayak, they more than make up for any drawbacks with their ease of portability.
There are however, large differences between the various models.
How do you decide which model is best for you?
This guide will assist you in buying the best inflatable kayak for your needs based on our comparisons of the top rated brands. We evaluated them on stability, ease of inflation, portability, value and how easy they were to paddle.
If you are worried about leaks, all of the reviewed kayaks come with quick repair patch kits and a pump. However with modern materials being so tough, leaks are very unlikely.
All the kayaks reviewed can be deflated and folded up into a backpack/duffel bag for the ultimate in portability.
These are our favorite inflatable kayaks that have won our trust because of their superior performance.
Here is an overview of the inflatable kayaks that came out on top, with full reviews and our buying guide is below.
Best Inflatable Kayaks
| Mobile Users Scroll Over => | Intek K2 Inflatable Kayak | Sea Eagle SE 370 | Advanced Elements Expedition | Coleman Quikpak K5 |
| --- | --- | --- | --- | --- |
| | | | | |
| | | | | |
| Weight | 38 pounds | 32 pounds | 42 pounds | 35.75 pounds |
| Inflated Size | 30 inches wide, 15 Inches high and 138 inches(11.5 feet) long | 2 feet 8 inches wide, 12 inches high,10 ½ feet long | 32 inches wide, 14 inches high, 15 feet long | 2 feet wide, 10 inches high, 10 feet long |
| Deflated Size | 76 x 42.5 x 15 inches | 10 x 19 x 34 inches | 5 x 15 x 20 inches | 20 x 8.5 x 33.5 inches |
| Construction | Vinyl | PolyKrylar (K80 PVC) | Three layers of PVC with built in aluminum bar supports | PVC construction with Tarpaulin bottom |
| Passengers | 2 | 3 | 1 | 1 |
| Max Capacity Weight | 350 pounds (158 kg) | 650 pounds (295 kg) | 450 pounds (205 kg) | 250 pounds (113 kg) |
| Accessories | Two 84-inch aluminum oars, high-capacity hand pump, and repair patch kit | Two 84-inch aluminum oars, high-capacity foot pump, repair patch kit and 2 skegs | Carry duffel bag, 1 folding seat, repair kit | One 84-inch aluminum oar, high-capacity hand pump, repair patch kit and carry backpack |
| | | | | |
Why Buy An Inflatable Kayak?
A big consideration is transporting your kayak. If a kayak can be easily transported you are much more likely to use it on a regular basis. I know that was the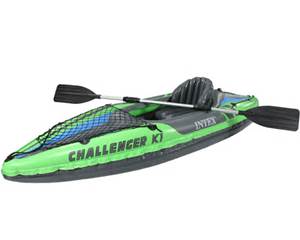 reason I sold my heavy hard shell kayak. I got tired of trying to lift it on top of my car, while throwing out my back trying to do it. So my next solution was a small trailer. But that was a hassle as I really had no good place to keep it, not to mention permitting/licensing.
And for apartment/condo dwellers or people with limited storage space, an inflatable kayak really is the perfect solution.
You will no longer need to worry about how you will get your kayak to the water, you will not need:
Roof Rack to transport it (while struggling to lift it on top of your car or truck).
Truck, while have it hanging out the bed of the truck.
Trailer, do not need to worry about pulling it behind you plus no permitting/licensing of a trailer.
You can literally, pull your kayak out of your backpack, inflate it in minutes and be on the water before you can get a kayak off the roof of your car.
Inflatable kayaks can be used for just about any use that a hard shelled kayak can be used for:
Fishing
General Recreation
Surfing
Touring
Camping
Whitewater
So no matter what your intended use, there is an inflatable kayak that will suit your needs. While providing the convenience and portability that regular kayak owners can only dream of.
Inflatable Kayak Reviews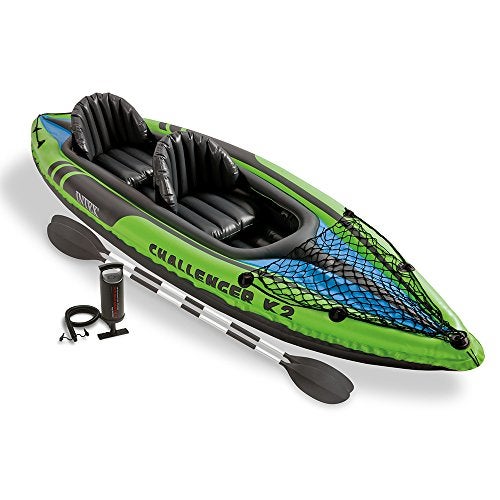 Intex Recreation has come out with the bargain priced K2 inflatable kayak. They have decades of experience with making inflatable products and have recently come out with their K2 series kayak. It it constructed of their super tough vinyl for extreme durability and resistance to leaks and tears.
The Intek K2 is an ideal kayak for exploring lakes and slower flowing rivers. The cockpit is good sized with an inflatable seat and backrest it will comfortably fit most anyone. The Intex is by far the best cheap inflatable kayak.
Features Of The Intex Challenger:
2 seater, tandem kayak ideal for lakes and slow flowing rivers and streams
Inflatable, ridged floor for stability
Cargo nets give you lots of secure storage
Cockpit is large and comfortable
Kayak measures 30 inches wide, 15 Inches high and 138 inches(11.5 feet) long
350 pound capacity for passengers and cargo
Grab lines on both ends of the kayak to make it easy to carry
Two 84 inch aluminum paddles, pump and patch kit giving you everything you need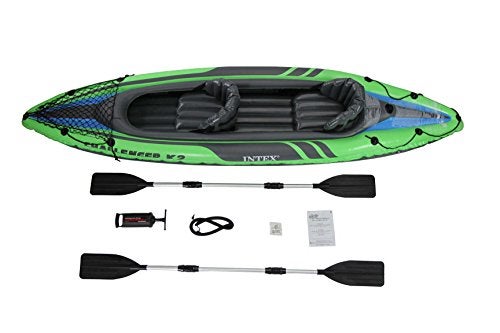 The Intex K2 meets all safety standards set by the Coast Guard while undergoing intensive stress testing to ensure safety. The K2 will give you years of enjoyment on the water.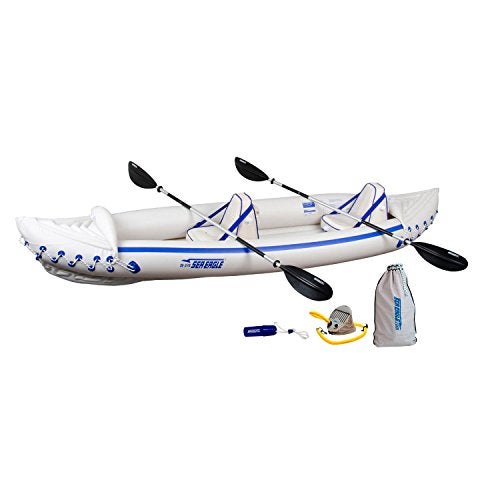 Whether you want to go down Class III rapids or a leisure paddle around a lake, the Sea Eagle is a perfect solution to your kayak needs. The rugged PolyKrylar hull is incredibly durable, so tough in fact there is no reason to leave your 4 legged best friend home. The 38 mil hull will withstand the sharpest of claws and resist tearing or puncturing.
The Sea Eagle weighs only 32 pounds but will carry up 650 pounds of passenger and cargo! The I-Beam construction provides a rigidity rivaling solid hull kayaks. It includes 2 skegs so that the Sea Eagle tracks well for maximum speed and efficiency.
Included are 2 inflatable, removable seats (3 person capacity), front and rear self-bailing drain valves plus front and rear rope handles for easy portability. The Sea Eagle deflates down to a small package of 31 inches high, 19 wide by 8 inches deep and transports easily with the included carry case. The Sea Eagle is the best tandem inflatable kayak on the market.
Features Of The Sea Eagle Se 370:
NMMA(National Marine Manufacturers Association) certified
Front and rear self-bailing drain valves
3 deluxe one-way valves for easy inflation
Inflatable spray skirts that can be lashed down
2 built in molded skegs on the bottom for great tracking and speed
I-beam construction for rigidity
Pressure gauge and repair kit
Bow & stern grab line
Interior dimensions: 10 ½ feet long, 2 feet  8 inches wide and 12 inches high
Exterior dimensions: 12 ½ feet long, 38 inches wide
Capacity: 3 Persons or 650 pounds passengers and cargo
Weight: 32 pounds
Chambers: 3 (port, starboard, floor)
Inflation & Assembly time: 8 minutes with included foot pump
Two 83 inch aluminum paddles
With the Sea Eagle you can go from the trunk of your car to being on the water in 8 minutes. 100 pumps of the high capacity foot pump and its fully inflated and ready for just about anything! The Sea Eagle is a great kayak for the money.
Best Solo Inflatable Kayaks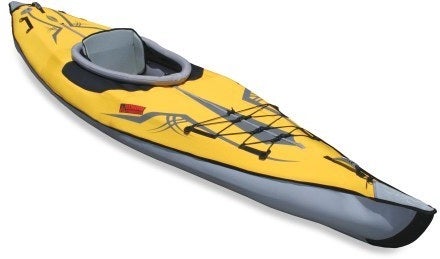 If you're looking for an inflatable kayak that is close to a standard hard shell kayak, the Advanced Elements Expedition Kayak is for you. It has built-in, lightweight aluminum ribs that provide exceptional rigidity for excellent speed and tracking. The high back seats will have you paddling in comfort for hours on end.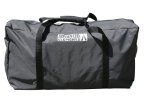 The 13 ft long kayak has low center of gravity for exceptional stability and also helps make paddling easier. The 9 chambers gives you the ultimate in safety on the water. This kayak is suitable for anything from a day trip, and with the plenty of storage capacity even a week long camping expedition. The Advanced Elements is the
best inflatable kayak for fishing
, with its solid tracking and maneuverability plus bungee tie downs for storage.
The Advanced Elements kayak is constructed of three separate layers that provide the most puncture and leak resistance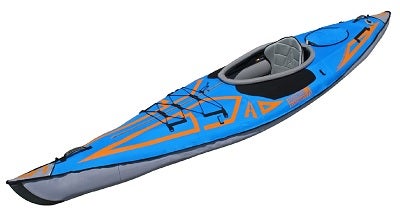 offered by any inflatable kayak. Like to take your furry 4 legged friend with you? Well the Advanced Elements kayak will resist puncturing from the sharpest of claws!
There is plenty of room up front to lash cargo for long camping and fishing trips. The included carry duffle bag holds the kayak in a compact package of 15 inches wide by 15 inches high and 20 inches long and weighs only 42 pounds, small enough to be transported in any car.
Features Of The Advanced Elements Expedition Kayak:
Built-in aluminum ribs define the bow and stern and improves tracking
Passenger and cargo capacity: 450 lbs (205 kg)
Carry duffel bag
Three seat locations allow for paddling solo or tandem (and one person in the center)
Three layers of advanced  PVC for extreme puncture resistance
1 folding seat with high support and adjustable padded seats provide comfort for hours of paddling
Repair kit and owners manual
Inflated size: Length: 13′ Width: 32″
The Advanced Elements Expedition kayak is a very solid feeling kayak that is as close as it comes to a standard hardshell kayak.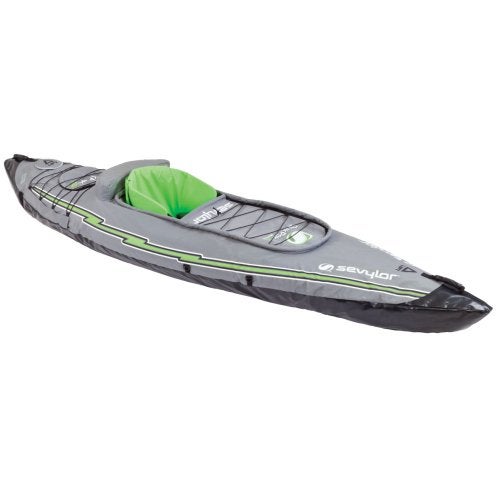 The Coleman Quickpak is my other choice for a solo kayak. This is a well thought out/designed inflatable kayak. To start with, is the fact that kayak folds up small enough to fit into the integrated backpack. It has comfortable padded shoulder straps that make it easy to carry from the parking lot to the water.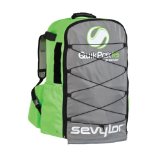 The kayak will go from backpack to being in the water in 10 minutes, after a few times you can get it down to about 5 minutes. The double lock valves make inflating and deflating the kayak a breeze (with the included pump).
The Coleman Quikpak K5 is an ideal kayak for camping and fishing trips. There is a rear zippered storage compartment where you can pack food and misc gear plus the front of the kayak has plenty of room to lash down gear with the bungee cords.
The front and back of the kayak have carry handles to portage the kayak or carry from your car to the water. The kayak is designed to be as close to a hard shell kayak as possible. It has a ridged flat bottom floor and a 3 chamber design for safety and maintaining its shape to aid in tracking.
The kayak measures just over 10 feet long by just under 3 feet wide and holds up to 250 pounds of passenger and cargo. The only real knock, is the included 2 piece aluminum paddle has been reported to break easily, so purchasing a better quality paddle might be a good idea. The Coleman Quikpak is the best inflatable kayak under $500.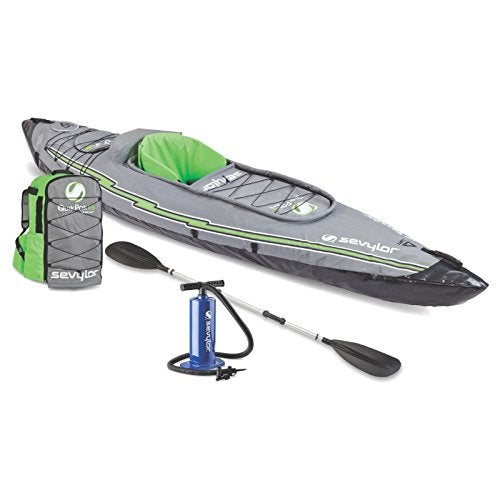 Features Of The Coleman Quikpak K5:
Easy-to-carry backpack system turns into the seat
5-minute setup lets you spend more time on the water
The double lock valves create an airtight system is guaranteed not to leak
24-gauge PVC construction is suitable for lakes and white water rivers up to class III
3 air chambers provide safety in the event one is punctured
Tarpaulin bottom provides protection from punctures
Spray covers block splashes to help keep you dry
D-Ring mounts make it easy to attach other equipment
Secure storage areas let you safely store items with bungee cords
Carry handles make it easy to carry in and out of the water
NMMA certified to hold up to 250 lbs of passenger and cargo
Inflated dimensions: 10 ft. x 2 ft. 10 in.
1-year limited warranty
Includes hand pump and paddle
Folded dimensions of 20 x 8.5 x 33.5 inches
Carry weight of 35.75 pounds with included integrated backpack
The Coleman Quikpak is a solid option for an inflatable kayak and one I would definitely recommend.
New to Kayaking? Here is a complete How to Kayak for Beginners Guide and if your still not sure on what type of kayak to get: See my ultimate buyers guide. While all inflatable kayaks come with a paddle, you may want to upgrade to a better paddle. Here is a buyers guide for kayak paddles.
Don't forget a fish finder if your going to be fishing with your inflatable kayak.
Notice: Outside Pursuits is a participant in the Amazon Services LLC Associates Program, an affiliate advertising program to provide a means for sites to earn advertising fees sold through by advertising and linking to Amazon.com. Amazon offers a small commission on products sold through their affiliate links. Each of your purchases via our Amazon affiliate links supports our efforts to bring you the best possible product reviews at no additional cost to you. We appreciate your support here at OutsidePursuits.com
Review Overview
Summary : The Advanced Elements Expedition Kayak is our top pick for an inflatable kayak. It excels in all categories; portability, rigidity, ease of paddling and value.