If your like me a hot cup of coffee to start the day is a necessity. And after a long day trekking through the woods, there are few things better than a hot meal at the end of the day.
With modern lightweight backpacking stoves this is not hard to do. There are many choices though, which one is best for your needs?
To find out which ones were the best backpacking stoves we took a long trip through the backcountry and put 10 stoves through our tests.
We evaluated each stove based on size/weight, how versatile they were, fuel efficiency, ease of use and stability.
The good news is we narrowed it down to three.
These are our favorite backpacking stoves that won our trust because of their superior performance.
Here is an overview of the stoves with full reviews and our buying guide below.
The 3 Best Backpacking Stoves
MSR PocketRocket Stove
MSR Whisperlite Liquid-Fuel Stove
Etekcity E-gear Backpacking Gas Stove
Fuel Source:
Propane fuel canisters
Propane fuel canisters
Butane or propane fuel canisters
Weight:
4 oz. (119 g)
11 oz. (305 g)
16 oz. (450 g)
1 liter of water in under 3.75 minutes
1 liter of water in under 3.5 minutes
1 liter of water in under 4.25 minutes
Size:
4 x 2 x 2 inches
8 x 8 x 6 inches
5" x 4.5" Packed
8" x 4" Unfolded
Backpacking Stove Reviews
#1 MSR WhisperLite Backpacking Stove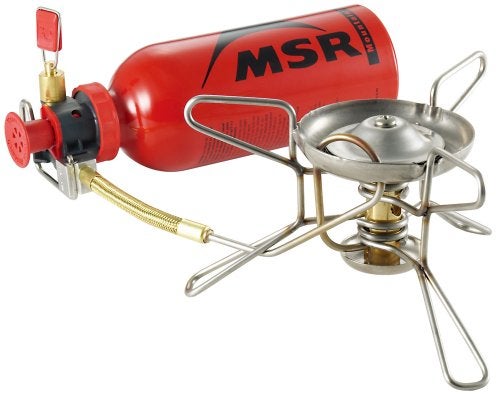 Here we come upon one of the most iconic and long standing pieces of equipment in the backpacking world. The Whisperlite stove has been around and in heavy use for decades.
A liquid fuel stove, the Whisperlite burns white gas fuel. With a total weight (pump, screens, and stove) of 14.5oz the stove isn't the lightest option on the market by any means.
Learning to use the Whisperlite can be a little challenging at first and the open flame can be startling to newer backpackers.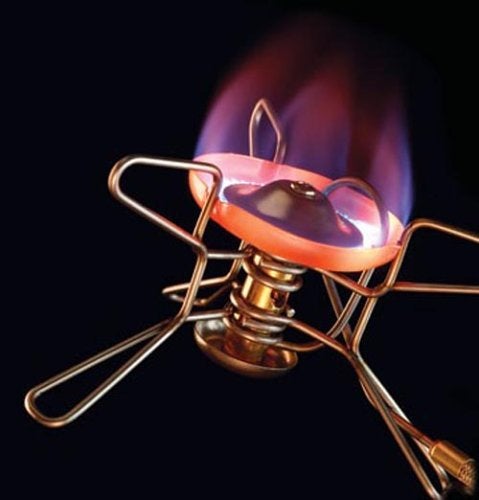 Priming the stove requires a specific sequence of pressurization, fuel release, and lighting a small puddle of open white gas. It's easy to forget the sequence and can be a little challenging at first.
Whisperlite stoves, if properly maintained, will last for decades of use and they're nearly impossible to damage unless you're careless.
MSR offers replacement parts for every piece of the stove and it's easy to learn to disassemble, maintain, and repair every aspect of this stove.
In my opinion, the Whisperlite is the best backpacking canister stove on the market.
Once you learn the Whisperlite you'll see that it has a legendary place in the backpacking world based on ingenuity, reliability, and durability.
This is not a stove I would suggest for lightweight solo backpackers. It is, however, a great choice for group backpacking trips or camping trips as well as education groups.
The Amazon list price of $68 can be easily brought down by $10 by purchasing a used stove.
This is a great stove to have in your backpack for its versatile uses and sheer dependability.
#2 MSR PocketRocket Backpacking Stove
This little integrated canister fuel stove has been around for years. I remember buying my first canister stove and heavily considering this option. Fact is – it's a great contender!
A feather light 3oz weight means you can enjoy the convenience and simplicity of canister stove use at a lightweight and compact point.
That weight will go up quickly when you consider that the stove doesn't have a piezo ignitor or a wind screen and, therefore, you'll need to carry your own.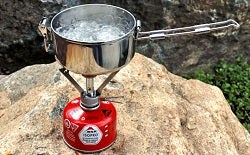 Fast boil times of 3.5 min per liter are advertised but you'll have a hard time realizing that number without a highly efficient pot and a nice windscreen.
MSR's PocketRocket is a great choice if you're looking for a dependable and economical choice in the canister fuel stove class which you won't have to research or worry about.
They just work. Every time.
One major advantage of canister stoves is the ease of simmering and flame control. The MSR PocketRocket will be a pleasure to dial in with heat control.
Disadvantages include a narrow base which may be unstable. Speaking from experience, however, I can say that I never had an issue with stability on integrated canister stoves.
MSR is also manufactured by Cascade Designs which is known in the industry for exception customer service and quality.
If you're buying the PocketRocket you're buying a time-tested stove from a solid company with amazing service and products.
#3 Etekcity E-gear Backpacking Gas Stove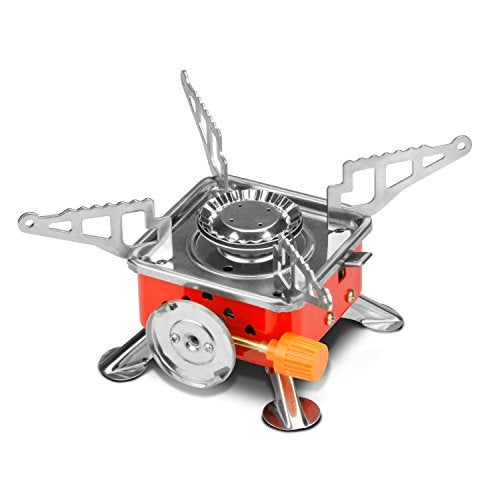 In appearance this little stove sits somewhere between the kitchen colander and the moon lander from 1969.
What's really happening here is that Etekcity has integrated an adjustable wind screen on to the top of this remote canister stove.
Weighing in at a solid 16+ oz this stove is definitely going to add some weight and bulk to the pack.
One unusual feature worth noting: this stove is compatible with butane bottles. Frankly I'm not sure if butane or canister fuel is more efficient but it's a neat idea anyways.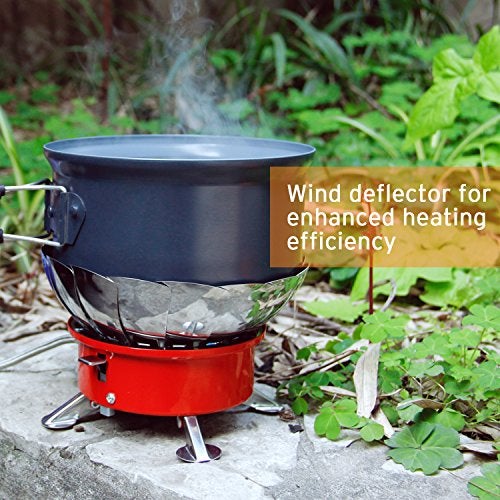 This stove definitely won't win any awards for lightweight design but it sports a reasonably stable design which might be great for recreational camping.
An integrated piezo ignition (push-button spark) makes it easy to light without matches.
Always carry a mini-bic lighter, however, because piezo ignitors are notorious for ceasing to work at the worst possible times.
My professional opinion? I think this stove is a very budget minded solution for a quick buy. There are lighter and more well designed canister stoves out there but you're going to pay more for them.
I'm always hesitant to purchase new products from unknown companies and I'd prefer to see people stick with well developed, time-tested, options from reputable manufacturers who understand the industry inside and out.
This stove does everything it needs to do, and does it well but it doesn't excel as a leader in design or operation among its peers. For a budget priced stove its hard to beat.
How to Choose the Right Backpacking Stove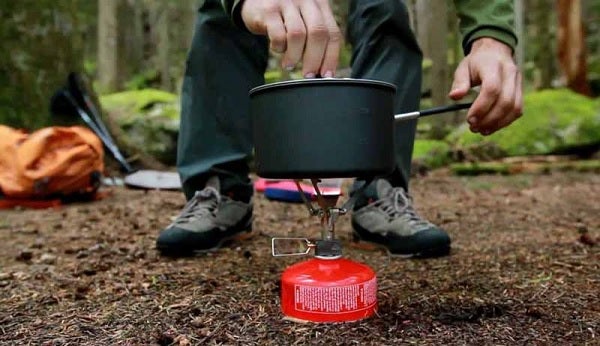 Standing toe to toe with all the choices and options of backpacking stoves can be more than a little daunting. Depending on how light you pack, how long you'll be gone, how many people are in your group, and what you'll be cooking – among other things – will have great impact on your choices here.
Luckily for you, I'm going to help you walk through some of the choices so that you may make a more educated decision which will save you time, money, and fuel.
Not all backpacking stoves are the correct choice for each person and each trip so be aware that your choice of stove should, and will, change based on many factors.
Types of Backpacking Stoves
There are tons of backpacking stoves on the market and a dizzying array of styles. We'll narrow them down to the most popular and talk about each in turn.
Liquid Fuel Stoves
Liquid fuel backpacking stoves use a bottle filled with raw fuel which is then pressurized and burned in the stove. One of the all-time most successful stoves, and a shining example of the liquid fuel stove, is the MSR Whisperlite.
Advantages of the liquid fuel stove include:
Ability to burn many fuel types including diesel and gasoline (depending on the stove)
Highly versatile choice particularly for group backpacking
Can be tailored for use at extreme temperatures and elevations
Disadvantages include:
Large and heavy stoves compared to others
Liquid fuel may be prone to leaking
Stoves are often relatively complex and require maintenance
Canister Stoves
Canister stoves are similar to liquid fuel but differ in that they consume pre-packaged cans of fuel which are already pressurized with a specific mixture of fuel. These stoves are usually more compact and very simple, often needing nothing more than the push of a button to operate. Canister stoves are not without fault, however.
Advantages of canister stoves:
Simple design
Convenient and easy to use
Lighter, usually, than liquid fuel stoves
Compact
Disadvantages include:
Canisters cannot be refilled and must be carried out when empty
Canisters may become ineffective in extreme elevation or cold
Canister fuel can sometimes be difficult to purchase for resupply
It should be noted that canister stoves come in two variations: remote canister and integrated canister.
Wood / Solid Fuel Burning Stoves
An old concept which has made a recent comeback, the wood and solid fuel burning stoves are uncommon but often the perfect solution for many niche backpackers.
There are actually several braches inside this category with the main differentiation being wood burning vs solid fuel (Esbit).
Wood Burning Stoves
Relatively inefficient compared to other options from the perspective of fuel consumed vs boiling time. It can often take a lot of upkeep to continue feeding your little wood burning titanium stove all the tiny twigs it needs to boil your water.
Wood burning titanium stoves can also be difficult to find and purchase as they are a very niche stove type. This means if you happen to crush, bend, or break your titanium stove it may be difficult or impossible to replace from the trail. You may have to order a new one and wait for the mail.
One huge disadvantage is that these stoves will not work in areas where there is no burnable fuel. Can't find wood, or above the tree line? You're out of luck.
Solid Fuel Esbit Stove
Esbit stoves are currently my personal choice of stove. Esbit fuel tabs are very difficult to find and purchase while on the trail during resupply so be sure to mail yourself some or check with outfitters along the trail before leaving.
That being said, Esbit fuel tabs weigh very little and a huge quantity of them can be carried at a time for the efficient backpacker. Half a fuel tab will easily boil a cup of water for a reconstituted meal.
This is not the right system for the backpacker who must have two cups of warm coffee every morning and boil 4 cups of water for each meal.
Major advantages of esbit are extremely high fuel efficiency when paired with a good stove and extreme lightweight capability. They have an advantage over alcohol stoves because Esbit is a solid physical tablet of burnable fuel which cannot be spilled. This is convenient for preventing accidental conflagrations.
Alcohol Stoves
These little stoves are awesome inventions which have actually been around in other uses for many years. Alcohol stoves have many advantages but come with a few huge drawbacks.
Advantages of alcohol stoves:
Can be made at home for less than $0.10
Extremely lightweight
Extremely simplistic
Disadvantages include:
Can be extremely dangerous if not properly handled, raw open alcohol fuel may spill
Very fragile stoves may be destroyed easily and may require some mechanical intuition
Alcohol fuel is sometimes very difficult to find although many outfitters now carry it standard
Criteria for Evaluation
Versatility
A well-rounded stove will serve you well no matter what season or location you are entering. Keep in mind, however, that sometimes it's better to have different stoves for different uses.
Fuel Efficiency
Some stoves are much more efficient than others. As a general rule liquid fuel stoves tend to be the least efficient.
Efficiency can be massively improved with things like wind screens, ground reflectors, and pot cozies.
Simple chemistry, however, dictates that some of the efficiency of the stoves be directly a result of stored chemical energy and combustion limitations.
Boil Time
Boiling time can be directly related to efficiency in many ways. Using a wind screen will increase efficiency and decrease boil time dramatically.
Some other factors impacting boil time include shape, size, and color of the pot in which water is being boiled.
Usually most stoves have a fine balance between boil time, efficiency, and fuel consumption so don't just crank the stove wide-open and waste fuel. Do a little experimenting to find the best balance!
Weight
Weight can be a big factor and, if it's your number one consideration, you'll want to focus on alcohol, wood burning, or esbit stoves.
There's plenty of information out there about the exact details but be prepared to do some serious research when deciding on your ideal stove for lightweight applications.
Liquid fuel stoves actually have a surprise advantage here in large group settings when people are planning to share stoves, fuel, and cooking equipment. If you do the math, you may find that a liquid fuel stove is actually lighter and more efficient for large group trips when properly planned.
Packed Size
It comes as no great surprise that the lighter stoves also take up less room. Alcohol, esbit, and wood stoves are by far the smallest.
Again, however, liquid fuel stoves may be a surprise competitor on group trips when you consider splitting up the gear between multiple people. It actually ends up taking up a pleasantly reasonable amount of space.
Canister stoves themselves are usually quite small but the annoyingly large fuel cans present an immediate downfall due to their bulk.
Conclusion
It's almost impossible to steer wrong with an MSR stove. If you're looking for a great product from a great manufacturer, look no further.
Take your time and make sure to understand what type of stove is right for your uses before buying a new product!
Your going to need something to carry your stove in, here are my recommended backpacks. If your in need of a backpacking tent, read my reviews of backpacking tents and backpacking sleeping bags.
Or if you decide to skip the tent and go with a hammock, I review the the best ones here. And maybe your most important gear, your shoes, I review the best Men's Shoes here and Women's here.
Notice: Outside Pursuits is a participant in the Amazon Services LLC Associates Program, an affiliate advertising program to provide a means for sites to earn advertising fees sold through by advertising and linking to Amazon.com. Amazon offers a small commission on products sold through their affiliate links. Each of your purchases via our Amazon affiliate links supports our efforts to bring you the best possible product reviews at no additional cost to you. We appreciate your support here at OutsidePursuits.com
Review Overview
Summary : The MSR WhisperLite Backpacking Stove has been a around for decades for good reason. There is no better stove that is more dependable, lightweight and efficient.