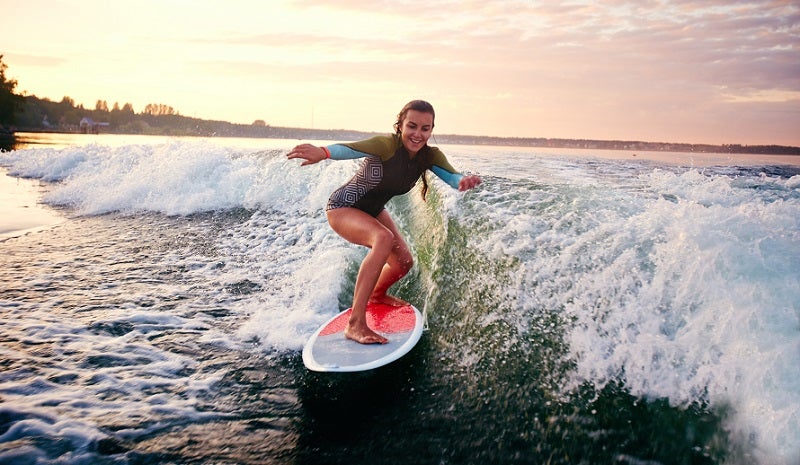 Our Editors independently research, test, and rate what we feel are the best products. We use affiliate links and may receive a small commission on purchases.
If you dream of catching that first wave and grinning from ear to ear as you feel the ocean swell beneath your feet and you're sent soaring down the line — you're going to need to start with the best beginner surfboard for your style and experience.
Even if you plan on taking surfing lessons, having your own surf board has immense benefits for beginners.
Each board is a little different and is going to feel different — consistency is key to advancing quickly when first learning how to surf and having your own board is a huge advantage.
But picking out a top rated beginner surfboard for you can be a challenge with so many different brands, types, and varieties on the market.
We may have many years of experience surfing — but we started out as beginners, just like you. And we will share our experiences with you so that you can get up on those waves in no time.
Best Surfboards For Beginners
| | Wavestorm Soft Foam Classic | South Bay Board Co.Surfboard | BIC Sport Paint Soft Surfboard |
| --- | --- | --- | --- |
| | | | |
| | | | |
| Length: | 8 Feet | 7', 8', 8'8 Feet | 7 Feet |
| Width: | 22.5" | 22" | 23" |
| Weight Capacity: | 200 pounds | 230 pounds | 230 lbs (can be exceeded) |
| Weight: | 13.4 pounds | 15 pounds | 12.5 lbs |
| | | | |
Quick Answer: The 7 Best Rated Beginner Surfboards For 2021
For more of my top gear recommendations, have a look through these popular Outside Pursuits guide links: Surfing Wetsuits, Surfboard Bags, Bodyboards.

---
Beginner Surfboard Reviews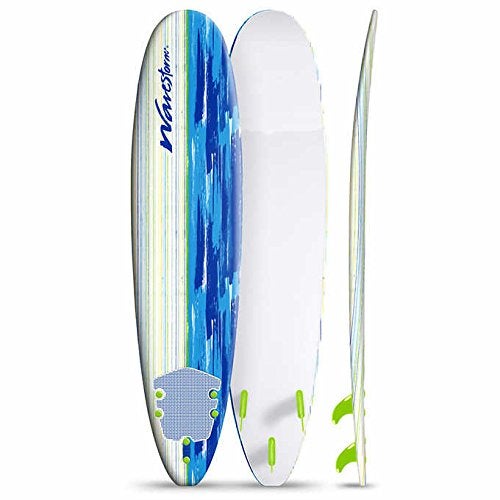 Wavestorm Beginner Surfboard at a Glance
:
---
Length: 8 Feet
Width: 22.5 Inches
Weight Capacity: 200 Pounds
Board Weight: 13.4 Pounds
There's nothing wrong with starting out on a softboard — often called a 'foamie' — it's less likely to hurt you when you wipe out and the extra volume and length make for added utility while you're just starting out.
You don't want to spend a lot of money on a board when you're just starting out, either — and this board checks all the necessary boxes without costing you a fortune.
The Wavestorm offers great drive, flotation, and paddling ease for riders up to 200lbs.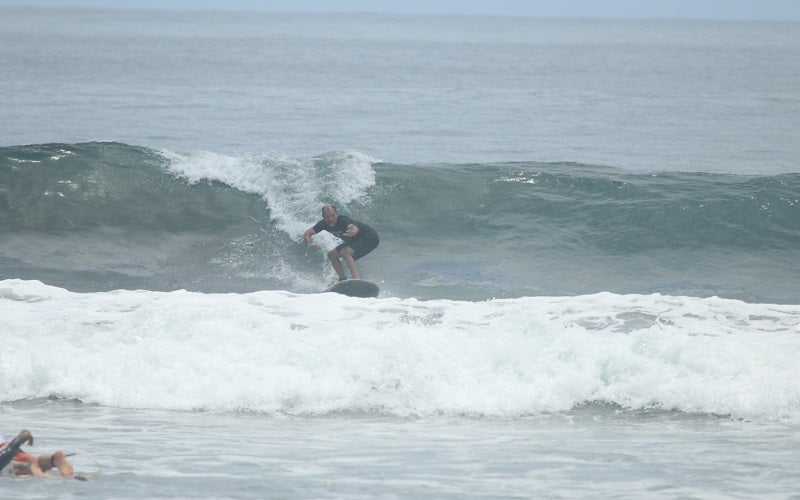 A strong EPS core is complimented by three stringers, a traction pad for stable foot placement, and a removable ankle leash. This is my overall top pick for the best beginner surfboard.

---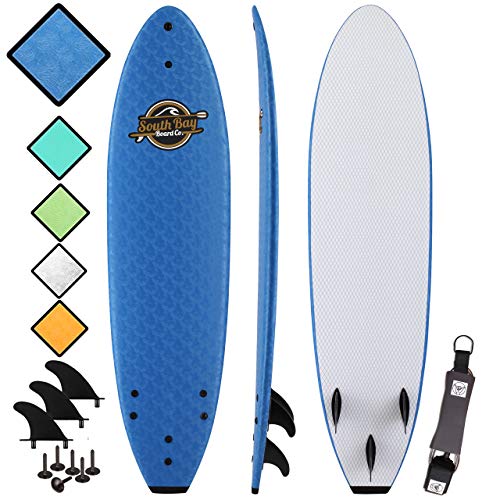 South Bay Board Co. at a Glance
:
---
Length: 7′, 8′, 8'8 Feet
Width: 22 Inches
Weight Capacity: 230 Pounds
Board Weight: 15 Pounds
This high performance foamie is the ideal shape and size for catching whitewater waves. The rounded rubber tail makes for added stability when you're just learning how to turn and the double concave bottom deck helps absorb impact and improve balance.
The nose is balanced to prevent diving and it's suitable for riders up to 230 pounds. This surfboard is not just for beginners — even experienced riders will have a blast because of how easy it makes catching waves.
The South Bay Board Co. package includes a leash and a screw-in fin set. Coming with everything you need to get started, this is another top contender as the best surfboard for beginners.

---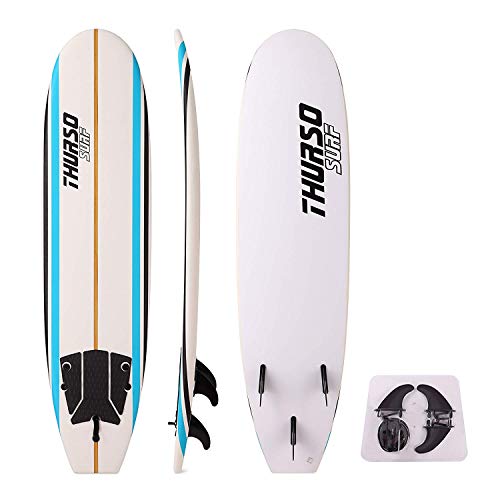 THURSO SURF Aero Soft Top Surfboard at a Glance
:
---
Length: 7 Feet
Width:

21.5″

Inches
Weight Capacity: 210 Pounds (can be exceeded)
Board Weight:

8

Pounds
At 7', the length of this board allows for plenty of room for error. It's everything you want in a beginner board — plus a little extra. This company has been in business for more than 20 years and has perfected its softboard technology.
Three rigid stringers provide for a high level of durability while high density EPS core makes this board light and beginner-friendly, helping you keep your balance while standing.
Video: Trying out the THURSO SURF Surfboard in Jaco Beach, Costa Rica
THURSO SURF Aero Beginner Surfboard
This 7' softboard includes an ankle leash and 3 removable fins help with tracking and stability. In my opinion the best beginner surfboard for the money!

---

BIC Sport PAINT Women's Surfboard at a Glance
:
---
Length: 7′ (other sizes available)
Width: 22 Inches
Weight Capacity: 176 Pounds
Board Weight: 12.5 Pounds
Appealing floral graphics make this the perfect board for women who want to learn how to surf. The Wahine collection is available in 5'6″, 6', and 6'6" lengths — with the 6'6" being recommended if you're just starting out.
That length with give you the most volume for wave-catching ease. If you're more of an intermediate rider, you can opt for a shorter version. The Wahine is regarded for its versatility and durability — while its Dura-Tech plastic construction ensures longevity.
Fins can be set up as a tri-fin or a quad-fin system. An integrated 3D traction pad makes for added stability on the water.
The BIC Wahine is in my opinion the best beginner surfboard for women.

---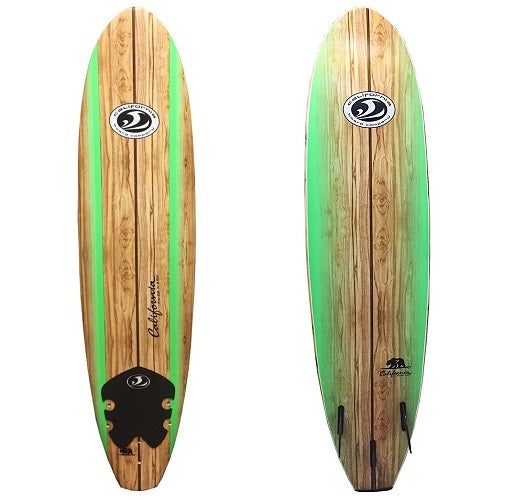 California Board Company Surfboard at a Glance
:
---
Length: 7 Feet (other sizes available)
Width: 22 Inches
Weight Capacity: 210 Pounds
Board Weight: 11 Pounds
If you're looking for something stylish that stands out and performs well in the water, the CBC surfboard is a great option. The new and improved design makes for great handling and ease of balance including three stringers, a slick bottom, and a WBS top deck.
This board has everything a could beginner could need and in addition it will look great as you're paddling out past the break. Probably the best beginner surfboard under $300.

---

Liquid Shredder FSE Soft Surfboard at a Glance
:
---
Length: 8'8″ Feet
Width:

24.5

Inches
Weight Capacity: 210 Pounds
Board Weight: 17 Pounds
No wax needed for foamies! That might be one of this biggest advantages to these kind of boards. At more than 9', this board is an ideal length for those just getting their toes wet — with a little extra to ensure you get in some quality rides.
The round nose and rubber tipped tail are ideal for turning while the sleek frame allows you to paddle out and catch waves easily. For a beginner board, the Liquid Shredder can pick up plenty of speed — which will be appreciated by surfers of all levels.
The beginner-friendly nose rocker ensures you don't go falling on your face, either. This board comes with an ankle leash and three removable fins.

---

BIC Sport G-Board EVO Soft Surfboard

at a Glance
:
---
Length: 8 Feet (other sizes available)
Width: 23 Inches
Weight Capacity: 230 Pounds
Board Weight: 20 Pounds
This board takes everything you love about BIC surfboards and puts it in an 8' model. This board also offers the versatile tri or quad fin selection and a coveted combination of durability and stability for both experienced and beginner riders.
The soft deck of the board gives you not only a non slip grip but some cushioning for the inevitable falls on the board.
This board wasn't just made for the white water — don't be afraid to take it out past the break and try to catch 'green' waves.
I would rate the BIC G-Board as the best beginner surfboard under $500

---
Beginner Surfboard Comparison Table
How to Choose the Best Beginner Surfboard
This guide will help you pick out a top rated surfboard that is appropriate for you and provide you with research on our top picks — so that you can spend less time surfing the internet, and more time surfing waves!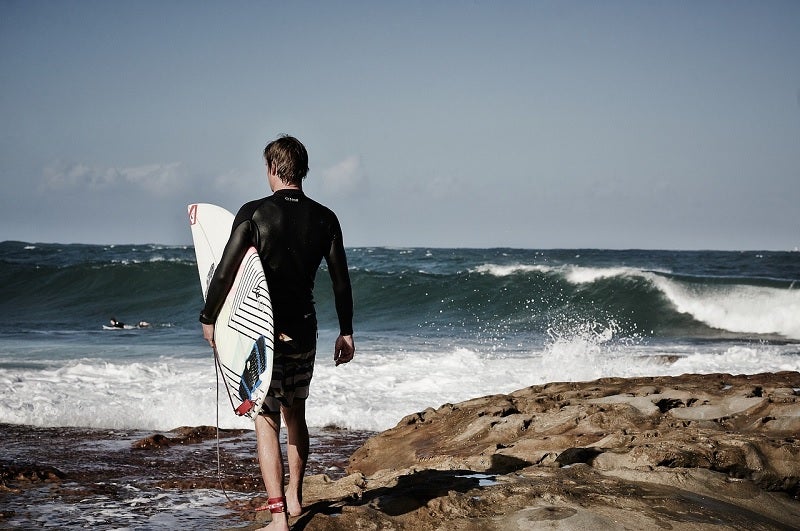 Surfboard Basics
When you're just starting out learning how to surf, you're going to be looking for a few things in a surfboard:
High volume
Extended length
Relaxed rocker
Extra width
Volume makes the board float better and is ideal for learning. Volume is measured in liters, with an ideal measurement being about 60 liters or more.
Longboards are typically between 60-80 liters of volume which makes them ideal for beginners. Buoyancy is going to be key in the beginning.
Longboards are typically over 8 and 1/2 feet in length and plenty buoyant — again making them ideal for learning to surf. Surfers are going to want to start catching waves in the white water before progressing to actually breaking/green waves.
Going wider adds stability when you first stand up. A longer board makes it easier for paddling out and allows for a greater capacity for error. The narrower and thinner the board, the less buoyancy.

Types of Surfboards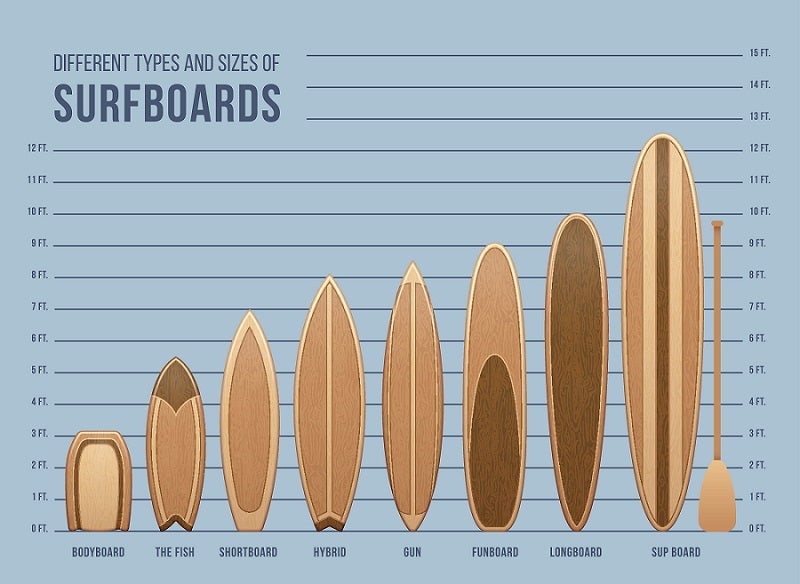 Foam Board/'Foamie' Longboard 7ft-9ft
Surfboards are typically hard and brittle— not ideal for beginners who are falling and possibly colliding with the board. Foamies are soft surfboards.
They are ideal for learning how to surf because they are soft, affordable, durable, and easy to catch waves on. Foamies are the most capable boards in white water and won't hurt if you contact them in a wipe out.
Another advantage?
You don't have to use wax because softops are textured by the manufacturer.
The cons to foam boards are their heavy weight, difficulty of transport due to their size, and the fact they can absorb alot of water. They are not ideal for surfing bigger waves so once you progress pass the beginner stage, you'll probably want to upgrade.
In addition, it can be difficult to paddle out on a foamie when the surf is pounding. They also don't usually last as long as fiberglass or epoxy boards — but this also depends on how often you surf and how well you take care of them.
Longboards 8ft – 9ft
If you're truly adverse to starting on a foamie, consider a longboard. Longboards allow you to surf a bigger variety of waves, allowing you to fast track your progression and practice in any conditions.
You can also do fun moves on longboards like hanging-five or cross-stepping (once you're ready for that). They are typically faster, more maneuverable, and more responsive than foamies — and they also hold their resale value.
Most longboards will last a lifetime if well taken care of.
Again, the cons come in the form of their size. It's difficult to fit most longboards into a car and they are heavier and bulkier than short boards.
Mini-Mal Surfboards 7' – 8'
These are smaller than longboards, which makes them easier to transport around.
The major advantage to these boards is that they will fit into some cars — but you need to be a very small person or have developed skills on a longer board before you find alot of success surfing a mini-mal.
It's easier to paddle out in bigger surf than on a large foam board, but not as fast as a high performance short board.
Fun Boards 'Magic Carpets' 6'10 – 7'2
These boards are similar to mini-mals but shorter and more fun — if you have the skills to ride them. They're typically stable in the water with single fin and thruster configuration options.
These boards are ideal for wave faces that are knee-high to overhead in height. They are also small enough to fit in most cars and easy to transport.
Performance Shortboards 5'6 – 6'0
These are the fastest and most responsive boards available, ideal for advanced and expert surfers. They're extremely lightweight and therefore easy to transport and will fit into cars easily.
On a shortboard, you can duck dive out into the surf, making for a pleasant experience when paddling out as opposed to on a bigger board. Variations of tri/thruster and quad fin systems are available.
The disadvantages of a short board are difficulties catching waves, slower paddling out for beginners, and the necessity for excellent balance. These are by far the hardest boards to surf on.
Guns 6'6 – 7'2
Guns can be thought of as shortboards for big waves. When the surf is pumping and you have the skills, nothing beats the wave catching capacity of a gun.
They are faster and more stable than a shortboard on a powerful wave. In addition, they're lighter weight and easier to carry around. They're small enough to be transported in a vehicle.
But they're definitely not meant for beginners — it can be a lot more difficult to turn and surf smaller waves with a gun.

Anatomy of a Surfboard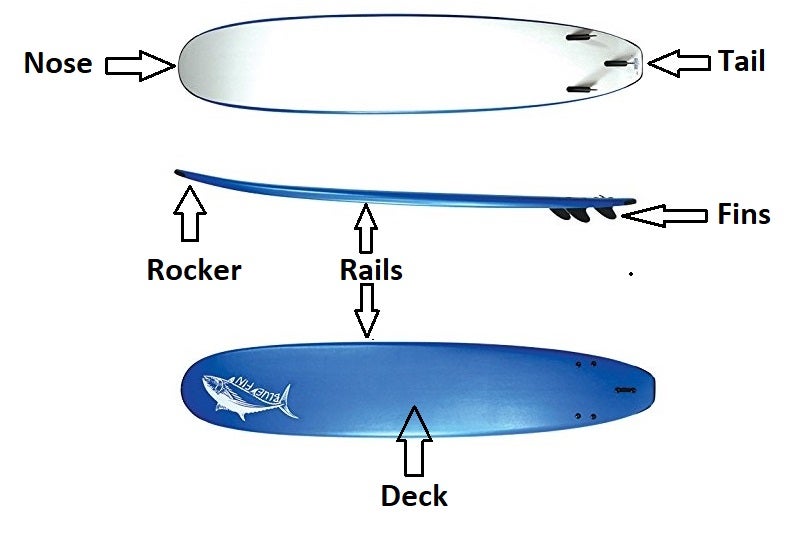 Rocker
The rocker represents how upturned your board is from the nose to the tail (think: a banana). It is a complex subject. The rocker can affect both speed and turning.
In general, a flatter rocker overall increases speed whereas a more rockered out board increases turning ability.
Typically long boards have flatter rockers which are easier to ride while shorter boards have high nose and tail rockers that allow for snappy turns and late drops.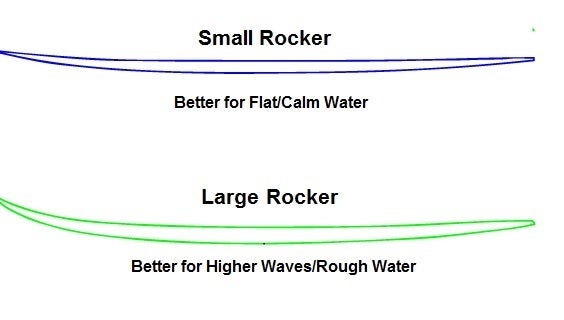 Rails
Rails represent the sides of your board. There are low, medium, and high options that are determined by the width of the deck and the volume of the board.
Beginners typically prefer fuller rails which are usually indicative of a flatter deck and an increased overall volume — they allow for easier paddling and are more forgiving in turning.
Thinner rails are generally seen on shorter boards with less volume and reserved for advanced to expert surfers.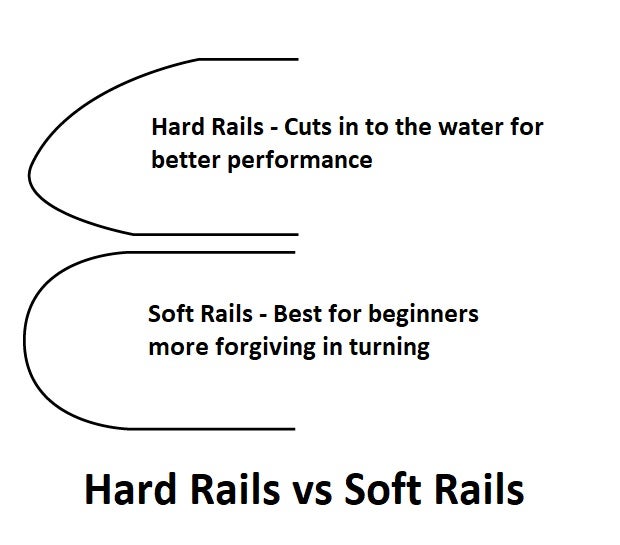 Fins
Fins are your major steering mechanisms. They can be permanent or removable systems with varying setups including single fin, tri/thruster, and quad arrangements.
Most surfboards you'll encounter will have a three fin arrangement. Two provide for the steering while the third serves as the herald of direction.
The ability to remove the fins is ideal for traveling and you'll find that many boards have removable fins.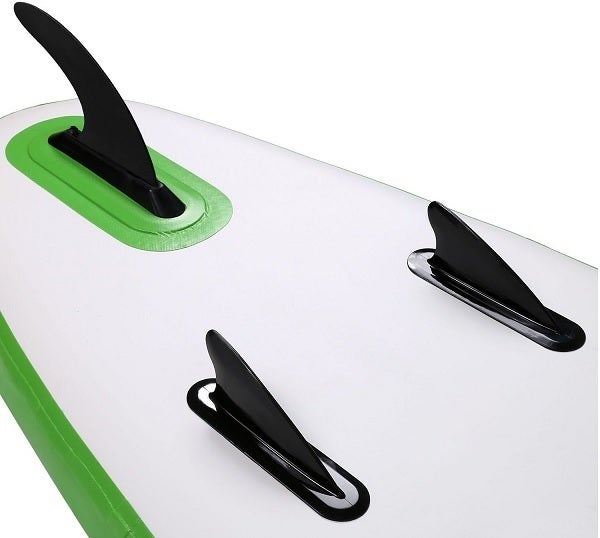 FAQ For Beginner Surfboards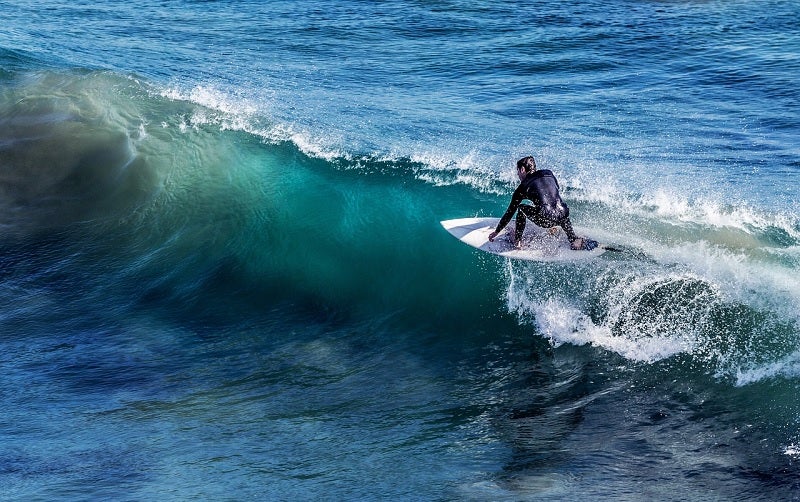 Q: How soon will I be able to get up on waves?
A: This is different for everyone and will depend on how much you practice, ocean conditions, and your general fitness and balance.
If you follow our guide and pick out a board that's appropriate for you, you should be getting up and standing on white water waves in no time. Learning to surf in big waves and performing maneuvers takes a long time — sometimes years of practice.
Q: Does surfing require a high level of fitness?
A: Similar to most sports, a higher fitness level will allow you to advance faster in the water. Individuals who are good at similar sports such as skateboarding or snowboarding might find an easy transition into surfing.
However, you don't necessarily have to be fit to get up on small waves. Choosing the appropriate surfboard is much of the battle — so if you are less fit, a longboard or a foamie is definitely appropriate.
Q: Should I take surf lessons?
A: Taking lessons is always recommended when possible. Surfing is a difficult skill to learn as it requires patience, balance, learning to read ocean conditions, and a whole lot of practice.
These combined requirements paired with a certain level of physical ability make surfing much harder to master than many other sports.

How To Stand Up On a Surfboard
How to stand up on a surfboard
Best Brands For Beginner Surfboards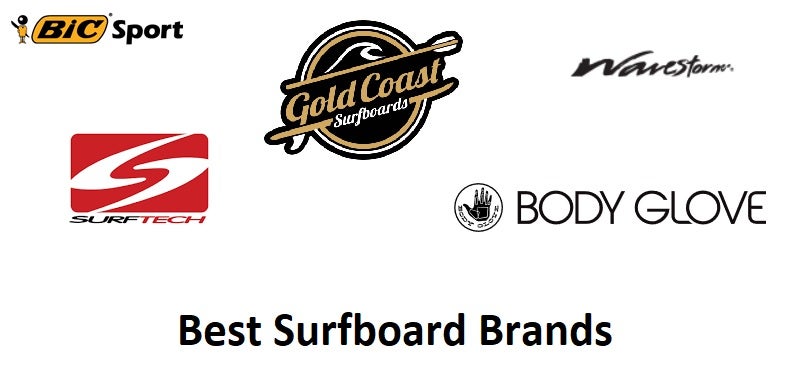 If you want to start an argument, ask some surfers what they best brands of surfboards are. For this article's purpose we are only looking at beginner surfboards and I think you will do well with any of these brands:
BIC: Yes, this is the same company that makes the ubiquitous lighter, they however have an amazing lineup of beginner and intermediate surfboards.
Gold Coast Surfboards: Started by surfers in California, they make some great quality surfboards and SUPs for very reasonable prices.
Surftech: Started in 1989 by surfers (of course!), they have many patented features in their surfboards that make them a great option.
Bodyglove: While much better known for their wetsuits, they have recently come out with a line of SUPs and surfboard that are an excellent choice for beginners!
Final Thoughts
Surfing can be one of the most exhilarating activities out on the ocean — but if you're using improper equipment, you're going to find yourself dissatisfied and disappointed much of the time.
Use this guide as a reference so you give yourself the best chance for success in the water. Both the Wavestorm 8' and the Verve Gold Coast are ideal options for beginners.
Above everything else, keep your head up and don't stop trying.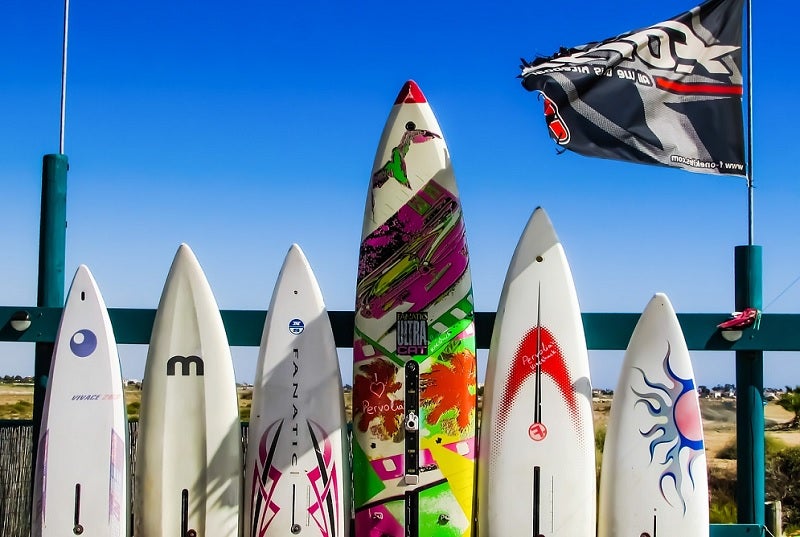 ---
I hope this guide was helpful for finding the best beginner surfboard to fit your needs. If you want to comment or recommend a surfboard I didn't include, please use my contact form to get in touch.
Have fun and good luck!
How We Researched
To come up with the top paddle boards we researched a variety of sources for reviews such as REI, Dicks Sporting Goods, West Marine and Backcountry along with our own personal experience.
We also consulted online magazines for product research and reviews to get as much unbiased information as we could. To help weed out fake reviews we used Fakespot.com to make sure we only looked at genuine reviews.
With so much quality gear available, we had to narrow it down based on what we felt were the best options were for the price. The author, Richard Remick has been an avid paddle boarder for over 10 years.
To help narrow down the selection he used his personal experience along with recommendations from paddle board instructors, and rental shops.
After extensive research, we came up with our list to help you choose the right one for you.
Sources
Notice:
OutsidePursuits.com is a participant in the Amazon Services LLC Associates Program, an affiliate advertising program. OutsidePursuits.com earns fees from products sold through qualifying purchases by linking to Amazon.com. Amazon offers a commission on products sold through their affiliate links.