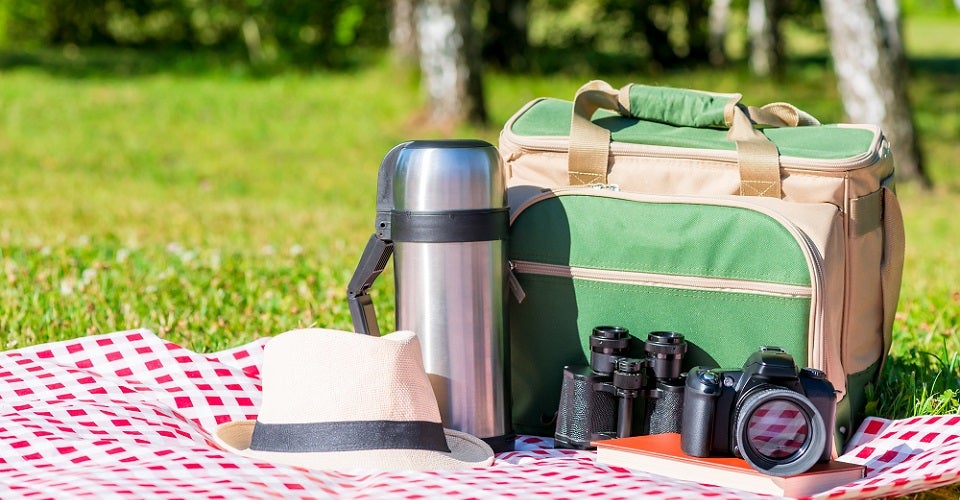 Our Editors independently research, test, and rate what we feel are the best products. We use affiliate links and may receive a small commission on purchases.
Soft-sided cooler bags, or just soft coolers are a great way of keeping food and drinks cold for those hot beach days, hiking or backpacking, or even a picnic at the park.
Much more convenient than traditional hard sided coolers with their weight and compactness advantages.
We've gone ahead and researched the top soft coolers, narrowing it down to the cream of the crop. Let's get started!
Best Soft Coolers
| | Engel Coolers Soft-Sided Cooler Bag | AO Coolers Soft Cooler Bag | RTIC Soft Cooler Insulated Bag |
| --- | --- | --- | --- |
| | | | |
| | | | |
| Capacity: | 32 Quarts | 12, 24, 36, 48 Cans | 8, 20, 30, 40 Cans |
| Weight: | 5 Pounds | 3 Pounds (12 can) | 4 Pounds (20 can) |
| Ice Retention: | 4+ Days | 24+ Hours | 36+ Hours |
| | | | |
For more of my beach gear recommendations, have a look through these popular Outside Pursuits guide links: Beach Chairs, Beach Canopy, Beach Umbrellas.
Quick Answer: The 7 Best Rated Soft Coolers For 2021
Our reviews of the top rated soft-sided coolers along with a comparison table and our buyers guide below will help you choose the right cooler for you.
---
Soft Cooler Reviews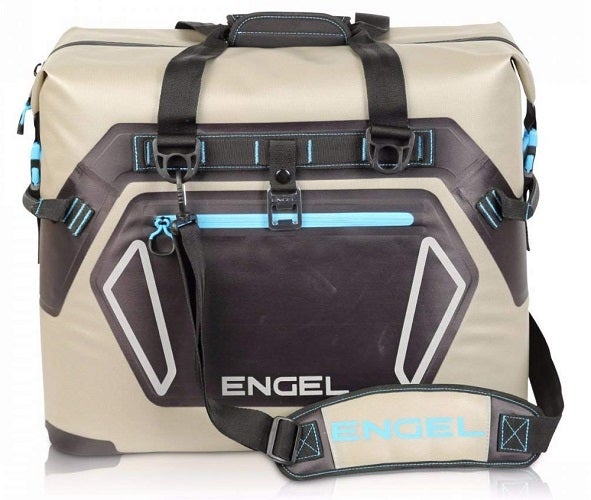 Engel Coolers Waterproof Soft-Sided Cooler Bag at a Glance
:
---
Weight: 5 Pounds
Capacity: 32 Quarts
Insulation Type: Closed Cell Foam
Ice Retention: 4+ Days
With three color designs available, the Engel Coolers Waterproof Soft-Sided Cooler Bag allows you to show off a bit of your personality while headed outdoors.
While three days is the average length of time this cooler will keep ice frozen, when kept out of the sun and properly pre-chilled it may last as long as four days.
Both the main compartment and the front accessory pocket are closed with waterproof zippers.
The outer wall of this Engel Coolers Cooler Bag is made of high-quality and very durable TPU but it's the unique insulation that makes this bag stand out.
The patent pending vacuum valve technology works to remove air from the insulating foam, making it even more effective when keeping the interior cool.
Along with the waterproof soft-sided bag from Engel Coolers, you will receive a shoulder strap as well as a removable bottle opener, plus zipper lube.
The zipper lube is not necessarily needed, but you will have in the event the zipper starts to drag or get caught. If you want long ice retention time, the Engel is the best soft sided cooler!

---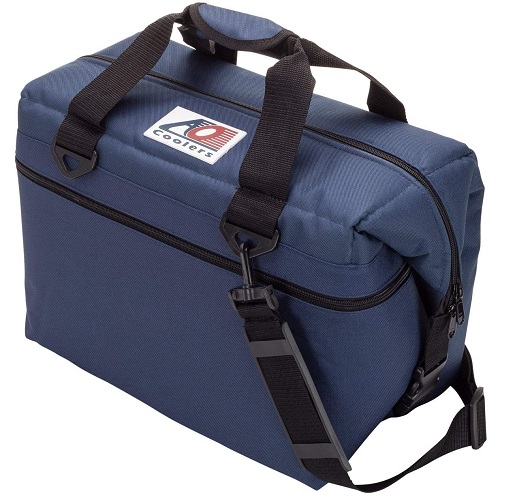 AO Coolers Canvas Soft Cooler at a Glance
:
---
Weight: 3 Pounds
Capacity: 12, 24, 36, 48 Can Sizes
Insulation Type: High-Density Closed Cell Foam
Ice Retention: 24+ Hours in 120+ Degree Heat
The Canvas Soft Cooler from AO Coolers comes in many sizes and many colors to give you plenty of options. Sizes include: 12, 24, 36, and 48 cans.
The canvas outer shell of this soft cooler makes it very durable and rugged, perfect for more vigorous outdoor activities such as hiking, boating, or even hunting.
It also meets the carry-on restrictions for air travel in the US which has made it useful for parents carrying snacks and beverages for children or even milk for infants.
The AO Coolers Canvas Soft Cooler is resistant to scratches and impacts due to the durable canvas outer wall and the 5-layer insulation system. The inner liner is leakproof, made of durable TPU and is eco-friendly.
Even with think insulation layers, it is lightweight and prevents against sweat. This particular soft cooler can also be used to keep hot items warm, such as potluck meals. A top pick for the best soft cooler at any price!

---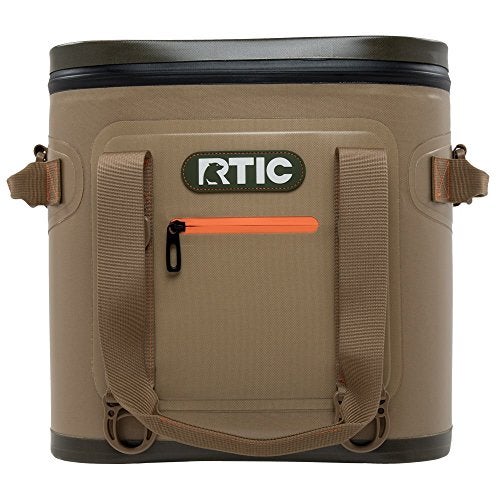 RTIC Soft Cooler Insulated Bag at a Glance
:
---
Weight: 4 Pounds
Capacity: 8-40 Can Sizes
Insulation Type: 2″

Closed-cell foam

Ice Retention: 36+ Hours
This particular soft cooler, by RTIC, features soft sides but a hard inner liner. This helps to give the cooler a more substantial structure while still being lightweight and easy to clean.
The heavy duty 840D TPU material is also waterproof which eliminates sweating and adds to the insulation.
The inner liner is made of 420D TPU so it is still very durable and easy to care for. Most spills can just be wiped away with a damp cloth.
Something that makes the RTIC Soft Cooler stand out is the inner liner that is antibacterial and resists punctures. Because some crushed or cubed ice can have sharp edged, this feature only adds to its durability.
It can be used to keep cold things cold and hot things hot making it a very versatile cooler bag. The main insulated pocket is waterproof and there is one mesh pocket for any additional, small items like your keys.

---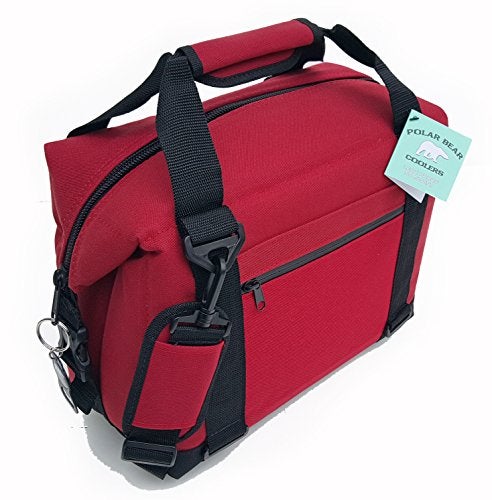 Polar Bear Soft-Sided Cooler at a Glance
:
---
Weight: 3 Pounds
Capacity: 12, 24, 48 Can Sizes
Insulation Type: 1" High Density Foam
Ice Retention: 24+ Hours in 100+ Degree Heat
Polar Bear has long been known for designing high-quality rugged coolers. Their proprietary cooling technology keeps your food and drink cold for a long time!
Where their cooler really stands out is is the outer wall and inner lining that really speak volumes about the quality Polar Bear puts into their coolers.
The outer shell is made of 1000D nylon that is luggage-grade, meaning it will stand up over many years. This tough nylon is anchor stitched as well as double hemmed to further the durability.
The inner lining is anti-microbial, just like the Hammit Soft Cooler just above but is also made with food-grade TPU. The rustproof and waterproof zipper is heavy duty, owing to Polar Bear's YKK#110 patent pending design.
The bottom saddle, where much of the weight of a soft cooler sits, is reinforced.
With this blend of craftsmanship and performance, the Polar Bear Soft-Sided Cooler might be just the best cooler bag and will undoubtedly last you many years.

---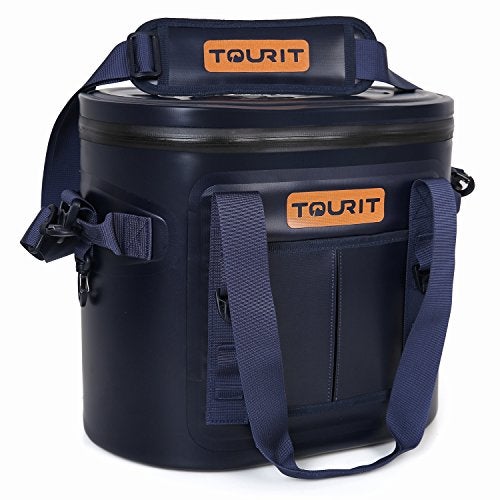 TOURIT 20-Can Leak-Proof Soft Pack Cooler at a Glance
:
---
Weight: 5 Pounds
Capacity: 20 Cans
Insulation Type: High Density Foam
Ice Retention: 36+ Hours
Every detail has been attended to when Tourit designed their leakproof Soft Pack Cooler, which can store 20 cans. It is impact resistant, to help save the contents inside should it fall or be dropped.
This impact resistance is due to a durable outer shell, but the inner lining also works hard.
This cooler is made from BPA free materials that are also FDA approved, reducing any worry you may have when open foods and drinks are inside.
The liner is antimicrobial and resists mold and mildew even when it can't be cleaned soon after use.
The zipper, which is airtight, helps to insulate the interior of the Soft Pack Cooler, but it is the high density foam insulation that does most of the work.
It takes just a mild solution of warm, soapy water to leave the cooler spotless. Carrying this Tourit cooler is easy with either the side or top handles, and it comes with a handy shoulder strap as well.

---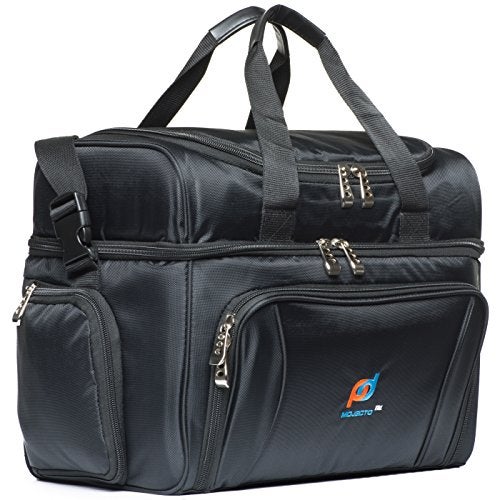 Mojecto Large Cooler Bag at a Glance
:
---
Weight: 3 Pounds
Capacity: 10 Quarts
Insulation Type: High Density Foam
Ice Retention: 30+ Hours
If you are looking for a soft sided cooler that is a little larger, perhaps for longer getaways or to help keep the drinks and food for several more people, the Mojecto Large Cooler Bag is ideal.
Not only is it large in size, but there are two separate large compartments making it easy to separate items for easy access. These two compartments aren't the only ones, however.
There is a front pocket and two side pockets that can be used for items you may not need to keep cold.
The high-density, thick foam helps to keep the two main compartments cool while the 840D polyester outer shell is resistant to both tears and fading. Double, heavy-duty zippers stand up to regular use while also helping to keep the cold in.
The PEVA liners are replaceable which makes it easy to remove stains or make the interior waterproof once again should there be a tear.
It isn't recommended to use crushed or cubed ice in this large cooler bag as they may puncture the inner lining. Gel ice packs are ideal and work just as well in this cooler without making food and drink items wet.

---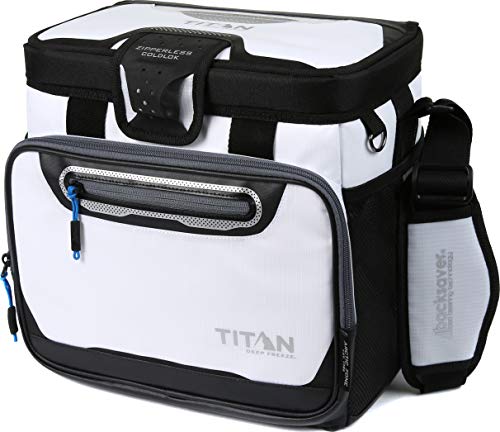 Arctic Zone Titan Zipperless Cooler at a Glance
:
---
Weight: 2 Pounds
Capacity: 9, 16, 30, 48 Can Sizes

Insulation Type: DeepFreeze High Performance Insulation
Ice Retention: 2+ Days
There is a reason Arctic Zone named this line of coolers "Titan" as its materials and construction truly make it a Titan. It comes in 4 sizes, from 9 cans all the way to 48, so you are sure to find the right size for your needs.
The heat barrier exterior helps to reflect heat instead of absorb it, meaning the cold time is maximized and both the interior and exterior fabrics are water and stain resistant due to Rhino-Tech technology.
All of this also helps to make the exterior resistant to punctures and abrasions. The inner liner is made from FDA-approved materials and the hard liner helps to provide structure.
A unique feature that makes the Arctic Zone Titan Zipperless Cooler unique, other than being zipperless, is the SmartShelf that allows you to separate the contents within the soft cooler.
The liner is also treated with Microban meaning it resists stains and odors. The "flip open" design keeps contents cool without having to worry about waterproof zippers, while the front accessory pocket is zippered for convenience.

---
Soft Cooler Bag Comparison Table
| Soft Cooler Bag | | Capacity | Weight | Ice Retention | Rating |
| --- | --- | --- | --- | --- | --- |
| Engel Coolers Waterproof Soft-Sided Cooler Bag | | 32 Quarts | 5 Pounds | 4+ Days | 4.0 / 5.0 |
| AO Coolers Canvas Soft Cooler | | 12, 24, 36, 48 Cans | 3 Pounds | 24+ Hours | 4.5 / 5.0 |
| RTIC Soft Cooler Insulated Bag | | 8, 20, 30, 40 Cans | 4 Pounds | 36+ Hours | 4.3 / 5.0 |
| Polar Bear Coolers Soft Sided Cooler | | 12, 24, 48 Cans | 3 Pounds | 24+ Hours | 4.4 / 5.0 |
| TOURIT Leak-Proof Soft Pack Cooler | | 20 Cans | 5 Pounds | 36+ Hours | 4.5 / 5.0 |
| MOJECTO Large Soft Cooler Bag | | 10 Quarts | 3 Pounds | 30+ Hours | 4.6 / 5.0 |
| Arctic Zone Titan Zipperless Cooler Bag | | 9, 16, 30, 48 Cans | 2 Pounds | 2+ Days | 4.1 / 5.0 |
How to Choose the Best Soft Sided Cooler – Buying Guide

All of the soft-sided coolers we've reviewed here have various features. Some may be important to you and some may just be an added benefit you don't really need.
When shopping for the perfect soft cooler, it's important to know which features are most important for you so you can factor those in first.

Size/Capacity
The size and capacity of a soft cooler is, by far, the most important feature. If you choose a cooler that is too small, you may find you need to upgrade to a bigger one soon after your initial purchase.
If the cooler is too big, it may be cumbersome, and you won't really be utilizing all that space you paid for. Plus, it will take more ice to cool a bigger cooler and if you don't need that extra space, this is just a waste.
If you know you typically pack the same items each time you head out, try putting these things all together in one place to see just how much space they take up. If you often take different types and amounts of items to different places, it may be worth it to have a smaller one for one type of outing and a bigger one for longer trips.

Weight
The items you put in the cooler, plus ice, will already be heavy enough. You won't want to add to the weight by choosing a soft sided cooler that already weighs quite a bit. All of the coolers we reviewed for you are considered lightweight, meaning they are 5 pounds or less when empty.

Types of Soft Cooler Insulation
Ice retention time is a factor of type of insulation, thickness and outside temperature. For insulation, you're going to find two main types: polystyrene, and foam.
Polystyrene
This is the best insulator for a soft cooler that money can buy. It's a plastic, which means it's cheap, relatively lightweight and poor at transferring heat while being very durable. The thicker the walls of polystyrene are, the better it's going to keep the contents of the cooler cold.
Most cheap coolers will be made with plastic only, which will be the only insulator. To make the insulation greater, they increase the thickness of the plastic walls. It's pretty basic, but it works.
Foam
In less expensive soft-sided coolers, you're typically going to find insulation consisting of a foam lining. A foam lining works well if you just need to keep the contents cold for a few hours or for less than a day,
It is not as effective at keeping ice as polystyrene. However with enough thickness it is effective for longer periods of time.
Chill Time
Some coolers are meant to keep items cold for only 24 hours and for some, this is ideal. If you are only going to the beach for a day, keeping items cold for longer may be too much.
However, if you are headed to the woods for several days, a cooler that can keep up that long is important. We have featured a blend of coolers that can keep cold anywhere from 24 hours to 4+ days depending on your needs.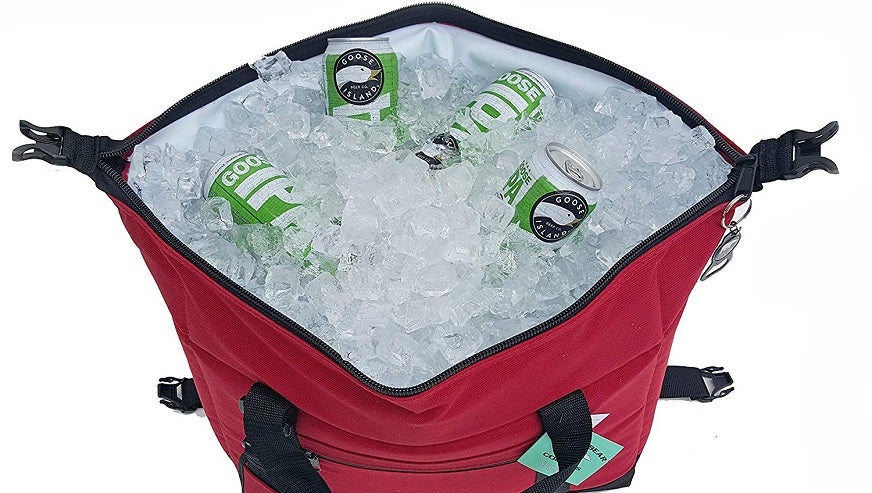 Style
No one wants to show off an ugly soft cooler, right? From the zipperless and rugged design of the Arctic Zone Total to the more simple design of the AO Canvas Cooler, there's always a soft cooler that will not only match your needs but also help you express your style.

Additional Features
Some soft-sided coolers have proprietary features that you can only get with their products. The zipperless design of the Arctic Zone Titan is one such feature.
Other features we saw during our reviews of the top 7 soft sided cooler bags are the vacuum valve technology of the Engel Cooler, and the antimicrobial and food-grade materials used in the Polar Bear Cooler.

FAQs About Soft Coolers
Most people have plenty of questions when it comes to choosing the right soft-sided cooler. We've asked consumers what their questions were to find out the most common.
Q: Do I need to lubricate waterproof zippers?
Most waterproof zippers come pre-lubricated and may not need to be lubricated again. However, if the zipper starts to pull and tug where before it moved smoothly, then it might be time to lubricate it. Some of the coolers we reviewed come with lube for you to use when needed.
Q: Can a soft cooler be flattened for travel?
The answer is, yes and no. If the soft-sided cooler doesn't have a hard inner liner, it can usually be flattened to place it in a backpack, or to be packed more easily in the vehicle for transport. Those soft-sided coolers that have a hard liner can't be flatted, but that is part of what makes them useful to some.
Q: Will a soft cooler work for both hot and cold items?
Many soft-sided coolers can be used to keep both cold items cold and hot items hot. Not all of them have this feature however. If you need a cooler that can handle both cool and warm items, the AO Cooler or the Homitt Cooler may be ideal for you.
Q: What does "BPA Free" mean?
BPA has long been used in plastics that are used in conjunction with food. These chemicals, when in large amounts, may be unhealthy. By choosing not only soft-sided coolers but also food containers and other plastic products that are BPA free, you are ensuring that no harmful BPA chemicals are near your food and drink.
Q: How hard is it to carry a soft sided cooler?
Most people find that it's actually much easier to carry a soft-sided cooler versus a hard plastic one. The handles that are built in to soft sided coolers can be used in several ways depending on the weight of the contents while many hard-sided coolers don't have versatile carrying points. Many soft-sided coolers also come with shoulder straps that make carrying them even easier.

Tips for Soft Sided Coolers
Need to know how best to choose or use a soft-sided cooler? We have some tips for you!
Tip #1: Choose the Right Size
If the cooler is too small you won't be able to use enough ice to keep it cool, while if it is too large, you will have to use more ice just to keep it cool. It's important to choose a cooler that is not too small and not too large. If you need a bigger cooler on certain trips than others, it may be worthwhile to have two different sizes of cooler.
Tip #2: Functional Style
Many soft-sided coolers are designed to be very fancy. However, the design of your new soft cooler should be for function first, and design second. One cooler may look really great but if it has no exterior pockets and you need that, it's best to choose the more functional cooler.
Tip #3: Pre-Chill Your Cooler & Items
If you pre-chill both the cooler and the items you will be putting into it, you can lengthen the amount of time the cooler will keep the contents cold. You can pre-chill the cooler and items in the fridge or even the freezer.
Tip #4: Clean Your Cooler After Every Use
If the cooler isn't cleaned after each use, excess moisture may cause unwanted odors and even mold or mildew. After draining all water, leave it sit while open for several hours until it is completely dry before you put it up until the next use.
Tip #5: Use the Right Type of Ice
Not all types of ice can be used in a soft-sided cooler. You can see with the Mojecto cooler that should be used only with gel or brick ice packs instead of actual ice. Be sure to find out what type of cooling source is best for the cooler you choose.
Keep it Cool Even in Hot Weather!
The best soft coolers are ideal for use during hot weather or out in the sun. This is because the outer shell can keep heat and sun away from the cold interior liner. If you need a new cooler for trips, picnics, or even potlucks, a soft-sided cooler is perfect!
How We Researched
To come up with the top soft-sided coolers, we researched a variety of sources for reviews such as Target, Lowes, Bed Bath & Beyond and Walmart along with our own personal experience.
We also consulted online magazines for product research and reviews to get as much unbiased information as we could. To help weed out fake reviews we used Fakespot.com to make sure we only looked at genuine reviews.
With so much quality gear available, we had to narrow it down based on what we felt were the best options for the price. The staff authors have a wide and varied background in adventure travel, hiking and backpacking.
The authors have decades of experience and are eager to share their knowledge with readers.
To help narrow down the selection we used personal experiences along with recommendations from fellow travelers and tour guides.
After extensive research, we came up with our list to help you choose the right one for you.
Sources
---
Notice:
OutsidePursuits.com is a participant in the Amazon Services LLC Associates Program, an affiliate advertising program. OutsidePursuits.com earns fees from products sold through qualifying purchases by linking to Amazon.com. Amazon offers a commission on products sold through their affiliate links.