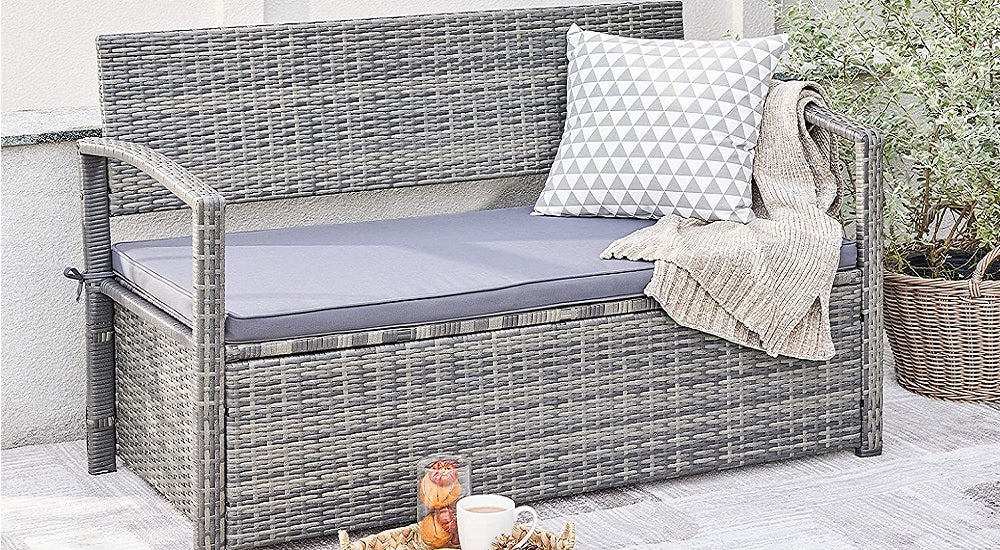 Our Editors independently research, test, and rate what we feel are the best products. We use affiliate links and may receive a small commission on purchases.
If you want to maximize your space, then purchasing a garden shed and seating may not be feasible. What's the perfect solution?
One of the top outdoor storage benches, of course! These benches look beautiful but open up to store your garden tools, pool toys, blankets, and much more.
If this sounds like just the solution for you, don't go anywhere because we have the top models on the market right here!
Best Outdoor Storage Benches
For more of my home and garden recommendations, have a look through these popular Outside Pursuits guide links: Outdoor Storage Sheds, Compost Bins, Deck Boxes.

Quick Answer: The 7 Best Rated Outdoor Storage Benches For 2021
Our reviews to the top rated outdoor storage benches with our comparison table and buyers guide will help you choose the right storage bench for you.
---
Outdoor Storage Bench Reviews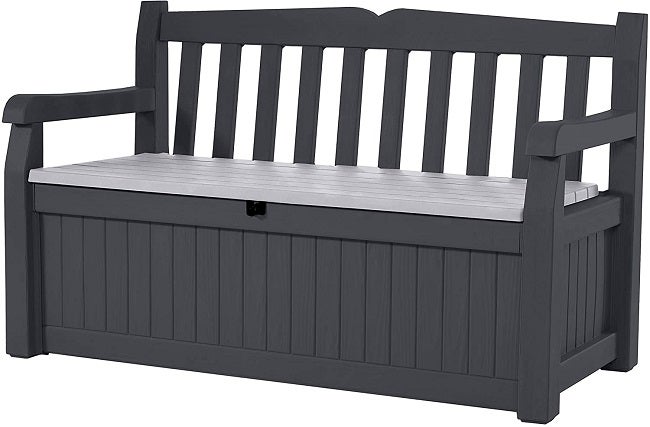 Keter Eden Storage Bench at a Glance
:
---
Capacity: 70 Gallons
Material: Resin
Waterproof: Yes
Weight: 34 Pounds
Starting this off with a bang, we have the Keter Eden 70 Gallon Storage Bench Deck Box. Hand-crafted to perfection, this stunning piece of furniture is sure to turn some heads. It's not just about looks though: it has the ability to store up to a whopping 70 gallons (as you probably guessed from the name)!
No matter if you need a comfy spot for watching the stars with someone else, enjoying a snack in the fresh air, or storing some extra tools, this is the best outdoor storage bench.
Made from a durable-yet-stylish resin material, it features a wood-paneled design that will only enhance your already-existing décor. The beige bench with a brown seat looks elegant yet simple – something everyone will love.
Expanding a bit on that, the resin is completely weather-resistant and perfect for all types of environments. You never have to fret about the possibility of it rotting, warping, denting, rusting, etc. The polypropylene resin offers the perfect balance of durability with light weight, weighing in at just 34 pounds.
If you ever need to move it around from indoors to outdoors, you can do so without feeling like you're participating in Olympic weightlifting.
The design is just as important as the materials it's made out of, and here you'll find contoured armrests and back, built-in ventilation, and the width to fit 2 adults easily. The deck box is simple to use and lockable, so you can keep your items stowed away safely.

---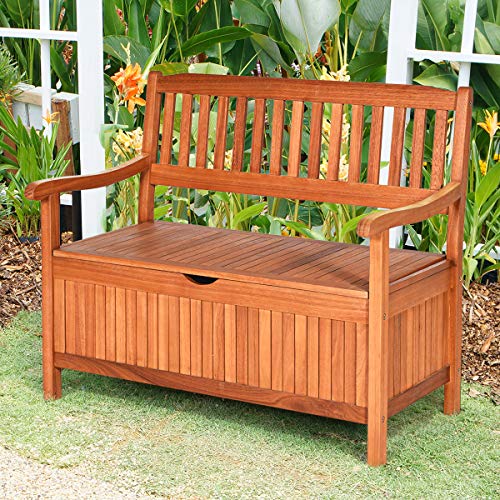 Tangkula Wooden Outdoor Storage Bench Large Deck Box at a Glance
:
---
Capacity: 42″x 23″x 35.5″(L x W x H)

Material: Eucalyptus Wood
Waterproof: Yes
Weight: 43 Pounds
Next up, we have the Tangkula Wooden Outdoor Storage Bench which features exotic looks and a humongous capacity. Made of eucalyptus and other solid wood, it's made to support up to 705 pounds and fits 2 people comfortably.
Never worry about the bench deforming or cracking, as it's made to last through heavy use. Not only that, but it's perfect for all kinds of weather conditioners. The slats are all waterproof and the included zippered inner bag is as well.
This means that you can keep blankets and other sensitive items inside the bag, placed inside the bench, and can rest easy knowing they'll stay dry. As the bag is breathable, it won't get musky or moldy, either – perfect for long-term storage.
It does only come in one color, which is a natural teak – perfect for outdoor spaces with plants and trees. The backrest slopes just a little bit to encourage full relaxation, while the wide armrests offer adequate support. The seat is also a flip-top lid which includes a grooved handle that makes it easier to open up and shut.
Due to all of these features, this makes it an excellent choice for both indoor and outdoor seating and storage. Use it as a toybox, seating for tea time, extra barbeque seating, and so much more.

---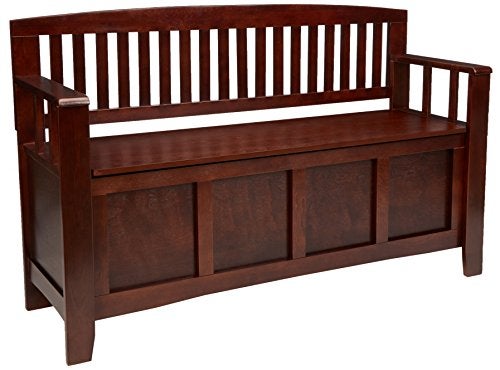 Linon Home Dcor Linon Cynthia Storage Bench at a Glance
:
---
Capacity: 17.25″ x 50″ x 32″
Material: MDF
Waterproof: Water Resistant
Weight: 52 Pounds
Are you looking for an outdoor storage bench but are on a tight budget? Then look no further than the Linon Home Dcor Bench. This bench may be simple, but if you don't need something all that heavy-duty it's an excellent option.
Made of MDF (medium-density fiberboard), it's lightweight yet very easy to move around if you want to use it both indoors and outdoors. The walnut finish and overall appearance is very elegant and looks great no matter where you place it.
If you're not a fan of the walnut, you can also opt for all-white which looks simple and pretty. Many people found it great not only for patio/poolside use, but also for using in a mudroom or foyer.
With a flip-top lid, it's easy to open and close so you can quickly grab what you're looking for. However, we should mention that the bottom of the bench is pretty thin, so we recommend using it to store lighter items like thin blankets, pool toys, and things of that nature.
Assembly is straightforward, though should be done by at least 2 people for best results. Overall, if you want something functional, with good looks on a budget then the Linon Home Dcor Bench is definitely one to keep on your radar.

---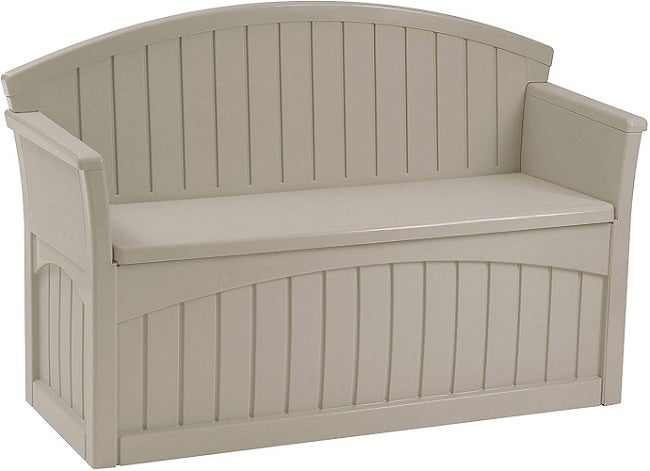 Suncast Patio Bench with Storage at a Glance
:
---
Capacity: 50 Gallons
Material: Resin
Waterproof: Yes
Weight: 27.25 Pounds
Often referred to as the best deck storage bench, the Suncast 50 Gallon Patio Bench with Storage is a wonderfully methodical and comfy way to store all your family's necessities this season.
Suncast is a well-reputed brand that specializes in making all kinds of backyard solutions and this bench is a fine example of that. From taste to function, we know you'll love it just as much as we do.
This gorgeous bench comes in just one color: Taupe. While taupe isn't the most exciting of shades out there, it's very refined and adds a dash of elegance to any garden or patio space. Not to mention, you don't have to worry about matching the color to your current décor as it goes with anything.
Made entirely out of resin, this bench may look delicate but is super strong against just about anything that comes its way. You don't have to even think about it fading as it holds tough against UV rays, and lets water just run off of it thanks to the plastic construction.
Mildew and rot are now a thing of the past so you can leave it outside without a care in the world. If you have kids who love climbing all over things, this is also a fine option as it won't give them splinters, nor will it scratch or dent.
Moving on to the storage aspect, it comes with an easy-flip lid for quick access to your stuff inside. With a 50-gallon capacity, you can fit in patio cushions, gardening tools, sports gear, and much more without having to stuff it in there. The storage seat is great as a love seat, too.
Assembly was easier than just about any other bench we've put together! Requiring zero tools, we were able to have it ready in just a mere 5 minutes!

---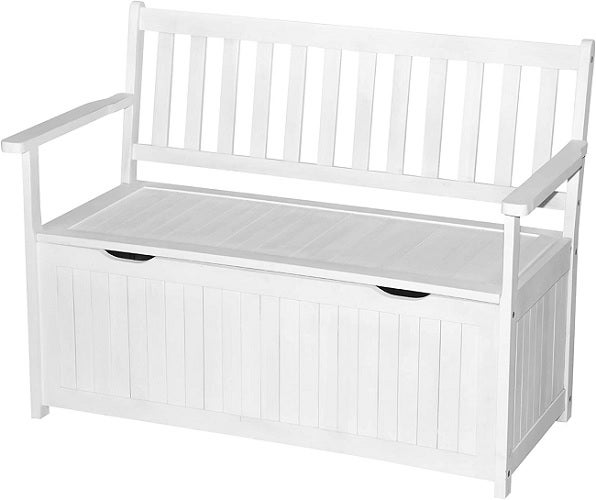 Outsunny Wooden Outdoor Storage Bench at a Glance
:
---
Capacity: 47.25″ L x 23.5″ W x 34.25″ H
Material: Acacia Wood, PE
Waterproof: Yes
Weight: 49.5 Pounds
The classic farmhouse look has been around for a long time, but it's made a popular resurgence in recent years. If you're looking for a model that fits right into that style, then check out the Outsunny 47.25" Wooden Outdoor Storage Bench. The all-white design is classy and sure to be one of the cornerstone pieces of furniture of your outdoor space.
The 2-person bench supports up to 485 pounds, which works well for the majority of users. The strength is thanks to the fine craftsmanship but also due to the solid wood composition. Made from weather-resistant Acacia wood, you can leave it outdoors year-round and it will hold up like the first day you assembled it.
Moreover, the interior compartment comes with a removable waterproof PE lining which is excellent for storing various tools, toys, cushions, blankets, etc. while keeping them safe and dry. This may seem like a small addition but it makes a big difference in peace of mind and user experience, and is one of the reasons why Outsunny is such a crowd favorite.
When you first get the package, you should know that there is a bit of a chemically/stain smell to the bench. However, after a day or so this odor should go away. Assembly is pretty simple, and all you really need is a screwdriver as an Allen wrench and all other necessary accessories come included.

---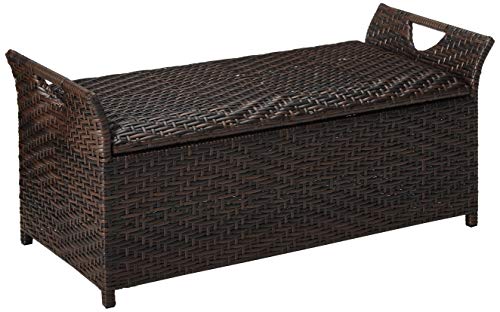 Christopher Knight Home Wing Storage Bench at a Glance
:
---
Capacity: 42″ x 17.75″ x 17.25″
Material: Wicker
Waterproof: Yes
Weight: 23 Pounds
Christopher Knight has quickly become one of the most well-known names in patio furniture, and their Wing Wicker Patio Storage Bench is exemplary of why. This practical unit is a contender for best garden storage bench for various reasons, which we're going to cover in-depth.
One of which, being the unique wicker style that no other has seemed to replicate as well. With a contemporary twist on a classic look, it features a hinged lid which also offers seating for 2 people. The multibrown color looks simple and goes with just about any environment or other style.
The wing ends don't offer much support to the arms of those using it, though make it easy to transport with built-in handles.
The smooth wicker feels nice to the touch, yet is very durable. The water-resistant material can be left outside without a problem, and the iron frame is also rust-resistant. Capable of holding up to 250 pounds, it will last for many seasons to come.
The inside area is great for stowing garden tools, though we should mention that some other customers did report some water getting in during rainstorms. For this reason, we recommend not keeping anything inside that could be harmed by water.
With no assembly required, it's perfect if you're not too DIY-savvy. Not only that, but you'll get to enjoy your bench almost immediately!

---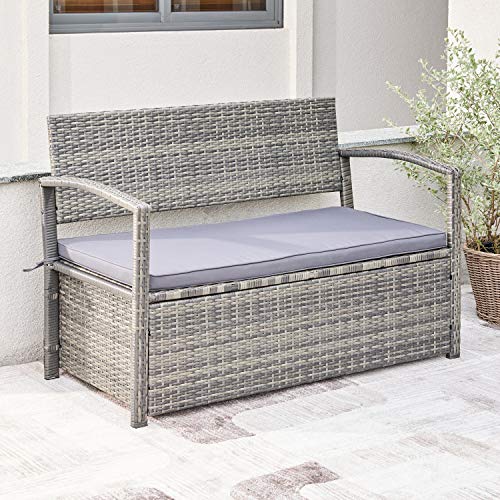 VIFAH V1924 Gabrielle All-Weather Resin Wicker Bench
at a Glance
:
---
Capacity: 48″ x 26″ x 32″
Material: Resin
Waterproof: Yes
Weight: 39 Pounds
For many, the best garden storage bench needs to come with cushioning, which is exactly what the VIFAH V1924 Gabrielle All-Weather Resin Wicker Lounge Bench. All-star is more like it, offering new levels of comfort and style not often seen at this price point. Made of a woven resin, it also offers a different look and is the most durable we've used.
The resin wicker is tough on its own, yet soft to the touch. It offers a beautiful look for any garden or patio area, and is sophisticated enough for a foyer as well. The resin actually covers a powder-coated metal frame which is resistant to rusting and wearing down.
In fact, it's so tough that you can leave it outdoors through every season and it will retain its original structural integrity.
Due to its metal frame, you can expect it to be a bit heavier than the rest as well. This makes it less likely to move around in the wind, though is still lightweight enough to move easily should you want or need to.
The cushion is made with this high level of quality in mind, too. The fabric which covers it is super-strong 250GSM polyester, which is UV-resistant and won't fade or rip. The interior is 125GR/m2 PE tarpaulin and the cushion itself is Oeko-Tex-certified.
You can count on them all being easy to wash and very comfortable. The deep seat only enhances its comfortability, making it a supreme option for sitting for multiple hours.
The cushions aren't actually waterproof, though the package does include a water-resistant cushion cover which unzips for user-friendliness.

---
Outdoor Storage Bench Comparison Table
How to Choose the Best Outdoor Storage Bench – Buying Guide

Now that you've gone through all of the top garden storage benches available, do you know which one you want arriving on your doorstep? If you're still undecided, that's totally fine! We know it can be challenging when there are so many excellent choices out there, but we're here to help.
We've gone ahead and written up the following buying guide. This guide will lead you through each consideration to take so that by the time you've read it there will be no question as to which model is perfect for you and your household.
Size
First, you need to figure out how big of a bench you need. Most don't vary all that much, as they are intended to seat 2 people at a time. However, there are some that can fit 3, too. Outdoor areas are usually a bit more flexible, though it's still a good idea to do a rough measurement of where you're planning on placing your outdoor storage bench.
Weight
How much does the bench weigh? Most on our guide are going to fall anywhere between around 18 pounds to 60 pounds. This may not be very significant for most, though if you have heavy windstorms in your area you'll want something a bit heavier so it doesn't go flying around.
If you are going to be moving it between indoors and outside often, you'll need a bench you can move easily – at least with the help of another person.
Also consider the weight capacity of your new bench. On the lower end, they'll support around 200 pounds, though the higher end models can easily support over 700! Take into consideration your own weight, as well as the weight of the other person/people who'll be using it too.
Material
When it comes to the best patio storage benches, there aren't too many kinds of materials to choose from. You'll find that by far, wood and resin are the most popular. While similar in appearance, there are some pretty big differences between them.
Wood – Wood is definitely appealing to many because wood gives that fully classic feel. However, wood is more difficult to maintain as it's more susceptible to rot, and it's also more expensive. Not only that, but you're more limited in colors and designs.
Resin – Resin is very flexible in appearance, comes in just about any color you can imagine, and is pretty inexpensive. On top of that, it's easy to maintain and almost always weather-resistant so you don't have to take it inside when the weather gets wet or cold.
Cushions
Do you want a bench with or without cushions? Sometimes a model will come with cushions already, and some won't come with any. The latter is nice if you already have some cushions you'd like to use, or if you'd like to purchase some separately. Just remember if you're going to leave them outside, that you place them in waterproof covers so they don't get wet as these won't inherently be water-resistant like the bench itself.
Capacity
Another huge consideration to look at is the capacity of the bench storage. This varies a ton, though we recommend you grab yourself a model that can hold at least 50 gallons. This will let you stow away cushions, blankets, toys, tools, and more.
Price
How much are you willing to spend on one a good outdoor storage bench? If you're unsure, we highly suggest making a budget for yourself and making sure you don't go over that number. These benches vary widely in price, so whatever your budget may be, you're bound to find something that fits into it.
Just remember that if you do go up in price, you're likely to get something that lasts even longer, looks better, and can store more.
FAQs About Outdoor Storage Benches
Q: Can plastic storage benches stay outside in the winter?
A: Absolutely! Just make sure that the plastic material they're made of is a higher-end kind like the types found on our guide.
Q: Are plastic storage benches better than wooden?
A: This is going to come down to your own personal tastes, though overall, we can say that plastic is likely going to be the better option for you. Plastic benches are going to be more lightweight, cheaper, and easier to maintain. Not only that, but you're going to have so many more color and design options with plastic to fit your ideal style. Wood of course gives a more old-school feel, and is heavier which may be preferable for some people. Again, it all depends on your tastes and environment.
Q: How do I care for wooden storage benches?
A: You'll need to get yourself a bucket of soapy water and a brush to scrub a bit, following it up with a water rinse to get rid of any soap.
Q: How do you clean outdoor plastic storage benches?
A: Clean it with some warm water with a bit of light detergent or soap and white vinegar. Take a soft bristle brush to get rid of any dirt or debris. This will ensure your bench lasts as long as possible, and keeps its new looks.
Tips For Choosing an Patio Storage Bench
#1: Make sure to measure/weigh the items that you're planning on storing in your bench.
This may not be feasible for things like blankets and cushions, but if you're storing heavier items in your bench like sports equipment, it's not a bad idea. This way, you know for sure that your bench is able to support both the weight and the size of your stuff. After all, you're not only buying the bench for seating, but for stowing your items securely, as well.
#2: If you're planning on using the bench indoors and outdoors, try to select one that's lightweight.
Just about all of the benches on our guide are relatively lightweight, but if you're going to be moving yours around or from outside and indoors often then you really want something you don't have to haul all over the place. If someone can help you move it, then this won't be quite as important.
#3: Make sure you're cleaning the bench regularly.
Wooden benches and plastic benches are cleaned a little bit differently, as we just mentioned. However, both types should be cleaned regularly to keep them looking and functioning their best. Dirt and grime can cause benches to break down quicker, and it's something that shouldn't take you more than 20 minutes.
Summary
Now that you've been able to read about all of the best outdoor storage benches on the market today, have you decided which one is ideal for you and your household? The nice thing is that no matter which one you select, you can rest easy knowing that you'll be receiving a high-quality, functional bench that will serve you well.
However, what's most important is that you have narrowed it down to the perfect model for what you're looking for. We hope that our guide has helped you to do exactly that. Thanks for tuning in, and we'll see you again shortly!
How We Researched
To come up with the top outdoor storage benches, we researched a variety of sources for reviews such as Home Depot, Lowes, Target and Wayfair along with our own personal experience.
We also consulted online magazines for product research and reviews to get as much unbiased information as we could. To help weed out fake reviews we used Fakespot.com to make sure we only looked at genuine reviews.
With so much quality gear available, we had to narrow it down based on what we felt were the best options were for the price. The staff authors have a wide and varied background in yard design and home repairs.
The authors have decades of experience and are eager to share their knowledge with readers.
To help narrow down the selection we used personal experiences along with recommendations from landscapers, bloggers and contractors.
After extensive research, we came up with our list to help you choose the right one for you.
Sources
Notice:
OutsidePursuits.com is a participant in the Amazon Services LLC Associates Program, an affiliate advertising program. OutsidePursuits.com earns fees from products sold through qualifying purchases by linking to Amazon.com. Amazon offers a commission on products sold through their affiliate links.