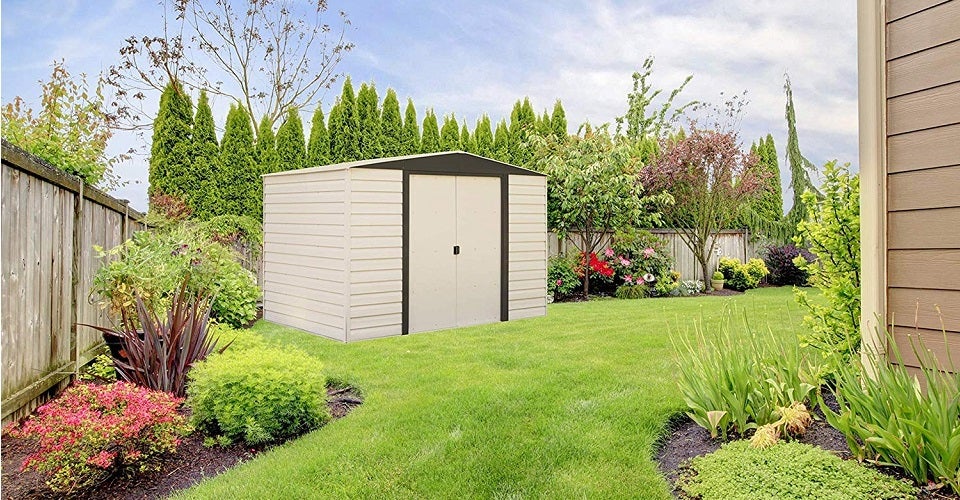 Our Editors independently research, test, and rate what we feel are the best products. We use affiliate links and may receive a small commission on purchases.
The best outdoor storage sheds come in practically every shape, size, material, and design you can imagine. Some are made for storage, others are walk-in ready.
Some of these sheds allow you to customize them, others are predetermined and can't be personalized.
We're going to guide you through everything you need to know in order to select the correct outdoor storage shed for your needs.
Best Storage Sheds
For more of my home and garden recommendations, have a look through these popular Outside Pursuits guide links: Cordless Lawn Mowers, Cordless Leaf Blowers, Electric Pressure Washers.

Quick Answer: The Best Rated Garden Sheds
Our reviews of the top rated storage sheds with a comparison table and our buyers guide below will help you choose a shed for you.
---
Outdoor Storage Shed Reviews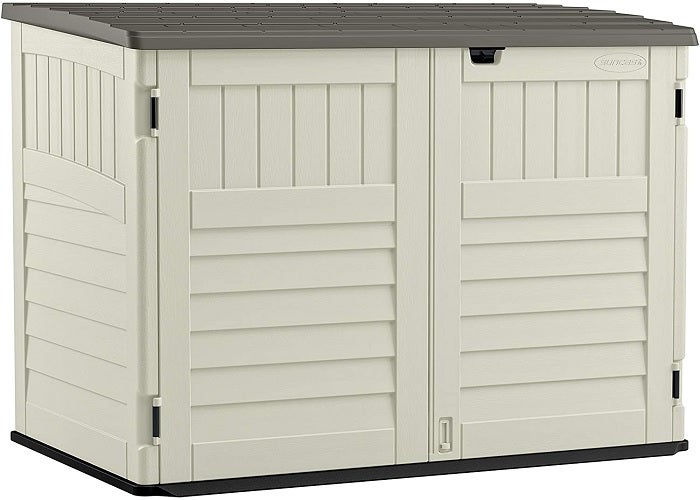 Suncast Horizontal Storage Shed at a Glance
:
---
Floor Space: 17 sq ft
Dimensions:

53″ x 45″ x 32″

Material: Dual-wall plastic resin
Windows: N/A
Warranty: 10 Years
Need just a little additional outdoor storage but a shed would be just too much? This cabinet is great for pool toys, gardening goodies, or outdoor seat cushion storage for some examples.
There are tons of options for this storage unit in the yard.
I've seen them used for storing garbage cans out of sight, keeping the kids' bikes locked up, or stashing pool toys. Of course, you can put your own spin on things.
One of the best features of this storage box is that you can open it from both the top and front. That means you can wheel or roll in heavier items, or lift things in and out via the top lid.
Maybe one of the best things about these all-plastic storage boxes is that they're insanely easy to maintain. You can spray or scrub off the outside if it gets dirty or mildewy. Even open it up and power wash the inside for a fresh clean!
Best for small storage needs that fit better in a cabinet than a shed.

---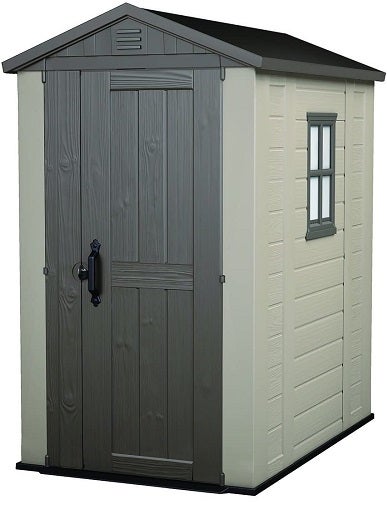 KETER Manor Resin Outdoor Storage Shed at a Glance
:
---
Floor Space: 140 sq ft
Dimensions: 51″ x 75″ x 85″

Material: Dual-wall plastic resin
Windows: 2 Side and skylight
Warranty: 10 Years
If you are looking for a mid range sized shed, this ones for you. One locking door, two side windows and skylight make it feel like a permanent outdoor yard structure and it will definitely be around for years to come.
You probably recognize the brand Keter for their work with other types of cast durable plastic goods like outdoor furniture and gardening equipment.
They use the UV protected polyethylene along with steel reinforcements and roof trusses to construct this lightweight yet durable shed.
Because of its size, this shed can catch a serious amount of wind if exposed but it's rated for winds up to 65 mph without damage.
There is an internal shelving and storage system that uses adjustable rails. Plus the lockable steel reinforced doors are secure and sturdy.
This is a versatile shed, perfect for a few bikes, lawnmower and or gardening tools. It also comes in a larger 6x8 size if you need some extra storage.
The Keter is one of the best backyard sheds that has plenty of floor space and easy to assemble!

---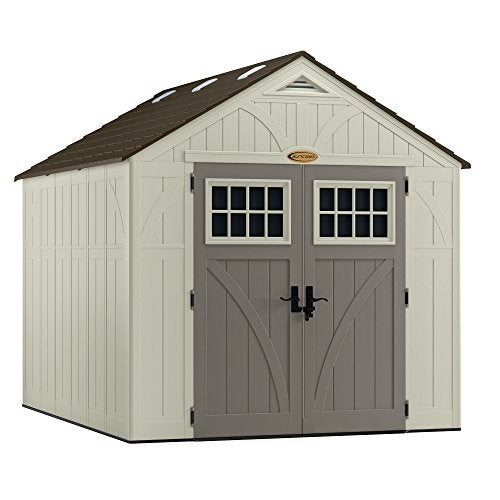 Suncast Tremont Outdoor Storage Shed at a Glance
:
---
Floor Space: 80 sq ft
Dimensions: 100″ x 122″ x 103″
Material: Dual-wall plastic resin
Windows: 2 plus skylights
Warranty: 10 Years
This 80 square foot storage shed is made for everything from lawn tractors to long handle shovels.
What that means for you is that you can get it installed and ready to use in no time and it will be capable of expanding to fit your growing lawn tools.
Outdoor storage sheds invariably feel dark, dank and musty. However, the Suncast Tremont uses two door windows and a series of skylights to keep things bright inside.
That means you can get into the corners to keep it clean and find those lost tools… right???
Of course, by the time you fill up your shed, there are likely thousands of dollars of equipment in there.
That's why Suncast features locking doors that can be padlocked securely to keep others from snooping around (or keep the kids out of the tools).
It's important to note that the structure is made from dual-wall extremely strong plastic panels. These are lightweight but strong enough to handle even a lawn mowing tractor driving over them.
Note: Site prep and foundation (usually a slab) is necessary for full strength.
This is our Editor's Choice for the best outdoor storage shed that is easy to build and ready to handle a range of lawn tools.

---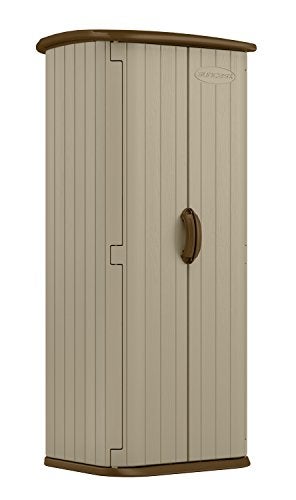 Suncast Outdoor Vertical Utility Shed at a Glance
:
---
Floor Space: 13 sq ft
Dimensions:

32″ x 26.5″ x 70.5″

Material: Dual-wall plastic resin
Windows: N/A
Warranty: 10 Years
Looking for something that's smaller than a standalone shed? This utility shed is something reminiscent of a cabinet and it's perfect for long handle tools or optional shelving.
I can't imagine a household that wouldn't find a use for this type of outdoor storage unit!
Let's clear something up – this is a non-walk-in storage unit. It's a vertical cabinet that can be used either for long handle tools (without shelves) or for smaller items by installing optional shelving.
In case you're storing expensive tools there's a padlock (sold separate) hole that can be used. I recommend it because you never know when somebody is going to walk off with your tools. It also keeps the kids out.
Thanks to the minimal tool assembly it should be a breeze for anyone to set up. It's the perfect place for a hose reel, shovels and rakes, garbage can, bird seed, or gardening tools.
Our pick for the best garden shed for storage on the deck or under the eaves of the house where tools can be kept handy!

---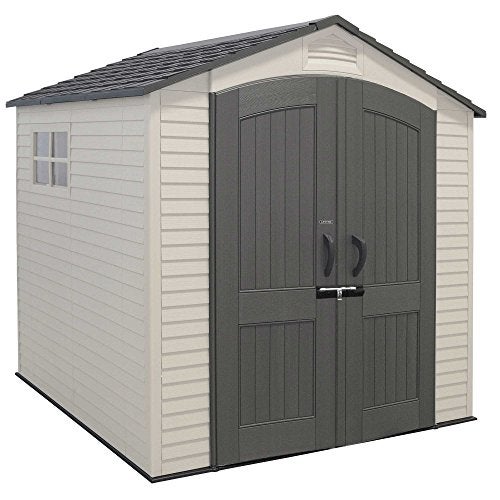 Lifetime Outdoor Storage Shed at a Glance
:
---
Floor Space: 49 sq ft
Dimensions:

84″ x 84″ x 90″

Material: Dual-wall plastic resin
Windows: 2 Side
Warranty: 10 Years
Somewhere between a vertical storage unit and a traditional shed, this hybrid should meet the needs of many. It's small enough to sit nestled against the house, under the eves yet large enough to store a push mower and more!
At 7 feet wide and 7 feet deep this shed stands just under 8 feet tall. Near the peak is a small vent and the two french doors have space for a lock to secure your things.
Throughout the high-density polyethylene construction, steel reinforcements help add a little rigidity and strength for a build that will last as long as you need it.
I really like that this storage shed strikes a balance between a full shed and a garden shelving unit. There's enough space for a small push mower, gas can, a few included shelves and several lawn tools.
Overall it's a great do-it-all type option.
Ideally, this shed should be installed on a flat and level slab like most modular sheds. Without a solid level surface to rest on the joints of the shed can be stressed.
When you need some extra storage around the yard, the Lifetime is the best storage shed!

---
Outdoor Storage Shed Comparison Table
How to Choose the Best Outdoor Storage Shed – Buyers Guide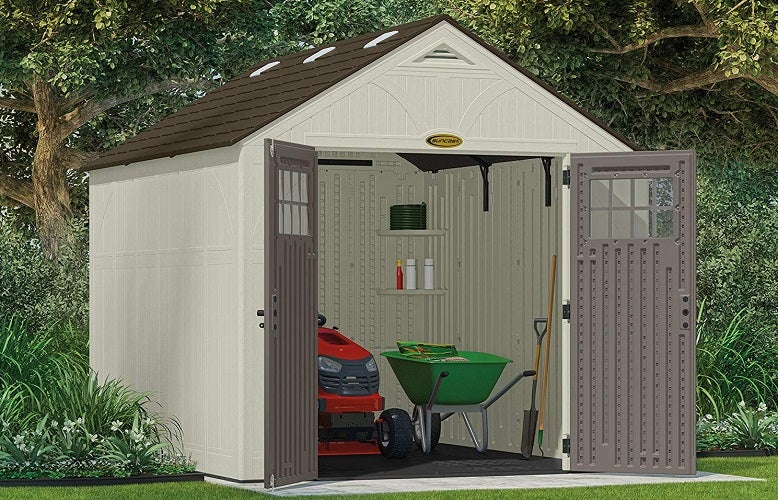 Size
Storage units have two major size considerations. First of all, you'll want to think about floor space. Secondly, you'll want to consider height.
Floor space can be calculated by multiplying the floor's length and width. A shed that is 10 feet long and 5 feet wide has 50 square feet (sq ft). Don't confuse that with cubic feet with is a measure of volume whereas floor space is a measure of surface area.
Height is, of course, as simple as reading the manufacturer's listed specifications for the height of the storage unit.
Think about what you need to store and figure out if you need a tall storage unit, a short and wide unit, or other dimensional shapes that will fit your needs.
If all you need is room to store a few garden tools and outdoor grill you can get away with a short squatty storage bin.
If you need to store a riding lawn mower, however, you'll need a full-size storage shed with enough height and width to comfortably drive a tractor in and out.
Door Considerations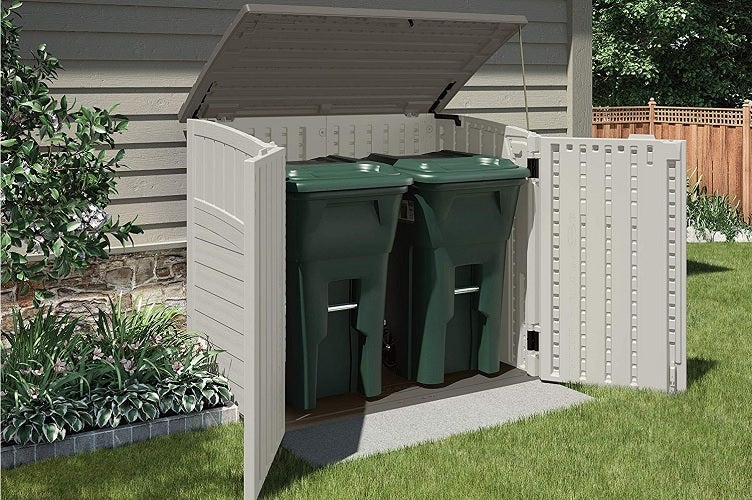 The size and shape of the door on your storage shed is another consideration you should make before buying. Here are a couple of sizes to think about.
In order to be able to freely walk (or ride a lawn tractor) in and out you'll probably want a 6.5' door height or so. Width, on the other hand, is up to you. Make sure it's wide enough to accommodate whatever equipment you need to load in.
For cramped spaces, sliding doors could help use up less room. Sliding doors disappear into the storage shed instead of swinging inward or outward so if the area around your shed is tight (bushes, trees, etc.) consider sliding doors.
Security
Whether or not your storage shed has a lock is one thing. How good the security of that lock may be, however, is the real question.
Most of the storage sheds available today are made from polyethylene. This is a durable hard plastic but it's nowhere as strong as your steel padlock. Even galvanized steel storage sheds usually have plastic handles. That means the lock is only as strong as your handles.
Of course, a motivated thief would either have to completely break the door or cut the lock. In my view, if someone is going to go through all this effort to get into your shed, you'll be hard-pressed to stop them anyways.
Consider placing your shed where it's visible so thieves can't hide while they attempt to break in. This might reduce the likelihood that your shed becomes a target.
Construction and Site Prep
Most storage sheds use minimal tools for assembly. A cordless power drill and a couple of bits should do most of the work.
However, steel sheds use lots of thin metal panels. These panels can be sharp or have burrs on them which can cut you or give you metal slivers. Yuck!
Use a good pair of leather work gloves when handling metal panels to avoid a nasty gash.
For site preparation, you'll need to have a level slab ready to go. This usually means staking out the area, digging down, putting in compacted level sand, pouring a concrete slab, and then assembling the shed on top.
Of course, you could try to do it with less preparation work, but it could backfire on you.
Simply assembling your shed on the lawn is unlikely to be perfectly level. That means the joints, corners, fasteners, and floor of your shed could be subjected to uneven loads they weren't designed to handle.
In short, it just means you'd be more likely to break your shed. Bad news.
Materials

Storage sheds can be made from one of, essentially, 3 materials:
Wood (framed) – A conventional framed building using dimensional lumber. Can be made to any size or specification but requires lots of tools, construction knowledge, and prep.
Polyethylene – This durable plastic is usually made in a UV-resistant blend which helps it stay durable and retain its color better over time. This material is moderately lightweight, usually easy to assemble in pre-made kits, and widely available.
Metal – Steel or aluminum sheds won't degrade over time in the sun but even the best one are susceptible to rust in the long-run. Steel is appealing to some just due to the reliability of metal over other materials. On top of that, thin panels of metal walls and roofing are surprisingly lightweight.
Every material has its pros and cons. Building a stick-framed custom shed gives you the most options but is by far the most technical and difficult option.
Steel sheds are prone to rust over time but are otherwise extremely durable and light. Polyethylene may be prone to UV damage over time but offers the most options in a modular system by far.
FAQs About Storage Sheds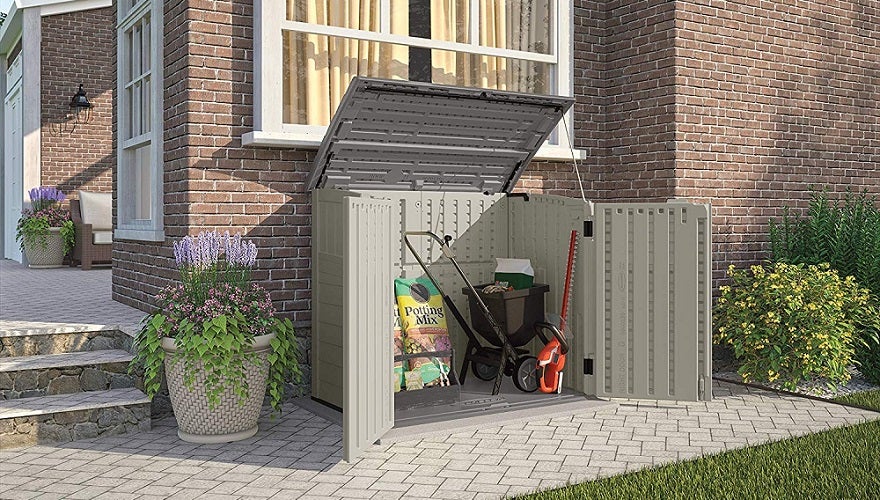 Q: Do I need a permit to build / setup my shed?
A: This totally depends on where you live. Most often this is dictated by your city or township ordinance. Call your city office and ask for as much information as you can on permits for outbuildings.
In many cases an outbuilding of small size (usually less than 200 sqft) may be legal to build without a permit. Sometimes building your shed on raised footings means you can get away with the building being classified as "temporary" and therefore you may be able to get around some restrictions as well.
In the end, it really just boils down to checking your building codes and ordinances for your local area. If in doubt, you'll have to talk to a builder or contractor for more information.
Q: Can I store chemicals or gas in my shed?
A: Most materials these days are pretty good with chemical resistance. However, it's impossible to guarantee that spilling some odd garden or household chemicals in the shed won't damage it.
For that reason, I recommend being cautious with chemical storage inside polyethylene sheds.
Wood and steel sheds tend to be more forgiving of chemicals, though wood will absorb and retain some chemicals. Beware chemicals eating through the rust-resistant coatings or paint on steel sheds which could leave the structure vulnerable to rust.
Q: How big of a shed do I need?
A: It really depends on how much stuff you need to store. That said, however, you'd be surprised at how much you can fit in a 100 – 150 square foot shed.
Creative use of shelving, rolling the mower in and out (instead of driving it), and careful stacking of occasional use items can free up a ton of space. Don't forget there's always room on the ceiling for some extra storage if you want so go wild and really get efficient.
Exceeding 200 square feet usually puts you into new (and more annoying) building code requirements in most areas, so try to keep it a bit smaller.
Q: Do I really need to pour a slab for my shed?
A: Pouring a slab refers to preparing the space under your shed to support the weight of the shed and items inside.
The short answer is that, "no", you don't have to pour a slab. Many people get away with putting the shed on unprepared locations.
I don't recommend it, however, as doing so is almost guaranteed to reduce the lifespan of your shed and damage it. Particularly if you have heavy equipment you're storing in the shed, an uneven ground surface is sure to cause problems.
If pouring a slab sounds like too much, consider just digging down and filling in with level packed sand instead. At least it's better than uneven non-level surfaces under the shed, right?
Q: How hard is assembly?
A: Most of the full size sheds are tricky to assemble. Primarily this is because the wall and roof panels are just too darn big for one person to handle and install.
You'll need at the very least two crafty DIY people on hand with good tools. I'd bring a third set of hands just to help hold things in place while someone runs around and screws or bolts everything together.
If you're reasonably mechanically inclined then you should have little trouble putting together one of these premade sheds in an afternoon!
If you find yourself at a lack of friends and tools then consider hiring a handyman by the hour to help you out.
How to Setup an Outdoor Storage Shed
How to lay a foundation base for a backyard storage shed - Rubbermaid Roughneck
Final Thoughts
Sure, you could head out and load up on 2x4's and attempt a little DIY construction. By the time you put in all the effort, buy tools, and pick up all the materials you might have just been further ahead to buy a premade outdoor storage shed in the first place though.
In today's article I've tried to help you look at a few of the pros and cons related to choosing an outdoor storage solution for your needs. Some of us need a standalone full-size shed and others just need a storage crate for on the deck where we can store seat cushions out of the rain.
Whatever size or material you choose for your outdoor storage shed we've included one or two options on our list that will get you started looking and shopping. We know everyone is different but we hope this gives you a good starting point and a few things to consider when shopping!
How We Researched
To come up with the top outdoor storage sheds, we researched a variety of sources for reviews such as Home Depot, Lowes, Target and Wayfair along with our own personal experience.
We also consulted online magazines for product research and reviews to get as much unbiased information as we could. To help weed out fake reviews we used Fakespot.com to make sure we only looked at genuine reviews.
With so much quality gear available, we had to narrow it down based on what we felt were the best options were for the price. The staff authors have a wide and varied background in yard design and home repairs.
The authors have decades of experience and are eager to share their knowledge with readers.
To help narrow down the selection we used personal experiences along with recommendations from landscapers, bloggers and contractors.
After extensive research, we came up with our list to help you choose the right one for you.
Notice:
OutsidePursuits.com is a participant in the Amazon Services LLC Associates Program, an affiliate advertising program. OutsidePursuits.com earns fees from products sold through qualifying purchases by linking to Amazon.com. Amazon offers a commission on products sold through their affiliate links.