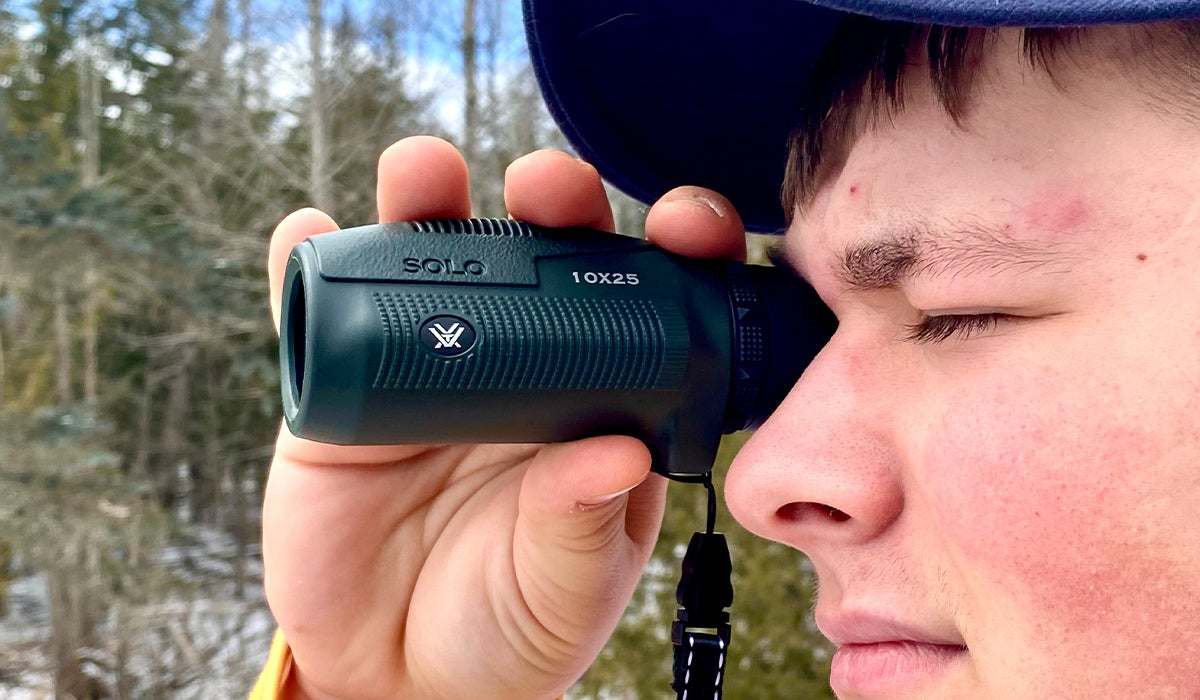 Our Editors independently research, test, and rate what we feel are the best products. We use affiliate links and may receive a small commission on purchases.
When it comes to optics, the main focus, pun intended, has always been on binoculars, followed closely by rangefinders and then spotting scopes. The monocular always seems to be the Rodney Dangerfield of optics – it's getting no respect at all, I tell ya! And if you don't get the Dangerfield reference, then I feel really old. Go watch Caddyshack and get back to me. Monoculars are actually a very significant optic to have and if you try one out, you'll understand why I say this in pretty short order. The best monoculars give you tube magnification and clarity of a binocular in a package that is less than half of the size and weight of a set of binoculars. Yes, you're only using one eye, but for a quick and compact option, it's right on point.
Much like being left or right handed, everyone has a dominant eye. Your dominant eye usually follows with your dominant hand, but not always. When most people use binoculars, they have to adjust the set to account for a dominant eye to be able to focus. The advantage of a monocular is that you just use your dominant eye. It makes it quick and easy to view something, and the best monoculars give you easy focusing, lightweight and are compact, making them perfect for hiking, hunting and birdwatching.
Feature Image by Derrek Sigler
Best Monoculars
Bushnell Legend Ultra HD Monocular
Leica Monovid Monocular
Vortex Optics Solo Monocular
Optics:
10 x 42
8 x 20
8x25
8x36
10x25
10x36
Prism:
BaK-4 prisms
Phase-Corrected Roof Prism
Phase-Corrected Roof Prism
Lens Coating:
Fully multi-coated
AquaDura lens coating
Fully multi-coated
FOV ([email protected]):
340
330
315
Rating:
4.6 / 5.0
4.5 / 5.0
4.3 / 5.0
Quick Answer: The 6 Best Monoculars For 2022
---
Monocular Reviews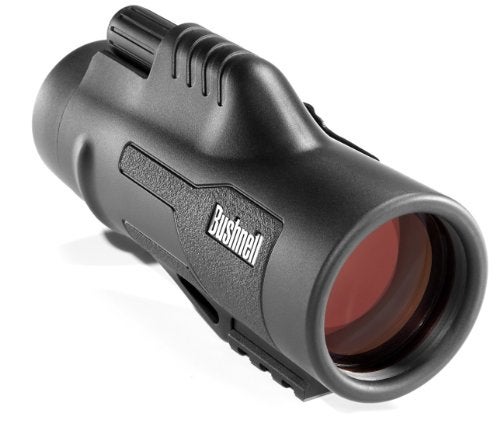 Bushnell Legend Ultra HD Monocular at a Glance
:
---
10x42 monocular
FOV ([email protected] yds): 340
Fully multi-coated
100% waterproof and fogproof
Bushnell is legendary in the hunting world and known for their outdoor optics. While they might not be the most elite monocular makers, their gear strikes a balance of quality and affordability that strikes a chord with many consumers.
Let's just start with the basics. This monocular has a 10 power zoom with a 42mm objective. That's a pretty decent size objective lens that should let in plenty of light for a good image at 10x without a problem. Thanks to the fully multi-coated lenses and coated prism inside that image quality should remain quite high by the time it hits your eye on the other side. That's assuming that the waterproofing and fog proofing stand up to the test of time, but users rave about the quality of these monoculars and with Bushnell's great reputation I can't foresee a problem.
One feature that's a little more rare and we didn't talk about in the buyer's guide is the Picatinny rail. These optics mounting rails are ideal for attaching to firearms, tripods, or other mounts and it's no surprise Bushnell added them. The Bushnell Legend is the best monocular for hunting and will play well with Picatinny devices. It acts like a mini spotting scope. It's biggest detractor, in my opinion, for use as a regular monocular, is that it is harder to work the focus feature while holding it.

---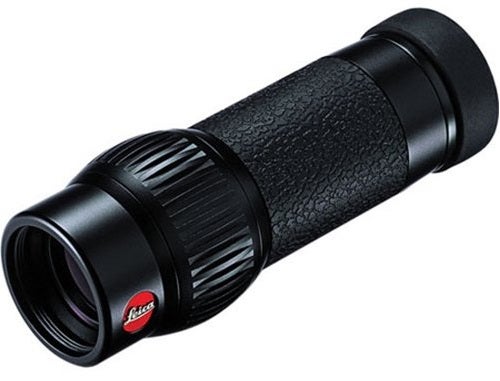 Leica Monovid 8 x 20 Monocular at a Glance
:
---
8x20 monocular
FOV ([email protected] yds): 330
Nitrogen filled
Compatible with glasses
Remember some of those high end features we talked about like inert gas filling? Leica is well known for bringing those qualities to bear on their optics and you're going to get a first hand look at a great monocular here. This monocular is a great compact pocket size with all the qualities we're looking for. It's going to be at home for birders or plant enthusiasts. Why plant enthusiasts? It comes with a close range lens that allows you to get 8x zoom on objects as close as 10" away. That's highly unusual for a monocular.
That aside, the coated lenses and nitrogen filled tube mean a seriously crisp image. Plus, for the price you pay they also include a leather carrying case that holds and protects both the monocular and the accessory lens for macro viewing. I have to note here that there's an adapter eyepiece for those who wear glasses which isn't something we normally see on cheaper monoculars. Leica rates this monocular waterproof to 16 feet of submersion. If you want the best monocular for bird watching with ultra high quality optics in a small pocket format, the Monovid is your best bet.

---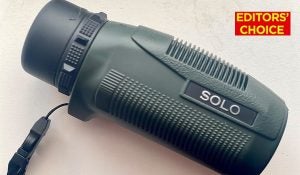 Vortex Optics Solo Monocular at a Glance
:
---
4 models available (different zooms)
Fully multi-coated optics
Nitrogen filled
Adjustable eyecup for glasses
The first monocular on our list that comes in different sizes and zooms, the Vortex Solo is pretty hard to beat. There are multiple options to pick from to better suit your individual needs, and the combination of value, function and quality makes it my personal pick.
There are a lot of high end features at an affordable price. It has a rubberized exterior, easy-to-use focus ring and is extremely lightweight at just 5.6 ounces. you'll also get 14.5mm of eye relief and a 315 ft. field of view at 1,000 yards. I carry the Solo around with me often, and have used it for checking out wildlife for the most part. Just the other day, I  watched a bald eagle feeding on what looked like a deer that had passed during the winter. It was about 200 yards off the road, but I still got a good view.
Video: Overview of the Vortex Solo Monocular
There's a 25mm and 36mm objective lens version of both the 8 and 10 power versions. If you want a pocket size monocular go with the 25mm 8 power. For a higher zoom try the 10x36.
If you want the best monocular for backpacking, hunting or just to carry with you anywhere as well as being  rugged and durable, you should consider the Vortex Solo. It's the one I use. It is quick, compact and lightweight. I told my teenage son that he can borrow it this summer when he goes to the beach, but all he did was give me the "come on, Dad" look of an exasperated teenager. Try to help a guy out…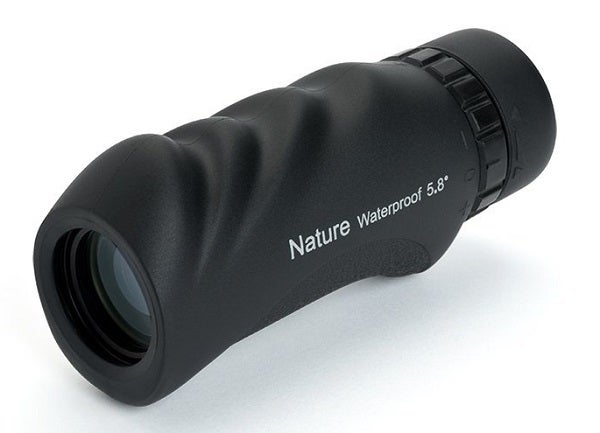 Celestron Nature Monocular at a Glance
:
---
10x25 monocular
FOV ([email protected] yds): 304
Multi-coated lenses
Waterproof and fog proof
I will say that until we reviewed this monocular I thought these little tools were stuck looking like 1990 never ended. Take a nice modern design and sleek rubber coated protection and add it to a monocular and that's what we get here.
On the outside, this monocular features deep textured wave-like grooves that protect the monocular and help with secure grip. I'm a huge fan of the ergonomic design. Since the objective lens is 25mm it makes a good happy medium between size and power. It's still just small enough to make a reasonable pocket size monocular for those who want ease of transport for birding, hiking, or other mobile activities.
While it may not be anything to write home about, the wrist strap, nylon case, and lens cleaning cloths are a nice tough to finish off this affordable mid-zoom monocular. I would rate the Celestron Nature as a the best pocket monocular, especially for those with arthritis or otherwise struggle to hold a small monocular.

---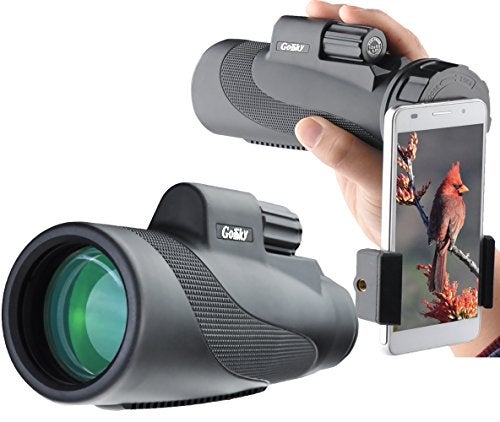 Gosky Titan High Power Prism Monocular at a Glance
:
---
12x50 monocular
FOV ([email protected] yds): 289
Phone mount capable
Adjustable eye cup
In the age of cell phones it's a bit surprising it took this long to get a monocular that can fit right on to the phone camera. This is essentially a high zoom lens adapter for the cell phone. Don't worry, though, it can still work as a standalone monocular. Now, I'm not going to say this monocular is top of the line, but it isn't bad either. Multi-coated lenses help with image clarity and an adjustable eye cup makes sure it fits you. Part of me wonders, however, if the phone mount capabilities detract from the overall usefulness.
In order to get decent photos with it you'll need to use the included tripod which is short and small. However, since it uses a standard tripod thread, you could easily upgrade later if you find it inadequate. That said the phone mount seems a little cumbersome and will take some manual adjusting to get it setup right. Your photos will also look like they were shot with a monocular adapter.
For the photography enthusiast, perhaps saving up for a high quality DSLR camera might be a better long term investment. Best for those who want the most powerful monocular for their phone cameras and need a way to get those long range shots to work.

---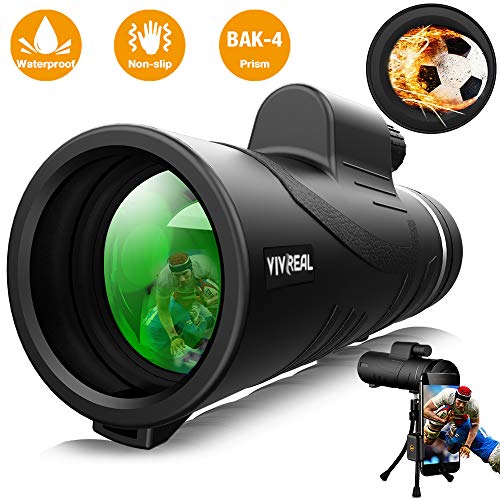 VIVREALHigh Power Prism Monocular at a Glance
:
---
12x50 monocular
FOV ([email protected] yds): 330
Phone mount capable
Fully-multi coated lenses
In search of that perfect monocular that can help us capture a great Snapchat story photo brings us to another option. This time a slightly more compact phone adaptable monocular that might just be the refinement you need. Compared to the last phone compatible monocular I will say that the multi-coated optics are missed.
When you're trying to take a picture through a lens, any drop in image clarity will be very apparent and the fully multi-coated lenses help offset this. Overall I think the design and execution here are a little better than some other phone monoculars I've seen. However they really didn't put a lot of effort into the tripod and I wish they would have upgraded it a bit as I feel it holds the monocular back.
The phone mount is slim and sleek, ready to get the job done. It slips over the eye cup so you can add the phone when you're not using the monocular with your eyes. That said it's a friction fit and not screw-on mount which makes me worried the phone might slide off and drop. The VIVREAL is the best budget monocular that is smart phone compatible with a lightweight, slim design.

---
Monocular Comparison Table
How to Choose the Best Monocular – Buyers Guide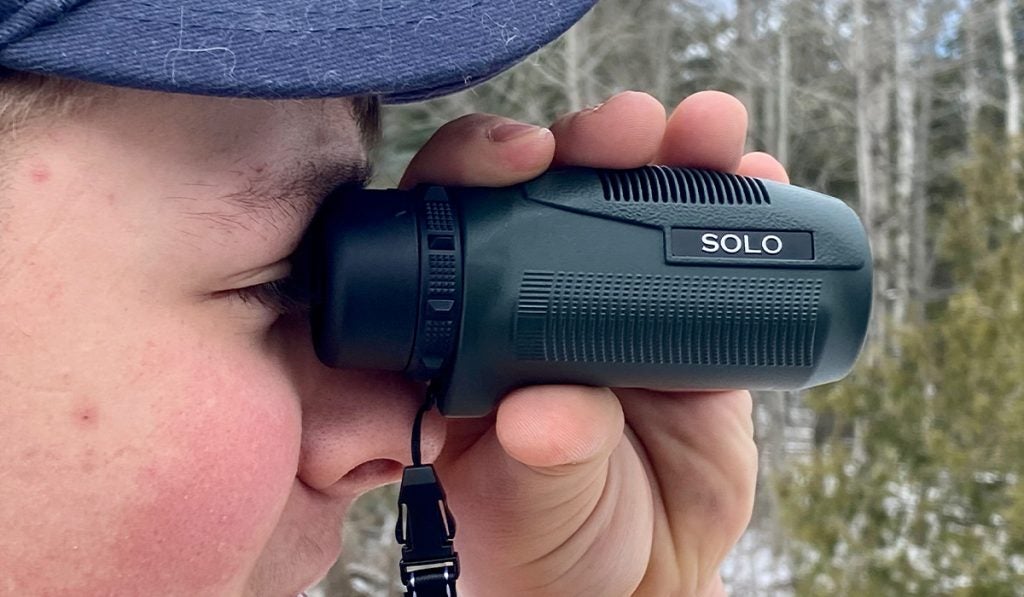 How are Monoculars Sized?
Monoculars are measured in two numbers such as 10x28. The first of these numbers, 10 in this example, is the magnification power. The higher the magnification, the closer objects at further distances will appear. The second number in the sequence is the size of the objective (front) lens in millimeters. The objective lens size is very important, too.

Objective Lens Size
The larger the objective lens is, the more light it can gather and the wider the field of view at a given distance. The more light means you'll see clearer images at longer distances. It also means better visibility in the dawn and dusk times. The field of view is often at the industry standard of x number of feet at 1,000 yards. Remember that bigger lenses mean larger and heavier monoculars.

Monocular Magnification Power
Monocular magnification is generally going to range from 4 – 10 power. This will be represented as a number such as 6x or 10x and so on. As magnification increases, field of view decreases. Remember that this can be slightly offset with a wider objective lens, but high zoom lenses will always have narrower field of view.
When it comes time to buy a monocular, just remember that higher power means higher price. Some manufacturers sacrifice in other areas of quality in order to give users a high zoom power monocular at a lower price. Choose accordingly, because you will often find out that there are areas where you can save money, and others where you shouldn't. If you want a high power monocular, but don't want to spend a lot, know that you may be sacrificing some clarity or durability in doing so.

Field of View (FOV)
Field of view refers to the diameter of image you can see downrange at any given magnification power. Generally this will be something like 315 feet at 1,000 yards. This means that when looking at something 1,000 yards away, you'll be seeing 315 feet of whatever you are looking at. Field of view decreases as magnification power increases. However, prism type, objective lens size, and construction of the monocular can have an impact on this. Expensive, high-quality lenses will have a better field of view at high zoom than cheaper lenses.

Monocular Prisms (internals)
So what is inside a monocular that makes it work? Thanks to the magic of optical sciences we've got some fancy image enhancing hardware at work inside these monoculars. There are essentially three main types you can find.
Exactly how and why they work is more of a subject for a physics course, so we'll keep it simple here.
Roof prisms work great at long ranges are an excellent choice for high power monoculars.
Porro prisms

are very slightly different from roof prisms but work a little better at mid and close range.
Lens Coatings
Todays optics come with some type of lens coatings. These coatings, which include more than one type per lens, improve performance, clarity and light transmission. Good lens coatings also help shed water and can even help prevent fogging.
Coated lenses use a simple and cheap coating to improve the image over what it would be without any coating whatsoever. They are the "cheapest" of all coatings.
Fully coated lenses are one step above in image quality and price compared to coated lenses.
Multi-coated lenses use more than one type of lens coating to achieve a superior image quality. These lenses will begin to increase in price rapidly compared to "budget" models.
Fully Multi-coated lenses are the top of the line. These lenses use several different coatings, on both sides of the lens, which helps absorb light to enhance image visibility, crispness, and quality. All things equal they will be the most expensive of the lenses. 
Inert Gas Filled Monoculars
Some high end optics are actually completely sealed and filled with inert gasses, but is often referred to simply as "gas charged." Sealing the lens means you can't get any water or dust inside unless, of course, it malfunctions at some point down the road. Filling the tube with inert gasses, especially the rare and more expensive ones, means a better image. It also helps with making the optic resistant to fogging
Inert gasses inside a sealed monocular means that light won't be split, reflected, or refracted by the gasses. Atmospheric gasses have an inherent amount of distortion to light passing through which can affect the quality of a monocular that is not sealed and filled with inert gasses.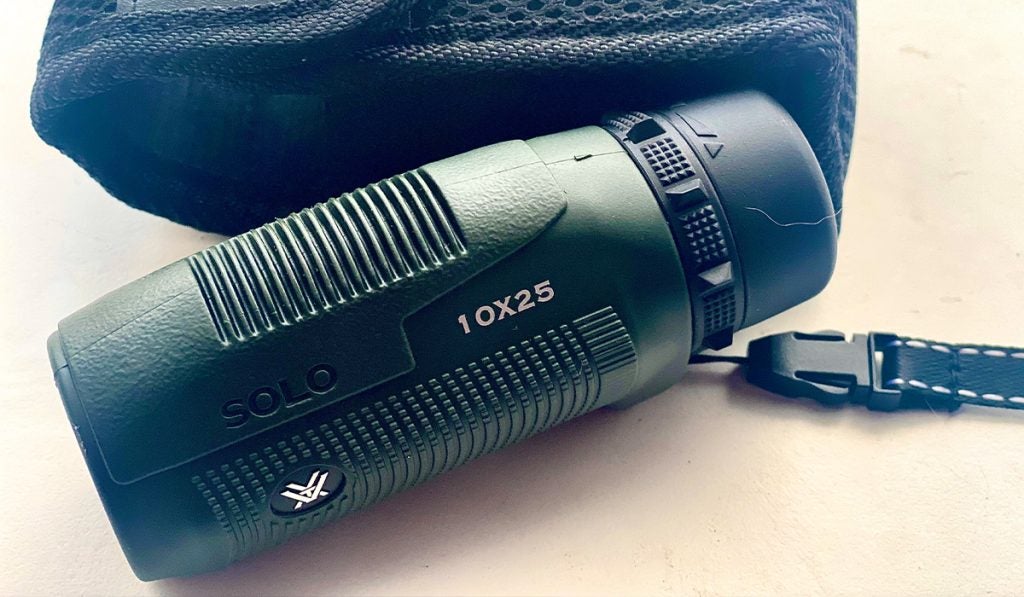 Waterproof Rating
Waterproofing is important on any monocular. If or when water manages to make it inside your lens tube, you might as well throw it away. This will cause fog, poor image, and complete failure of your monocular. Luckily, there's an easy way to know how waterproof your monocular is. Look for a monocular with a clear IP waterproof rating. IP ratings are a standard rating for measuring the resistance to water of a container. They function as follows These waterproof ratings start with the letters, "IP". After that you'll see two numbers as IPxx such as IP76.
The the first digit refers to the intrusion protection of the object at hand such as resistance to dust or debris. This digit can range from 1-7 with 7 being the most protective. As you might suspect, the second digit refer to the water resistance of the object in question. This number can range from 1-9 with 9 being the most protective. A good IP rating for monoculars would be anything IP56 or above.
See the list of IP ratings here.

Eye Relief
This number gets overlooked too often as it directly impacts functionality for many users. What it means is the distance from the rear lens that your eye needs to sit in order to see the perfect image. Usually, this number is measured in millimeters and can range quite a bit. For users without glasses an eye relief of 10-20mm is pretty normal and is adapted for by the eyecup of the monocular. If you use glasses or hate having a lens right up on your eye, look for a monocular with longer eye relief. Just remember that these can sometimes be finicky to get "just right" as you try to sight them in.

Focus Adjustment
Depending on how near or far an object is when viewed through a monocular, you'll have to do some adjusting. It's rare to have perfect focus on an object on your first try. Instead you need an adjustable focus ring. Practically every monocular has an adjustable focus of some sort. If the monocular you're looking at can't be adjusted for focus, you should probably skip it.
To get the most out of your monocular, think about how you like to use your optics. Some are designed for one hand operation, others must be adjusted using two hands. Some adjustment knobs are located above or below the main lens tube, others are inline. Honestly I don't think there's much difference for the everyday user. Unless one or the other style makes a big difference to you, don't lose sleep over it.
Cell Phone Monocular
If you're like me, you're probably glued to your phone these days. Most of us are. With the rise in popularity of image based social apps such as Snapchat and Instagram more people are looking for ways to get cool phone photos.
One way to pull that off is using a monocular adapter to mount your phone behind a monocular. That allows you to carefully adjust the phone and monocular so you can get a good image through both. Of course this comes with the drawback that photos taken this way are rectangular on a phone and circular in a monocular. Unless you get the monocular-phone fitment perfect the resulting image will fuzzy or black space around parts of the image. There's no real way to fix this. So, until we get cell phones with perfect telephoto lenses, photographers seeking perfect zoomed photos should probably stick with dedicated cameras.
FAQs For Monoculars
Q: Can I use a monocular as a scope?
A: Simply put, no, you can't.
Q: Can I buy a night vision or thermal monocular?
A: Yep, you can However, we didn't cover them here because they're sort of a different animal altogether. These types of monoculars use highly sophisticated technology to do their jobs. Suffice it to say, however, that if you go looking for these types of monoculars, be prepared to spend $1,000 or well more. Any of the "inexpensive" ones are usually not really worth it.
Q: What's a good pocket size monocular?
A: For those who want to carry around your monocular without it bulging out or weighing you down, you'll need to find a pocket size version. Usually these monoculars are easy to find and they live in the 15-25mm objective lens size. Anything larger tends to be a bit too bulky for a pocket monocular. Zoom for a monocular like this probably shouldn't exceed about 10x otherwise you may suffer poor image quality with the small objective size. I'd recommend the Vortex Solo.
Final Thoughts
What kind of monocular you decide upon is totally up to you. After reading the buyers guide section you should know everything you need in order to make up your mind. For those interested in understand more, you'll want to really dive deep into the science and physics of light and lenses. There are plenty of guides, YouTube videos, and books at the library to keep you busy studying for a while.
At the end of the day you'll be the most happy if you stay true to what you need. Don't get sucked into the idea of spending a ton of cash for the best quality or going for the biggest zoom. Instead, start by thinking about how you'll use your monocular, what you'll be looking at, and how much your budget can support.
How I Researched
My starting point for this piece came from over 25 years of using monoculars, binoculars, spotting scopes and rifle scopes. I had extensive training form the optics product managers from Cabela's when I worked there, and this included sitting in on technical briefings with the manufacturers, and touring facilities where various optics were made. I also regularly attend trade shows to see the latest innovations, and to meet with the developers and managers from the various companies. I also red through as many customer reviews as I could find on websites like Amazon, Bass Pro Shops, Cabela's and other similar sites. My pick as the editor's choice for this article, the Vortex Solo monocular, is a product I purchased from Amazon, and have used for some time now.
Updated on March 28, 2022: I added original photography and insights from testing the Vortex Solo monocular. I also reviewed and updated the information you need to know to pick the best monocular for you.
Notice:
OutsidePursuits.com is a participant in the Amazon Services LLC Associates Program, an affiliate advertising program. OutsidePursuits.com earns fees from products sold through qualifying purchases by linking to Amazon.com. Amazon offers a commission on products sold through their affiliate links.